All who follow the printed world of beautiful homes and interiors, know Pamela Jaccarino as the VP, Editor in Chief of LUXE Interiors + Design. As Luxe's founding editor, Pam oversees one national and 13 local editions of the world's largest network of architecture and design magazines, selecting all the projects they feature as well as managing the editors. And yet, as those who follow Pam on Instagram know, she miraculously also finds time to paint. This week, her debut exhibition, "Domestic Bliss," opens to the public on November 3 at Mecox in New York City.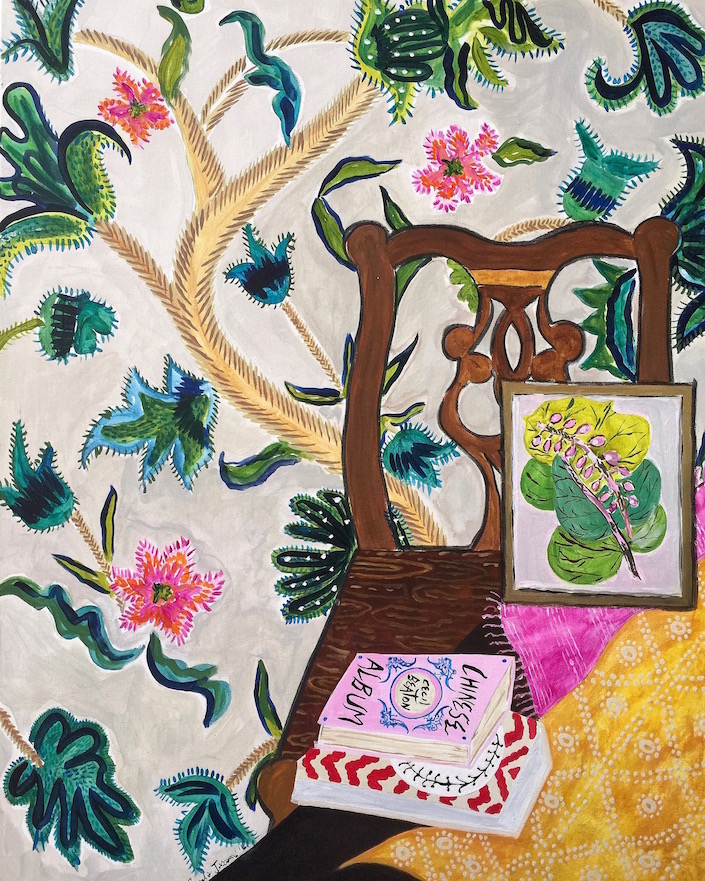 I had a chance to chat with Pam about her "other" career and was curious about when and why she began painting. "I only recently picked back up my pencils and paints after quite a long hiatus. I have always loved art; took many art classes as a child and young adult and went off to college desiring to be an artist. When it was time to choose a major, however, my practical side took hold. I gave up my artistic ambitions and got my degree in journalism. Fast forward 20-odd years to January 2015 when I was in the Frick staring at John Singer Sargent's "Lady Agnew of Lochnaw," an incredibly powerful and enchanting painting. Coincidentally, it just so happened to be open drawing day at the museum and I spent the rest of the afternoon in the Garden Court sketching. I caught the bug again, signed up for art classes straight away, and converted a large room in my home into an art studio. I owe a lot to the Frick and Sargent!"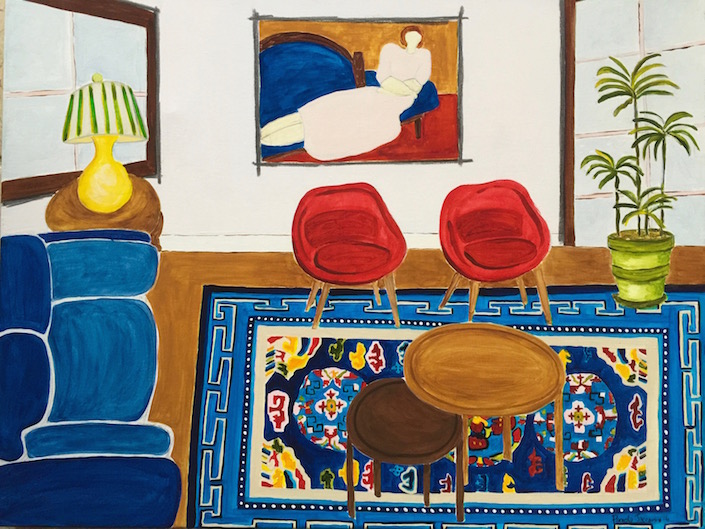 In asking Pam about her very bold and colorful style, she explained, "My style is something that just poured out of me and surprises me quite frankly. I was always drawn to, and sketched, very tightly realized work. Jean-Augustine-Dominique Ingres was my hero in college and I admired his Neoclassical approach. Being around the decorative arts, and exposed to incredible patterns, wallcoverings, interiors has shaped my eye and love for color. Clearly, I would have been a Fauvist back in the day. Having said that, I also have a number of artists who I admire and whose work I study: Kerry James Marshall, Mary Fedden, David Hockney, Sonia Delauney, Raoul Dufy, Milton Avery, Egon Schiele, Jonas Wood; of course, Matisse."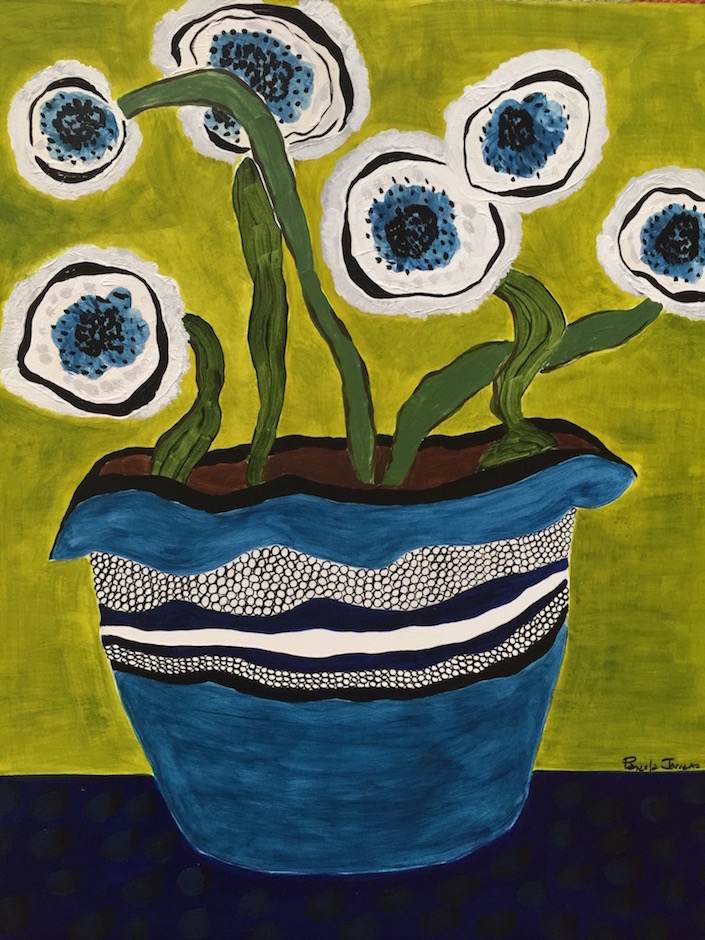 What I've wondered is how, with such a demanding job, Pam finds the time to paint. She makes it seem so easy. "My role as EIC of Luxe is something that I am very passionate about and dedicated to. I love this industry and feel very fortunate to work in it. The designers I meet and admire, the projects we shoot, so much of the industry, in fact, has an influence on my artwork. I paint on the weekends – often several hours at a time and into the wee hours (!) when I get in a zone. It is a form of relaxation, meditation and creation that I have come to thoroughly enjoy. I have also listened to hours upon hours of podcasts while painting this series (Here's The Thing with Alec Baldwin, Revisionist History, TED Radio Hour and NPR's How I Built This are faves).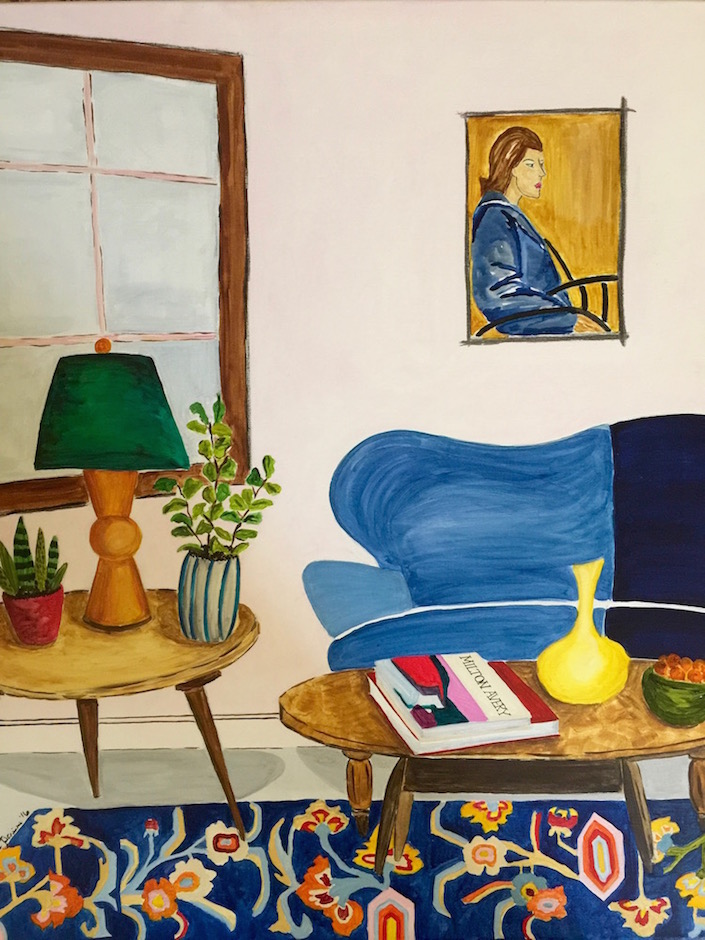 While this series comprises all still lifes, there is an interesting variety, and I asked Pam how she chooses her subject matter. "I have file drawers filled with hundreds of inspiration shots and am pretty obsessive about keeping them organized by subject – patterns, gardens, interiors, architecture, portraits. I also have a pretty fantastic library of art and design books, and magazines, that I skim through. Lately, I have tried to focus on one subject (ie. vases, interiors) and work up several paintings to explore that subject."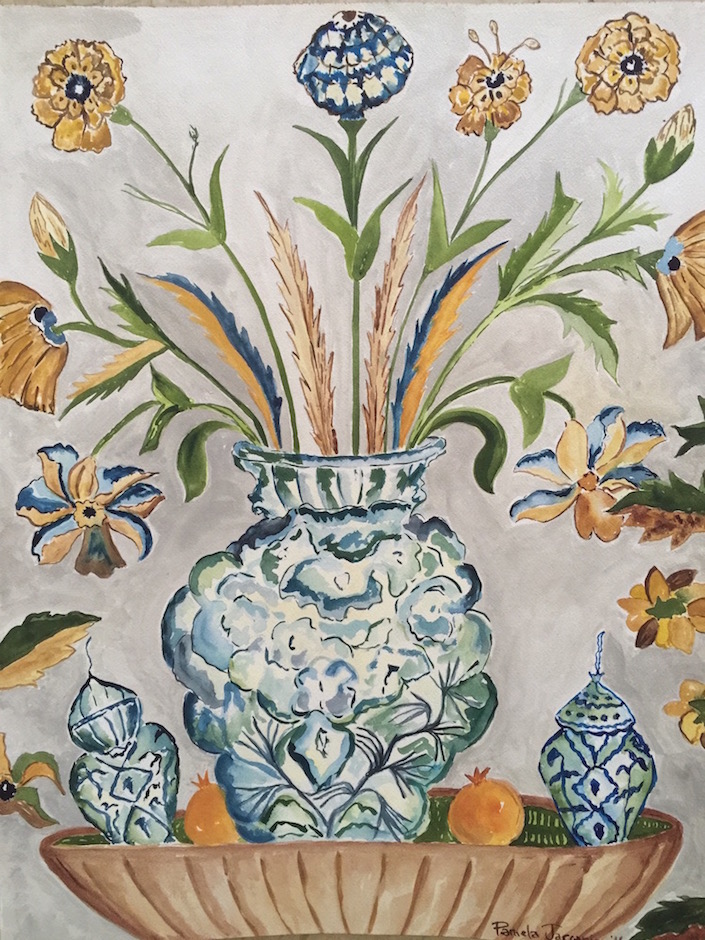 As a complete neophyte artist, I was interested in Pam's process. "I don't have a rigid approach to my paintings in terms of how they evolve. I'll become interested in exploring an idea, tack several images up to my inspiration wall, and work out ideas in a sketch book. For this series, often it was a piece of furniture or a rug that became the starting point and I shaped a room around it. If I feel good about the composition, I will do a very quick application of watercolor or gouache on the sketch to work out colors. Then I'll start tackling the canvas. I first sketch with pencil or charcoal on canvas. I paint on either linen on canvas or wood panels with acrylic paints. This series, "Domestic Bliss" is based on the idea of interiors as portraits and depicts interior spaces, still life, floral arrangements."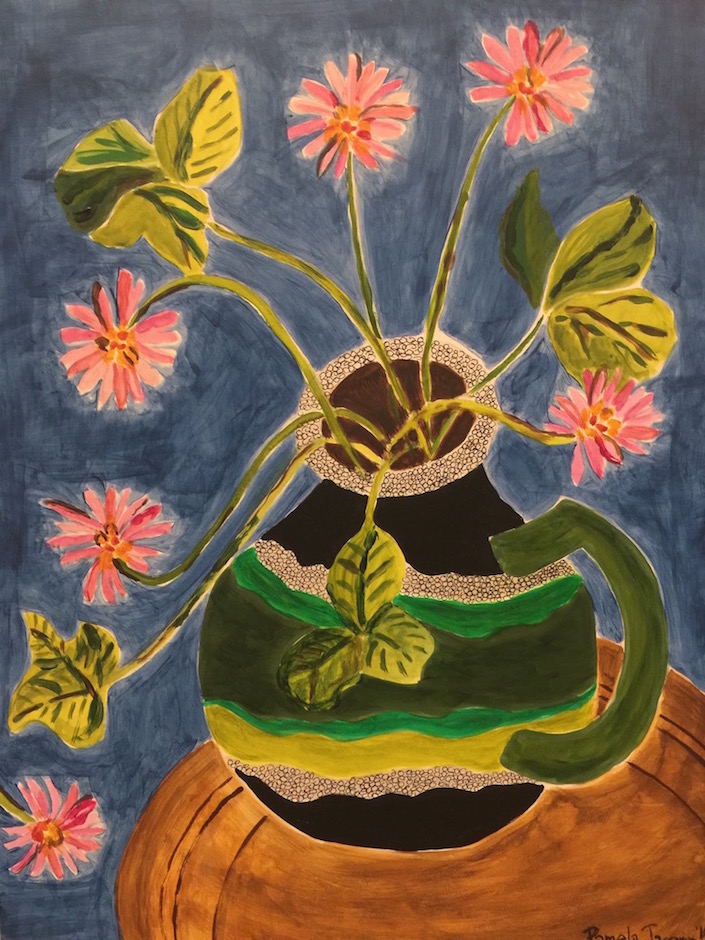 all art by Pamela Jaccarino
I asked Pam if she wanted to say something about her obvious love of color. "I do love color and pattern and have used them extensively in "Domestic Bliss," (though I an considering a very muted palette for my next series). The total joy for me in creating art is that it allows you to explore an idea and express it in your own way. The exploration, the notion of studying history, images, ideas and applying that to the canvas is a total thrill." And I, like many of you I am sure, am thrilled that Pam is now sharing her art to help us create our own domestic bliss! Thank you Pam for taking the time to share your thoughts!
In addition, Mecox will be featuring windows curated by fellow color lover, designer Amanda Nisbet. Double inducement to visit! See you there!
Mecox
972 Lexington Avenue
New York City