As we all avidly anticipate the arrival of spring, we can also look forward to the hatching of new collections. It's always a good day when Soane writes with news and I have been eagerly waiting to share a sneak peek at their spring 2017 launch. What could say spring more than the wonderful garden vignette below featuring the romantic Seaweed Lace fabric now in the popular Azure colorway – it just might be cause for celebration!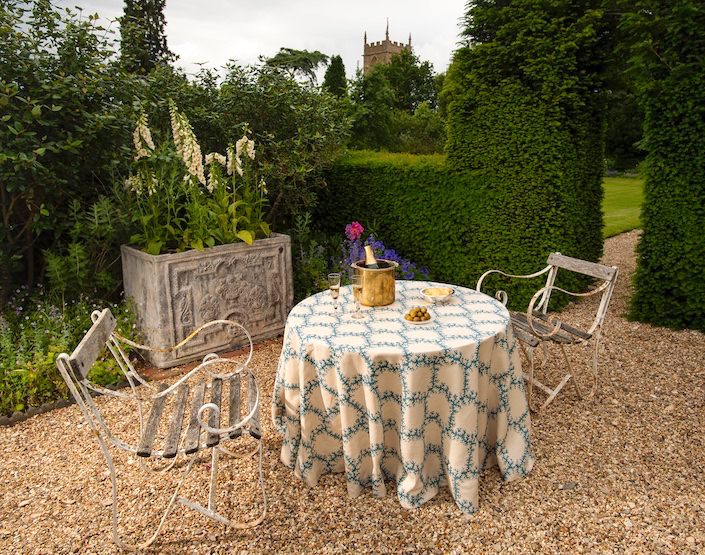 Seen as wallpaper and on the charming Lily Armchair below, it's a perfect pattern and colorway to remember as we start thinking about summer holidays.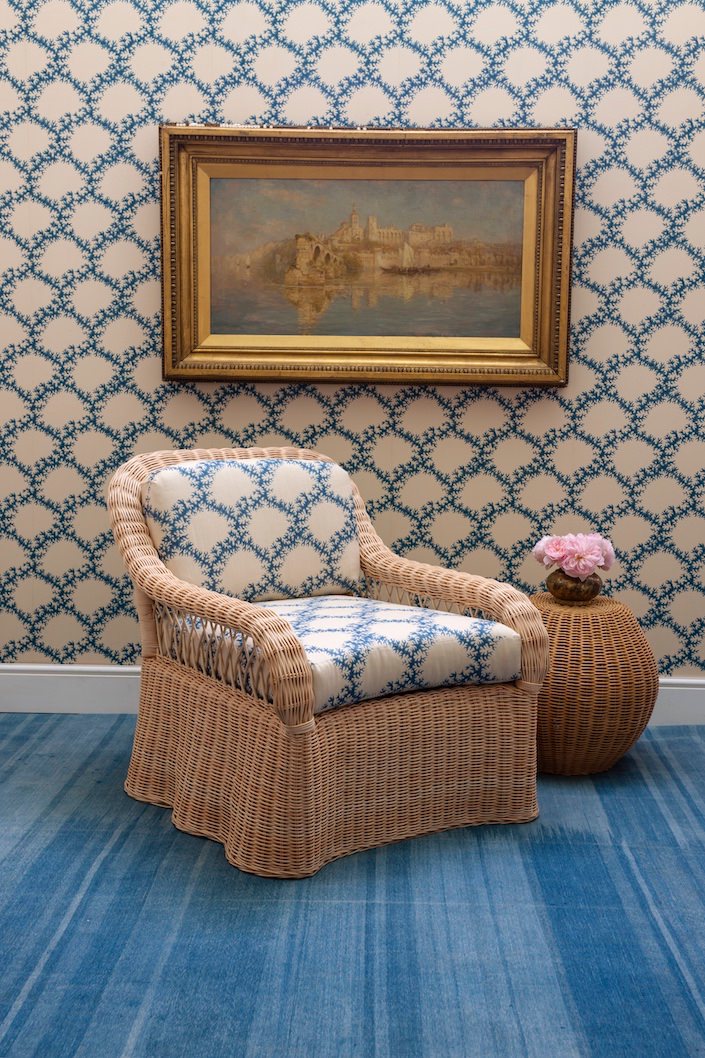 It is also now available in the vibrant Indian Yellow, a wonderful warm and sunny color that is a recent addition to the Soane palette.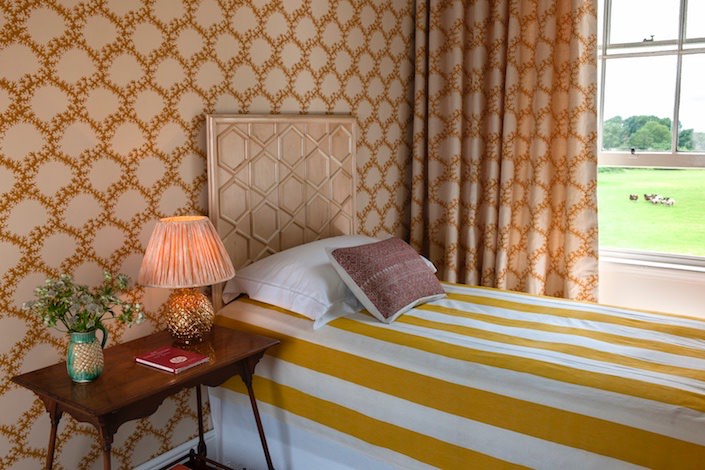 The woven geometric Kaleidoscope, a jewel-like pattern inspired by one of Lulu's favorite 19th century textile handbags, has now been enlarged. Offered in red and indigo, you can see how the bolder scale is perfect for upholstery, below on the Bunny Sofa.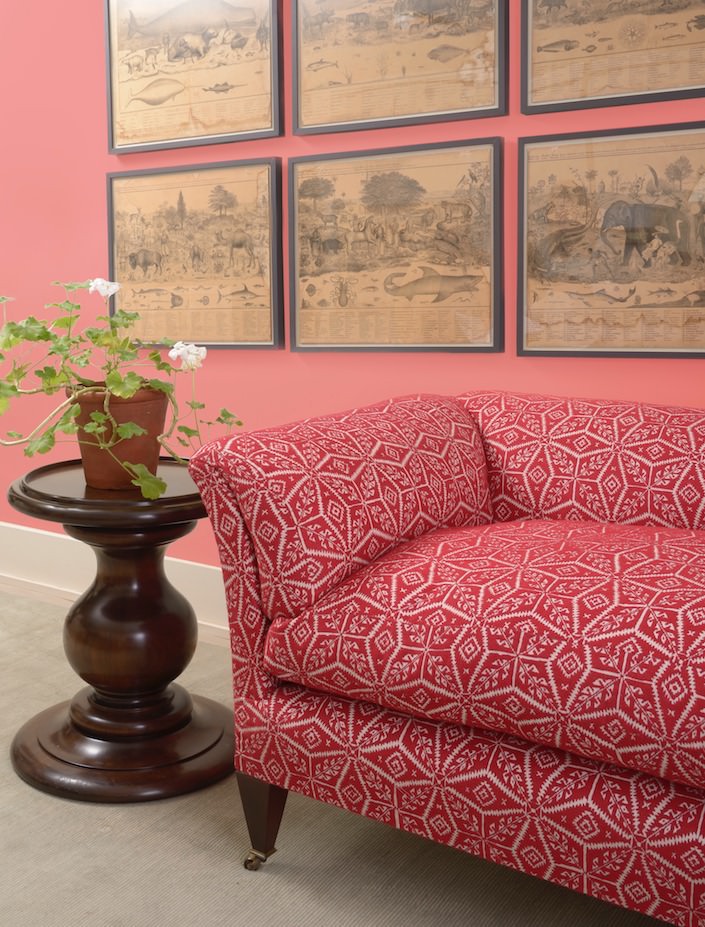 Old Flax is one of my favorite fabrics. This versatile hand woven plain combines a number of similarly shaded yarns imparting a beautiful subtle texture. New to the collection is a lovely pale blue inspired by the tiny flowers of the flax plant. Shown below on the new Simplified Blower Armchair, you can see that even on a delicate shade, there is a rich depth of color. Like the original Simplifield Blower Chair, the new armchair is part of a collection inspired by Bentley's 1920s Blower racing car, with hand-stitched paneled upholstery reminiscent of the car's seats.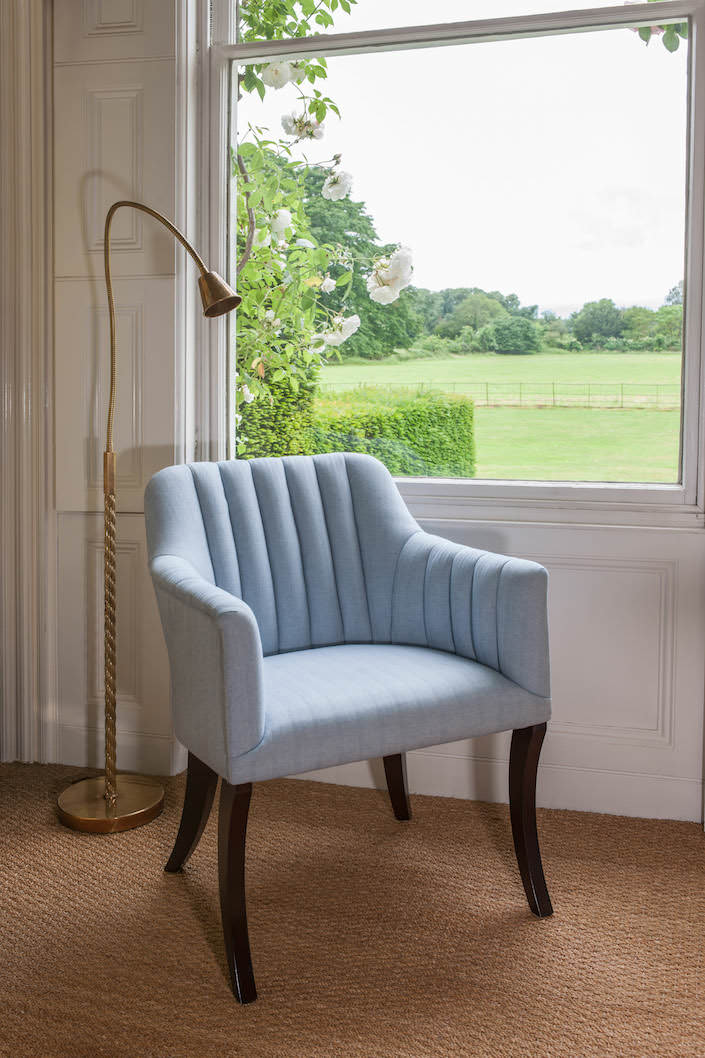 While Paisley Stripe is a five color jewel toned classic in the Soane fabric collection, the new Lapis version, below, is a very different look, allowing for a myriad of mix and match combinations, especially appealing for blue and white scenarios.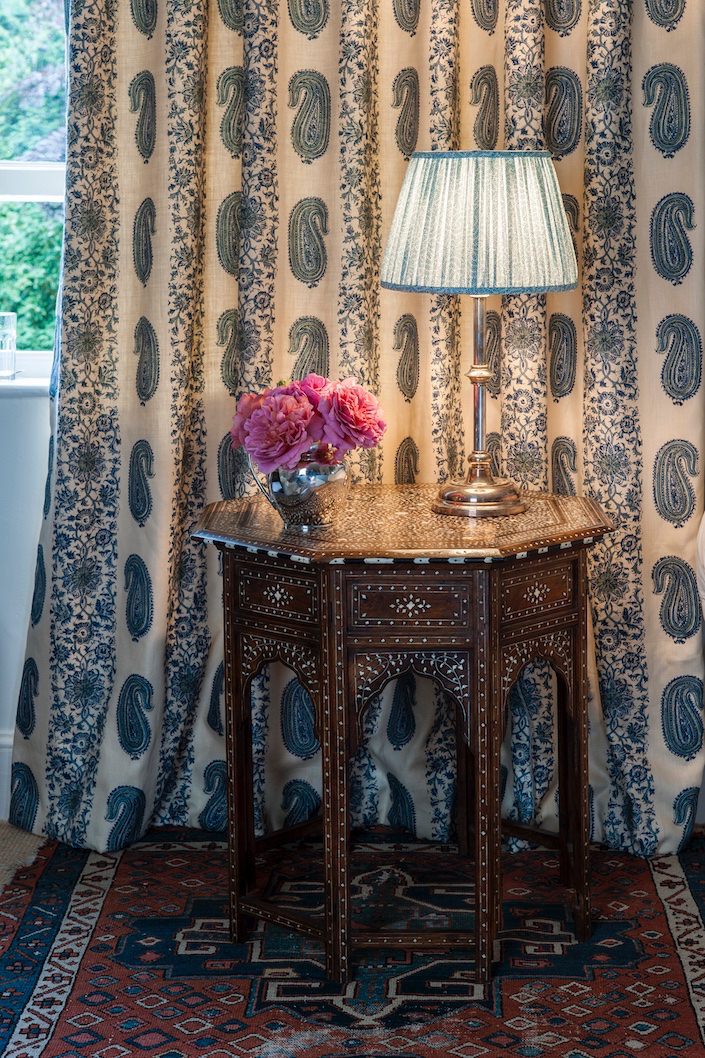 One of my favorite new pattern introductions is Scrolling Fern Frond, shown on the new Spoonbill Chair, below. Lulu's large scale interpretation of a minute motif found in an 1820s French pattern book is a delightful two color print with movement and joie de vivre. Produced as both fabric and wallpaper, it is available in five colorways – Emerald Green on Stone Linen (below), Leaf Green on Linen Lawn, Azure on Ivory Linen and Indian Yellow on Ivory Linen. I'm already plotting!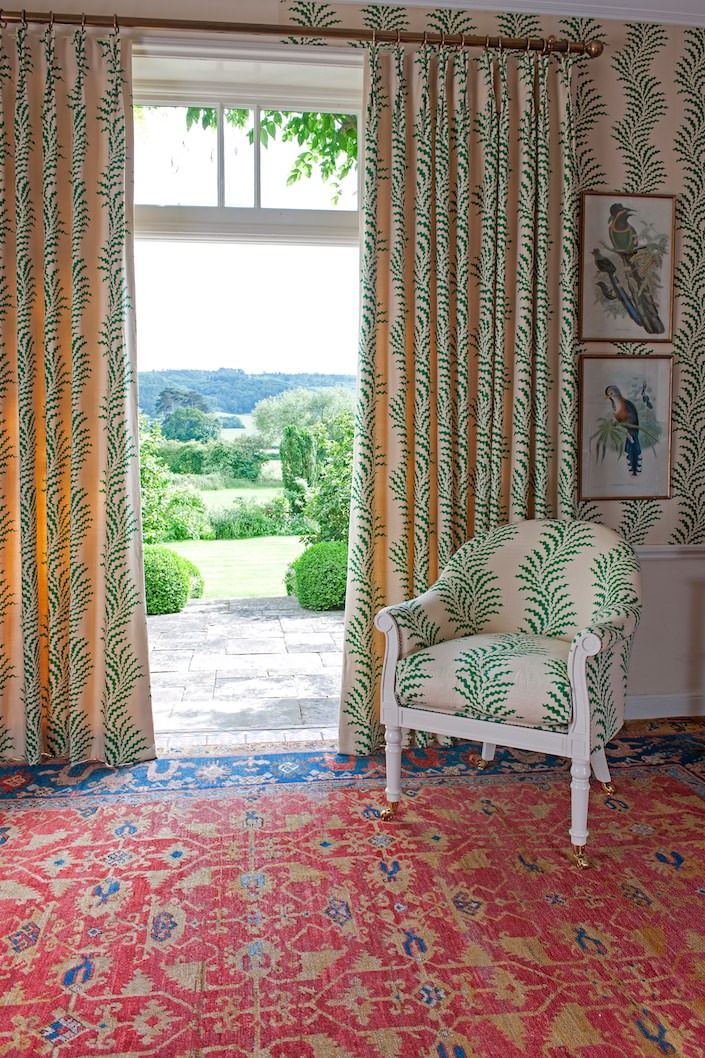 Based on a pair of early 19th century chairs Lulu discovered at auction, the flirty Spoonbill Chair almost feels like a charming conversation enclosed by quotation marks. Available in any of Soane's in-house woods, it is also offered with a painted finish as shown above, either version enhanced with the punctuation of nailheads.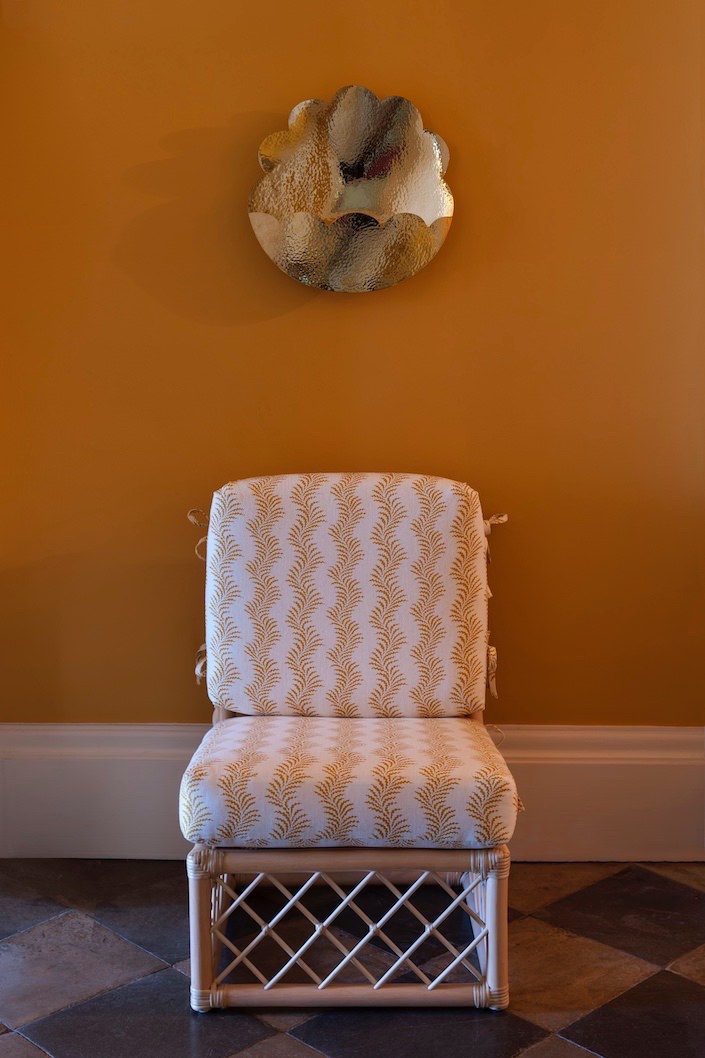 For less bold applications, Scrolling Fern Silhouette, shown on the Lily Slipper Chair, above, is the smaller scaled version of Scrolling Fern Frond, available in all the same colors with the addition of Chestnut, above. Also debuting above is the Scalloped Helios wall light, a boldly scaled, more decorative addition to the Helios family of lights, all handmade by Sheffield silversmiths.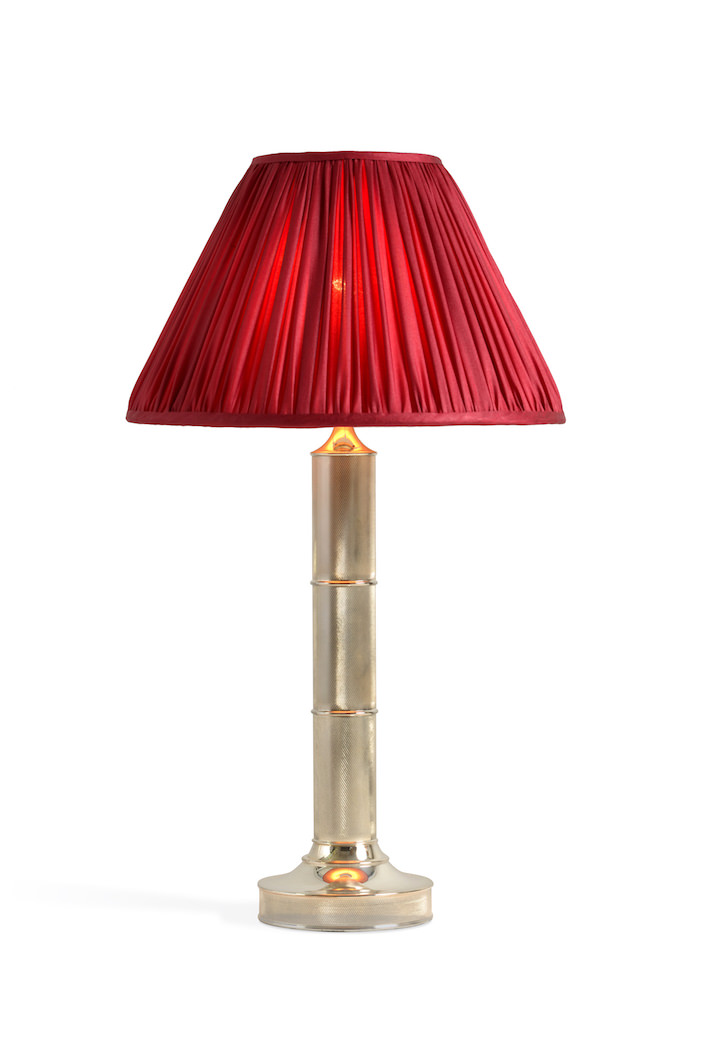 Two other lights round out the spring collection. Inspired by a 1930s design,The Knurled Column Light's feature is its specialty finish, seen more clearly below on its cousin, the Knurled Pelham Wall Light.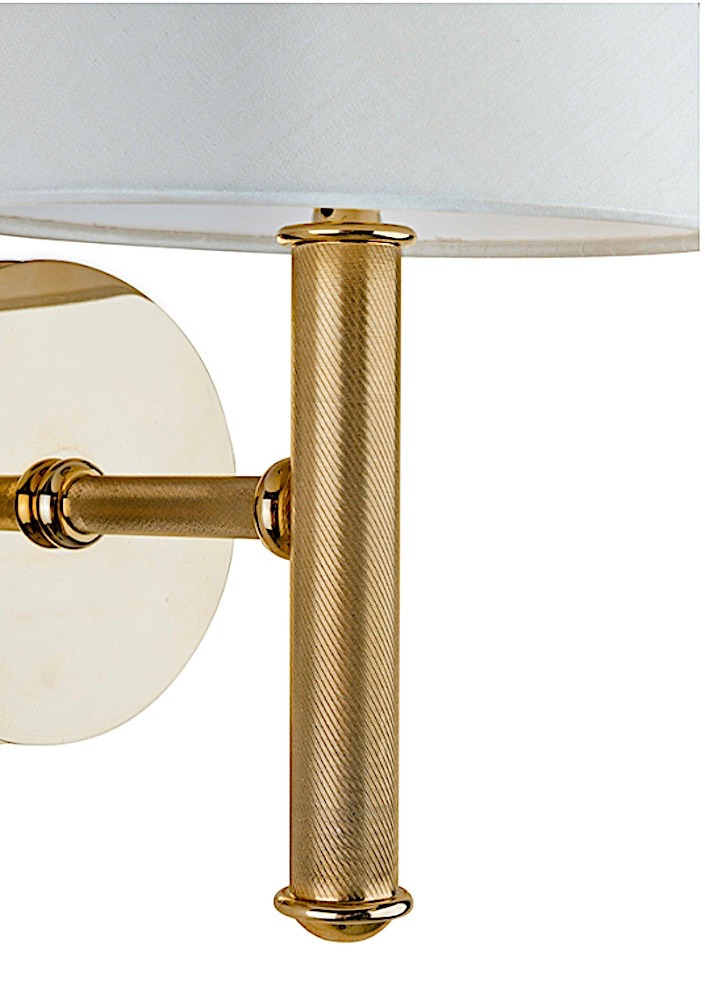 Scrolling forms seem to be a theme in the spring collection and the Scrolling Branch Light takes it to the walls with style.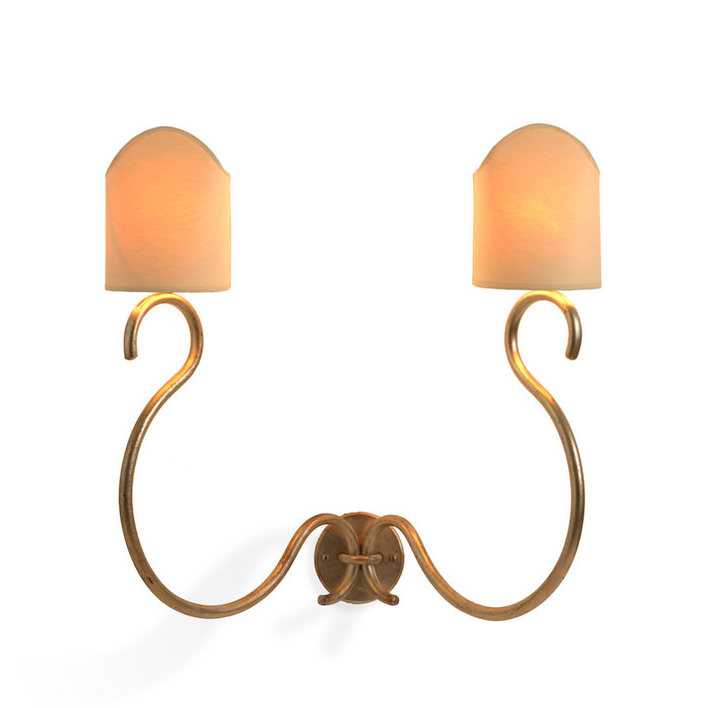 The Scrolling Branch Console and Mirror prove that bold scale does not have to translate to heft. Forged by an expert blacksmith at his foundry in the Forest of Dean (fyi – the oldest oak forest in England and supposedly the inspiration for Tolkien's Middle Earth forests), the lithe and naturalistic branch legs of the console seem to be dancing beneath the shapely marble top.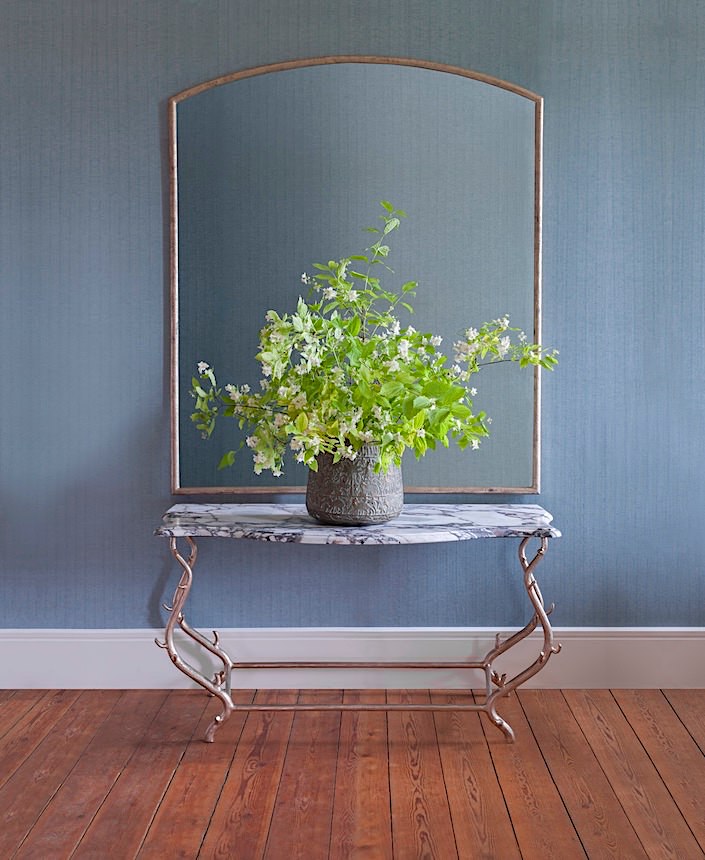 Forged by the same blacksmith, the new Bascule Coffee Table features the same "hoof" footed iron frame as The Bascule Desk. Stone, wood or any other of Soane's in-house materials can be chosen for the top.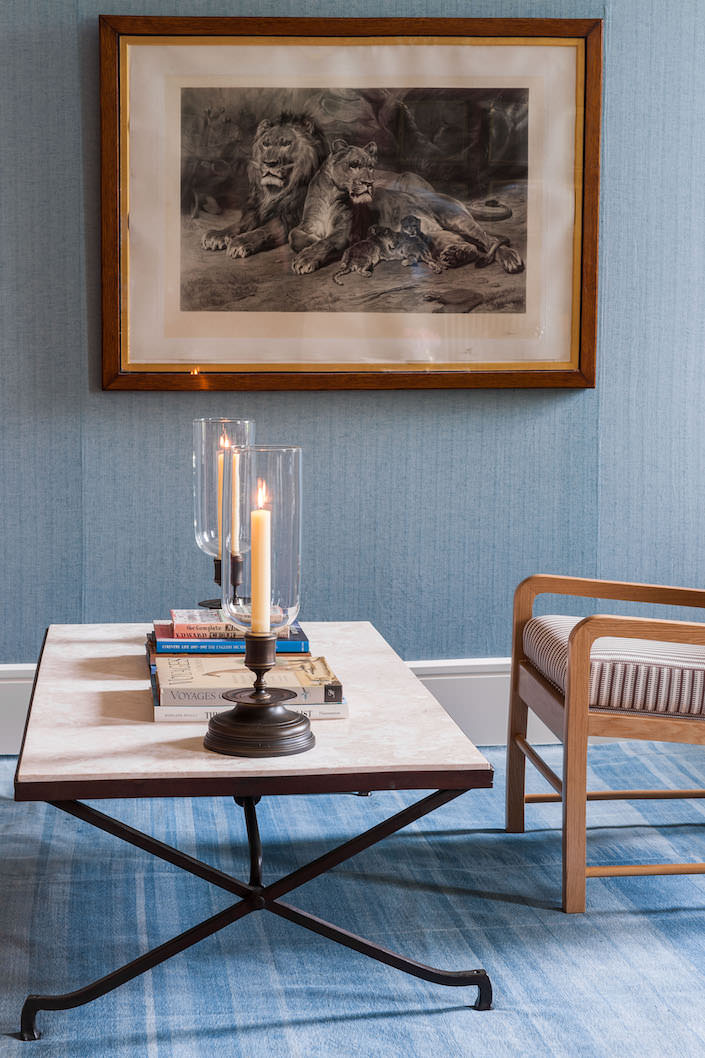 Soane's original Conservatory Chair is now interpreted as the handsome and lounging friendly upholstered Verandah Chair, below, shown with the classic Rattan Barrel Table. Based on a 1940s French armchair, the clean lines of the wood frame make it a perfect fit for both modern or traditional interiors.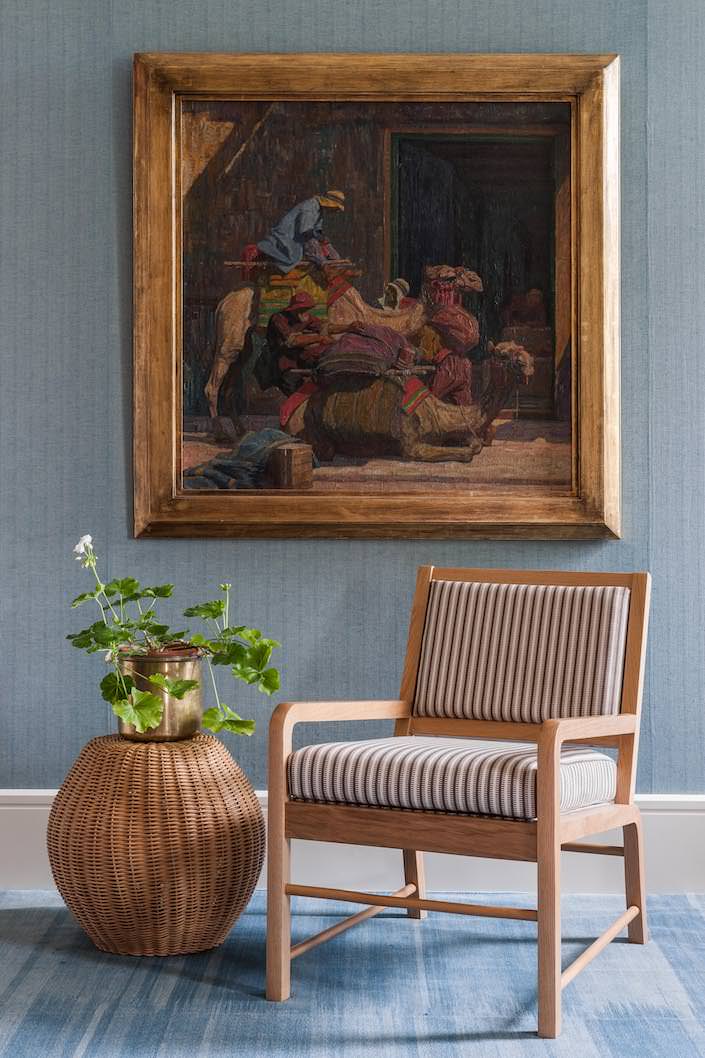 Two new stools join the Soane repertoire for spring 2017. Inspired by the classic Ancient Egyptian design often found in pharaoh's tombs and popularized by Liberty of London in the 19th century, The Thebes Stool is expertly executed by Soane's rattan weavers in Leicestershire. With a cane frame and comfortable rattan seat, it is a sophisticated piece that would be at home anywhere.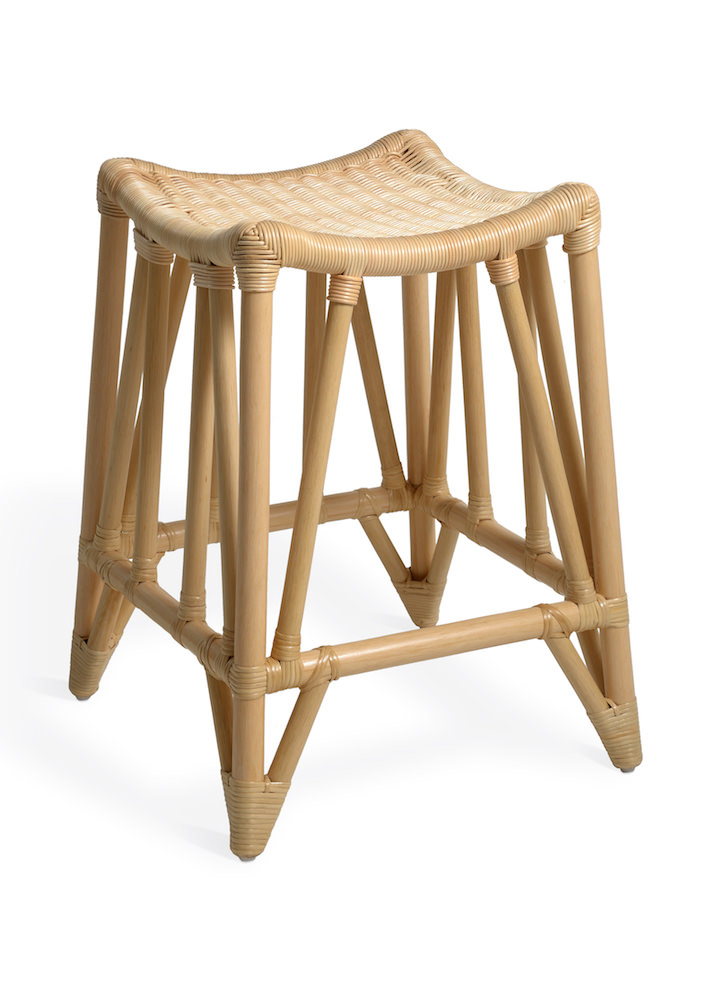 Like its sibling, The Grange Chair, the new Grange Counter Height Stool is inspired by an English Arts and Crafts period chair. With clean lines enhanced by chamfered details, it can be customized with any of Soane's in-house Woods and finishes, fabrics and nailhead finishes. I rather like this understated version in limed oak upholstered with Old Flax in azure.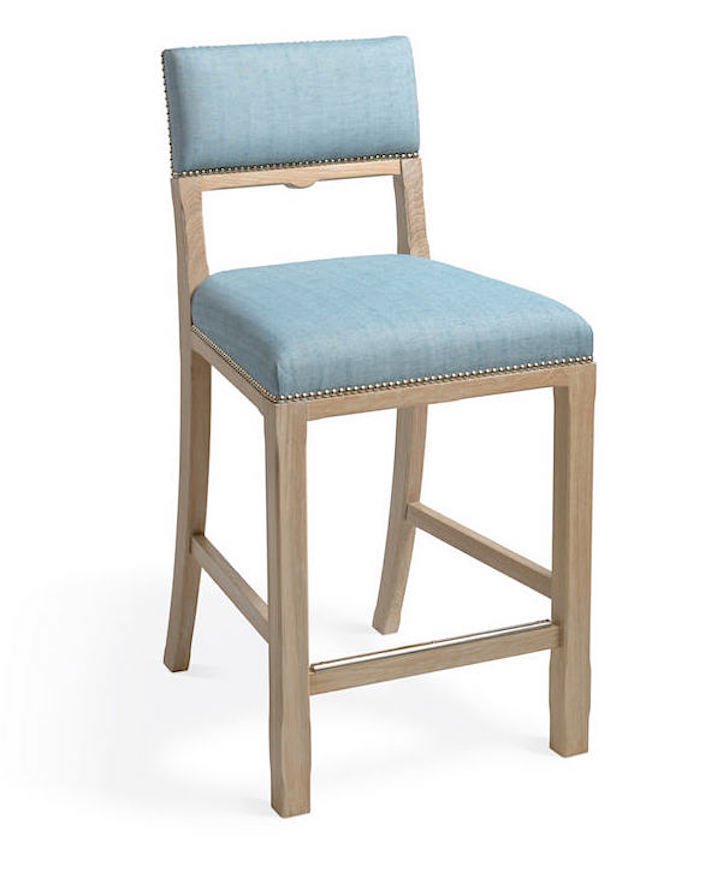 As warm weather approaches, hurricane lanterns are an essential accessory. Two new offerings from Soane for the spring 2017 introductions are The Cove Light and The Cavern Light. Generously scaled with an interior glass holder, the Cove features an open trellis upper with a tightly woven bottom, hand made by the Soane rattan weavers. The alternative Cavern Light is similar with the open trellis continuing all the way through.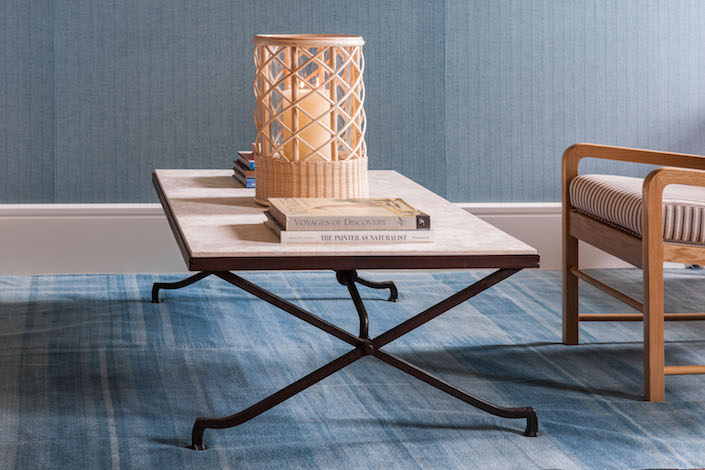 No matter what the size of your project or style of your home, there is always something from Soane to make it that much more stylish. As always, a big thank you to Lulu and her team for entrusting me with a sneak peek!