All of Rachel Laxer's interiors are marked by a sophisticated and often unexpected edge, due in great part to her inclusion of both fine and functional art. While many these days are comfortable with collecting fine art, the category of functional art is one that seems to be only now fully coming into its own. This schism between art forms was the subject of a discussion with Murray Moss and Susan de Menil in the Fortuny showroom I wrote about last year.
photo by Matthew Millman
Needless to say, Rachel is a huge proponent of functional art and one of her sources in Paris is the Avant-Scène gallery where Elisabeth Delacarte curates an impressive collection. When entering the space, there is an immediate sense of movement, of texture, of inventiveness and of the handmade. Take for example the New Zealand artist Mark Brazier-Jones, whose stunning chandeliers Rachel used in the dining room above. A founding member of the "Creative Savage" group in 1983 with friends Tom Dixon, Nick Jones and later André Dubreuil, Brazier-Jones has been exclusively represented by Avant-Scène since 1989.  Here is another even more elaborate chandelier seen at the gallery.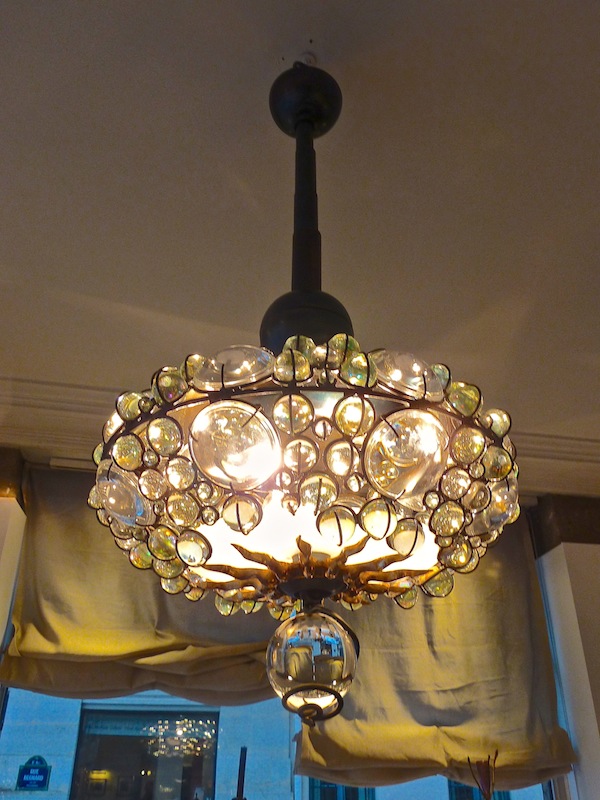 Avant-Scène has represented Hubert Le Gall since his first show there in 1997, when he exhibited his now famous daisy tables and commodes.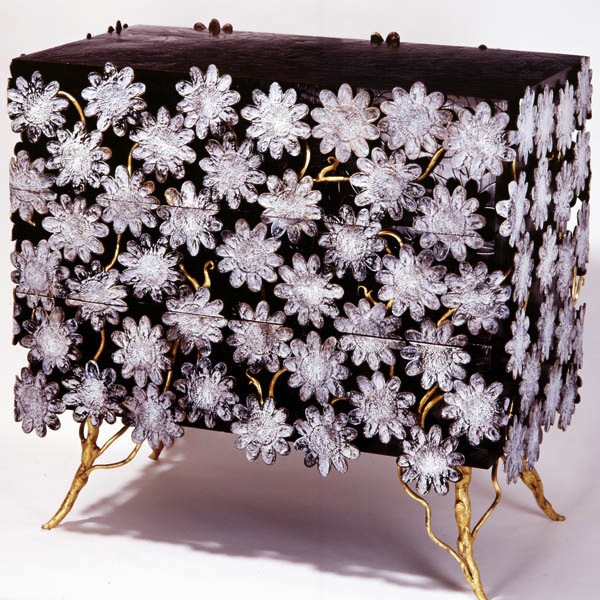 photo courtesy of Hubert Le Gall
Le Gall's work, a fantastical fusion of playful frivolity and elegant craftsmanship is irresistibly charming. His statement pieces are polished and refined with inspiration ranging from flowers and vegetables and "poetic bestiary" to jewelry.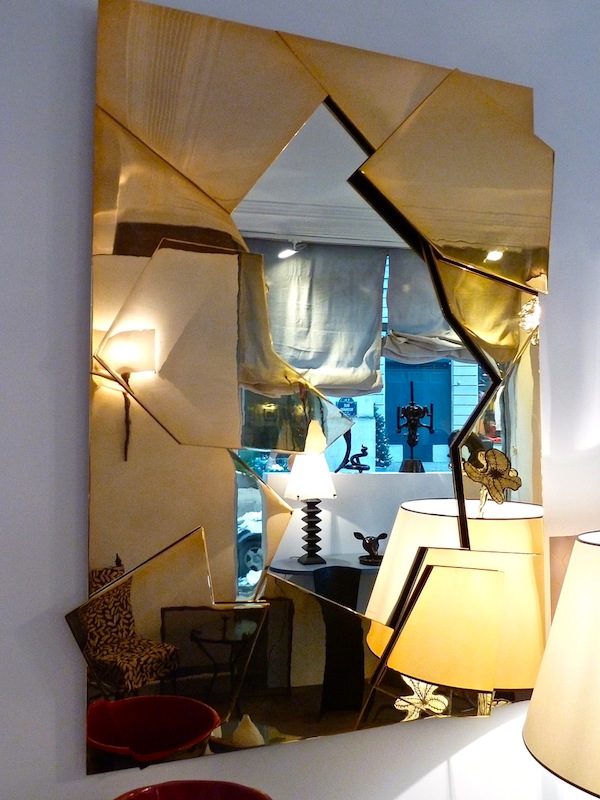 I loved his mirrored pieces at Avant-Scène – modern and edgy yet glamorous – the perfect way to add some artistic contemporary bling. The Dorian mirror above felt like a package wrapped up and ready to gift!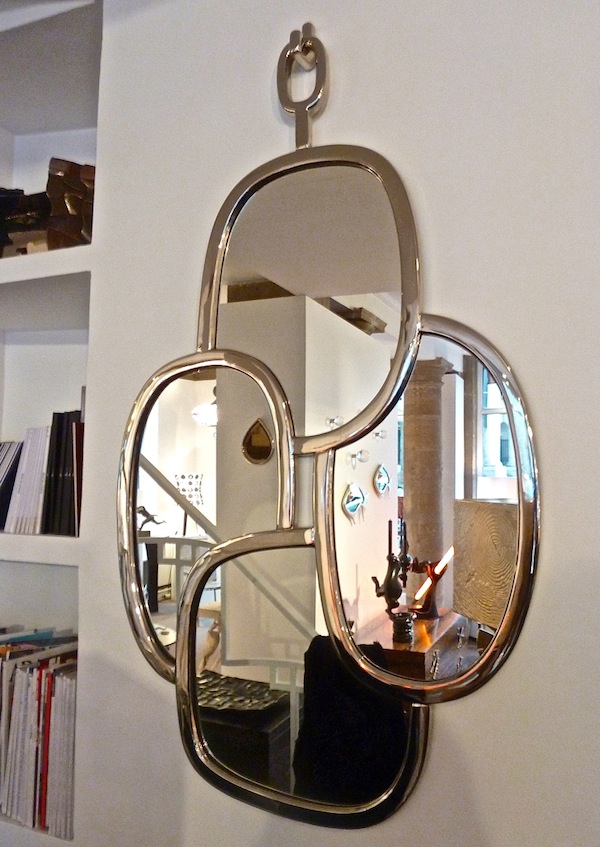 The puzzle-like interlaying pieces of the Comino mirror add stylish dimension. And with the signature hook, it feels like a giant pocket watch or pendant with a jewel-like presence. "My" sconce below is the more organic version with allusion to the bull horn that appeared in his recent zoomorphic pieces.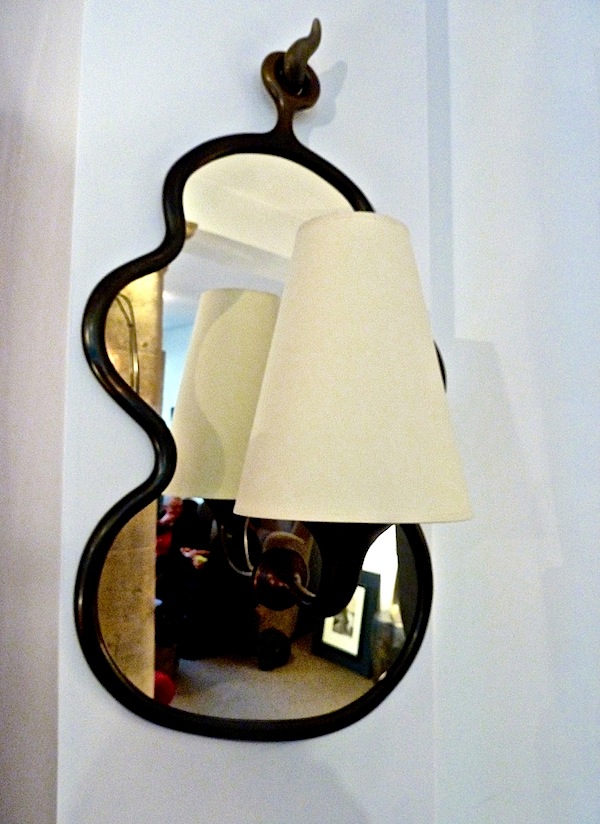 The week we were visiting, Avant-Scène was presenting a show with Italian artist Andrea Salvetti, whose work in metal expresses his connection with nature. Through sculpture, natural forms are translated into functional art. Tree trunks, in luxurious bronze finishes, become totems and storage boxes.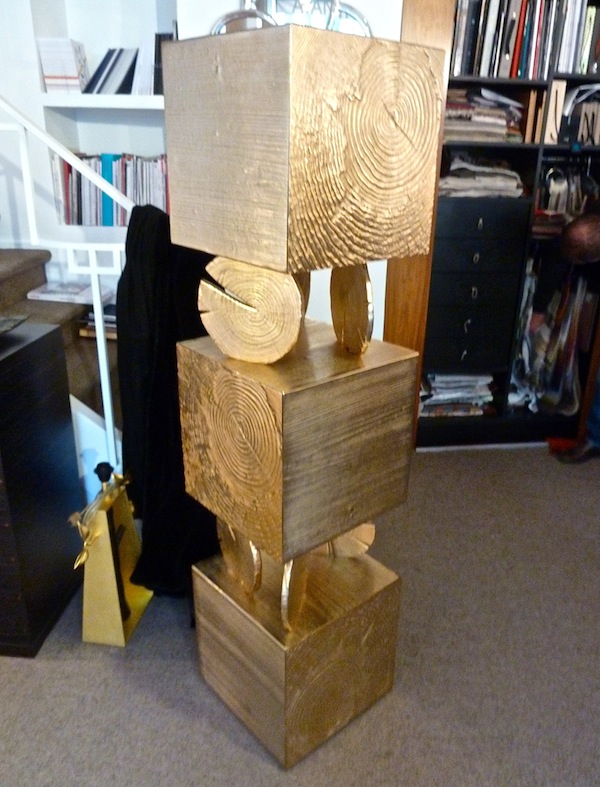 Nests become seats (his NIDO chair)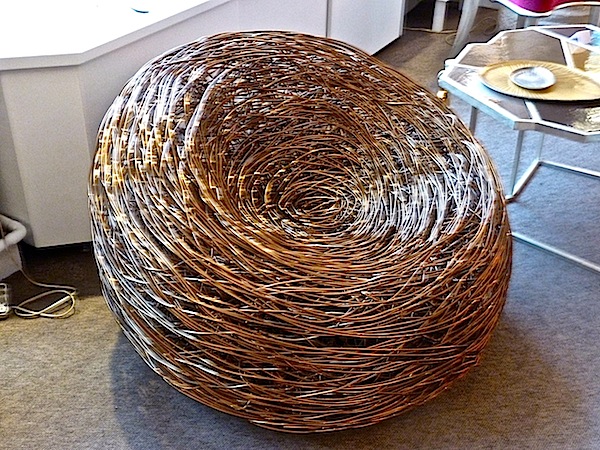 And what appeared like flowers become electrified decoration in a mirrored field. My photo does not do justice to this Prato Colorato mirror – truly a sparkling luminous piece!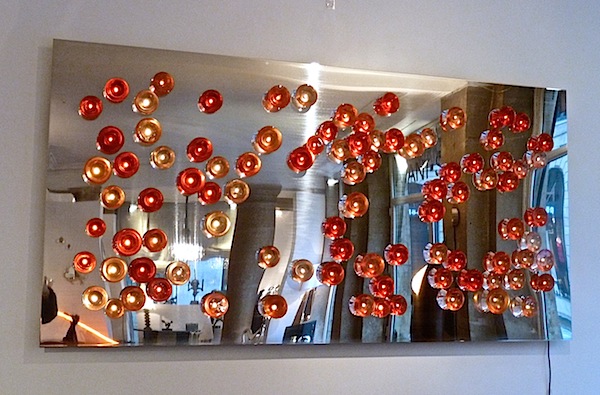 Avant-scène offers endless inspiration on living with art. "The artists…propose a highly personal vision of daily life. Each work tells an original story, imbued with magic and the unusual; the guiding light being art applied to a functional object."