In choosing the one-of-a-kind offerings for this year's inaugural Q Worthy Advent Calendar, I was inspired by many artists and artisans who embody style with a past. The history of decorative arts is rife with material that can be reinterpreted for today (a read on a similar subject from years back) and who doesn't love a purchase that resonates with a narrative. The timing for the luxurious All Creatures Great & Small linen collection (part of the Quintessence x D'ASCOLI collaboration) couldn't have been more synchronistic with The Tudors show at the Met. Featuring a mix of silk satin, linen, and hand spun, hand woven cotton, the sumptuous array of colors and patterns in the collection are inspired by Renaissance textiles from Italy and Elizabethan England.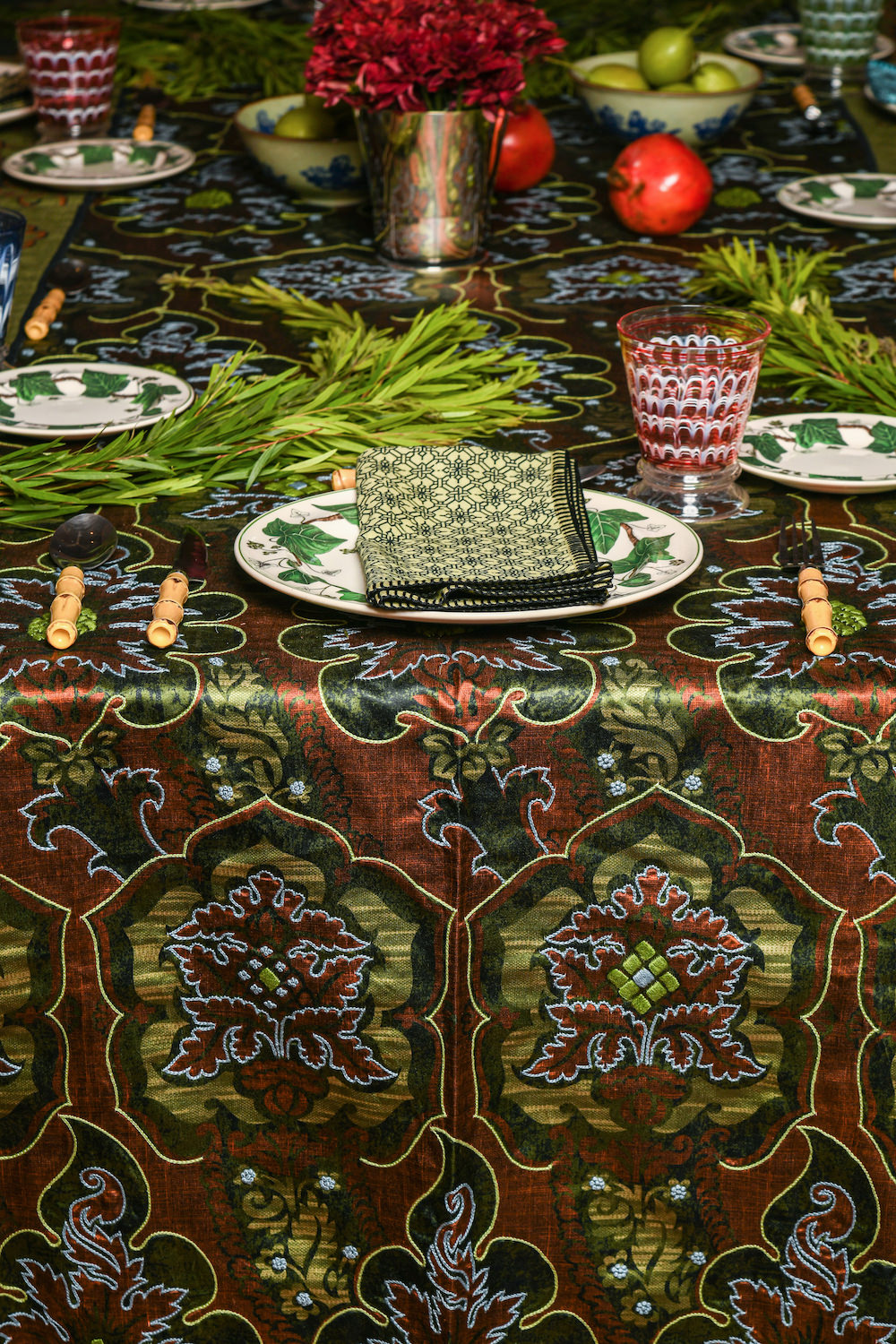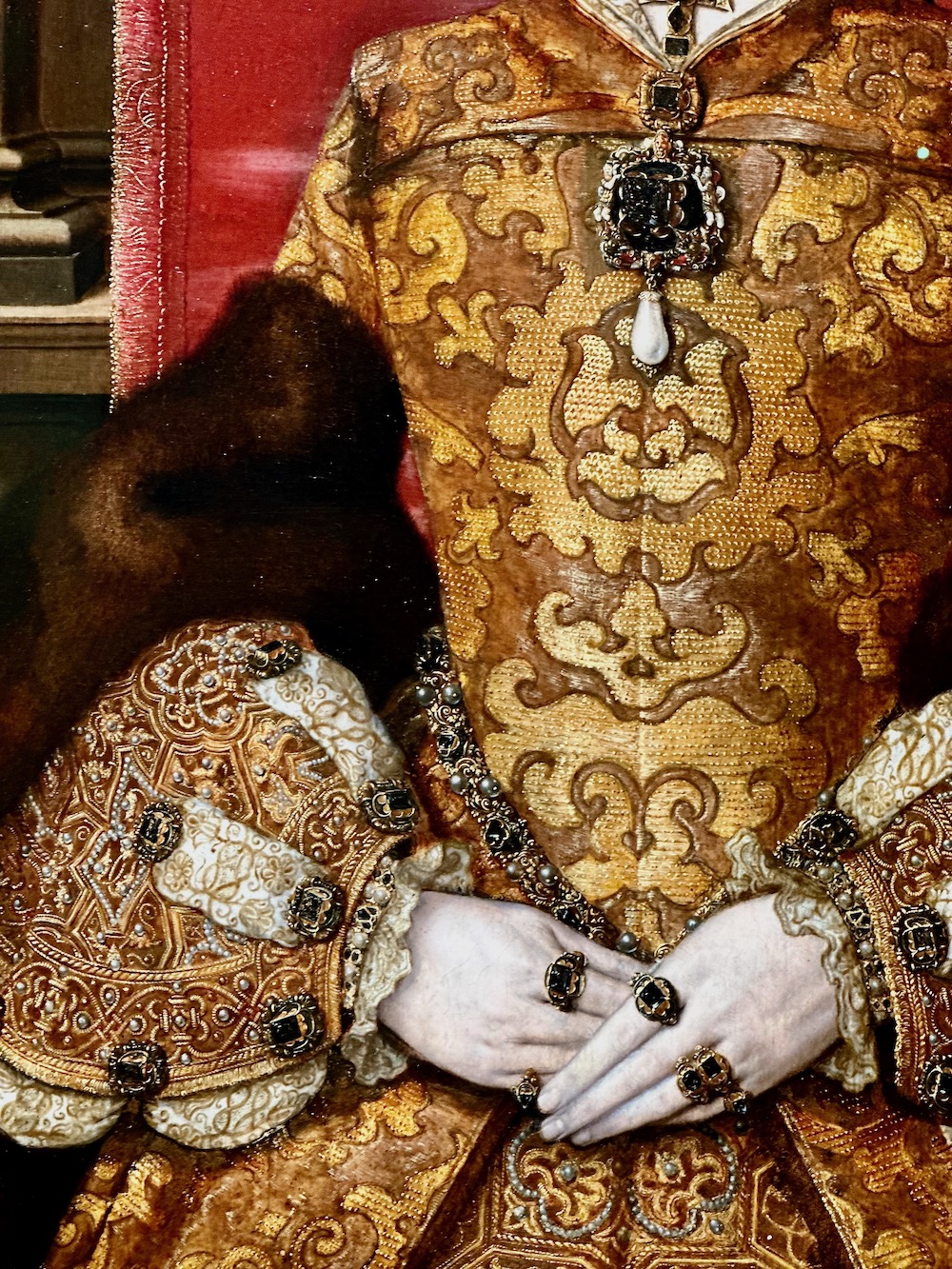 Hand embroidery including chainstitch, French knots, and other stitches by D'Ascoli's master artisans animate a green and rust colored silk mullion design on the central and side panels of this large tablecloth, bounded by panels of 100% linen printed with medieval animals and herbal motifs.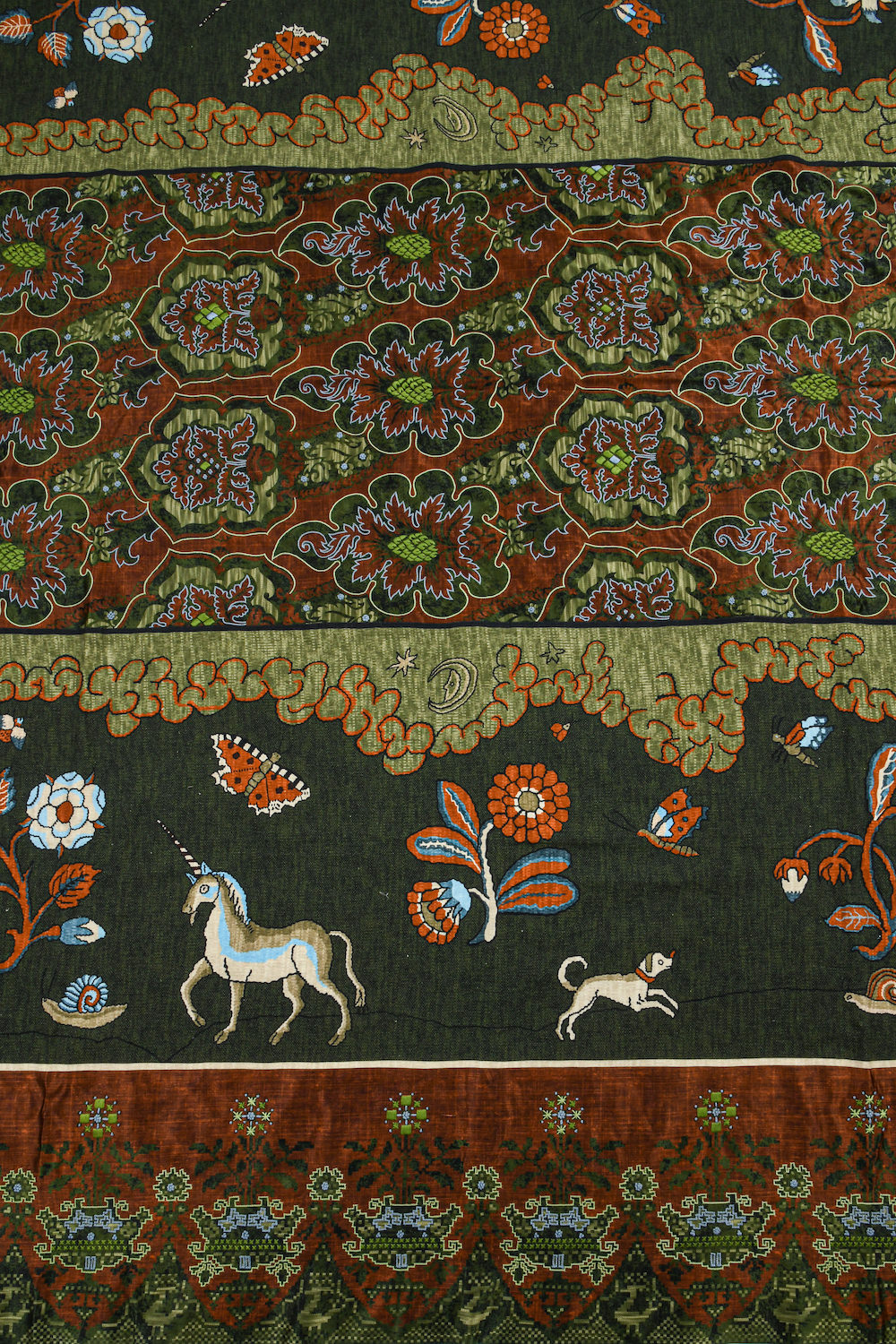 The coordinating twelve napkins are made of hand spun, hand woven cotton that are hand dyed and printed with an intricate geometric pattern before hand embroidering in D'Ascoli's atelier. An extraordinary example of exceptional design and craftsmanship worthy of your most festive celebrations.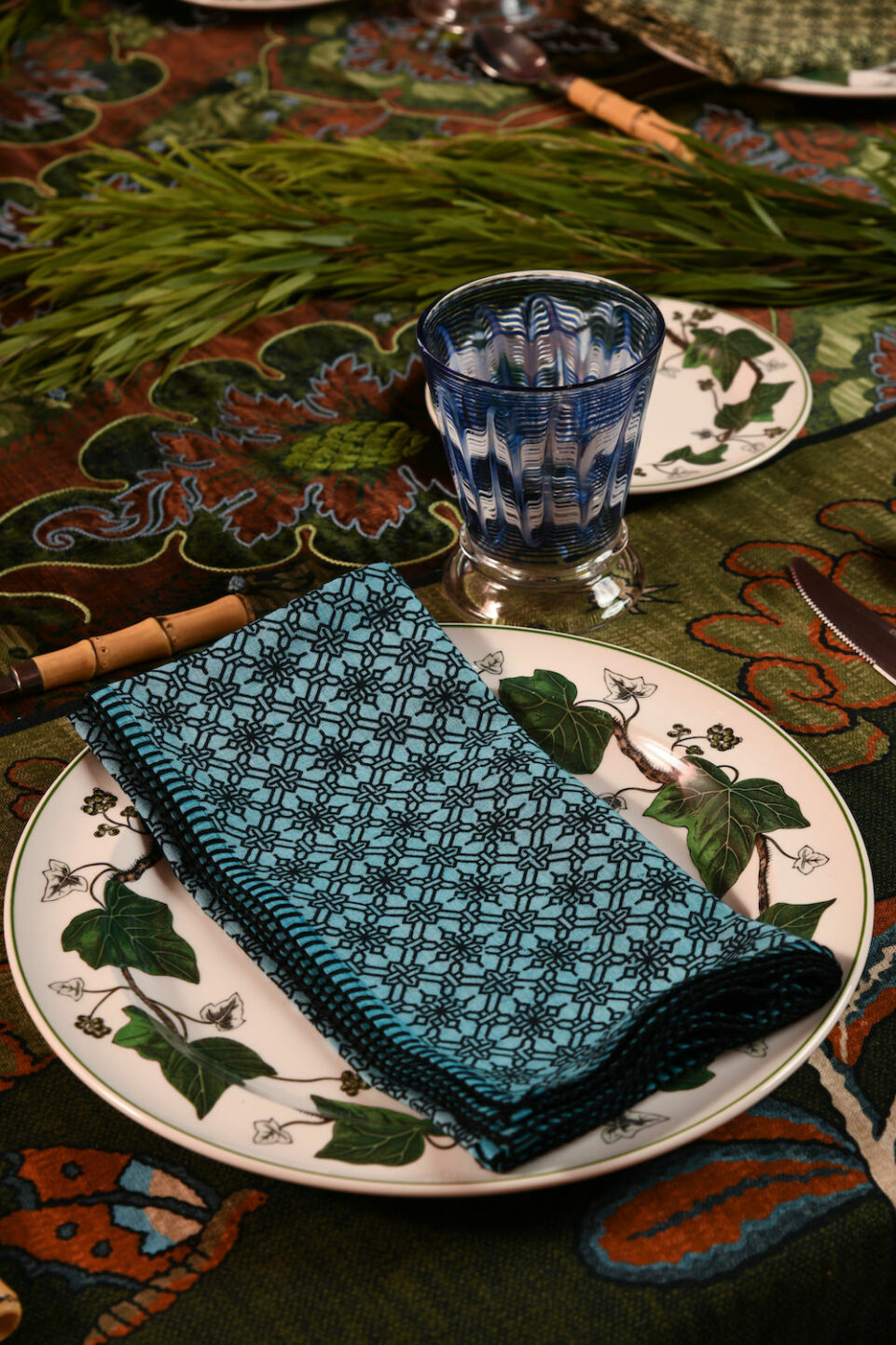 Beth Scanlon of Scanlon Apparati is an artist whose work is influenced by a personal and romantic interpretation of Seventeenth Century Baroque decorations created with colored paper and canvas called Apparati. These pieces derive a timeless charm through meticulous craftsmanship.  The desired effect remains…theatrical, ephemeral, architectural … yet, most of her colored paper creations have a functional use. That however is not where she started. As Beth explains, "I first entered the cartonnage field to make folios for my interior watercolors."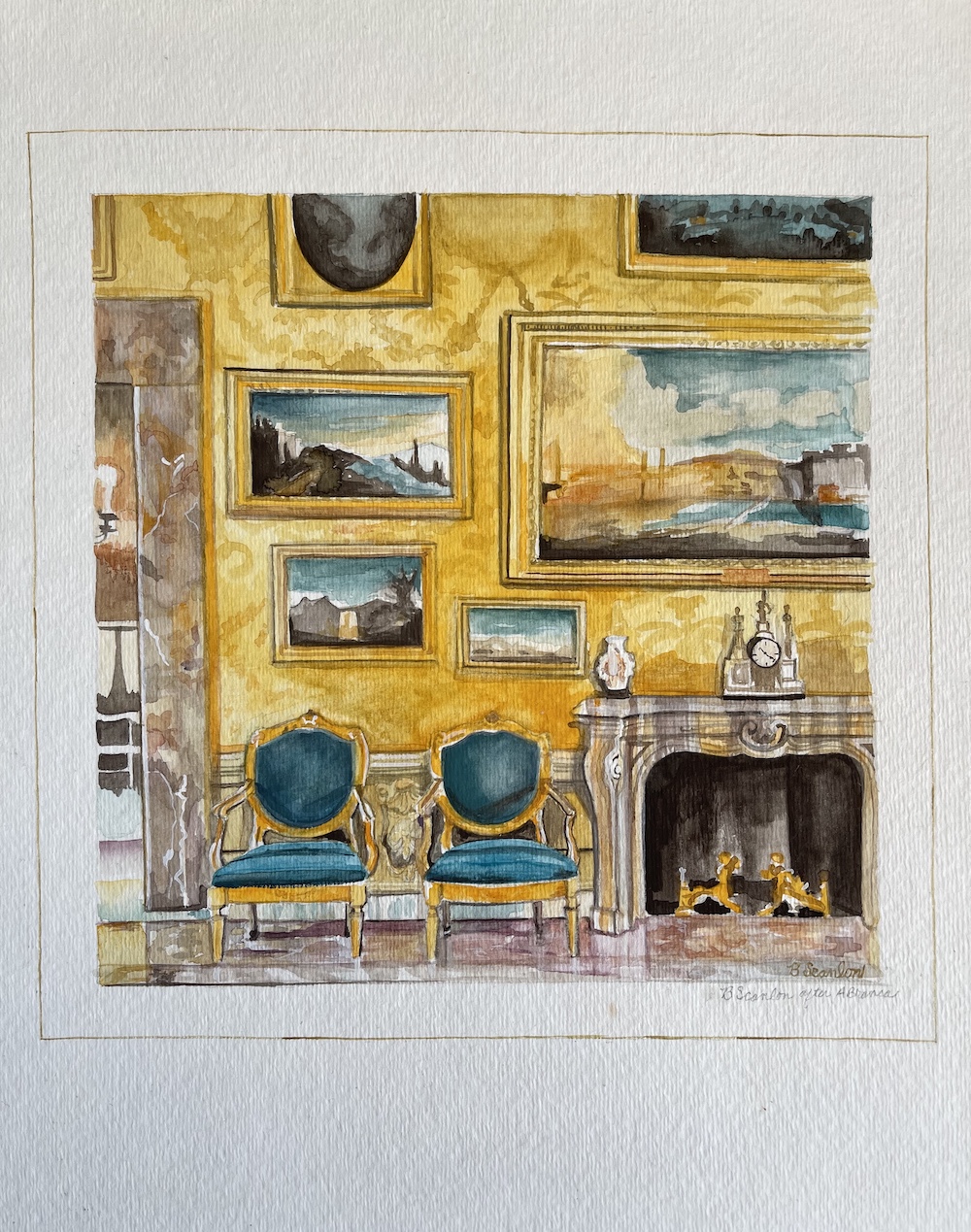 And it is a charming Interior Portrait with a folio that she has contributed to Q Worthy's Advent Calendar.  "This 6.5" x 6.5" watercolor of the Vanvitelli room of the Palazzo Colonna in  Rome represents a full circle in my career.  Galleria Colonna tells us Gaspar van Wittel (1653-1736) known as Vanvitelli was one of the earliest veduta artists and served as inspiration to Venetian artists Canaletto and Guardi.  This watercolor is presented in a folder covered and lined with Venetian hand blocked paper, 13" x 15".  I find the art history of it all pleasing, it might serve as a souvenir of one's contemporary grand tour."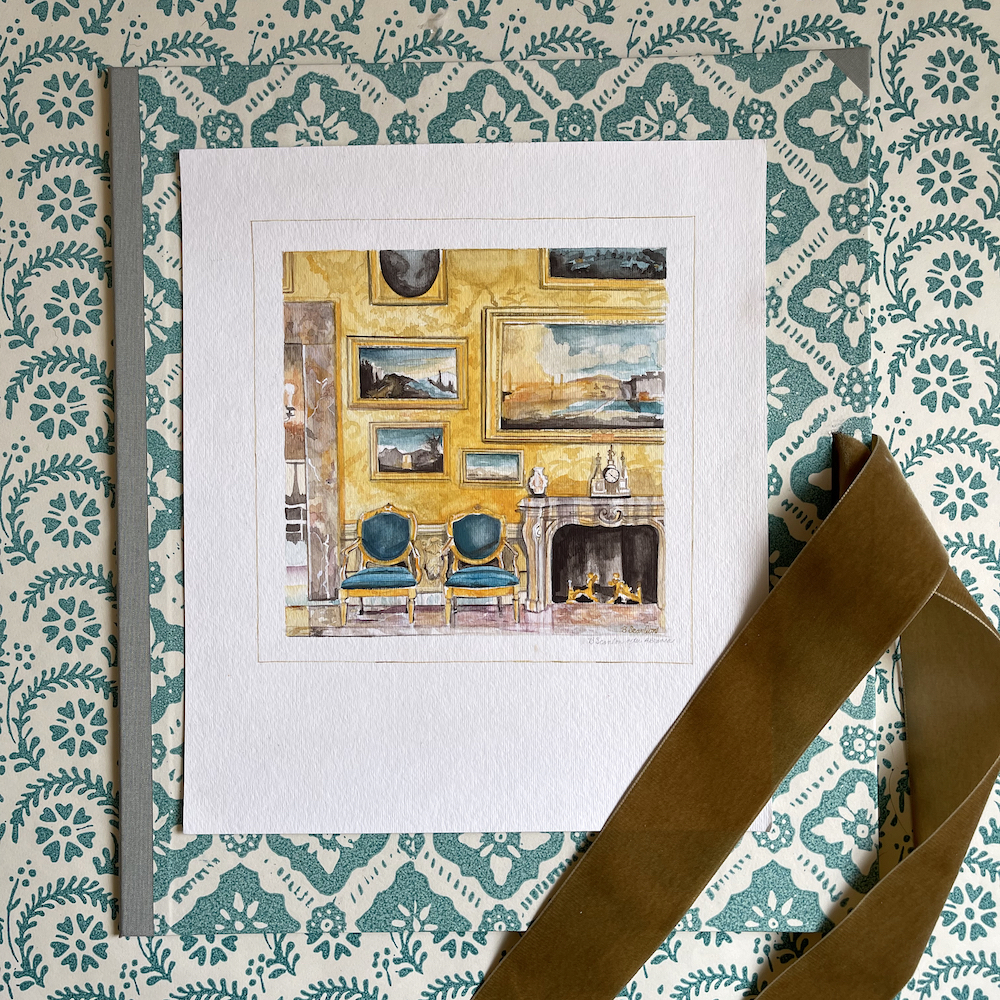 Margo Larkin is an artist who tells stories on glass. Fueled by memories and imagination, she meticulously hand paints each of her heirloom creations. I am honored that Margo contributed several items to this inaugural Advent Calendar. This set of glassware – pitcher and four glasses – recalls the time honored pattern of wicker and are indeed the only wicker glasses you can wash.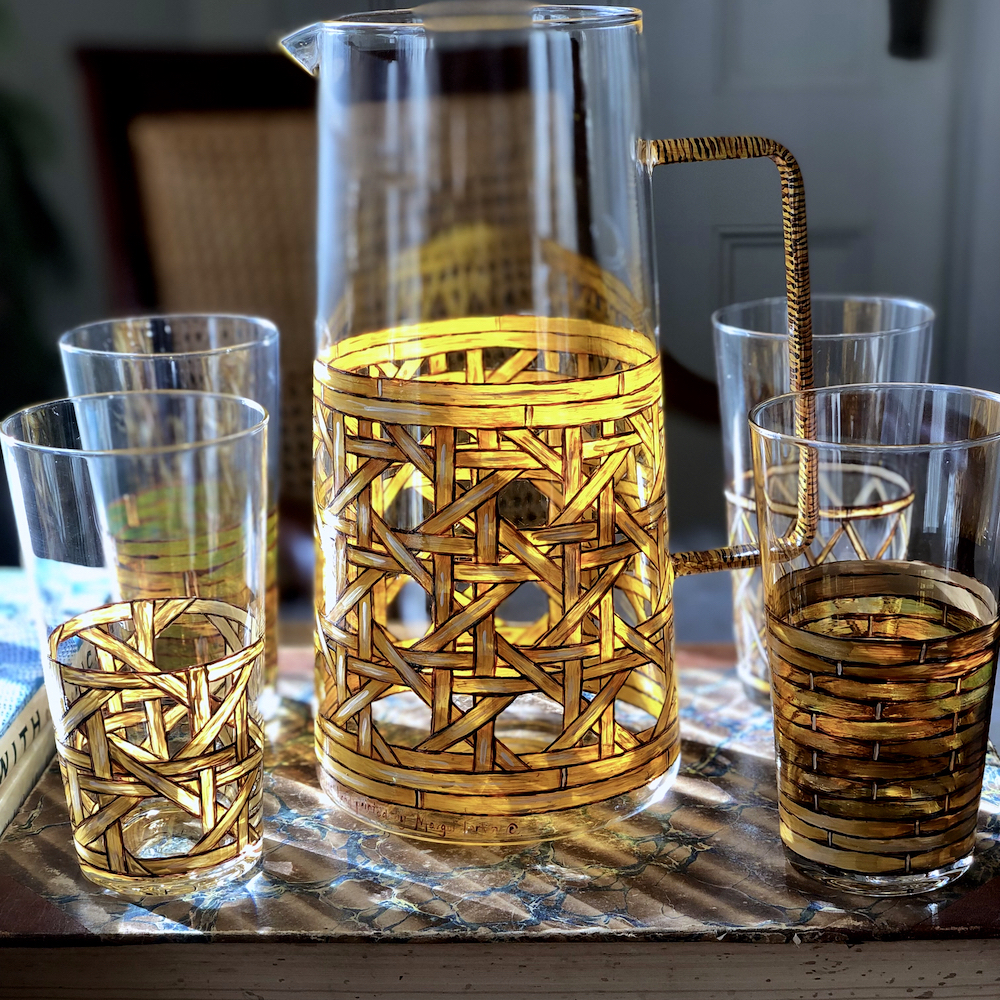 In creating this meticulously hand painted one-of-a-kind set, she wanted to make functional art that can be used and passed down for generations. From Elsie de Wolfe to Marella Agnelli to Bunny Mellon, revered tastemakers through history have understood the appeal of wicker and its sister rattan. This collection is an elevated nod to this time honored pattern, one that is relaxed yet elegant and goes with anything on your table, from elegant white porcelain to patterned pottery. All Margo's glasses are painstakingly reverse hand painted so you see the same image from both sides of the glass.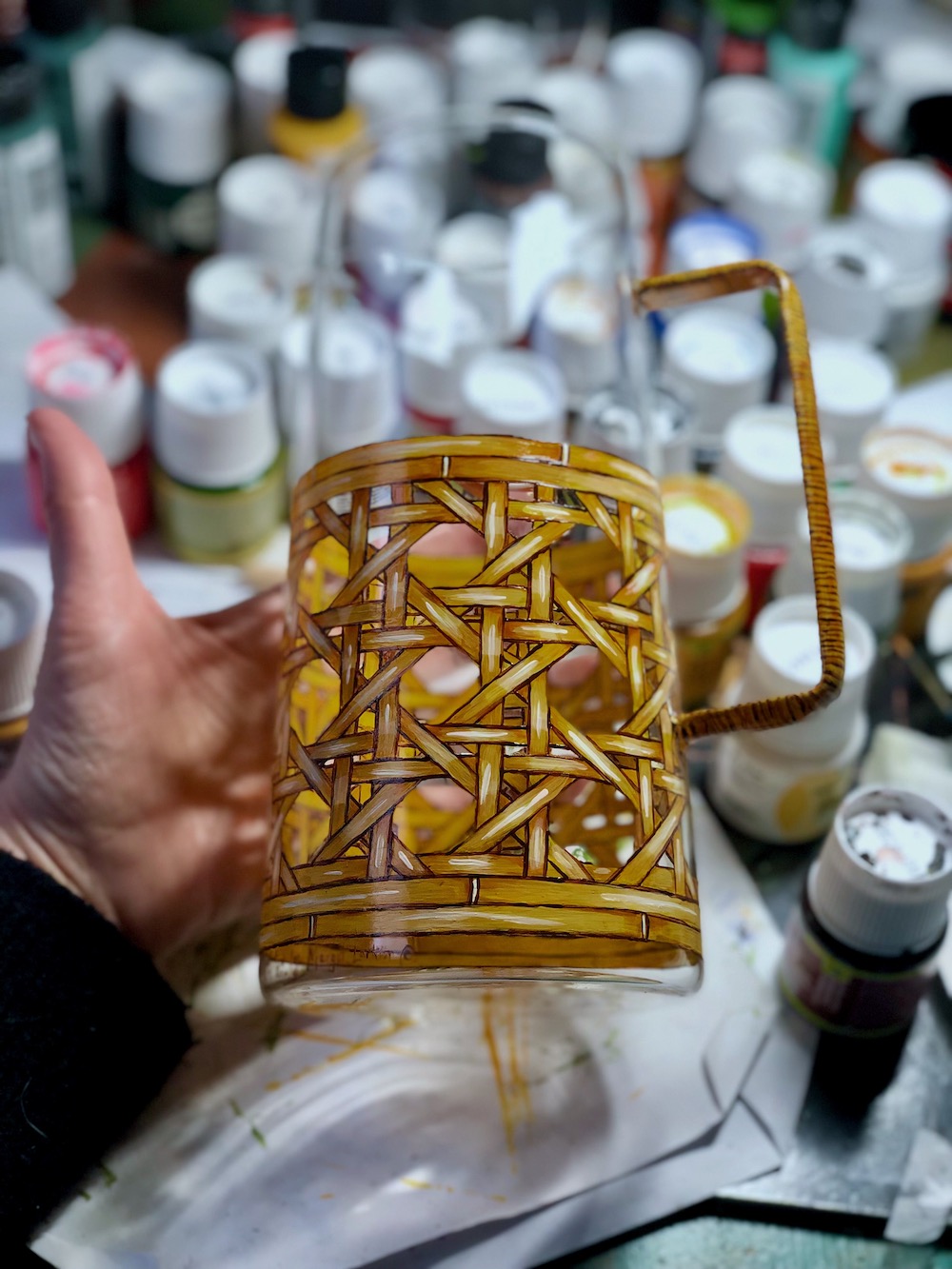 Along her creative journey, Margo decided she wanted to be able to also wear her art. So she sourced an artisan to hand make lucite cuffs to her exacting specifications. Like the maestros of certain couture fashion houses, Margo was inspired by old natural history illustrations – in this case Albertus Seba's timeless illustrations of snakes. A symbol as old as Adam and Eve, it is utterly modern in this iteration. The cuff is hand molded and buffed with polished edges that are smooth to the touch and tapered with one side narrower so it conforms perfectly to your wrist. It is then exactingly hand painted with the stylish snake motif with individually applied Swarovski crystals for just the right amount of subtle sparkle. Signed and numbered. Whether in jeans and a tee or a simple black gown, you'll never want to take it off. For those who love a bold yet elegant fashion statement, this one of a kind, chic lucite cuff is the answer!
Katie Keller of Fruit of the Oak is a decoupage artist I have long admired. Inspired by the visual ephemera of the past, her handmade products are imaginatively constructed, combining patterns and colors into intriguing objects that are as functional as they are beautiful. The wooden tray Katie contributed to the Advent Calendar displays an 18th century take on a Chinese stable, surrounded by various key designs. Especially appealing is how detail is considered – the bottom is covered with marbled paper with small natural brass feet. A charming creative decorative object!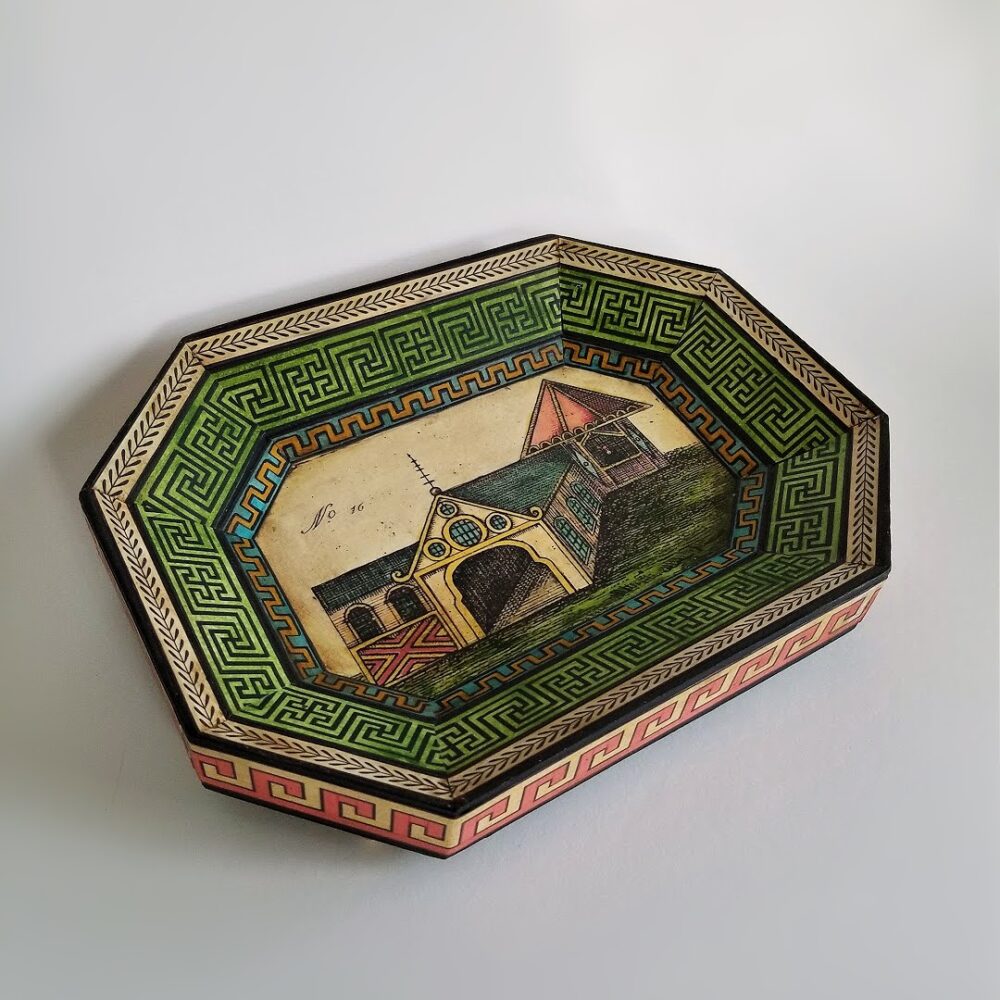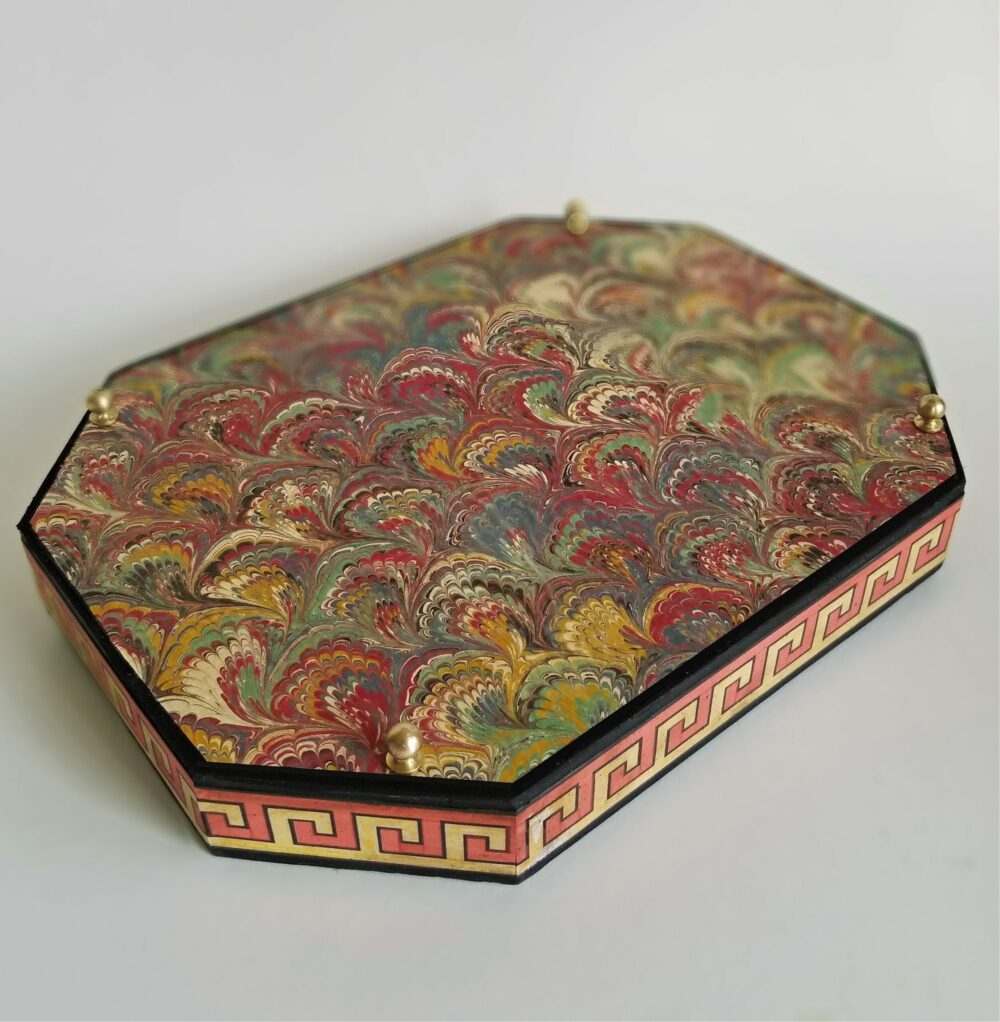 Camilla Dietz Bergeron is a New York-based estate jewelry firm that I have frequented for many years. Not only do they offer sought-after pieces by masters such as Cartier, Van Cleef & Arpels, Flato, Schlumberger, Verdura, and David Webb, but they are experts at repurposing old finds into modern masterpieces. I have worked with designer Marcella Ciceri , who creates many custom pieces for the firm, on many occasions. We share, among other things, a love of vintage design, all things Italian including cameos, especially distinctive antique ones. For the Advent Calendar, she created these fabulous one-of-a-kind earrings that perfectly marry ancient and modern, her specialty. She is an expert at combining unmatched but coordinated pieces as she did here with different facing antique lava cameos, suspended from substantial cushion cut smoky quartz stones. The neutral color way ensures a wide variety of sartorial options.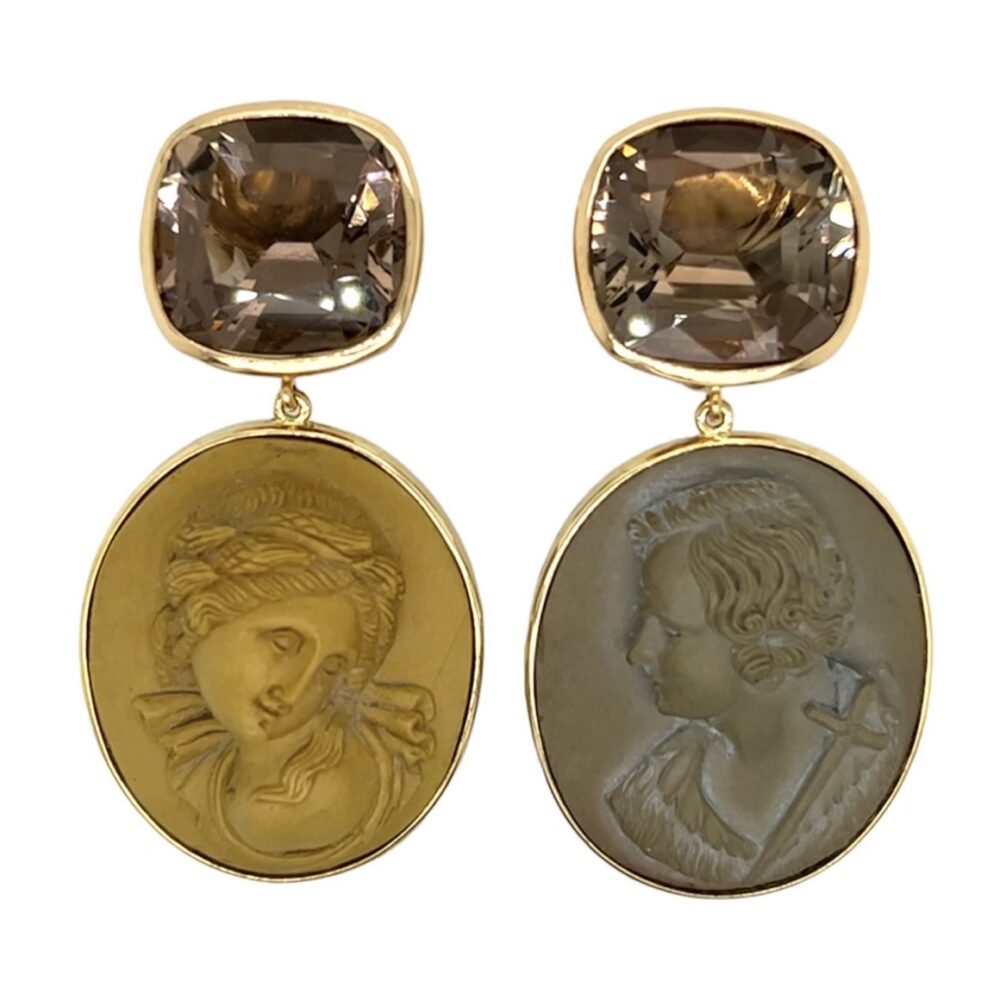 Stay tuned for more one-of-a-kind offerings from this year's inaugural Q Worthy Advent Calendar. And be sure to check out the rest of the new Q Worthy with distinctive offerings for you and your home! And a big thank you to those of you who have already shopped with us!