Last spring I wrote about Camilla Dietz Bergeron, that elegant bastion of antique gems upstairs on Madison Avenue. While they are primarily known for their incredible selection of vintage pieces, they also have a secret weapon within their arsenal.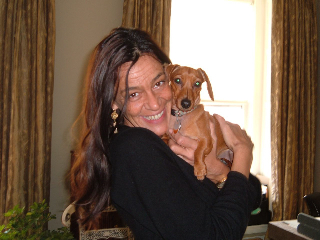 When I visited the salon, I was immediately taken with a case featuring several fabulously adorned shagreen and wooden cuffs. It was then I met Marcella Ciceri, the creator of these and other custom pieces for the firm, shown here with best friend Francesca.  It didn't take long for us to realize we were kindred spirits. I loved everything she designed and Marcella totally "got" my taste and style. We were chatting so much I didn't realize that, although the first one to arrive that morning, I was the last client left in the space.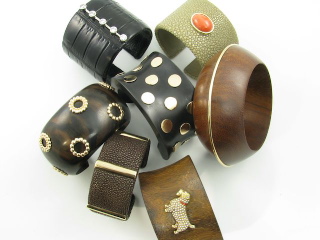 From Milan and a small town in Piemonte, Marcella was originally a primary school teacher but a passion for design inspired her to return to school. Her interest in precious stones led her to a job with an international gem stone company, where she spent 15 years buying and selling stones to such jewelry giants as Bulgari and De Grisogono. It was a natural transition to start designing herself.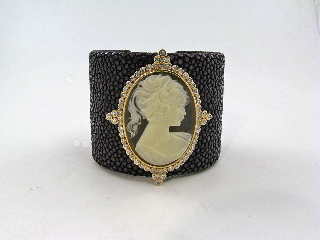 Four years ago the lure of New York City brought Marcella here and while exhibiting at a show in the city, her designs caught the eye of Gus Davis, partner at Camilla Dietz Bergeron, and a new collaboration was born.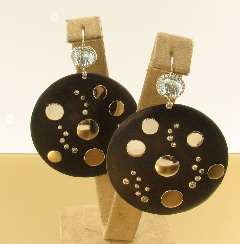 It was (and is) the perfect match. Marcella loved learning about the vintage and antique pieces and Gus and Camilla found a perfect partner for presenting their wares to the European market. In addition, Marcella's line successfully bridges the gap between vintage and contemporary sensibilities. Her chic personal style shines through in her use of materials such as shagreen and bakelite mixed with semi precious and gem stones.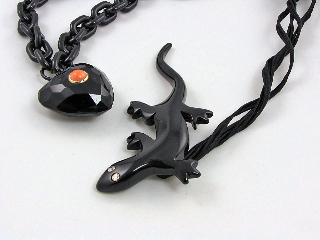 She loves making pieces that can be worn every day, that can be dressed up or down for almost any occasion. "It's important to have jewelry that you can wear, wear comfortably every day, not to save for just a special occasion." I'm sure this concept resonates with many of you as it did for me.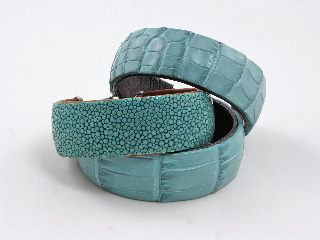 She loves understated classic style yet will often mix in a crazy accessory – a simple black dress with a Moschino bag from the 80s or jeans with a Marni coat – it's the high low, vintage and new, eclectic mix that we all love in both fashion and decor.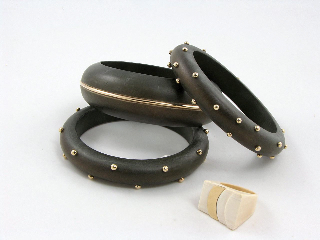 With style icons like Karl Lagerfeld mixed with a love of Victorian and Deco designs, Marcella's work is informed with a unique yet totally accessible flair.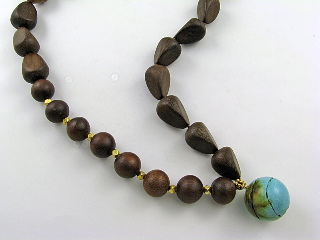 Marcella loves working with customers at the salon. It's the perfect easy, comfortable venue to look around and "play" with the jewelry, to find just the right piece or discuss making something custom from an old brooch or charm, incorporating it in a stylish new way. Unlike a regular retail establishment, here Marcella has the freedom to really get to know her clients and glean a sense of their tastes and lifestyle.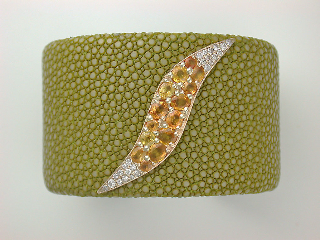 I asked Marcella if there was anything particularly popular lately. Not surprisingly, she singled out the shagreen cuffs, easily customizable in color, size and perhaps with customer's recylcled pieces.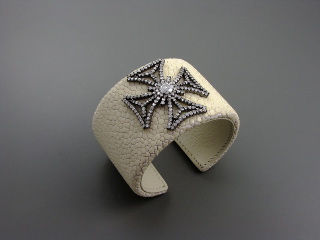 And as for projects in the works? A new collection of earrings. I know of all my jewelry, it is earrings that I change the most. And as Marcella pointed out, they offer a chance to add color near the face and to wear something a little unusual. Turquoise with coral, onyx with diamond, wood with yellow sapphires – all combinations Marcella is using. The first pair sold immediately – before they even hit the floor.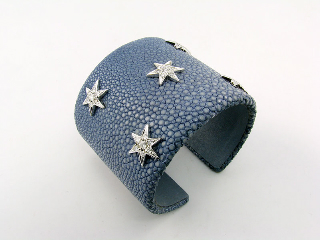 Marcella's passion is contagious – for both designing and working with her customers. You can count on her for an honest opinion (one necklace was quickly removed from my neck as she shook her head with undeniable negativity) as well as an enthusiastic endorsement. And you will undoubtedly be back – because both Marcella and her designs are an addictive delight.