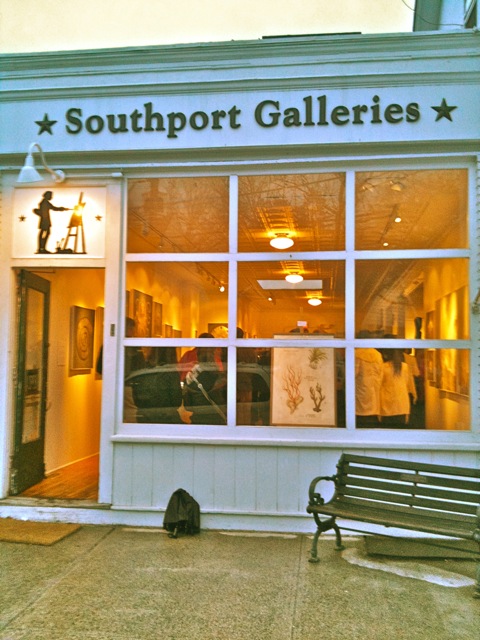 A couple of weeks ago I attended an art opening at the lovely Southport Galleries here in Connecticut, which recently celebrated its first successful year in business. Nestled in the heart of charming Southport Village, the gallery is housed in a former hardware store that has been meticulously restored and transformed into the current light filled space.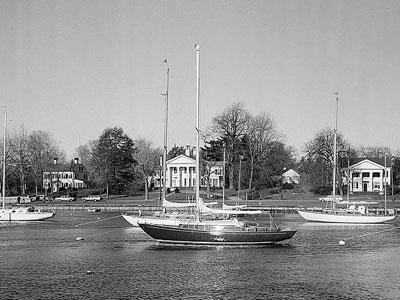 In keeping with the tone of this historic New England harbor town, full of  Georgian, Victorian and Federal homes, the original wainscoting, tin ceiling, and roughly-hewn hardware store counter tops were repurposed to retain the authentic vintage flavor. The new gallery is home to both American Masters and contemporary artists who appeal to the area's sophisticated clientele. Owned Kelsey and Sissy Biggers (TV host and regular Today Show lifestyles contributor), and managed by Katherine Cissel and daughter Sarah Biggers, the gallery is breathing new life into the local cultural landscape.
Seahorse, fresco secco and silver leaf, 36 x 26 inches
The evening I visited was part of the gallery's First Friday series, when, once a month, they present the work of a contemporary local artist. I was lucky enough to be there when Melissa Barbieri's show Indigo was debuting. There was a great turnout and by the time I arrived, quite a few pieces already had red dots. There's Sissy below in the white jacket.

photos above by John Simoudis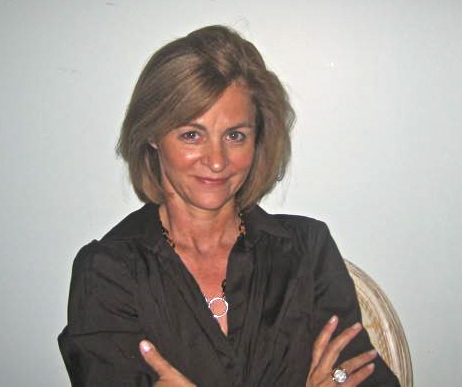 Melissa is a classically trained fine artist, muralist and fresco painter. Now with studios in both Greenwich and Essex, CT, she grew up in Fairfield, learning to paint on site in the Southport Harbor with her grandmother. Starting at 14, she began studying with Frank Covino at his well known studio and her interest in Italian Renaissance methods continued at The Ringling School of Art and Design in Sarasota. But it was her many trips to Florence and Rome that inspired her to start working with Fresco techniques.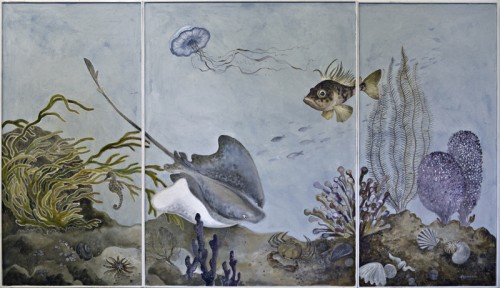 photo by John Simoudis
The series of paintings in the show were produced using the Fresco Secco and tempera methods of Renaissance Italy, an ancient aqueous medium, where all ingredients are organic and come from the earth. The primary substance in Fresco is calcium carbonate, which is the main component in coral, algae and seagrass. Here is Melissa introducing the show that evening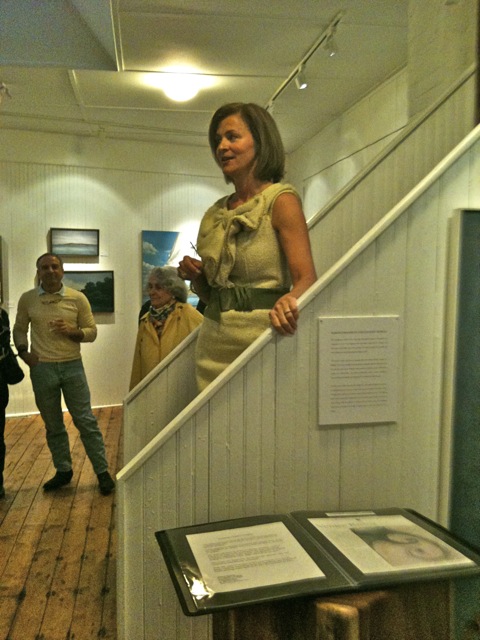 with her description of the series
In this series, Indigo, I chose the deep and ancient blue as the backdrop for my archipelago images. This color  has a rich history as an organic compound which which was prized in ancient civilizations as a dye used in  textiles and printing dating back from India and  Mesopotamia, Egypt, Greece, and Rome. In this series I have also introduced the use of genuine silver leaf, 23 k Italian gold leaf, and French India inks.
As you can see, the use of the silver leaf, as below, gives the art a 3 dimensional quality.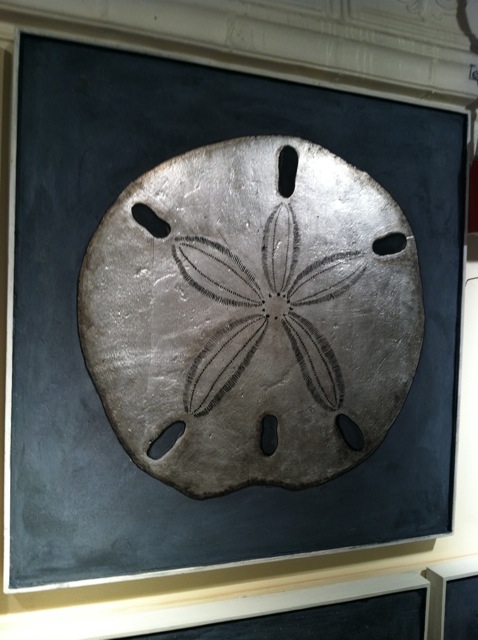 These deeply saturated panels evoke the colors of the sea and would be perfect in a house by the water. And just as the gallery's antique space represents old world craftsmanship reborn and revitalized, Melissa Barbieri's work, using the time honored technique of fresco, is a melding of the ancient and modern.
Melissa's works are held in numerous private collections thoughout the United States and Europe. In addition, she recently completed mural commissions in two ocean front homes.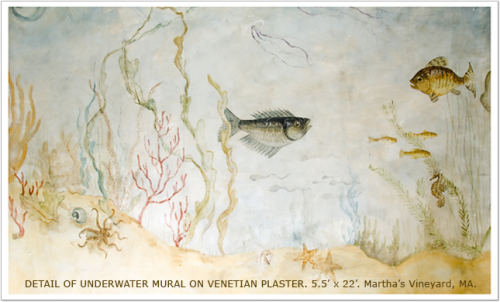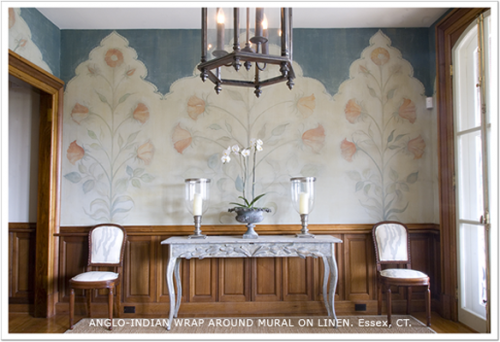 She is currently working on a large-scale nautical chart in fresco for a waterfront residence in Groton Long Point as well as being commissioned for a series of fresco paintings for a pool house in Miami Beach.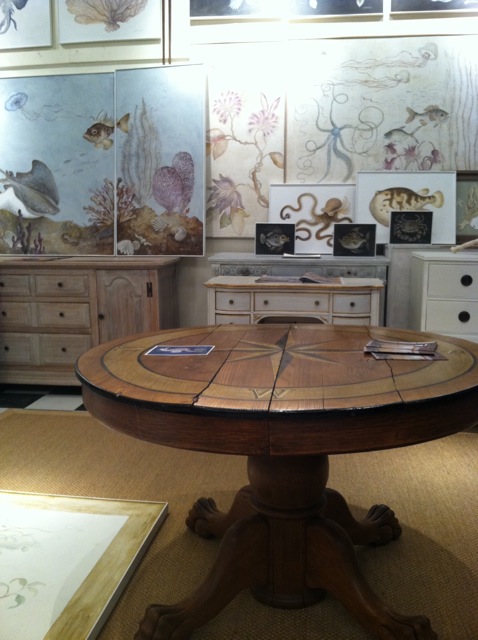 The table above in Melissa's Greenwich studio is an antique pedestal table she refinished and then painted a compass rose on top to resemble inlaid wood. Here you can see some more works in her studio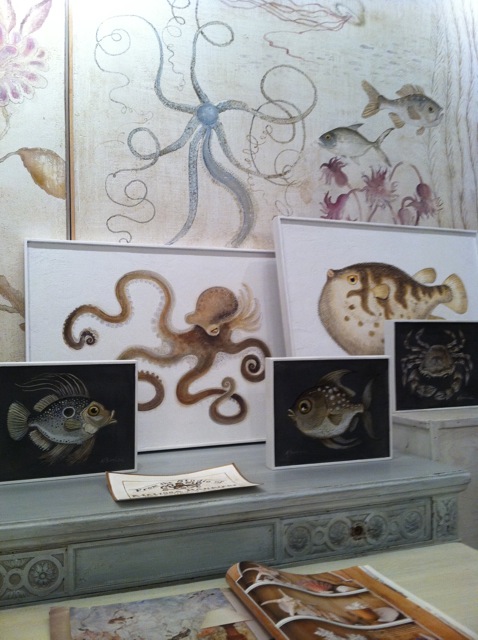 And if you'd like to see how Melissa's aesthetic translates to her home, take a look at the charming 1802 post-and-beam house in Essex that she shares with her husband, featured in this CT Cottages & Garden article photographed by Tim Lee.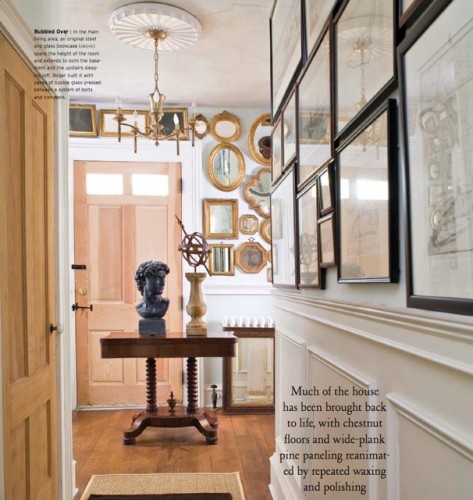 So if you're in or passing through the area, I recommend a stop at the lovely Southport Galleries. Not only can you see Melissa's show, but the work of many other featured artists. And if you should ever need, they also offer curatorial, estate, conservation and research services as well.