Sunday I spent the day perusing the new set up at NY Now (otherwise known as the gift show). It wasn't nearly enough time, especially now that many of the former Pier exhibitors are integrated into the Javits, but I spent the greater part of the day visiting old favorites to see their new fall offerings.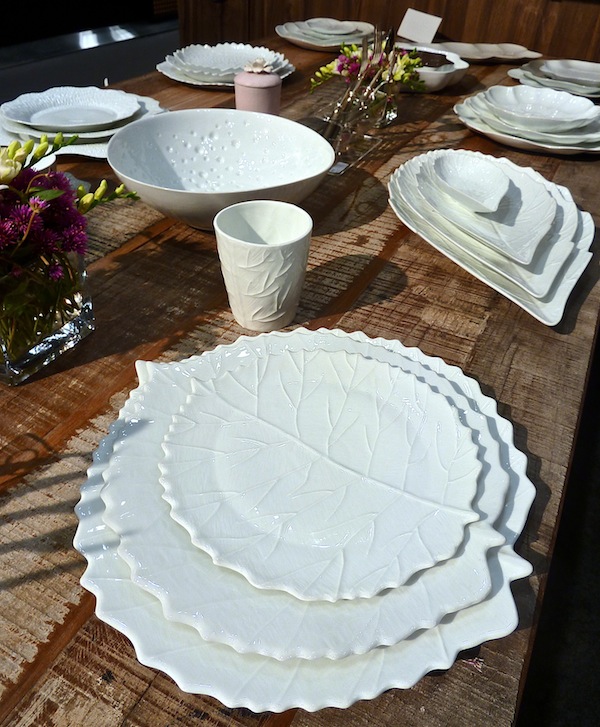 I was thrilled to see that Limoges producer Jacques Pergay, about whom I have written before, found a US distributor in Prouna. Their nature-inspired work is so original, such as the beautiful Tree Cover pattern above.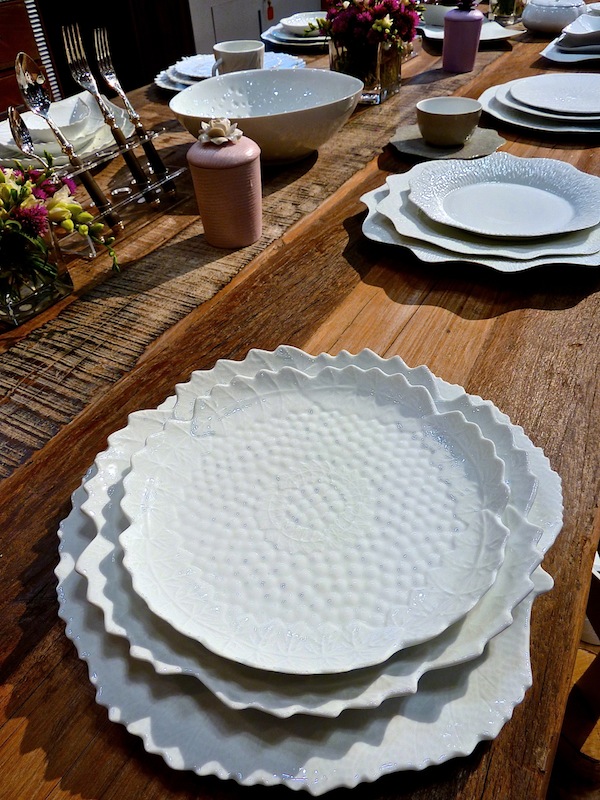 All their porcelain is hand made in their Limoges factory and most is dishwasher, microwave and oven safe. They range from unexpected artisanal shapes such as the whimsical Pumpkin, available in a range of colors,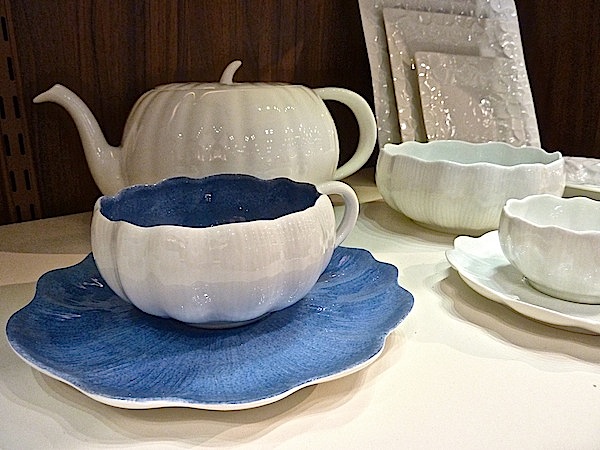 to elegant and sensuous ones like the lovely Petal pattern below.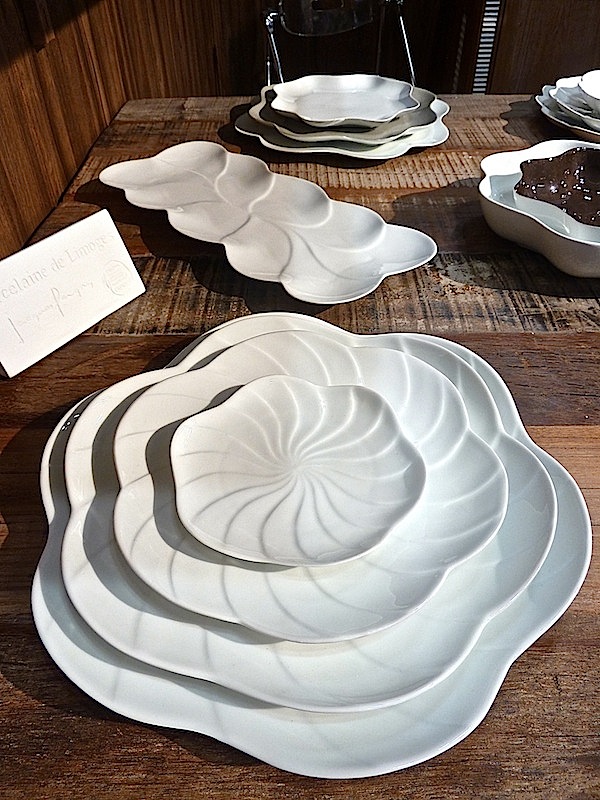 Early last year I discovered Holly Stuart and her lovely hardback block print-inspired placemats. Now available in many stores nationwide,  she has added a pretty new shape in several new patterns and colors.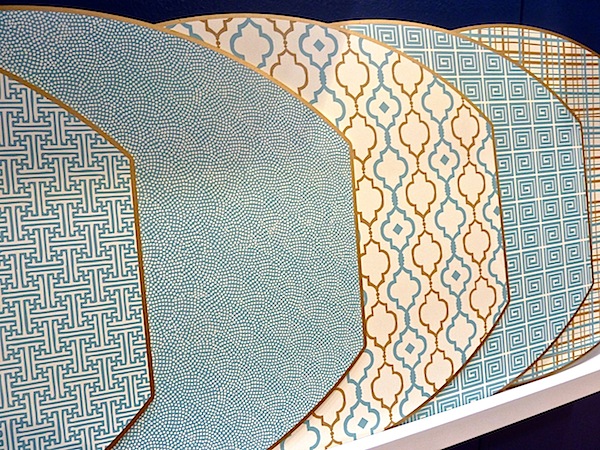 For those who like to include their flatware on the mat, this new truncated oval is the answer. Less space demanding than a rectangle but more generous than the classic round, it's the best of both worlds in dressing the table.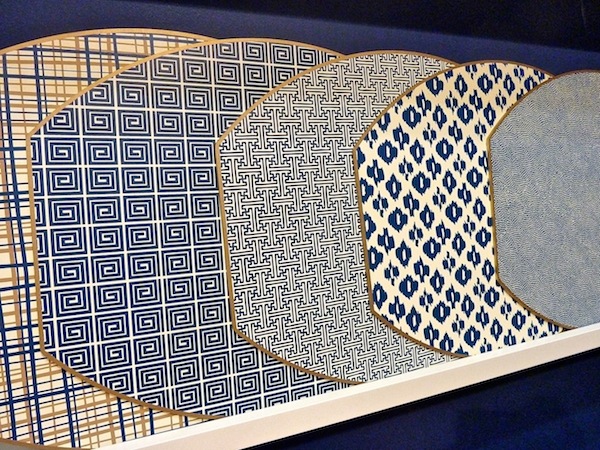 But of course the round is still available in all the new colors and patterns.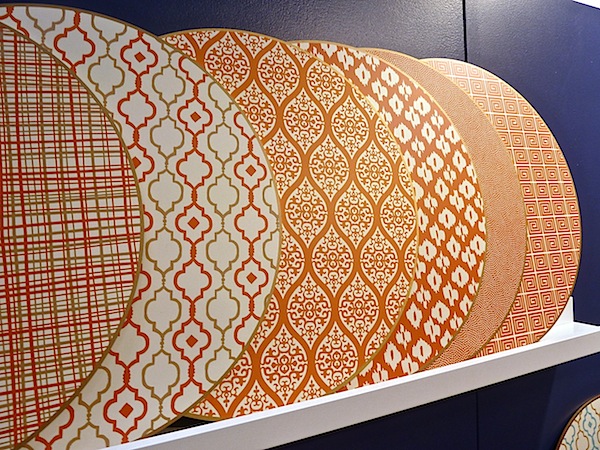 Another tabletop gift show favorite is Julian Mejia. With a bevy of bright colors, great detailing and tons of options, his booth is always well attended. I didn't get a chance to chat but took a few shots of his current offerings to give you the idea. Here banding options on colorful napkins,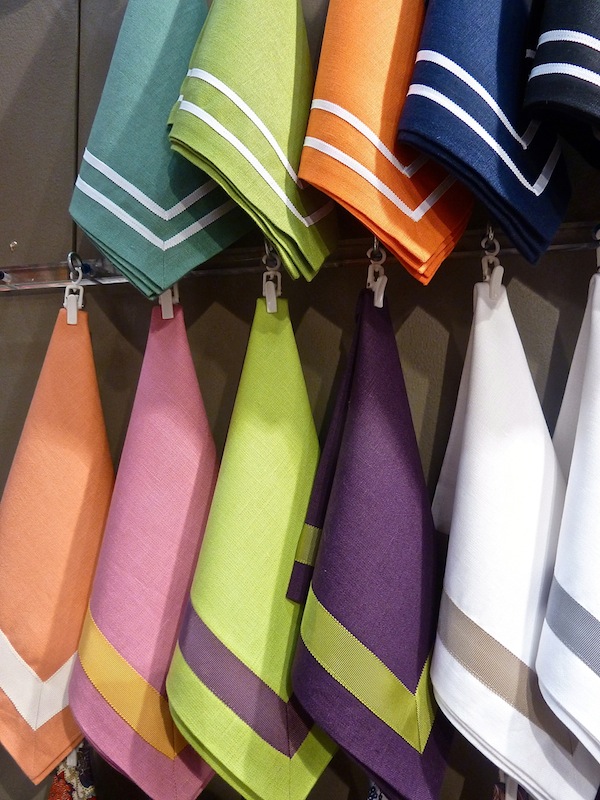 beautiful monogramming with picot edging.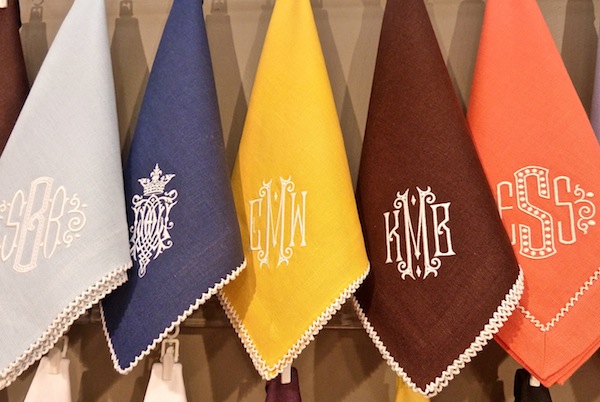 or saddle stitch detailing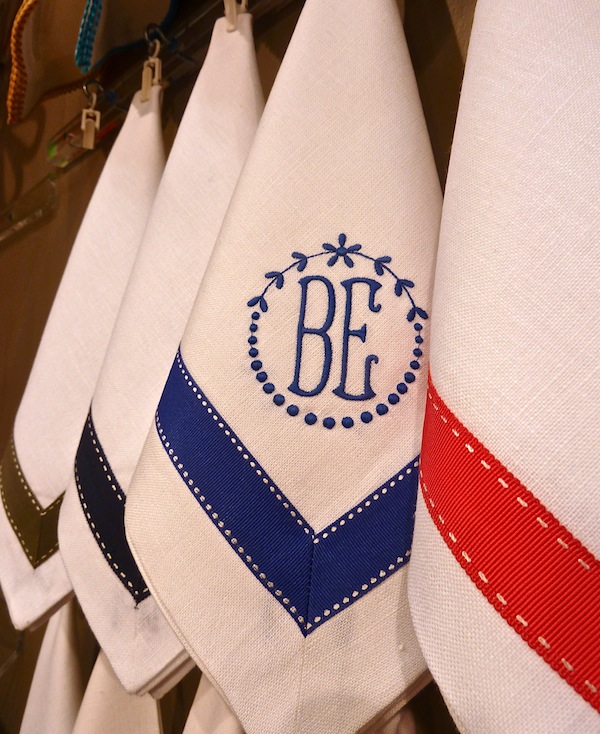 bold and lively ikat patterns,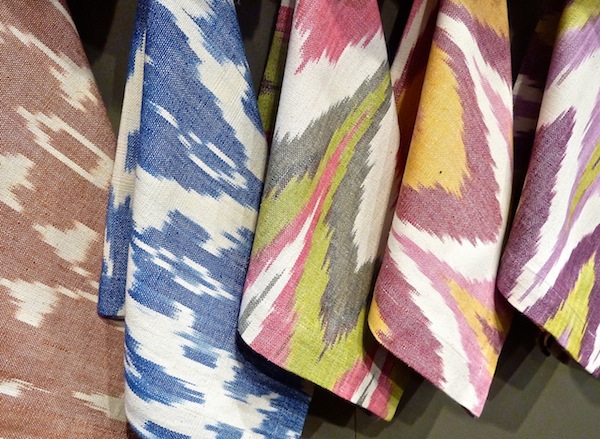 and his signature knotted mat all give you great options for imaginative tabletop creativity!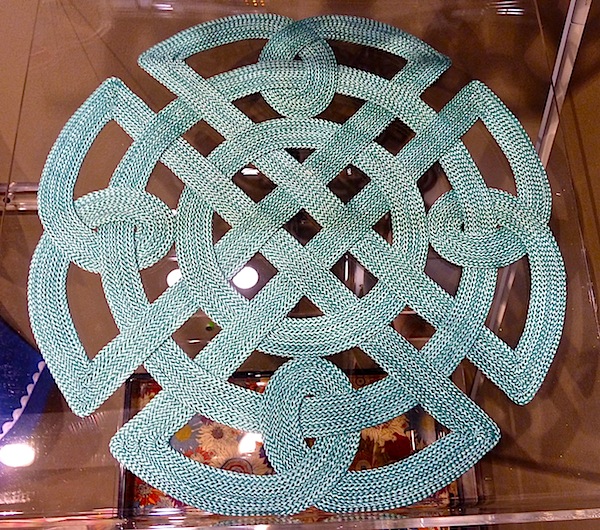 Another long time favorite is Matouk. With a wonderful selection of linens for table, bed and bath, their mostly made-in-Massachusetts products offer a range of classic and modern takes on home accessorizing. Their beautiful new Salinas throw is a super soft 100% baby alpaca in three appealing colorways.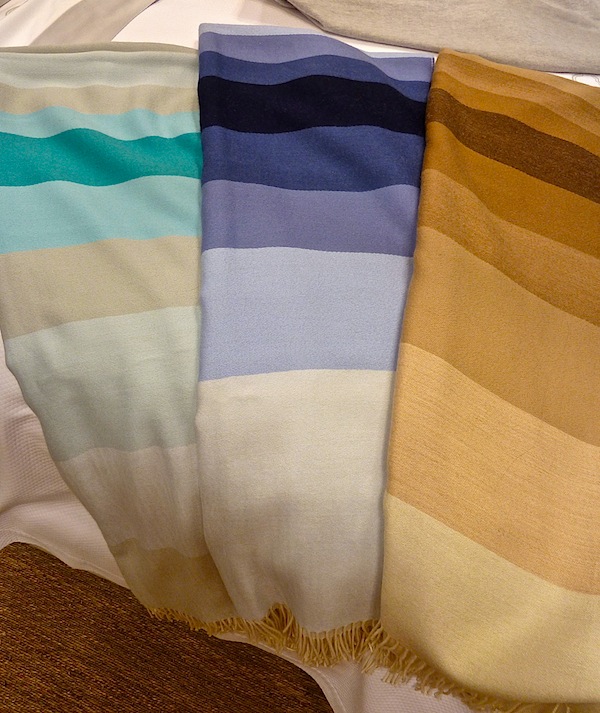 I loved this denim palette. From top to bottom, Dashiell is a crisp percale with fashionable chambray accent. Harlow is a chic chevron patterned coverlet in woven yarn-dyed cotton and on bottom is Sullivan, a kingston chambray quilted in a classic diamond that reverses to sateen. Together they make a handsome versatile bedding ensemble that feels young and fresh yet still classic.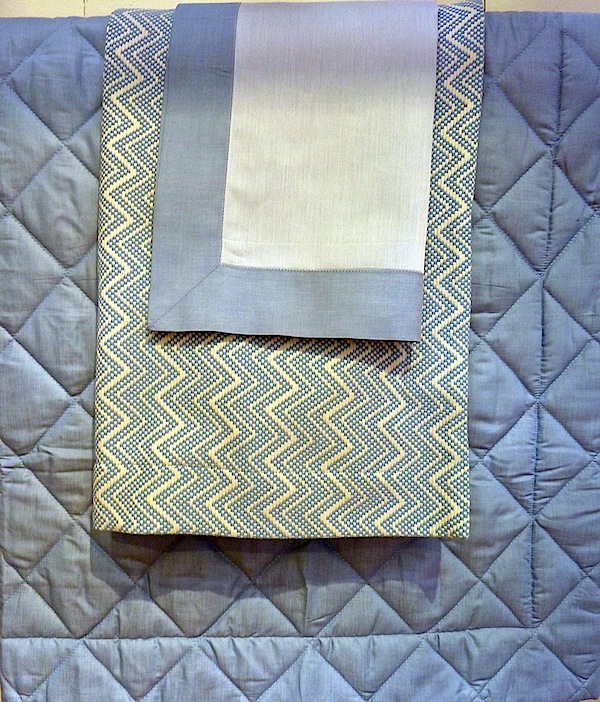 These towels show Matouk's new bespoke embroidery styles from the jaunty Flamestitch, top left, to the classic Adelphi greek key on the brown towel below. These can be used on sheeting as well to create a totally individualized look.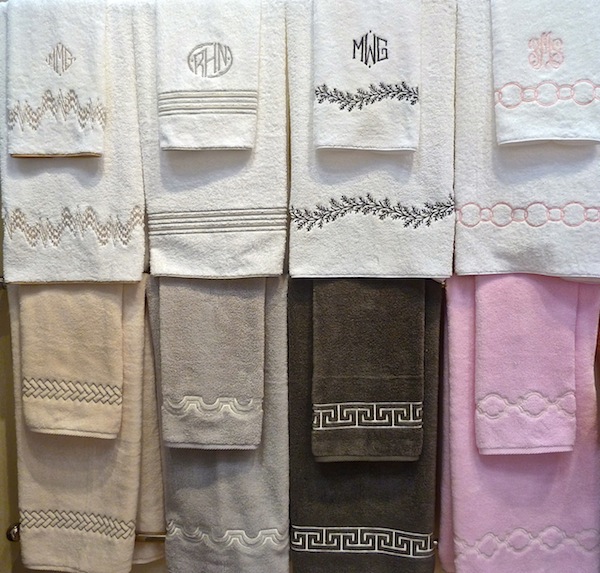 Matouk's Casual Couture Table Collection offers a range of shapes from scallop to octagonal or rectangular in 100% Irish linen, with 10 color trim options. Custom color combinations are available with reasonable minimums.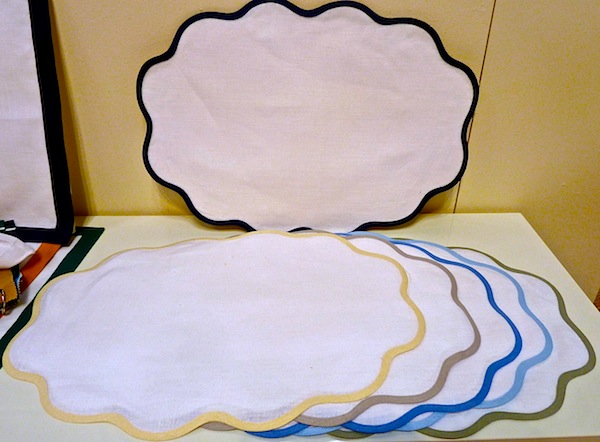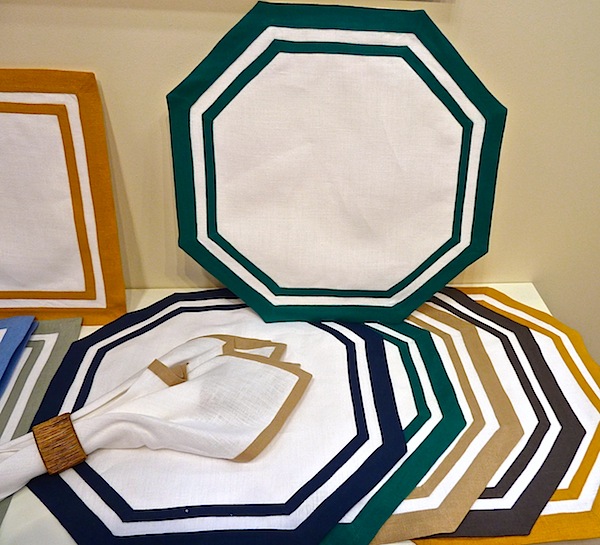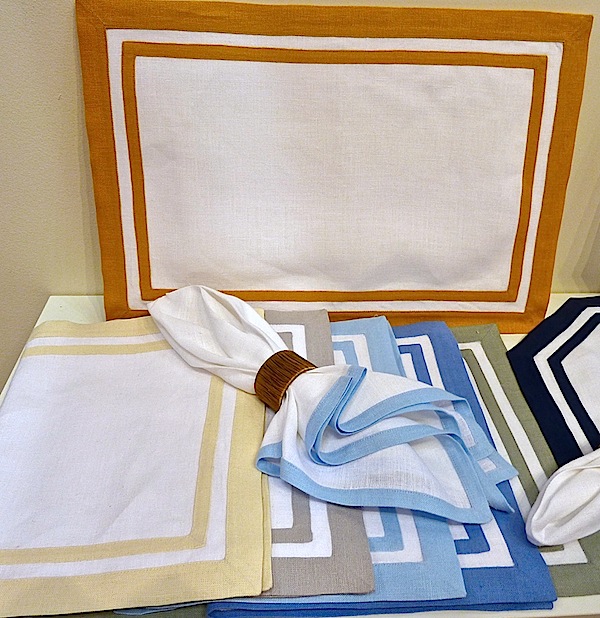 Their home fragrances are expanding and this new green lavender scent was my favorite.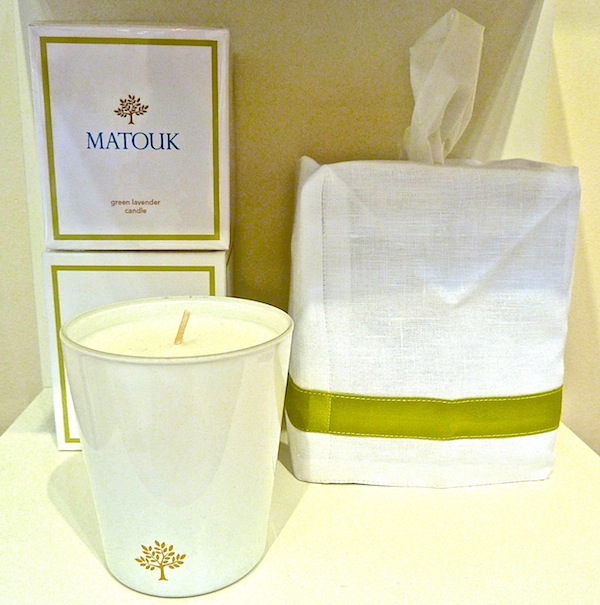 Tissue box covers are a charming way to add decorative appeal to those supermarket squares. The wide selection of trims and colors will be available mid-September in plenty of time for thoughtful holiday gifting.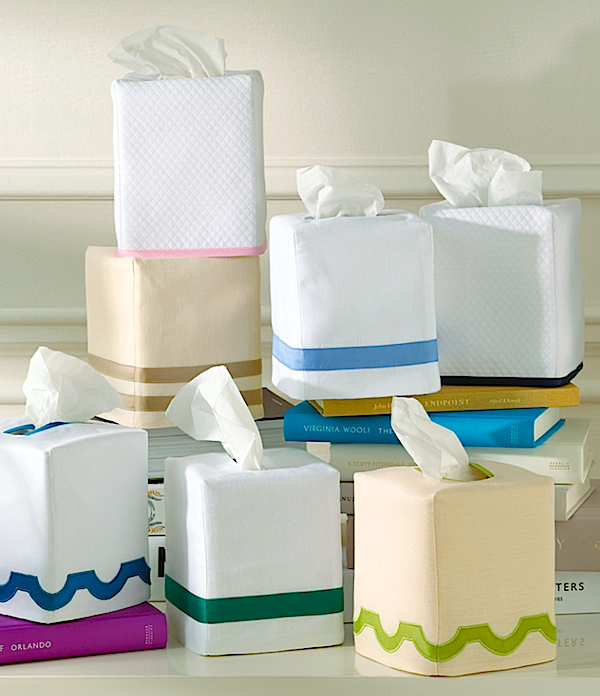 And starting this fall, Matouk is introducing an upholstered bed  collection, starting with three styles. Sarah is a clean modern version with tufted headboard.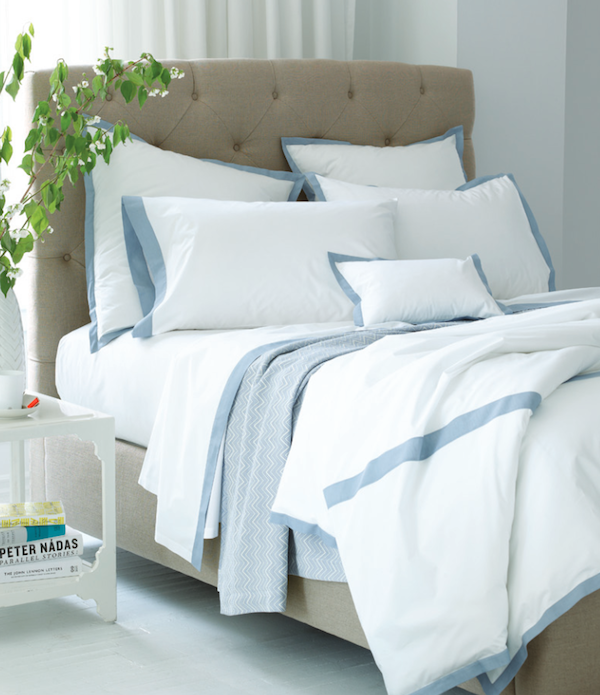 Sebastian has simple strong lines with nailhead trim.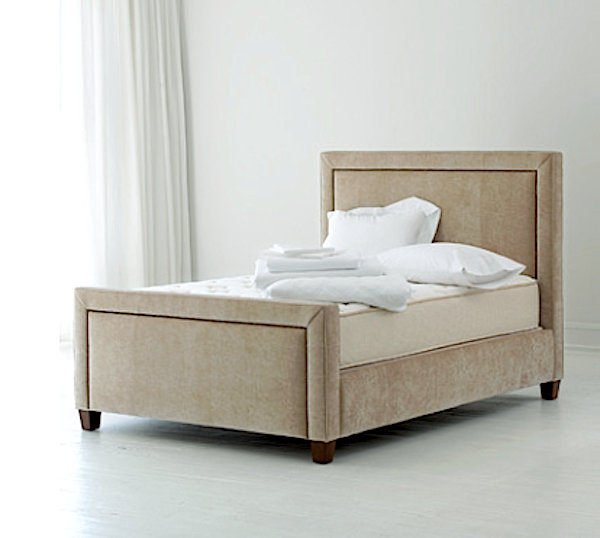 And the curvaceous Coco is a traditional feminine silhouette with button tufted head and footboard and English style turned leg. It's shown here with Paloma pique with Nocturne applique in the new emerald.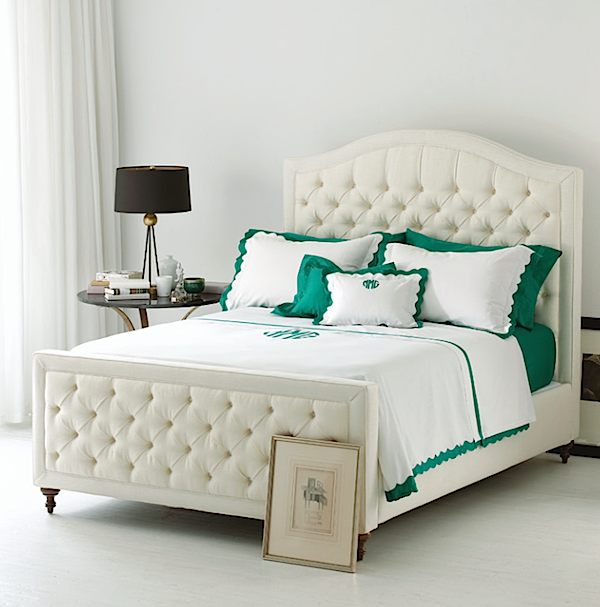 Be sure to check out the Matouk blog for beautiful examples of their product in situ.
all photos by Quintessence, last 5 courtesy of Matouk
And be sure to stay tuned for more finds from this seasons's NY Now.