Monika Chiang continues to her hone her vision as I saw in her capsule spring collection. With strong tailored lines, her clothes are feminine and sexy for the confident modern woman. Many sport classic lines but with a edgy or sometimes revealing detail. For fall she mixed fabrics with leather and fur for a luxe contemporary look. As with spring, I liked many of the outerwear pieces such as this felted wool funnel neck coat with leather yoke and scarf.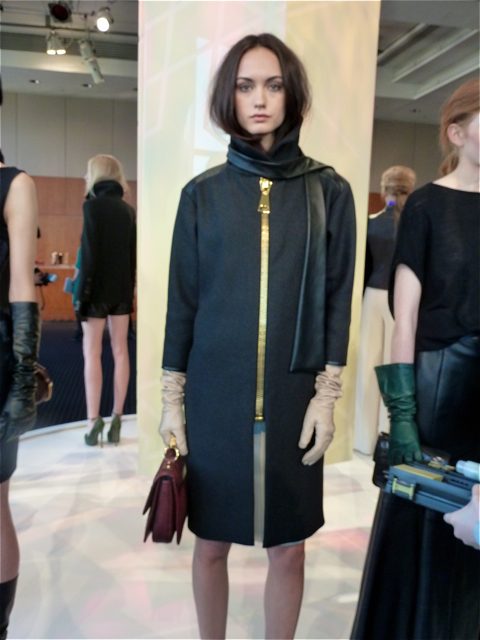 Here are side and back views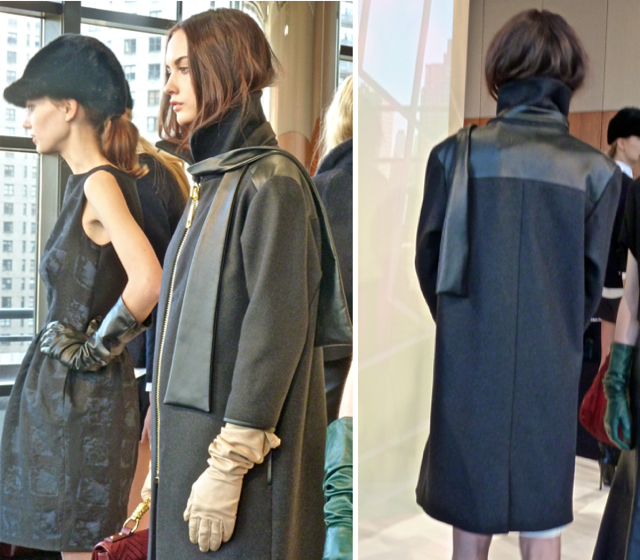 While I tend to prefer longer coats and jackets, there were some very tempting shorter ones. This camel hair cocoon jacket had a fun swingy shape.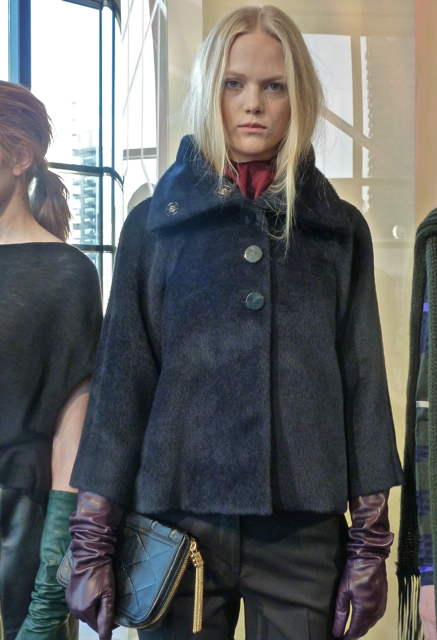 And the shearling sleeves updated some classic shapes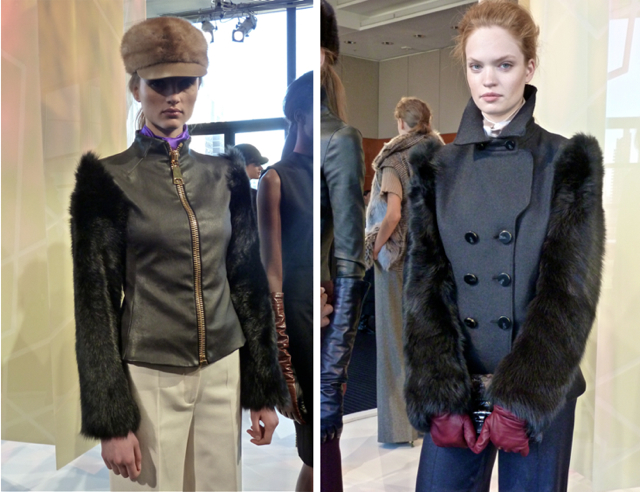 One of the features I really liked about Monika's designs this time around was her attention to the back view, as with this cute bomber jacket. The fur collar extends to a pretty full shawl shape in the back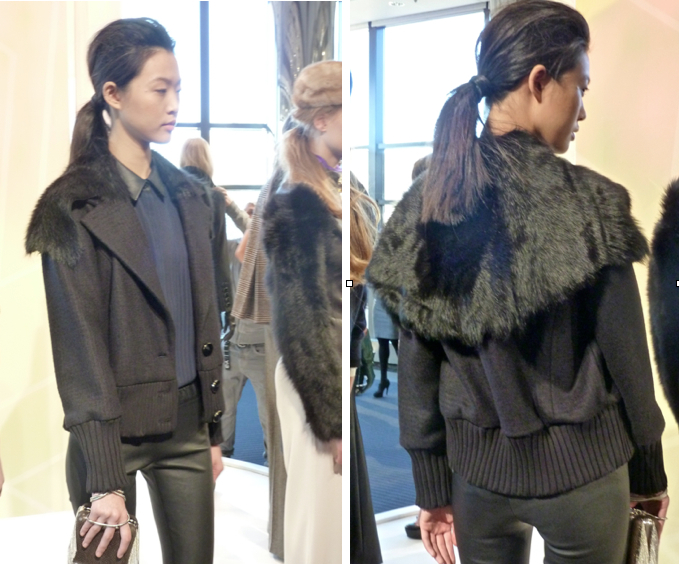 This printed shearling vest with knitted sleeves was one of my favorite pieces in the show. It looked equally fabulous from front and back.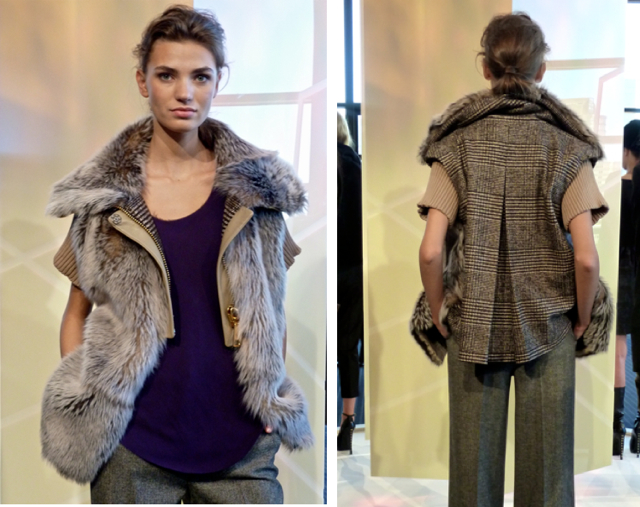 This elegant woven top is a versatile dress-me up-or-down piece with a silk organza panel in front and a not too dramatic slit in back.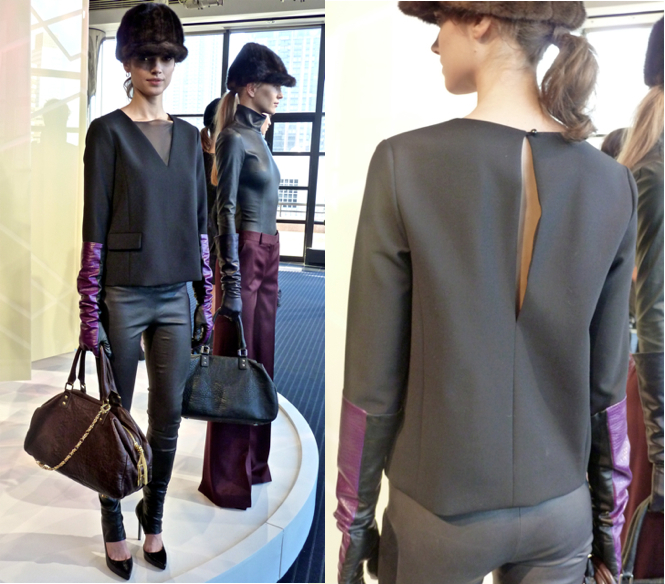 I loved this fabulous powerknit dress with leather panel from the front – I would wear it everywhere!! But when I saw this daring back I realized it might not be the piece for me – but could be for someone with a more exciting lifestyle perhaps!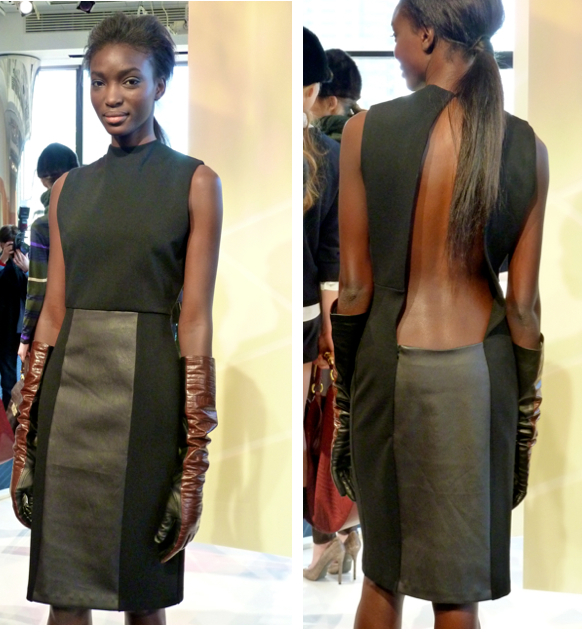 Monika was even willing to share the little surprise her elegant dress offered from the back. Don't you just love her chic glasses?!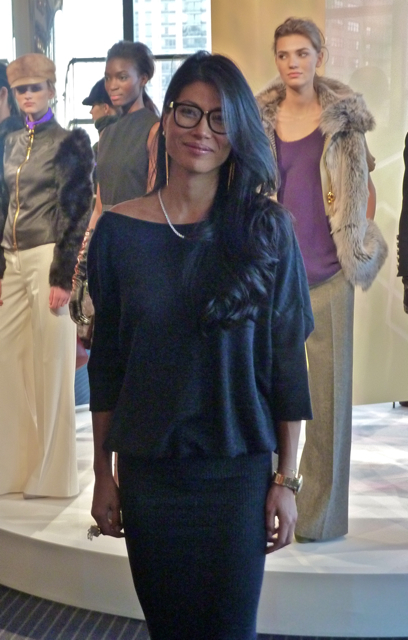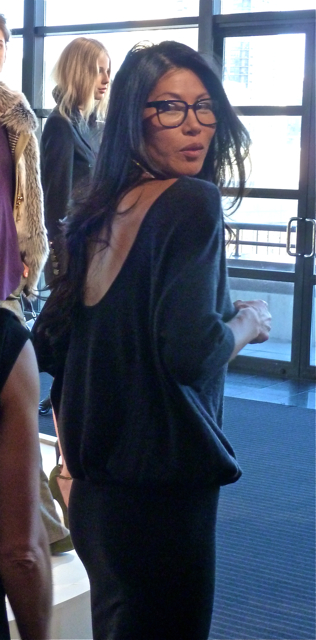 Many of the outfits were shown with her signature leather leggings, but there were also some classic wide leg flare pants and this fabulous full length leather skirt. Shown with a drapey drop shoulder knit top, I would have seriously considered it if it weren't for the thigh high slit. But for someone a little more daring with killer legs, this could be an awesome choice!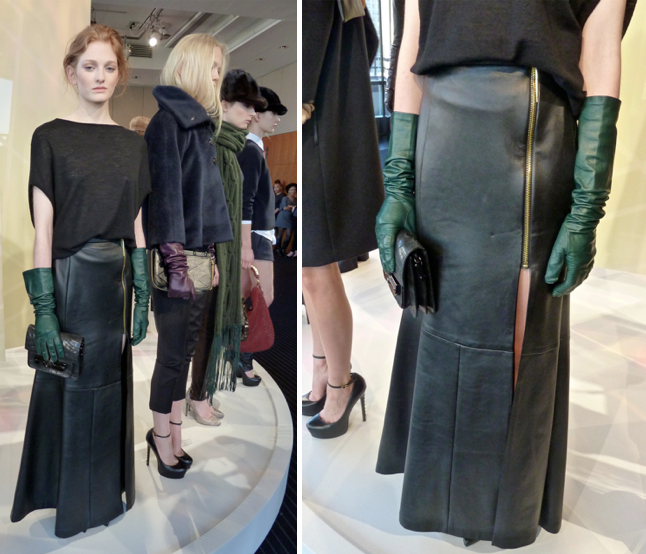 As you may remember from last season, Monika designs terrific accessories. I was thrilled to see the Raja bag return for spring. In a beautiful new berry red, it is also available again in the navy, which I am still considering.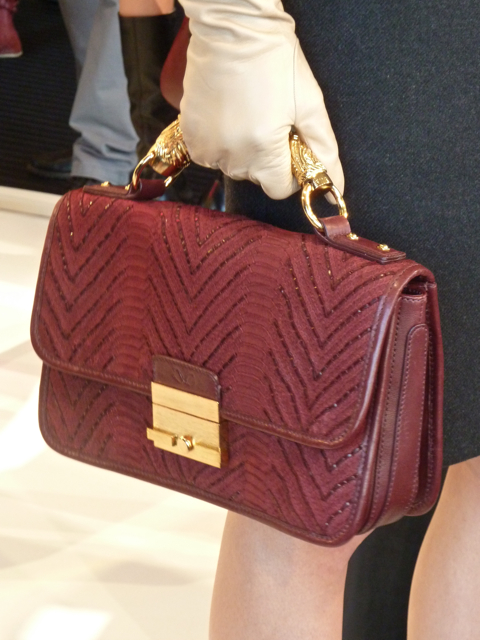 New bag offerings include the good looking Signia Satchel in espresso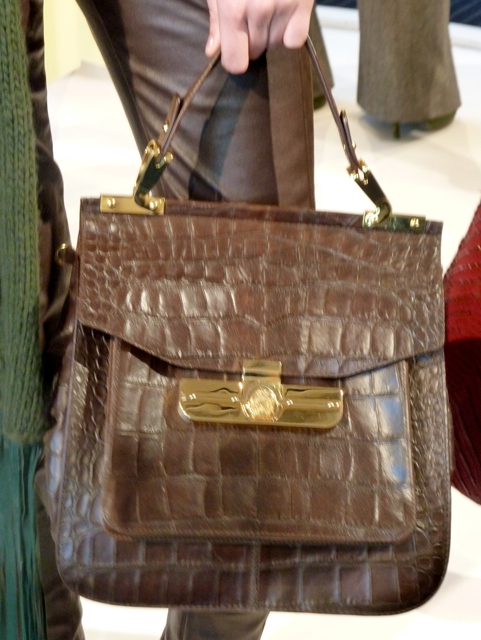 The Motley Satchel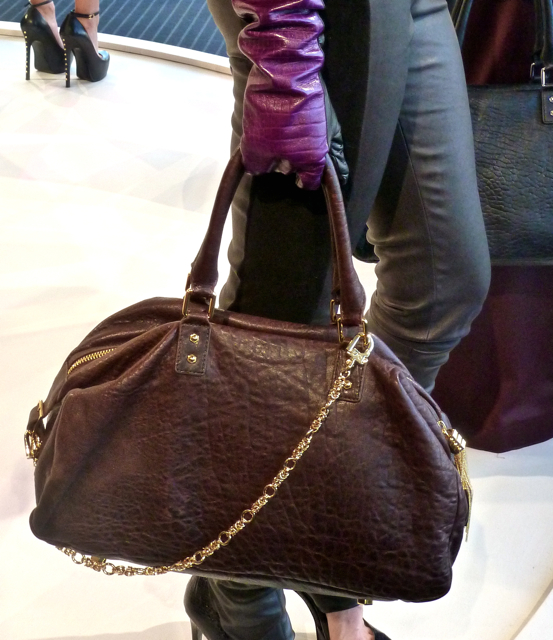 And a Raja hobo in red, seen here next to the Signia Satchel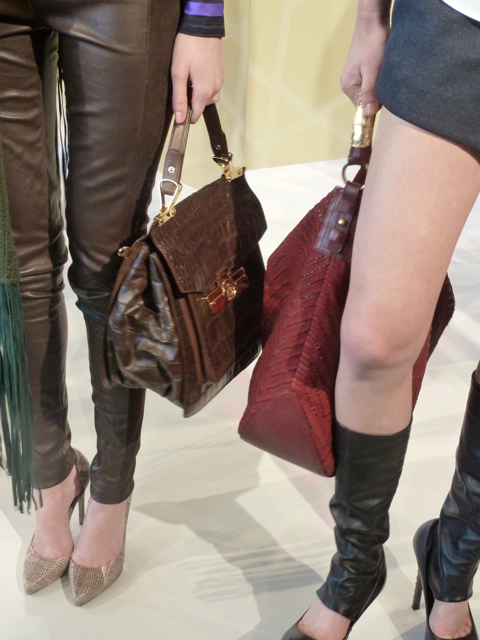 As you may have noticed in the clothing shots, Monika designed an adorable mink equestrian hat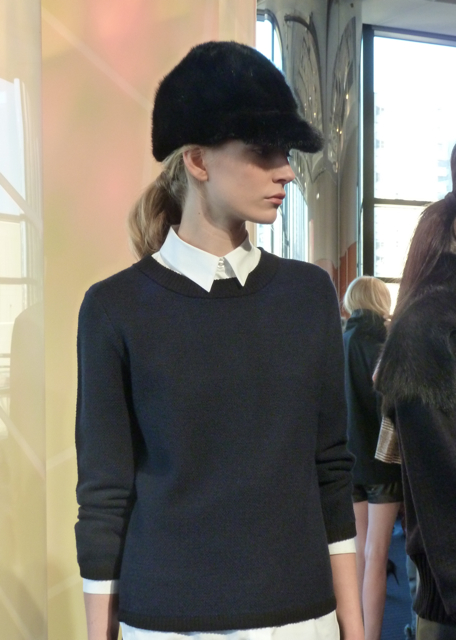 And these fabulous long opera length gloves. The croc embossed color block versions are particularly appealing.
Part of the fun of fashion week is of course people watching and I grabbed a cute shot of Fashion at Lincoln Center director Stephanie Winston Wolkoff with Monika.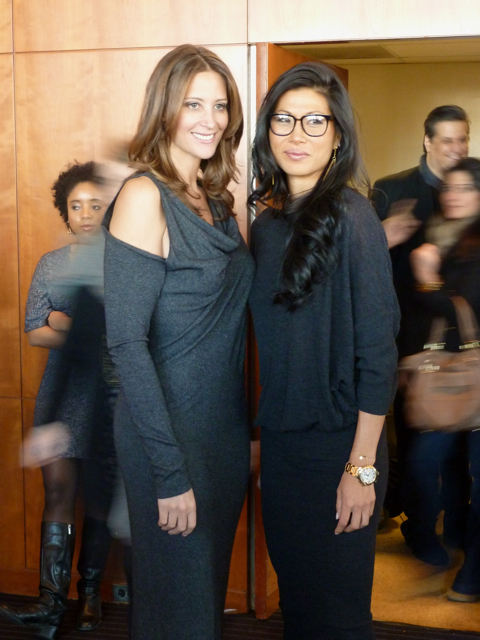 And I had a chance to say hello to Million Dollar Decorator Mary McDonald who was there to celebrate with Monika and perhaps discuss details of the new Monika Chiang SoHo store she is designing. This was the best I could do from my outdated phone!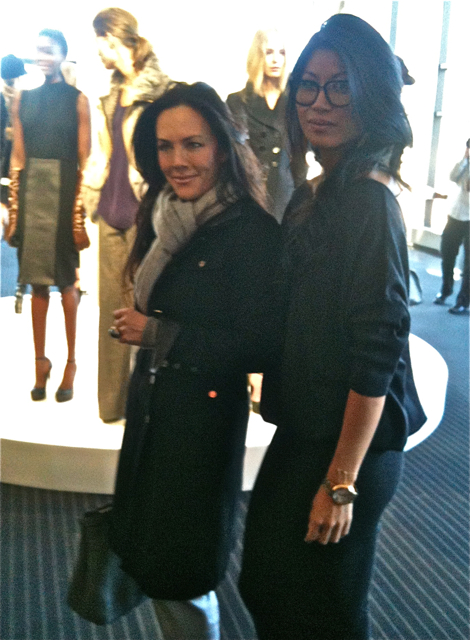 Monika's first Lincoln Center presentation seemed like a successful venture. With fairly reasonable designer price points and a collection with a little something for everyone, fall is looking good for Monika!