As I start to continue my coverage of the Kips Bay Decorator Show House 2013, I am longingly looking at shots of Stephen Mooney's charming room for the lady of the house. This quaint space on the fourth floor of the townhouse received the appropriate moniker La Petite Writing Room. I would be delighted to be composing my scribblings in this cozy space.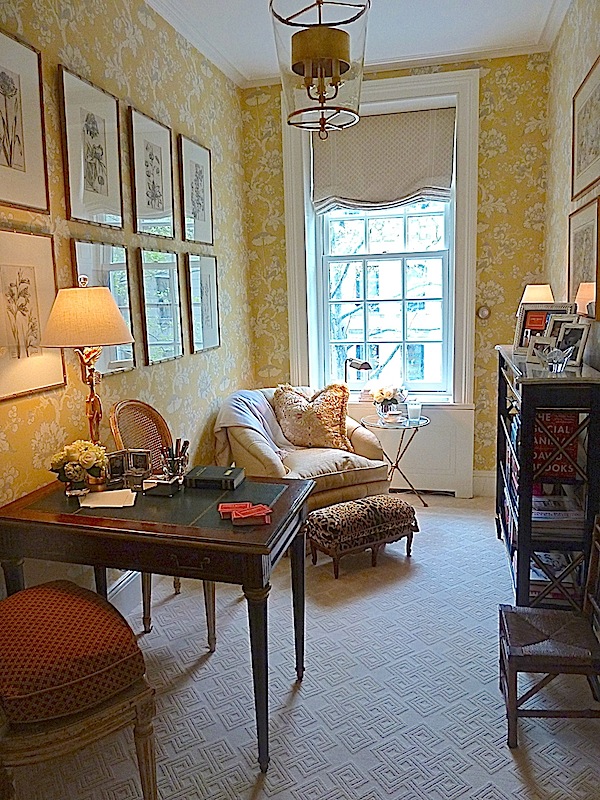 Although a mere 6′ x 12′ room, Mooney managed to make the space feel spacious rather than cramped. The Scalamandre wallpaper cocoons the room with a pretty palette and pattern while classic pieces such as the Louis XVI table desk from Newel and elegant Jansen bookcase from Jean Karajian offer practical storage with bolder neoclassic styling.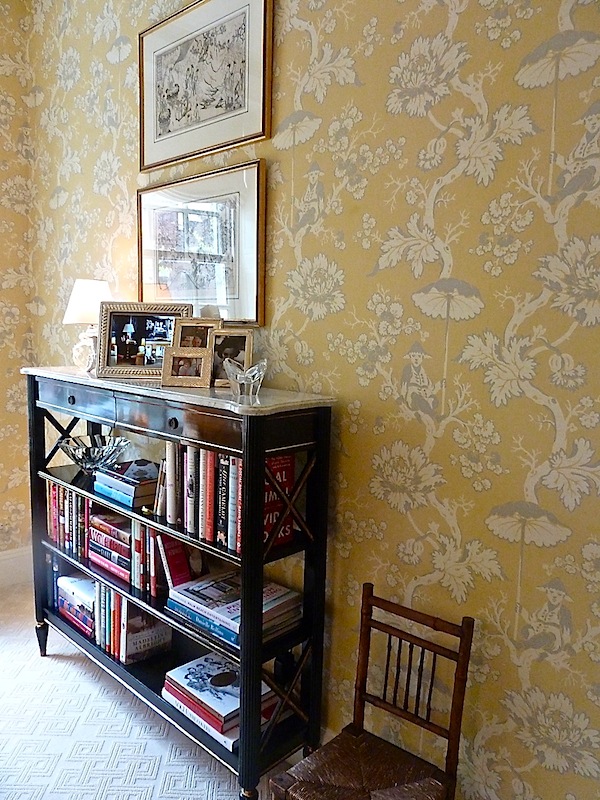 While functional, the room is also oozing with charm and comfort. Who wouldn't want to sit by the window and catch up on their reading with a cup of tea in this corner.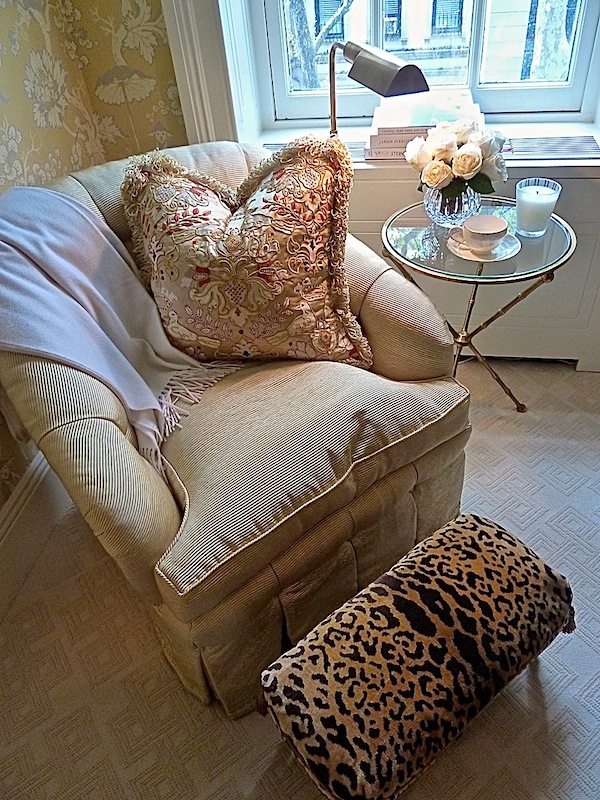 I love that Mooney added the punch of Scalamandre's Leopardo on the footstool and provided thoughtful accoutrements on the side table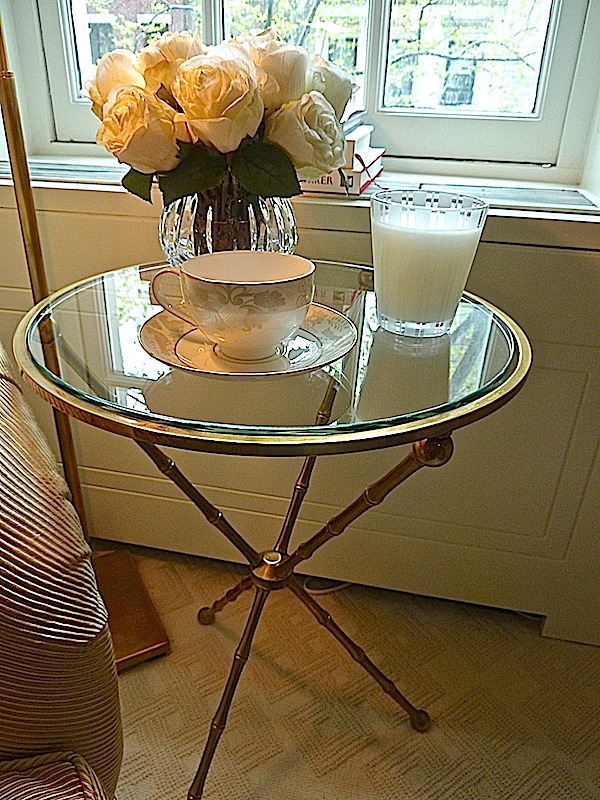 as well as the desk. Pretty makes work that much more appealing!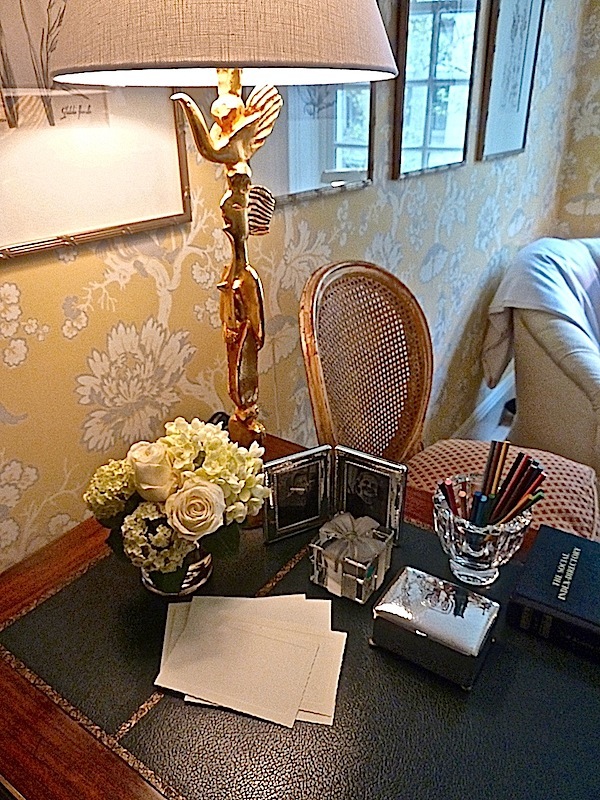 And because so many of us need visual inspiration and our social reminders where we can see them, Mooney added a fun memo board behind the desk.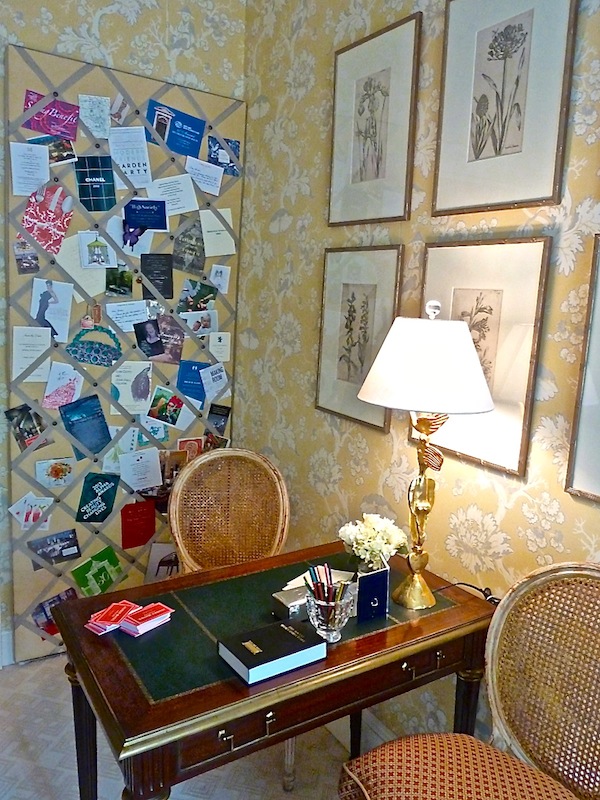 On a completely different note is the "Lounge Suite" created by Louis Garcia-Maldonado. A sanctuary with a more modern bent, this sophisticated suite offers a retreat for luxurious lounging.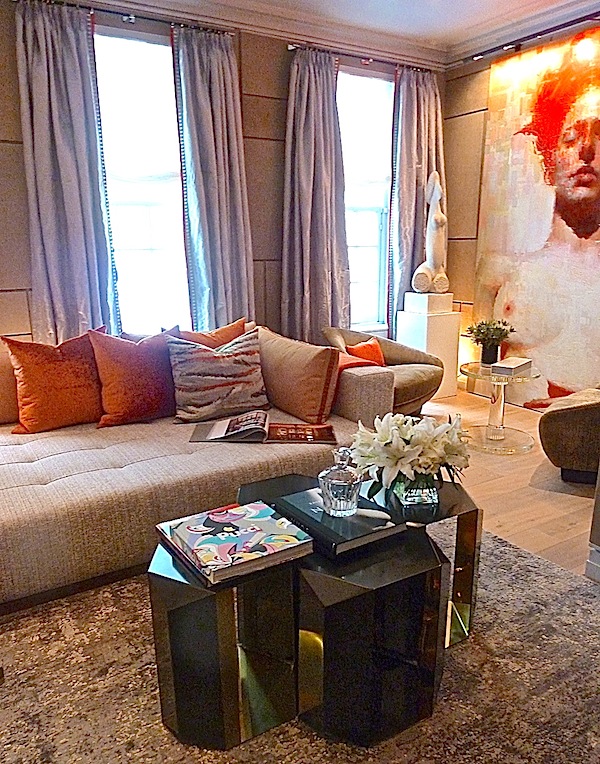 The handsome oversized daybed offers room for tete-a-tete relaxing or napping. Starting with custom leather upholstered walls, below, moody lighting and luxurious layers of textures and color add a sybaritic feel.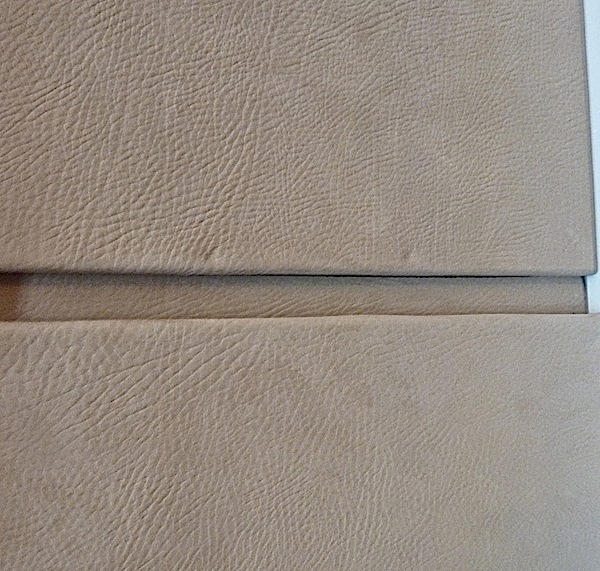 Oversized art, sleek fireplace and a chic bookshelf niche add to the cosmopolitan air.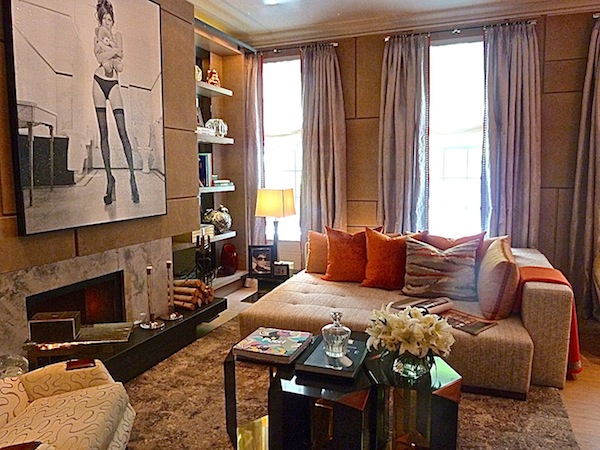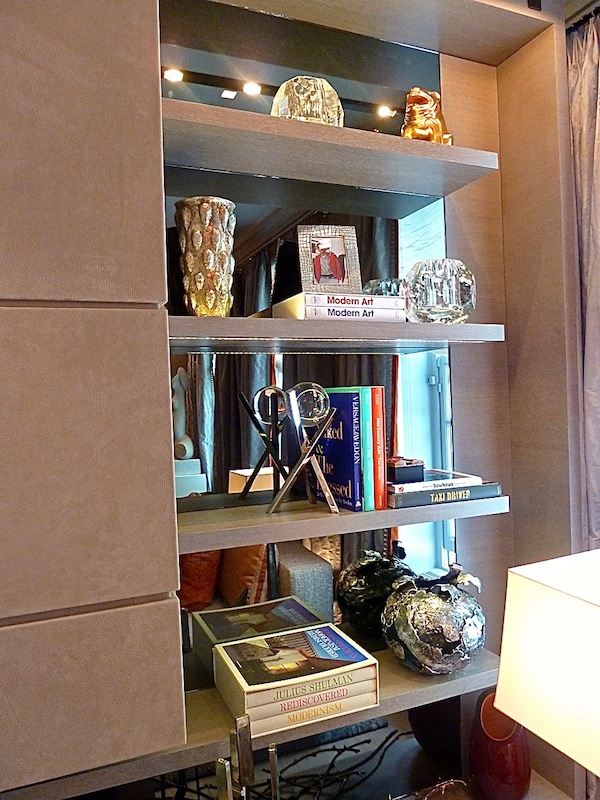 In fact the space felt like it could be the perfect set for a James Bond or Thomas Crown character whose cultured taste and suave demeanor would appreciate the art and worldly mix of furnishings and accessories.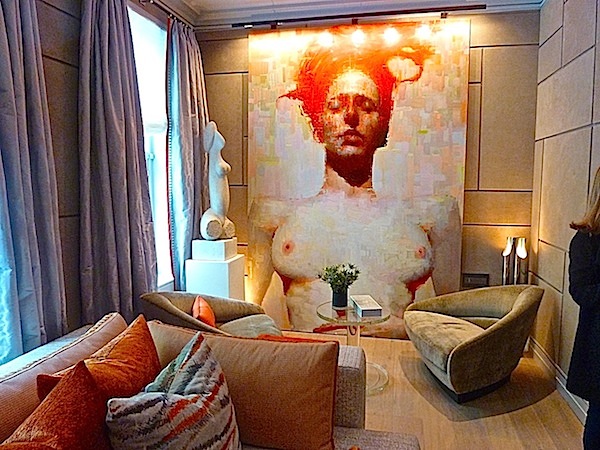 A lovely bathroom completes the suite where everything you might need is close at hand, including an elegant bar filled with Baccarat that I unfortunately don't have to share.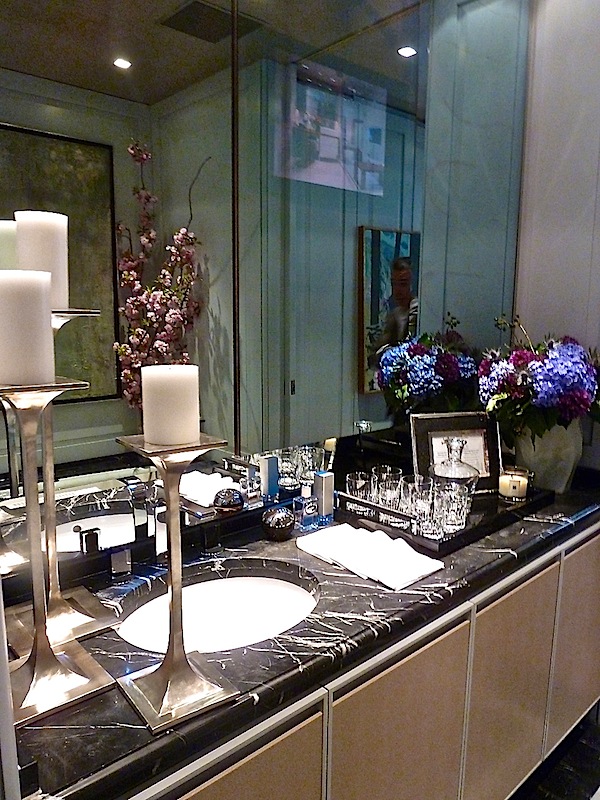 Jack Levy's chic sitting room makes great use of the fabulous new Fornasetti wallpaper that I wrote about in January.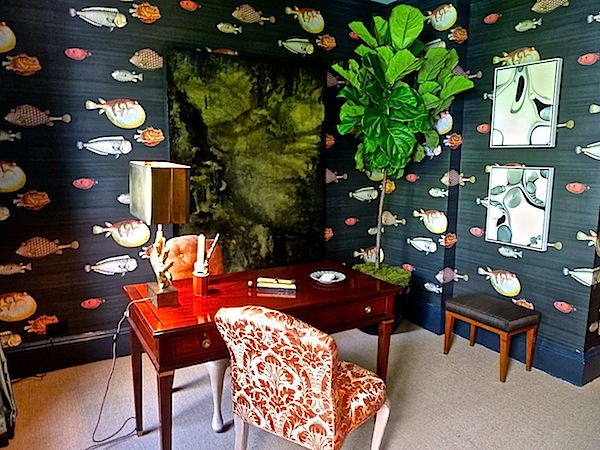 With an eclectic mix of distinguished furnishings and accessories, the room has a certain gravitas mixed with enchanting whimsy. Dramatic Herve Van Der Straeten candle sconces from Maison Gerard mix with an oval painting form the designer's personal collection.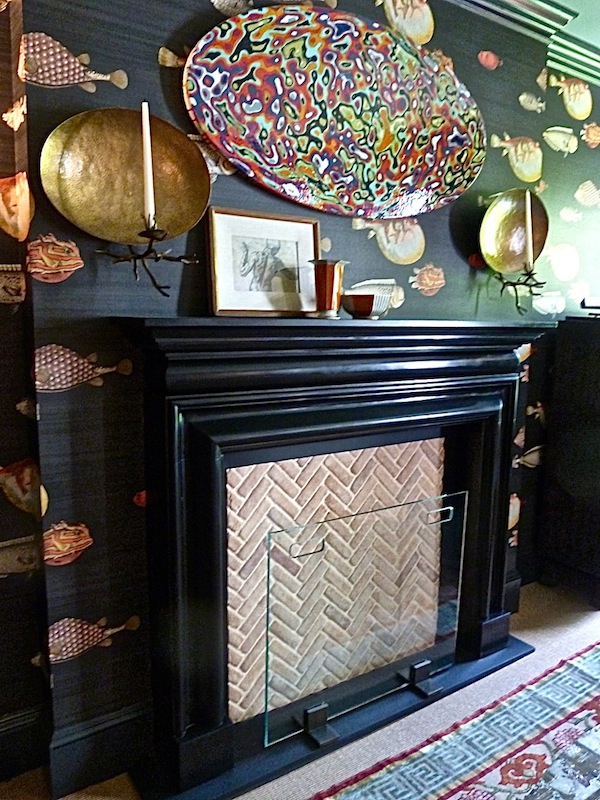 Lovely vignettes are sprinkled throughout the space. Here Chinoiserie nesting tables from Jean Karajieajn meld perfectly with a beautiful embroidered pillow.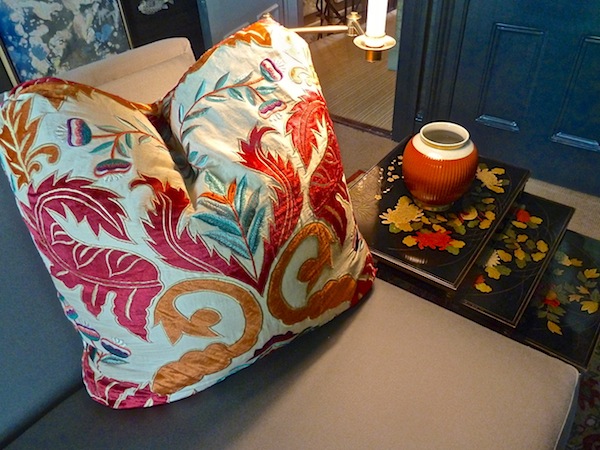 Stop back tomorrow as we finish up our tour of the Kips Bay Decorator Show House 2013.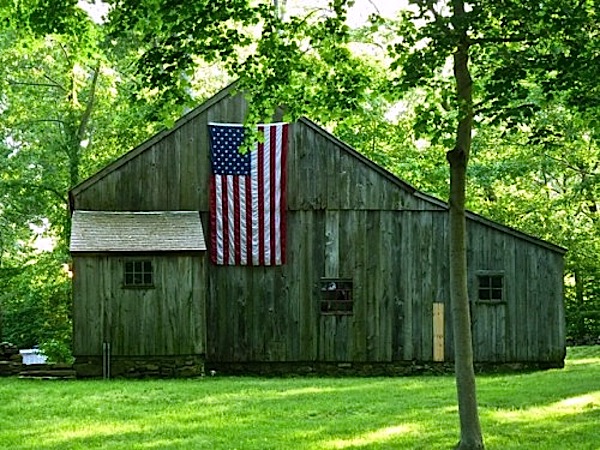 And in the meantime, wishing everyone a glorious Memorial Day. I hope you all enjoy your day off and take a moment to remember those who have served our country, including my father who was a reconnaissance pilot for the Army Air Corps in WWII and spent 3 years recovering from his injuries in Walter Reed. Happily he met my mother who was serving in the Red Cross as an art therapist at the time!