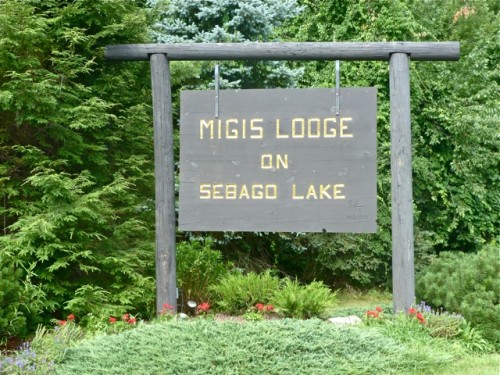 As our world continues to function at an increasingly frenetic pace, I've noticed that many of us have been referencing earlier times, eras of gracious living, when life was not quite so hectic and harried. As I headed up to visit my younger daughter at her camp in Maine last weekend, looking forward to seeing her was only a part of my anticipation. When she finally made the decision to try camp this summer, I was secretly thrilled, knowing it offered me the opportunity to hopefully visit one of my all time favorite resorts.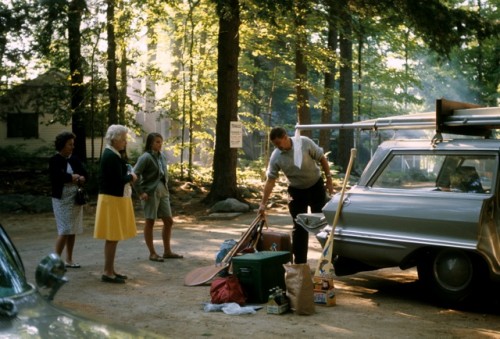 I say hopefully because reservations at Migis Lodge are a precious commodity in July and August, frequently booked a year in advance. This was my fourth or fifth time staying at Migis, which still qualifies me as a newbie. Since 1916, this woodland paradise has been welcoming visitors who seek a respite from their busy everyday lives. Many things have remained the same over the decades. Except for the fashion, cars and somewhat dated umbrella, these photos above and below from the Migis archives could just as easily be today.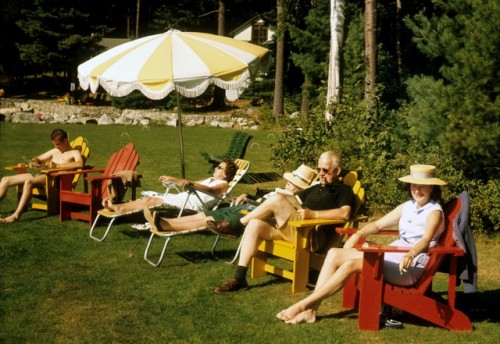 But owners Tim and Joan Porta (who bought it from Tim's parents in 1978), along with general manager son Jed, have updated the resort appropriately to ensure generations of families still return summer after summer to enjoy the wholesome splendor this classic resort offers.  Set among 125 acres on the shores of crystal clear Lake Sebago, Migis maintains an air of timeless American values – the kind of place Ralph Lauren loves to emulate.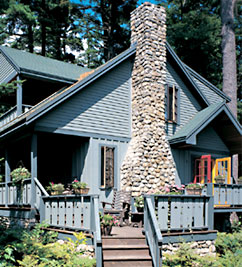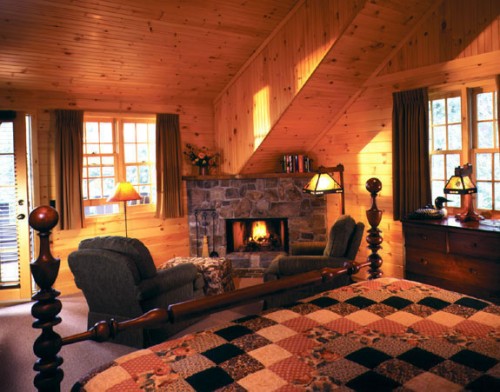 Photos above courtesy of Migis Lodge
But don't expect fancy designer digs with marble bathrooms. This is luxury of a different sort – of clean air, unlocked doors and no pressure to do anything at all except relax. While the individual cabins and six rooms in the lodge exude upscale casual comfort, the emphasis is on the beautiful natural setting and traditional activities.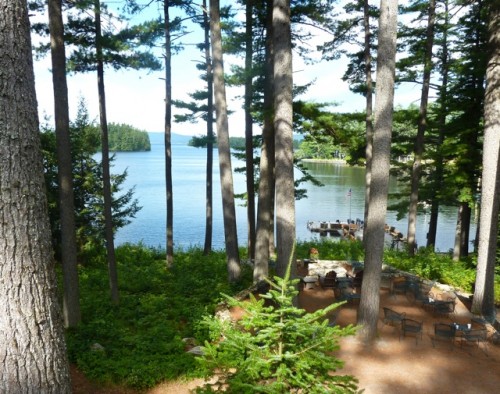 As soon as we arrived, my older daughter whipped into her suit, running down to the lake for a pre-dinner dip. I could see from my porch view as she walked back to our cabin all smiles, refreshed and ready for the weekly Friday night lobster bake down at The Point – the outdoor barbecue spot on the water's edge replete with shared checker-tableclothed picnic tables. My daughter was mortified that I was planning to take pictures at dinner so it was fortuitous that I ran into Mary Strain, who shoots many of the photographs for the lodge, their website and took these below that evening.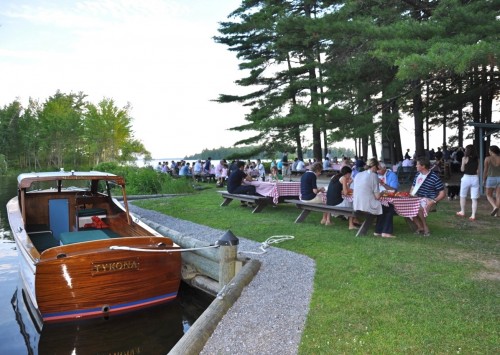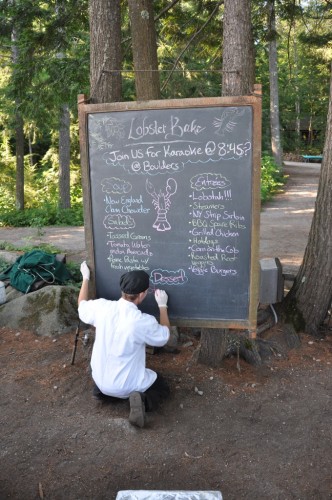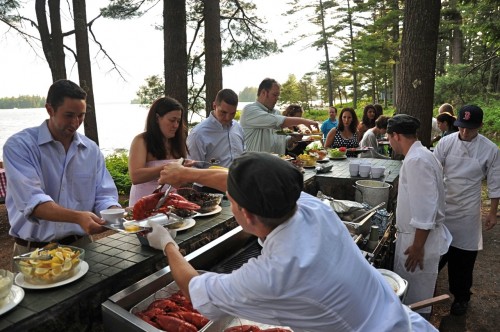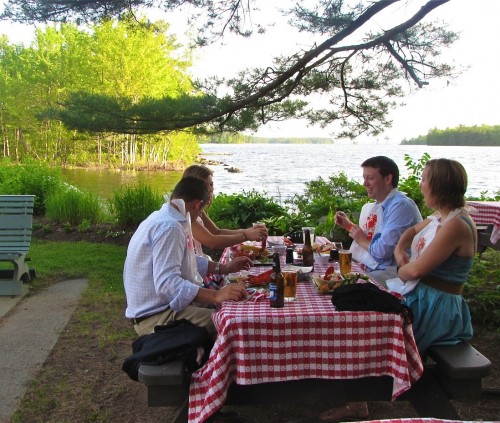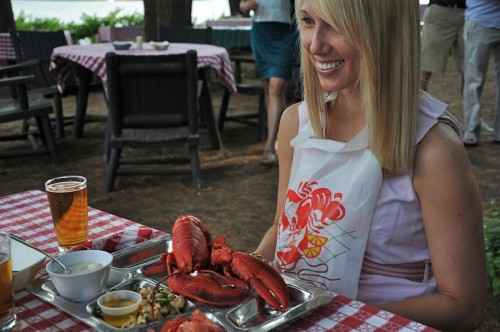 Every day offers a plethora of activities, from a wide variety of water sports (waterskiing, kayaking, canoeing, sailing, paddle boarding etc.) to tennis, yoga, or massages in the "wellness center" – a cabin-like structure down a leafy wooded path.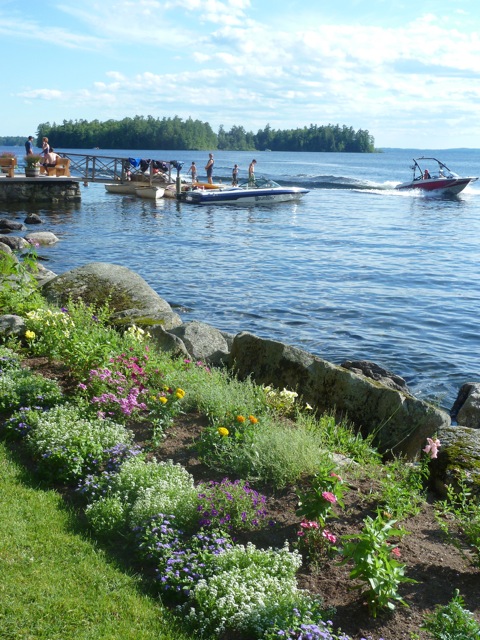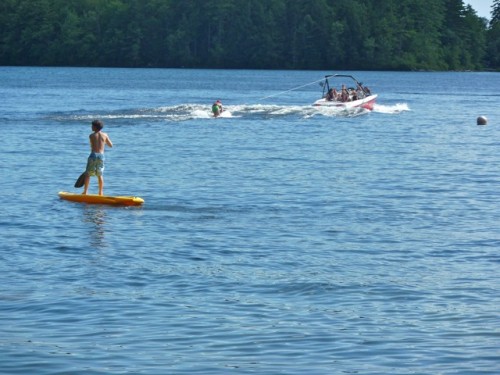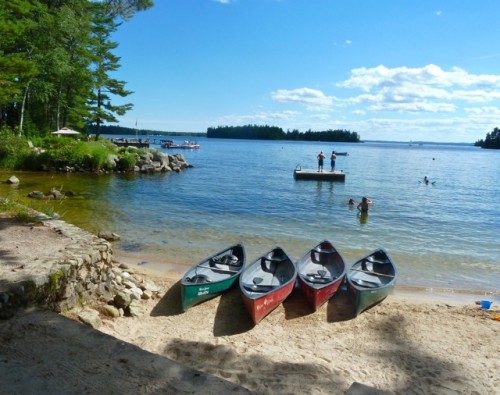 Or you can take a ride to Migis' private island in the resort's vintage 1936 Chris Craft. But there are plenty of guests who enjoy doing not much of anything – lounging on one of the three lakeside beaches, reading in an Adirondack chair, or taking a stroll down one of the many paths among the pine trees.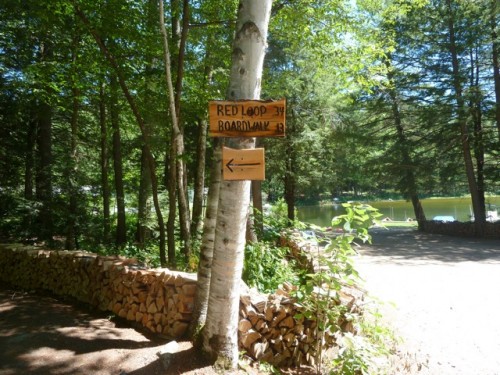 If I hadn't had other parental duties, I would have been perfectly content to have a leisurely breakfast (the home-made donuts and blueberry pancakes are legendary) and sit and read by the lake. My younger daughter did join us one afternoon for an al fresco lunch followed by an afternoon of swimming. I loved seeing the girls cavorting in the lake. It was such a refreshing reminder of careless summers.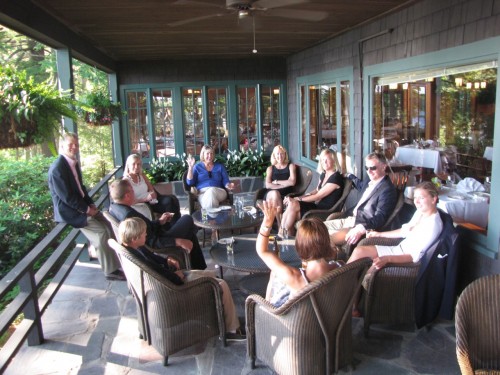 Dinner, however, is the event of the day. Everyone gathers in casual summer attire (jackets for men) before the meal for communal cocktails on the porch above and terrace below. (photo above and below by Mary Strain)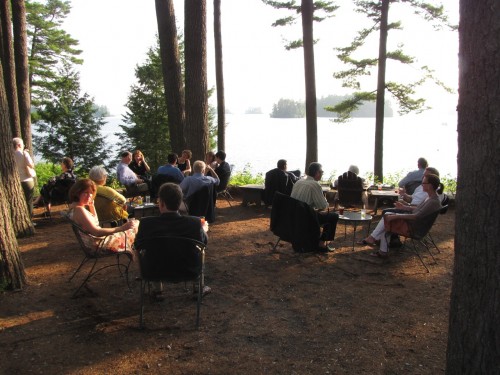 It's not unusual to see three generations of a family sitting together sipping their Shirley Temples and Gin Martinis.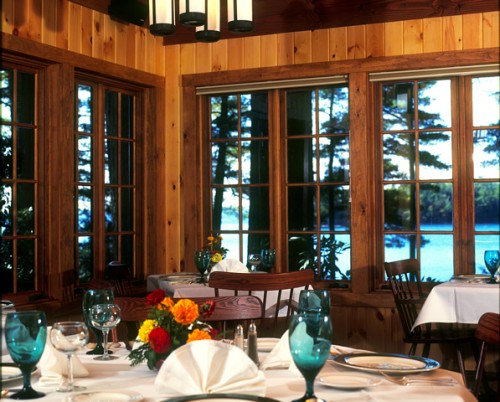 photo by Rob Karosis
After dinner in the rustic pine dining room, many continue to the main lounge where a fire in the hearth roars no matter what the weather. Tables of chess and backgammon are ready for challengers, deep leather sofas beckon diners who have splurged on the extravagant desserts (the blueberry crumble a la mode is my particular poison) and occasionally someone starts a sing-along at the piano.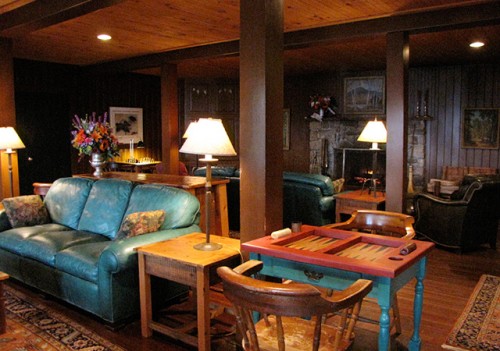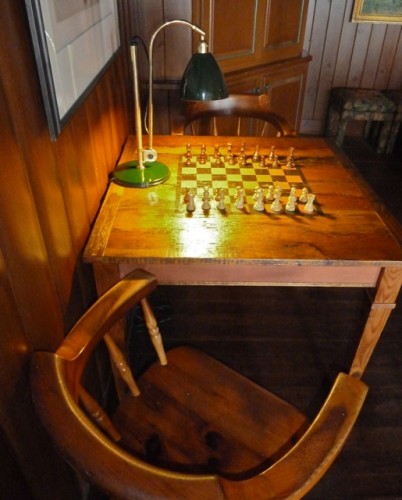 I got totally whooped at backgammon by my older daughter, the shark. I think I was even gammoned a couple of times.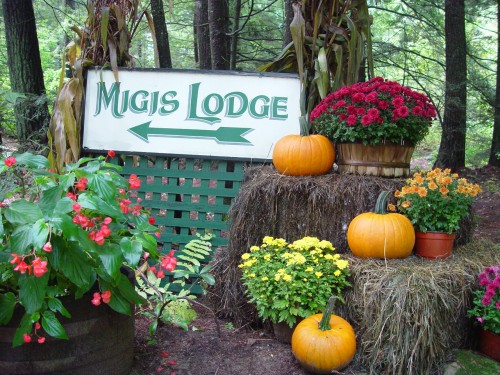 Migis' main season extends from the third week of June through Columbus Day. Before and after the summer season, they are open for special events, including weddings, such as Jed's own below.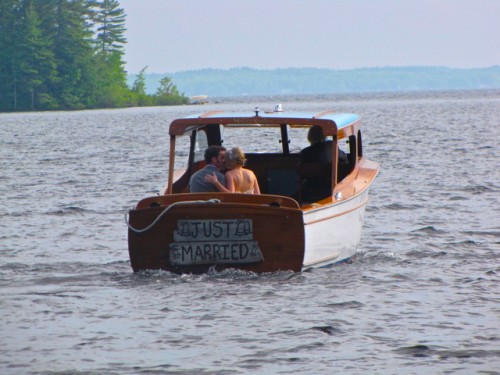 fall and wedding photos by Mary Traina
My few days flew by. I'm already hoping if my daughter returns to camp that I'll be able to secure a reservation for next summer!!