In my enthusiasm, I posted yesterday instead of my usual middle of the week installment and rather than leave you hanging until Friday, I thought I would offer a little eye candy to carry you through. I only shared a few pieces on Monday from the new Lalique jewelry collection. The line encompasses almost 100 pieces and is classic and yet modern in its appeal. See how beautifully it pairs with these pieces for fall, all from Bergdorf's.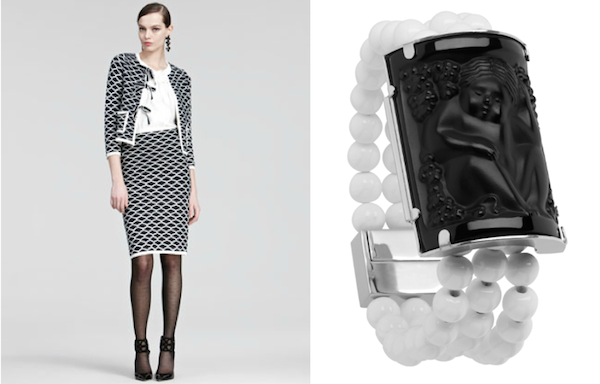 The black crystal Nysa bracelet could be the perfect accompaniment to this Oscar de la Renta Contrast Crochet Jacket and Skirt. Elegant with a little edge, it can hold its own against the busy pattern of this trademark Oscar look.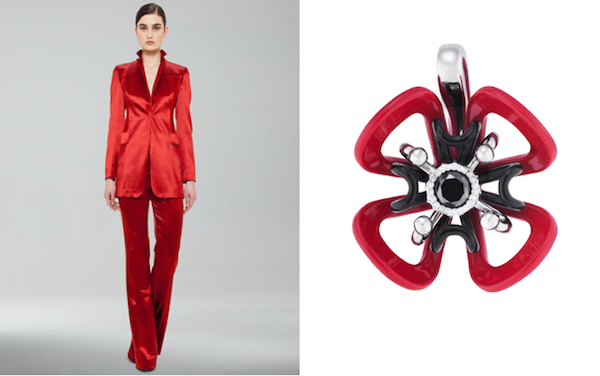 The Coquelicot (poppy) is the symbol of the cycle of the seasons. Originally designed in 1912 for the facade of the Coty building in New York, it is reborn for the new collection. The fire red of this sleek Akris satin suit needs little to make a statement. The clean lines of the pendant would add glamour without distraction.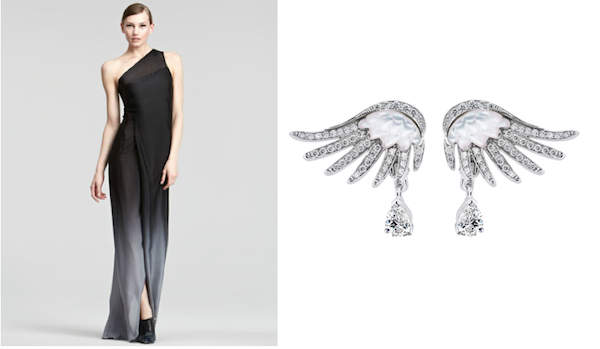 Just as the shade of this Donna Karan gown gradates from gray to black, such is the tonal transformation from mother of pearl to glittering diamonds in these stunning Vesta earrings, the movement echoing the dynamic drape of the dress.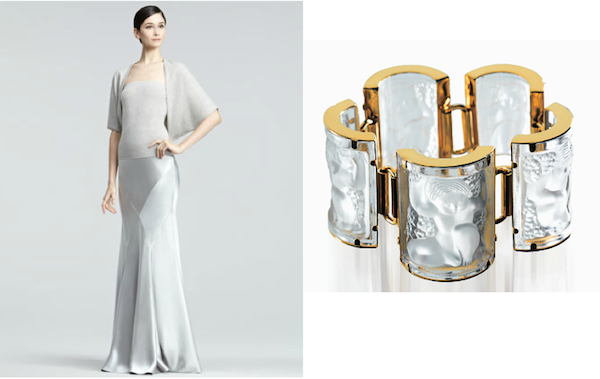 This Nysa crystal bracelet is the perfect melding of old and new, showcasing the gorgeous artistic capabilities of the Lalique studios within a contemporary yet classic setting.  The sculptural quality and tonality of the carving is the perfect pairing for this sinuous Ralph Lauren Black Label outfit.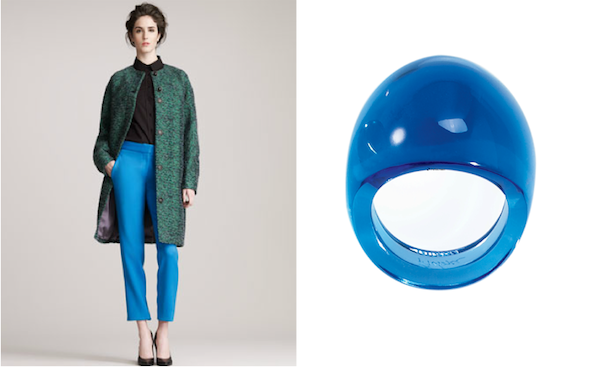 The Proenza Schouler team has mastered the mix with this colorful outfit for fall. A great balance of texture and proportion yields a fashionably forward look without pushing the envelope too far. Add to the fun with the classic Lalique crystal cabochon ring, a reissue of the original 1931 design. Available in a rainbow array of colors, it is the perfect way to add a pop of color to any outfit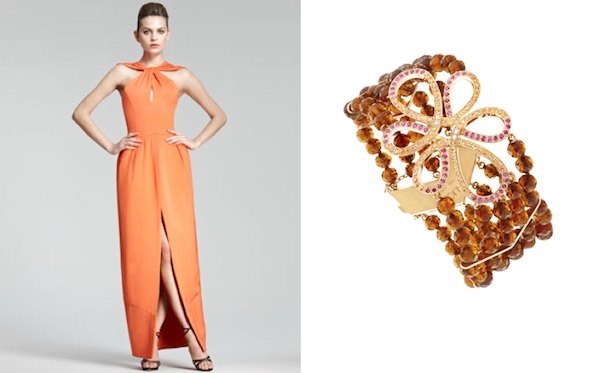 I couldn't resist the splendid color of this Armani Waterfall-Pleat Gown. The beautiful tailoring and feminine lines reflect the delicate design of the Ardente bracelet in the stunning combination of pink gold and sapphires.
See you at the end of the week for our final look at the revitalized legacy of Lalique.