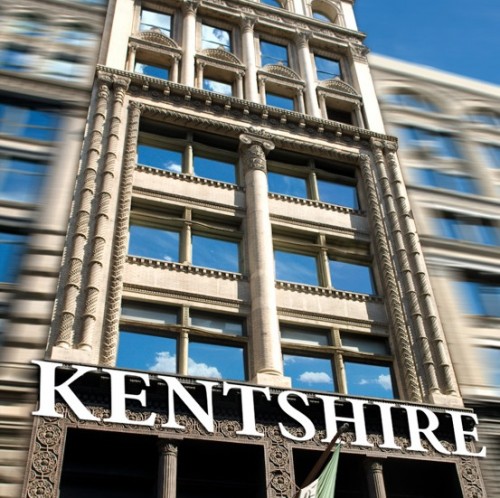 I'm sure many of you are familiar with the venerable Kentshire Gallery. Established and owned by the same two related families since 1940, the name alone connotes the epitome of excellence in their field.  Whether you know them from their original downtown building (above), their boutique in Bergdorf's, their newer chic Madison Avenue shop (below), or from 1stdibs, it is common knowledge that Kentshire is considered one of the most respected dealers of fine antique English furniture and period jewelry in the country.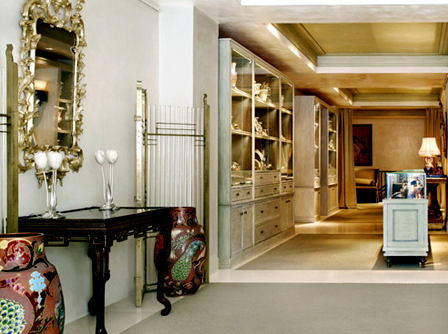 I lived near the impressive eight-story gallery in Greenwich Village for several years and frequently stopped by just to ogle the spectacular offerings. Kentshire was one of the earliest to display their wares as a series of "luxuriously appointed rooms" and it was a totally escapist pastime to get lost in a reverie of period extravagance. Susanna Salk, in her 1stdibs interview with partner Fred Imberman explained it perfectly – "…they ultimately created tantalizing room-like settings where clients felt as if they had entered an exquisite home – but where everything just happened to be for sale". You can see what she means in this bedroom display below.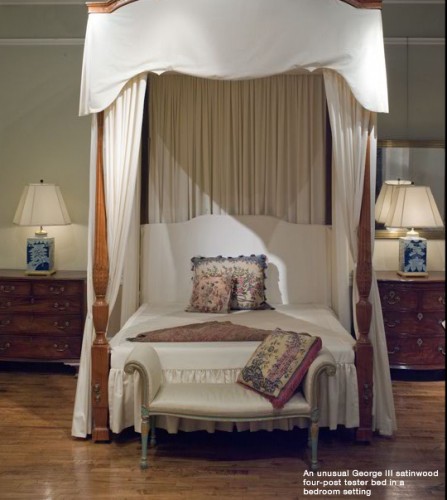 I recently became aware of the fact that Kentshire also sells vintage handbags and had the opportunity to speak with Ellen Israel, part of the Kentshire family, about the genesis of the collection. It all started about five years ago. Israel had always loved vintage bags and while shopping for the store's jewelry collection in Europe, would occasionally pick some up for herself at the markets there. Upon returning home, she realized that they also made wonderful additions to the stores' displays, as props in the jewelry vignettes. In fact, she did her job so well, that people started inquiring about purchasing the bags. As Israel began buying bags more consciously for sale, Ellen had a simple rule of thumb – if she loved it, she figured someone else would too and if it didn't sell, she merely added it to her personal collection.
I asked her if she could elaborate more specifically on what she looks for when considering a bag. Israel explained that firstly the bag has to be beautiful. It's not about the label – she is not interesting in carrying just name-brand bags, although she mentions Patricia Smith and Roberta de Camerino as vintage favorites. It is more about the design – it has to be something chic, something that makes her smile and has enduring style. Of course condition is also important for value. Customers want to be able to use the bags so they have to be in good condition. And that is one of the reasons she carries many bags with exotic skins – they wear well and are good value. In fact, Israel, pointed out, vintage bags hold their value very well for what they cost.
Israel shops for two collections a year – fall and spring. I stopped by the Madison Avenue and Bergdorf boutiques to take a look at this fall's offerings.
This jet black crocodile doctor bag is a classic. It is a great larger size that makes it perfect for every day. From 1960, the solid brass twist dial clasp and studs give it a tailored modern appeal. ($4,275)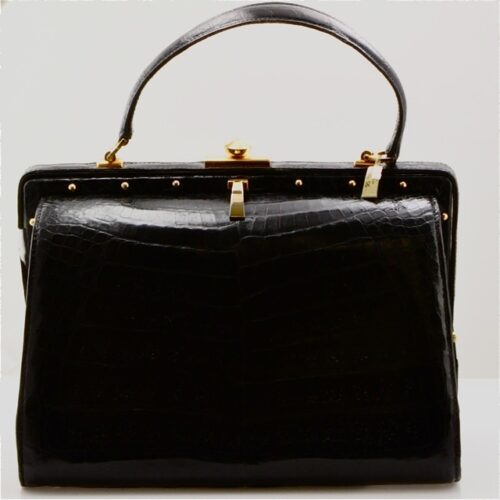 As we all know, leopard is hot this season. And what better way to add some spots to your wardrobe than with this fun tote. Dating from 1940, the amber handles give it a shot of go with everything color. ($1,675)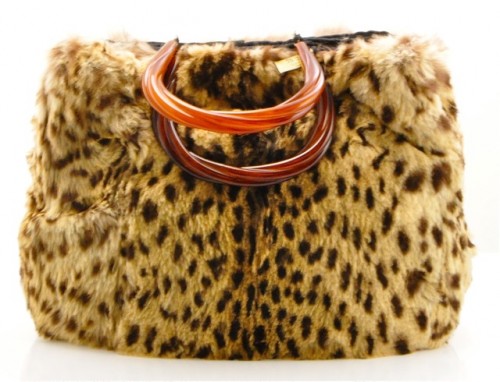 If you want to get in on the lady like glamour shown on the runways, this elegant Artcraft bag from 1960 would be perfect. The grey lizard would look fabulous with all your camel and I love how the gold plated push up clasp and protective edging on the outside pockets give it a little understated glitz. ($1,775)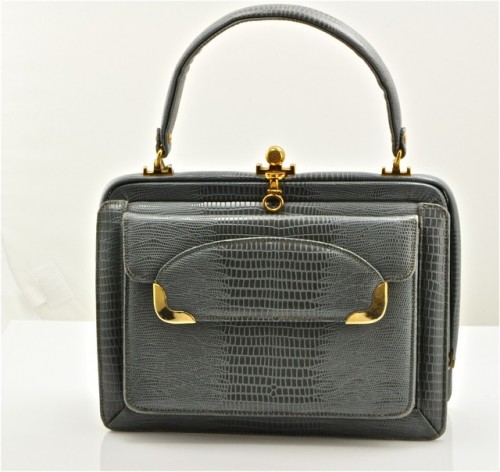 And how about a non-leather alternative? This very mod looking bag from 1970 is made from black and gray swirled lucite assembled with horizontal slats and shelf handle. I think it would give a classic outfit a distinctive edge. ($775)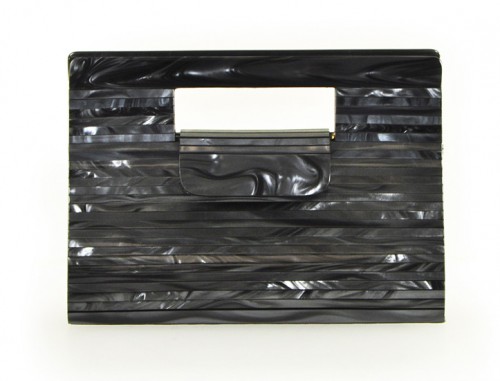 This Finesse La Model bag from 1970 is one of my favorites. The large tan lizard Kelly style purse with gold metal alligator clasp and embellishments, as well as a matching optional shoulder strap is so elegant and classic – not to mention one of a kind! ($3,250)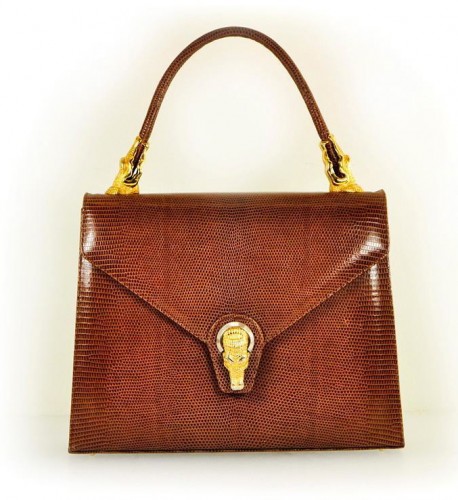 This next bag is going on my Christmas list. From 1950, it is spectacular black and white ponyskin with a gold metal frame and black leather trim. I admired it immediately, but then I saw it had the original mirror and I was in love. ($850)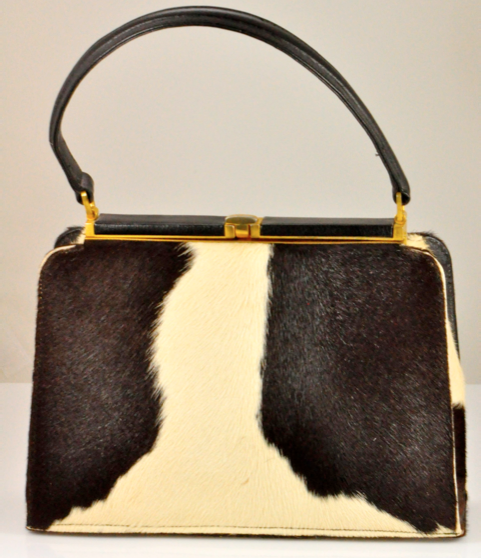 This bag is like a piece of art – the Modigliani of bags. Made by Tu-Khan, a hard to find, coveted Italian mid-century manufacturer, it is deep saddle colored with a heavy brass sculptural loop handle. ($700)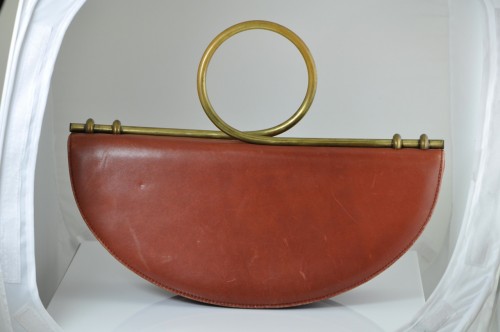 My final two listings are smaller dressier bags. The first does not have an identified provenance but is adorable nonetheless. From 1940-50, it is obviously the brass horseshoe handles that make it. ($585)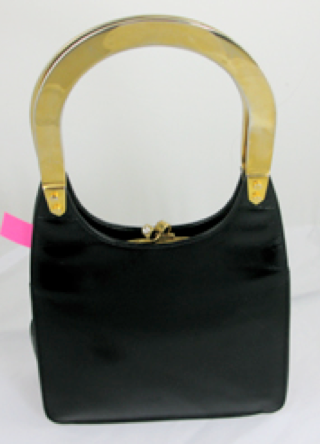 And lastly is this black silk purse, a Faye Mell Design from Fleurette of Miami, circa 1950. It is an enchanting gem with its gilt metal and black cabochon bracelet handle and pierced heart and tassel embellishment. ($685)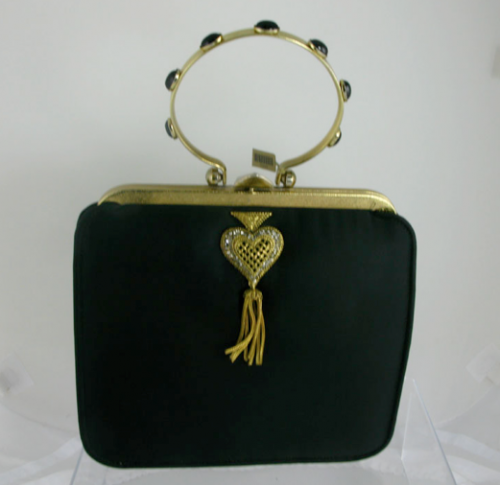 People are attracted to vintage pieces for many reasons – perhaps because they have a certain history and/or aesthetic, a level of workmanship no longer available, represent a better value or simple because they are unique. Whatever your reason, these beautiful vintage bags, vetted by a distinguished establishment are sure to add élan to any outfit. Not to mention you wouldn't see anyone else with your distinctive style!