As the indomitable Ms. Vreeland taught us, the eye indeed has to travel, so today we are delighted to introduce a new video series, International House Guest. Our first episode takes us to the Loire Valley where designer Timothy Corrigan has meticulously renovated Château du Grand-Lucé, transforming this estate of impressive stature and significance into his chic french home. Susanna and I were thrilled to pay Tim a visit in January and even the dreary winter weather couldn't dampen our spirits as we settled into chateau life. Join us for a visit to this remarkable residence.
While Chateau du Grand-Lucé is a national landmark in France, representing one of the purest examples of 18th century architecture, comfort reigns supreme and it's truly a testament to Tim's talents that, at 40,000 square feet, it is also one of the coziest and welcoming abodes I have ever visited. When Tim first led me to my bedroom, I was awe-struck. Grand yet gracious, it includes an artful mix of gorgeous painted boiserie, eclectic antiques and new sink-in-soft upholstered pieces.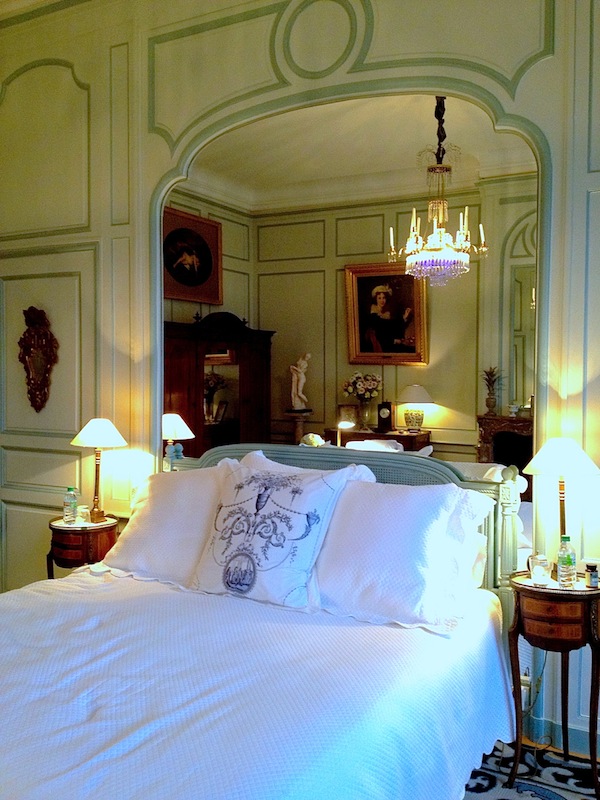 Goldilocks had nothing on me, as I sampled each seating option, all receiving the "just right" thumbs up.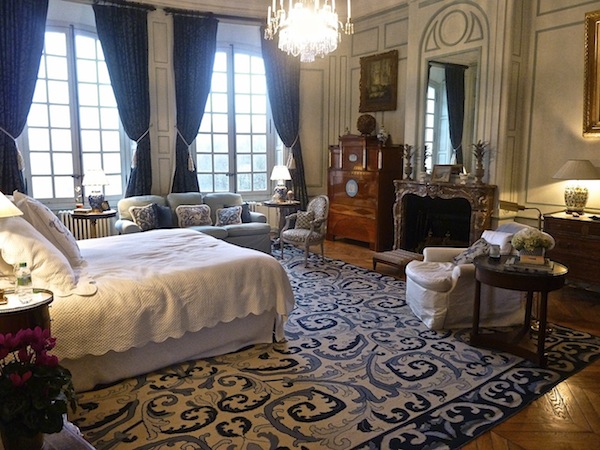 A dreamy bathroom includes both fireplace and dressing table, modern plumbing fixtures and select samples of top line toiletries.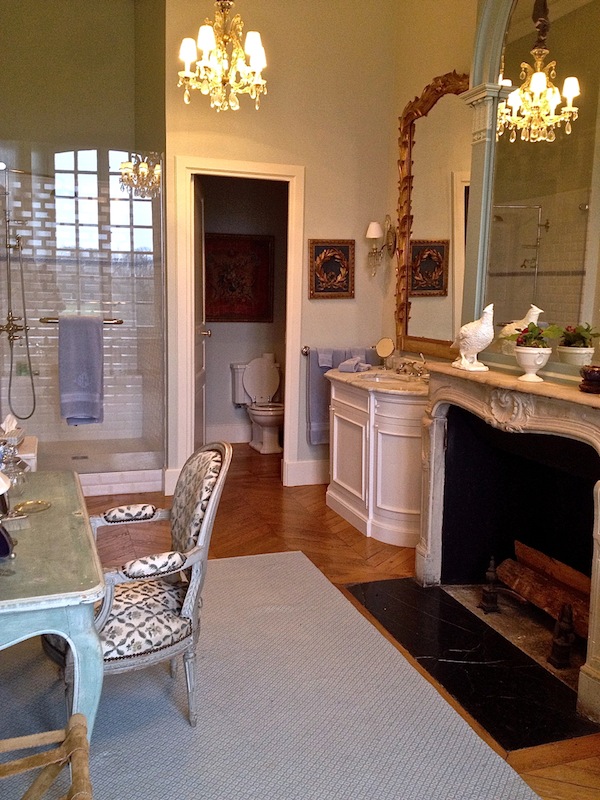 As Tim took us through the house and many outbuildings, he generously shared some of his thoughts on design that could be applied to any home. Putting full length mirrors behind the niches in the entry gives a sense of depth and perspective, making the room seem as if it continues beyond.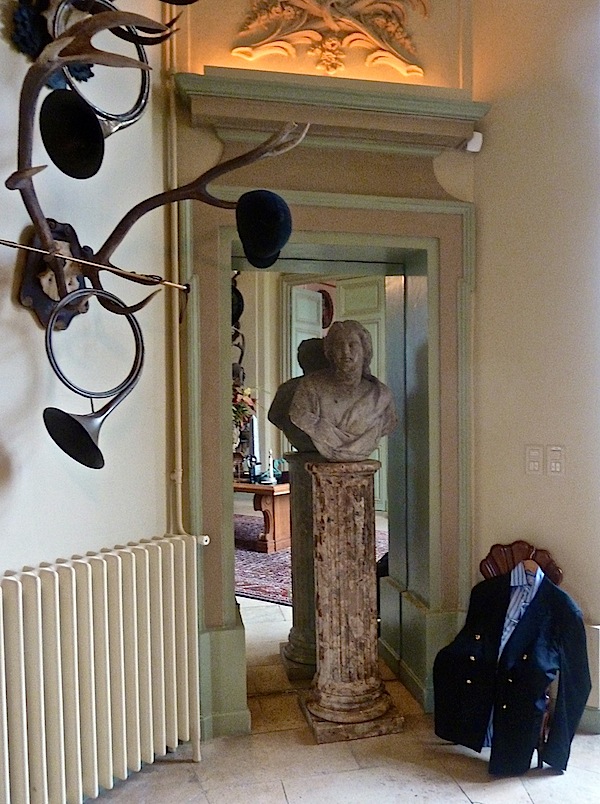 And the high ceilings of the dining room are brought down visually by the series of three dimensional rondelles. Adding a sense of depth at that level makes the height feel more accessible and the space more intimate.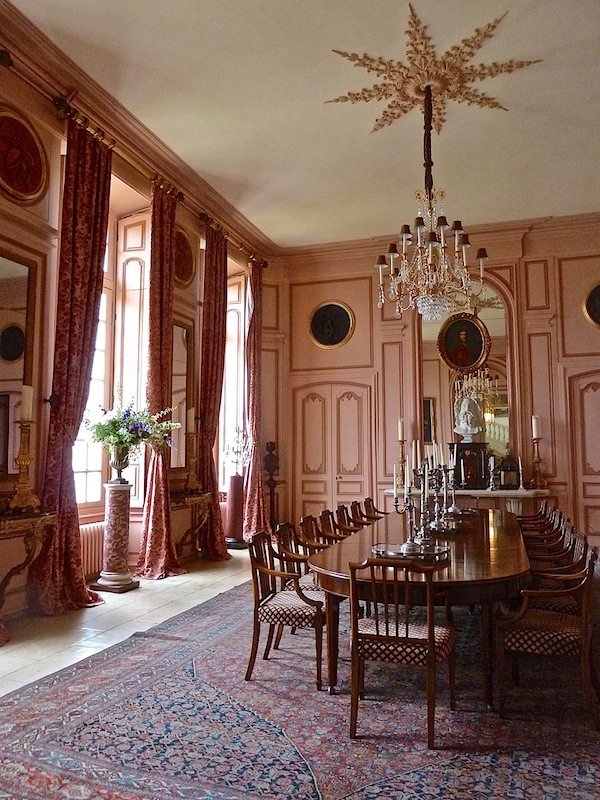 This gorgeous antique Swedish chandelier in my bedroom was given a casually chic twist with a chain covered in silk and knotted at intervals rather than the usual scrunchie treatment.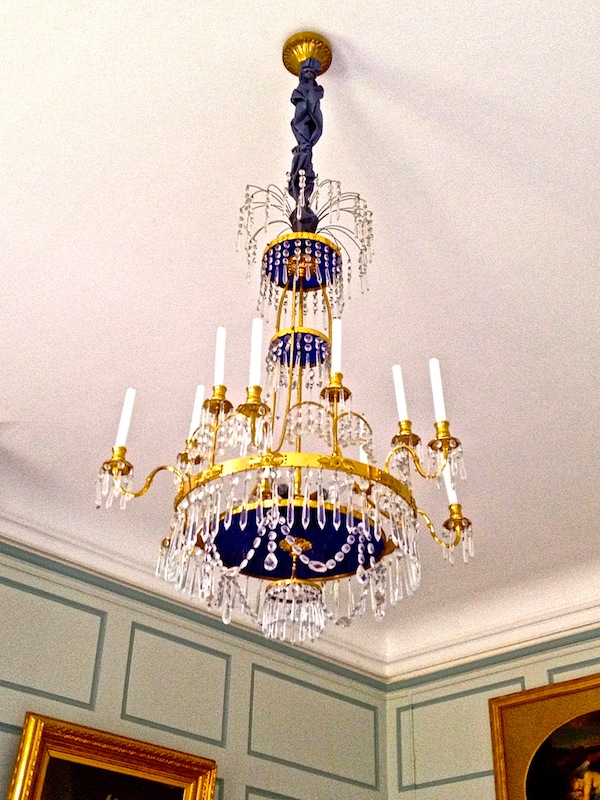 But it's a welcoming thoughtful host (plying you with champagne at every opportunity) that truly makes a guest feel so at home they never want to leave (as was the case with us). So thank you Tim, we loved every second with you in your beautiful home!