As the weather has been teasing us with a preview of warmer temperatures to come, the idea of outdoor living is on many of our minds. So I was thrilled to see that the May House Beautiful Instant Room featured a chic outdoor space designed by acclaimed designer Alexandra Chamalimaud. With her signature melding of comfort and sophistication, she has created a space that extends opportunities for living and entertaining stylishly outdoors.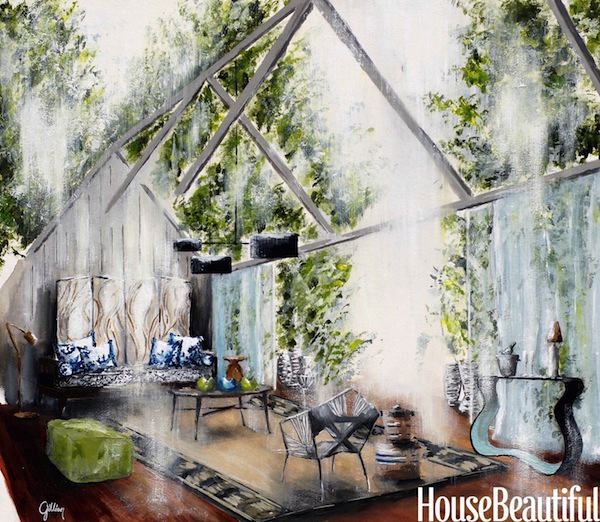 The expansion of our homes to include outdoor spaces is a trend that I think everyone can embrace. With a wider variety of weather friendly furniture and fabrics in the marketplace, it has become easier to design environments that are as comfortable and inviting as those indoors with the additional appeal of fresh air, greenery and open skies. The ultimate would of course be a custom built greenhouse like this aluminum tube one from Solar Innovations, within which Alexandra has crafted an outdoor fantasy.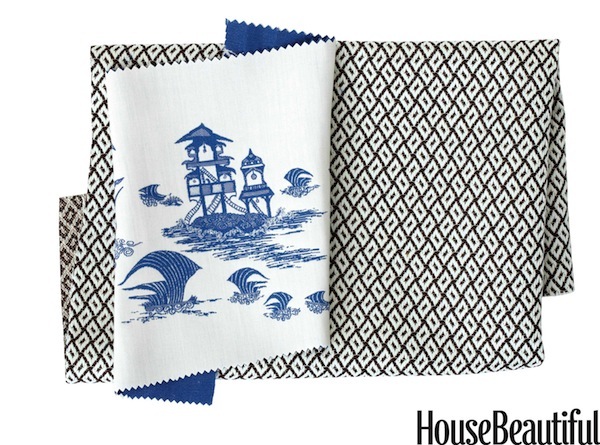 Incorporating her beautiful The Comptoirs fabric collection, Alexandra lessens the divide between indoor and outdoor living. Each of the six fabrics in the line represents the combination of high performance fibers with a luxurious quality textile appropriate for either venue. The signature pattern of the collection, Goa, above is a modern interpretation of a classic chinoiserie and Benin, shown here in Noche, is a versatile graphic that has movement and texture. I had a chance to ask Alexandra her thoughts behind the space.
Q) What was the original inspiration for the space? Did you start with the idea of the greenhouse? And do you see this is a separate structure or attached to a house?
AC) We wanted to create a room that one could easily pitch in a garden.  By creating a simple glass and wood structure and adding a mix of contemporary lounge furniture, we brought the comfort of a typical indoor living space outdoors. We brought sophistication to a simple structure; you feel ensconced in the garden and its greenery and totally at ease.  It's a place to relax with a good book, entertain guests or enjoy a late afternoon summer cocktail.
Q) How is designing for outdoor spaces different than creating interior ones? How do considerations like scale and texture change when designing these spaces?
AC)  Our approach to designing exteriors is the same as interiors;  we consider location, scale, light and function of any space.  Of course the practical elements of fabric and furniture selections depend on a space's function. When you design an outdoor space you must use weather and light resistant fabrications, but we are also pragmatic when designing interiors.
Q) How important do you feel it is to segue from indoors to out when considering designing for the outdoors. Do you try and connect the spaces and if so how?
AC) The connection is essential and should ideally be seamless. We always consider a building's environment and sense of place and history before designing the interior. The two are inextricably linked.  This garden room is an extension of the main house but assumes its own unique space because its connection to the wild garden is so strong. It is a wonderful surprise because it is unexpectedly luxurious.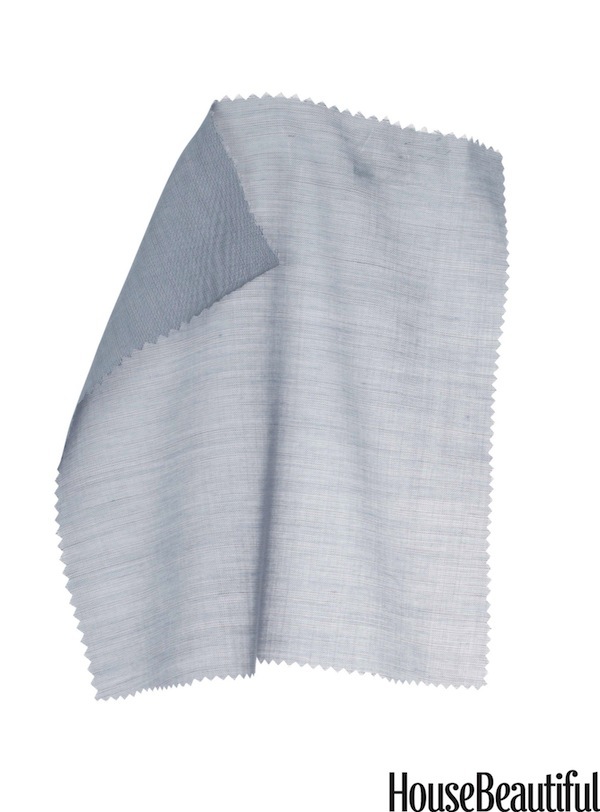 Q) I love the sheer curtains (Mina in Storm from The Comptoirs). If you didn't have the structure of the greenhouse, would there be any way to incorporate these curtains outdoors? And these are so practical – I assume you would consider these for indoor use as well?
AC) This sheer drapes beautifully and is an indoor/outdoor fabric so it is suitable for any condition. It is durable but graceful and in this room we wanted to let as much light in as possible to evoke the feeling of being outdoors.  The sheer could hang from any existing architecture in one's garden such as an arch or gate, or you could install them a simple wooden or metal frame.
Q) Many designers say they start with the floor or rug when considering a room. When designing an outdoor space, where do you start? I know your firm's philosophy is to allow the project and its context to drive the design. How did that work in this case?
AC) I always start with the envelope of a space.  In this case, the envelope is a garden and I was given the liberty to create anything inside.  So I created a structure that I would love to have in my garden – a relaxing place to rest, away from the responsibilities of the home and office where I could feel connected to nature.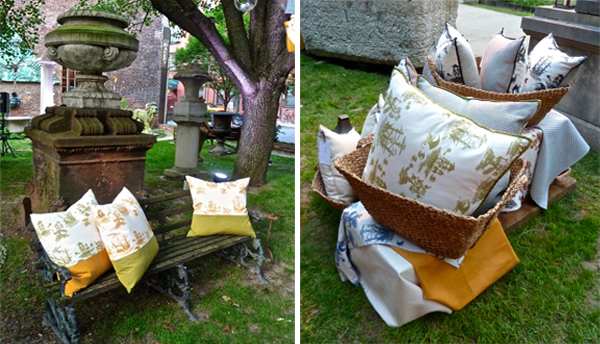 Q) In designing Les Comptoirs, besides making it durable for outdoor use, were there any other specific considerations? And are there any out of the box applications you'd love to see for the line?
AC) When designing our first collection, I wanted to create beautiful fabrics that had a nice texture and longevity- both indoors and out.  I'm not sure they are out of the box, but I would love to see our Goa on umbrellas and hammocks. Because the fabrics are so durable I could also see them being used for soft luggage and bags.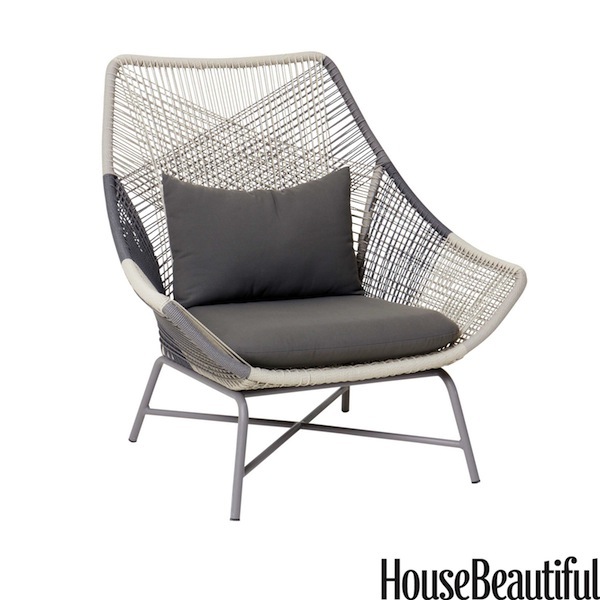 Q) That Huron chair from West Elm is such a special statement piece. It reminds me a bit of a spider web. What made you choose that particular piece for the space?
AC) I like to include one object in a scheme that shows attitude and personality.  This chair has humor and is both practical and comfortable.
Q) As more and more people are looking to expand their living spaces outdoors, how important is it that these "rooms" be multifunctional?
AC) It's important that these spaces are a haven from our routines.  The more simplistic the better and comfort is key.
Q) I see you've included an overhead light in the room, how important do you feel lighting is when designing for outdoors?
AC) It allows for use in the evenings.  Without proper soft, dimmable lighting, a garden is a black hole.  By selecting a handful of focal points and lighting these, the space takes on a romantic expression.