Inspiration can sprout from surprising places. The spark for Susanna Salk's Holiday House room was triggered by stylist Caroline Sieber's instagram feed. Shown lying on a baroque pink velveteen couch in front of a de Gournay fantasy, Sieber is documented reading about her recent wedding in Vogue.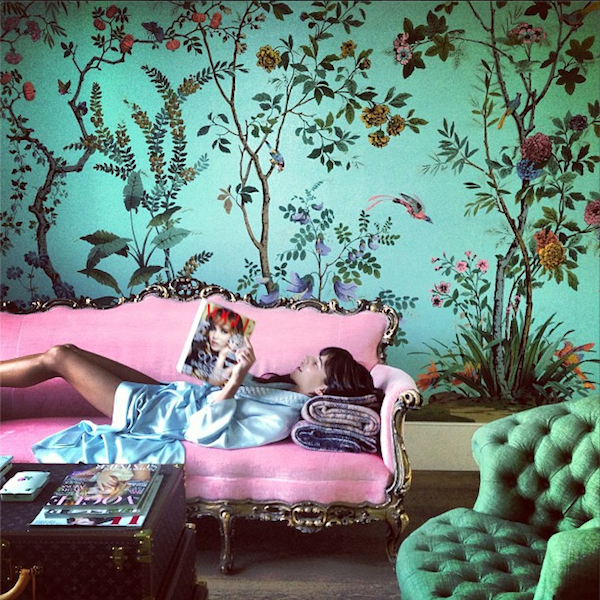 "It inspired me to create a room in the same spirit: for a worldly young woman just coming home after a journey filled with excitement and laughter. She craves a haven that cocoons but also encourages her to seek out the next adventure." Susanna's vignette is perhaps just that – a vibrant version of the original,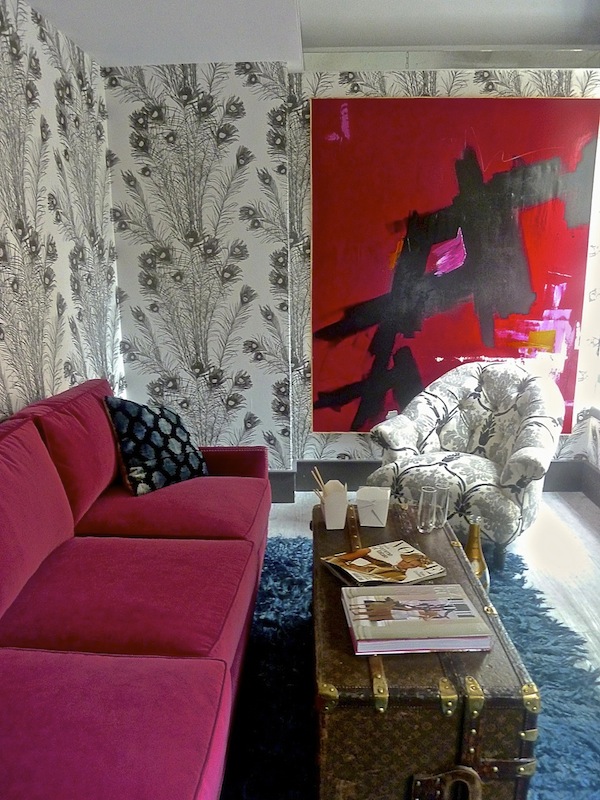 the cozy yet confident next stage. Against the gentle Florence Broadhurst peacock paper from Studio Four, Karina Gentinetta's painting expresses the sentiment perfectly. Specifically created for Holiday House, "Alice" is "strong and bold, fearless yet feminine. The cancer has spread but hope emerges and begins surrounding the opulent monster. Chaos, confusion, unbalanced but ultimately, Life breathes within…" Also an antiques dealer on 1st Dibs, Gentinetta flew in the hand blown murano glass chandelier from Venice. Its shapely glass feathers are the feminine antidote to the brash brush stroke of the painting.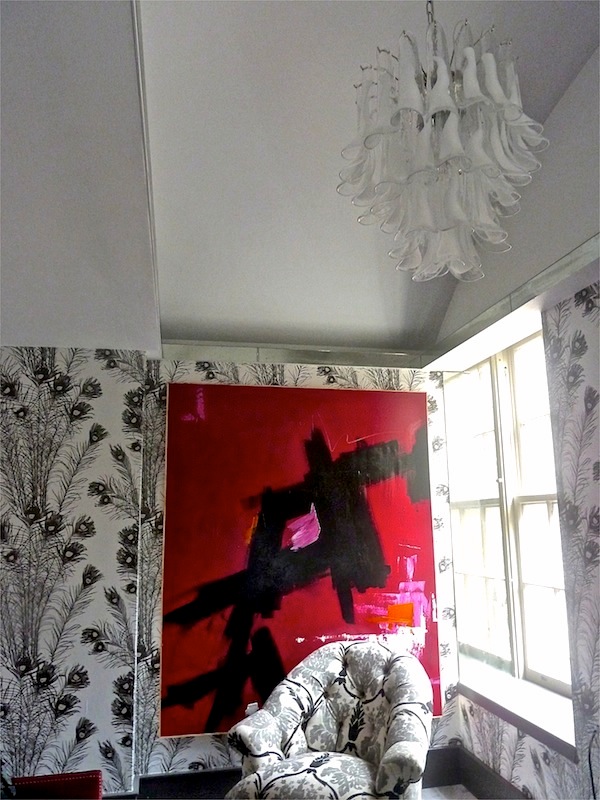 Celebrating their 30th year in business, Cullman & Kravis designed an anniversary themed room, taking the color cues from the cover of their new book. In honor of the women who have worked for the firm in the last three decades, they chose their Holiday House art from two generations of female abstract painters, most of whom have spent their entire careers in New York. It is an impressive and wide ranging group of work that both visually complements and anchors the room and provides intellectual substance.
photo courtesy of Cullman & Kravis
Mary Heilmann, Louise Fishman and Suzane Caporeal, representing the first generation, now in their 60s and 70s, are all still working artists who have "investigated the translation of experiences, memory and our surroundings, into beautiful paintings." Mary Heilmann, in her mid-70s, has been in New York since the late 1960s. Her large diptych is typical of her work, playful explorations of spatial fields through the juxtaposition of paint application, from thick and loose brushwork to sheer and diaphanous layering. She was the recipient of an Anonymous Was a Woman award, which gives grants to outstanding women artists over 40, at a "significant juncture in their lives or careers, to continue to grow and pursue their work."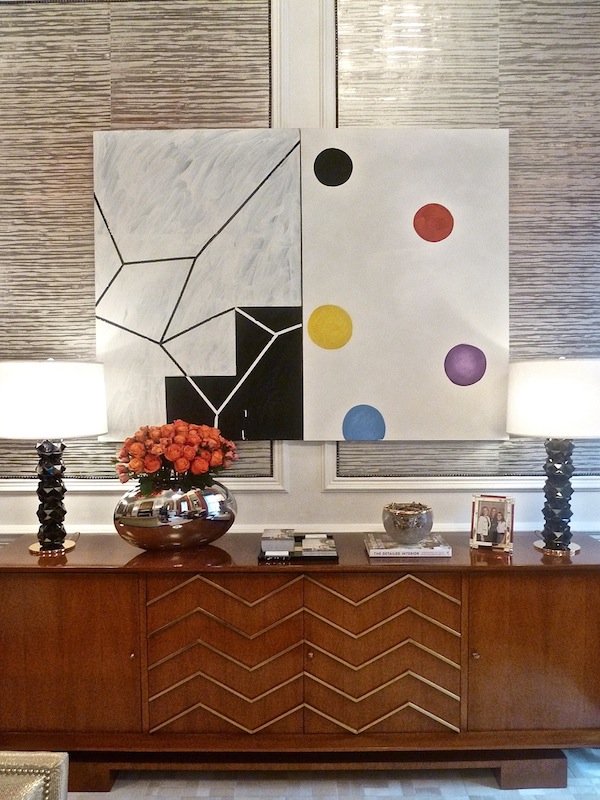 Louise Fishman, also in her mid-70s, has likewise been in New York since the 60s. Her gutsy abstract expressionist work, here on the far wall, is in direct contrast to Heilmann's pop culture-influenced fare.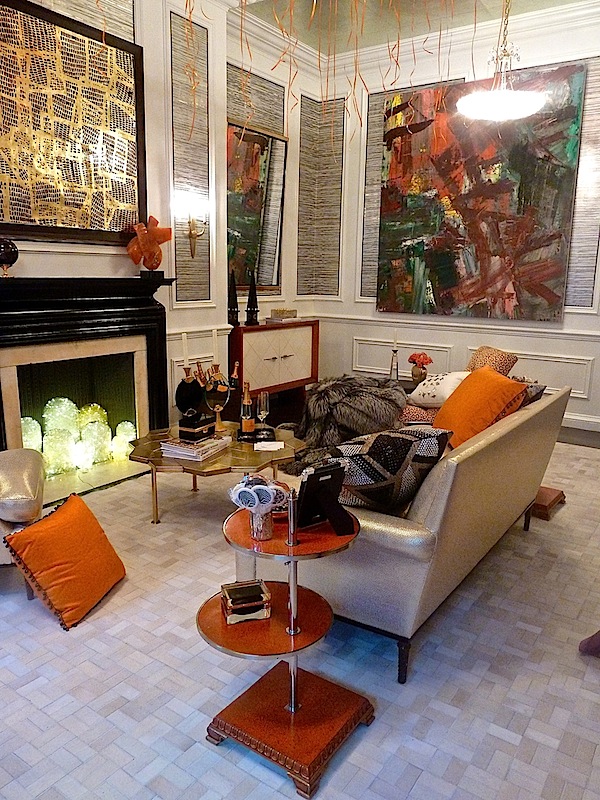 Inspired by the feminist movement, political activism and her travels, Fishman's work is a powerful expression of painterly large brushstrokes in contrast with an underlying grid.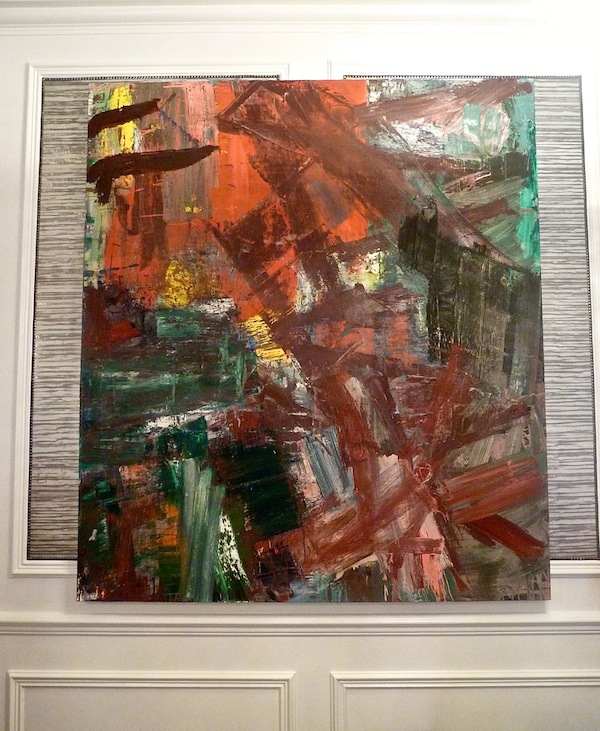 Suzanne Caporeal, in her mid-60s, has lived in upstate New York for the past 15 years. Her work, an aesthetic and conceptual interpretation of the natural world, focusses on how we attempt to control and define it. Interested in how the brain processes visual information, she combines scientific data with personal observations, resulting in paintings that are both regimented and lyrical. I just love the placement of this painting – it has such a beautiful relationship spatially and with the color and texture of the curtains.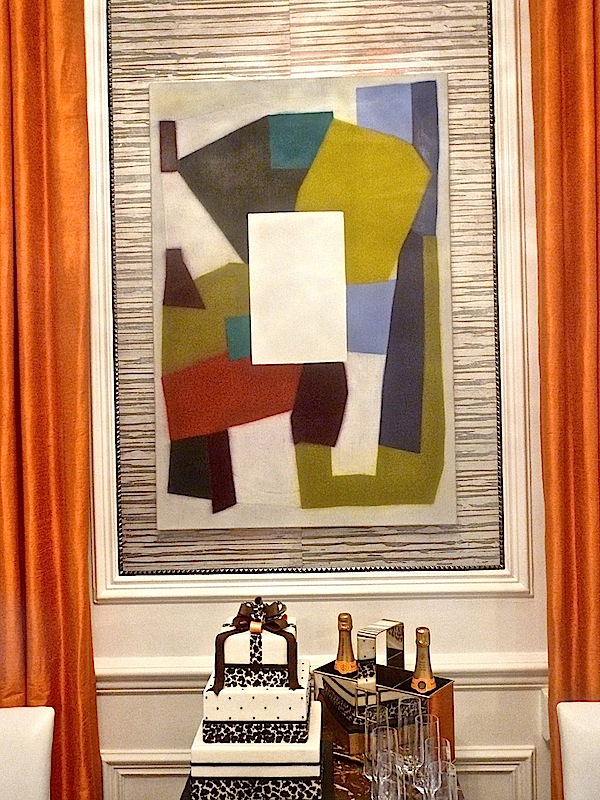 Elizabeth Neel, almost 40, is the granddaughter of the American portrait painter Alice Neel. Working with different strategies and applications, her abstracted paintings have been described as "controlled chaos." Challenging to define, Neel's work also deals with the act of looking and central themes of "decomposition, preservation and re composition." Its coloration and fragility is the perfect juxtaposition to the sleek elegant vitrine.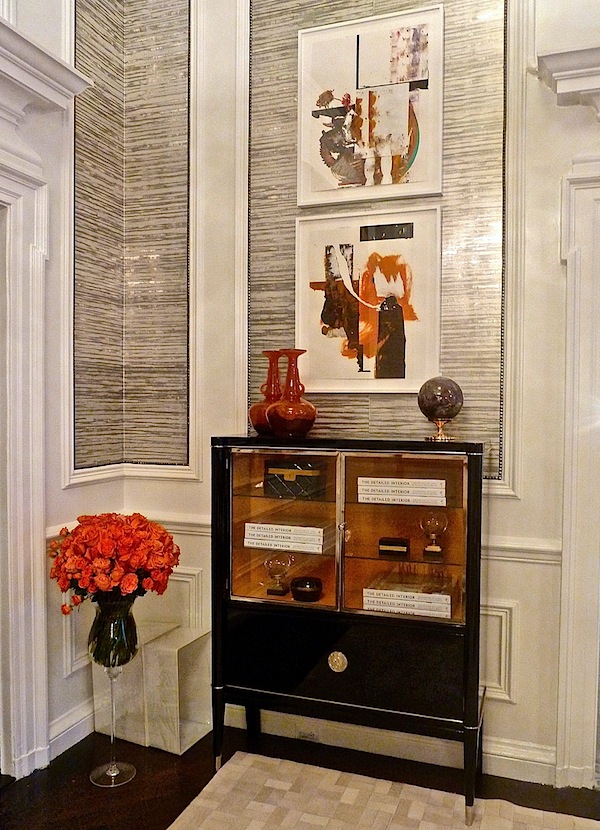 Mindy Shapero, also almost 40, living in Los Angeles, is the only artist not based in New York. Citing inspiration from the mysticism of William Blake to psychedelic shamanism, her work melds "the mundane and the amazing." Using a melange of media including tile, steel, foam, acrylic paint and silver leaf, she creates layers resulting in art that "fuses an elaborate, crafty materialism with spiritual undertones." Mindy Shapero's work is perhaps the perfect reflection of the glittering metallic anniversary celebration of both the firm and the women behind it.