I just arrived back from High Point last night and in looking through some of my many photos from market, there was considerable confirmation that blue is back. While other colors are vying for attention too, blue, brass (or gold tones) and a good dose of clean white or ivory all made strong appearances, producing elegant and refined palettes. One of my favorite blue stories was created by Hable Textiles for Hickory Chair. A wonderful combination of textures and patterns, from graphic punch to flowing swirls resulted in a sophisticated versatile collection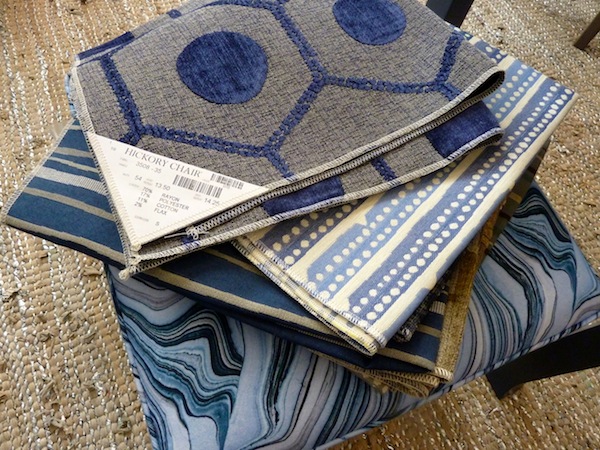 The signature print is this marvelous marbleized pattern that is the perfect scale, working on everything from a small footstool (note the gold legs)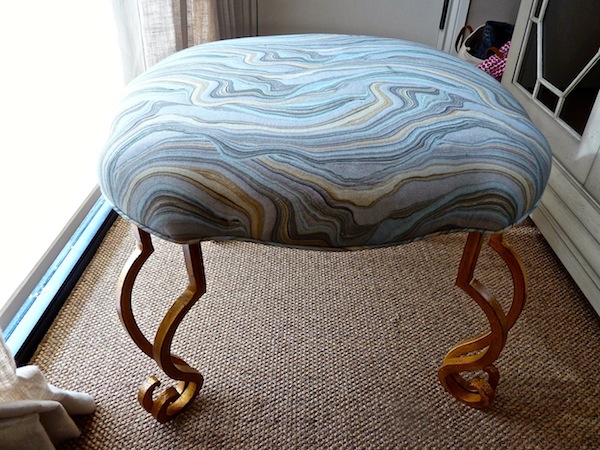 to a tall spectacularly studded cabinet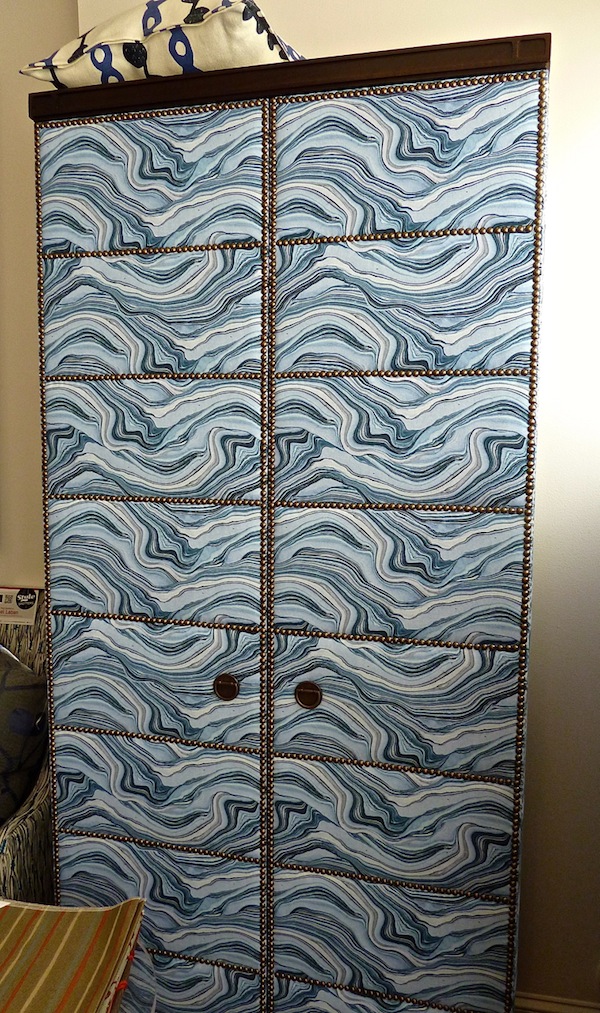 A variety of shades, all within the blue spectrum, make up this creative collection.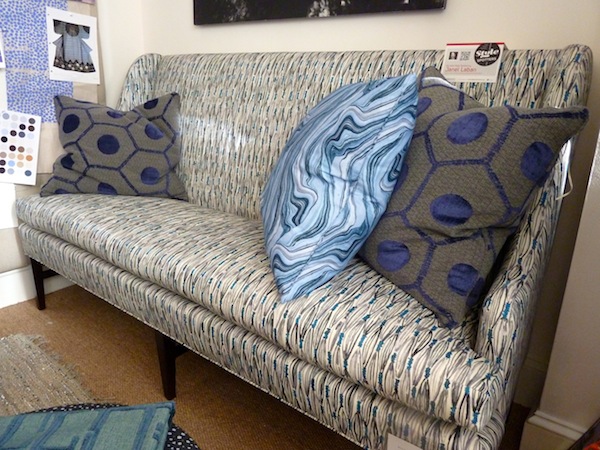 And in another corner of the showroom crisp graphic navy and white transformed one of Suzanne Kassler's vignettes.
 My sponsor this market, Drexel Heritage, offered this lively blue mix on their Sibilla sofa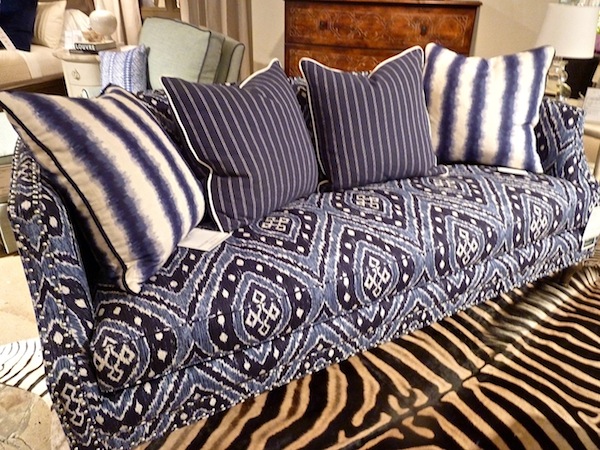 with coordinating pieces including this fun Manlio ottoman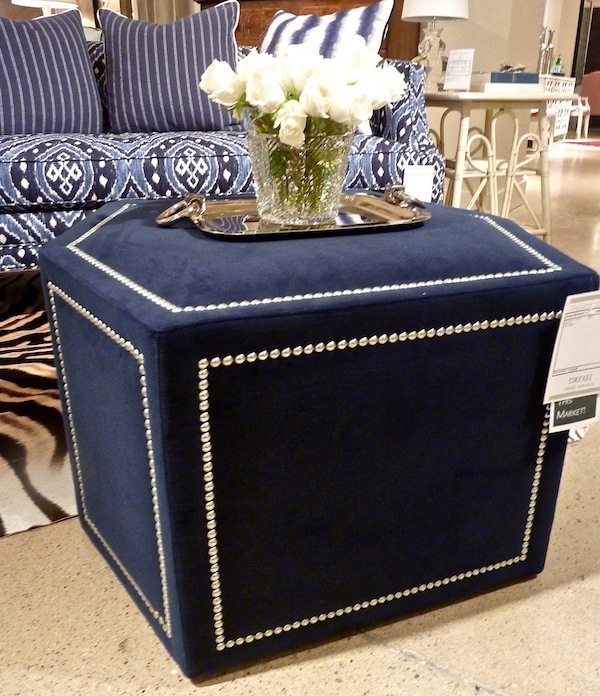 Wesley Hall has never been shy with color and this market offered an eclectic ode to blue upstairs in their market showroom.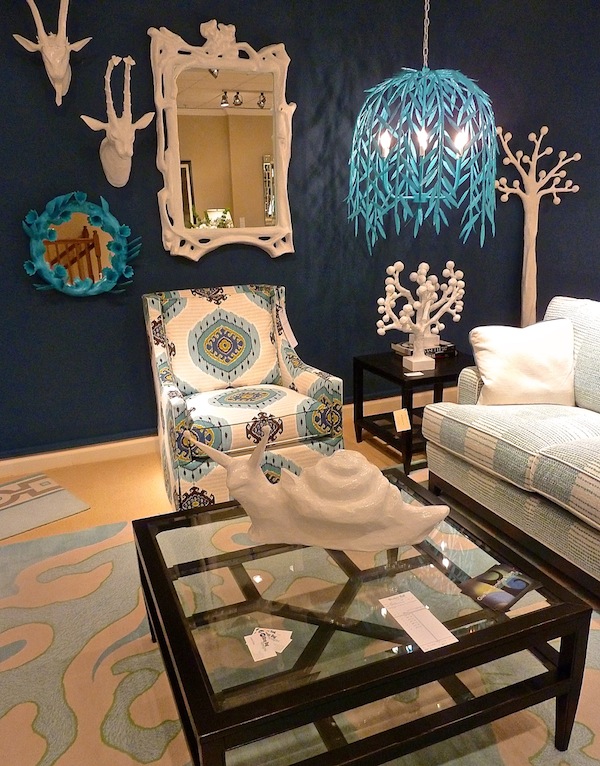 And several of their pieces featured vibrant beautiful blue fabrics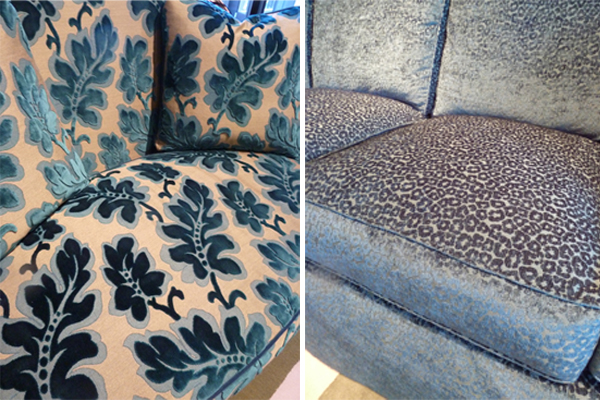 Pearson had quite a few terrific small occasional pieces. Known for their mostly proprietary fabric selection, Pearson presented these benches and ottomans with the Moroccan details so popular lately in texturally plush blue fabrics.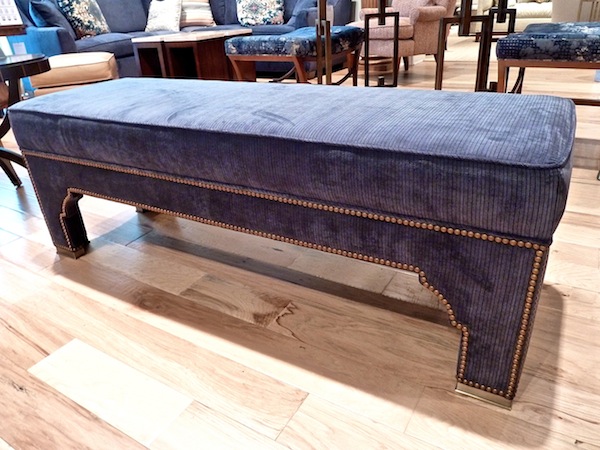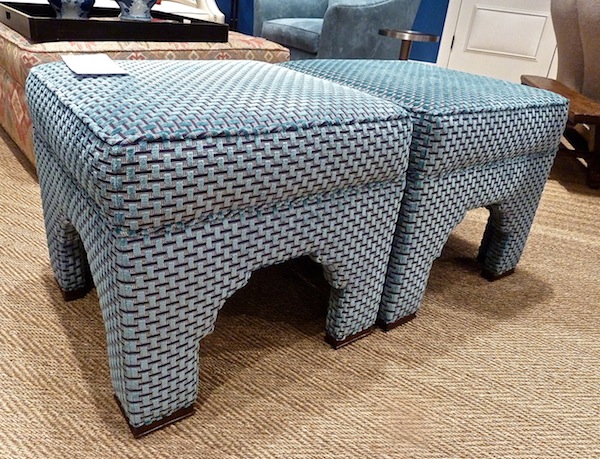 I always love stopping into Van Thiel. Their passion for old furniture and accessories is evident in their selection of antiques and amazingly authentic reproductions. Their selection of blue and white ceramics is perfect for the season's color story.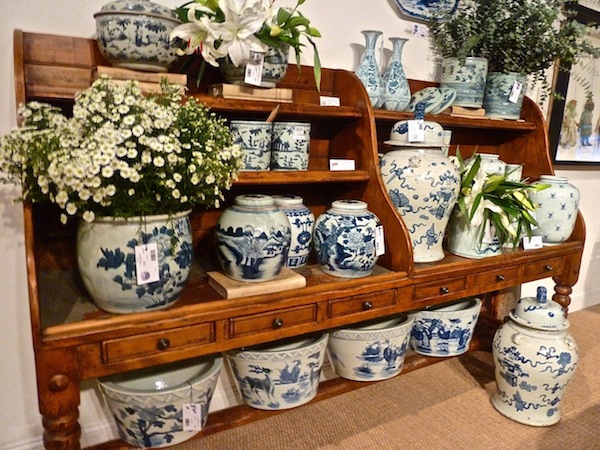 We'll visit Thibaut's charming furniture collection that they introduced earlier this year at another time, but I had to share this elegant vignette featuring custom bedding in their showroom.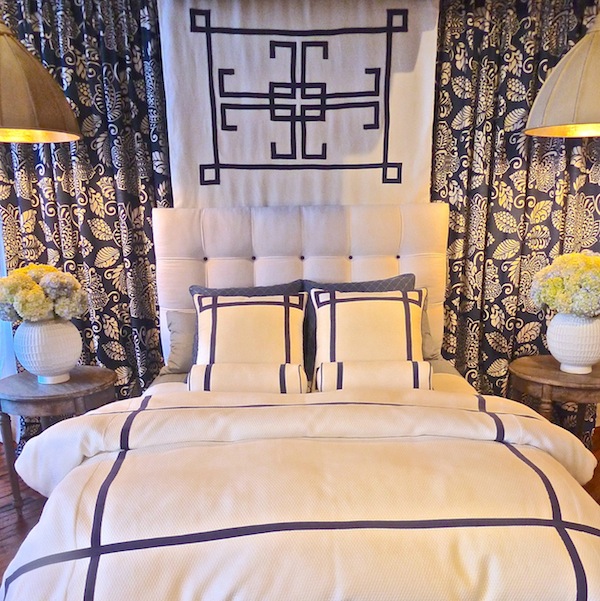 In a crisp navy and white scheme, it's easy to see why their lovely matelassé is one of their most popular fabrics.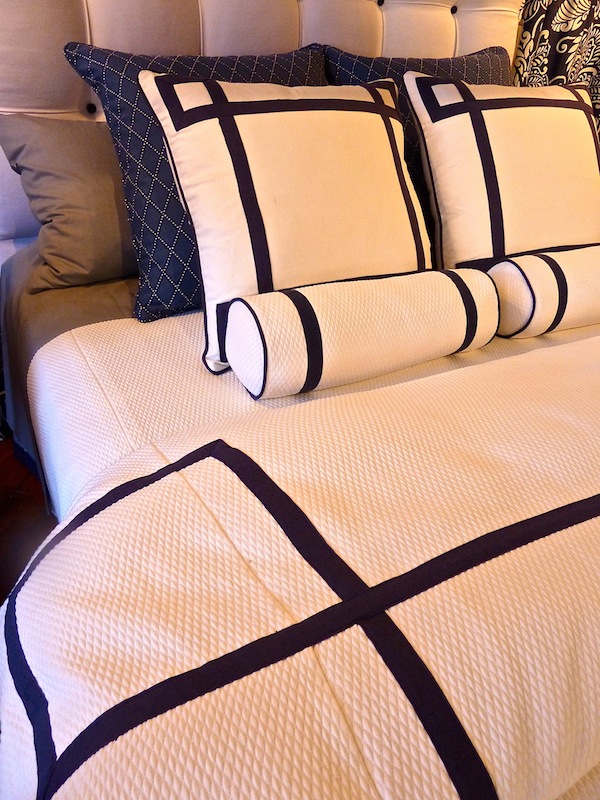 Award winning outdoor furniture designer Richard Frinier, about whom I have written before, showed a wide selection of his designs for Brown Jordan. In addition to his own timeless classics, I just love his reworking of Tadao Inouye's original Kantan chair, now shown with navy straps and unlacquered brass. Richard reinvigorated it for the line with a new fabric he helped engineer with Sunbrella that has an incredibly comfortable elasticity.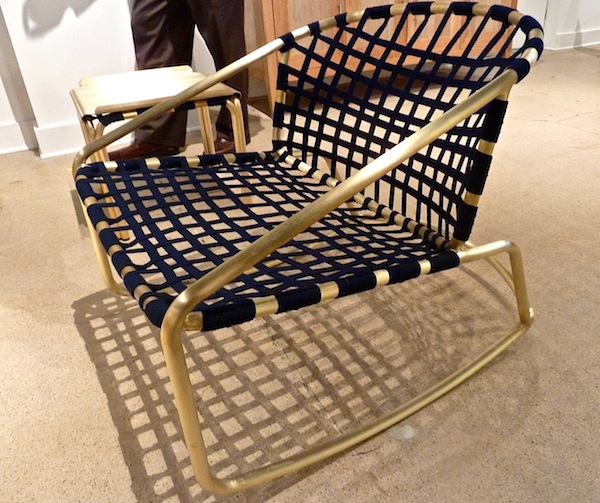 And for this reintroduction he created a clever and sophisticated side table with sliding, reversible or removable tray top – so chic and elegant!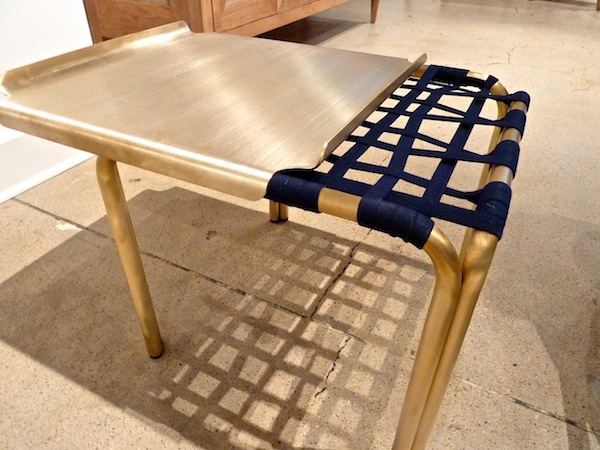 His Flex chair also looked sharp in the new navy Sunbrella webbing with a crisp white.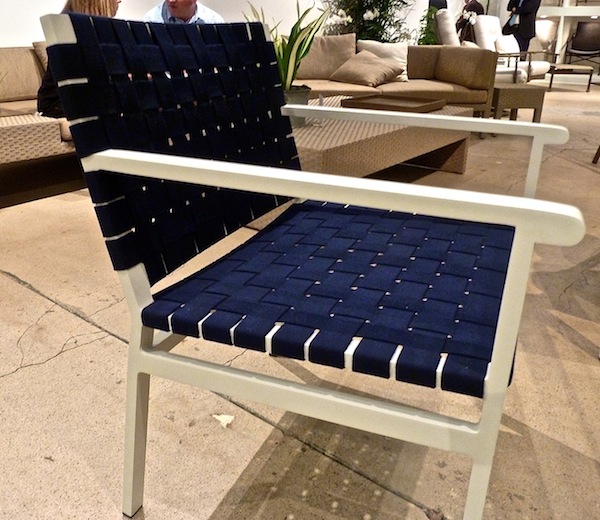 Blue made a strong showing in decorative accessories as well including designer Lisa Kahn's pretty new collection for Chelsea House.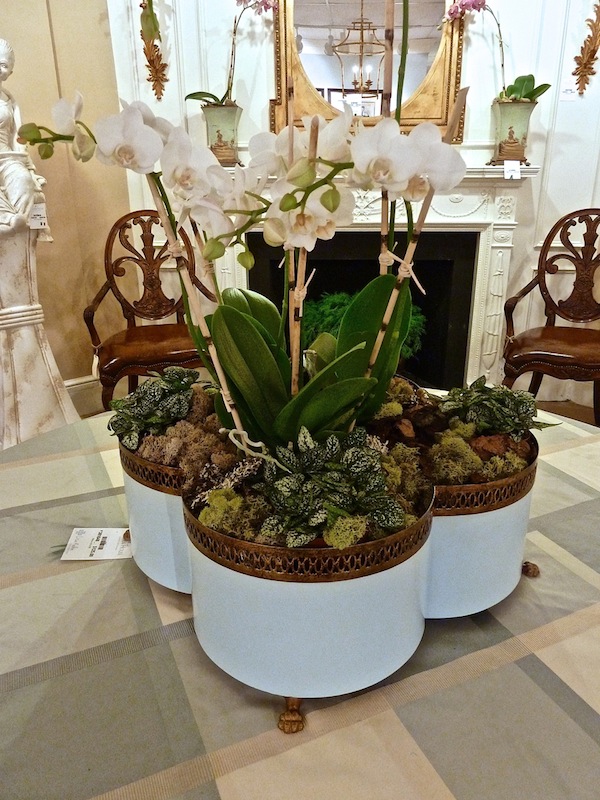 And lastly, I just had to include this shot of the ever fashion conscious Thom Filicia, whose new collection for Vanguard we'll be visiting. His navy and white socks were just right for the theme.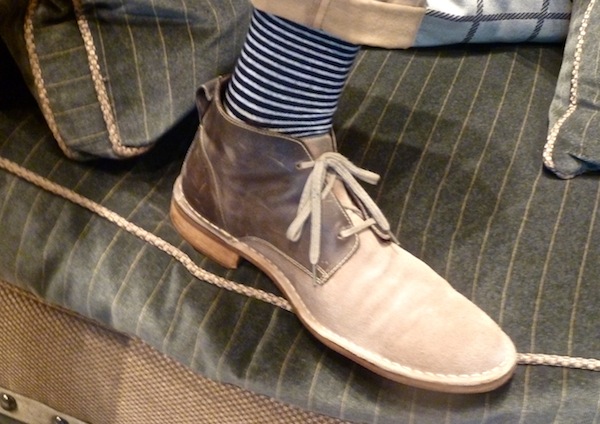 Do stop back soon as I'll be reporting daily from High Point, D&D fall market and the tabletop show. There's a lot of great design inspiration to share!