I was delighted to have Wesley Hall as one of my co-sponsors again this market. As a privately owned made-in-America company, they pride themselves in being involved with every aspect of the business and the results show. Following a recent facelift, their spacious and open showroom welcomed many new styles this season including over 200 new fabrics and three new finishes. Needless to say, there was a lot to see.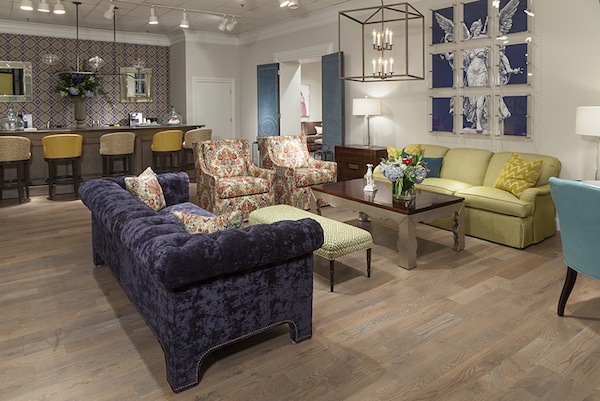 Blue continued to be a strong color story this market as was tufting, both of which made an appearance in the new Foster sofa, shown in Jubilee, a super durable new fabric, available in over 20 colors.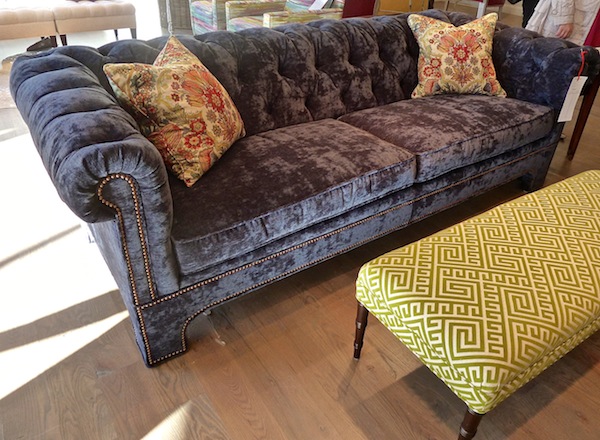 With comfort and size, it hasn't lost any of the fashionable decorative detailing for which Wesley Hall is known.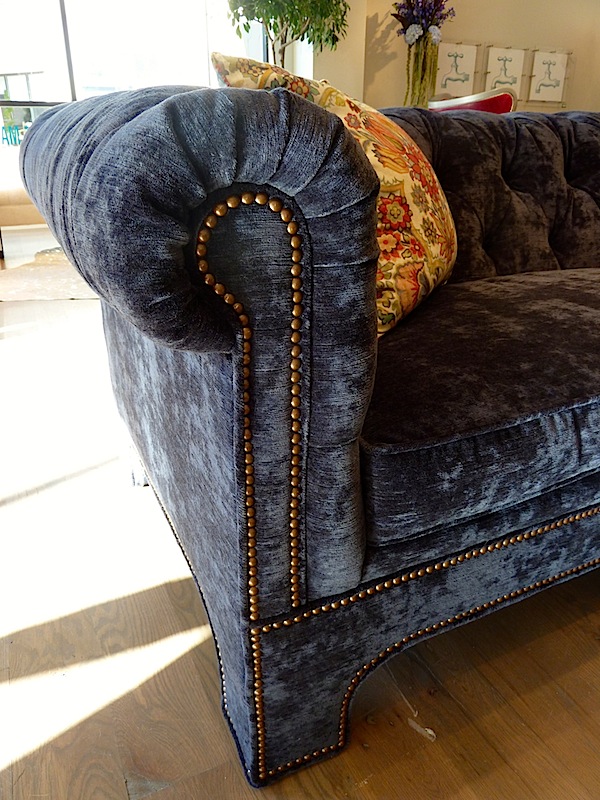 Another version of the Foster, this time in a fabulous "stepped on" shade of Mont Blanc leather, recalling those muted hues of classic British libraries. It's amazing how the choice of upholstery and subtle change in the lines at the bottom give it a completely different feel.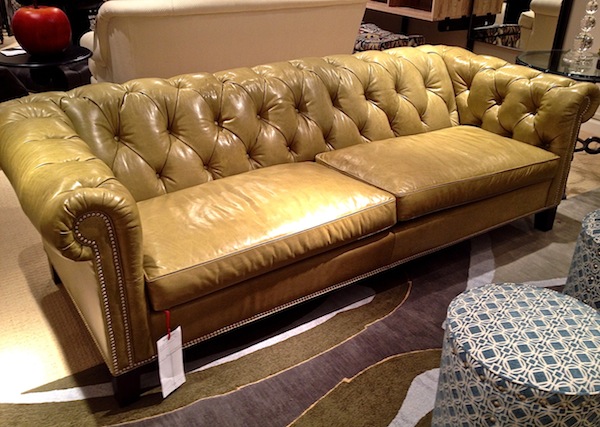 While not a new chair, the tufted Lancaster looked so fresh and youthful in the violet Nell (Dahlia). I must add that this is one of THE most comfortable chairs ever. It's a good thing I scheduled a morning visit otherwise I wouldn't have wanted to get out.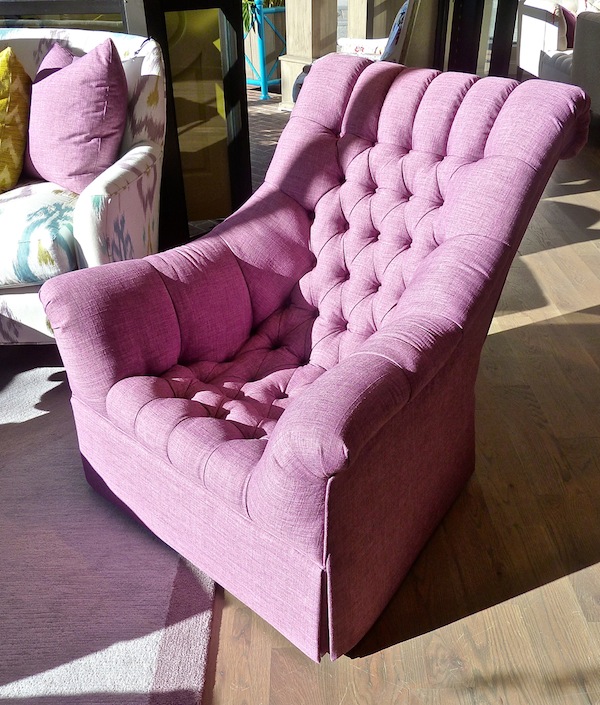 One of my favorite new introductions was the tufted Paloma Banquette. It is stunning here in the Riptide velvet with a whitewash finish on the legs. Perfect for dining a deux, it is also available as a single chair.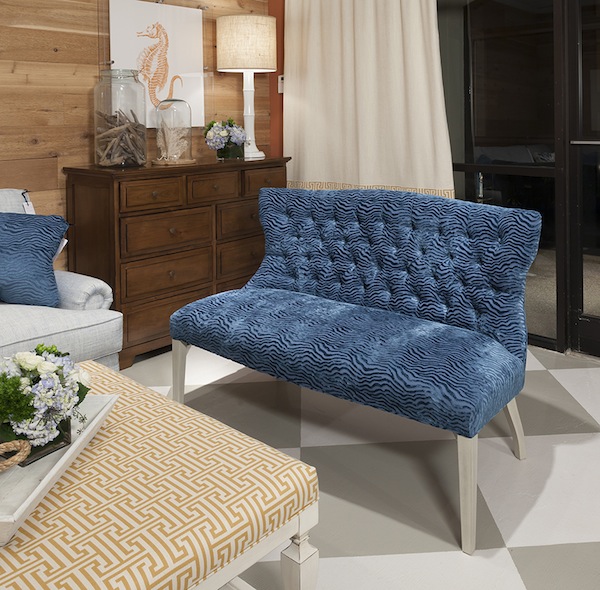 A modern take on tufting was introduced with the new Trinity configurable series. Consisting of an armless chair, corner chair and ottoman, the possibilities are endless.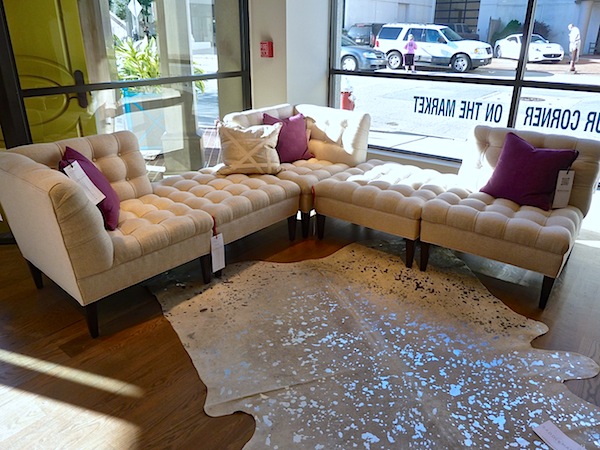 With it's clean lines and beautiful square tufting, this is an elegant suite of elements that shows off Wesley Hall's meticulous tailoring and upholstery.
Wesley Hall offers a wide variety of smaller pieces and the new Dunham stools shown in Banks (left) and Annabelle with the pale Dune finish are a new favorite.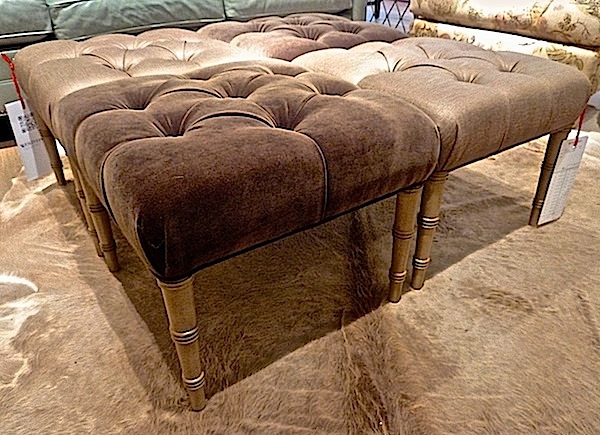 The leg has clean classic lines that would work with any style decor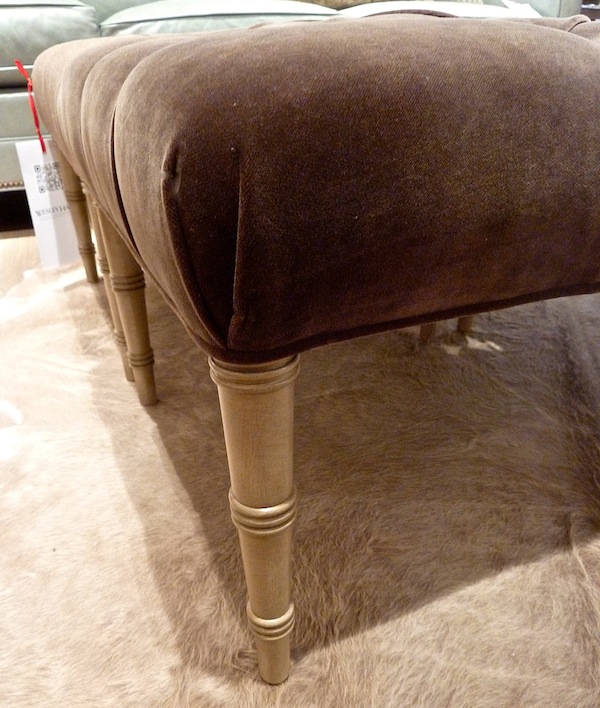 And with a little customization, the same stool takes on an updated country tone with a fresh painted gloss leg and pillow top in Poirot, a Belgian linen.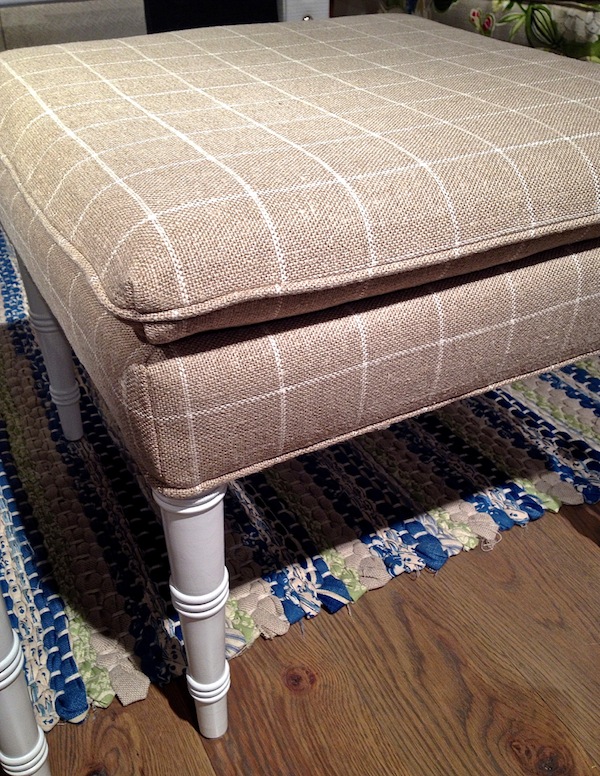 The new Linley Bench features the same leg and looks snappy with a tape finish.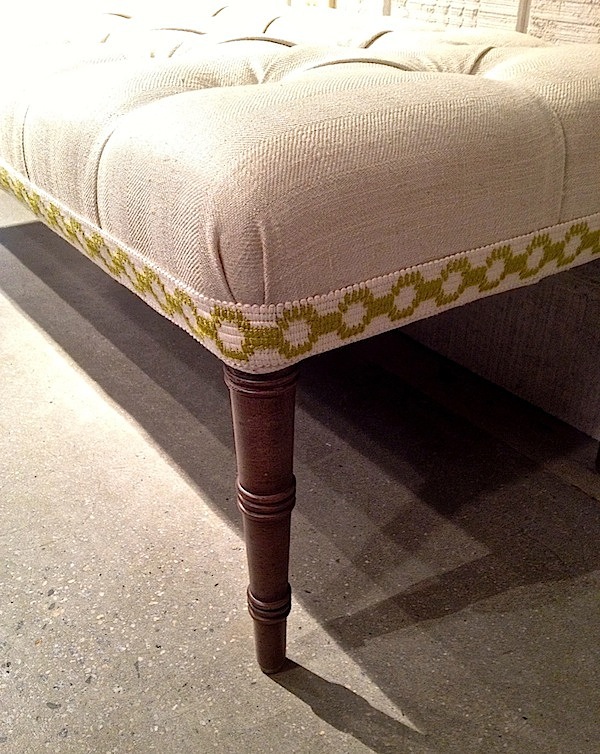 Finding a sectional that is both stylish and comfortable can be a challenge. The Barrett had been a favorite in previous markets and I loved the new longer configuration shown here for those with larger spaces. With four kids and a shedding machine of a dog at home, I could never hope to have the elegant cream upholstery but someone could as this model was already sold on the first day of market!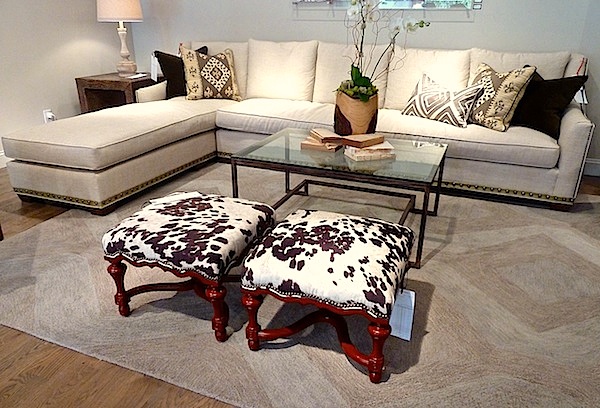 Thinking in terms of practicality and family living, Wesley Hall introduced 40 new choices of Crypton fabrics. Shown in neutrals on a grouping of their bar and dining seating below, it is a durable, cleanable and anti-microbial option!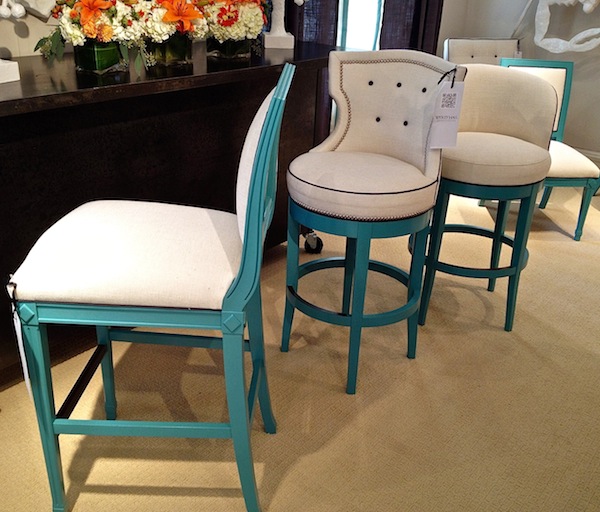 In addition to seating options, Wesley Hall introduced what I predict will be a very popular item, the Draper console shown with the new Morgan chair.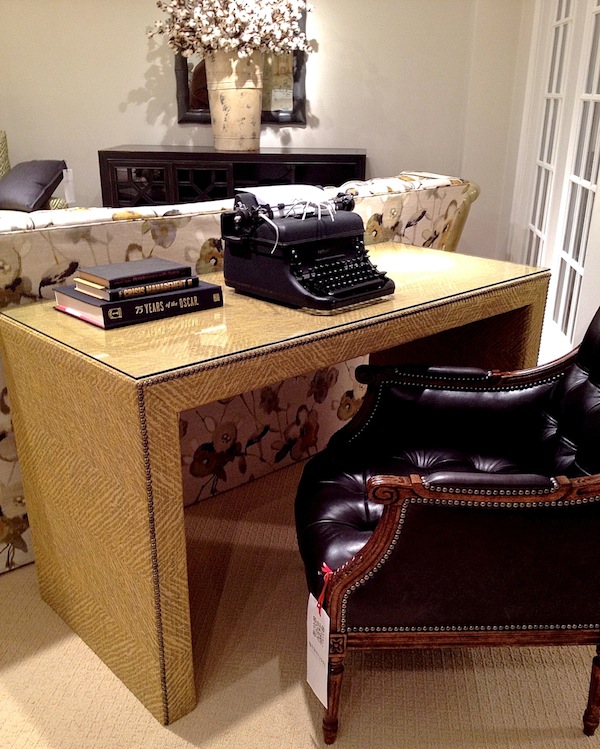 Shown here in Corsica with nailhead trim, it is a multifunctional piece that could work in almost any room in the house.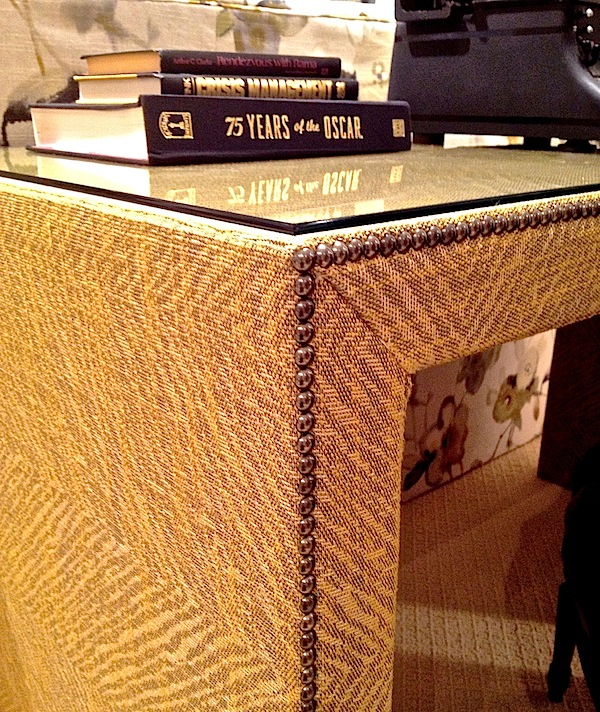 Upholstered in linen with a decorative nailhead trim, it shows how very versatile this useful piece can be.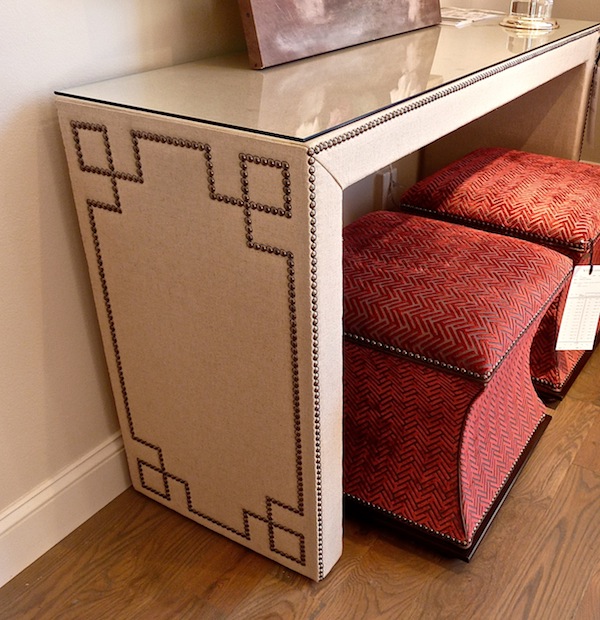 Shown were some of the many options for the nailhead treatment.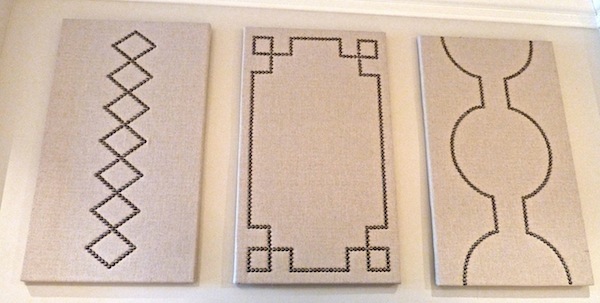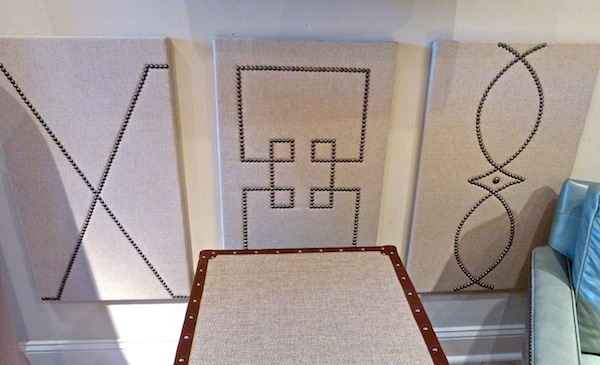 Another new accessory I loved is the Habitat Trunk, which not only looks good but gives back. A portion of the proceeds go the Catawba Valley (Hickory) Habitat for Humanity.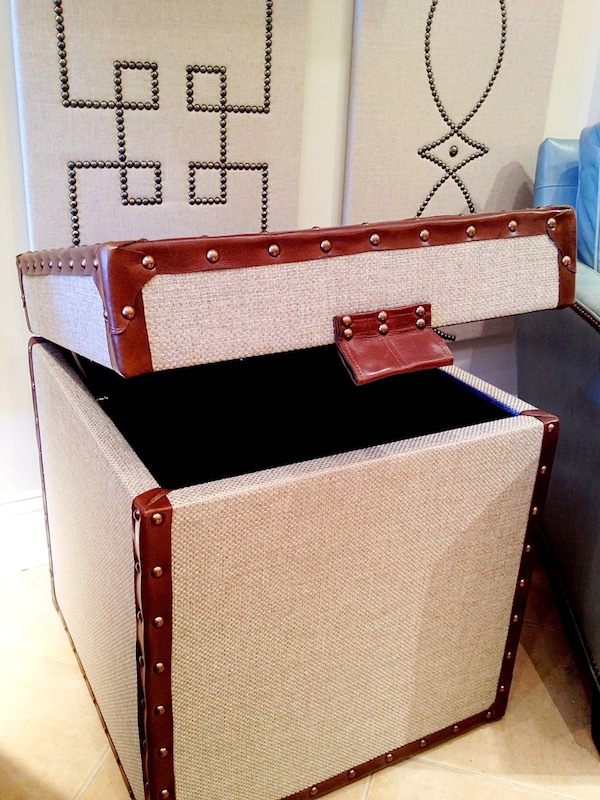 The devil is in the details, and Wesley Hall distinguishes itself with its precision craftsmanship and thoughtful color coordination across product lines. An accent kidney pillow with a lovely mitered flange and bands of Stratton, a graphic Greek key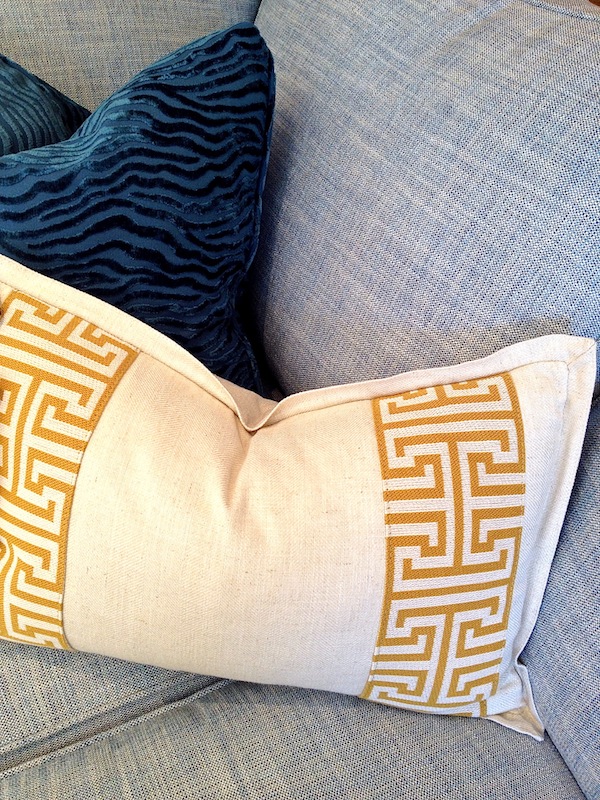 The Marissa dining chair looking exotic in Raylan croc embossing, button detailing and nailhead trim.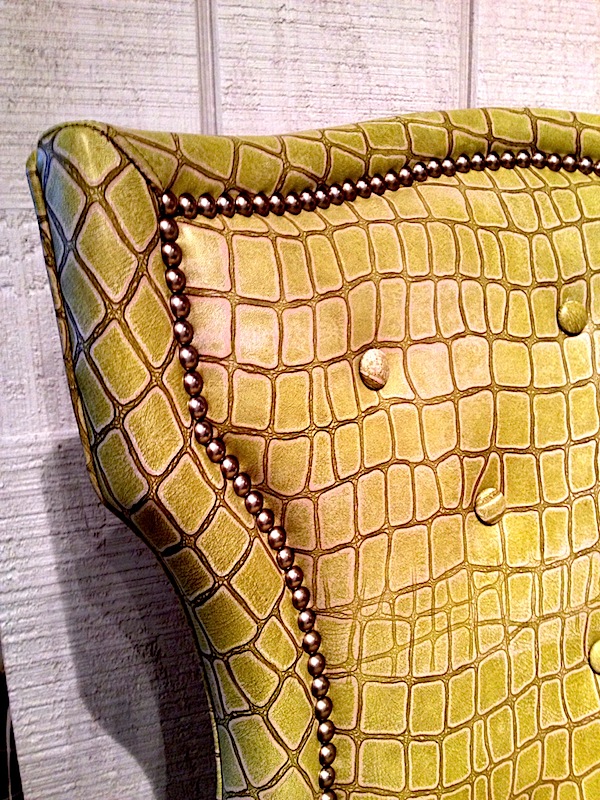 The popular Concavo accent ottoman is sunny and graphic in the Adara print and a gloss graphite finish.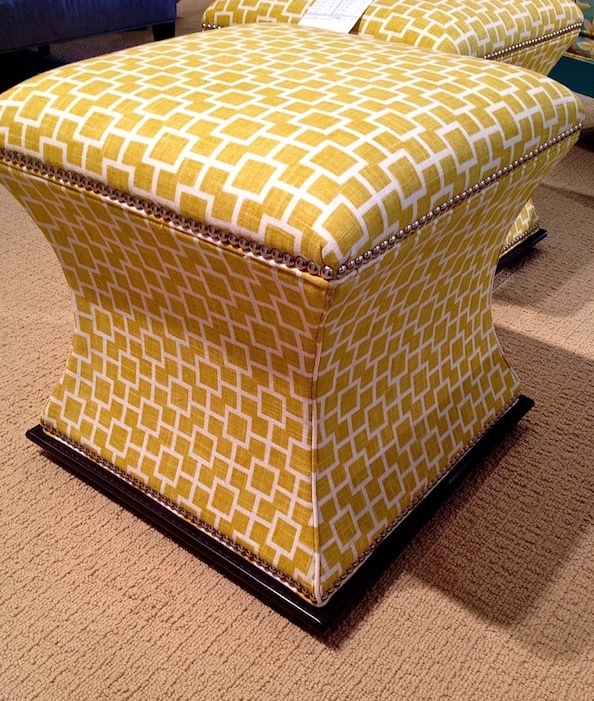 Visiting Wesley Hall is always a pleasure. With a love of color and fashionable fabrics, their showroom is a thoughtfully coordinated display with artistic market partners and stylish vignettes.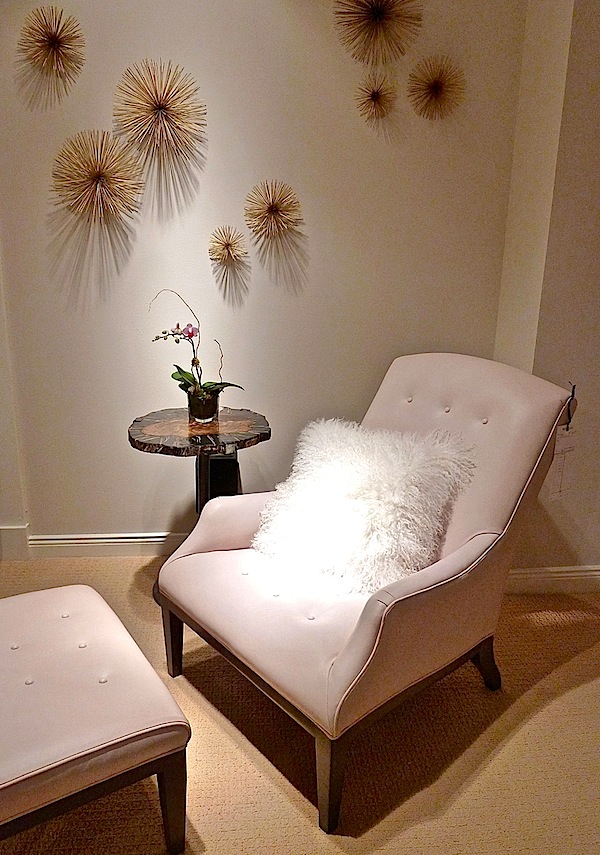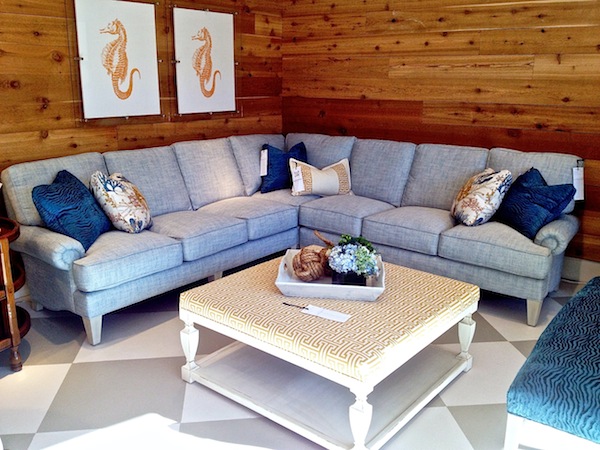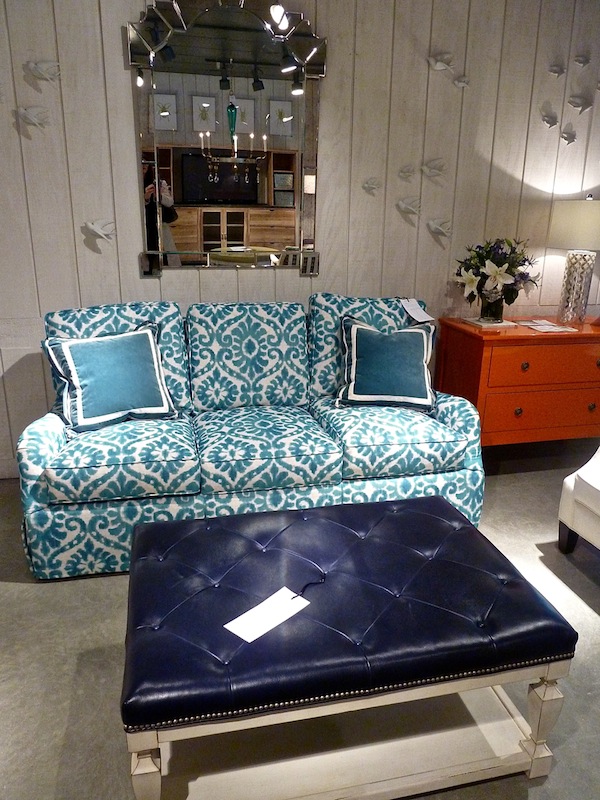 But perhaps more importantly, behind the showroom is a culture of commitment to every aspect of their business from U.S. production to personalized attention and customer service. It's a source I am never hesitant to recommend.