I have been wanting to visit Camilla Dietz Bergeron for years. Then recently I was invited to an event to see their latest finds, giving me the impetus to finally see their elegant salon. Entering their upstairs Madison Avenue store is more like discovering a lovely apartment that just happens to have an extraordinary jewelry collection also residing there.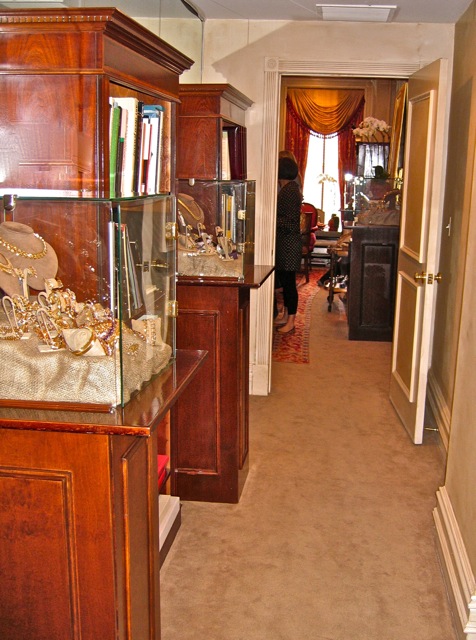 Bergeron and her partner Gus Davis have been buying and selling antique, period and estate jewelry for the past 16 years. Their clientele is devoted and for good reason. Shopping in this refined space is a total delight. And if you shouldn't find what you are looking for, Bergeron and Davis are more than happy to seek out the perfect piece for you. From Cartier, Van Cleef & Schlumberger to obscure yet exquisite unsigned pieces, you can be assured that everything at this atelier is the epitome of chic.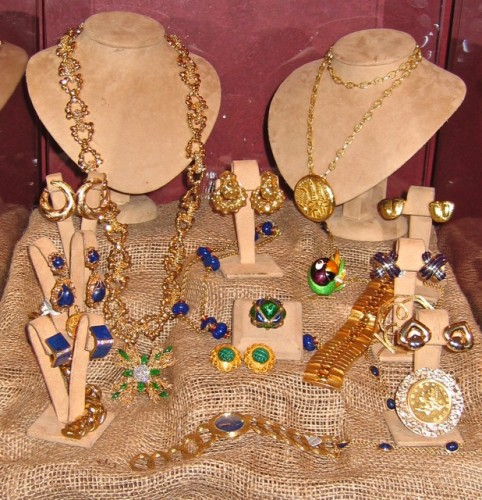 Cases are temptingly arranged by theme, period, designer or whatever aesthetic consideration strikes their fancy. Here a collection of blue and green is perfect for the spring inspiration.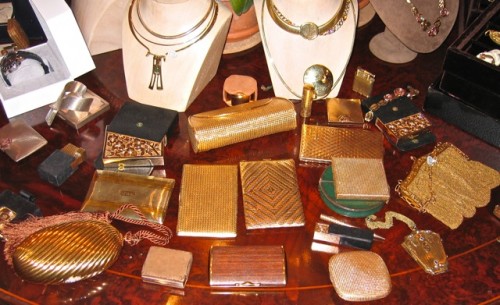 I simply adored this collection of vintage cases – from cigarette, to calling cards to make up – they were all unique and appealing.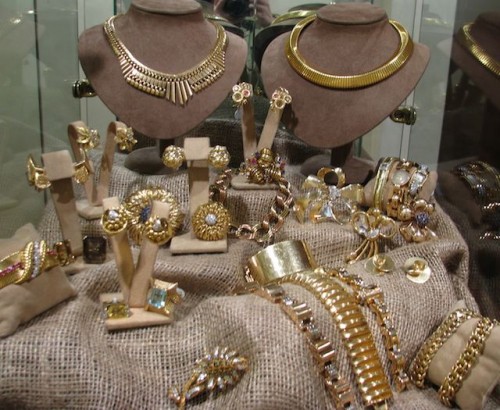 I also love the style from the 40s and coincidentally there was a case set up with fabulous offerings from this era. I tried on several of these pieces and can tell you that they were all statement makers.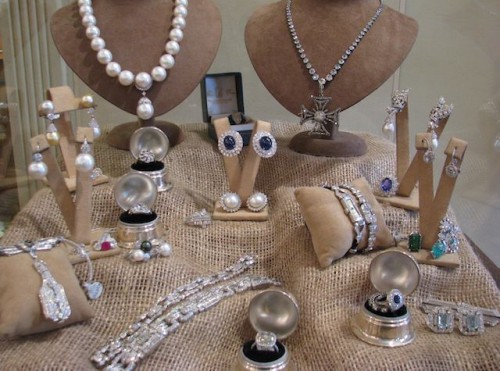 This elegant case highlights selections from their collection of pearl and diamond jewelry. All beautiful, the Maltese cross in the back on the diamond necklace was a personal favorite! So very Wallis! It is a 19th century Georgian silver topped gold and diamond necklace with detachable Maltese cross pendant of the same period. The necklace has an approximate total weight of 17 carats and the cross about 7. It is a truly amazing piece.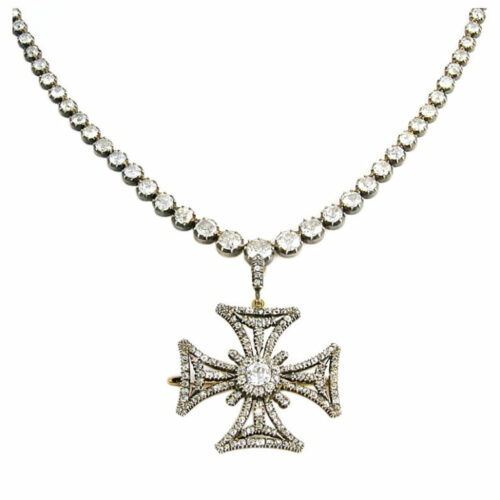 Vintage brooches are a current obsession, which I inherited from my sister who has been collecting them for years. I am happy to report that Camilla Dietz Bergeron is flush with them!! How charming is this Cartier ivory hand with diamond rose? Can you see the incredible carved detail in the lace cuff?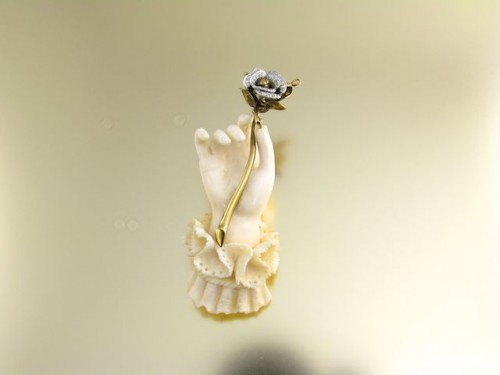 This mother of pearl elephant is a whimsical delight and reminds me of many of the Indian inspired pieces at the Van Cleef  Set in Style show.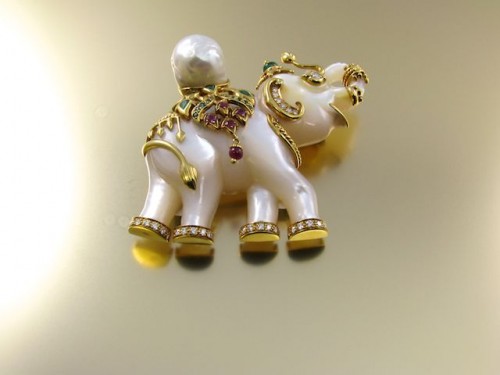 There is a indeed a bevy of beautiful brooches to choose from. In true Diana Vreeland style, why don't you consider wearing several at once for a wonderful spring bouquet of bling!!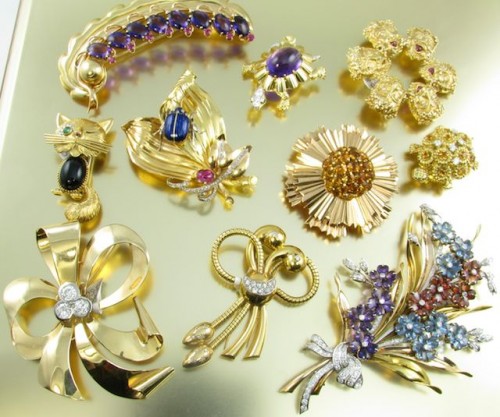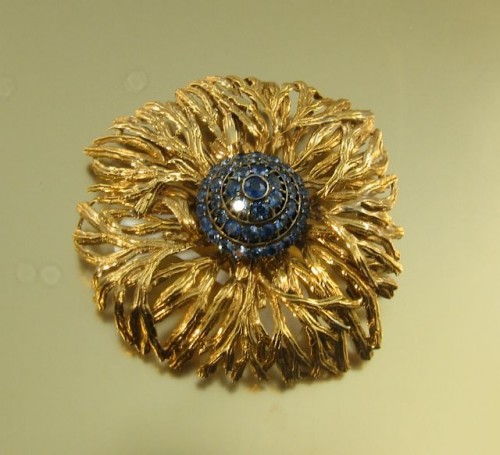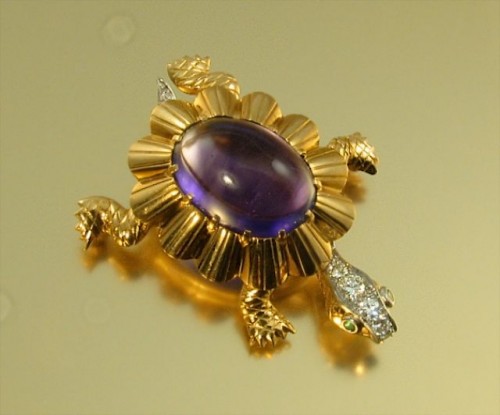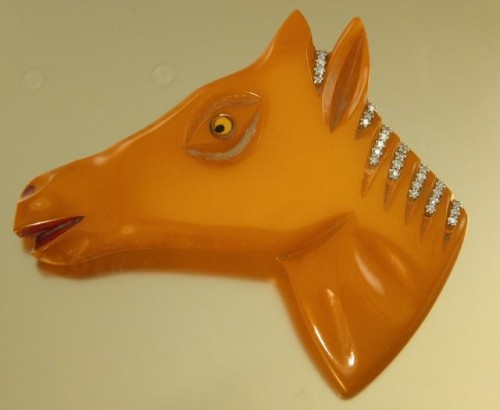 Another unusual piece that caught my fancy was this amazing necklace. Of 18k, the charms are from the owner's travels around the world and document a variety of exotic locations. What a wonderful conversation starter!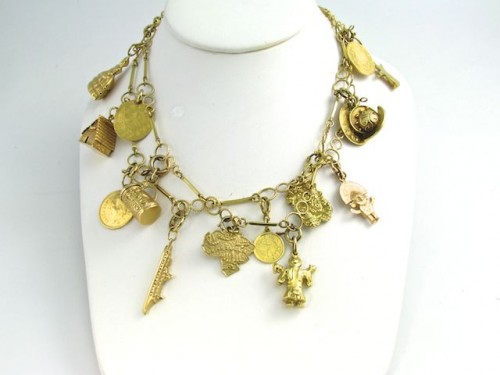 And I couldn't resist trying this delightful cocktail bauble as I had my coffee.  Don't you love it? My mind was reeling contemplating all the outfits it would enhance!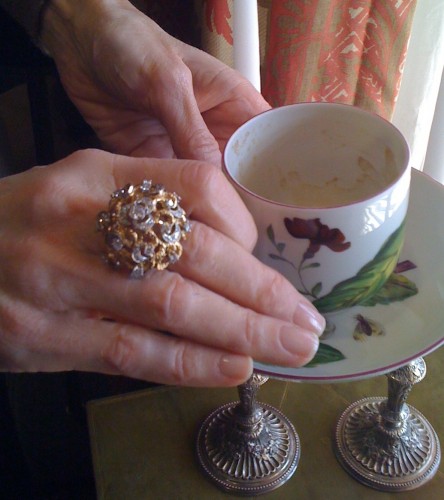 And lest you think it's only about traditional style here, within this bastion of classic elegance is also an incredibly impressive collection of Aldo Cipullo, the Italian designer whose claim to fame was the Cartier love bracelet.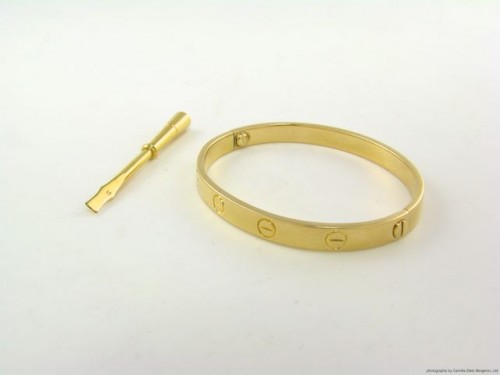 Starting at David Webb and then moving to Tiffany, Cipullo settled at the esteemed French house, where he designed iconic modern pieces now prized and collected by those in the know.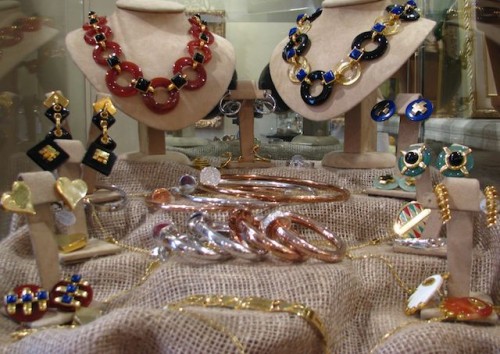 His work from the 60's and 70's was marked by a love of elevating everyday objects to the status of fine jewelry. From his nail bracelets and earrings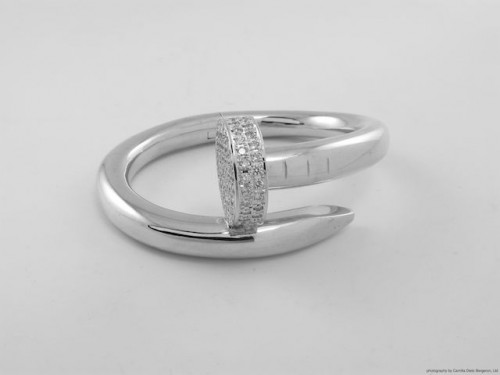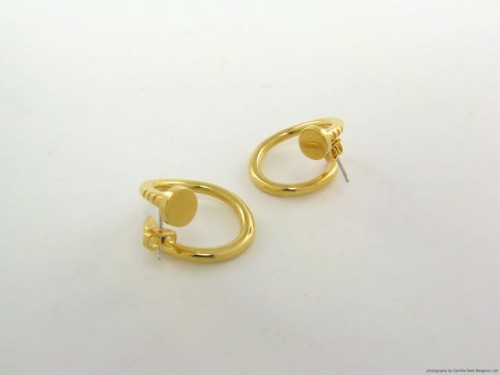 to knots and graphic elements inspired by games, his pieces have a bold graphic feel.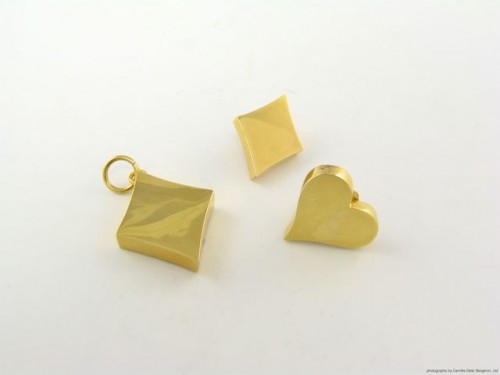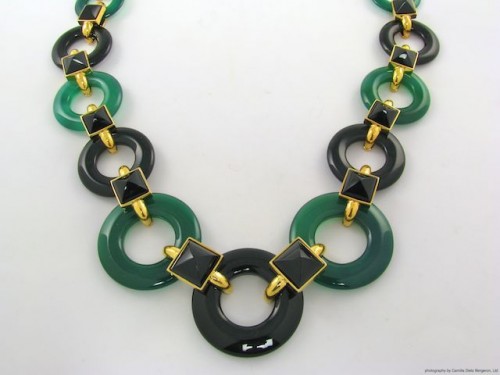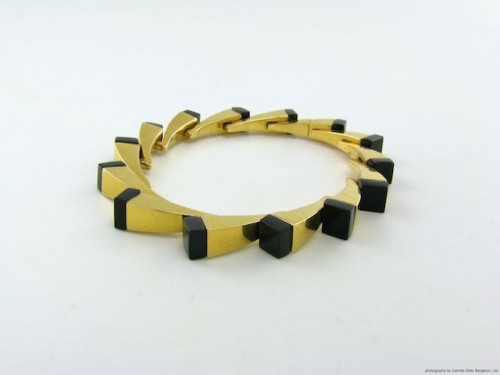 My favorite piece is the Hamsa hand pendant, which he made in many iterations. If I had my pick, I think the rose gold with diamonds would suit me nicely!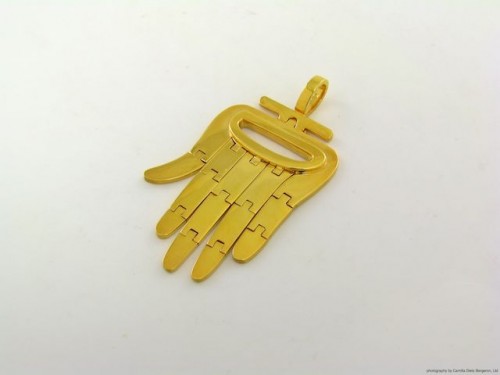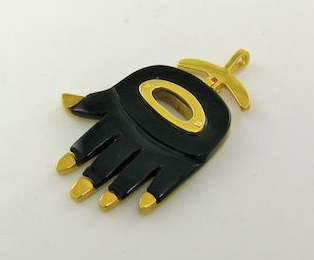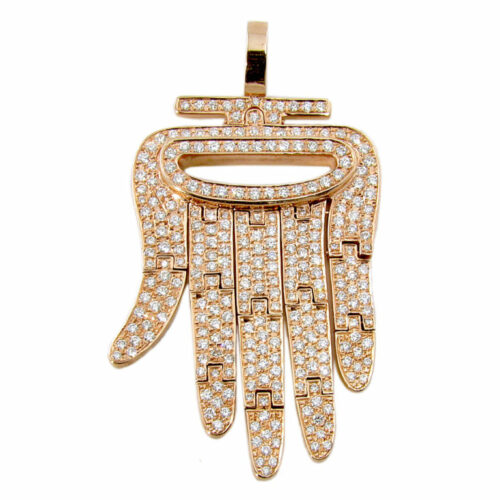 But the appeal of this salon is not just the amazing collection but also the gracious service. Both Bergeron and Davis hail from the south and the relaxed atmosphere and personal attention here can perhaps be attributed to their cordial southern roots. And from this concept of personalized service, it was a natural extension for them to add customized opportunities for wedding parties. Upstairs in a lovely private room, brides and grooms can create not just their own rings but also individualized jewelry for the bridal party, even incorporating the colors of the wedding into the pieces.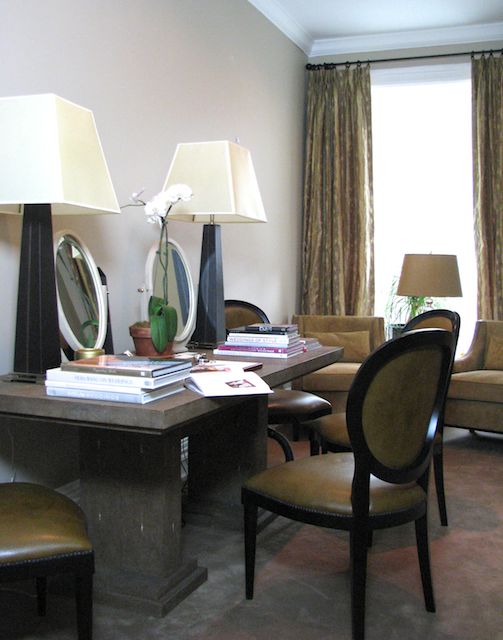 From a wonderful collection of antique bands to new designs to complement the engagement ring, all things are possible. They have also worked with couples to reset family heirlooms, creating new legacies to be handing down to future generations.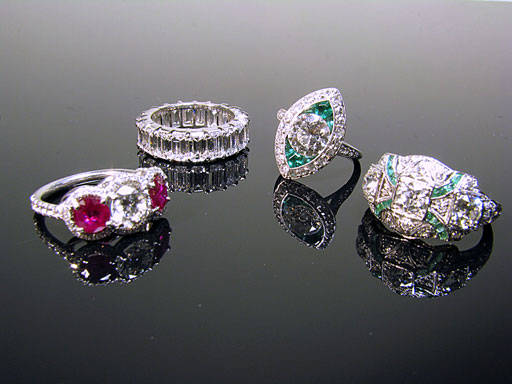 But it's not just brides who can benefit from their custom design services. Bergeron and Davis not only seek out vintage jewelry but are increasingly designing their own pieces in house. From traditional designs to fabulous unique pieces, there is really no limit to what you can create here. And all budgets are included as well – from hundreds to tens of thousands. We'll be revisiting them soon to see some of the very special new custom designs coming out of their studios!!