In thinking about what sort of post to write in acknowledgement of Father's Day this weekend, I realized my husband is less interested in most gifts than he is in food. So as inspiration, I decided to share some of the recipes I am considering for the day. For any entertaining occasion, I always offer several appetizers. My favorite crudité accoutrement is the Barefoot Contessa's Sun-Dried Tomato Dip. It's easy, colorful and delicious.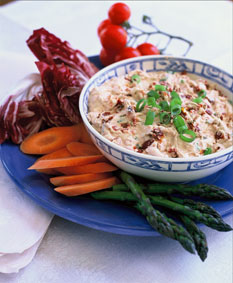 1/4 cup sun-dried tomatoes in oil, drained and chopped (8 tomatoes)
8 ounces

cream cheese

, at room temperature
1/2 cup sour cream
1/2 cup good mayonnaise
10 dashes Tabasco sauce
1 teaspoon kosher salt
3/4 teaspoon freshly ground black pepper
2 scallions, thinly sliced (white and green parts)
Puree the tomatoes, cream cheese, sour cream, mayonnaise, Tabasco sauce, salt and pepper in a food processor fitted with a metal blade. Add the scallions and pulse twice. Serve at room temperature. You can serve this in any attractive container, but a fun summer alternative is a hollowed out red cabbage – it looks so pretty against the pink of the dip.
Then because my husband is not a huge fan of crudités and dips, we usually serve a shrimp cocktail as well.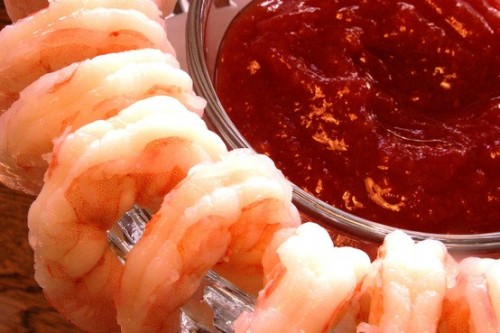 This couldn't be easier – the only time consuming part is peeling and deveining the shrimp. If you've never done this before, I've included a simple instructional video below.
Once the shrimp is cleaned, you need to cook it quickly in a saucepan of boiling water. It takes no more than 1-2 minutes. Immediately submerge the cooked shrimp in cold water to cool. We make a very simple classic cocktail sauce – ketchup, horseradish and lemon – just mix to taste.
Since it looks like the weather is going to cooperate in our parts, our main course will probably involve grilling (I'm sure my husband won't mind contributing in this aspect).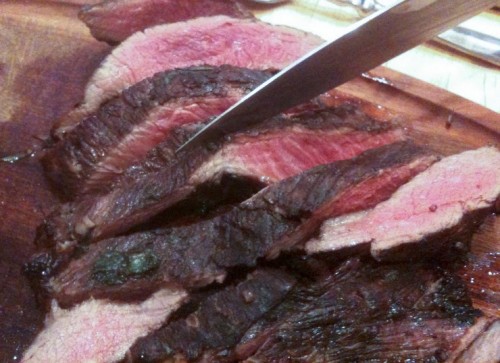 One of our favorite meals on the grill is a butterflied and marinated leg of lamb. It is an easy and delicious main course that makes for tasty leftovers as well. And my favorite marinade for it is an old Silver Palate favorite.
1/4 cup red wine vinegar
1 teaspoon mixed dried herbs (I usually use all rosemary)
2 garlic cloves, peeled and slightly crushed
1/4 cup olive oil
1 tablespoon soy sauce
1 tablespoon dry sherry (I don't always add this – not crucial)
Whisk all ingredients together in a bowl. Marinate the meat all day or overnight in the fridge. Double or triple the recipe as needed, depending on how much meat you have.
What I find works best are those giant ziplock bags, but if you can't find them, then a large covered bowl will do. We like our lamb pink but cook as you prefer.
A perfect side dish is garlic roasted new potatoes.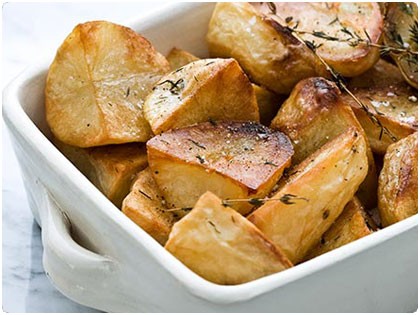 I have been making these for years (actually decades) but Barefoot Contessa has an actual recipe which explains it well.
3 pounds small red potatoes
1/4 cup good olive oil
1-1/2 teaspoons kosher salt
1 teaspoon greshly ground black pepper
2 tablespoons minced garlic (6 cloves)
2 tablespoons minced fresh parsley (I usually use rosemary if serving with the lamb)
Cut the potatoes in half or quarters and place in a bowl with the olive oil, salt, pepper, and garlic; toss until the potatoes are well coated. Transfer the potatoes to a sheet pan and spread out into 1 layer. Roast in the oven for 45 minutes to 1 hour or until browned and crisp. Flip twice with a spatula during cooking in order to ensure even browning. Remove the potatoes from the oven, toss with parsley (or rosemary), season to taste, and serve hot.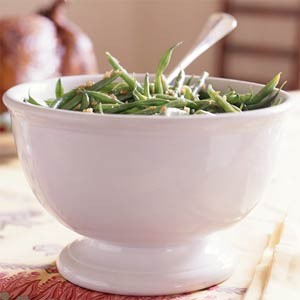 My favorite vegetable to serve with this meal is fresh green beans, which I serve hot, after steaming, or at room temperature with a simple vinaigrette, which is my personal preference. After cooking (I like to steam them – but make sure they are not overcooked), drain the beans and coat, while still warm, with your favorite vinaigrette then let cool to room temperature.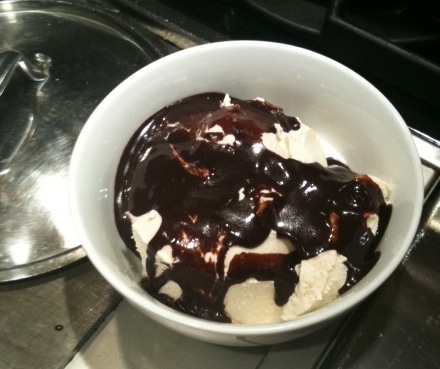 And for dessert, there is always ice cream, hopefully homemade from Ferris Acres Creamery. Those of you on twitter may have heard mention of my husband's famous hot chocolate sauce. I'm afraid I can't divulge the secret recipe here, but suffice it to say, it doesn't last long around here. It's a lethal dessert that takes days to make up for – but so worth it!!
Wishing you and the men in your lives a Happy Father's Day this weekend. And bon appetit!