It wasn't very hard picking a movie in honor of Father's Day. There are actually quite a few films to choose from that have strong father figures but nothing that compares to Gregory Peck's iconic performance in To Kill a Mockingbird.

I'm sure most of you have seen this classic movie, and I apologize to those of you who visit looking for more obscure finds, but sometimes there's just no getting around a famous film. This 1962 adaptation of Harper Lee's Pulitzer Prize winning book, is one of my favorite movies of all time. And it was one of Gregory Peck's as well. What better role model could there be than Atticus Finch, the widowed Alabama lawyer fighting racism in the deep south in the 1930s, while trying to be a responsible and caring parent to his two young children.
A wonderful family movie, To Kill a Mockingbird, is a timeless classic that exemplifies the best of American film making with themes still relevant today. Not only does it model justice and morality but compassion, integrity and the value of family – all accomplished under the subtle direction of  Robert Mulligan.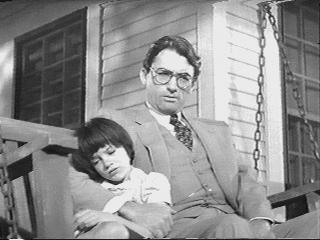 Some of the courtroom drama might be a bit disturbing for young viewers but most of the film is beautiful and evocative of a time gone by. The movie also marks the remarkable film debut of Robert Duvall in the role of Boo Radley, the slow yet heroic next door neighbor. His amazing performance put him on the Hollywood map.
If by some chance you have never seen this classic film, put it at the top of your Netflix queue. It is a movie that will resonate with you long after you are finished viewing. And if you were ever wondering where the title came from, take a moment to watch this clip.