When my sister phoned yesterday to ask if I had seen the upcoming auctions at Doyle, I suspected they must be particularly interesting. But after quickly perusing the offerings online, my heart leapt. This Wednesday, under the umbrella of the Important English & Continental Furniture & Decorations/Old Master Paintings category, are two remarkable auctions.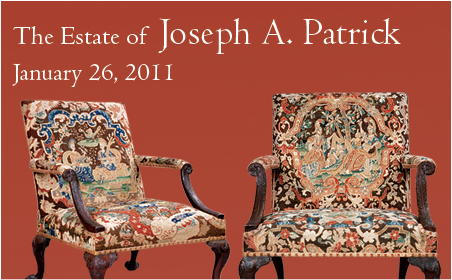 It is always exciting when an auction represents a totally identifiable collection of a single owner; it is even more compelling, to both dealers and collectors alike, when the collection represents quality property that is utterly fresh to the market. Both of these auctions contain items that have not been in the marketplace for decades.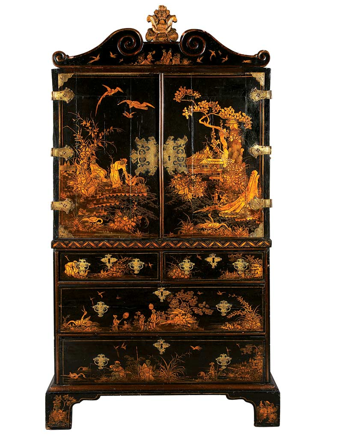 I spoke with Sebastian Clarke, V.P., Director, English & Continental Furniture at Doyle to get the inside scoop on these very special upcoming events. It was immediately apparent that Doyle is just as excited to be presenting these collections as I was to discover them. Clarke described the Joseph Patrick auction as the quintessential quality estate.  There has been quite a buzz circulating about it and Doyle has already entertained a number of potential customers for private previews.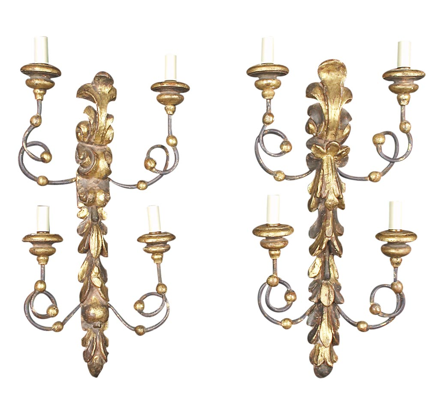 Joseph Patrick founded Baird, Patrick & Co. in 1950 as an investment banking company. It grew to be full service investment firm, and is one of the oldest securities firm in the country. He also devoted himself to buying fine English and European furniture and paintings, primarily in the 1950's and 1960's, from only the best dealers and auction houses. He had a fabulous eye and each piece is representative of a fantastic example in its particular category, with wonderful form and great quality. When he died, at almost 101, Patrick had amassed a spectacular compilation of first rate pieces. Clarke says when he visited the 16 acre Georgian estate in Old Westbury, it was one "oh my" moment after another as he wandered from room to room viewing the treasures. The auction features almost seventy lots of English and Continental furniture and decorations and Old Master paintings.
I asked Clarke if he would single out a notable item that he found particularly appealing.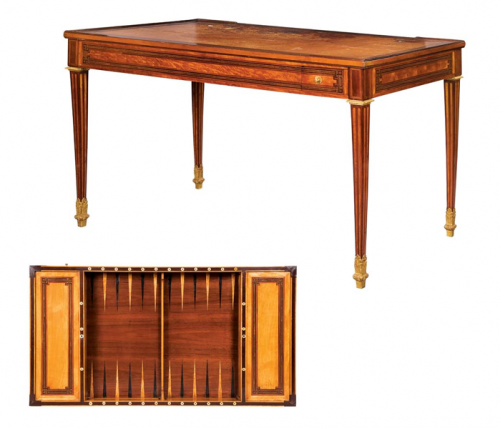 Clarke chose this superb Louis XVI tric-trac table, circa 1780, which I had also noted. Made of gilt-bronze mounted ebony, satinwood, tulipwood, mahogany and amaranth, with square tapering faux fluted legs, its rectangular leather inset reversible top opens to reveal a gaming surface above an opposing drawer. Although a bit hard to discern in this photo, as part of the line inlay is a very rare wood – snakewood – which looks like alligator or snakeskin. It even has the original gilt bronze candle inserts which enabled players to see their moves in the evening. With such incredible details, there have been rumblings about the possibility of its being a John Linnell piece, an 18th century English cabinetmaker (not unlike Chippendale or Adams). This would be truly amazing since Clarke has never heard of a tric-trac table of British origin. With an estimate of $3,000 – $5,000, this table is sure to go quickly.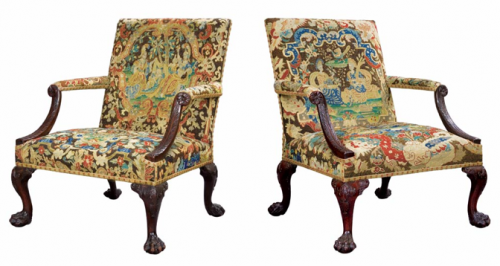 The featured items in the auction are a pair of important mid 18th century George II mahogany library armchairs, with a regal provenance. They are stamped Gibside — the country etate that was once owned by the prominent Bowes-Lyon family, ancestors of the late Queen Mother. The chairs, upholstered with colorful tapestry and beautiful acanthus carved armrests, are similar to a clothes press bought around the same time by the original owner, Lady Bowe, which is now at The Metropolitan Museum of Art.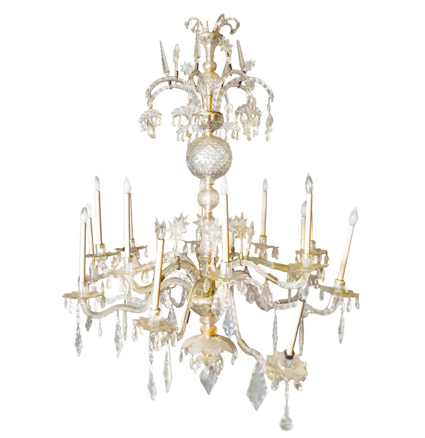 I also love this magnificent George III colorless cut glass sixteen-light chandelier. At 6 feet tall and 4 feet wide, this would certainly make a major statement in any room!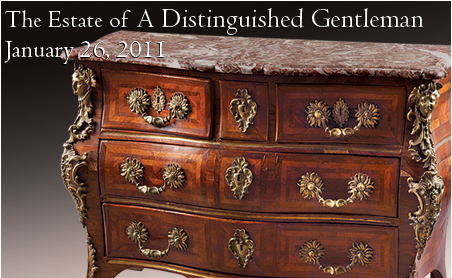 I love the title of this second auction – it's so very dapper and alluring. This represents the collection of a gentleman who lived in NYC. The look of the collection is much more continental as opposed to the more English focus of the Patrick estate. It is eclectic with a fantastic look and decorative appeal, incorporating pieces from 17th century Italian baroque through French neoclassical. Clarke emphasized that this auction featured many items, such as these wonderful painted daybeds, in the style of Louis XV and XVI, which, while not whole heartedly period, are wonderfully decorative and could work in any number of settings.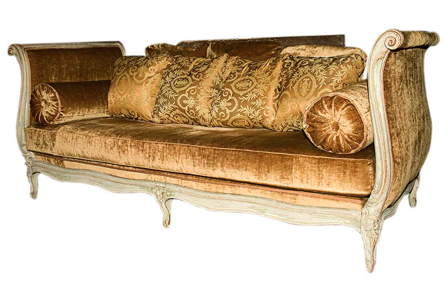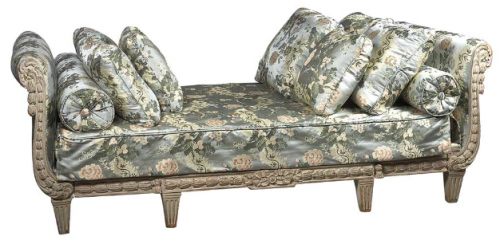 Or this pair of regency style limed wood convex mirrors. With an estimate of $800-1,200, they are less than many much more commercial items in the marketplace.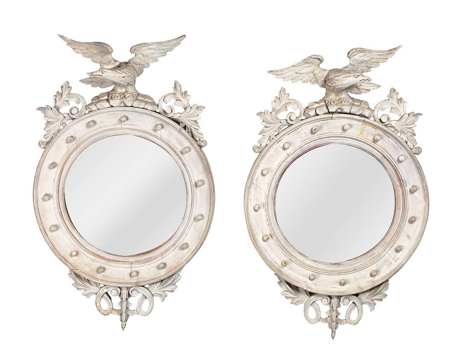 I asked Clarke about what seem to be extremely reasonable estimates for these auctions. He mentioned that when competing for these estates against the other larger New York auction houses, Doyle didn't actually offer the highest prices. They pride themselves on assigning realistic estimates that clearly these consigners appreciated. Another consideration is that Doyle is very nimble and able to incorporate the more decorative items in with the important furniture, giving customers an accurate idea of how well everything can work together.
I highly recommend taking a look at these catalogues online. There are many fabulous items that would add an air of authenticity and touch of gravitas to any stylish interior.
The auction is Wednesday January 26th at 10am
Exhibition
Saturday, January 22, 10am-5pm
Sunday, January 23, Noon-5pm
Monday, January 24, 10am-6pm
Tuesday, January 25, 10am-2pm
175 East 87th Street, New York, NY