Auctions, especially at distinguished houses, can be intimidating. And yet they are some of the best sources for great buys. So in anticipation of the upcoming Christie's 20th Century Decorative Art & Design Auction next month, the house decided to collaborate with three young design firms to show budding collectors the type of pieces these stylish interior designers might choose for their clients, or themselves. Each was instructed to pick eight to ten of their favorites from the sale within a given theme. Suysel Cunningham and Anne Foster of Tilton Fenwick demonstrated how bold neutrals can enliven a room in new and unexpected ways in "Make Some Noise with Neutrals." French deco and American mid century come together for a highly collectible mix.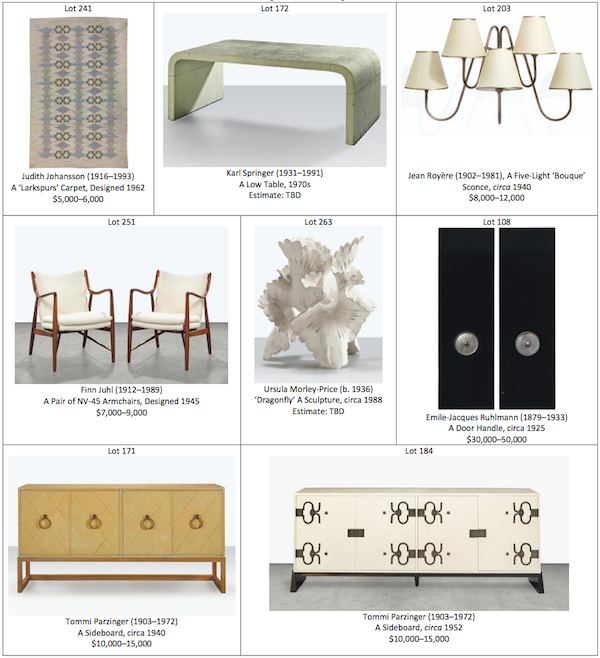 Designer Nick Olsen's eclectic picks showcase interesting surface details, texture and patterns in his "Surface Deep" theme. I love how the stunning Royère sconce made its way into both firm's vignettes, illustrating the versatility of timeless design. And I think it's no coincidence that a vase by Dunand, the master of Deco lacquer, appears in the designer's selections, a modern fan of the finish.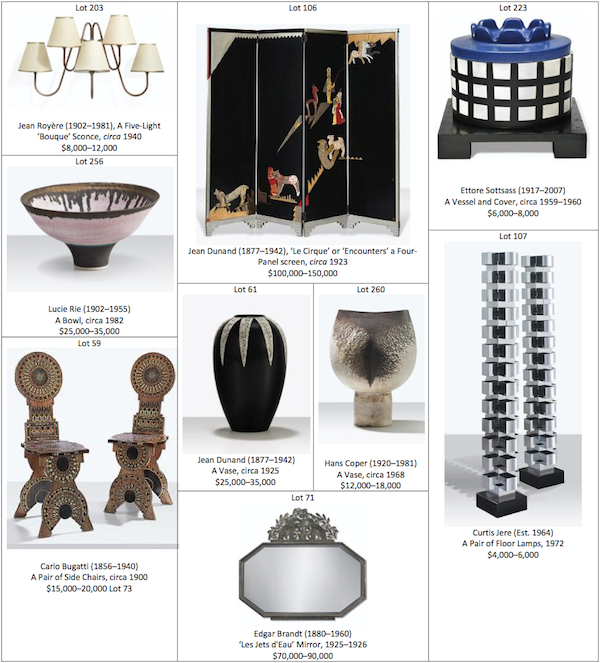 Sara Gilbane chose accessories that can make a big impact and transform a room in "Finishing Touches." The designer's elegant picks show that the current return of gold tones echoes themes from both French design in the 20s and 60's glam. And I'm seeing a resurgence in the popularity of screens, validated by both Sara's and Nick's gorgeous Dunands.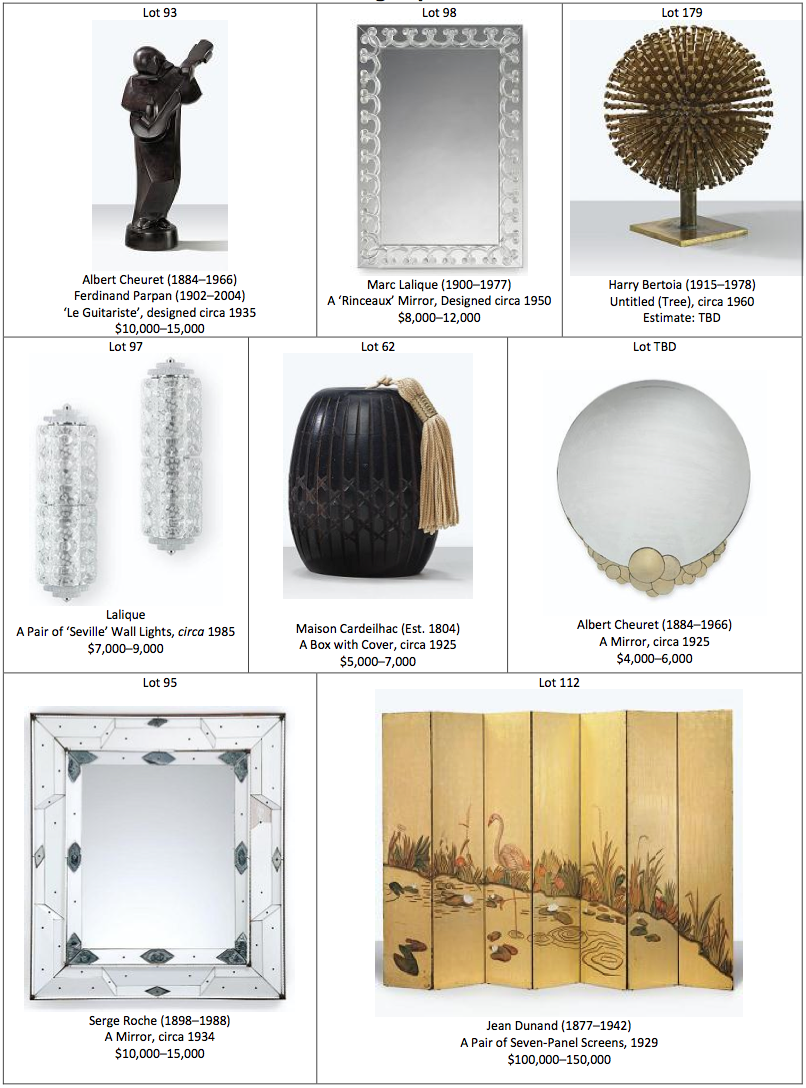 For young collectors, an entire room of provenanced antiques is probably not only beyond their budget, but not necessarily the look they want. So I thought it would be fun to ask each of the designers to select one statement making piece from their theme and show how they would create a room of high and low around their pick. As longtime Tommi Parzinger fans, Anne and Suysel chose his sideboard, epitomizing mid-century modern design. "Although German born, Parzinger was known for tailoring modernism for the American market and taste. It is a showstopper piece, simple in design, but in true Parzinger style, sophisticated in adornment and hardware.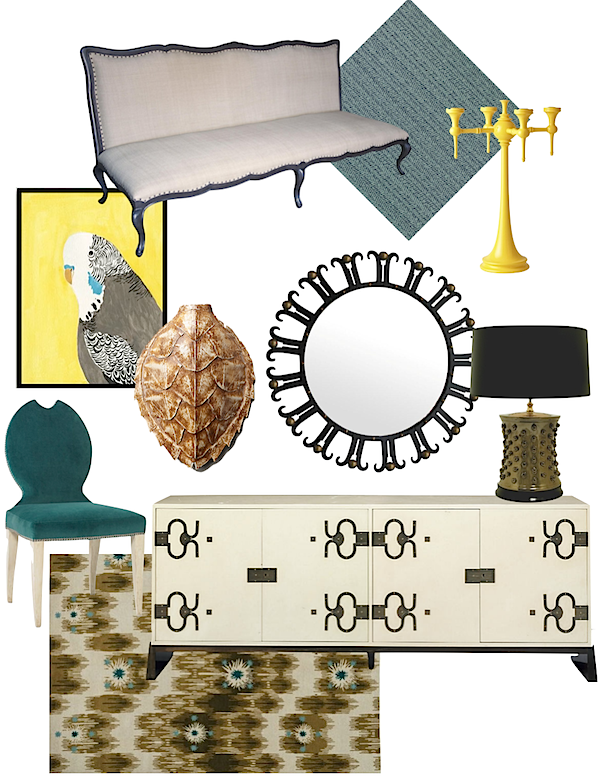 We would use it in a dining room, mixing in high-low additions like the beautiful Bunny Williams Roulette Mirror above the console, Julian Chichester Lucia chairs and if there were enough room, a Noir Louie Settee covered in our Cline fabric for Duralee in lapis. We would hang a beautiful and inexpensive framed yellow parrot print from West Elm, echo the color with a Dunes & Duchess four arm candelabra in No Scurvy Lemon and lay our own Estrella rug from Studio Four. Additional texture and exotic touch is introduced with the Restoration Hardware Hawksbill Turtle shell. The turquoises, yellows and blues, paired with the metals of the mirror, Hwang Bishop Hobnob lamp and hardware on the Parzinger, create a cheerful color palette with both hard and soft references in the space."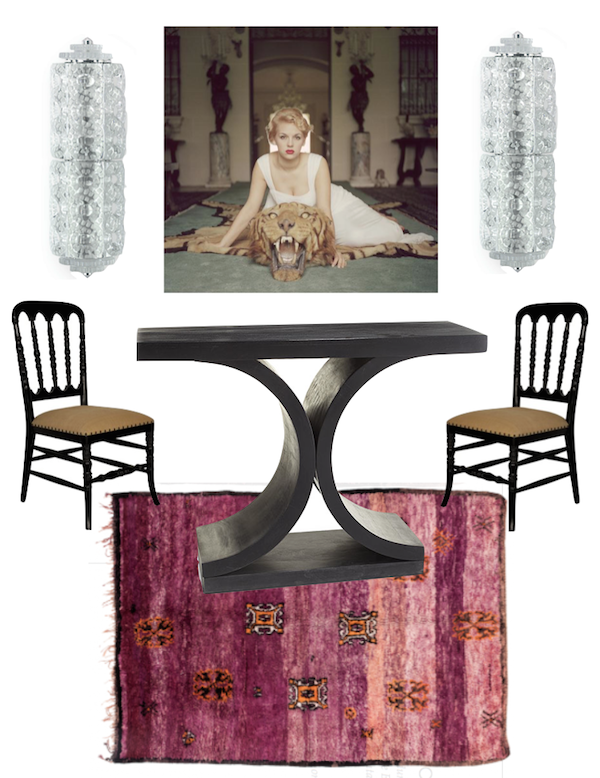 Sarah picked the gorgeous pair of Lalique "Seville" frosted glass wall lights to anchor an entrance hallway above a console. "Major wow factor is important in your entry as it is introducing people to what the rest of your apartment holds in store. I chose a mid-century modern black mango wood console from Wisteria with one of the Noire hand rubbed chairs on either side in black with raffia seats. A beautiful Madeline Wenrib vintage Moroccan carpet adds refined color and a fun unexpected photograph (a Slim Aarons print from Jonathan Adler) between the two sconces."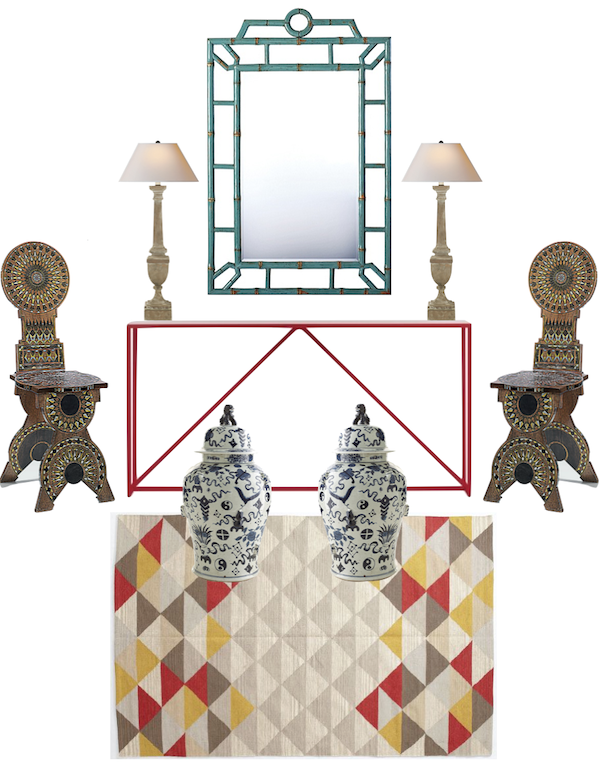 The amazing Carlo Bugatti chairs, with "layer upon layer of inlay detailing and SO much personality" are Nick's auction picks. "I see these flanking a console in a young family's entrance hall and selected the following catalogue items to show how one piece (in this case a pair) can elevate a room. You can and SHOULD mix organic with severe, patterns with solids, tall and skinny with wide and chunky, classical with chinoiserie – it just takes a careful balance of color and texture and scale, not a $2M budget." Nick has the Bugatti chairs flanking this metal console in red, with a pair of ginger jars nestled underneath and a pair of these Gustavian baluster lamps on top. The Serena & Lily Bungalow mirror, centered over the console, would be a classic addition with a colorful geometric mosaic triangular West Elm mosaic triangles  dhurrie in front of the console.

To see the full offerings and get more design insights on how to work with these fabulous auction items, be sure to save the date. On the evening of June 10th, the designers will be on hand to walk through Christie's 20th Century Decorative Art & Design Auction, discussing their finds. I look forward to seeing you there!