The best gathering at Legends was no doubt in Doug Meyer's brilliant window installation for Dragonette, sponsored by the Palos Verdes Art Center, where Meyer is working on a major design overhaul. Howard Roark's Enright House of The Fountainhead, as envisioned by the multifaceted designer, was the chic epicenter for legendary luminaries of the 20's, 30's and beyond. Long fascinated by little worlds, Meyer created an incredibly intricate and creative universe where "many of the world's most revered architects, designers and artists of the 20th century worked."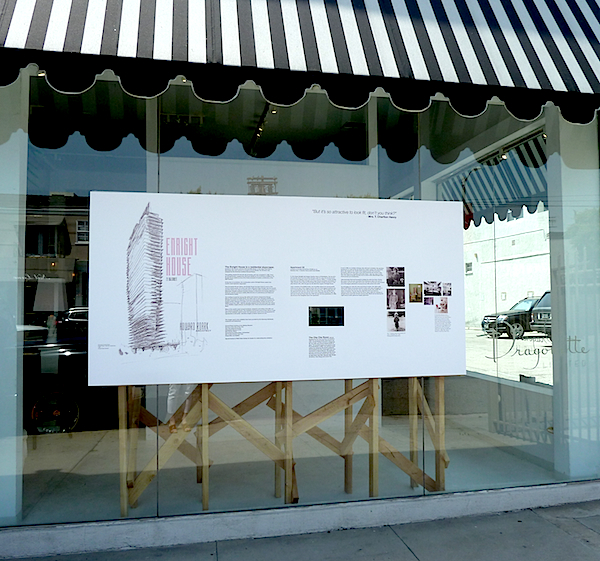 Where else could Alfred Barr, Arshile Gorky, George Stacey, Gio Ponti, Piero Fornaseti and more congregate to collaborate on "one of the most important buildings of the 20th century, designed by one of the biggest architects of our time." I met Doug for drinks in LA to discuss my obsession with his mind bender of a creation. Although he originally planned the window to be about The Fountainhead's protagonist Howard Roark, the designer realized that Enright House could actually be the character around which he could create a fabulous world of everyone who had influenced him over the years. "Over its storied 49 year history, the Enright House has been home to some of the world's richest people. It's owner self made millionaire Roger Enright, was the seventh richest man when he passed away in 1969 (by today's standards he would be a billionaire). Notable residents included members of America's first families (Mellons, DuPonts, Cabots), European nobility (Marchioness of Londonderry) and Hollywood and Broadway royalty."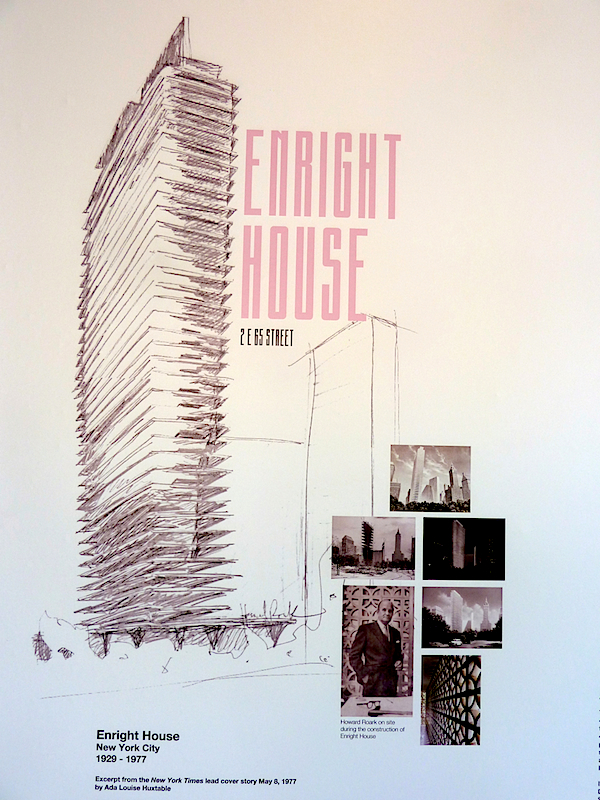 While known for his bold and colorful modern interiors and products, Meyer also has a love and encyclopedic knowledge of history that enabled the project, completed in a matter of two or three weeks, to evolve organically. While on the treadmill at the gym or in his downtime, he imagined an elaborate story, knowing that it had to be historically accurate and include timeframes. On a box-like structure with plywood architectural base and on the free standing back wall, Meyer layered printed vinyls and detailed dioramas laying out his chic fictional world. "Many of the world's most revered architects, designers and artists of the 20th century worked at Enright House. This exhibition documents some of their efforts. It was part of the buildings original charter that apartments could not be photographed for reproduction in the press – therefore images of interior spaces are rare."
photo by Monica Orozco
The first space Meyer conceived of became the Bar Alfred, named for the legendary MoMA director Alfred Barr, who in this scenario was Enright's closest friend. Enraged by his friend's forced resignation (a real life occurrence in 1943), "Enright quickly called upon interior designer George Stacey (Meyer had just finished reading Maureen Footer's excellent monograph) and artist Arshile Gorky, one of Barr's favorites, to create (Bar Alfred) "the best" bar/club in the city … in honor of his friend." So clever!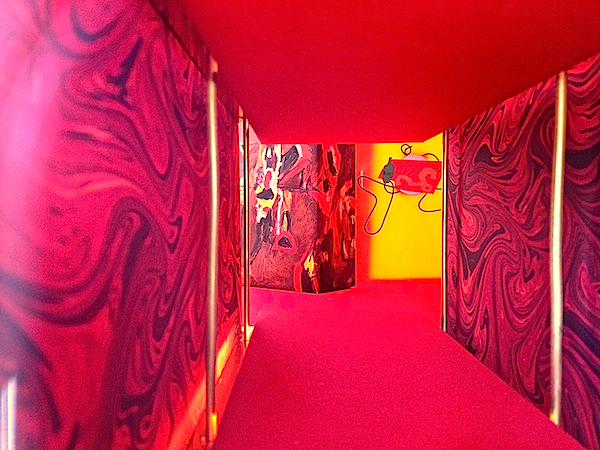 Like all the diminutive diorama's Meyer created for the project, the Bar Alfred, above, has amazing proportion and perspective based on his intoxicating narrative, where truth and fiction seamlessly meld. The red rooms and entry supposedly inspired frequent visitor and Stacey client Diana Vreeland to ask, "Georgie when the hell am I getting a red room?" We all know where that led!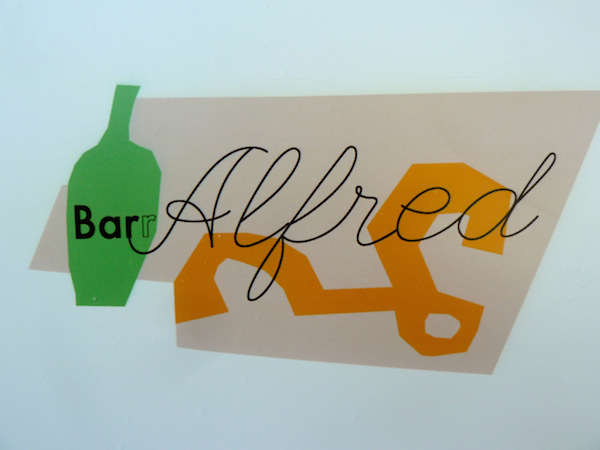 But it was the truly impressive and imaginative details that blew me away. The Bar Alfred logo above feels perfect for the period, including references to the Gorky-esque style and I'm sure the cocktail book, below, would have been considered the chicest hostess gift of the day with artwork by Marsden Hartley, John Marin, Arthur Dove, Stuart Davis, Joseph Stella and Charles Demuth.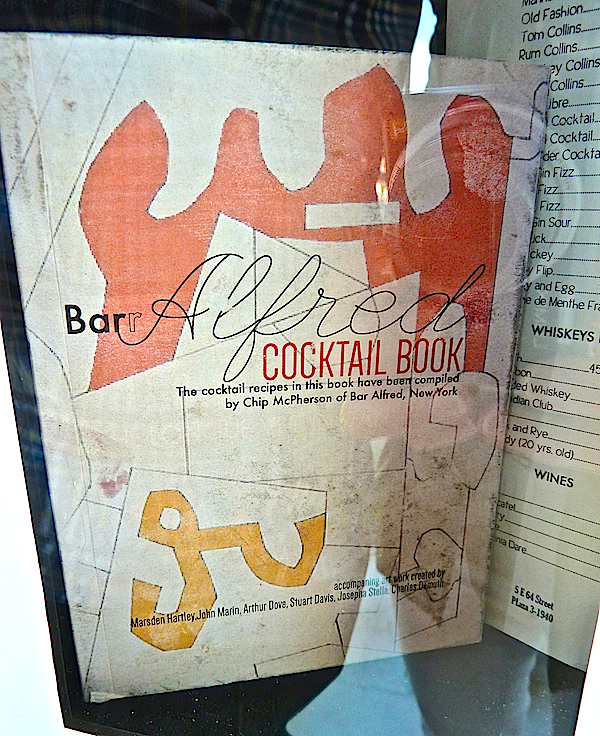 Who wouldn't have wanted to hang out in a place where Franz Kline, Willem de Kooning, Lee Krasner and Robert Motherwell were all regulars, the first Thursday each month was masquerade night (photo 1), and visitors included Grace Kelly (3), Mr & Mrs. Alfred Vanderlbil and JFK (4) and Marilyn Monroe and Joe DiMaggio (6). The Bar Alfred private entrance, in image 7, is actually an Edward Durrell Stone townhouse in NYC. Meyer changed the door to a more stylish one by Jean Prouvé and added the bar logo to the right. The Gorky Mural Bar (8) is actually a Morris Lapidus private space in which Meyer created and photoshopped in the artist's fictitious work. And the couple on the right in party photo 5 is actually Meyer's parents.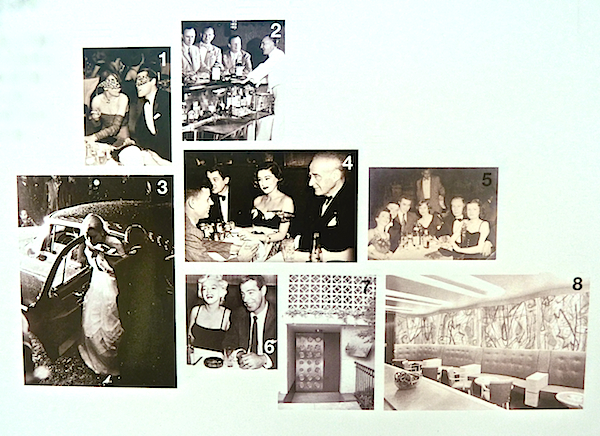 In thinking of the apartment building's occupants, Meyer considered that Enright grew up in Pennsylvania. That's when the aristocratic Julia Henry came to mind. It worked chronologically that Enright could have met husband, lawyer Charlton Henry, in Philadelphia in 1914. They of course hit it off and Henry introduced Enright around to all the biggest movers and shakers in finance. Within no time, Enright had made his first million. When Henry died in 1936, Enright returned the favor by giving his friend's wife, Julia, nee Biddle, the 22nd floor duplex, in which her daughter lived until 1952. Immortalized in Diane Arbus' iconic images, Mrs. T. Charlton Henry was known for her formidable bouffant, love of fashion and fitness and an indomitable zest for life.

Meyer decided that in 1953, she would have gone on a holiday trip on the maiden voyage of the SS Andrea Doria, staying in the now famous Zodiac Suite designed by Gio Ponti and Piero Fornesetti (one of Meyer's favorite rooms). She loved it so much that upon her return to New York, Enright arranged for an introduction to Ponti, who she immediately hired, with Fornasetti, to design the entire two floors, pictured below. (photos 1 and 5 are actually Meyer's NYC apt, 2 is the actually Andrea Doria Suite, 3 and 4 are from client projects, with Henry superimposed in 4)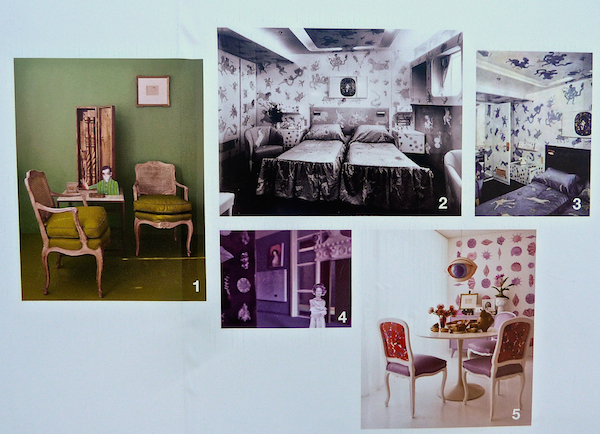 One night in Bar Alfred, regular Willem de Kooning taught Julia a new dance called the Cha Cha. She was ecstatic and in less than 24 hours had commissioned Ponti to design a ballroom she would name the Cha Cha Room. "Many nights the residents of Enright House would start off their evening at Bar Alfred and end dancing the night away at Julia's glamorous duplex apartment." Meyer's diorama facing street side in Dragonette's window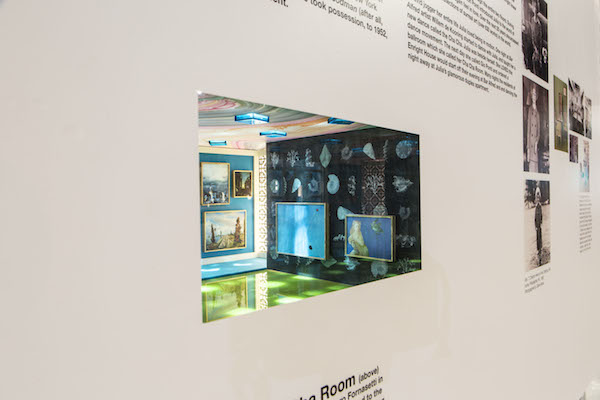 shows his vision for the space with lacquered double doors leading to a 23′ tall room.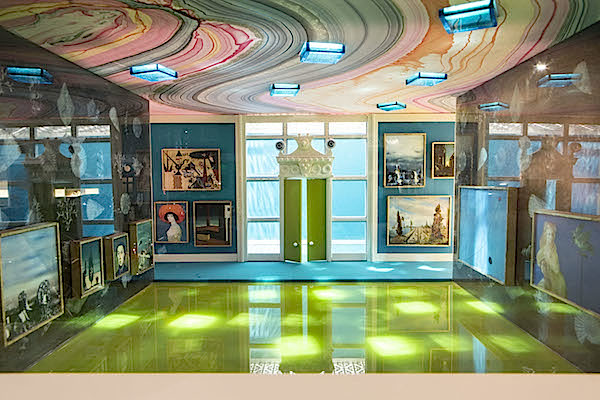 "Walls were reverse painted sheets of glass. The seashell imagery was painted at the Fornasetti Studio in Milan.
three photos above by Monica Orozco
The swirling marble ceiling was painted by Gio Ponti's assistants. Ponti designed the blue ceiling lights that were hand blown in Italy by Murano (effectively emulated with lit tops from acrylic Container Store boxes). The pediment and door surround was designed by Max Ernst. The floors are poured colored resin. Artworks by: Max Ernst, Joan Miro, Salvador Dali, Giorgio de Chirico, Yves Tanguy and Leonor Fini." So chic!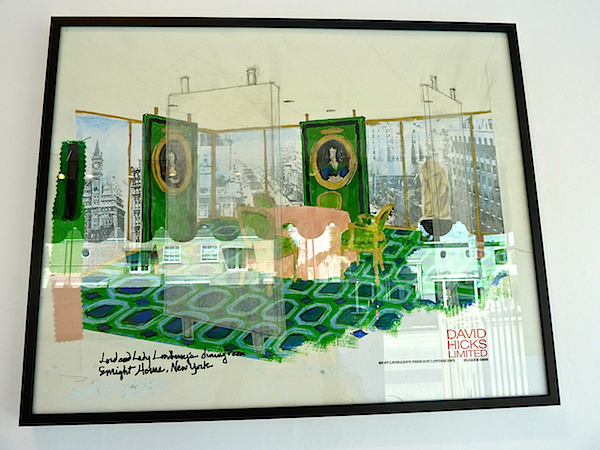 At 5,900 square feet, Apartment 26 was one of Enright House's smallest units. Purchased from original owners Lord and Lady Astor in 1965 by the glamorous and swinging Marquess & Marchioness of Londonderry, the apartment would be decorated by the couple's British decorator David Hicks, who was simultaneously working on the Hicks Suite at the St. Regis. Meyer imagined this apartment as an homage to Hicks, whose Nico house in Hampstead (Lady Londonderry's nickname was Nico) is one of Meyer's favorites. Hicks' design for the apartment, above, (cleverly executed by Meyer of course) shows the dining room, with four floating upholstered panels to" give a sense of space and color, as well a false sense of security" to a room with floor to ceiling glass on two sides. The curtains part behind the panels so that when open, you would never see them. The juxtaposition of old and new is vintage Hicks.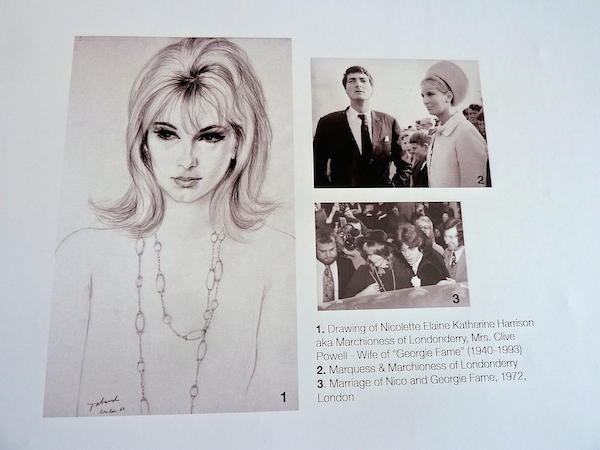 Those of you old enough to remember or well versed in London scandal will recall that the couple's son and heir Viscount Castlereagh turned out to actually be the biological son of Georgie Fame (aka Clive Powell), the musician. And their first daughter, Lady Cosima claimed that her actual father was Robin Douglas-Home, future lover of Princess Margaret. Although the Marquess later married Fame with whom she remained for twenty year, Apartment 26 was beset by tragedy as both Douglas-Home and the Marquess later committed suicide.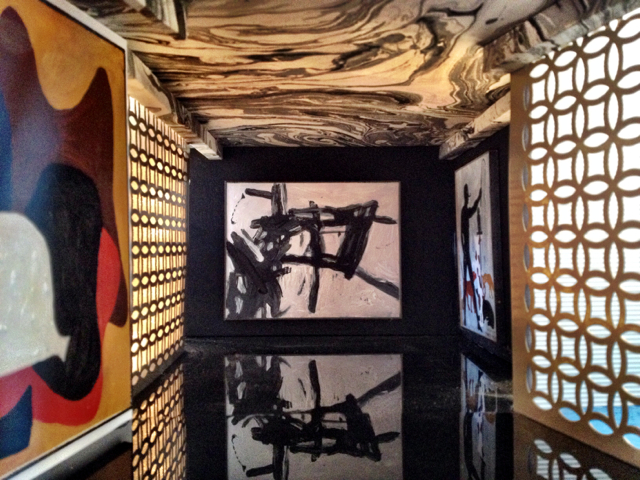 Back to the public spaces, Roark's original entry was redesigned by Frances Elkins in 1933, above. As shown in another of Meyer's diorama's, the 22′ ceiling was canvas painted offsite in silver black and white. As Enright's collection grew, the new lobby became a rotating repository of art. A huge Gorky mural on the left, Francis Picabia's Animal Trainer on the right and one of the largest Franz Klein's ever painted hung above, reflected in the polished black granite floors. All executed by Meyer, it's like a mini 20th century art and design lesson. Located off the main lobby the lesson continued with Enright's private gallery, designed, in Roark's absence (on a project in Brazil) by Donald Deskey, the designer of Radio City Music Hall. For this space, Meyer placed hand made copies of work by Jean Arp, Reg Butler, Pablo Picasso, Walt Kuhn, Kees van Dongen, Joan Miro, Franz Kline and Willem de Kooning.
photo by Monica Orozco
In addition to the actual rooms of Enright House, Meyer continued to create a mythical reality surrounding the structure.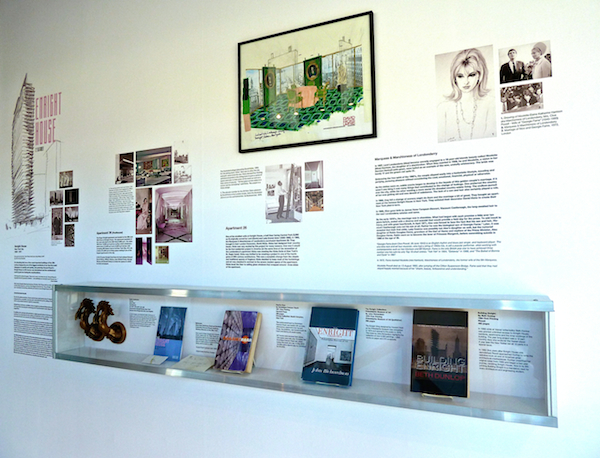 In Meyer's world, ephemera such as a note card, business card and brochure found their way to the collection of the Whitney. The level of detail is amazing – check out the coffee stain and paper clip embossing on Roark's business card from the 1920's. And of course the phone number had the Gramercy prefix.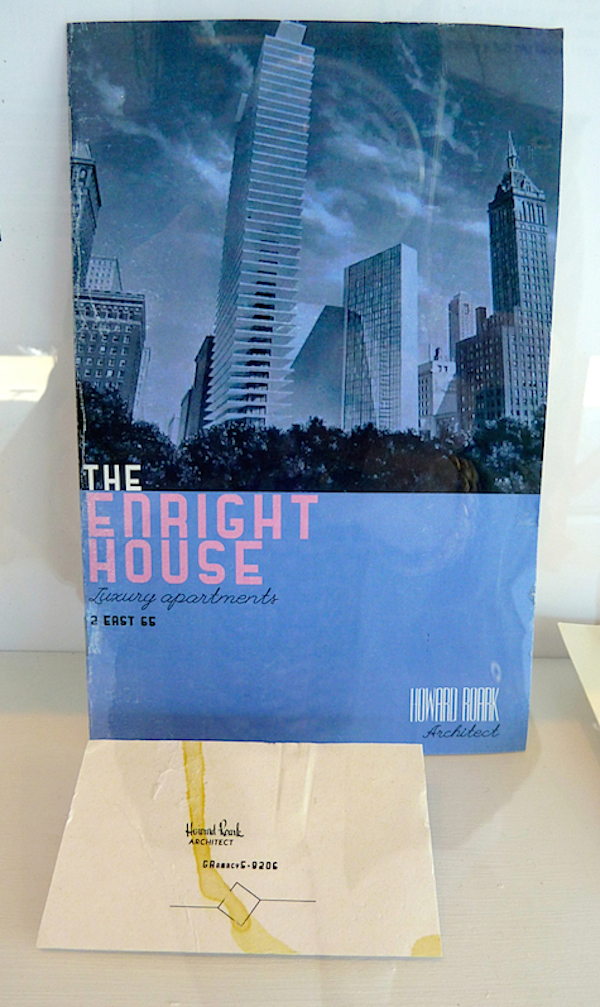 The note card to Enright from Roark was placed on the front door of the building on the day it opened. "From that day on it held a place of honor in Enright's library until his death in 1968."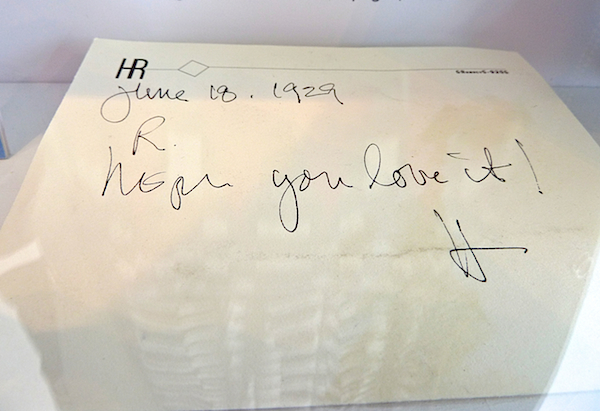 The three fictional monographs on Roark and Enright include authentically executed book jackets. I told Doug I would have definitely hired him in the days when I commissioned such work. Roark's Roar was the "controversial book by Dominique Francon Roark, loaded with so many defamatory statements that Harvard Press, the publisher, was forced to pull the book and destroy all unsold copies. … 1st Dibs sold a signed copy by Dominique for $12,000." Gotta love it!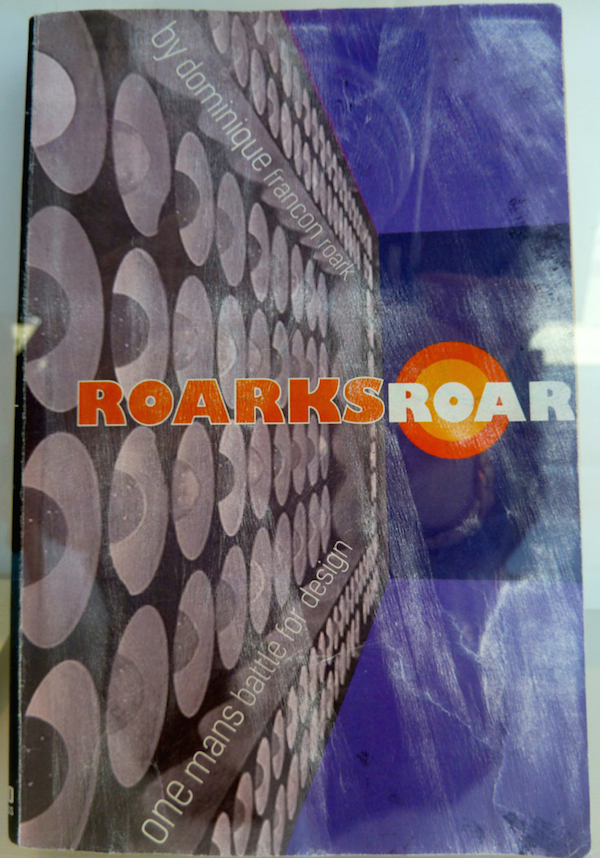 The Enright Collection by none other than (real life) distinguished art historian and author John Richardson features the collection at the Philadelphia Museum of Art. The back story on this insider twist is that Alfred Barr was succeeded at the Modern by Rene d'Harnoncourt, whose daughter Anne d'Haroncourt became the director of the Philadelphia Museum of Art. So Meyer cleverly hypothesized that Enright, to spite the Modern for Barr's dismissal, worked with Roark designing a eponymous wing for the Philadelphia Museum, to whom he left his massive collection.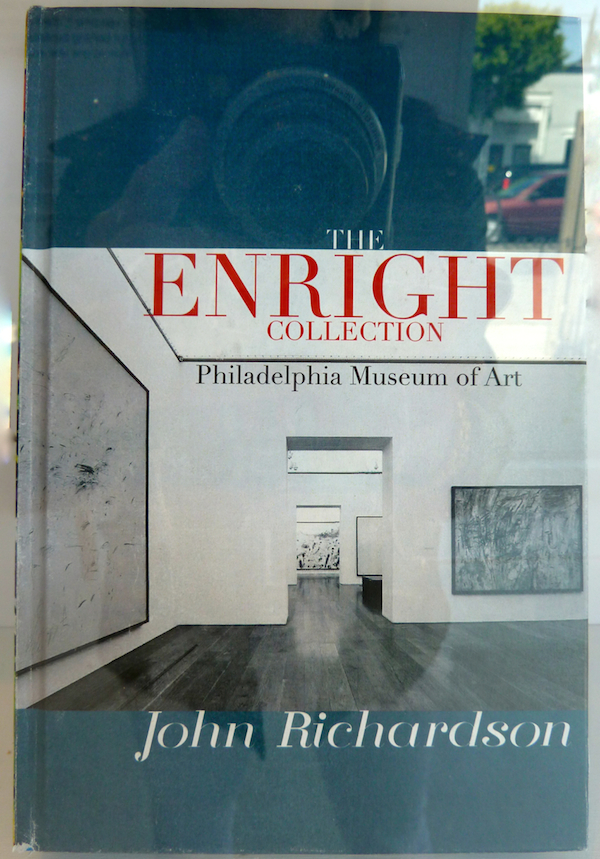 And the last book, Building Enright is authored by Beth Dunlop, in real life, the editor-in-chief of MODERN Magazine. While at Vassar (which she indeed did attend) she supposedly wrote a 12 part story on Enright House which eventually ran in the New Yorker. She was then approached to write the definite guide to Roark's masterpiece, now in its 5th printing. Congratulations Beth – too bad you can't earn royalties!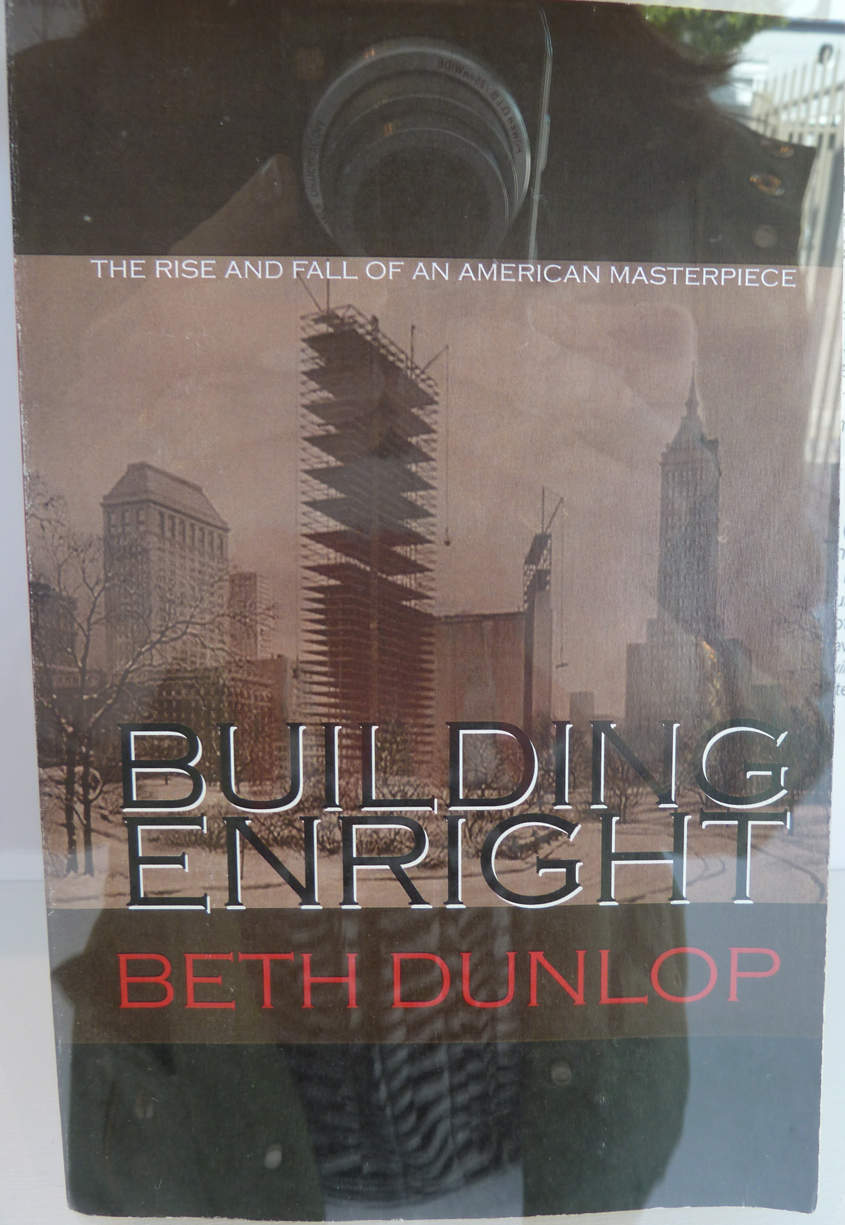 The ending to the fictional saga was Enright House's destruction in 1977 due to structural issues, although with the sale of the land and insurance, all 29 tenants benefitted financially. Even legendary architectural critic Ada Louise Huxtable spent three years trying to save the structure. This tour de force of fictional reality was a dazzling display of creative artistry. With historical accuracy and clever choices, it walked the fine line between fact and fiction. But as Doug agreed, it's all about story telling, especially in the movie capital of the world, where the best story, conveyed in the most convincing authentic way, is a prized commodity.