You have no doubt by now read about the upcoming Sotheby's Bunny Mellon auction. The much anticipated event will be spread over the course of several dates next month filling almost all of the galleries. The excitement begins on the 10th with the Masterworks auction of a curated selection of fine art, including her famous Rothkos. The 20th and 21st feature Mrs. Mellon's collection of Jewels & Objects of Vertu. And the series concludes with the blockbuster three-day interiors sale from the 21st to 23rd of an extensive collection of furniture, art and decorative pieces. With over 2,ooo individual items and a wide range of price points, this is a monumental sale. And it is of particular note not just because of the included items, but because it represents the eye of a passionate collector, one who bought for love not potential value. And it is that aspect that inspired me to contact several designer friends who I know are also passionate about collecting to see what items especially appealed to them. Details of the pieces chosen are at the end of the article.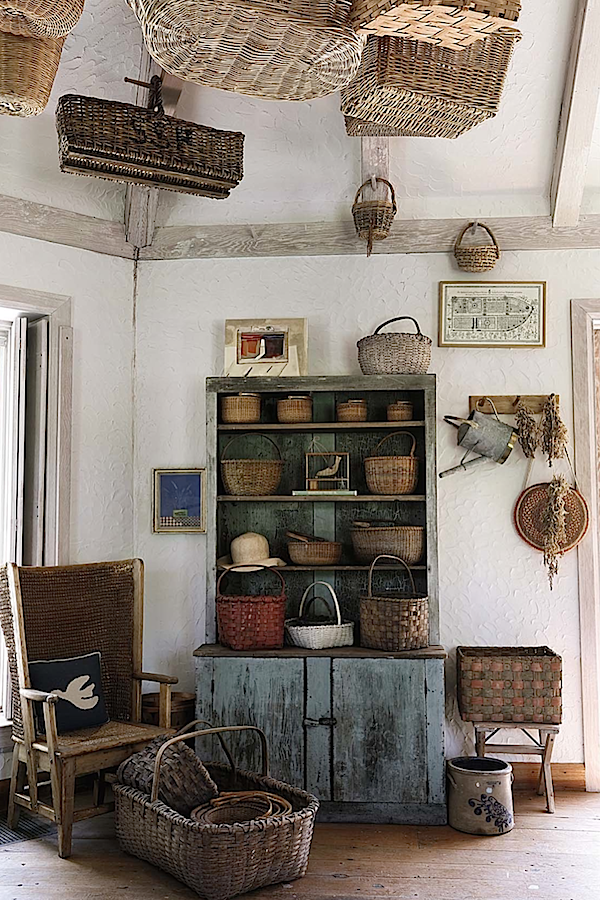 Miles Redd – "There is so much I love, but am going to talk about the Orkney chair (lot 930, above left), and lot 272, the Regency settee, below. What I love about Mrs. Mellon's taste is the understatement and the eclecticism – and I think these two pieces of furniture demonstrate that sophistication. Someone very grand  once told me that it takes a lot of style to understand straw, and I do believe Mrs Mellon almost invented that notion. To be able to see the rustic chic in an Orkney chair and then walk to the other side of the street and appreciate the refined curves of the gilt and chalk Settee takes a special eye, and she had it."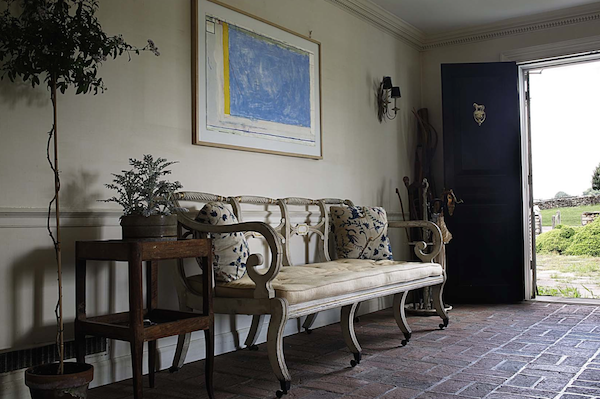 Timothy Corrigan – Diebenkorn from Entry Hall (photo #2, above): "I love the textural quality of the piece because while it is boldly colored, it successfully walks the fine line between being strong without being overpowering. I could see placing this in a breakfast room or bedroom…what a delight to start the day with such a happy view of the world!"
Giacommetti Cocktail table from Game Room (photo #3, below): "Who wouldn't covet this iconic table by the master of bronze…the playful birds perched on the table's stretchers provide just the perfect balance to this otherwise simple table.  This table can be placed in a simple game room as Bunny Mellon used it or in the fanciest of salons."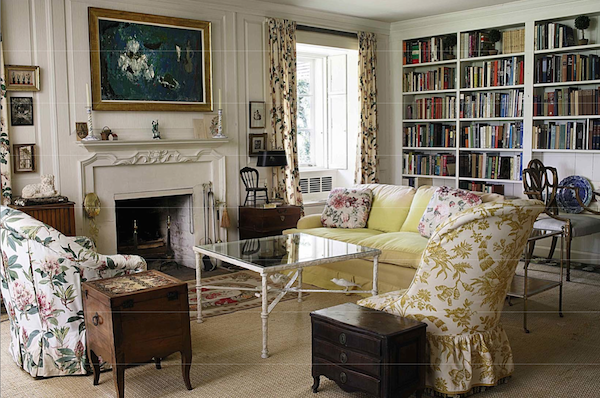 Howard Slatkin – "I had the great luck to meet Mrs Mellon through Mrs. Onassis who was a neighbor in the New Jersey countryside, and they would visit my tiny little shop in the village.  In my mid twenties I moved the shop to Manhattan, where it was two doors from Mrs. Mellon's house, and started doing things for her, which was an honor and a pleasure.  I learned more from her —and Mrs Onassis—-about beauty, comfort at home and non conformity than almost anyone: that it was all about the life lived in one's rooms, not just the design.  Oh how I miss those fun times.  I will go for the etagere in her hall, lot 440 (below).  Mrs Mellon said it was purchased from John Fowler, as soon as she saw it in his shop—–sometime in the 1950's—–and it will bring back memories of rearranging the trompe l'oeil faience objects whenever a new piece was added, and Mrs Mellon laughingly asking if it looked too much like a shop. As if.  I will also try for the Diego Giacometti coffee table (photo #3 above), which is special as Mrs. Mellon worked with the artist on it. It was made for her and is a unique model, and one of the rare pieces he painted—-which he did for his patron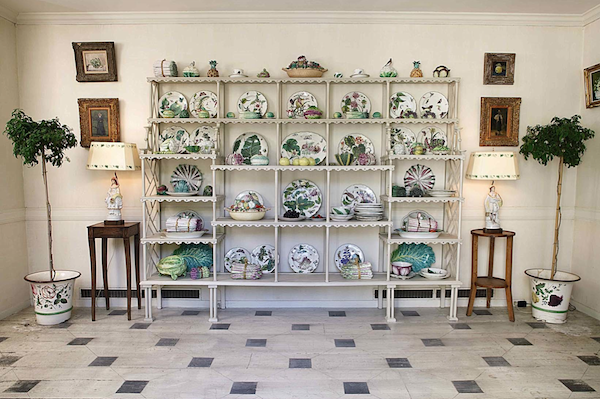 Alexa Hampton – "Bunny Mellon's house is filled with treasures; the interiors looking so comfortable and unstudied that they could lull a viewer into missing some of their superstar occupants, nestled as they are so naturally into their settings.
If I could have any one thing in these rooms, I wouldn't know where to start. So, let's just call me greedy. I would want to take the beautiful Regency chair backed settee from the entry (lot 272 in photo #2 above and close up below ) from 1810, and the wonderful Diebenkorn just above it (lot 31). These two pieces together are a perfect example of Mellon's eye and her confidence in mixing pieces of different times and pedigrees to great effect. Curvy and linear, modern and antique, fine decorative design and abstract art, these contrasts might not be obvious pieces to comingle, but they are just right by me.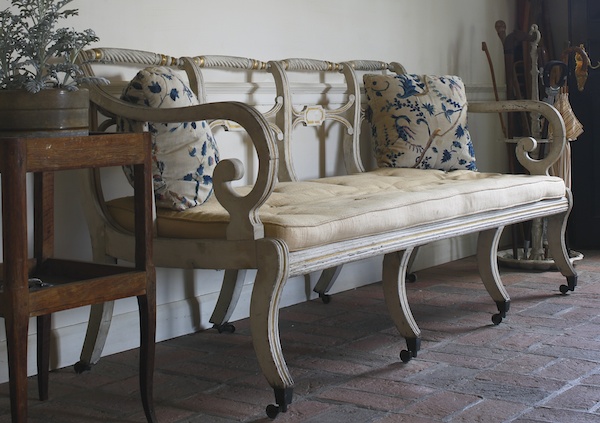 My second pairing is of items made almost exactly two hundred years apart from each other. I would love to have the graceful, carved Louis XVI Fauteuil (lot 361, in photo #5 below), from 1770, and the spectacular white washed bronze Giacommetti coffee table (aux deux oiseaux – also cited by Howard, in photo #4) from 1972. Two French beauties of different material, from different centuries, both delicate and fresh."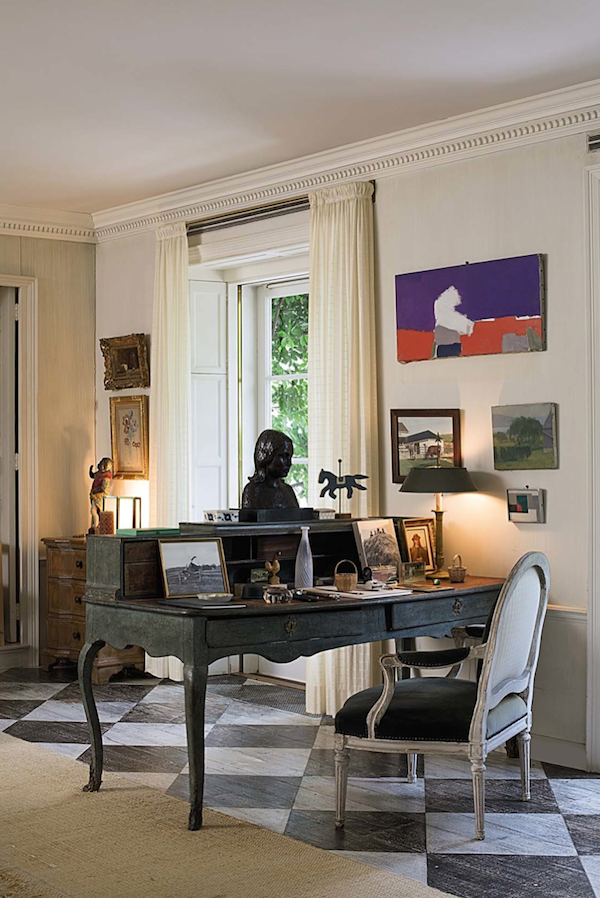 Alex Papachristidis – De Stael painting, 'Paysage' (photo #5, above, top right)  – "I love the combination of abstract modern art mixed with 18th Century furniture. It makes a room current and timelessly modern. I would have it framed in a gold giltwood frame and would use it in a hallway, living room or library mixed with other paintings.
French chair (lot 361, above and in close up below) – "This is such an easy chair to use in so many different spaces. As an occasional chair in a Living Room I love the combination of an open armchair with carved legs next to something upholstered. This creates interest in a room."
Giacometti coffee table (photo #3) – "I'm obsessed with white painted furniture. I love Giacometti's work and have used it before. I love the feeling of the painted bronze, the birds on the base add a touch of whimsy and express my love of nature and animals. I would use this in a Living Room or Library."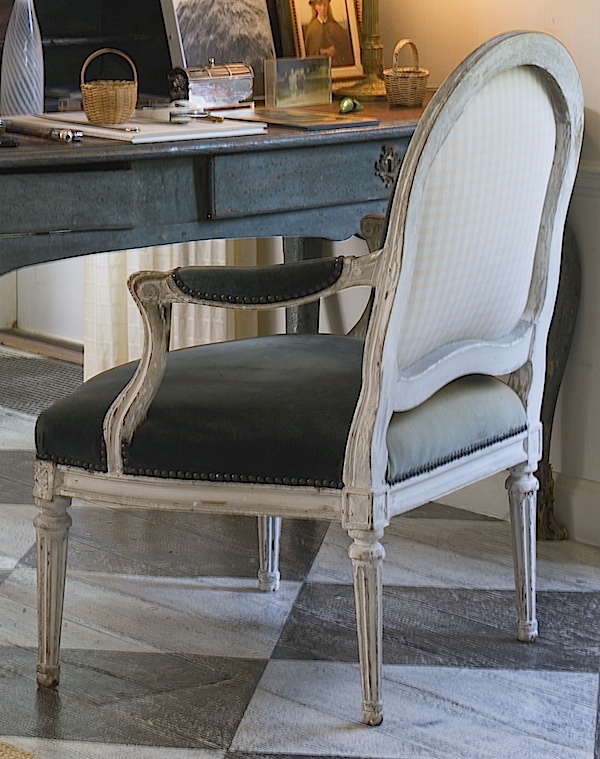 Ellie Cullman – "I have always loved painted finishes and this white painted and carved armchair (lot 361, photo #5 and above) is an antidote to a sea of brown wood in any interior. Charming and full of details, it adds character to the upholstered pieces in any room. I would cover it in an animal print or iridescent fabric for maximum chic."
Details for the items chosen:
PHOTO #1
Item 930 A SCOTTISH PINE AND RUSHWORK 'ORKNEY' CHAIR 19TH CENTURY height 41½ in. 105.4 cm estimate: $ 200-250  
PHOTO #2
RICHARD DIEBENKORN 1922 – 1993 UNTITLED #31 Executed in 1984 estimate: $800,000-1,200,000   Item 272 A REGENCY WHITE-PAINTED AND PARCEL-GILT CANED CHAIR-BACK SETTEE CIRCA 1810 height 33. in.; length 6 ft. . in. 85.1 cm; 179.1 cm estimate: $ 6,000-8,000  
PHOTO #3
DIEGO GIACOMETTI 1902 – 1985 TABLE AUX DEUX OISEAUX (BLANC) painted bronze 19 by 32 by 32 in. 48.6 by 81.3 by 81.3 cm. Conceived and cast in 1972. estimate: $150,000-200,000  
PHOTO #4
Item 440 A GEORGE III STYLE CREAM-PAINTED STANDING BOOKCASE height 6 ft.; width 7 ft. 9 in.; depth 13. in. 182.9 cm; 236.2 cm; 34.3 cm PROVENANCE by repute, Nancy Lancaster estimate: $ 2,000-3,000  
PHOTO #5
NICOLAS DE STAËL 1914 – 1955 PAYSAGE (PAYSAGE AU LAVANDOU) signed; titled and dated 1952 on the stretcher oil on canvas 14. by 31. in. 37.5 by 80.6 cm. estimate: $500,000-700,000   A LOUIS XVI WHITE-PAINTED AND CARVED FAUTEUIL CIRCA 1770 height 35. in. 90 cm estimate: $ 3,000-5,000  
This is just a tiny selection from the enormous auction. The catalogues are available for sale on the Sotheby's site and are wonderful collector's items for both inspiration and reference, as seen in a few more shots below.