Most weeks I enjoy the challenge of trying to match my Friday movie pick somehow with what I have written about during the week. Sometimes it doesn't work, but it's a puzzle I always try to solve. Considering the art exhibition I covered on Tuesday and the classic house I featured yesterday, I think today's movie, also a vintage classic, fits in rather nicely. Like last week, I would imagine many, if not most of you, have seen this quintessential film but it's one I could, and have, watched on numerous occasions without tiring of it!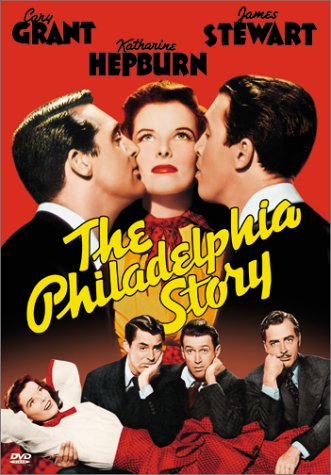 Philadelphia Story, is Katharine Hepburn's 1940 reprisal of her hit Broadway role, which actually has an interesting back story. Playwright Philip Barry first conceived of the idea in 1938 as the story of a wealthy family being studied for an article in Fortune. As a member of the cocktail-circuit Ivy League elite, he knew this world well. It was his wife who suggested the setting of Main Line Philadelphia, where he chose socialite Hope Montgomery Scott as the model for his heroine Tracy Lord.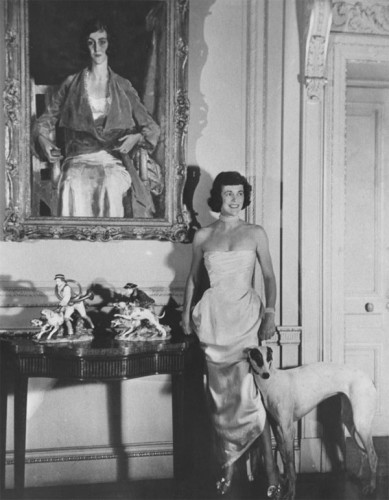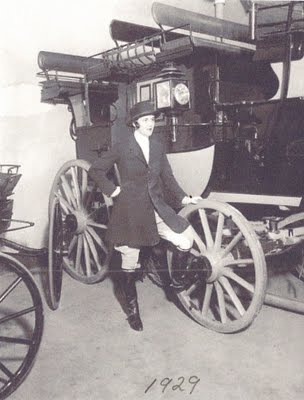 Dubbed by Vanity Fair as "the unofficial queen of Philadelphia's WASP oligarchy," she was an avid foxhunter and later became director of the U.S. Equestrian Team.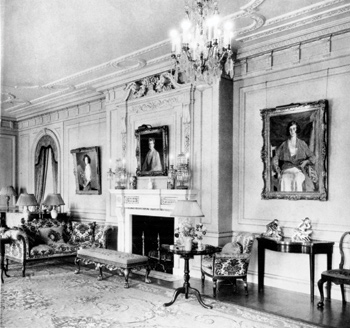 The family home, Ardrossan, in Wayne, above, became the model for the Lord's beautiful Philadelphia house in the film.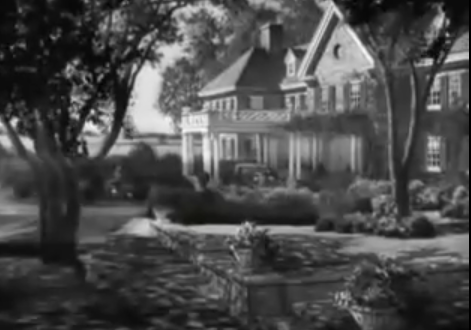 The classic chintz filled interiors capture perfectly the gentility of proper Mainline lifestyle.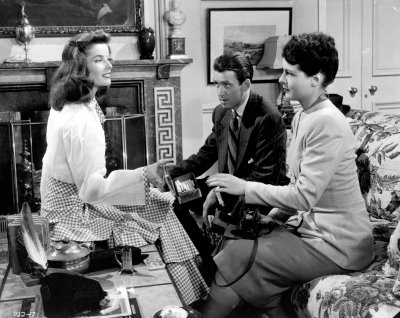 Barry wrote the part with Katharine Hepburn in mind, her wit and intelligence the perfect foil for the character. As critic David Thompson wrote, "Nobody on the screen could be so funny and so moving in making a fool of herself, or so touching in reclaiming her dignity." And in true understated WASP fashion, Hope Scott, after attending the opening night of the play in March of 1939, commented "We were thrilled. But I was amazed because I didn't think we were all that interesting to write about."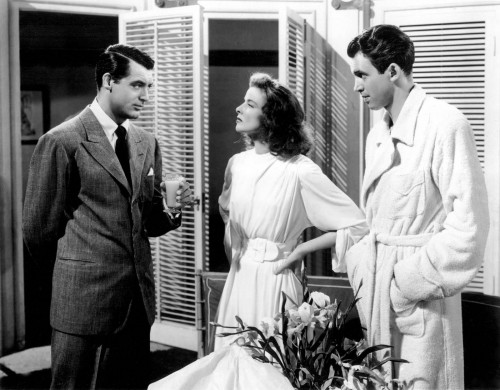 Howard Hughes, who had financed half of the costs of the play, purchased the film rights for Hepburn (they had had an affair several years earlier). MGM was chosen as the studio to make the film because they would give Hepburn approval of her leading men and director. She of course chose George Cukor to direct and her first picks for co-stars were Spencer Tracy (naturally) and Clark Gable – but because neither was available, settled on Cary Grant (who I'd settle for any day of the week) and Jimmy Stewart. Cary Grant, by the way, ending up giving his entire fee of $ 150,000 to the British war effort. Needless to say, the film was a huge success, garnering 5 Oscar nominations, with wins by Jimmy Stewart for best actor and Donald Ogden Stewart for best screenplay.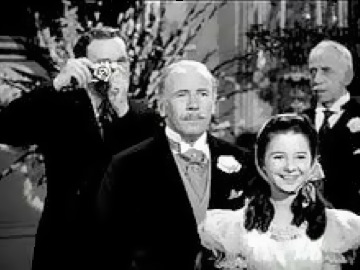 There's so much to love about this film. The incredible ensemble cast is stellar. Not only are Hepburn, Grant and Stewart fabulous, but so is Ruth Hussey as the beat photographer, Roland Young as the incorrigible Uncle Willie, Mary Nash as Hepburn's quietly suffering mother, John Howard as Hepburn's climby fiance and the marvelous Virginia Weidler as Dinah, Hepburn's precocious little sister.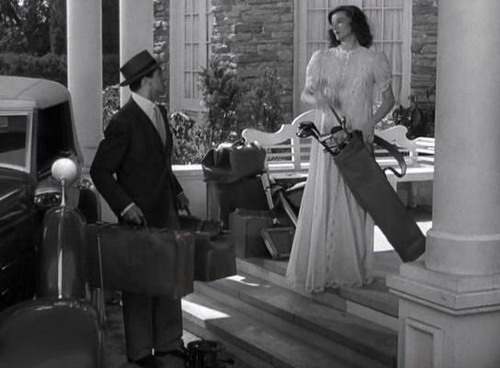 The house is fabulous ( check out the millwork details as well as the Lutyens styled bench) as is the understated decor and all the set accoutrements.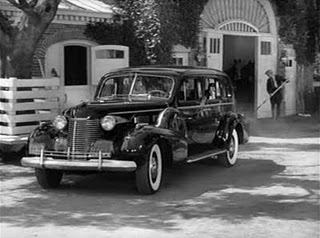 The costumes by Adrian are the peak of chic.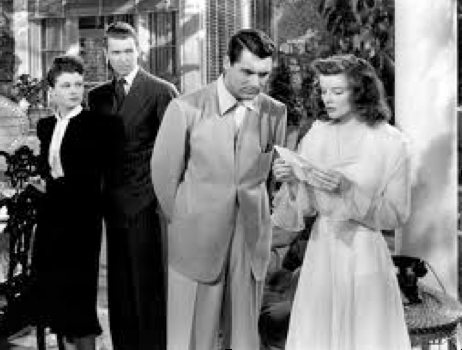 Not only is Hepburn's dress divine, but take note of Grant's stylish collarless jacket.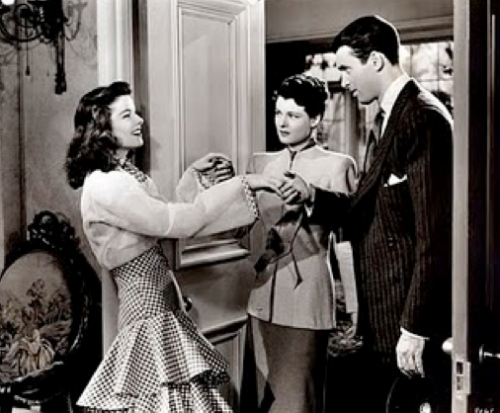 I love the gingham trim at the end of the slightly bell sleeve.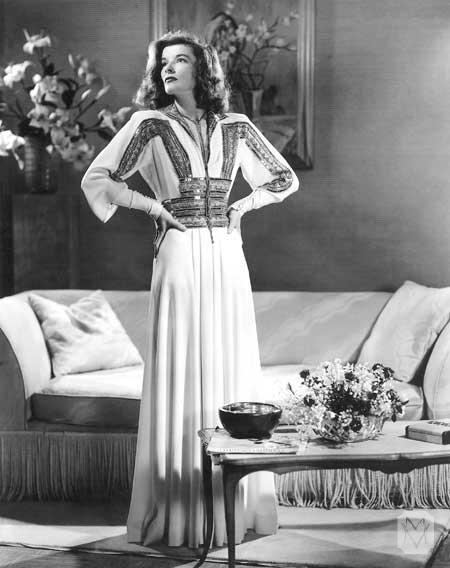 Fabulous in every way!!
If you are looking for some stylish, witty entertainment this weekend, you need look no further, Philadelphia Story has it all!! And if by some chance you are seeing this for the first time, I'm envious – you're in for a treat!! Take a peek at the vintage trailer.