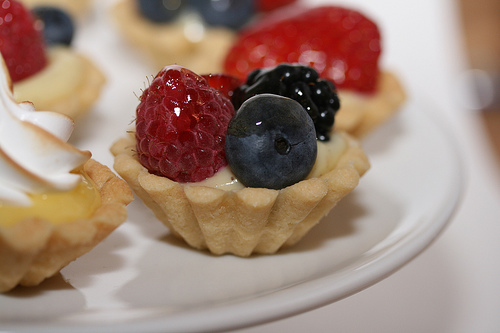 Whenever and wherever you are celebrating the 4th of July (our fireworks are on the 2nd), it's always fun to have a colorful and patriotic dessert. Over the years, I have made many variations of mini berry tarts. You can make them from scratch or combine store bought items, to achieve a fun, delicious and beautiful result. Here are a few ideas:
It doesn't get any easier than making this flag of tartlets with premade shells filled with mascarpone cream topped with fresh berries.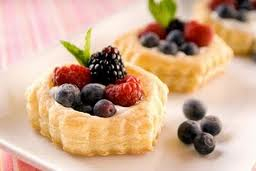 No matter what finished look you want, you can choose from a wide selection of  frozen pastries at the market, fill them with either homemade custard or a bought pudding, assemble the fruit and voila!
To get a more professional look, melt some currant jelly in a small saucepan and brush over the top!! It's an easy and festive dessert that everyone will love!