I am thrilled today to bring you vignettes from a beautiful vintage house never before published. This classic brick Georgian from 1928 stands on a large parcel of land here in Connecticut with gorgeous specimen trees and rolling lawn. Bought by its current owners six years ago, the house was completely transformed by the wife, a successful interior designer. The home is now a refined reflection of the couple's love of traditional design, showcasing their collection of fine art and antiques. Each room is gracefully furnished with classic pieces and carefully chosen accessories, creating a timeless elegance.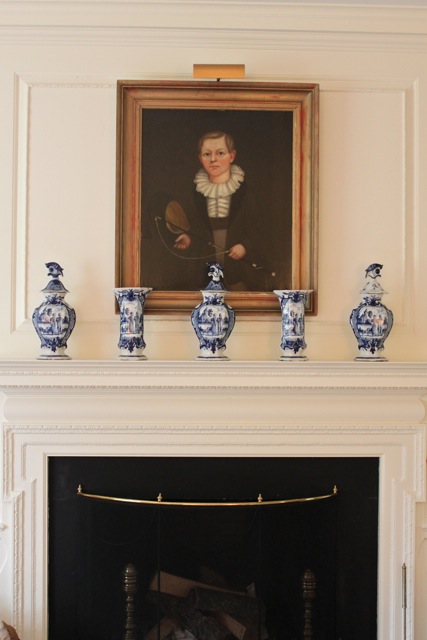 The living room sets the tone with a classic pairing of a 16th century Delft garniture set beneath the Nantucket boy, an American 19th century oil painting.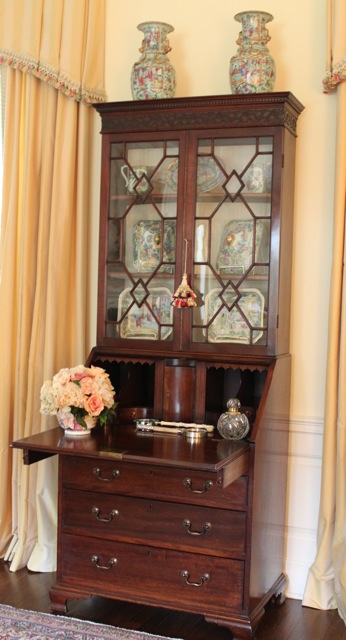 At the front of the room, an unusually small scaled Chippendale Lady's Secretary holds a collection of Rose Famille porcelain, whose coloration you can see continued in the trim of the curtains. The details of the antique ivory magnifying glasses and inkwell complete the picture.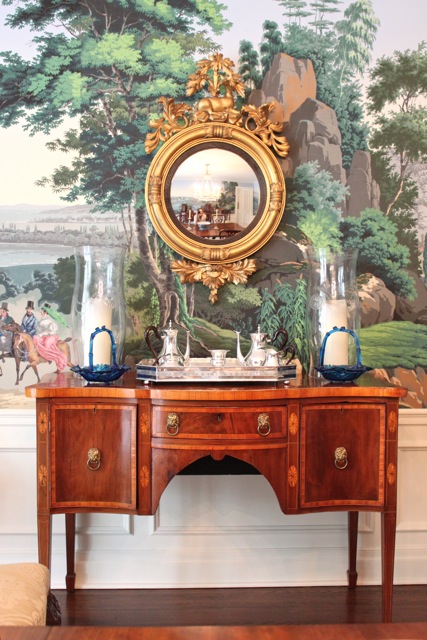 Zuber's Scenes of North America envelopes the dining room. On one wall sits an 18th century English serpentine sideboard. The Buccelatti sterling tea service, pressed glass twig baskets from Burke's Antiques in NYC and William Yeoward hurricanes are an elegant composition beneath the fabulous Hart mirror from 1850. I love how the baskets pick up a slightly offbeat color in the wallpaper.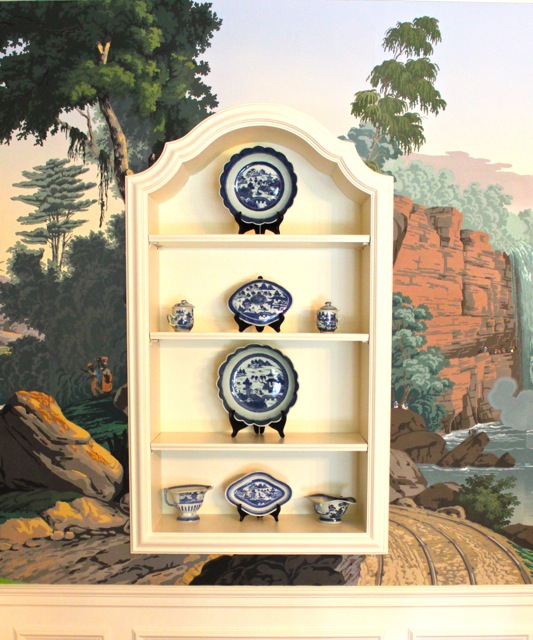 The couple have an extensive collection of Canton, some of which is displayed in the niches on the entry walls.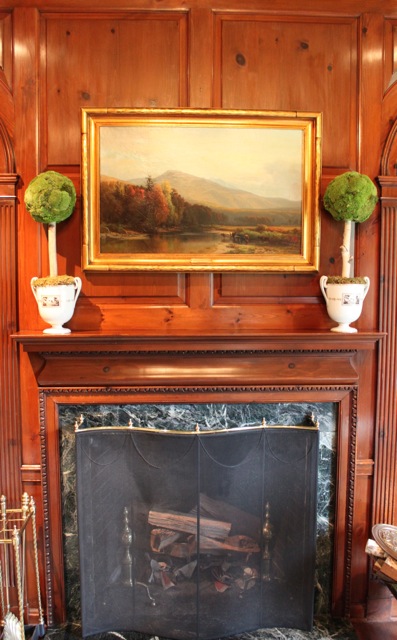 The library is one of my favorite rooms in the house. The antique pine panelling is original to the house and has a wonderful patina that would be very hard to replicate. Above the mantel is "Autumn White Mountain" by William Hart, a 19th century  Hudson River School painter, flanked by Richard Ginori cachepots.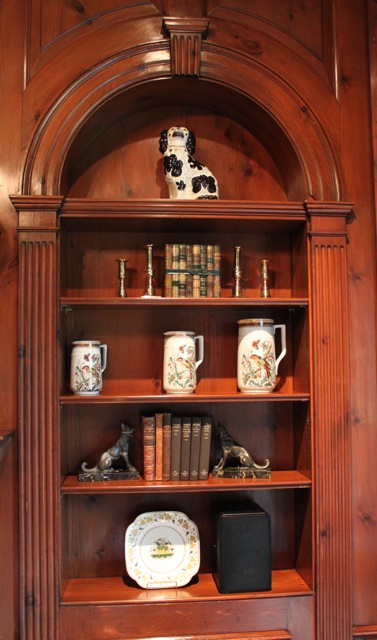 We repeatedly hear the mantra of collect what you love and it will all work together. The niches on either side of the fireplace are a perfect example of how an eclectic array of antique accessories, collected over time, can successfully work together. What might seem on paper to be a disparate collection, works beautifully visually and is a reflection of the tastes and interests of the owners. Below the Staffordshire spaniel sits a tin tea canister in the guise of faux books, an unusual set of Scottish graduated pitchers with an eglomise-like finish, cast bronze dog bookends sitting on marble and a single Quimper plate.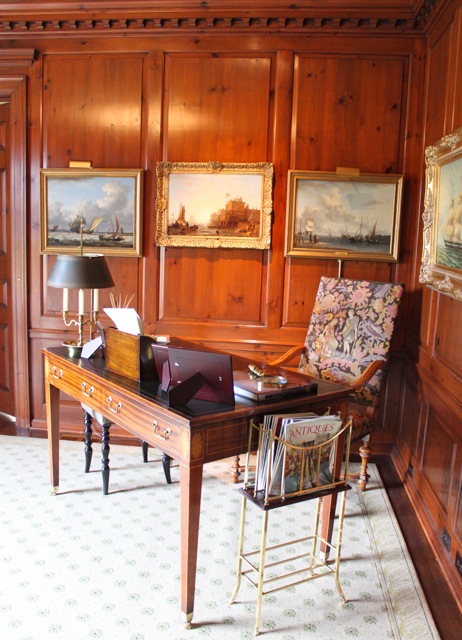 In another corner is the husband's desk. His love of maritime painting is reflected in the collection including signed 18th century works by Charles Martin Powell and John Wilson Carmichael as well as Antonio Jacobsen paintings from the mid 19th century.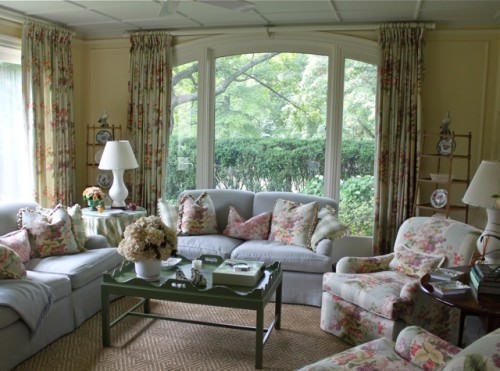 Off the living room is a sun drenched retreat referred to as the morning room. A haven of plush comfort, it is an ideal place to read and relax.
I just adore the custom John Rosselli tray table in a divine shade of green. An antique creamware cachepot holds a Barbra Scott hydrangea arrangement next to adorable Staffordshire rabbits from Cliff Leonard.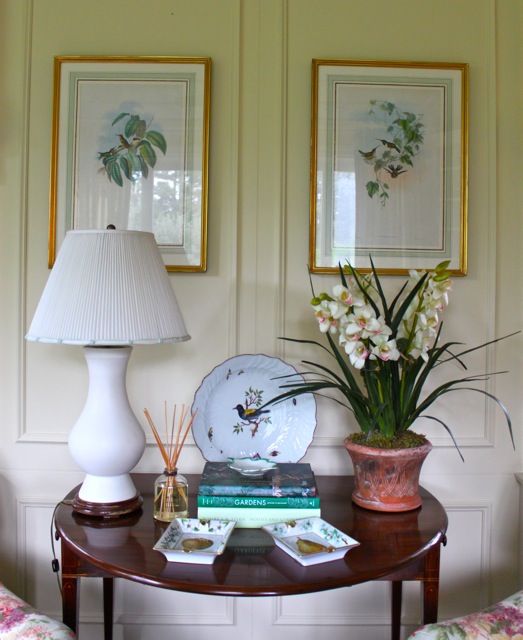 Between the chairs is another lovely vignette. Gould hummingbird prints hang above a John Boone lamp with french knotted Abat Jour shade. And another Barbra Scott plant shares space on the mid 19th century English Pembroke table with a 17th century porcelain plate and Hermes trinket trays.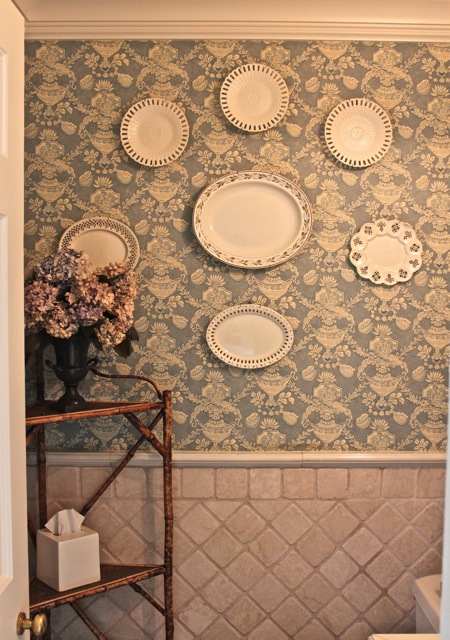 Even the powder rooms reflect the same attention to detail. Here Wedgewood creamware from 1820-1850 collected over the years is a lovely addition to the blue and cream palette.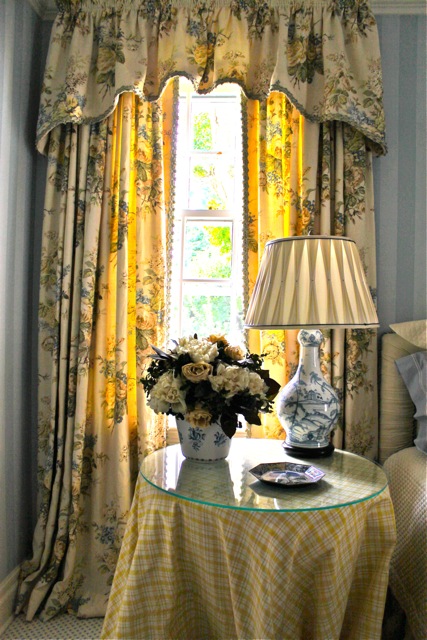 Many designers have been bemoaning how many favorite fabrics have been discontinued and this lovely Travers curtain fabric is a perfect example.  It's a bit hard to see, but they feature a beautiful Passementerie trim that is the perfect finishing touch. Another popular blogging topic has been the importance of the proper shade as evidenced here by this exquisite one again from the talented people at Abat Jour.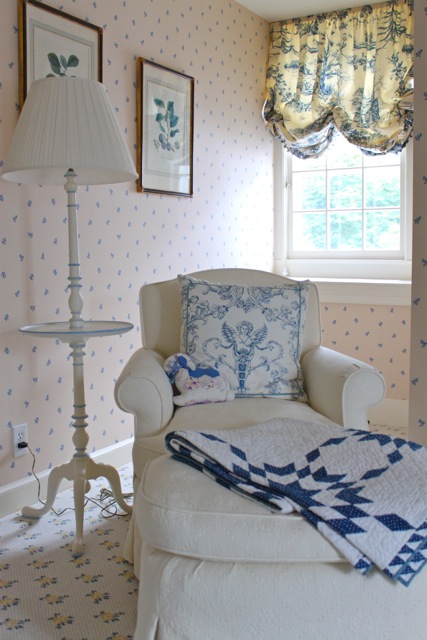 The inspiration for this charming bedroom came from the curtains' Brunschwig & Fils Four Seasons toile. A Cole & Sons wallpaper, American star 19th century quilt, document fabric pillow and 19th century prints of plums all coordinate to create this elegant yet relaxed vision in blue and white.
I asked the homeowner/designer a few thoughts about her process in this impressive project.
Q) What would you say was your goal in furnishing the house?
A) My goal when I took on the new house for us was to consider a couple of tenets I use for every job – to have proportion (of course it helps to have a lovely Georgian home with good bones), good colors, and balance. But there must be some contrast too, which creates a bit of tension and action allowing the eye to be engaged and moving around the room.
Q) What was your favorite find if you had one?
A) My favorite finds were the early 19th century Regency what-nots in the morning room with my favorite porcelains on display – they were originally from Stair & Co. but I bought them at auction and ended up outbidding a very serious collector. They make the room, in my opinion.
Q) Obviously all the rooms are beautiful but where do you like to spend the most time?
A) I would have to say the morning room – the palette is soft and very feminine. The Colefax and Fowler print covers the gamut of colors I love from the cool blues to the warmth of the pinks and I especially enjoy looking at the porcelain and creamware collections.
Q) Traditional style is making a comeback. Of course for many it has never been out. What does traditional mean to you?
A) Traditional means very classic with great balance, rich history, very proportionate and timeless.
What a gracious and elegant home – with carefully curated collections and thoughtful details – traditional at its best don't you think?