As many of us are celebrating the long weekend here in the States, perhaps some are still on vacation, enjoying the long light of summer somewhere exotic or enchanting. The Italian countryside has for many always held a special allure, with its rich history of art, food, design and seemingly envious lifestyle. A new volume debuting this week from Vendome Press captures the essence of Italy's most beautiful houses, showcasing an amazing collection documented by well known architectural photographer Massimo Listri and described by Nicoletta del Buono, Editor of AD Italia. From Siena to Sicily, At Home in Italy, takes us on a tour behind the scenes, illustrating how these various indigenous architectural styles have all been updated for contemporary living.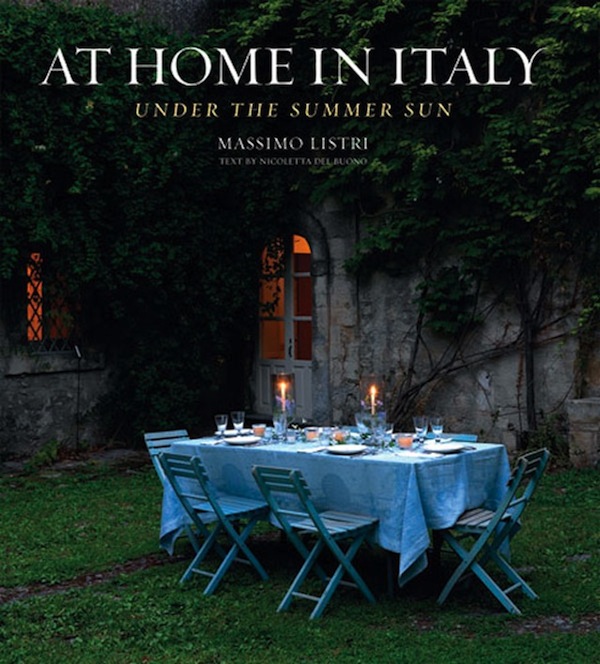 Cassa Franzin, a 15th century farmhouse, in Puglia was restored by the late Renzo Mongiardino and Roberto Peregalli, whose book I have featured. Inspired by classical forms and Greek sculpture, they created a home of understated elegance, with a respect for the past yet eminently comfortable for today.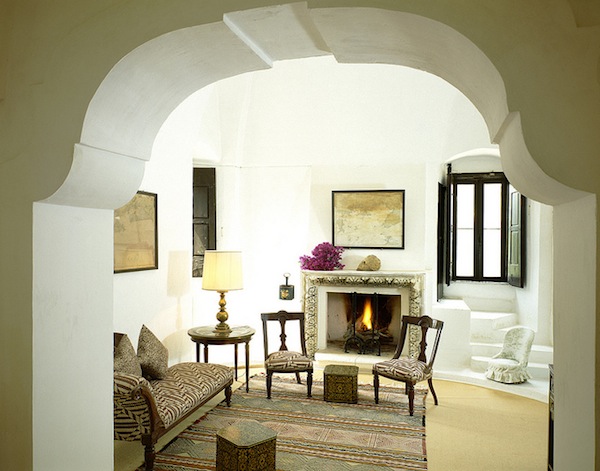 In Tuscany a farmhouse was sensitively restored by designer Andrea Gobbi and its owners. In the fabulous kitchen, the large century-old dressers came from a local school. Around the table are tavern chairs from the 19th century. I love how the addition of the large modern window brings the Tuscan landscape in.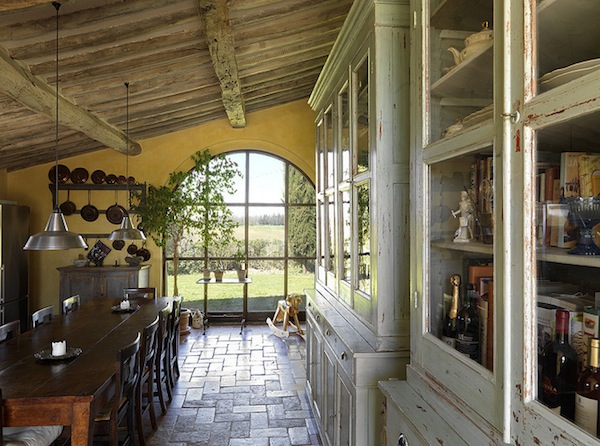 If you have ever visited Puglia, you will be familiar with its regional trulli, distinctive dry-stone huts with conical roofs. In Bari, architect Francesca Ciotti restored a complex of fouteen trulli, using local materials and building techniques. Typical in today's Italian design is a marvelous melding of old and new that can be seen here in the master bedroom, where the traditional stone structure is punctuated by the stark lines of black door and window. Furnishings include a modern Tizio lamp and Kartell plexiglass table at the foot of the bed.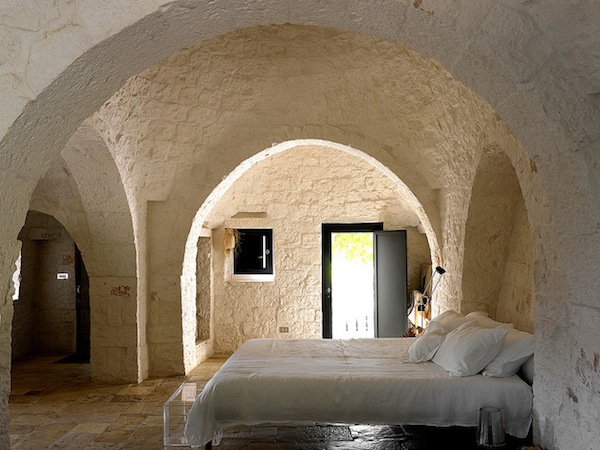 More of the mix in the kitchen, which features a cement floor with pebble like sofa and floor cushions from Smarin.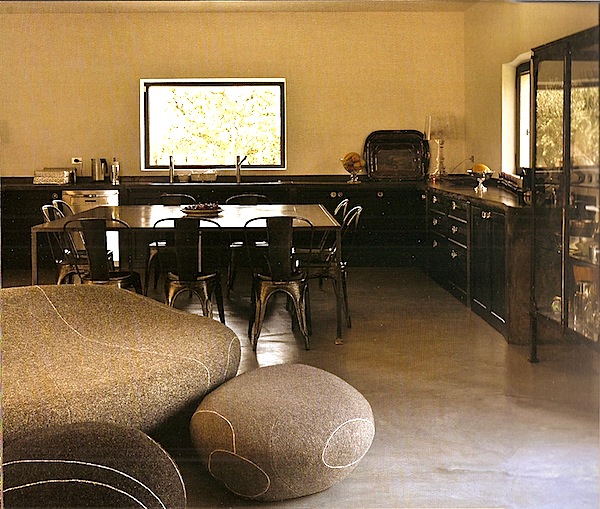 On the grounds of an 18th century villa in Lombardy, an old farmhouse has been sensitively restored by the owners of the chic Italian textile firm Dedar, with the goal of creating "an environment and a lifestyle that allowed them and their children to live in harmony with nature." The front of the house is almost engulfed by the fantastic wisteria and Virginia creeper.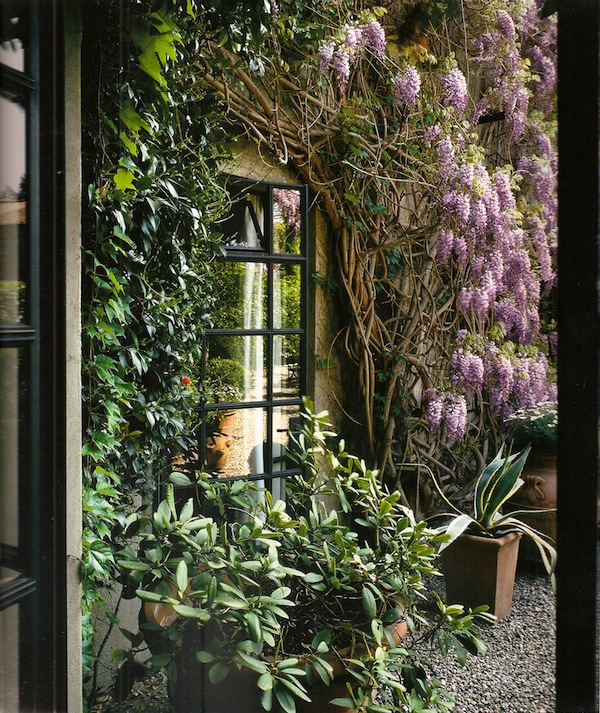 Can't you imagine a wonderful family dinner in this room, with the doors open to the garden beyond? A sophisticated eclectic mix includes Dedar's Ikat as curtains, a Somalian shield, 1930's Murano chandelier and Marcel Breuer chairs.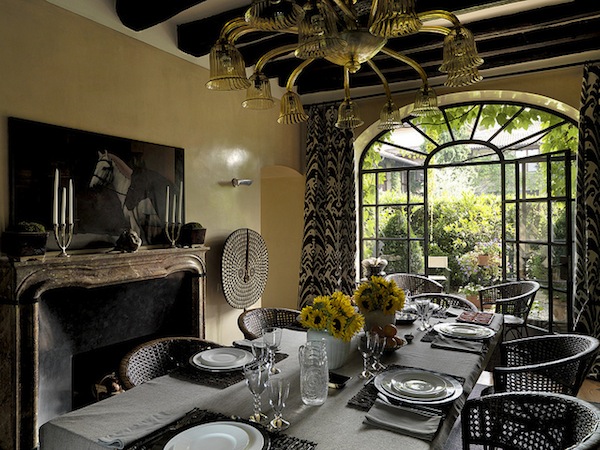 The best of both worlds exists side by side in the kitchen where a La Cornue sits under a beautiful collection of copper pots.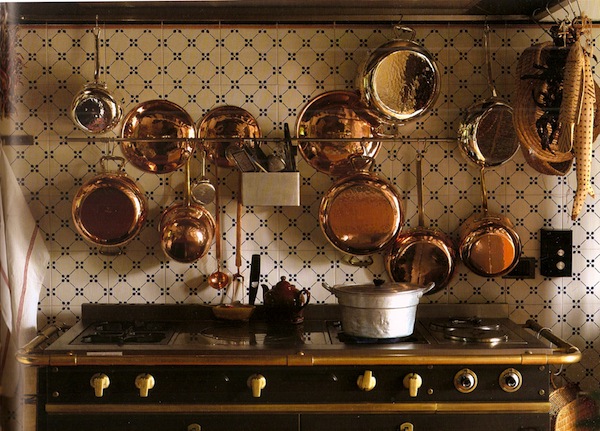 In the Salento region, designer Gaetano Castellini Curiel executed an incredible renovation of a masseria or farmstead. While keeping the original structure intact, the house has a refined timeless elegance. The airy drawing room includes an unusual wooden cabinet in the shape of a perfume bottle, chairs from Brown's Hotel in London and a collection of shells and smaller wooden perfume bottles.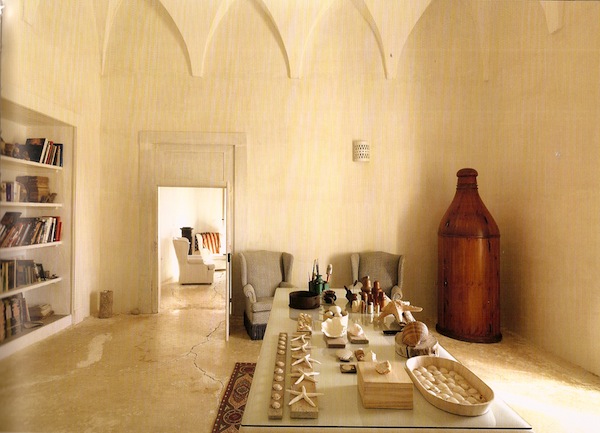 The original staircase, built with Carparo stone from Lecco feels ancient and yet modern in design.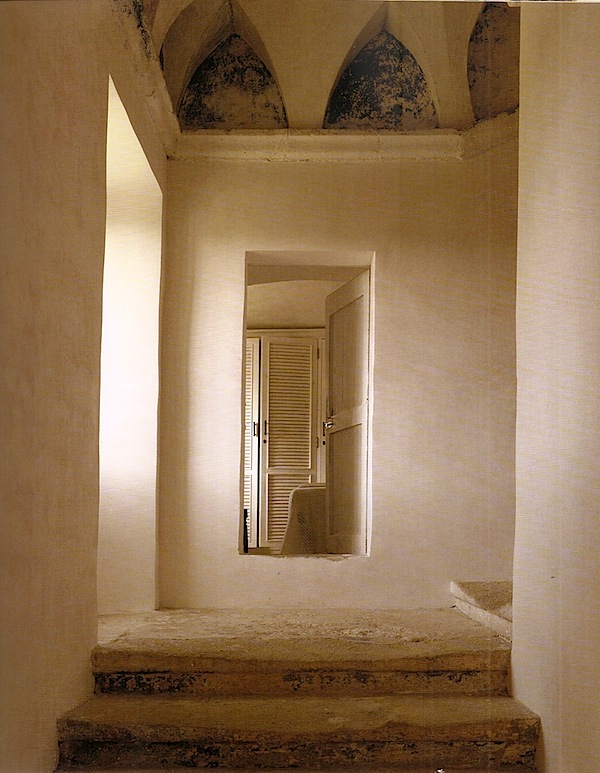 I think I could spend all summer in the covered courtyard with its old book covered sideboard and an iron sculpture from Mexico.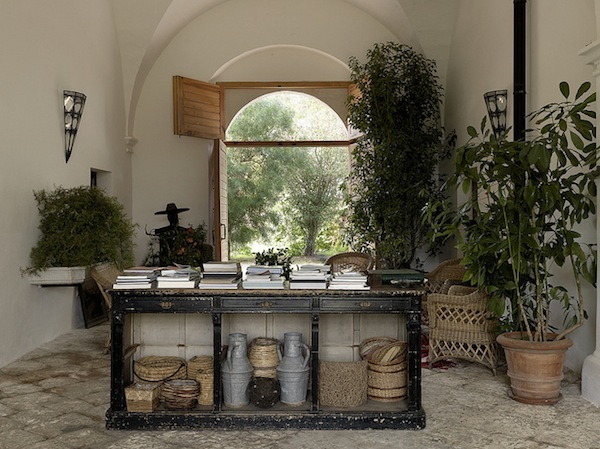 Each of these houses represents its particular region yet also illustrates the Italian expertise of marrying past and present. With over two hundred color photographs of thirty houses, there is a wide range of design and decor that spans a variety of design sensibilities. It will have you wishing for a summer under the Italian sun.