Four years ago when photographer Klaus Enrique Gerdes was working on a series depicting different parts of human anatomy, he was shooting an eye surrounded by thousands of dried leaves. As he observed the scene, he noticed one of the leaves looked like it could be a nose belonging to the eye. It sparked an idea of creating a face of dried leaves and, as he does with any new project, Gerdes began to research similar work done by other artists. He soon discovered Giuseppe Arcimboldo, the 16th century Italian painter best known for creating portraits of heads made entirely of fruits, vegetables, flowers etc. such as his famous Vertumnus below.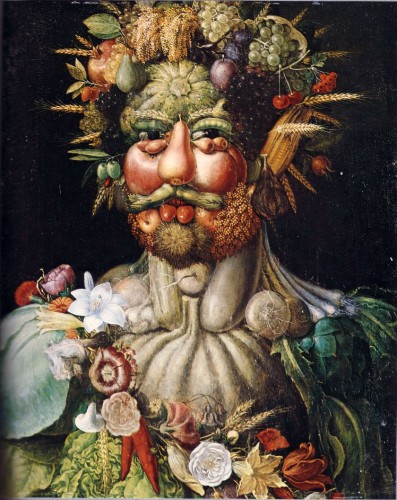 Initially disappointed that someone else had conceived of and executed the idea so magnificently, Gerdes continued to pursue the concept. He discovered that Arcimboldo was not the first to create composite heads nor the last, as he went on to influence 20th century Modernists and Surrealists such Pablo Picasso, George Grosz, Rene Magritte and especially Salvador Dalí.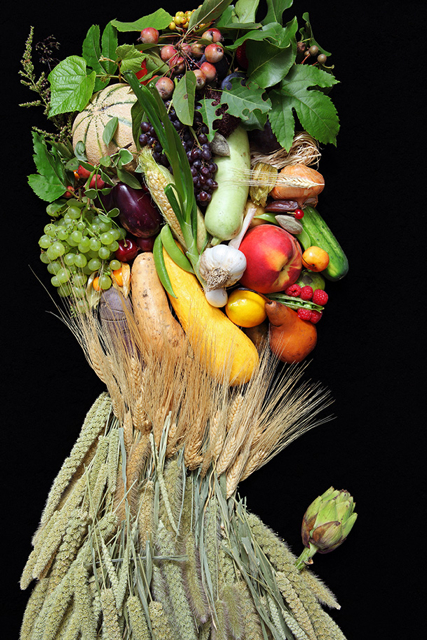 This history somehow gave Gerdes the freedom he needed to create his own series, inspired by his initial "aha" moment and which, in homage, he named "Arcimboldo".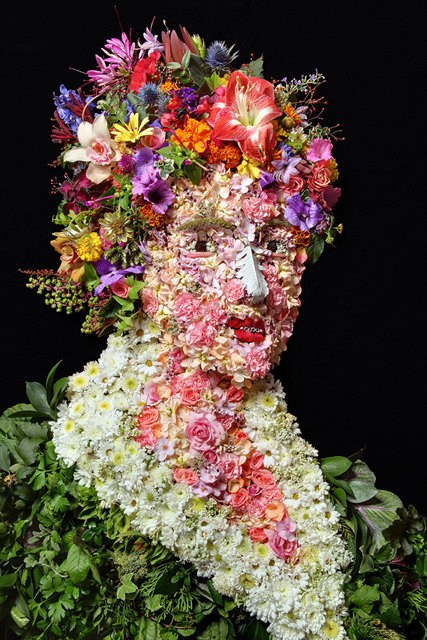 While Arcimboldo's painted works created a fantasy, Gerdes' photography creates a picture of reality, bringing the fantasy back to life. He explains,  "A pear, an apple and a berry come together in synergy creating a portrait in my mind. Magritte famously said 'Ceci n'est pas une pipe', equally I could say 'This is not a face', yet our powers of abstraction, a power that is uniquely human, allow us to see that face."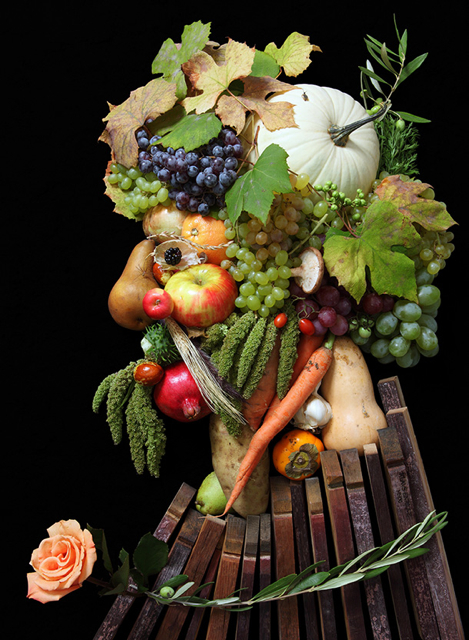 Gerdes comes to his work with a unique perspective. With a honors degree in genetics from University of Nottingham and an MBA from Columbia, he clearly has an analytical mind and one which sees unusual connections, not to mention an incredible visual acuity. The amazingly detailed planning and beautiful artistic interpretations result in this remarkable series.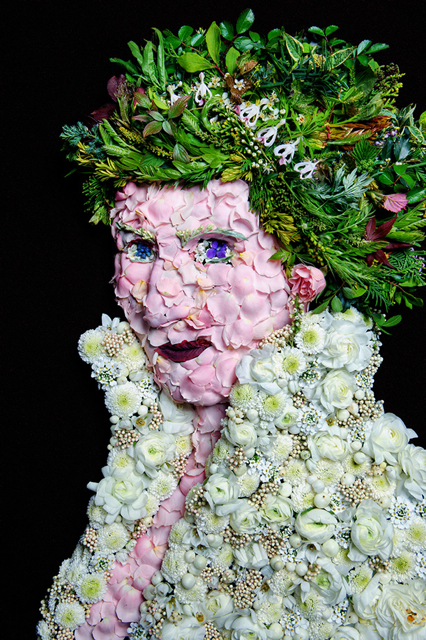 He has since also studied photography at Parsons and the School of Visual Arts.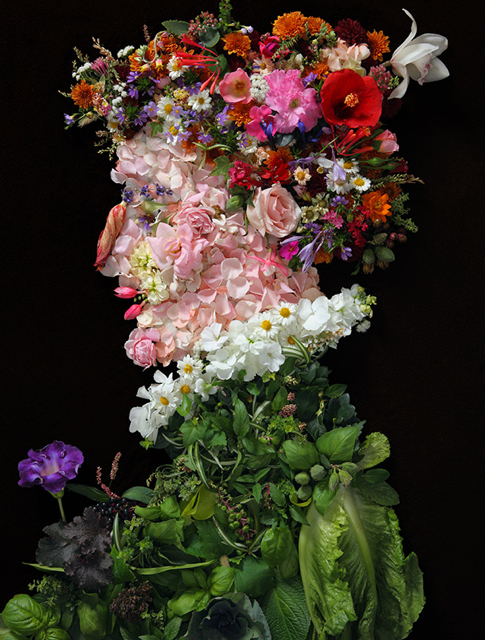 Gerdes recently showed at the Verge Art Fair during Art Basel Miami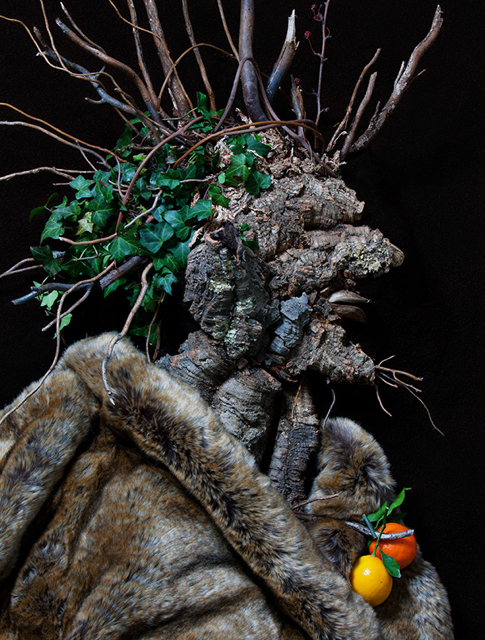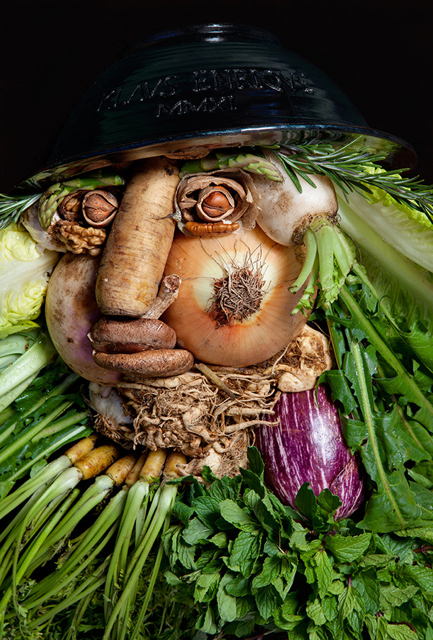 And will be showing at the prestigious Aipad photography show at the Armory in NYC at the end of March 2012. I know I will be looking forward to seeing these stunning photographs in person then.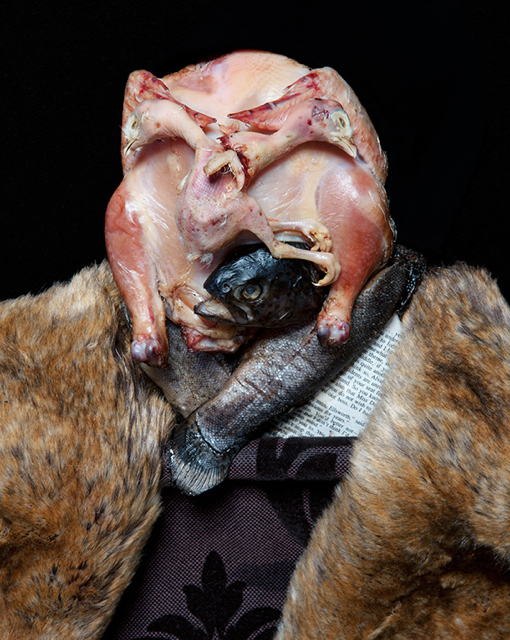 "I can imagine one day in the future, distant or not, when an artist will use genetic engineering to create a living plant that looks exactly like Arcimboldo's Vertumnus. It will be an arresting sight. Would that be the perfect Arcimboldo? Perfection does not exist. There is always room for improvement."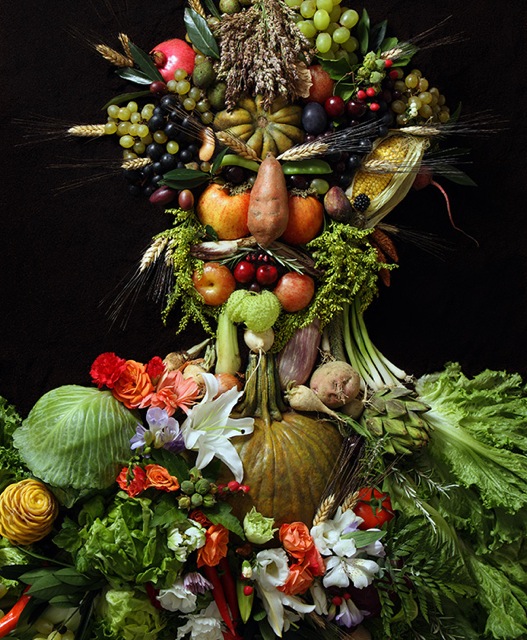 Gerdes may think so but I can't imagine much improvement in these incredibly creative and intricately constructed pieces of art!!