I am thrilled to start off my holiday movie reviews with this classic Katharine Hepburn and Spencer Tracy romp. It is one of those movies I just never tire of!! In fact, it may very well be my favorite of the nine movies they made together! The intelligent witty banter, the subtle romance and the sophisticated humor are elements that are often so hard to find in contemporary films.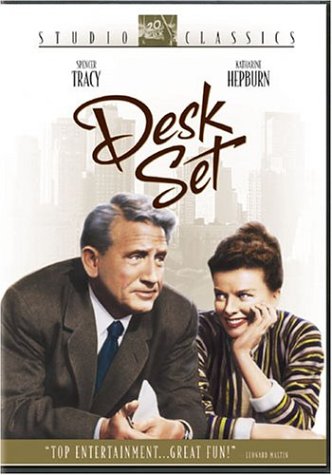 Let me set the stage for you. Bunny Watson (Katharine Hepburn) is the head of the research department at a fictional TV network FBC  (that just happens to be located at 30 Rockefeller Plaza much like another similarly anagrammed company). Working under her are the somewhat bawdy and bodacious life of the party, Joan Blondell, as well as the lovely Dina Merrill and Sue Randall serving as the office eye candy. Hepburn runs a tight and efficient operation with a warm and appreciate human hand. They receive hundreds of questions every day ranging from what are the names of Santa's reindeer (it's the season) to the more esoteric variety such as what kind of car does the King of the Watusis drive.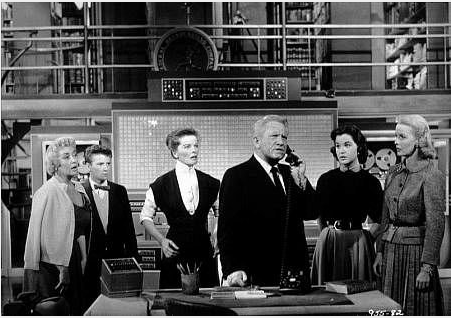 Enter Richard Sumner (Spencer Tracy), an efficiency expert brought in to observe the department. His secret mission is to really automate them with his "electronic brain" EMERAC (Electromagnetic MEmory and Research Arithmetical Calculator) – picture a gigantic room-filling mainframe computer.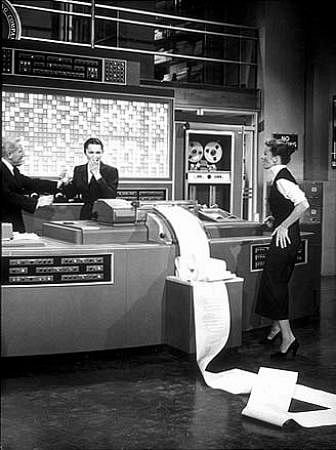 Hepburn is romantically involved with her boss, the self-absorbed Mike Cutler (Gig Young), a rising star at the network. In contrast to her incredible proficiency at work, her love life is less successful as Cutler has been successfully stringing her along for years without any commitment! But now with Tracy in the picture, her patience starts to wane.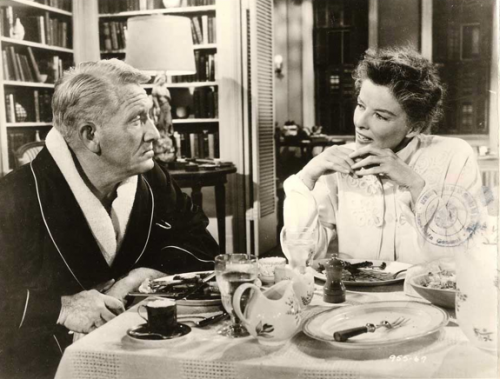 What really makes this movie such a delight is the incredible repartee and chemistry between the two stars. Written by Phoebe and Henry Ephron (parents of Nora and Delia), the delectable dialogue is charming, smart and funny. Pay attention during the now famous roof scene where Hepburn first enchants Tracy with her impressive intellect – it's a captivating classic at warp speed wit. And the apartment scene above is another winning moment.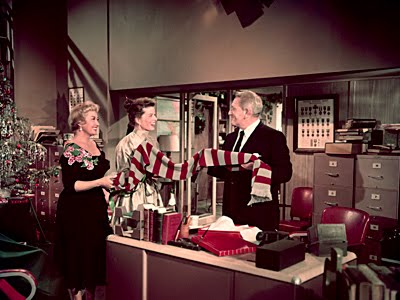 Although anachronistic with its non-feminist workplace attitudes and chauvinistic dating dilemmas, this 1957 film is a totally engaging romantic comedy that is perfectly poised for holiday entertaining. I envy those who will be watching for the first time – enjoy!!