A group of us were invited by the lovely Marsha at Splenderosa to an imaginary holiday party. It is a dressy, formal affair at another blogger's brand new house with "live music, carolers, a lavish buffet, champagne passed around by waiters in tuxedos" etc. Our directive was to choose a full ensemble for the occasion. As I perused my many virtual choices, the idea of a house party inspired me to choose an elegant gown with a timeless appeal – we are in someone's home after all. I wanted to feel feminine and dressed with an understated attitude of subtle sexy allure.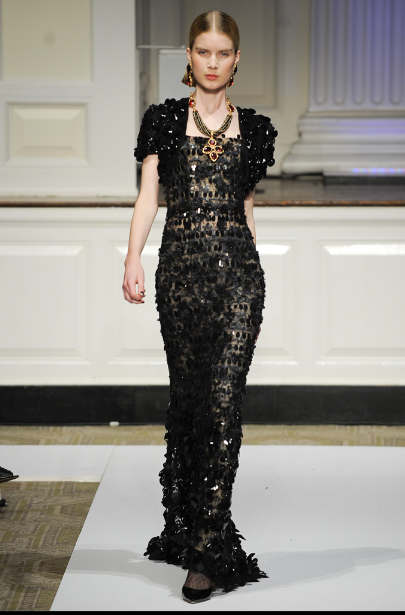 Not only is this Oscar de la Renta gown stunning but the expression on the model captures the mood and tells the story – that she owns her femininity, exuding a confident glow, so that the dress becomes a secondary reflection of her inner strength and beauty. I adore that it is clear she is wearing the gown and not the reverse.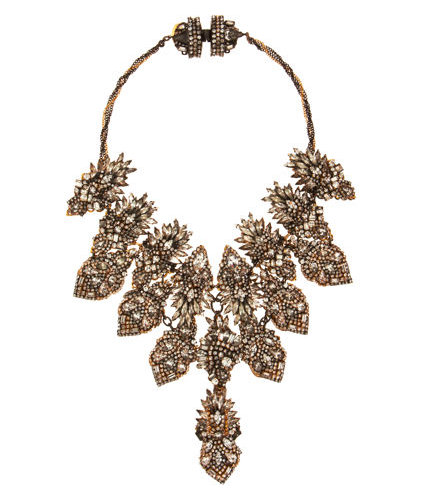 While I do love the Oscar necklace paired with the dress, I think I would switch it out for this tonal yet dramatic Erickson Beamon Bette David Eyes Crystal Bib Necklace. Its neutral coloration echoes the beautiful chiffon underlay of the dress while adding a little edgy bling.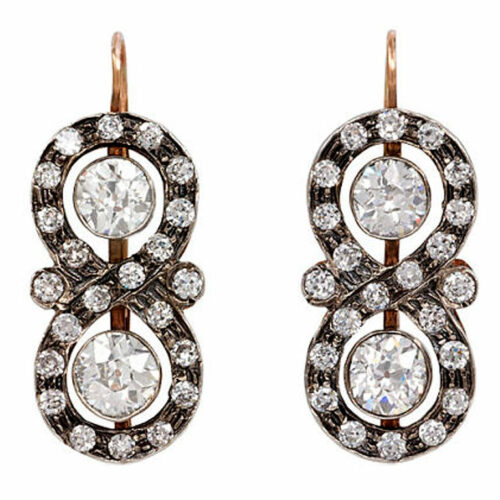 Such a dramatic necklace calls for earrings that won't detract. These antique french diamond earrings circa 1890 from Kentshire will do the trick nicely. The combination of diamonds, oxidation and rose gold match the tonalities of both necklace and dress.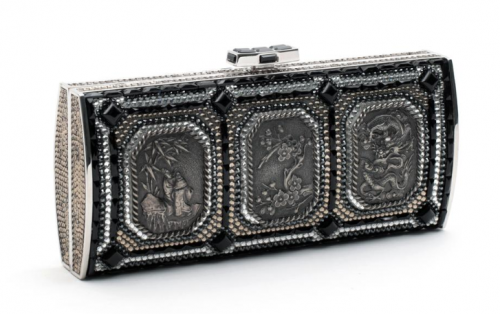 I was attracted to the artisanal quality of the Judith Leiber Three Treasure Evening bag. The texture and interesting visuals seem to whisper a quiet story without shouting.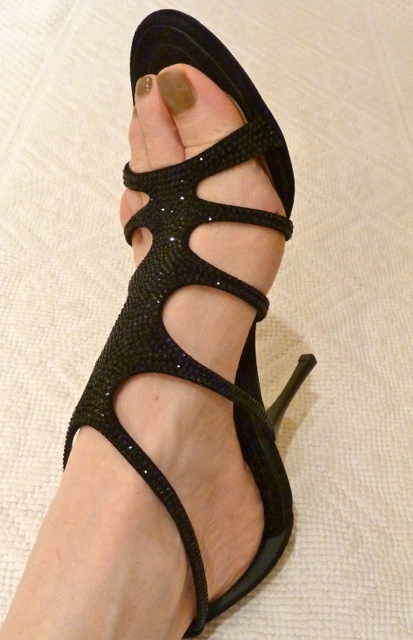 My shoes will be my own – my husband bought me these glamorous Swarovski encrusted Zanotti sandals for my birthday. While they may be perfect, I think I'll need a pedicure to do them justice!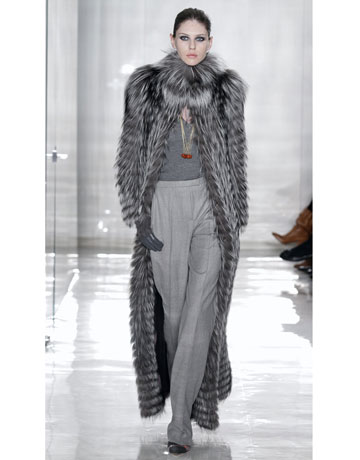 And if the evening is chilly, I'll take this Chado Ralph Rucci fur coat please!!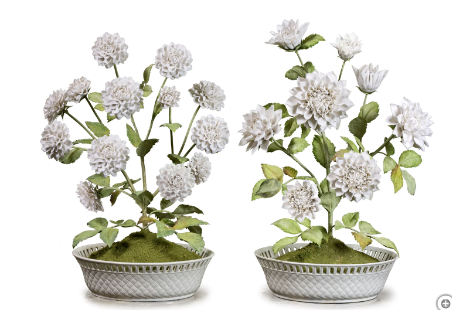 Lastly, a gift for the hostess. What could be lovelier than flowers year round so I will be bringing Tina this lovely porcelain creation from Ukranian born artist Vladimir Kanevsky. A bloom that never fades is always welcome – all that's missing is the scent!
So it's off to the party – I'm sure it will be an evening to remember!! You can stop by Marsha's to see the others who are attending and their attire!