Just like Thomas Jayne's thoughtful designs, his American Decoration is a book for those, like me and I daresay many of you readers, who like a little substance with their style. Jayne's sophisticated yet livable interiors are based on years of personal experience, coming from a family with a wide ranging legacy of houses, his extensive academic training and his professional experience, having started his career under the tutelage of Albert Hadley.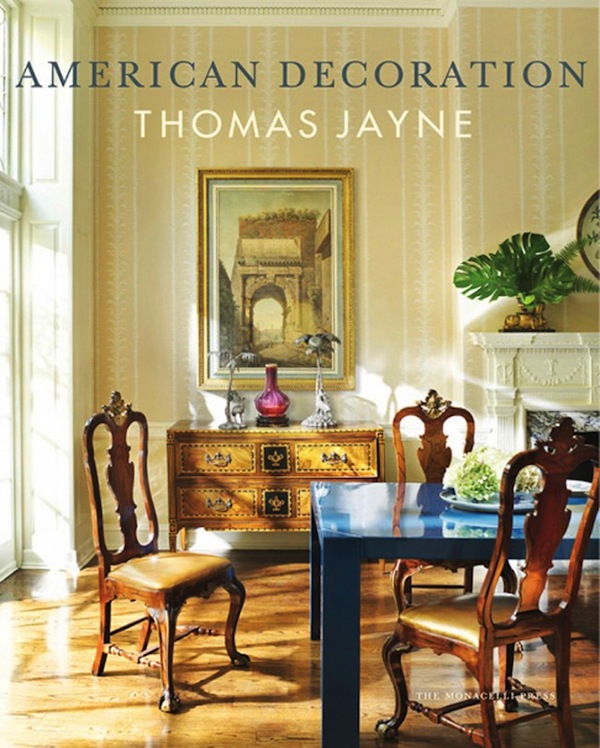 In describing his process, Jayne cites the distinctive and eclectic American style of Parish Hadley and his graduate fellowship at Winterthur with Henry Francis du Pont, as primary influences. With thorough research, he uses the past as a reference point to create new designs that express a fresh sense of place and personality for his clients. Or as Jayne explains, "the ideal American room refers to its location, the region's vernacular architecture, comfort, and personal associations."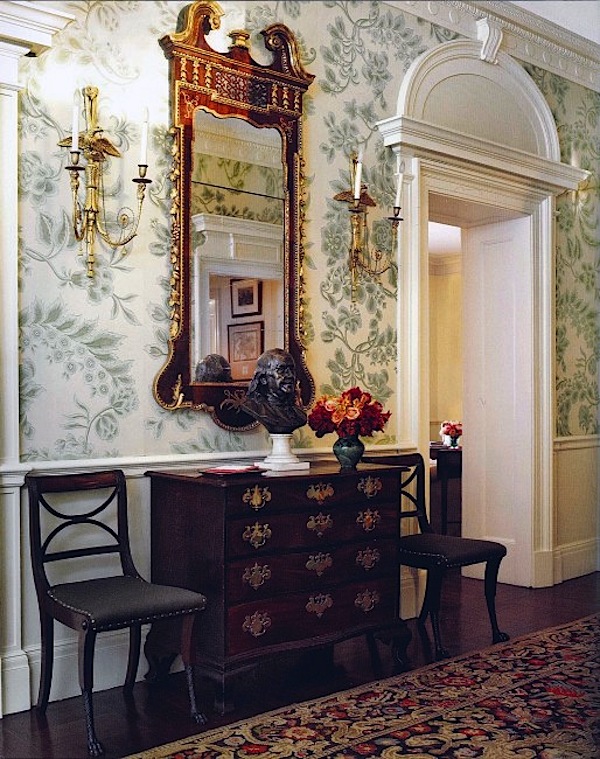 Jayne promotes quality as an essential aspect of timeless design, often incorporating bespoke furnishings, handmade by a variety of craftsmen to further distinguish his spaces. The hall of a New York City apartment, above, features painted panels in damask patterns on the walls, supporting the formal architecture and serving as an elegant backdrop for the fine collection of early American furniture.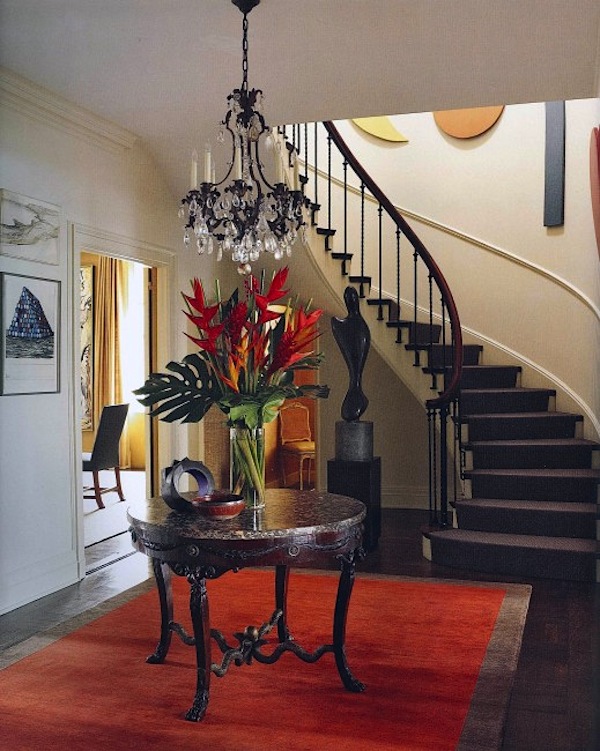 And this apartment above involved editing a large art collection and updating the interiors to serve as an understated foil for the collection. It is this expert melding of old and new that distinguishes Thomas Jayne's work.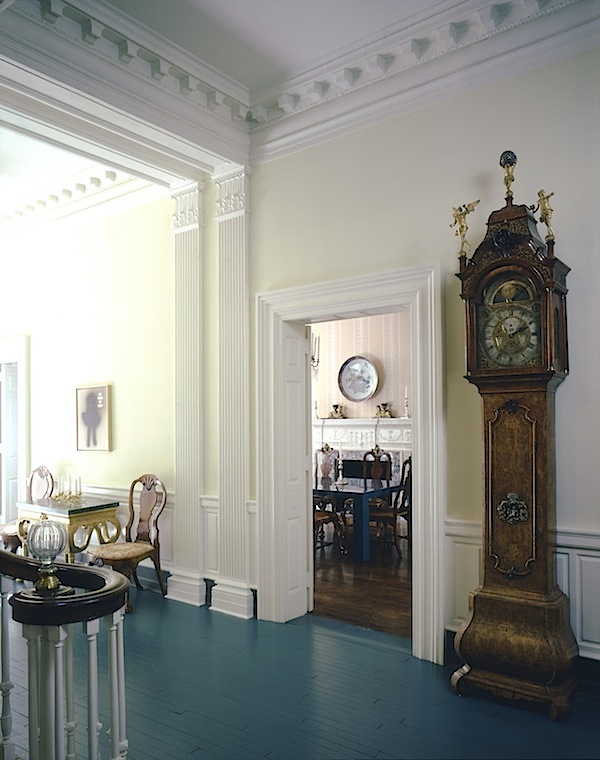 One of Jayne's more well-known projects illustrates so well his balanced interiors. In this Philadelphia townhouse, an eclectic mix of old and new was arranged with an eye for "shape, color and patina." The dining room of the house, featured on the cover of the book, successfully pairs traditional Portuguese chairs with a contemporary blue-lacquered Parsons table.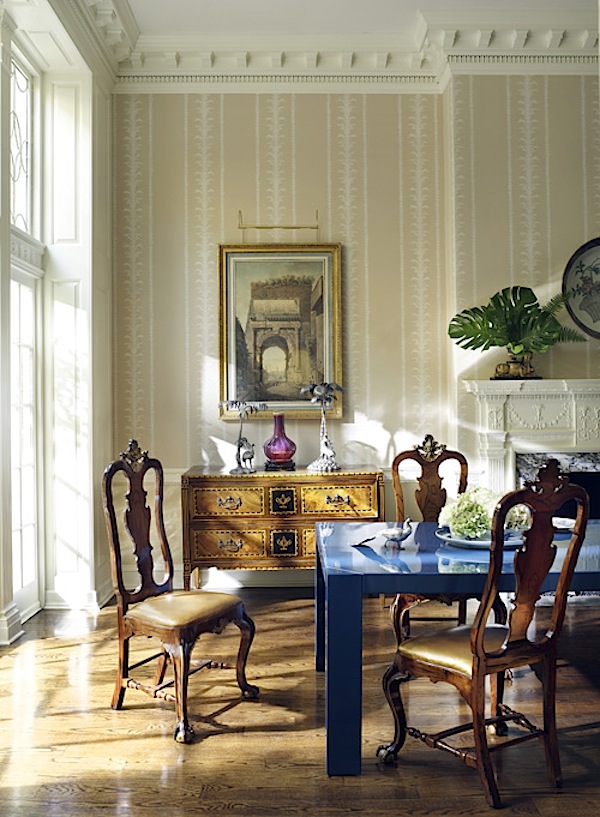 One of my favorite features in the book is White Hall Plantation in Green Pond, South Carolina. Rather than tear down what was a relatively modest house, Jayne improved the residence with a "restrained" decorative scheme typical of Low Country plantations, that produced handsome interiors worthy of the location. Improving the central hall proved pivotal in connecting the classic approach of an allée of oaks to an entry commensurate with the stately facade (a columned classic). The wallpaper was painted specifically for the space including local plants.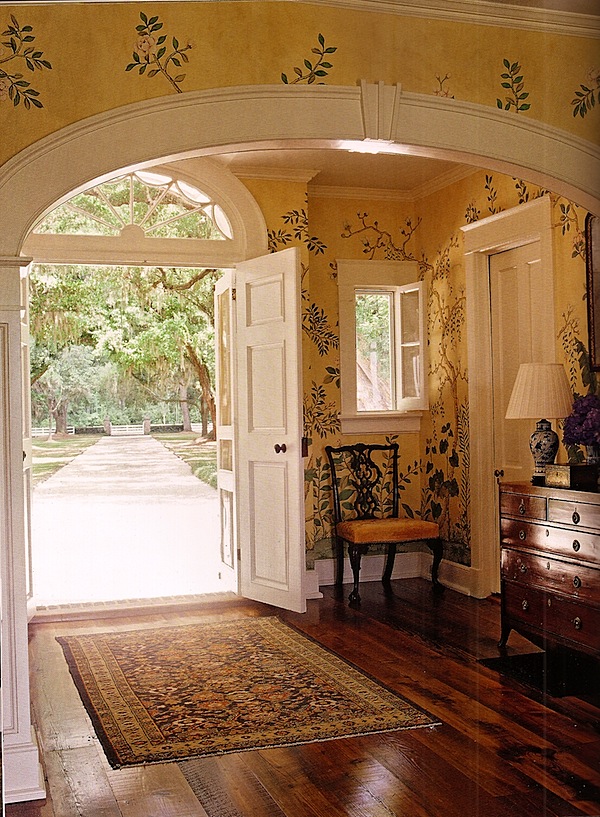 The sitting room is oozing with southern comfort. This type of polished yet appropriate and liveable space is typical of Jayne's sensitive touch.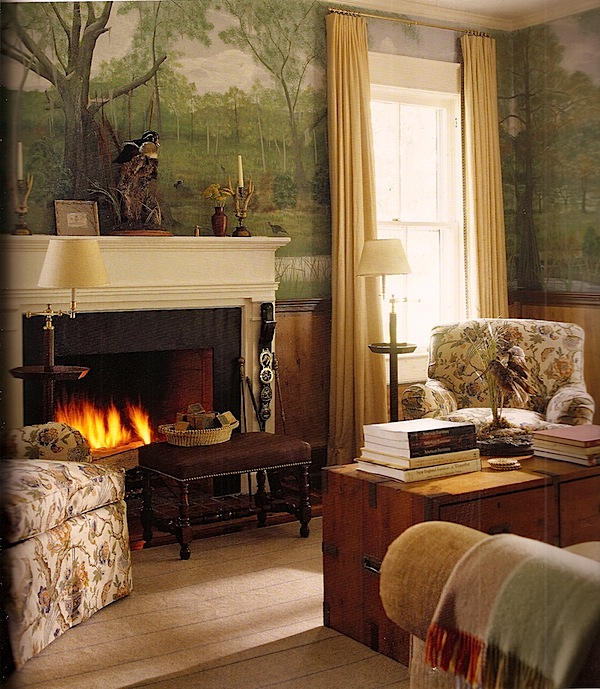 The dining room really hits the spot. Understated elegance and genteel charm for modern living give you an immediate sense of the family who lives here.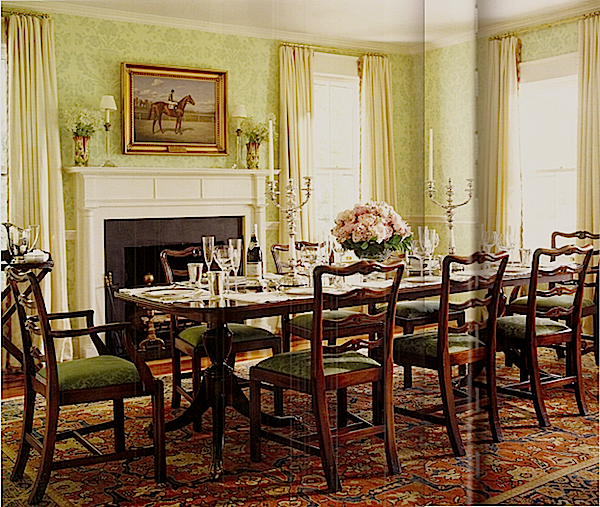 Color plays an important role in all of Thomas Jayne's work. He knows how to dial it down for effect as he did above but is also acutely aware when it's possible to indulge as he did in his own New Orleans apartment.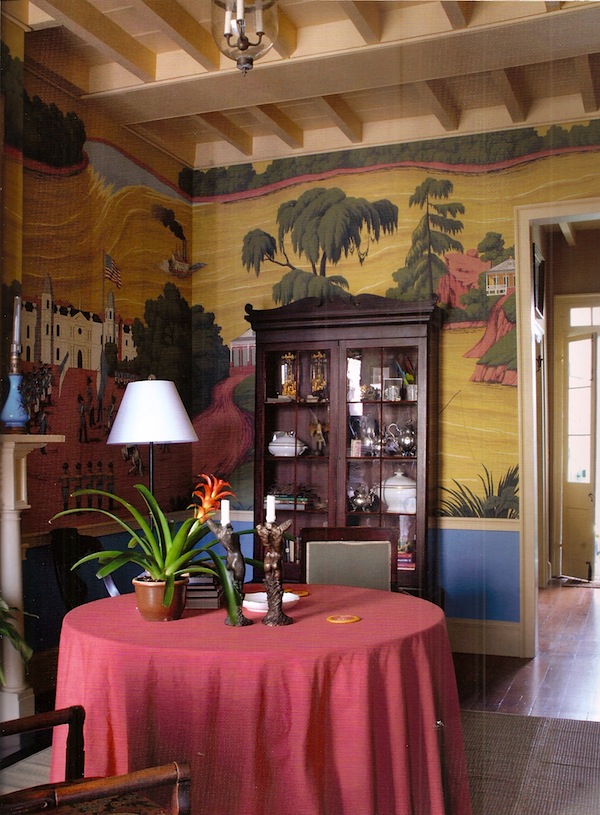 This inspirational and informative volume will have you looking at spaces with a new and informed eye. From Nantucket to New Orleans, Thomas Jayne walks you through each project, revealing his inspiration and approach, with "the eye of a designer and the philosophical approach of a historian."