After enjoying our hotel's bountiful buffet breakfast on our one full day in Santa Margherita, we approached the always helpful concierge to inquire about an outing to Portofino. He suggested that, if we were up to it, the 5 kilometer walk from Santa Margherita to Portofino was a worthwhile venture and proceeded to highlight the path on a map with suggested stops both on the way and in Portofino.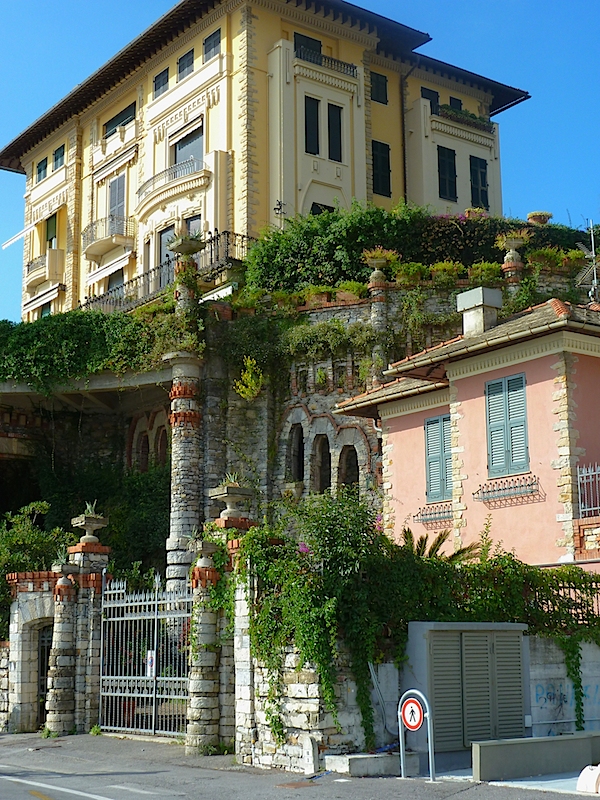 The footpath is essentially a sidewalk on the water side of the very narrow winding road. Each turn reveals a new vista, whether villas, small beach clubs, restaurant or open water. Rounding one bend, we immediately sensed we were approaching something very special.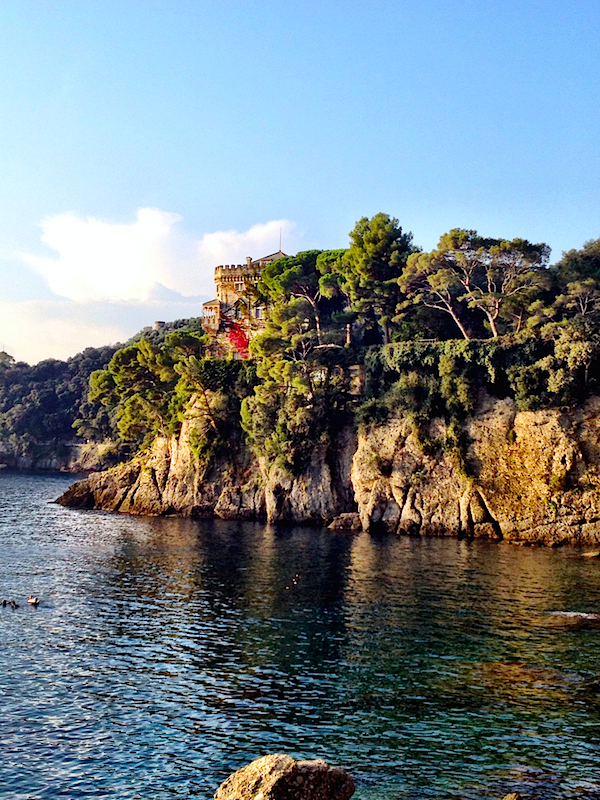 Closer inspection led us to an entry gate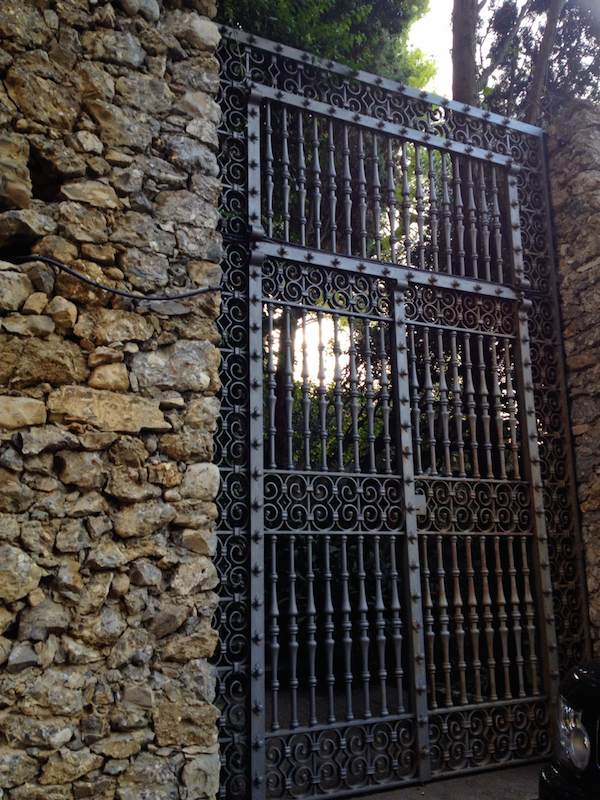 behind which steps climbed up to a villa perfectly situated high on top of a promontory with magnificent views.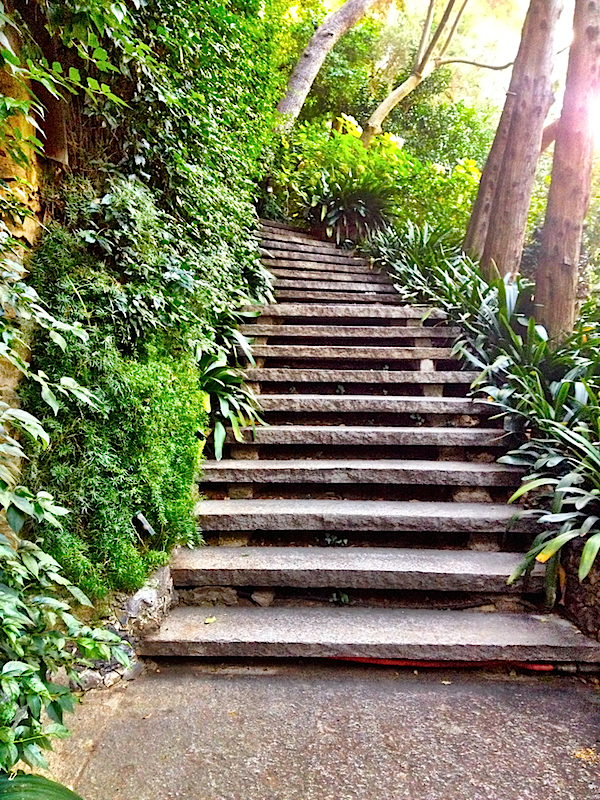 It wasn't until we were across the way that we could fully appreciate its splendor, overlooking the bay surrounded by cypress, pine and olive trees. I later learned that for years former prime minister Silvio Berlusconi had rented Villa Olivetta until the owners ultimately sold it to Domenico Dolce and Stefano Gabbana. Lucky boys!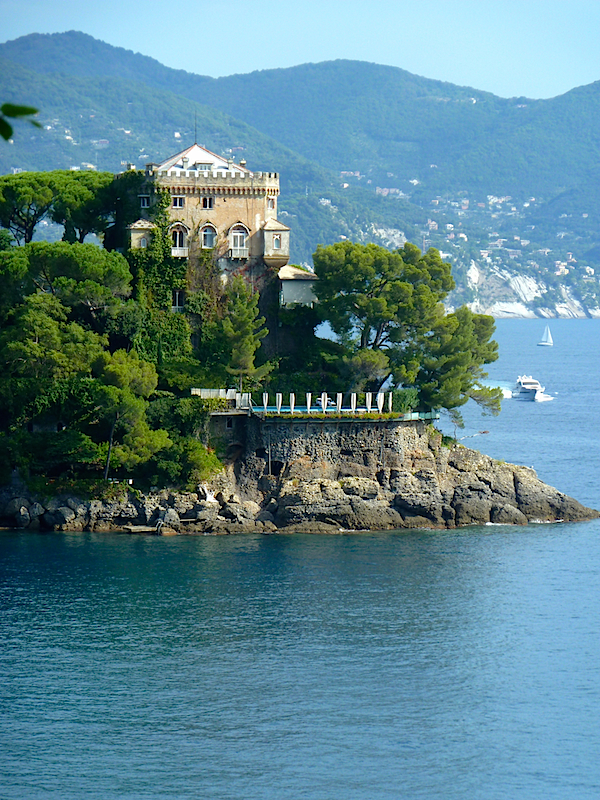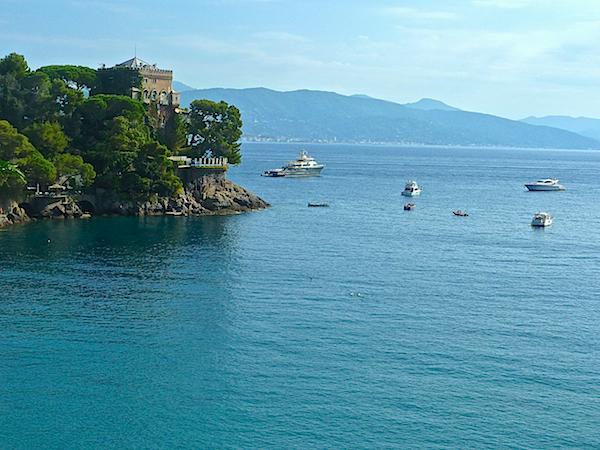 The road with sidewalk ends at the beautiful and tiny hamlet of Paraggi. Rather than competing with traffic on the drive, we chose to continue on the pedestrian promenade accessed by stone steps into the hills. While offering welcome shade, the area is also a haven for lush and surprisingly fragrant vegetation and the melodious chirping of birds. The entire district is protected as part of the Portofino Regional Nature Park, a region (both land and sea) not only beautiful but rich in biodiversity. As we neared Portofino, more villas come into view.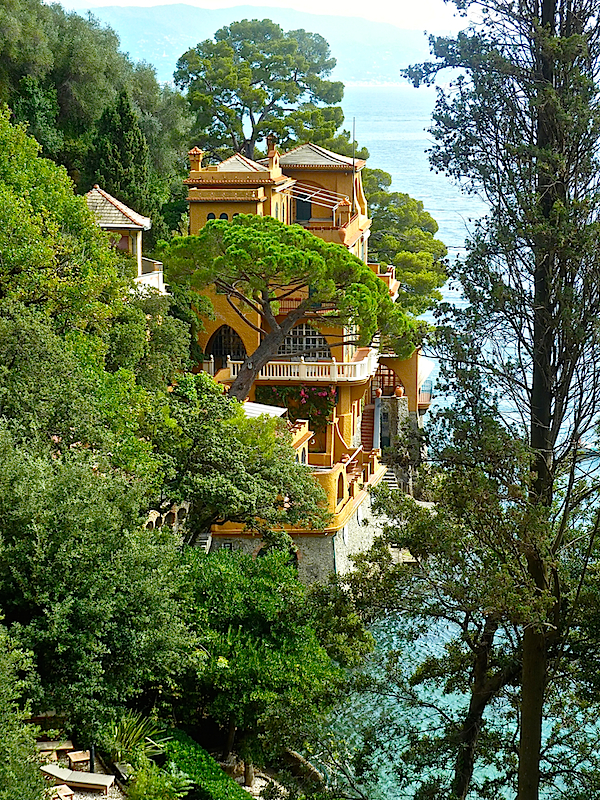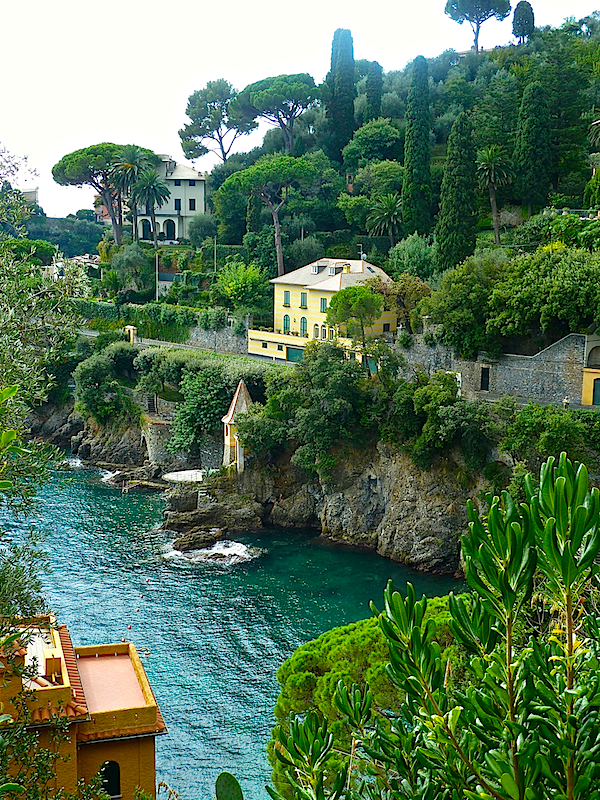 Looking back revealed even more spectacular views.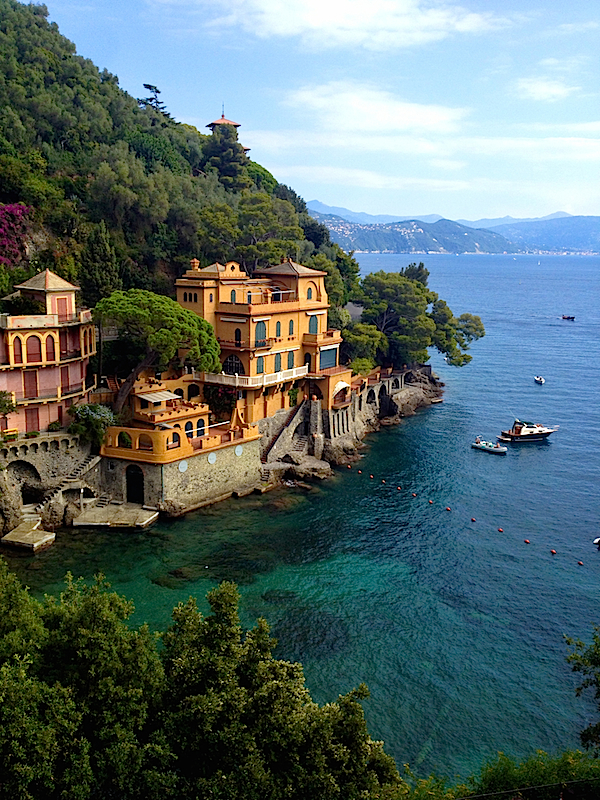 And closer to town, our path became less rustic but no less enchanting,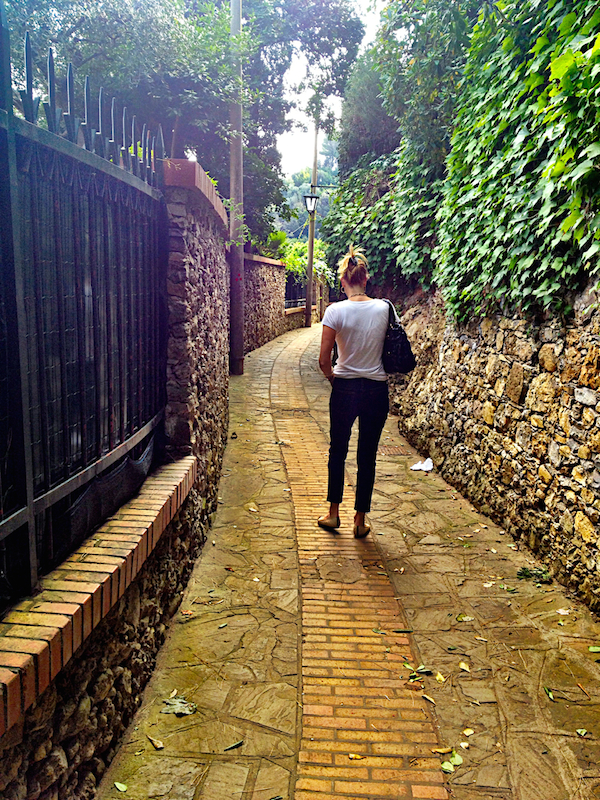 passing beautiful homes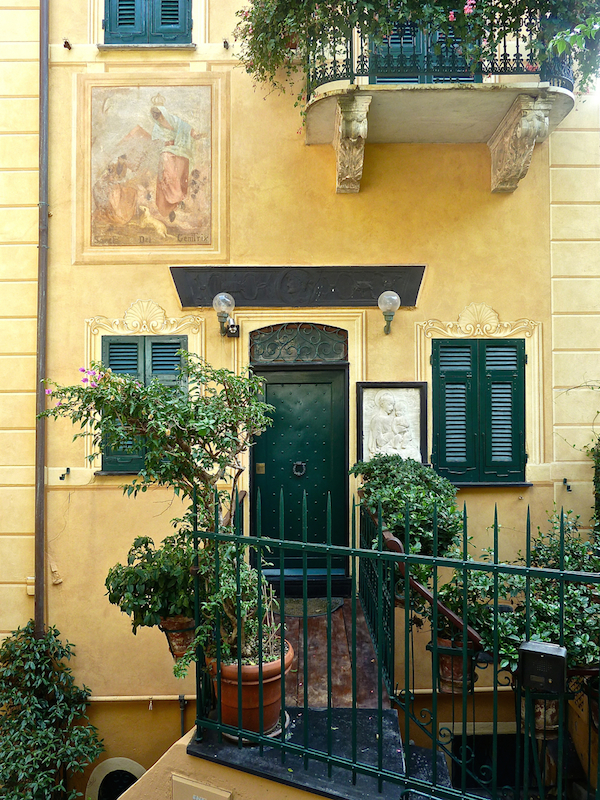 that suddenly led down to the center of town.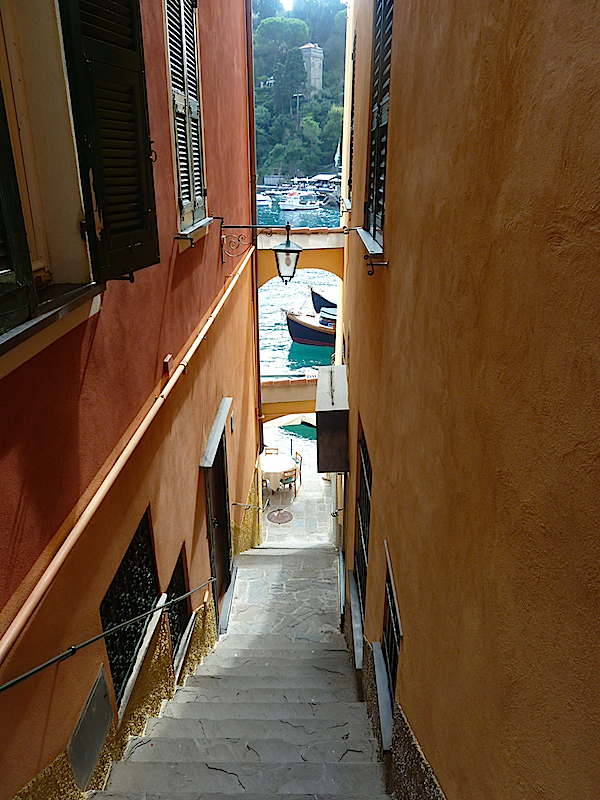 Even in October, this small jewel of a port was hopping.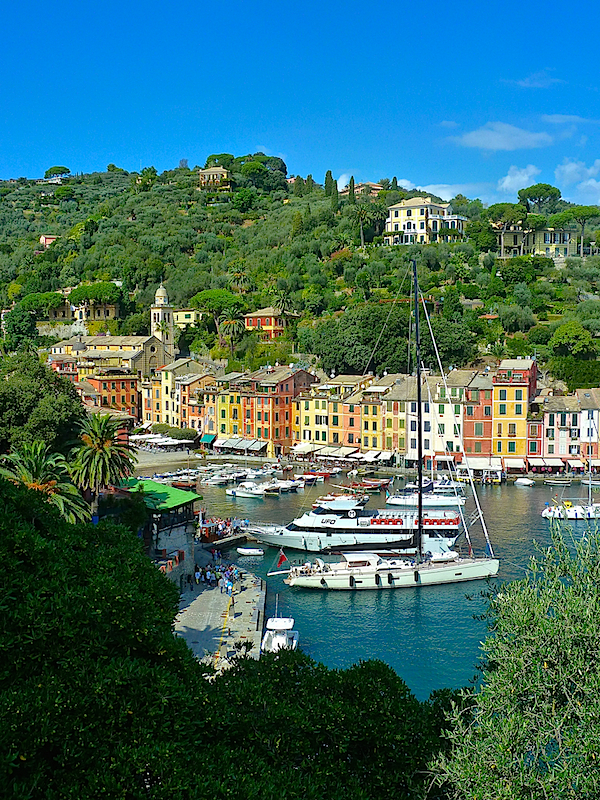 It's hard to beat the view of painted edifices overlooking the scenic bay.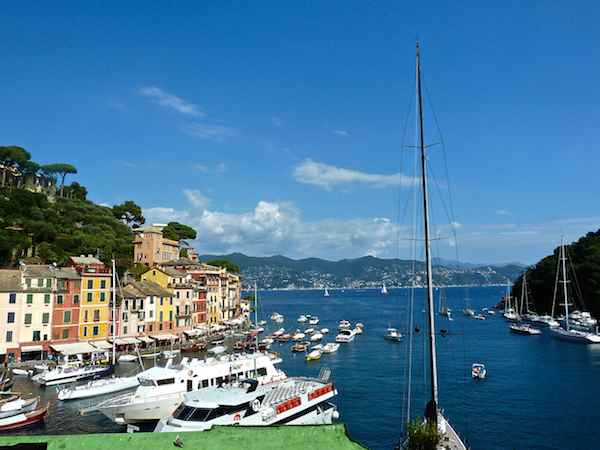 With a local recommendation, we had a delicious lunch at Taverna del Marinaio. My seafood salad was exceptionally fresh and light and the mozzarella in Susanna's Caprese salad was like whipped clouds of milky nectar.
Our concierge had suggested a hike up to the Church of San Giorgio, Castello Brown, below, and on to the lighthouse at the tip of the peninsula.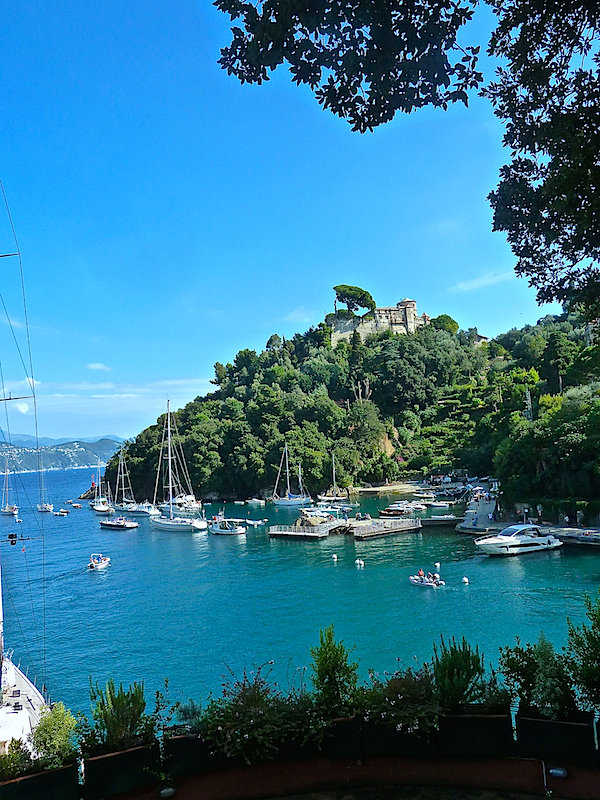 As time was running short, we decided to visit just the church, a lovely small 12th century structure that has been destroyed and rebuilt several times over the centuries. It contains relics of San Giorgio brought back from the crusades by sailors and houses an unusual small cemetery, below.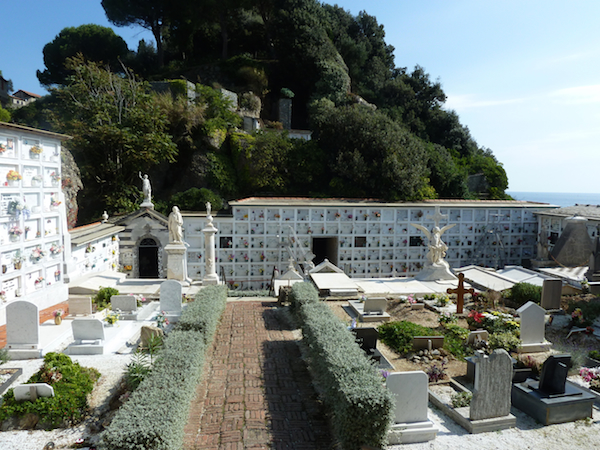 With enough walking for the day, we returned to Santa Margherita by the short but picturesque ten minute ferry ride.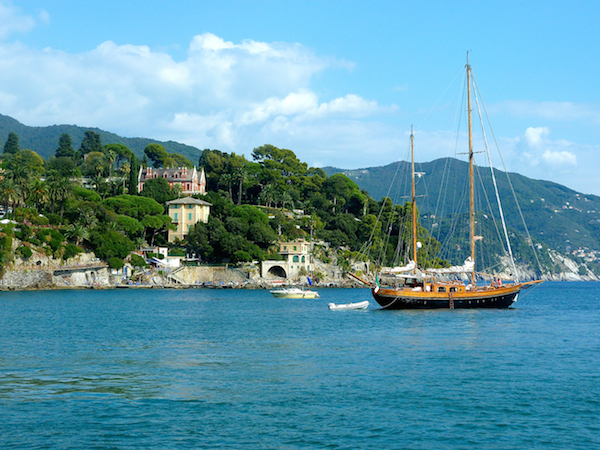 The legendary Hotel Splendido had long been on my bucket list. So for our final evening, Susanna bravely navigated the hairpin curves for the short drive back to Portofino. Originally a monastery, the hotel is majestically situated high on a hill overlooking the harbor. After frequent pirate attacks in the 1500's, it was abandoned by the monks and not revived until the 19th century, when Baron Baratta converted it to a family summer home. It became a hotel in 1901, now owned by Orient-Express Hotels (Belmond) since 1985, serving as a haven for famous and noble guests for over a century. Whether you stay or just visit for a drink or meal, it is worth the trip – a perfectly splendid way indeed to end a very special day.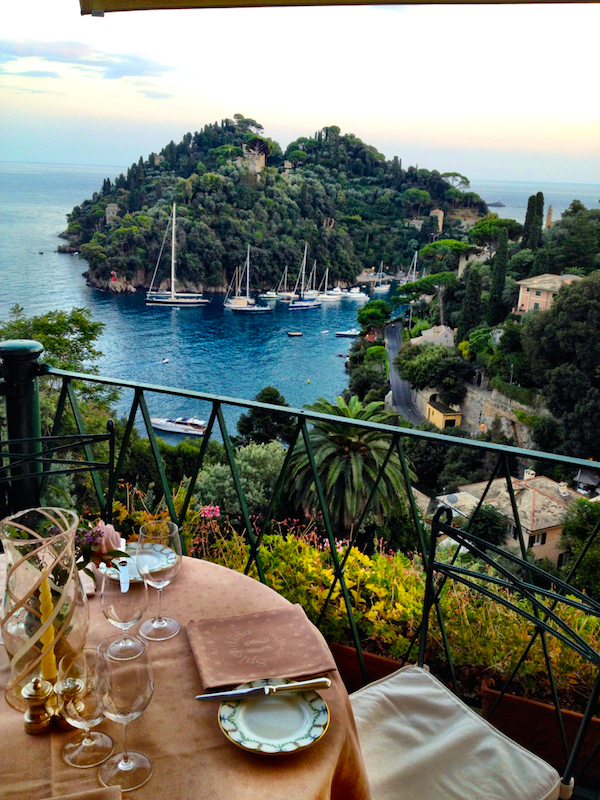 unless otherwise indicated, all photos Quintessence