Trove wallpaper has been on my radar for quite some time. Founders Jee Levin and Randall Buck's creative and innovative wallcovering brand is a forward thinking bastion of thoughtful visionary design.

Not only are they both accomplished artists but employ cutting edge technology with environmentally friendly techniques and materials to create products that break all the rules. The resulting combination of art, design, craft and science is visually beautiful and intellectually stimulating, such as their classic Nyx and Indi papers below.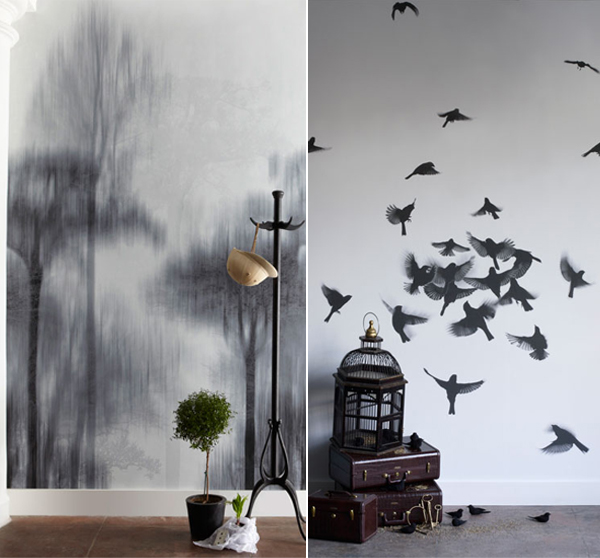 I had seen Trove's new 2012 collection at ICFF last spring and was wowed by its sense of scale, expressive imagery and progressive technology. Both their scientific inspired Chroma (right) and historically based August (left) were show stoppers.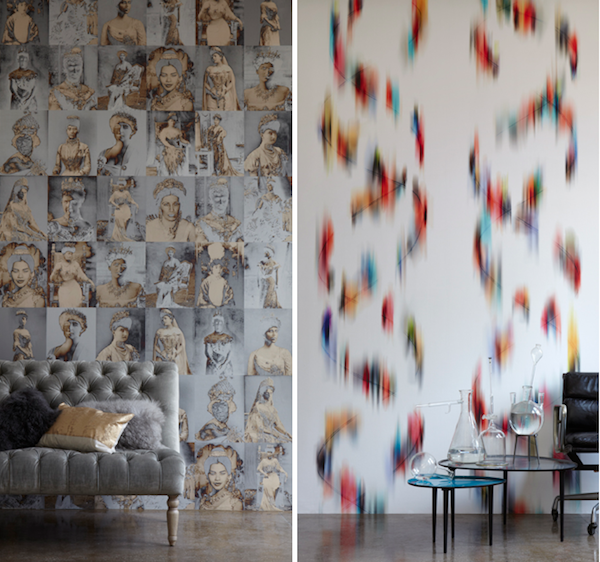 Rather than merely a fun photographic collage, August, for example, explores questions of identity. Past queens from countries around the world "glimmer with faded majesty," their individual identities disappearing, merging into a visual royal statement en masse. And in Chroma, what appear to be colorful helixes are actually photographs of people in motion, snapped by Buck and Levin near their studio in Manhattan, then abstracted and transformed into strands of DNA, the essence of life.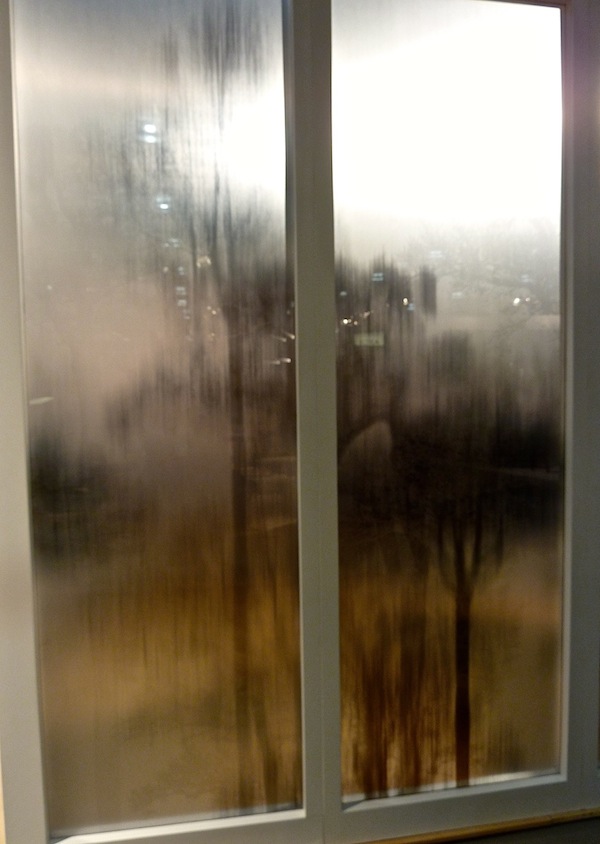 All of Trove's distinctive designs are enormous, 12 feet high and 3 to 6 feet across, with an incredible sense of depth and movement. With such large repeats, the images feel more organic and less geometric. Not only are they printed using non-toxic coatings and inks which are totally recyclable, but any of the patterns can be printed on window film, as seen above, a wonderfully creative solution for any glass surface where a translucent situation is desired, resulting in an evocative moody rendering.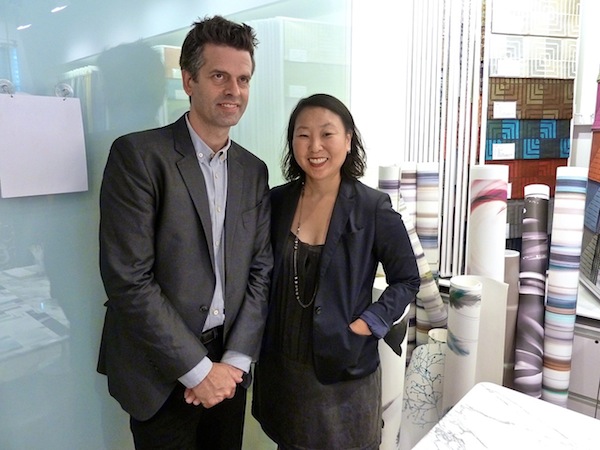 Yesterday, I had the opportunity to see Levin and Buck, above, present Trove's new collaboration with KnollTextiles, who has long and distinguished history of partnering with artists and designers.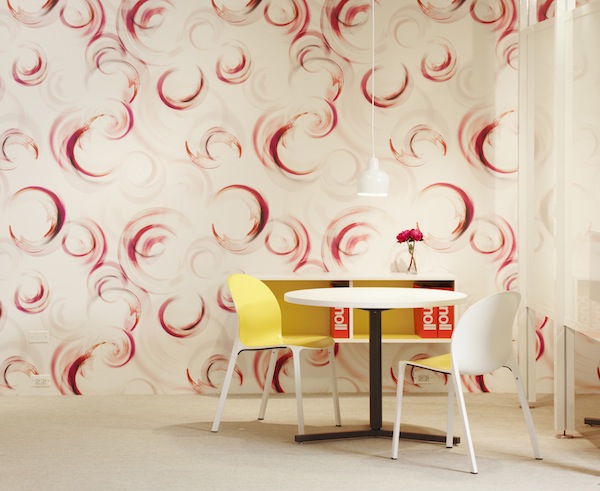 The Vivid Collection was created in conjunction with KnollTextiles' award winning Creative Director Dorothy Cosonas. The three patterns, Swerve, above, Sway and Swoosh, are art inspired, the designers citing such seminal artists as Cy Twombly, Wim Wenders and Gerhard Richter as inspiration. Using broad gestures and a wide spectrum of color, the patterns reference color in motion.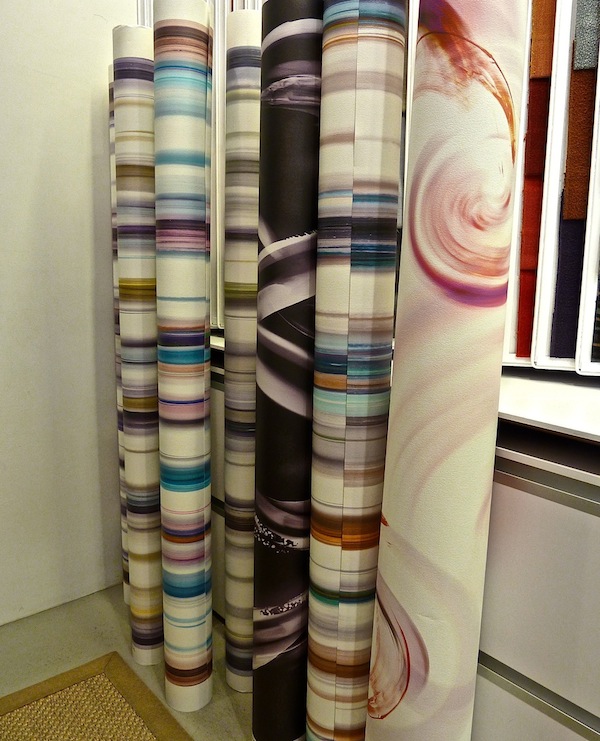 While the line certainly has residential applications (think bathrooms or children's rooms), it was developed to withstand the rigors of a contract environment. Digitally printed on a new material that replaces PVC vinyl, it features high performance with environmentally friendly properties. How wonderful would these colorful upbeat patterns be in a hospital or any other unexpected location. The papers are fully washable and can even be disinfected.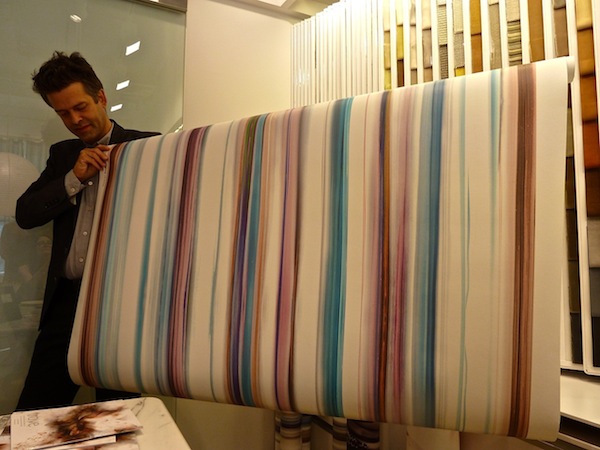 Sway, above, is the result of  a single repeated motion, using time as a measure, calculated with a stopwatch. The designers created paintings at different speeds, almost like performance art, resulting in a certain imperfect geometric study of color and movement, with a wide range of vibrant hues typical of the collection.
I look forward to seeing what creative output this dynamic design couple delivers next!