As we know, interiors tend to follow fashion. Those of you who saw my coverage of fashion week last spring will remember that black and gold were strong contenders in many shows. Well, that trend translated to Vegas in many forms. Editor at Large, the wonderful online source for daily design news, covered Las Vegas World Market with some fun videos and you can see what I had to say here.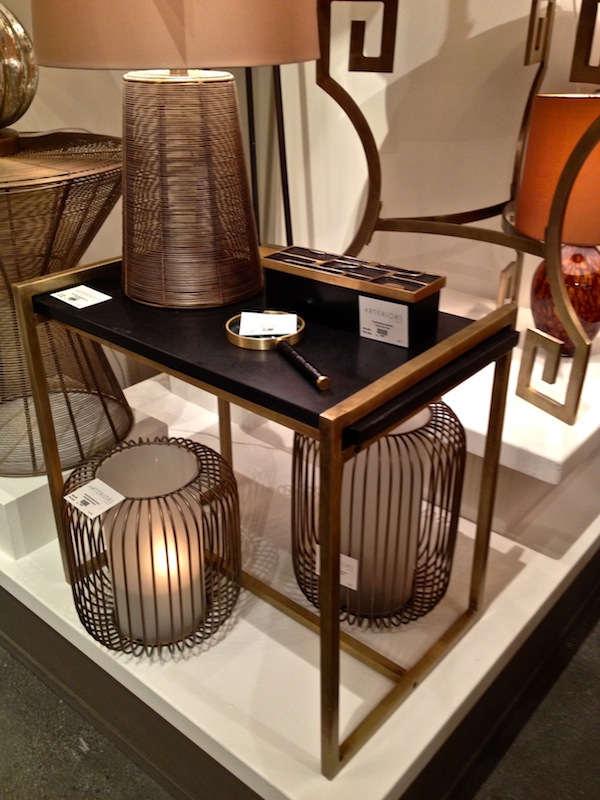 As I mentioned in the video, Arteriors had great examples of black with gold tones as well as some handsome neutrals. The Hollis Vintage brass and marble side table above is an incredibly versatile piece that transcends trends. With classic or contemporary furnishings, it adds that requisite shot of black that every room needs with understated style.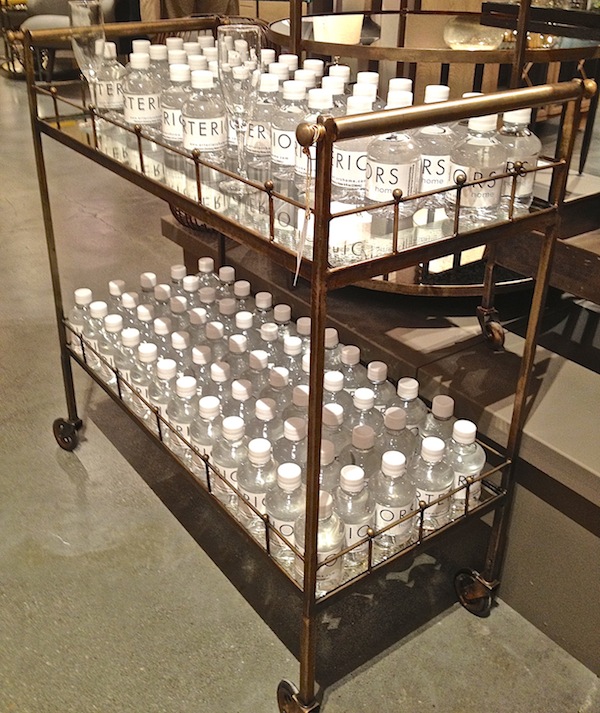 Who doesn't love a bar cart? Arteriors has several and this Lisbon vintage brass one is a classic!! This go anywhere, entertaining-friendly piece has serious Nick and Nora appeal.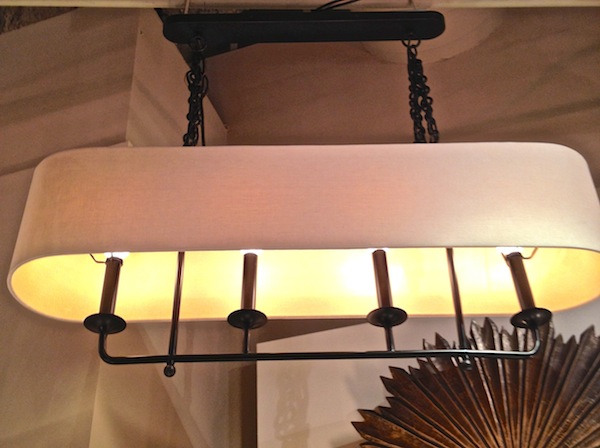 In the dining room or kitchen, the Beatty Bronze Chandelier is an easy to live with choice. Over a table or island, its neutral silhouette would quietly complement any decor.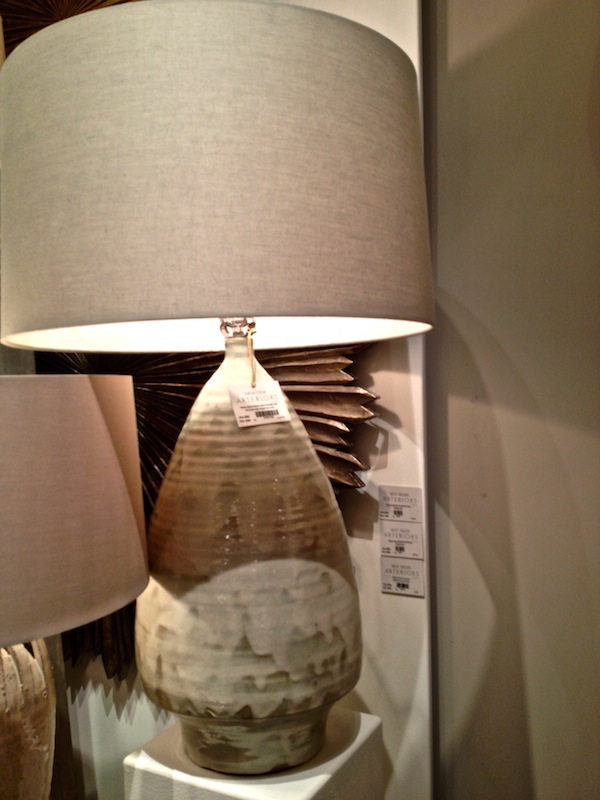 Neutrals are always an option, whether as a unified scheme or as a backdrop for pops of color. Arteriors was strong in this category as well in both small furniture and accessories. The new Wallace organic pistachio glazed terracotta lamp above has a handcrafted artistic feel that would add a subtle textural quality to almost any room.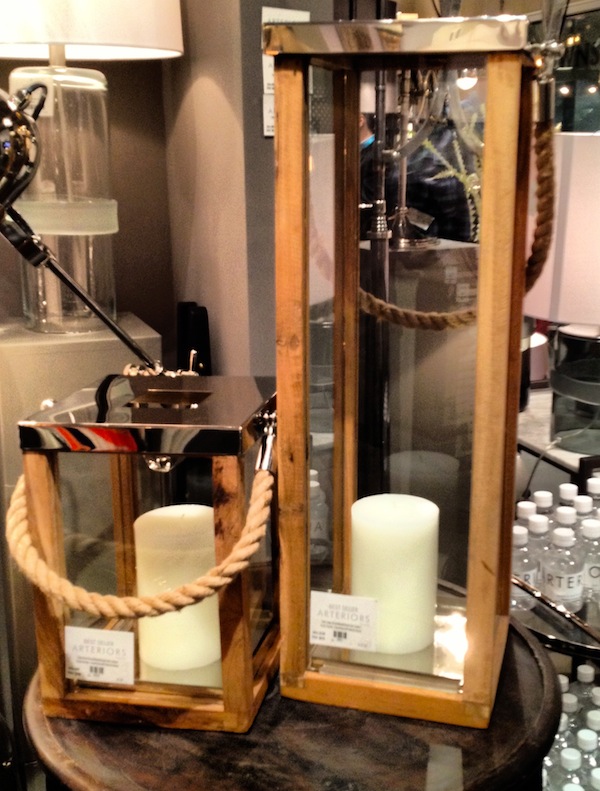 The Tate Lanterns are an Arteriors modern classic. Perfect for a rustic chic harvest table in the kitchen, a city terrace or a beach house, their neutral nautical vibe spells easy summer living.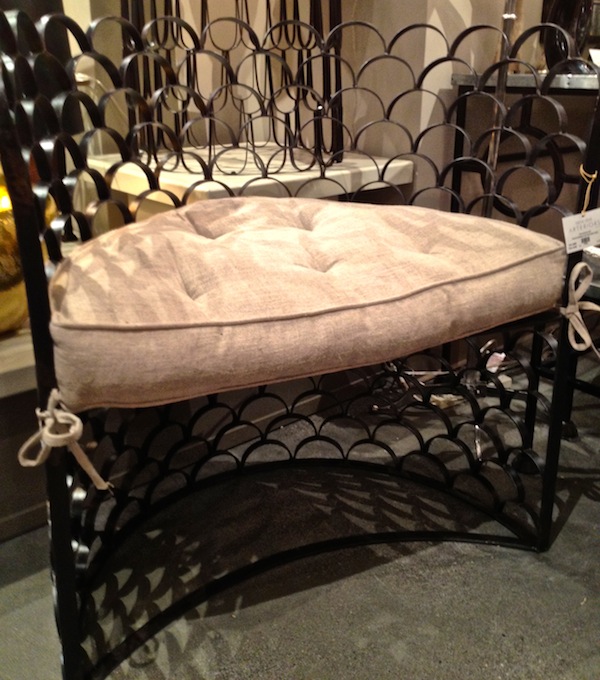 The charming Vero iron and linen chair is the best of both camps – black and neutral combine for a modern take on a vintage look.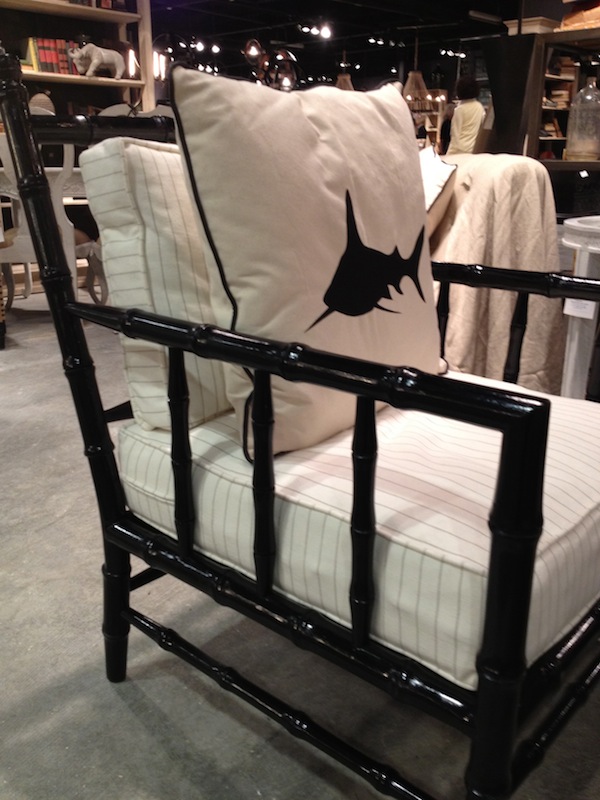 You'd expect a company named Noir to have a great selection of black pieces! Many of you will be well acquainted with their distinctive line of furnishings. From their classic Bamboo Relax Chair (a welcome change from the ubiquitous bobbin variety – which they offer as well)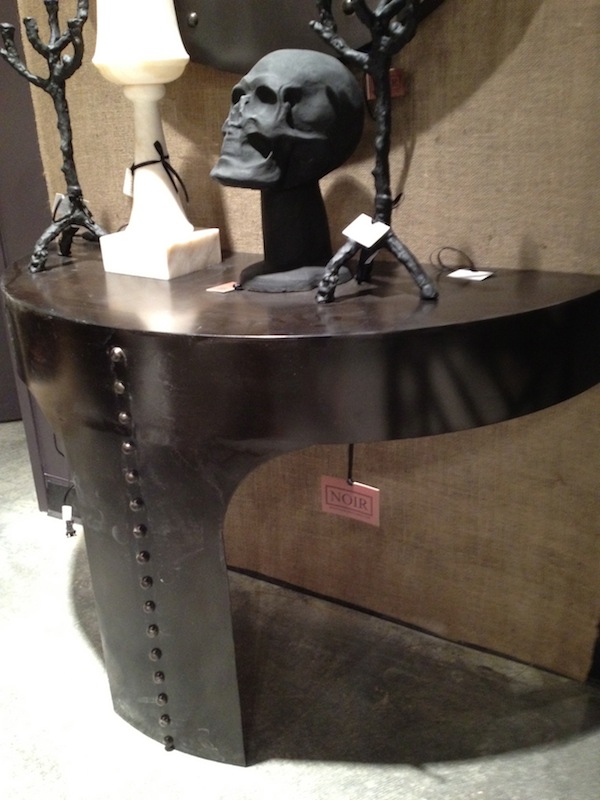 to the edgier modern chic of their new T console, you can count on Noir for an original take on home furnishings. I liked the new Ripley Pendant in a mottled matte black that read downtown industrial meets vintage Sputnik. Yet mix that with some more formal pieces, a little gold trim and it could lend an upscale artistic energy.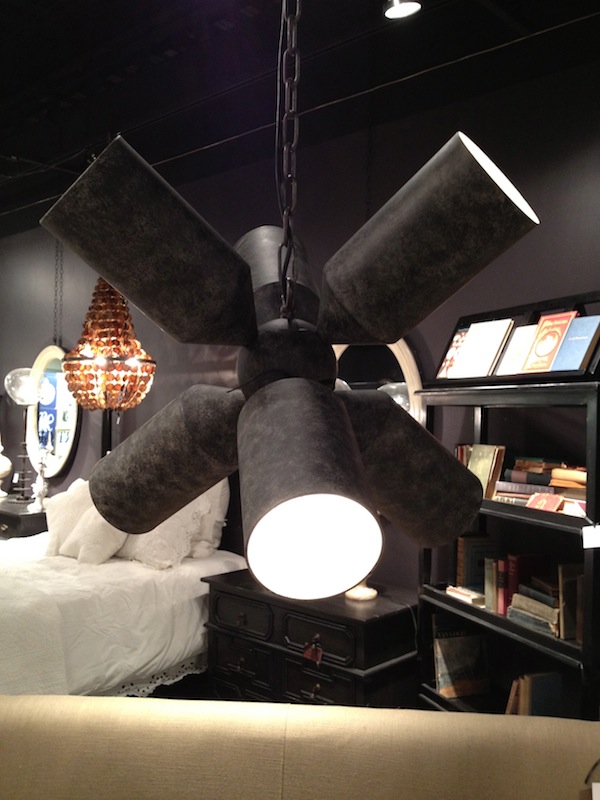 The Robert Allen showroom at World Market was home to two companies with both natural and gilded appeal. I had known about Guy Chaddock for years but never seen in person. This high country line features old world craftsmanship and unique hand finishes. Manufactured in North Carolina, they offer a wide range of customization. I loved this beautiful fruitwood Square to Round Pedestal table and leather Bolton game chairs from their Melrose collection.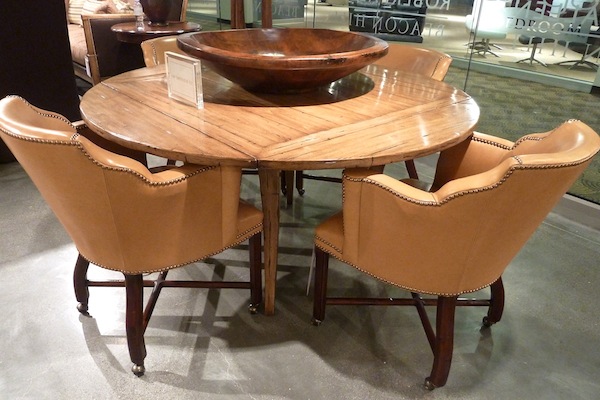 This kind of classic furniture just never goes out of style in my book. The handsome finish on the table and detailing of the caramel leather would look just as good in a sleek black or white interior as with handblocked linen and painted furniture.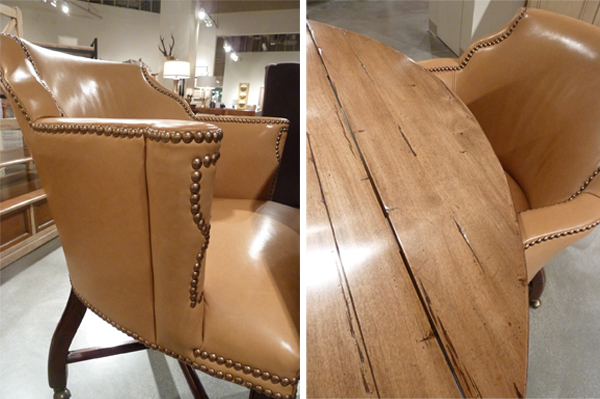 The other line, Jonathan Charles, was new to me. Working with artisans, these English reproductions represent an attention to detail and quality of construction that warrant consideration. With an in-house brass foundry, their hardware and metalwork is just lovely and these are the pieces I noticed.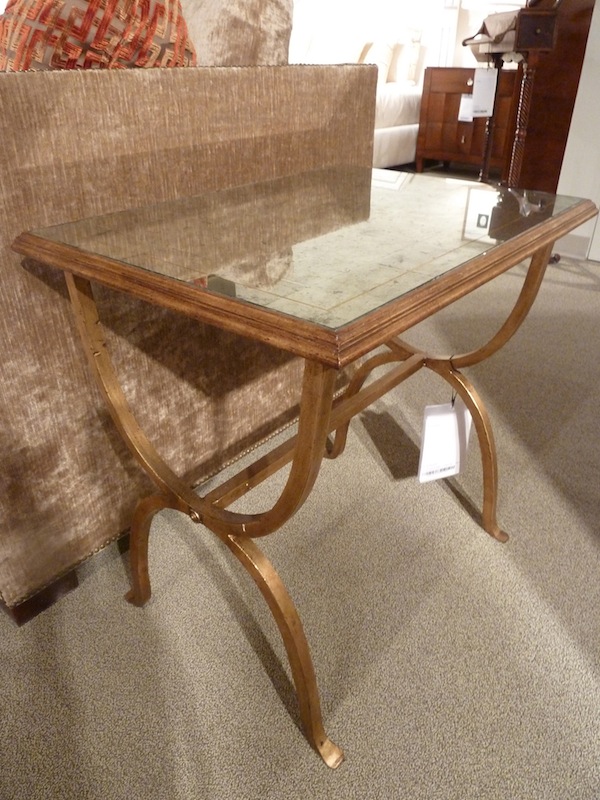 This small side table, like the round version below, is like a little black dress – goes anywhere, is always appropriate and ever elegant. What separates it from others is the quality of the finishes.   And both tables, on trend, offer the luxe golden tone of the season.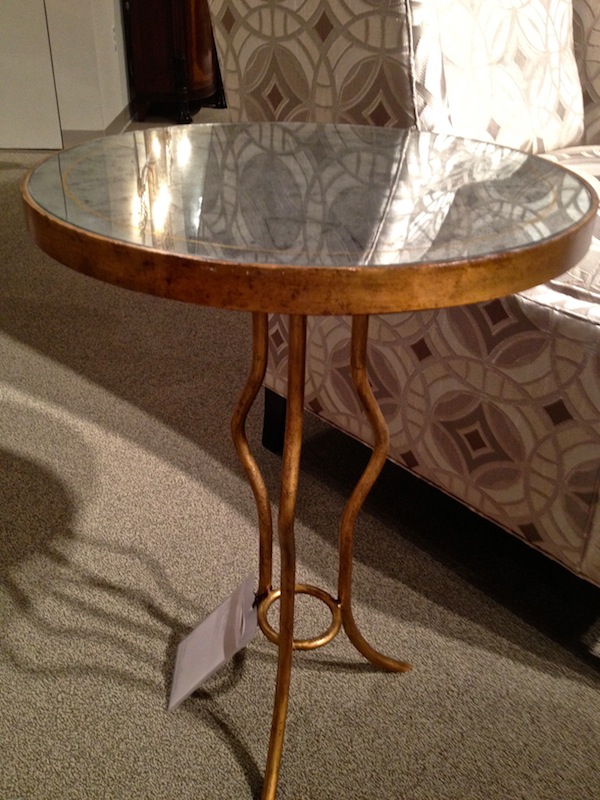 Like Billy Baldwin's covetable Porter etagere, this version is a classic in the making. A wonderful shallow depth with beautifully crafted joints and details, this piece has everything going for it! Glamorous and practical with timeless lines, this is now officially on my wish list for an empty wall in my living room!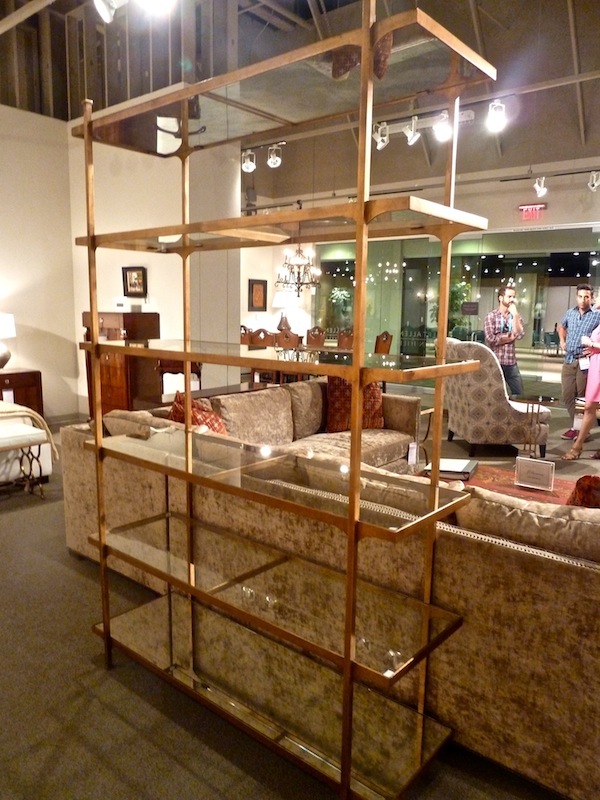 So in thinking about trends for fall, I think black, gold and neutrals will contribute to a luxurious outlook for the upcoming season. Thank you to Traditional Home and the people at Las Vegas World Market for a wonderful introduction to this market rapidly gaining in recognition and popularity.