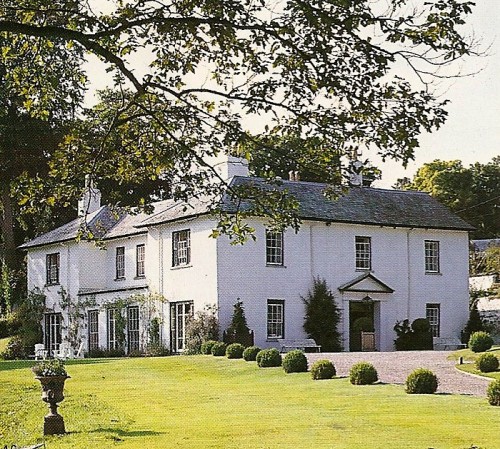 I am already mourning the end of Downton Abbey. Oh how is it possible that we have in such a short time exhausted each and every episode? And how is it possible that the gentlemanly Julian Fellowes could choose to leave us hanging in such a manner – I would have expected better form! So with the knowledge that I won't be invited to my favorite Edwardian abode anytime soon, I found another charming British country house for a vicarious visits.
This charming house in Wales is owned by art dealer Guy Morrison and his interior designer wife Penny. Originally built in 1790 with an addition thirty years later, it hadn't been touched since 1910. The renovation took 18 months with glorious results.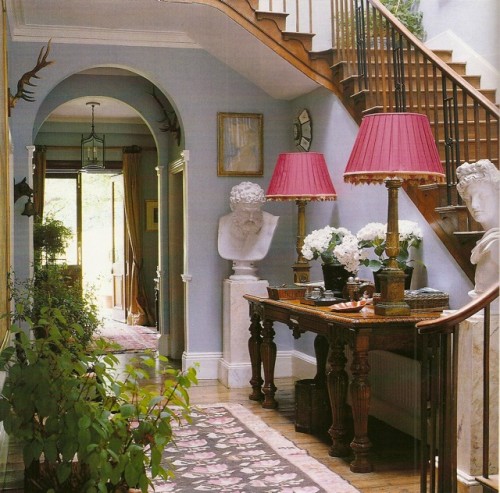 The gracious blue front hall is hung with hunting trophies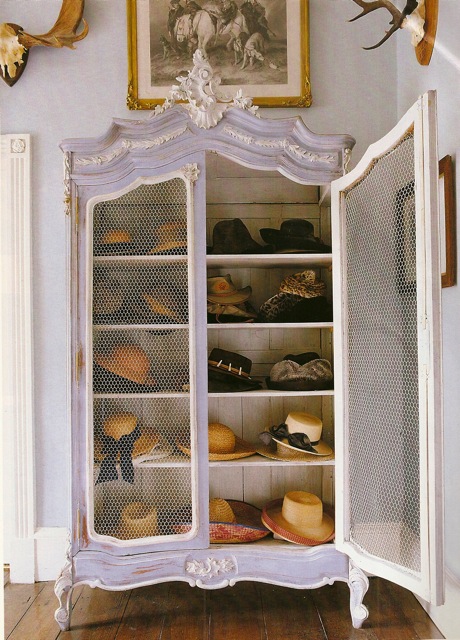 and home to a chicken-wire-panelled French armoire holding a collection of hats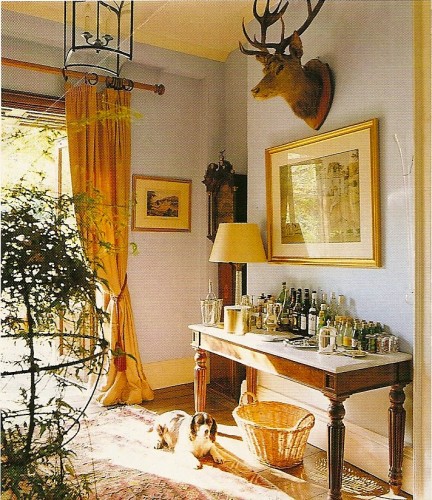 and a bar table with their spaniel Winnie standing guard.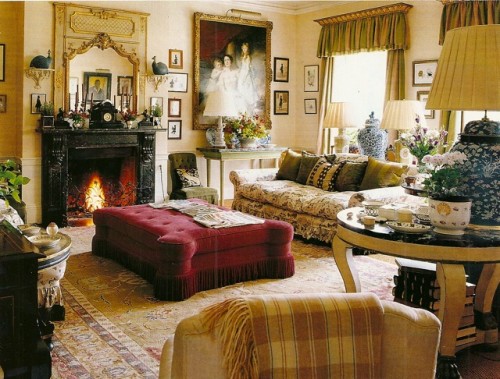 For the drawing room, Penny designed the claret colored ottoman. The George Spencer sofas are covered with a Jean Monro chintz and curtains, hung from gilt pelmets, are fashioned from green and beige silk taffeta sown together in stripes.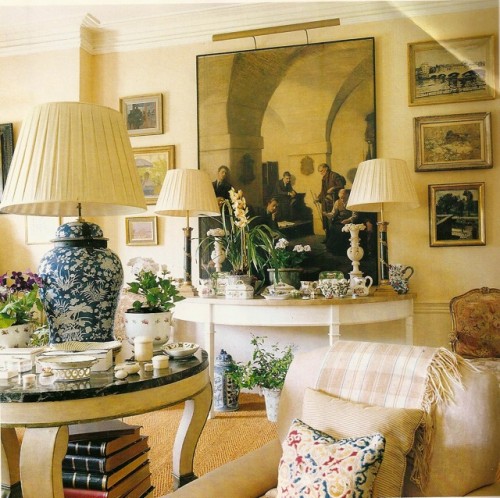 Blue and white china and lamps provide a classic touch of color.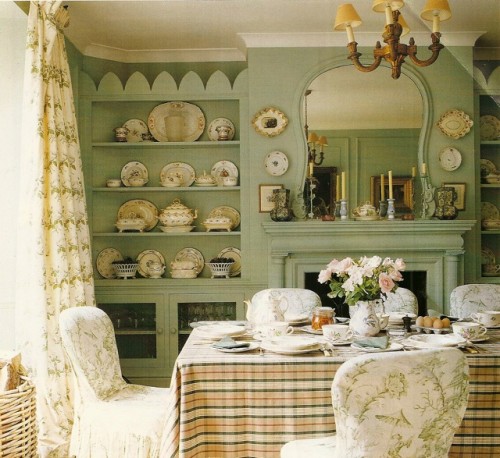 Isn't this breakfast room the epitome of country chic? I love the Pillement Toile with the Bowood – a combination I wouldn't have thought would work but with the addition of the Ian Mankin check, it somehow does, with the sublime green, a mixture of three Farrow and Ball colors, anchoring it all.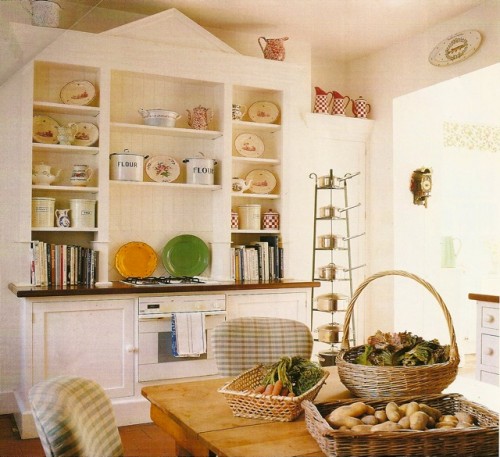 The kitchen, bright and cheerful, also sports an Aga, not pictured here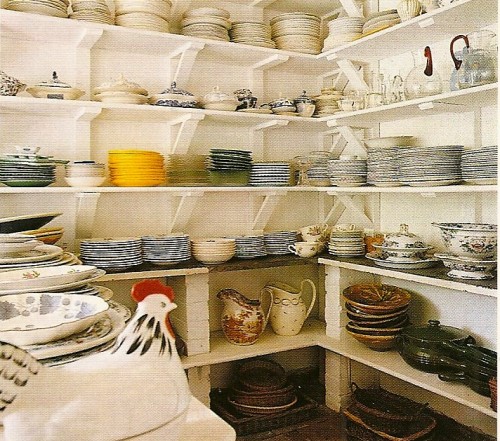 and an adjoining pantry with tons of room and accessibility.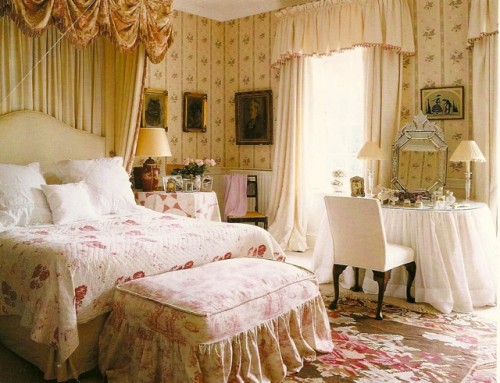 Known as the Pink Bedroom, its charm lies in its eclectic mix. The Zoffany wallpaper, needlepoint rug and antique Toile de Jouy all contribute to the timeless gracious appeal that I think any guest would appreciate.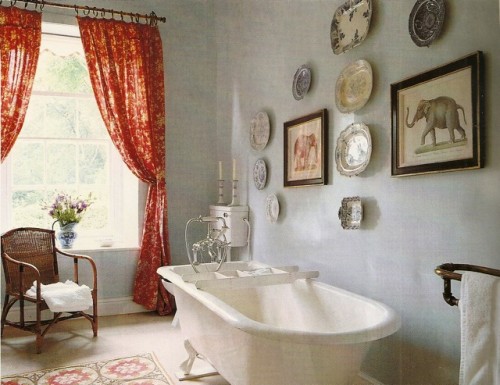 And if Lady Crawley had had such a charming rug, she never would have slipped on that soap! I would happily spend hours in the bath here!
So while we all wonder whether the fickle Mary has lost her chance for Matthew and if Mr. Bates and Anna will ever consummate their kiss, we can linger here a while and enjoy the view! If you're interested, here is a fun Q&A with writer Julia Fellowes on everything from Etiquette to his early influences. And a behind-the-scenes look via tartanscot.