Today we continue our conversation with Timothy Corrigan on antiques and interiors. I am a fan of his great use of decorative antique pieces. They bring such a nuanced layering to his spaces and I wondered whether he shops for specific spaces or just buys what he loves, keeping a collection to cull from for future projects.
photo by Alexandre Bailhache
"I am always on the look out for great accessories and decorative pieces…they are one of the most important parts of helping make any project look finished. Unfortunately, it is not so easy to find interesting decorative accessories that are unique and special.  Whenever I see something that I like I buy it and know that it will find a good home somewhere on one of my projects or at my own home! I buy things everywhere: flea markets, card shops, on-line…it's all fair game for me."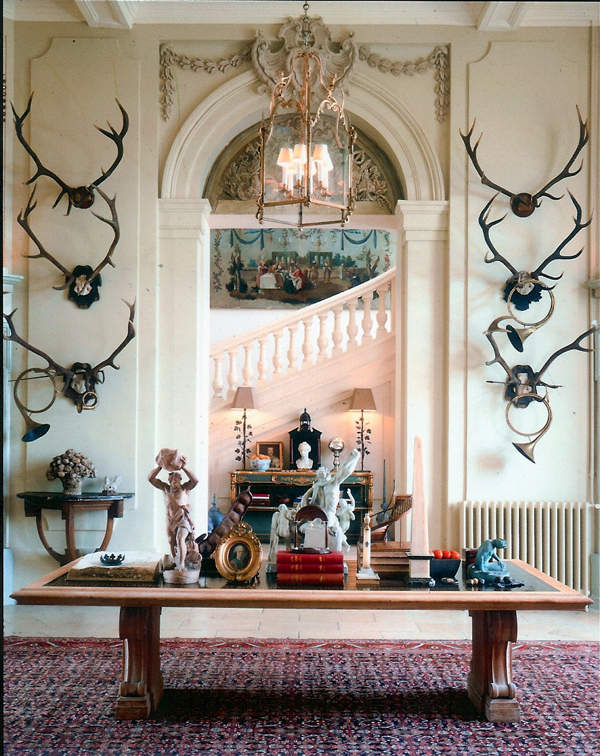 "In putting things together in a space I very consciously try to mix periods, textures, sizes and quality.   A great piece set next to a thrift shop find can make it look like a real treasure.  Blend things together in a playful irreverent mix!"
photo by Lee Manning
The power of decorative elements can be seen above where the fabulous architectural piece on the table ties the space together. As Timothy explains, "table tops need an object to provide a focus….too often people leave a table bear or with a few low objects.  You need to provide objects with good scale to make a table look balanced.  If you need to move something off a table to play poker, so what?  It will look great the other times when you are not using the table!"
photo by Michael McCreary
I noticed in many of Corrigan's projects, he features unique collections of antique decorative objects such as the obelisks above. I asked Timothy how these come together. "I encourage clients to start collecting things that they enjoy or are interested in and in doing so, unusual objects can start to have some meaning when they are assembled as a group.  One client collected comic book hero memorabilia and we used that as the basis for a wonderful décor for his home office (below). Even the most banal object starts to become interesting when you put it together in a grouping or collection.  In my office I have a collection of antique fishing lures….who would have guessed that…but they become interesting as a grouping."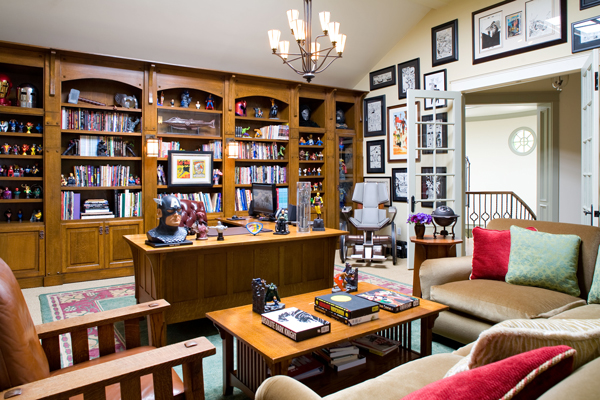 photo by Lee Manning
"In the table with all of the rock crystal objects, we took an early 19th century table, took the original leather top off it and had whimsically decorated contemporary aqua blue leather placed on it (difficult to see in the photo) but it makes a traditional table look young and fresh!)"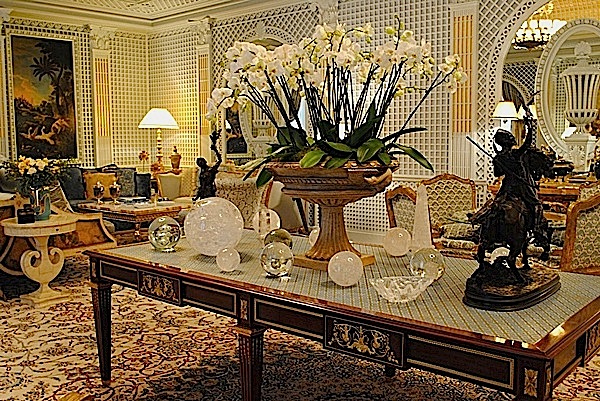 Like chintz and other classic elements of design, blue and white seems to be making a comeback and can work in almost any room. From ginger jars to garden seats to pedigreed garnitures, a popular way to include this quintessential combination is with antique ceramics so I asked Timothy his thoughts. "When it comes to blue and white porcelain I am an advocate of MORE IS MORE! I love the way they all look when assembled together into big displays—the shapes of the jars and the various designs all blend together in a rich, layered way."
photo by Lee Manning
"Don't be afraid to mix the least expensive pot with the finest….they all blend together!  The same holds for antiques in general….the last thing you want is your house to look like a museum.  Mix Away!"
photo by Jim Bartsch
And that of course is the secret – the magic of the mix. Corrigan knows not only how to select and assemble his collections but also how to accentuate the architectural details with them as above. But perhaps the greatest hallmark of his work is his ability to make even the grandest spaces feel comfortable and livable – a true talent in such majestic environs.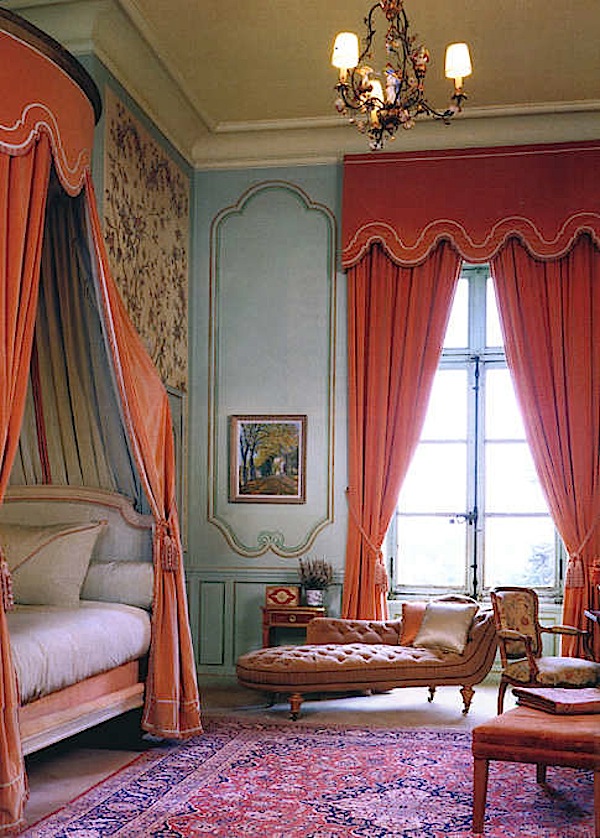 One of Corrigan's most challenging projects to date was his own – the complete restoration and decoration of Château du Grand-Lucé, a magnificent 65 acre 18th century Loire Valley estate.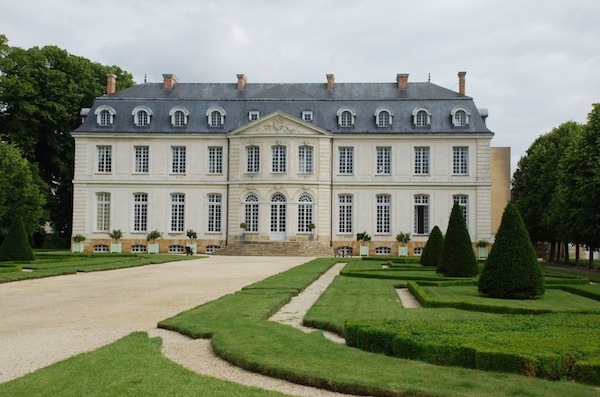 After a three year, multi-million dollar renovation, the summer palace was returned to its former glory. This fall, the full story will be revealed when Rizzoli publishes An Invitation to Chateau du Grand-Lucé. I'm sure we'll be able to enjoy many sublime examples of living with antiques in interiors!