In an old house in Paris, not covered with vines, I fell in love with the new Dedar fabric collection. The charming Raffaele Fabrizio and his chic sister Caterina carry on the tradition of their parents who founded the fabric house in 1976. This is a team that totally gets IT – the synthesis of old and new, the relationship of fashion and interiors and the rendering of classic tradition into modern luxury.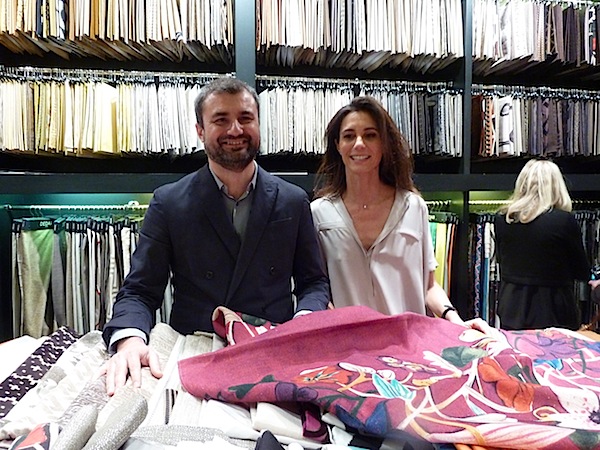 They understand how the fantastic flow of a duchesse satin ball gown could translate into an impossibly elegant fabric for interiors, below. Or how the sartorial splendor of a man's tuxedo becomes a merino wool satin with a perfect drape and subtle sheen for a masculine alternative.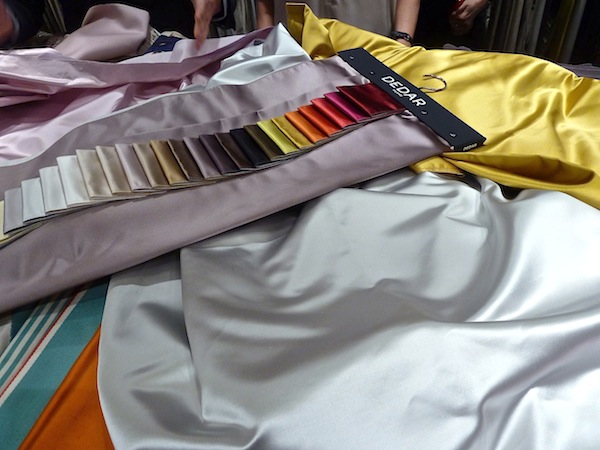 In fact, this is much of the Dedar story, a balancing act between brother and sister, creating a collection that walks the line between masculine and feminine. As so often in fashion, there is that push pull, that sexy yin yang between the genders that makes for a refined and tailored classic modern style I love.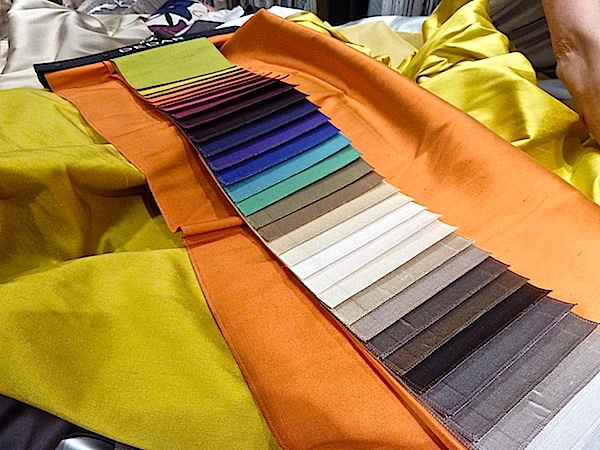 The balancing act is also between old and new, seen in this beautiful silk shantung, above, a classic fabric reinterpreted in both brilliant brights and neutrals. Yet to achieve the authentic full body and softness traditionally associated with this fabric, it is executed in a hand twisted eight ply yarn on old shantung looms – looking back to move forward!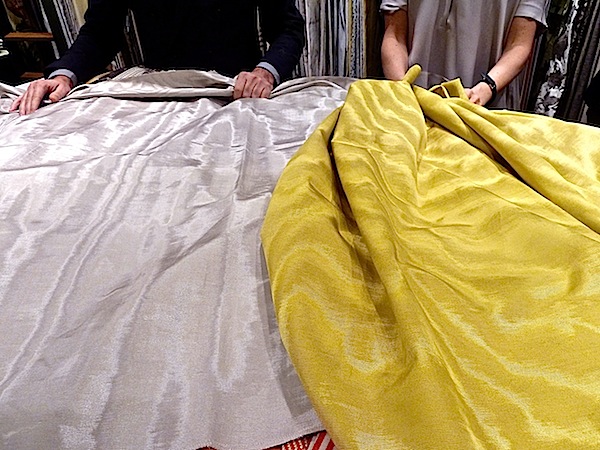 The signature fabric of the collection is the amazing Amoire Libre, above. From the middle ages to the greatest 20th century couturiers, think Saint Laurent in the 60s and 70s, moiré is a fabric with a historic legacy. Yet Dedar has liberated the pattern from its previous confines, creating a "free" design (hence the name) with no repeat or side matching. Like an abstract painting, the effect is achieved by a manual seven-step production, where the men operating the cylinders move the fabric back and forth by hand so the pattern is irregular.
photo courtesy of Dedar (the unfortunate lines are courtesy of my scanner)
The Fabrizios, realizing the infinite creative possibilities for such a fabric, have also produced it paperbacked, for effortless wall installations.
They have also taken these "plain fabrics of sartorial tradition" a step further with bold patterns, embroidery and specialty techniques. In Antoinette, the silk shantung is enhanced with cotton hand embroidery.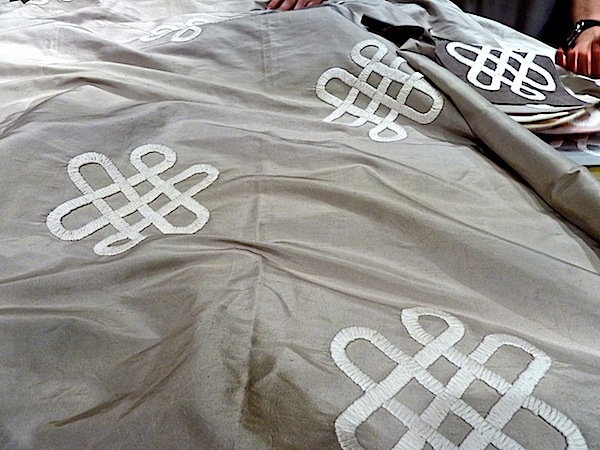 The graphic Universo, below, is produced on a jacquard with slightly blurred edges, softening the stark geometry.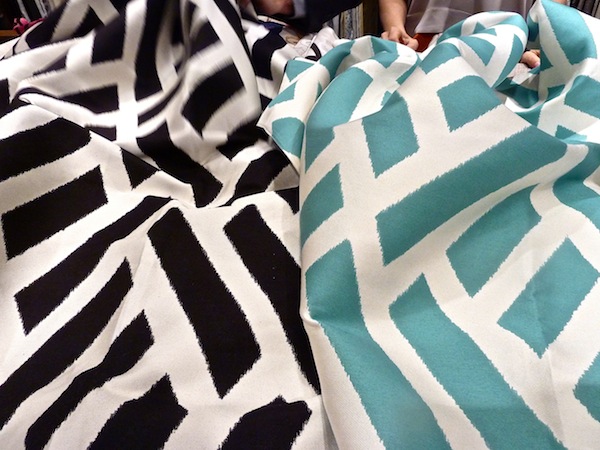 It is available in a bevy of brights including a bright orange and aqua that run through the collection.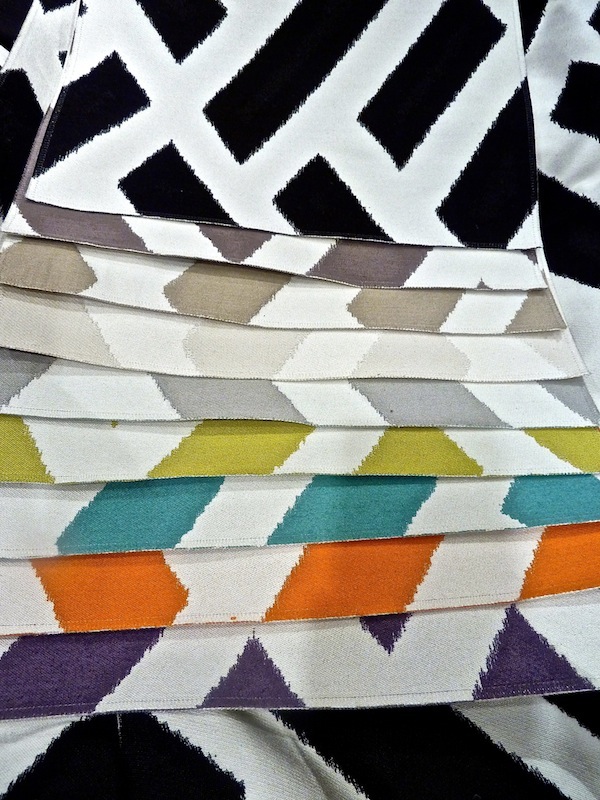 The exquisite Moire Pavillon, below, taking its inspiration from a Moorish gate, is lacquer printed and then finished with a flock velvet printing technique creating a marvelously luxurious contrast.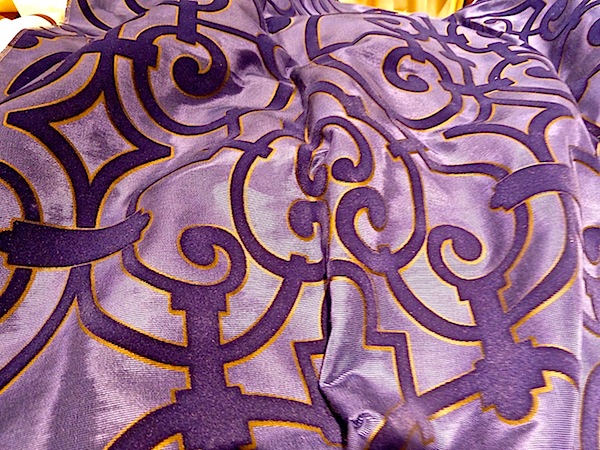 In his presentation, Raffaele joked how traditionally there have been certain tabus in the Dedar line. This season they are breaking one with their first floral pattern. On a rustic hemp and linen ground, About Flowers is an exuberant display of artistic blooms, created with a fast brush stroke technique in signature Dedar brights.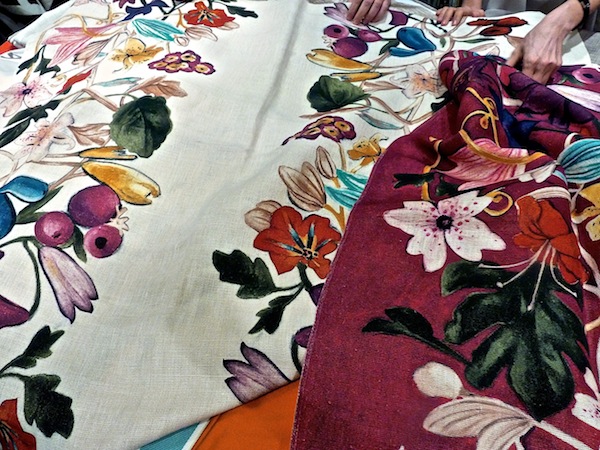 This Tahiti colorway is spectacular!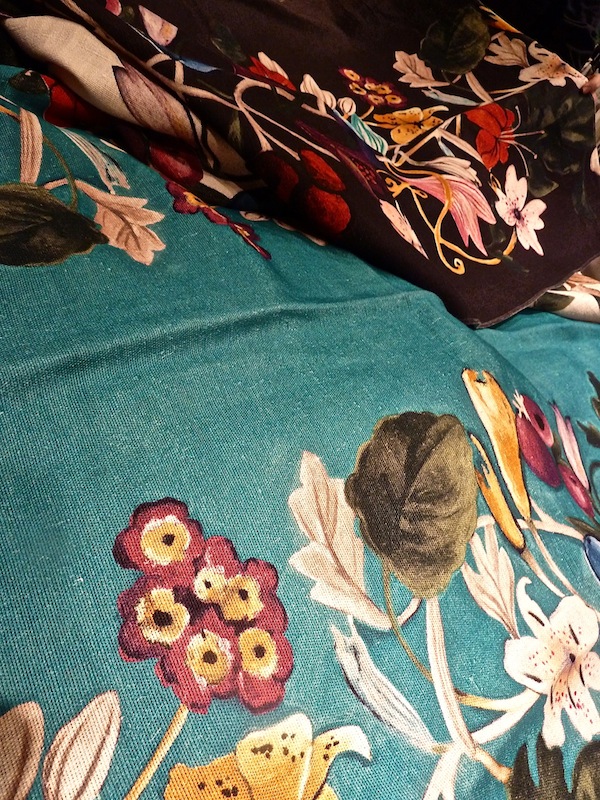 photo courtesy of Dedar
A second part of the collection is Esprit Or, the reinterpretation of classic fabrics embellished with metallic threads. The very detailed and refined embroidery of the flowers and vines on silk in Avalon, the geometric screen print on Velvet of Perla and the thick basket weave of Clink are all enhanced with the subtle glitter of gold and silver.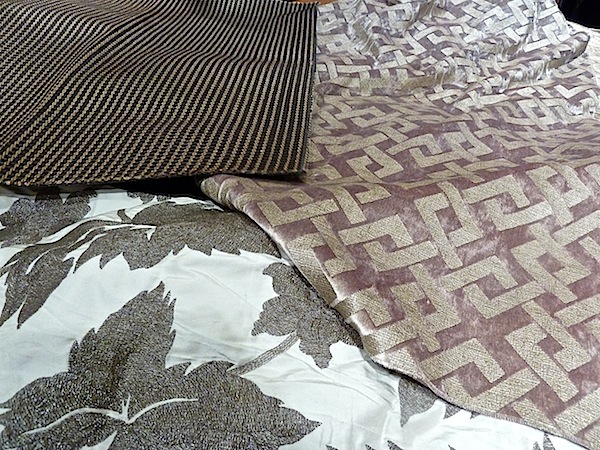 The last small but important story within the collection is Esprit Lin. For the last 17 years, Dedar has researched and experimented with man made fibers, creating fabrics with the look of satin, velvet and cotton but with the practicality and easy maintenance appropriate for many applications including active families and contract. This year's additions are all about linen, a linen that is washable, wrinkle resistant, fire retardant and BEAUTIFUL!! I am crazy about Holiday in these orange infused colorways.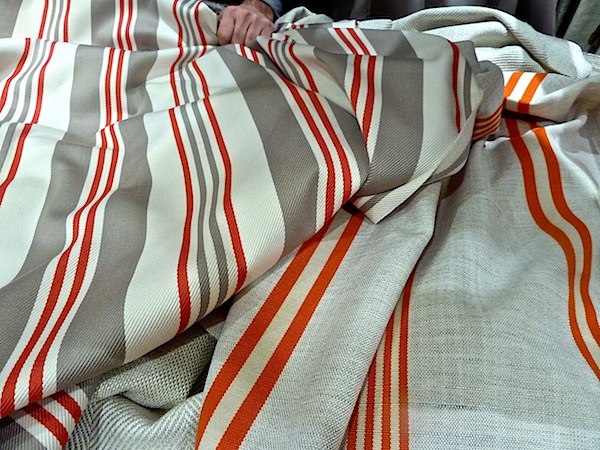 tufted with buttons on a chair in the showroom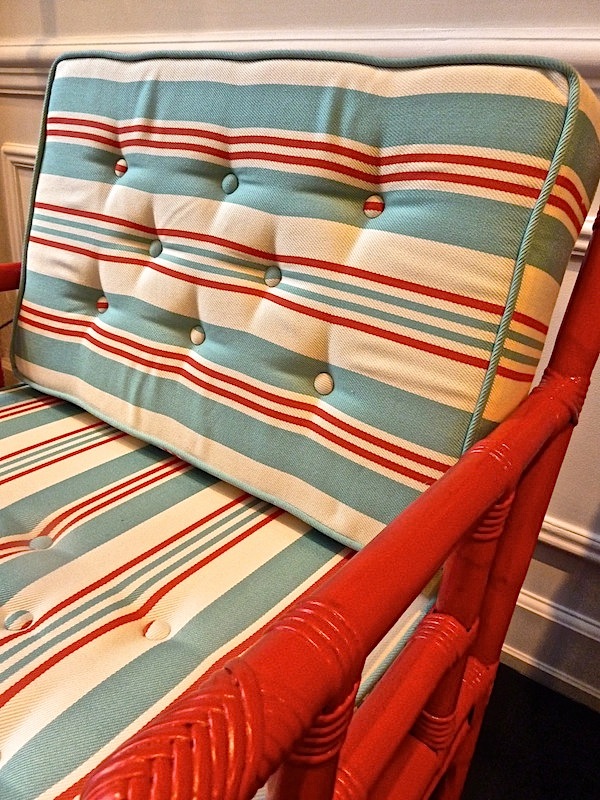 and in all these fabulous colorways.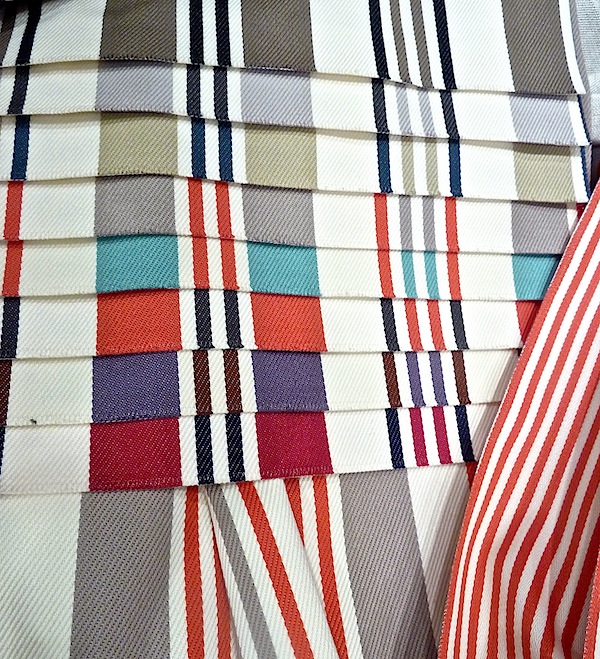 Coco is a handsome basketweave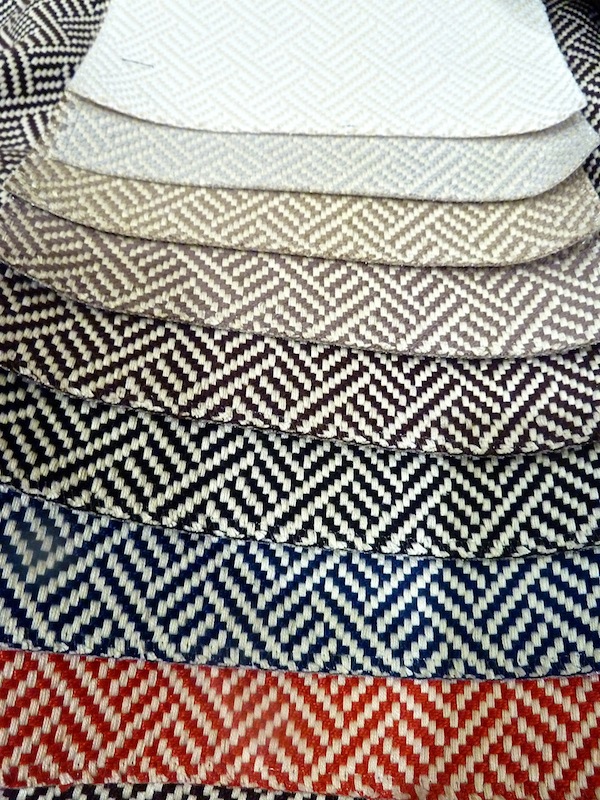 Stars has the warmth of wool, velvet and linen but is even more practical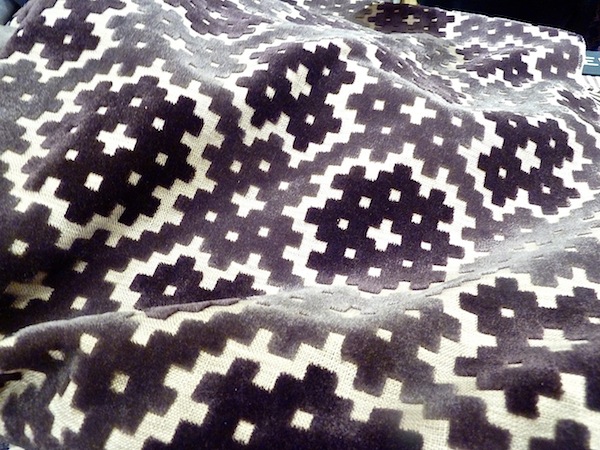 And this beautiful print uses the technique of warp print, normally reserved for silk, which gives the pattern its characteristic movement.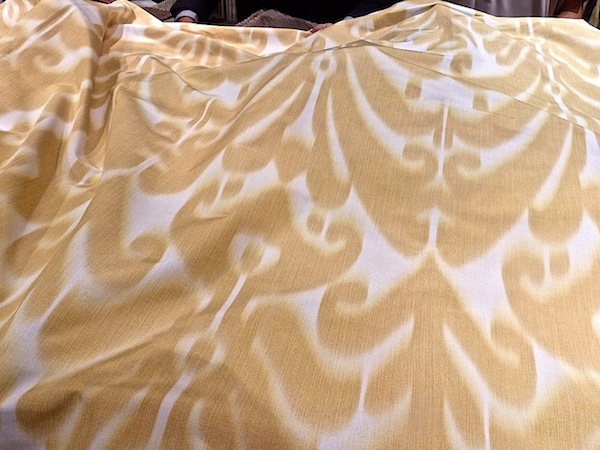 Dedar is a line that expresses how we live now with a tailored modern aesthetic that can stand on its own or mix with classics. With an appreciation of tradition and their pulse on contemporary living, Dedar appeals to both longtime fans and a new generation of designers and homeowners looking for easy to live with modern luxury. And the young Fabrizios are the perfect representatives for their product. Passionate, articulate and entertaining, they are as refreshing in the showroom as I expect they would be at a dinner party!