So after yesterday's Emmys post, I thought it would be appropriate to discuss a little demaquillage (sounds so much more glamorous, no?).
I have very sensitive eyes, as many people with light colored eyes do. I need sunglasses as soon as there's even the slightest glare and in the winter I tear as soon as I go out in the cold.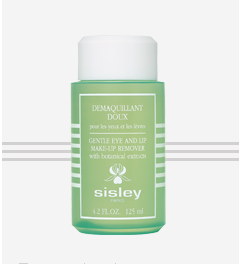 For years I had a problem finding an eye makeup remover that didn't irritate that area. But all that ended when I discovered Sisley's Gentle Eye And Lip Make Up Remover. Although Sisley is not an inexpensive line, their customer service is excellent. At my local Saks, Sisley offers complimentary facials (in a relaxing private room) several times a year for their regular customers. They frequently have little gifts with purchases (and the Sisley gifts are not so little), complimentary make-overs and generous samples that are terrific for when you are traveling with just a carry-on and have to stay within the 3 oz. liquid maximum. My all time favorite sample product is Sisley's eye make up remover pads. It is a small round packet which contains 2 pre-soaked pads.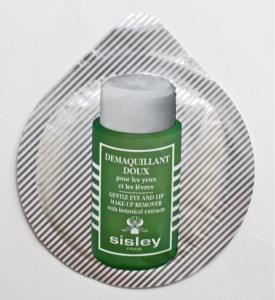 If you use one, you can just fold the top down and save the other for the next night. They are completely flat and all I bring when I am going away. In fact, they are so popular that many customers have been clamoring for Sisley to offer them for purchase in the regular product line. If you are interested in any Sisley products please feel free to call my go-to girls at Saks, Vafa or Gosha at 203 862 5327 (and no, I don't get a commission) – tell them I sent you. They are so nice and can discuss the line with you, give you advice on what products would be best for you, or just send you something if you already know what you want (and you might even get a little surprise with it). They can also update you when there are specials or when double and triple points days are if you have a Saks charge – they are really a full service duo.  You can learn more about the  products which are all made with botanicals and essential oils (phytocosmetology) here.