Perhaps it's because I grew up in a cape that I have always loved the nooks and crannies in houses, those special spaces inside created from the idiosyncrasies of the external architecture. I was forever envious of my sister's bedroom upstairs, with its charming dormer windowseat and drawers set into the walls. I did not, however, have to share a bathroom with my parents, so I suppose it was an even trade-off.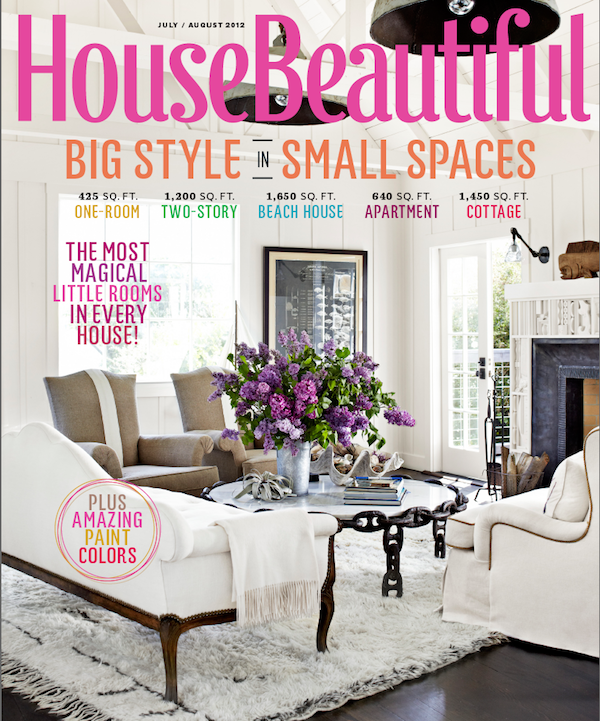 This coming month's House Beautiful brought back all of these memories and made me realize perhaps why I have so many clippings in my files of "Big Style in Small Spaces." One feature in particular focusses on these types of endearing spots. In "The Magic of Little Nests, " designers discuss the appeal of these little spaces in larger homes. "Even in the grandest houses, we're inevitably drawn to the smallest rooms: they're the coziest. In big rooms, guess where we head? To the coziest spots, the nooks and niches that are like rooms within rooms – their own intimate little worlds."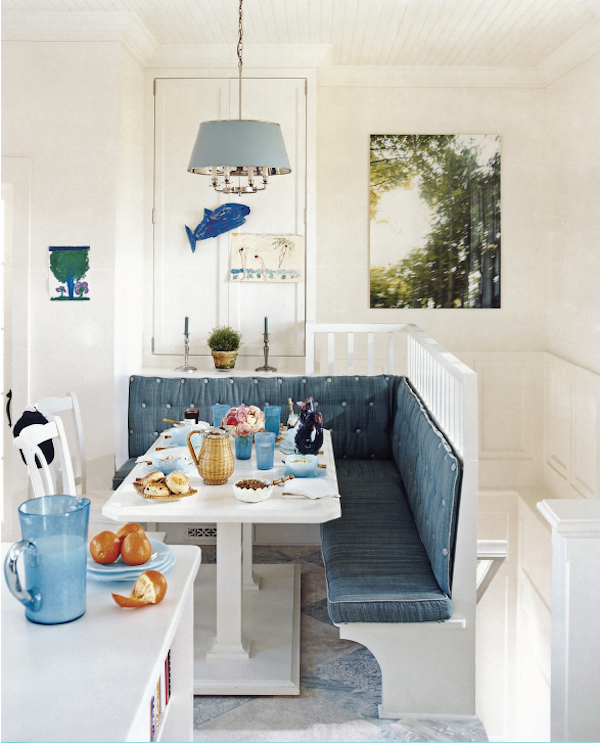 Each of these eight little nests represents an idea I have longed to have in my home. Take for example dining banquettes – this incredibly charming one by Markham Roberts is from a beautiful house he designed in Southampton. One of my aunts had a banquette in her kitchen that I adored (my sister's and my favorite reason to visit – sitting there with her home-made egg salad and desserts made up for her husband's vile cigars). I have tried in each of my homes to incorporate one into the kitchen or dining room! In fact, I have dreamed of something almost identical to the one above, but with an old harvest table, and while Roberts used a handsome cotton strié, I have imagined my tufted version in duck egg blue leather to coordinate with my Farrow & Ball pale powder walls. There are several exquisite hand blocked linens for curtains that could complete the look – trust me!!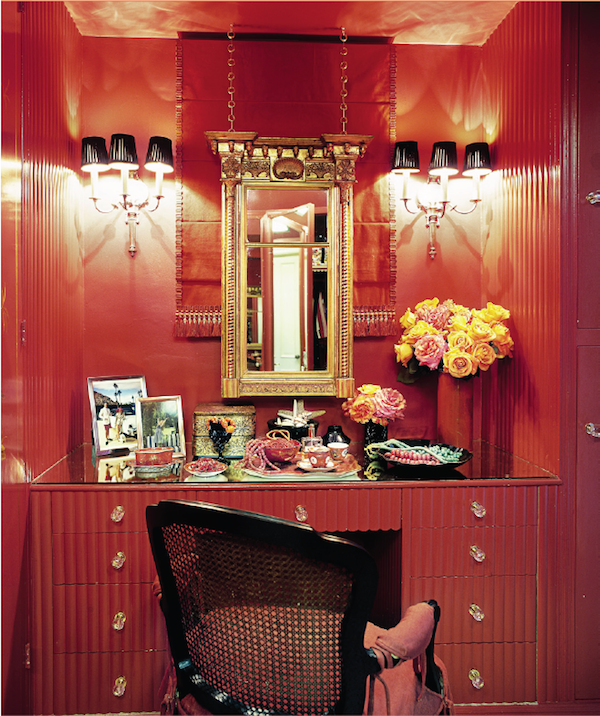 Every woman I know dreams of a fabulous dressing room/closet. Queen of luxe glamour, Mary McDonald executed this stunning example in the home of an L.A. movie mogul. "You can make any space more useful, personal, and inviting," she explains. "I address walk-in closets as sanctuaries. I love to create small niches such as vanities and a place to sit while you get ready for the day or night." I want a dressing room sanctuary! And so does everyone else – just take a look at pinterest. Speaking of pinterest, I am delighted to report that this article uses House Beautiful's new pinterest friendly technology, so I'm sure I'll be seeing many of these photos there once the issue hits the stands and mailboxes. But the point is that we can all make our lives a little more civilized by capturing an unused nook, giving it a glossy coat, hanging a great mirror (it doesn't need to have a Regency provenance like this one) and adding a vanity (try your local consignment shop if you don't have a handy carpenter or budget to create the built in variety).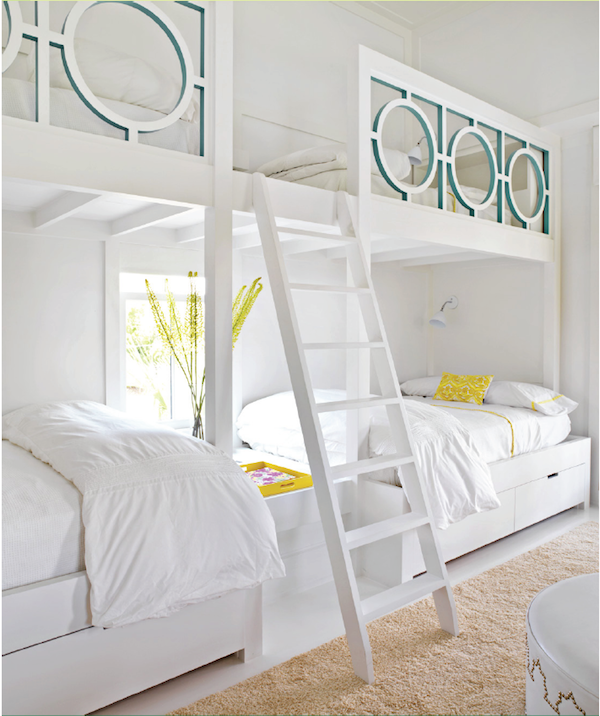 Who doesn't love the enduring appeal of built-in bunks? How many of us as children dreamed of having such a set up – I know I did. And as a parent, the idea of stylish containment is equally as alluring! This fabulous sleeping arrangement for three girls  in a South Carolina vacation home was designed by Sally Markham, with generous bunks to accommodate guests and sleepover fun – lucky them!! We once rented a home in Florida for vacation that had bunks cleverly built into a wall behind folding doors in a library. The kids fought over who got to sleep there even though there were spacious light filled bedrooms.
But it's not just kids and dogs who love small protected spaces. There's something reassuring and comforting about being enveloped for us adults too! Take a look at the article in the JulyAugust issue to see how you can create a magic little nest of your own. There are some great ideas!!
photos by (from top to bottom): Thibault Jeanson, Tim Street-Porter, Thomas Loof