While the Lenox Hill gala has provided inspiration for warmer weather entertaining, the Spring 2018 Tabletop Market offers a glimpse of what will be available in the coming months as we start to think about entertaining later in the year. Market always starts for me at Lalique, where they are celebrating the 130th anniversary of the Maison. The latest collection, Hirondelles, honors the swallow, a harbinger of spring and a motif often referenced in Lalique's work – the limited edition (130 pieces) vase below.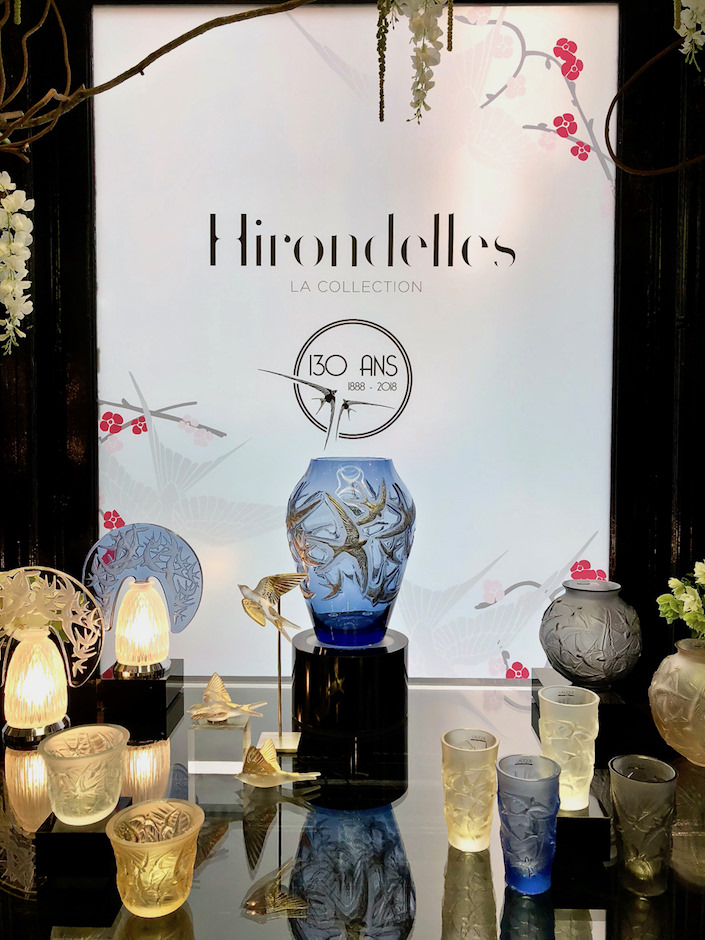 The swallow is also celebrated on many other works including medium sized vases in four colors (clear and sapphire not shown)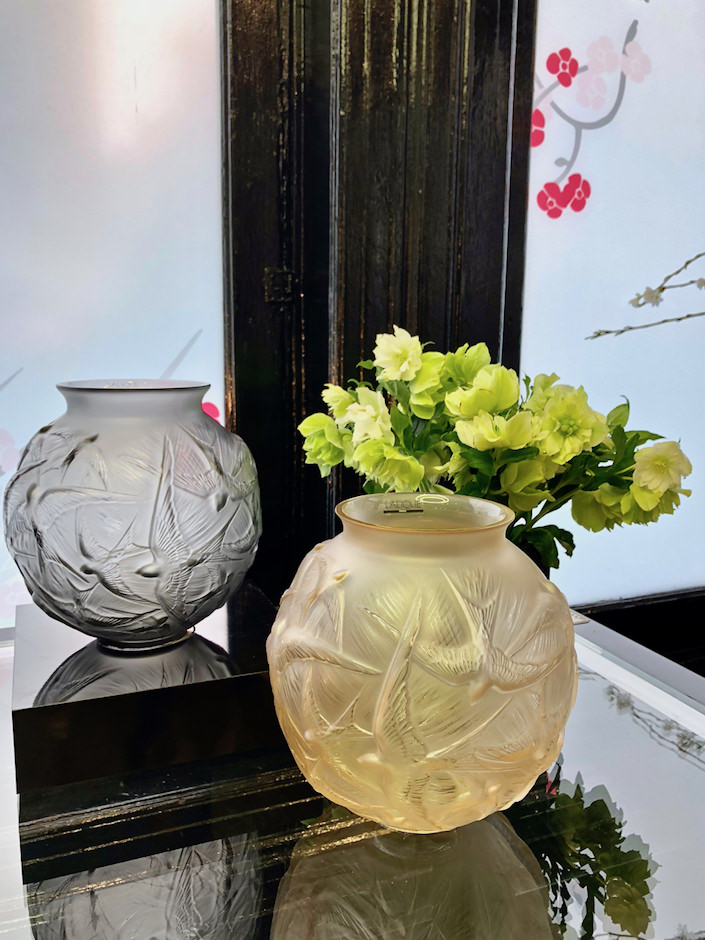 lamps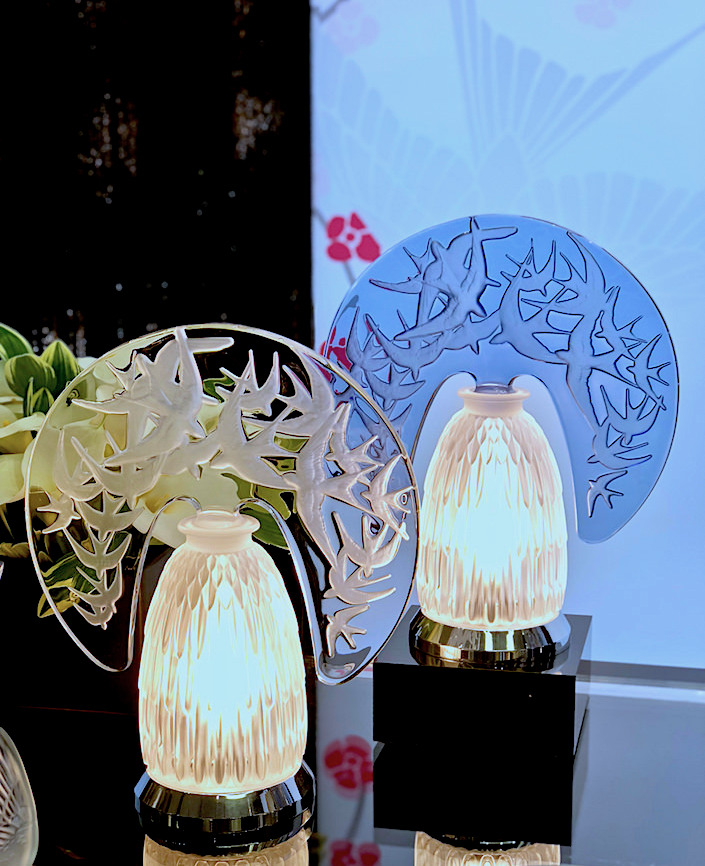 paperweights (also occasionally used as car ornaments)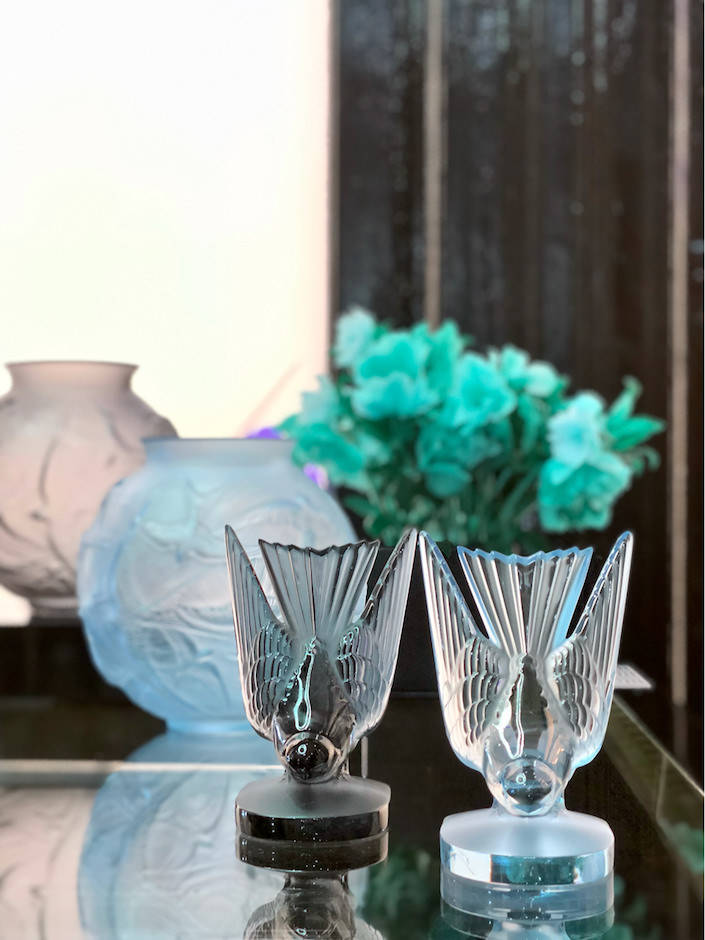 as a beautiful gold stamped stopper on the Hirondelles decanter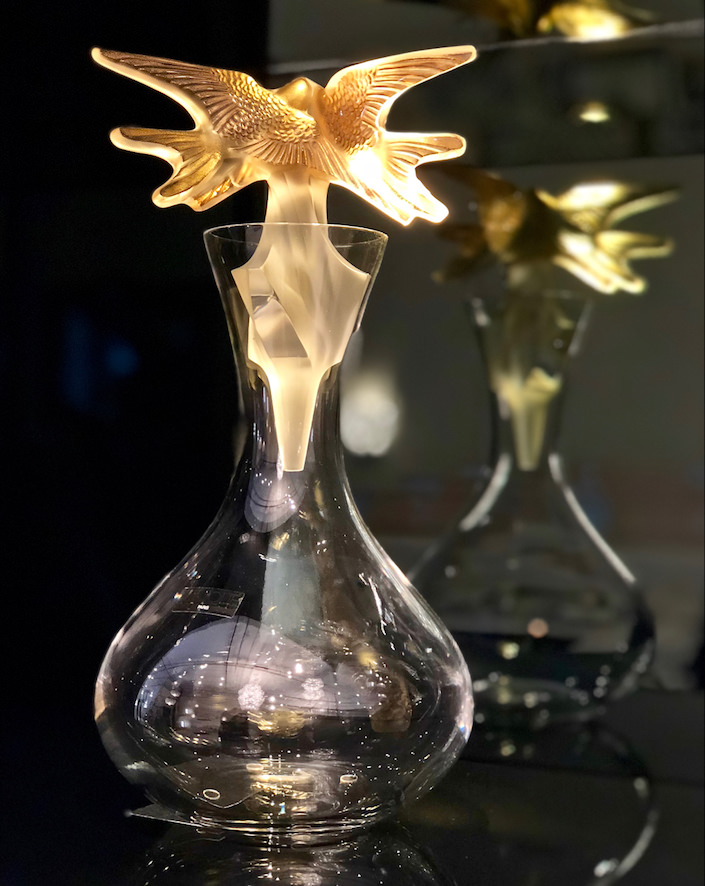 and small sculptures, which, with a clever double-sided magnetic attachment, can be used as a decorative element on walls, in floral arrangements etc.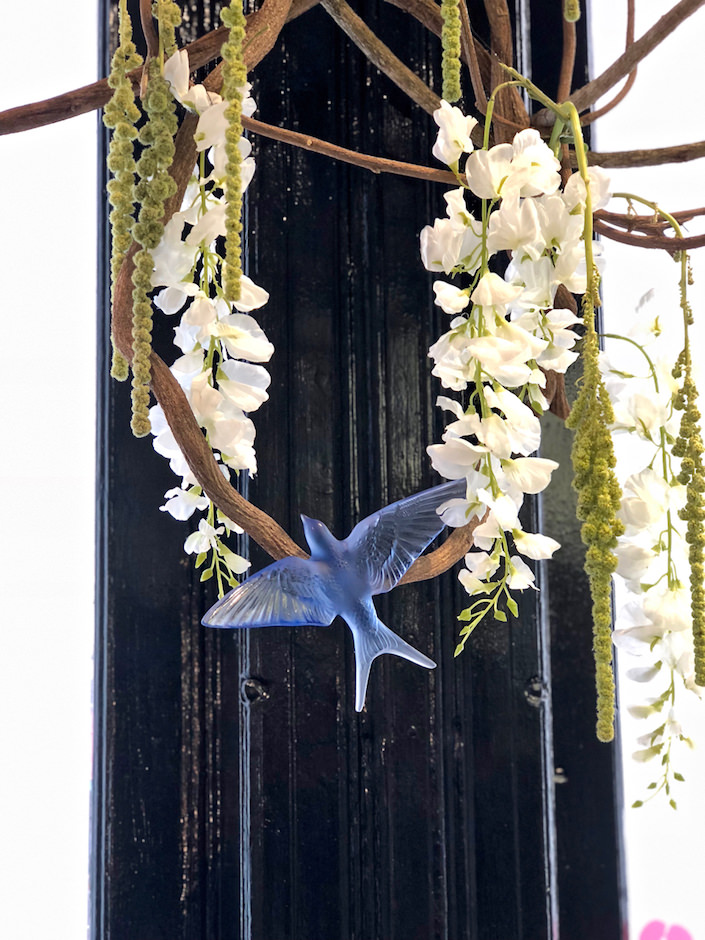 Some favorite new editions to the collection are these small black crystal vases – left to right, Languedoc, Tourbillons and the iconic Bacchantes. With the same exquisite Lalique craftsmanship, these smaller pieces are such a useful everyday size with approachable price points.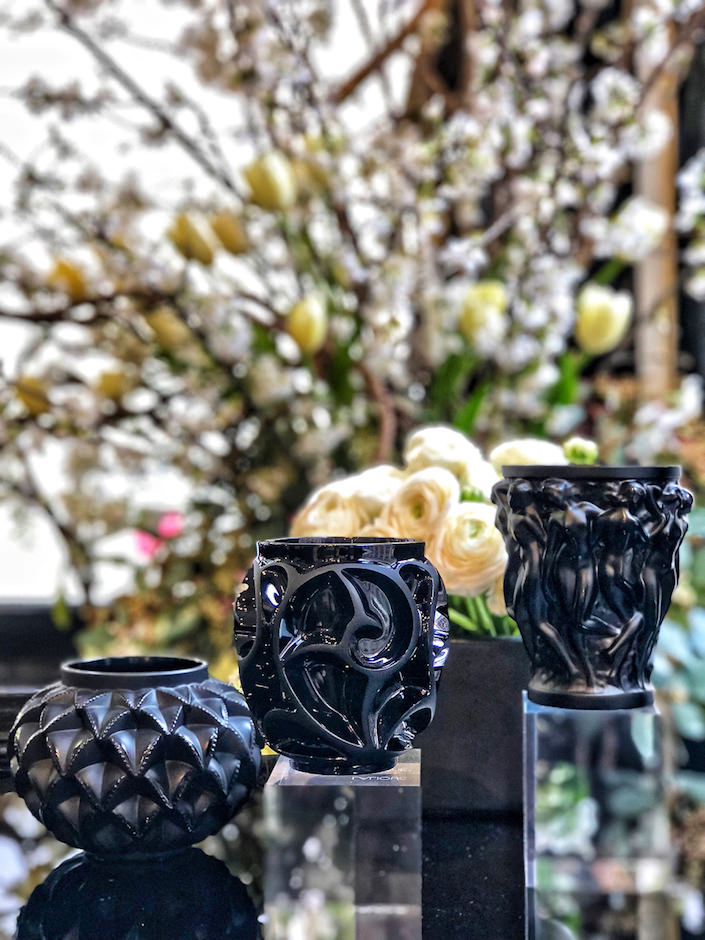 Ralph Lauren Home had a plethora of pretty introductions for entertaining, also great to remember for holiday gifting. Below, Paxton Cocktail Picks, Holder and Rectangular Tray feature automotive-inspired knurled detailing, shown with their classic Broughton Crystal.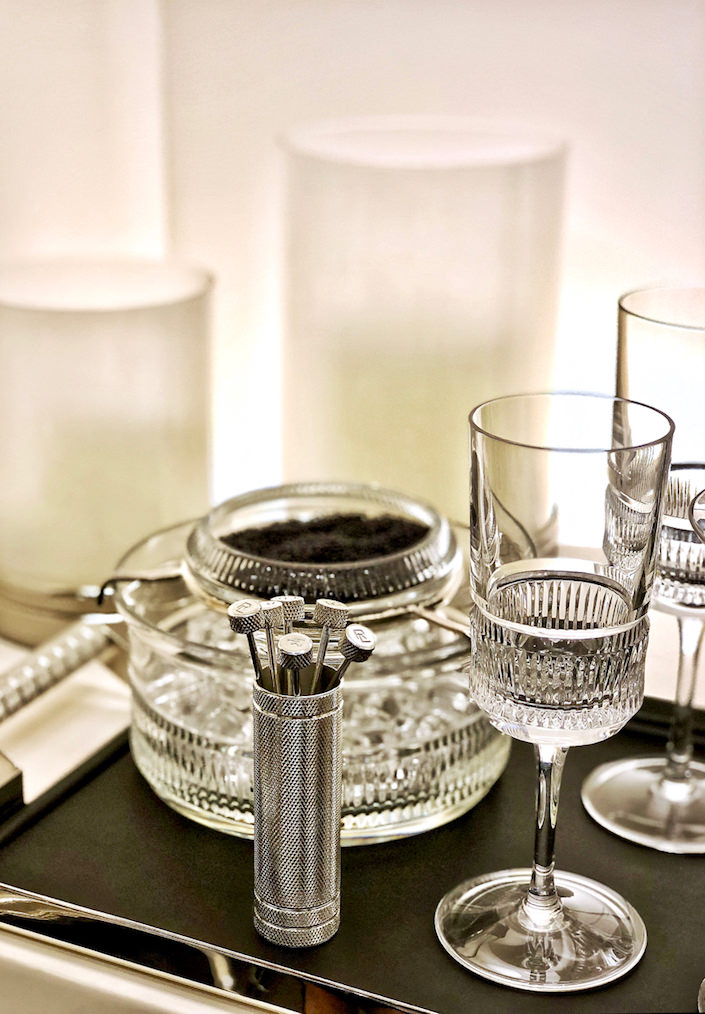 I'm sure many of you are familiar with Ralph Lauren's legendary car collection and this season several of his roadsters are immortalized in 1:18 Scale Amalgam Model Cars. Below, an exact replica of his Jaguar XKD, developed in 1953 and famous for being the fastest race car of the 1950s.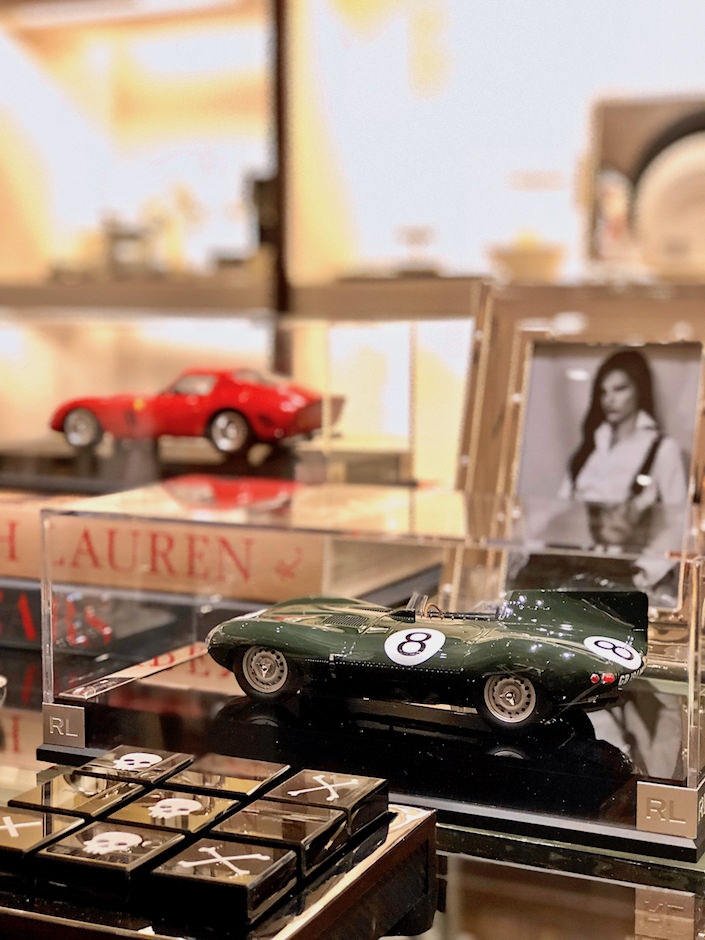 More offerings for the those hard to shop for men are the handsome Brennan Leather Catchall in black leather.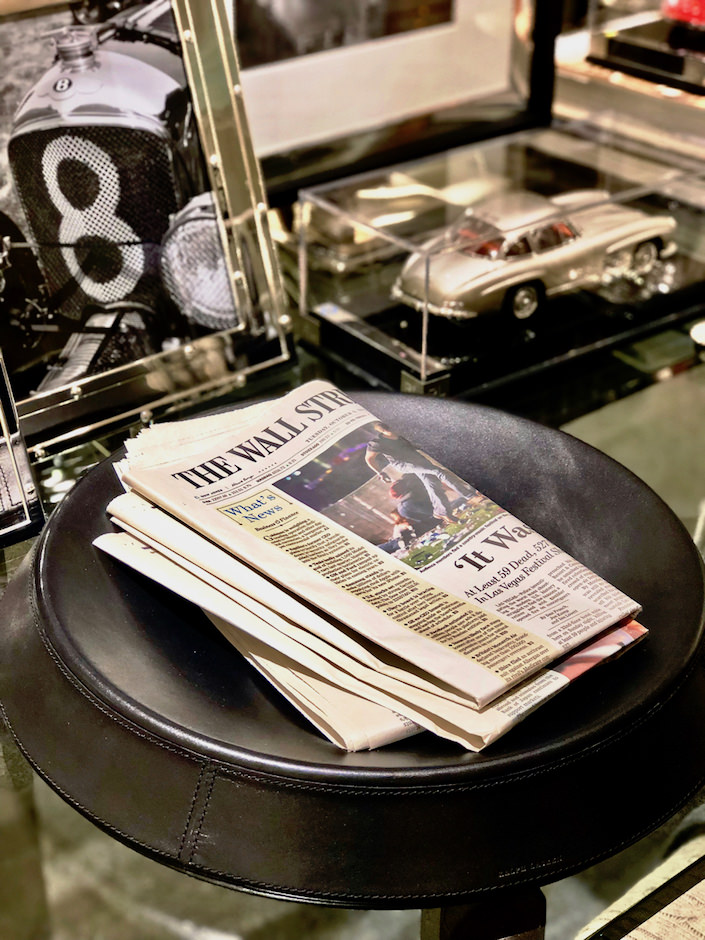 the Brennan Vanity Mirror in black leather along with the Adrienne woven leather frames and box,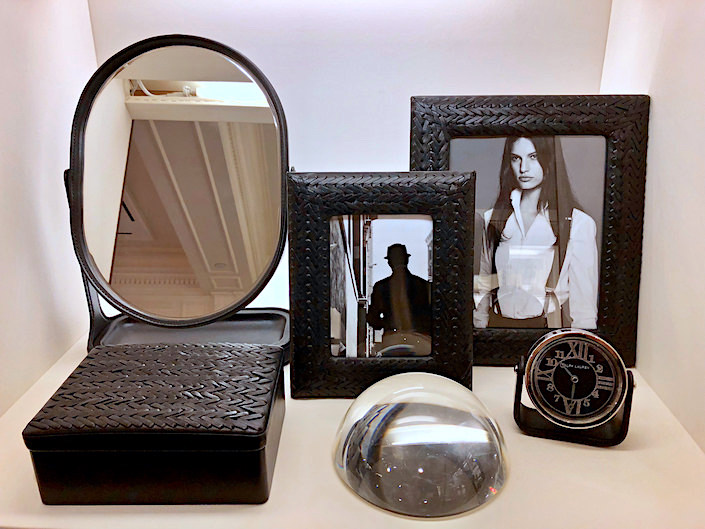 and the Brennan Clock in black leather, created in partnership with the Chelsea Clock Company.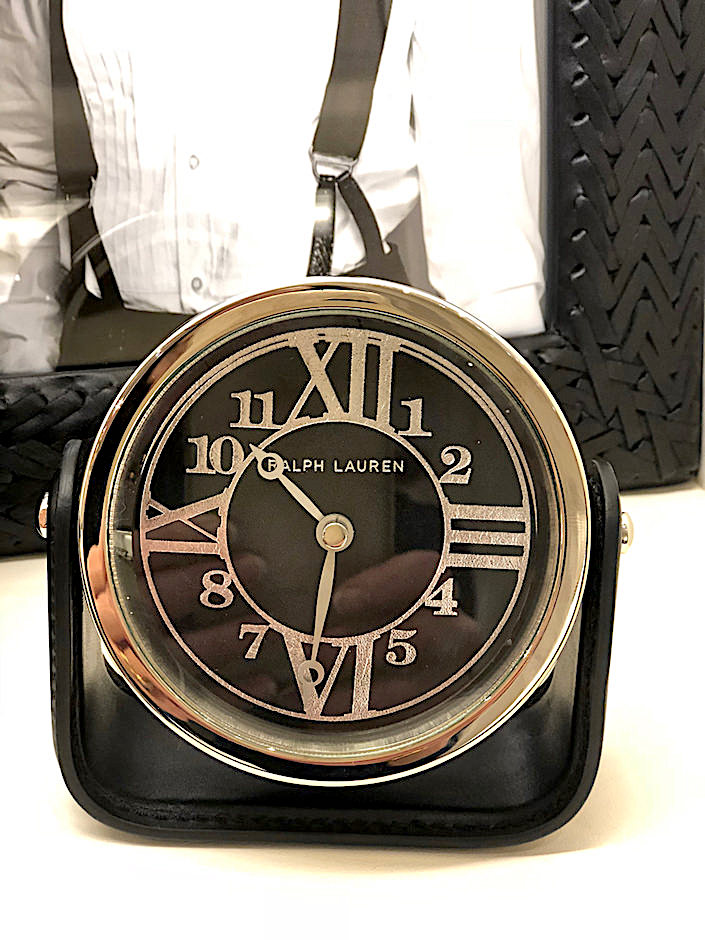 The Brennan mirrors will also be available in saddle leather in both vanity and desk versions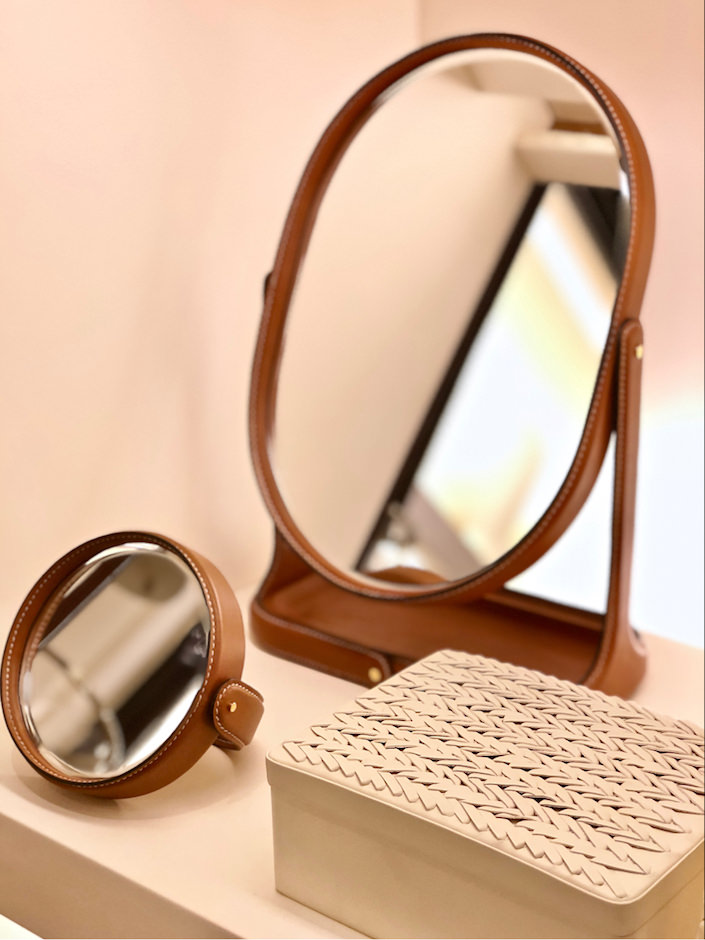 and the Adrienne woven leather accessories will come in an elegant cream.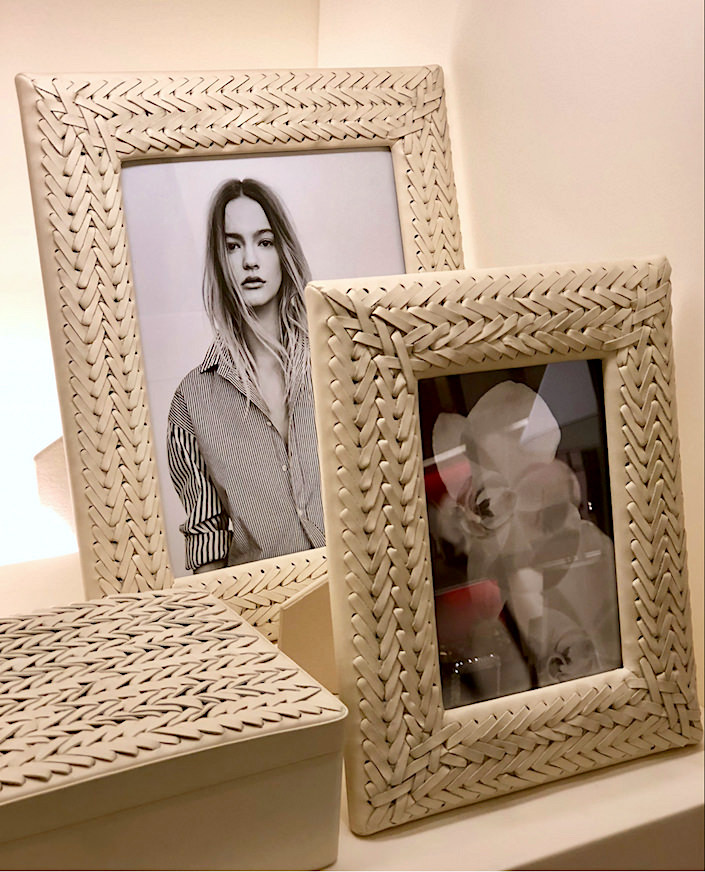 While some of the offerings at the 2018 Spring Tabletop Market are available now, many will hit the stores in later summer and early fall, so it is never to early to bookmark for fall entertaining. New to the Ralph Lauren Home art-deco inspired Montgomery collection is the giftable Olive Tray with Picks and Hors d'oeuvre Tray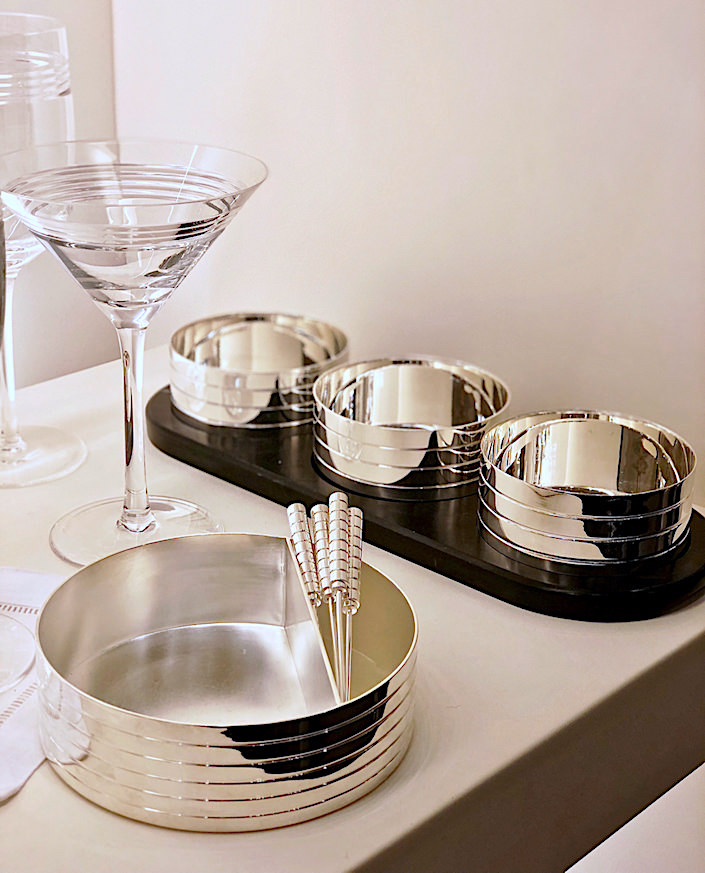 as well as the new Montgomery Nut Bowls and Medium Nesting Tray, shown with the classic Metropolis Crystal Barware, below.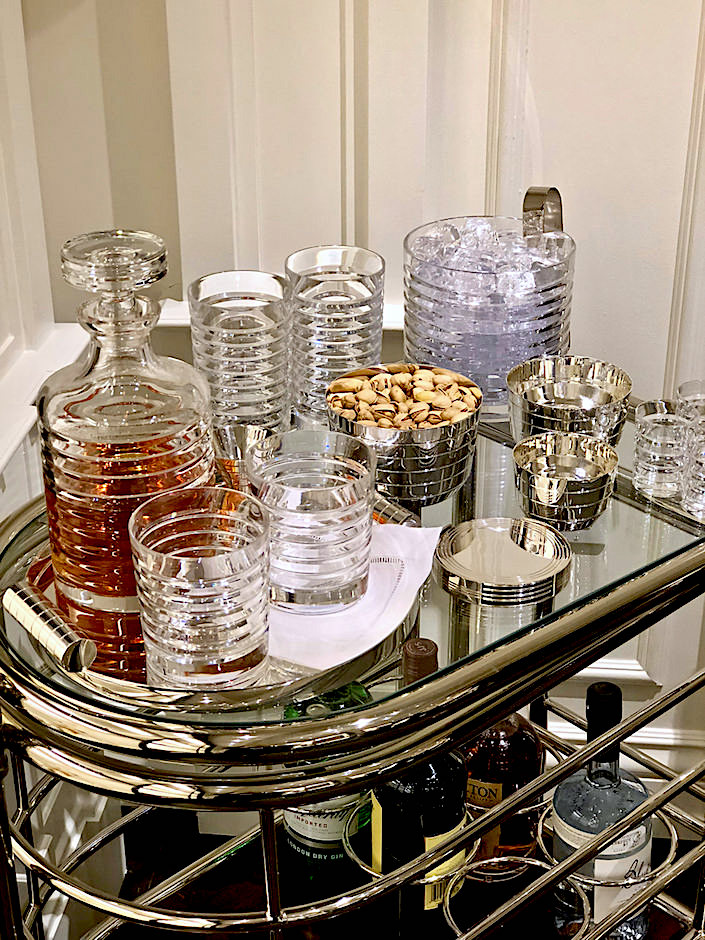 Gold tones also continued strong at 2018 Spring Tabletop. Below, the Wyatt Gold Serveware with black leather accents is a perfect pairing with the timeless Greenwich Crystal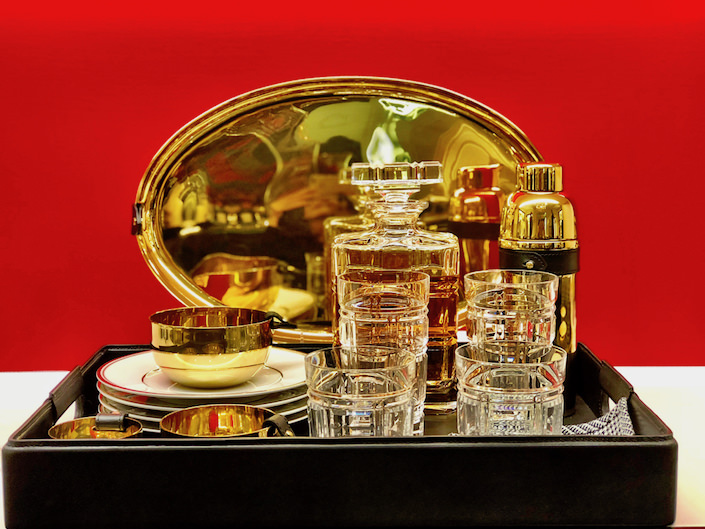 and the Holbrook Hurricane in Brass makes a statement with the Somerville Punch Bowl, in gold earthenware, crafted in Italy.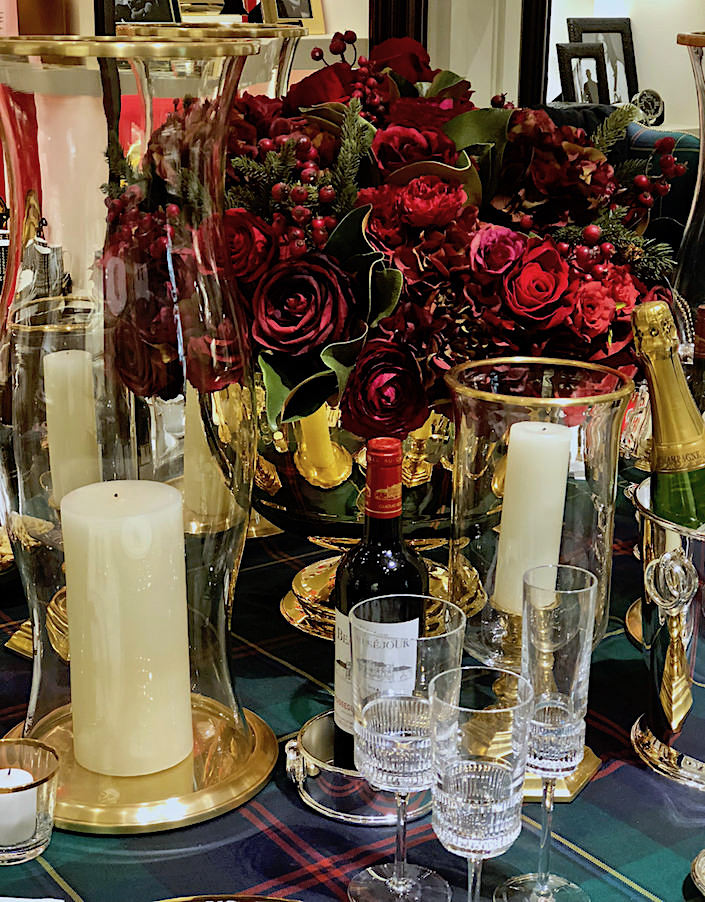 Gold rimmed Wilshire porcelain espresso cups and Alexander tartan cocktail napkins are perfect for fall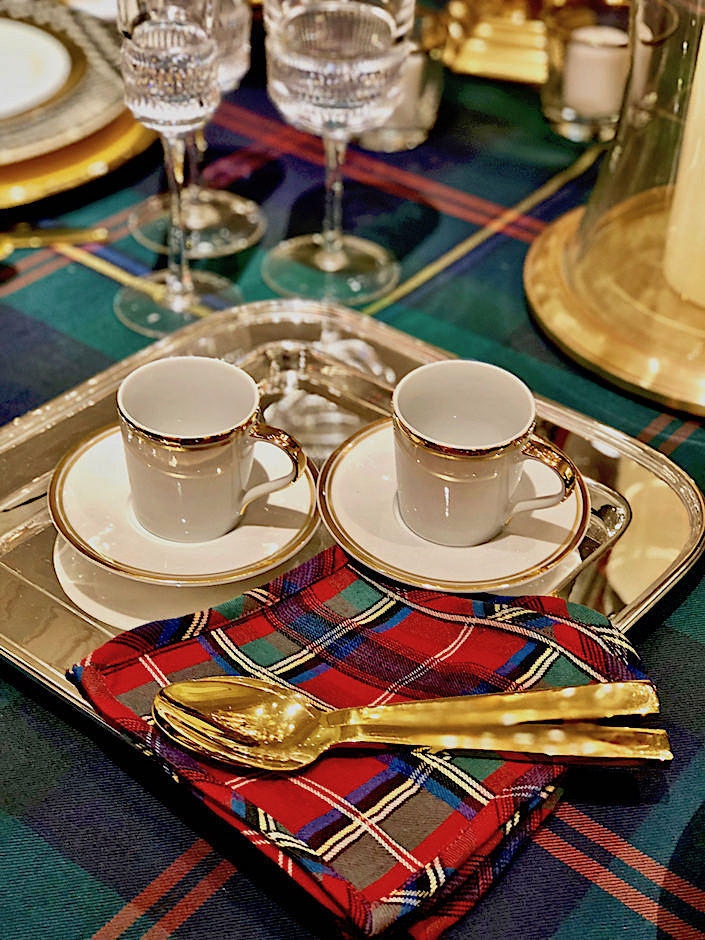 as are the new gold rimmed black and white Wessex porcelain mugs shown with their classic Glen plaid table linens of the same name.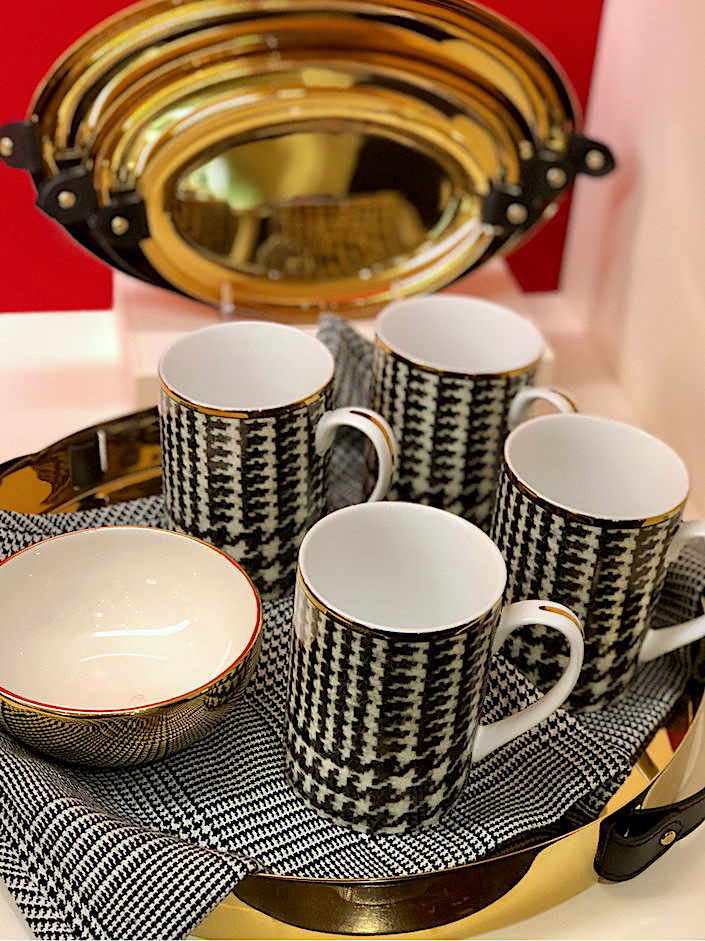 The wicker wine tote you saw on the Ralph Lauren Home DIFFA Dining by Design table is now interpreted for fall in the saddle leather Wyatt Wine Tote with a tartan fabric interior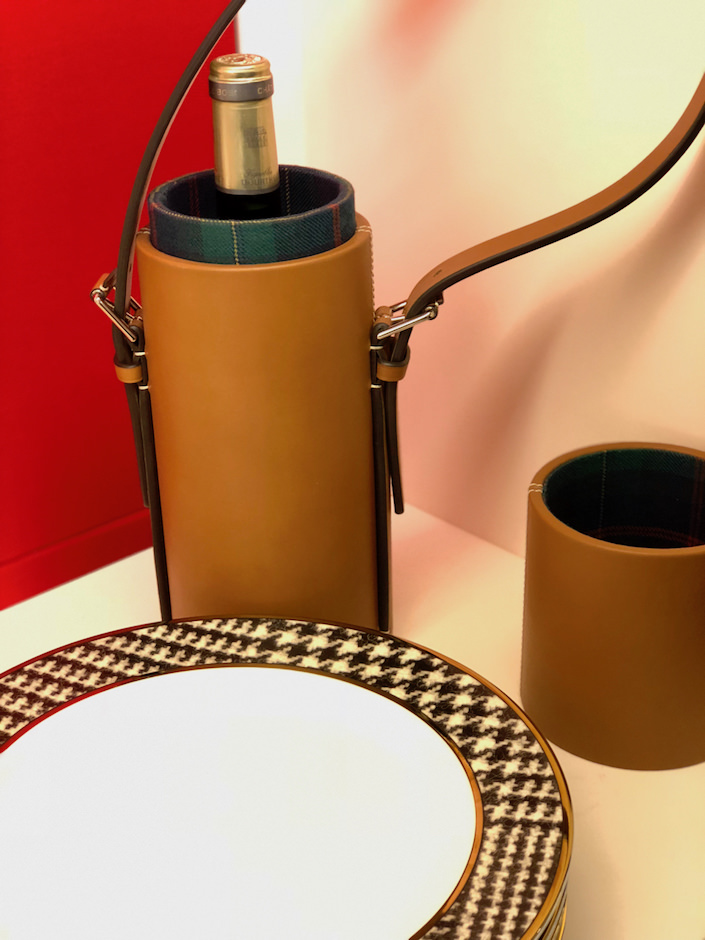 and in black leather with the Wessex glen plaid.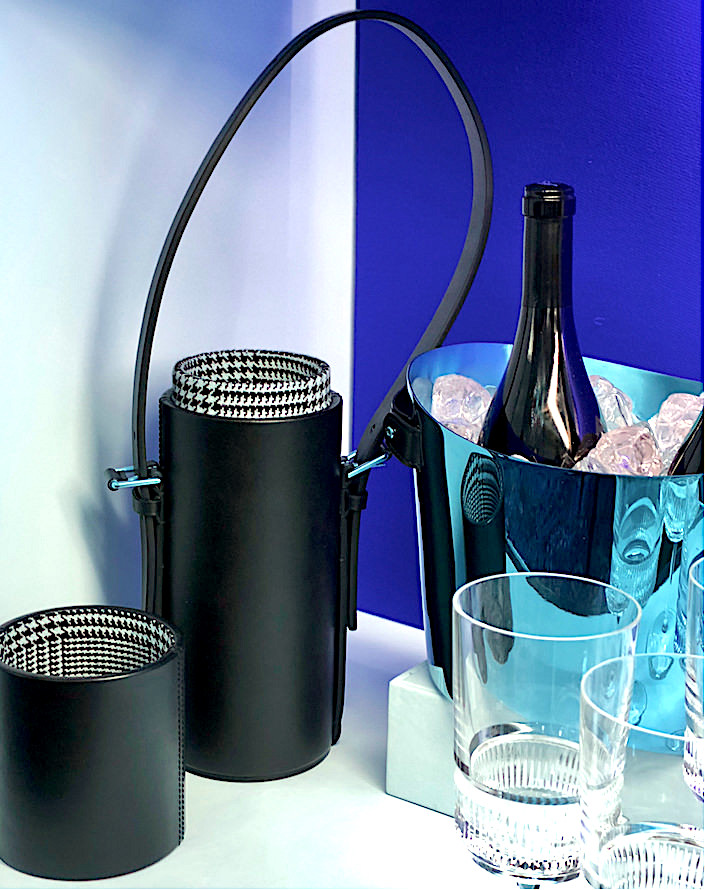 and lastly, for those who were fans of Ralph's Coffee Shop (and who wasn't?)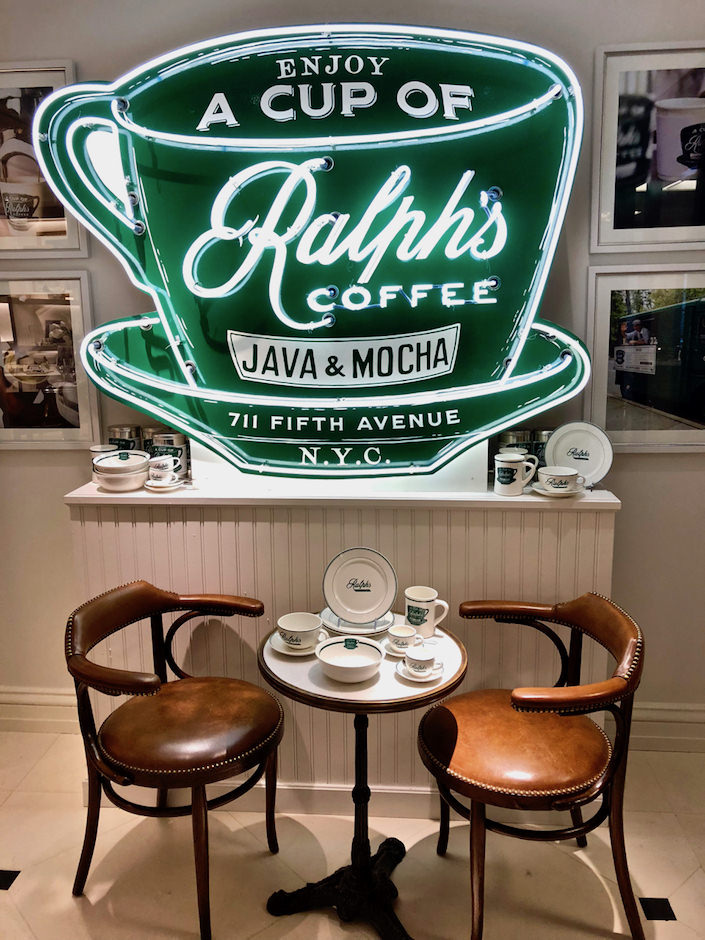 you can now bring home the classic stoneware collection!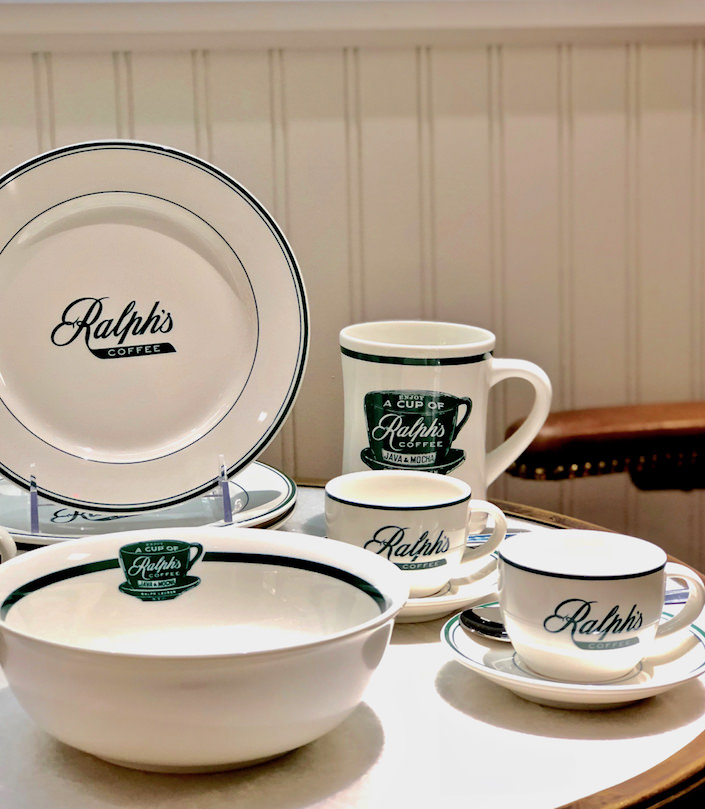 At Hermès, Nigel Peake's new dinnerware hit the spot. Aptly names "A Walk in the Garden," it melds stylized flora imagery with the graphic geometry for which he is known.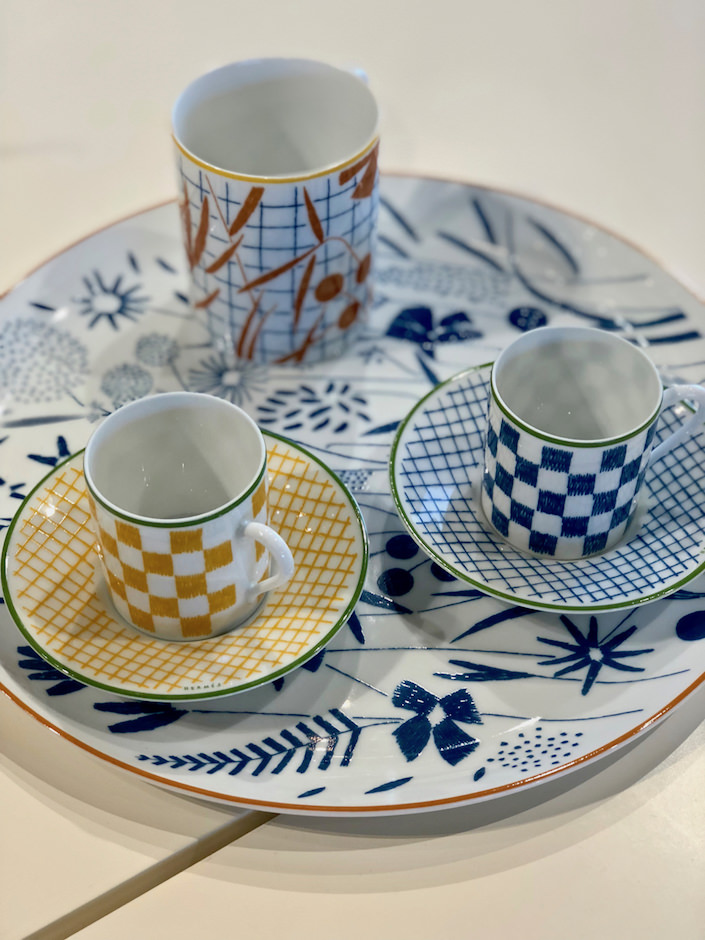 As with other recent Hermès settings, it's all about the mix and match.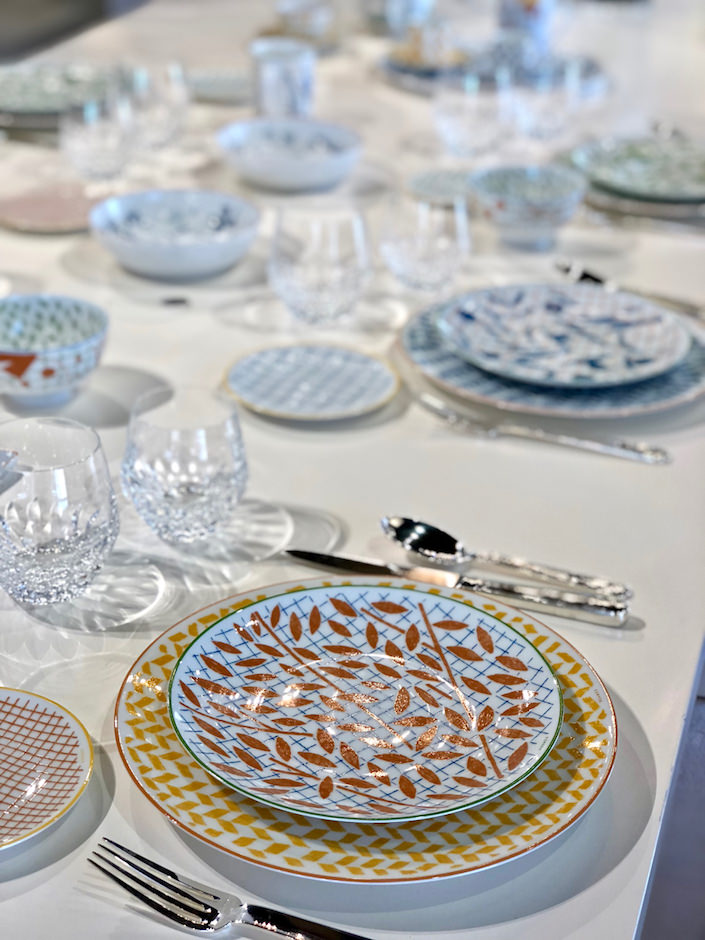 They also introduced mugs, adding to last year's Tie-Set introduction,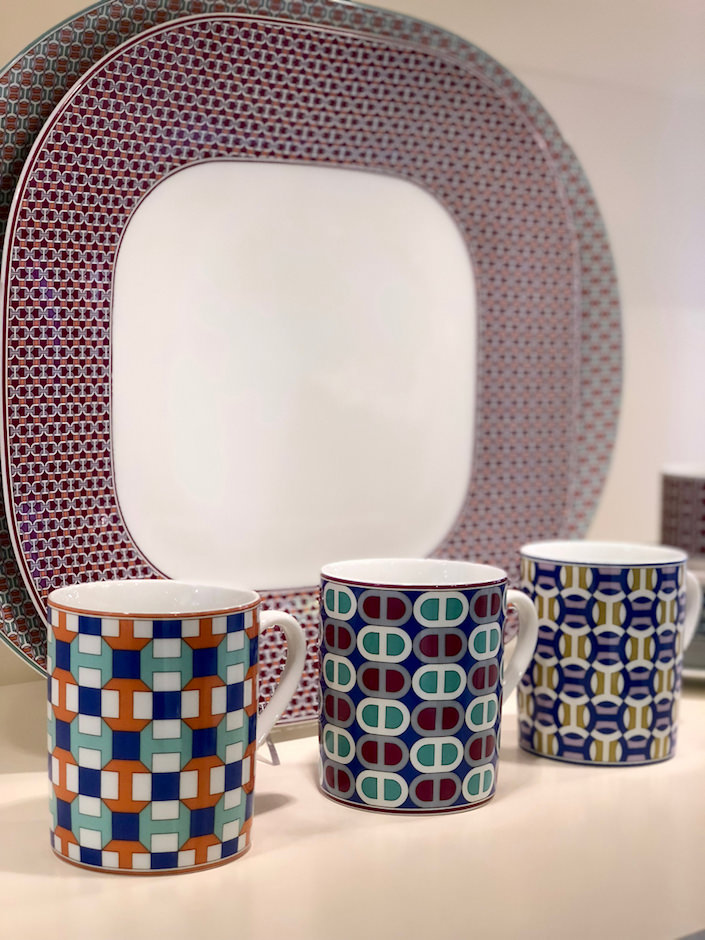 new covered boxes, bowls and votives at Saint-Louis Crystal, echoing the bottom of their iconic Royal chandeliers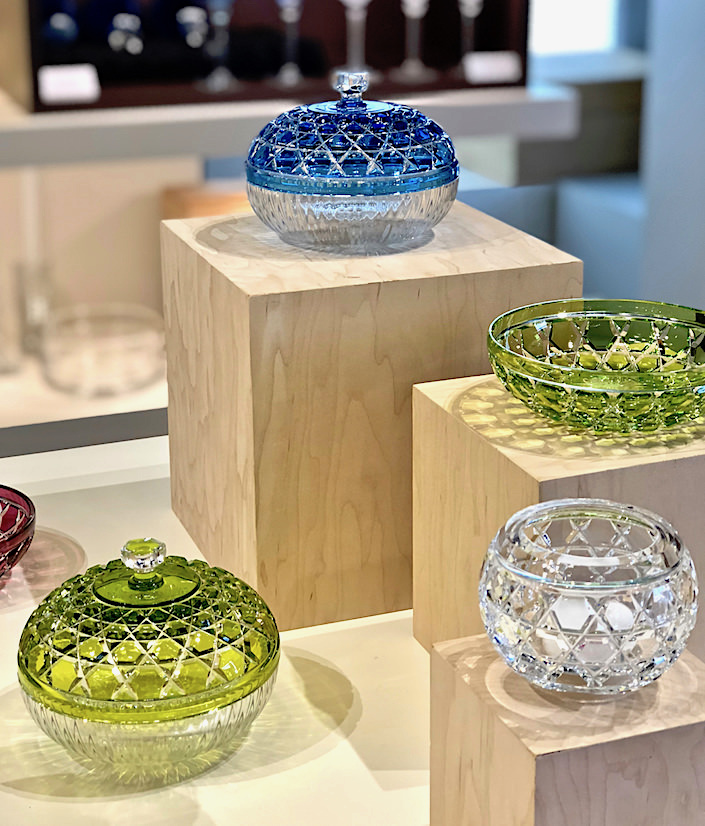 and new Puiforcat salt and peppers, as part of the Normandie collection, based on the original 1934 flatware for the iconic steamship.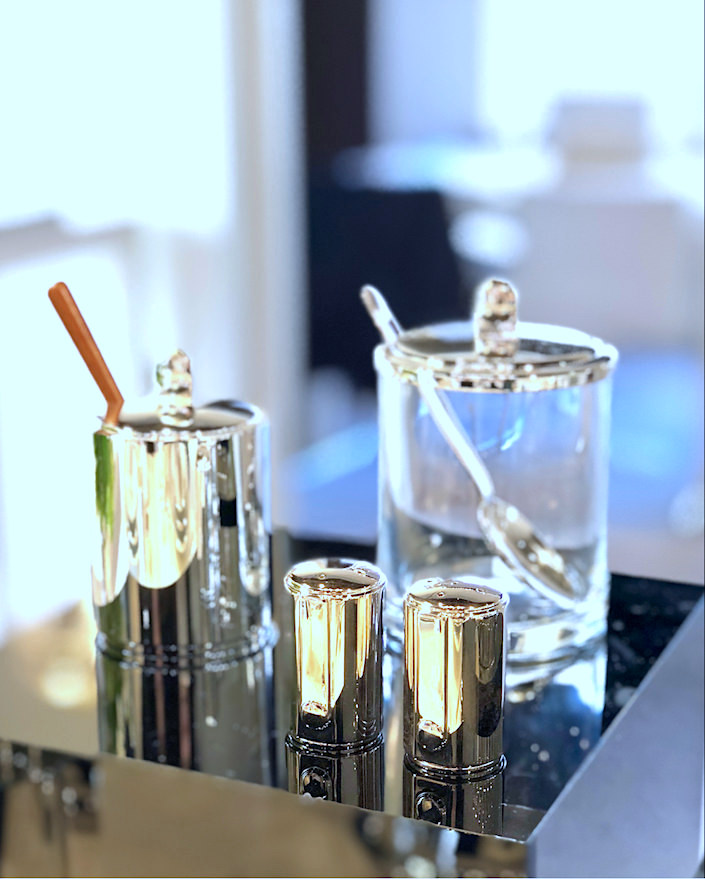 William Yeoward introductions included the fabulous footed hurricane in a vibrant Emerald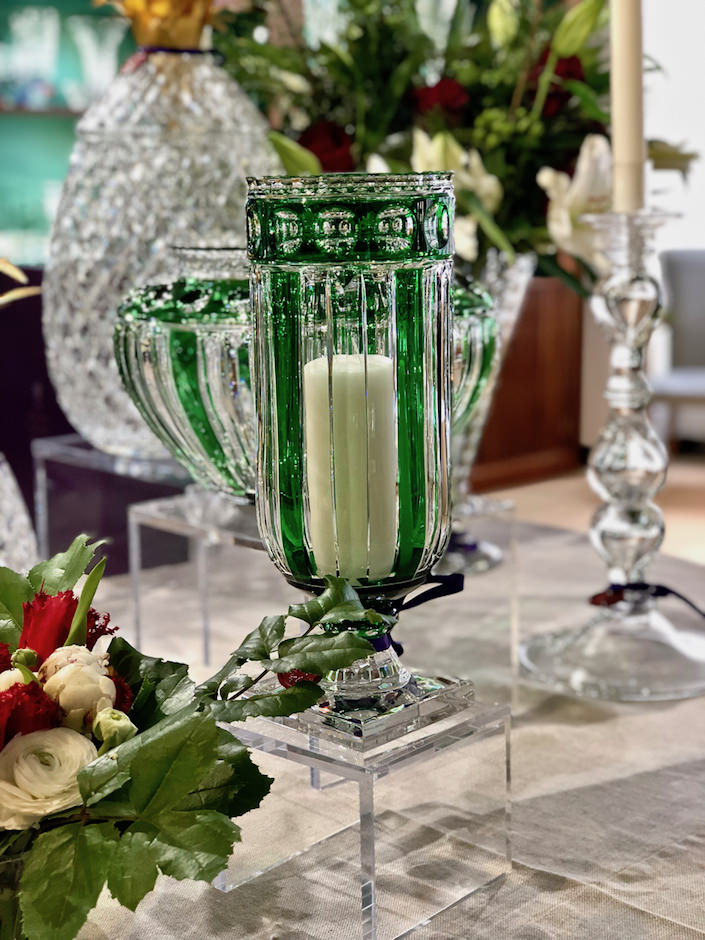 and azzura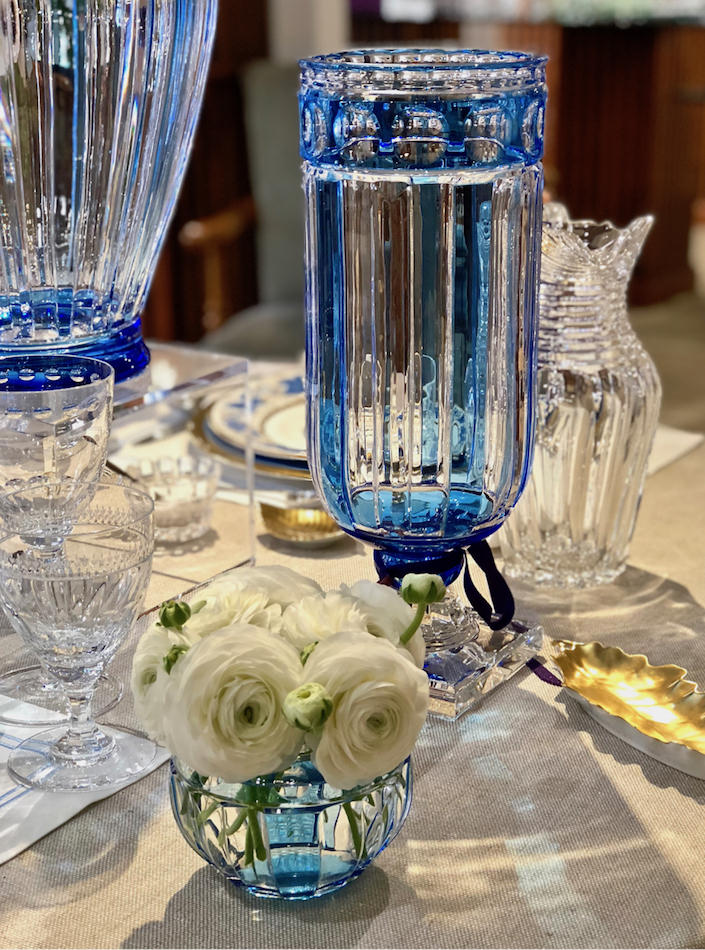 as well as a Classic Footed Rose Bowl (with frog)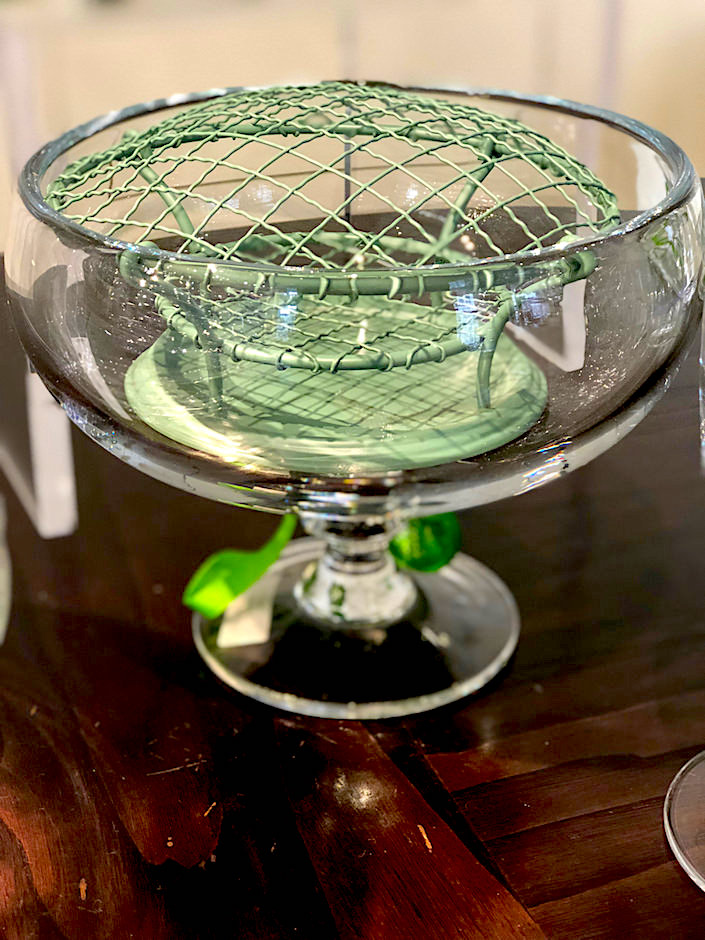 that is clearly appropriate for a variety of beautiful blooms.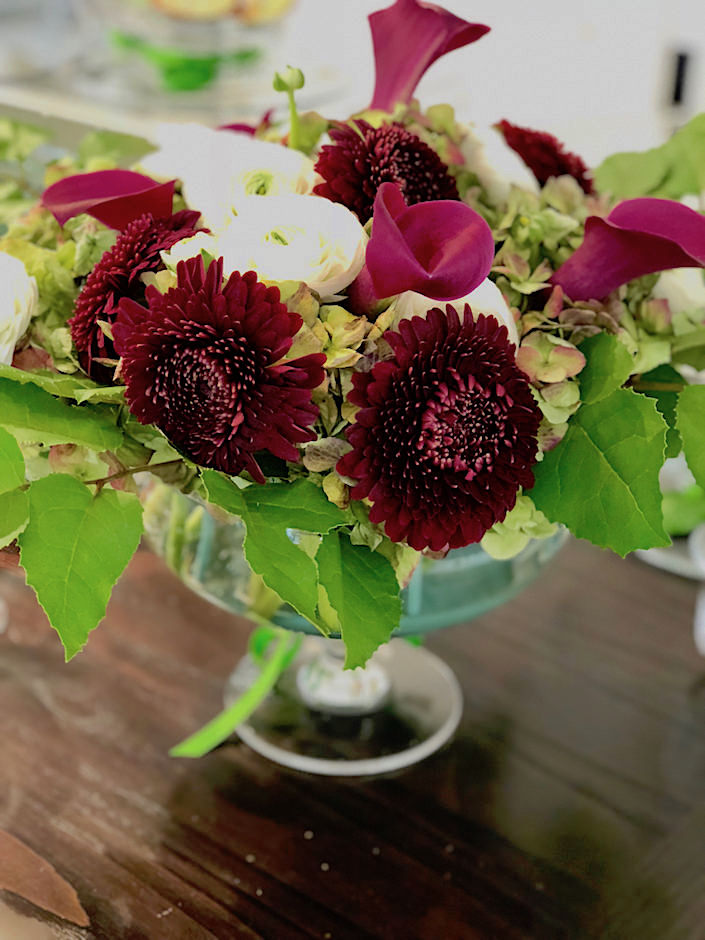 At Reed & Barton, Thomas O'Brien brings his updated American sensibility to the table. His Maison Couleur collection is a modern interpretation of of 19th century French tiles. Below, the charming Diamont No. 10 Serving Tray shown with his New Vintage Barware Collection.L/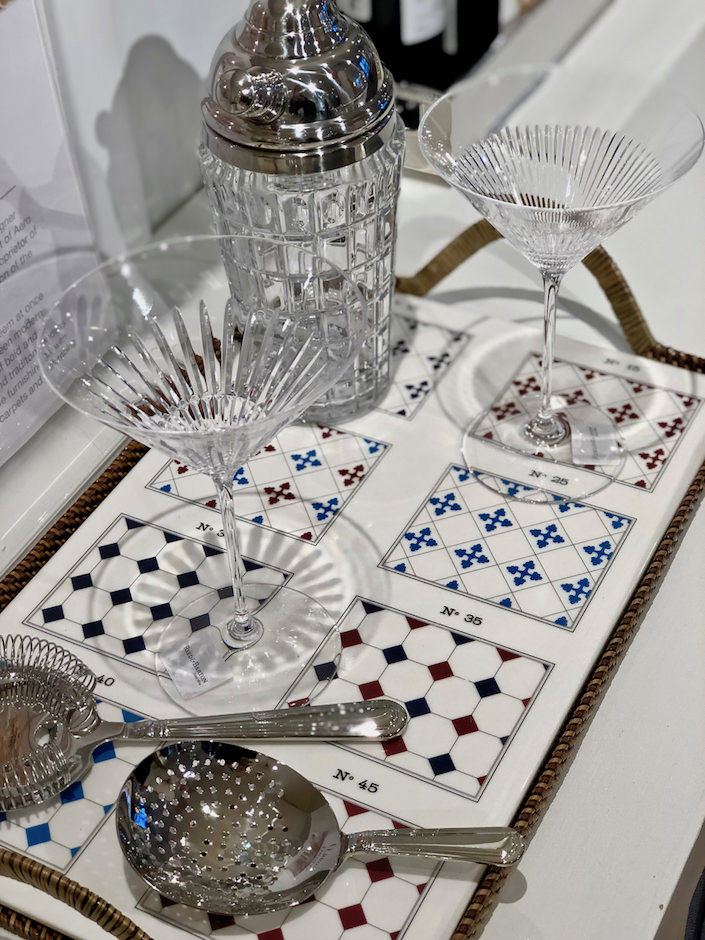 The L'Hotel No. 29 porcelain collection is an eminently mixable classic white design with just enough heft and delineation to set it apart, with a great new indigo goblet that is the perfect size for anything.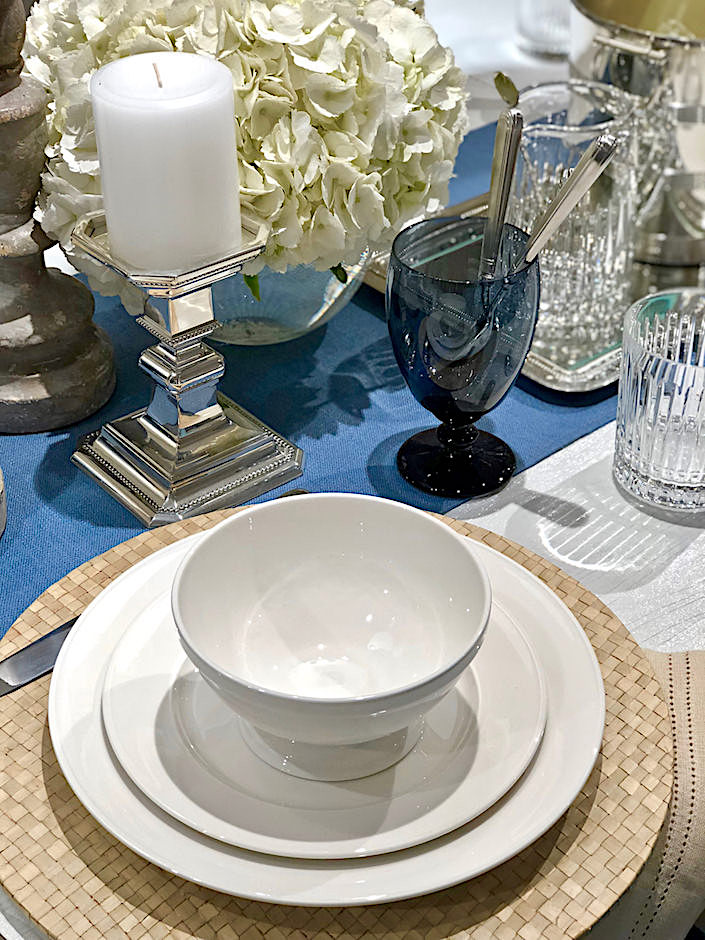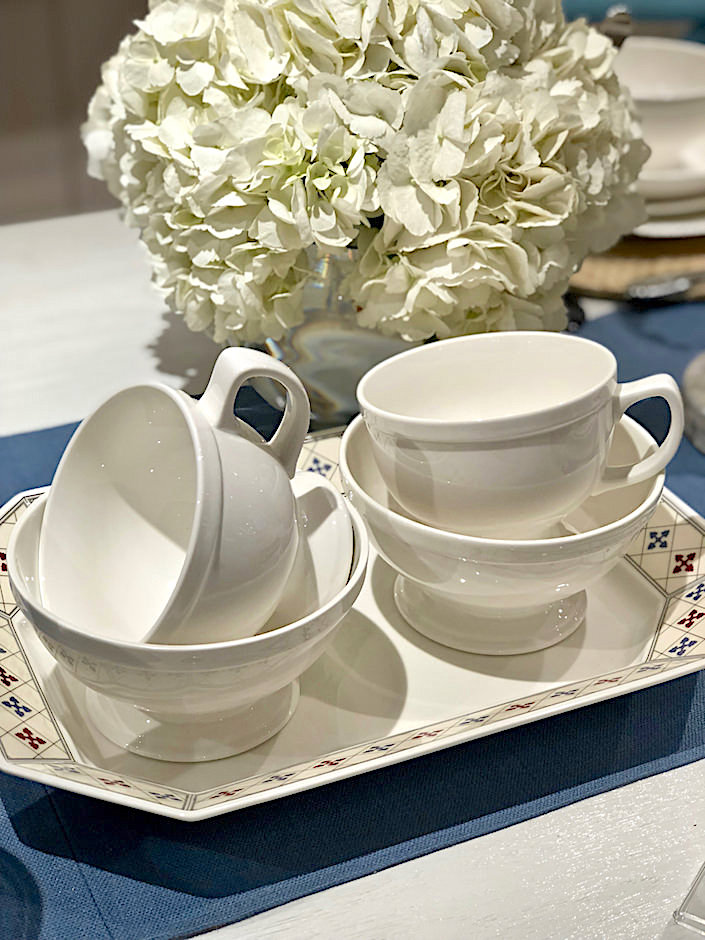 You can always count on Vista Alegre to infuse some surprise in their classic Portuguese porcelain line. At 2018 Spring Tabletop Market, a favorite was Cannaregio, an ebulient porcelain collection inspired by the magic and mysticism of Venice.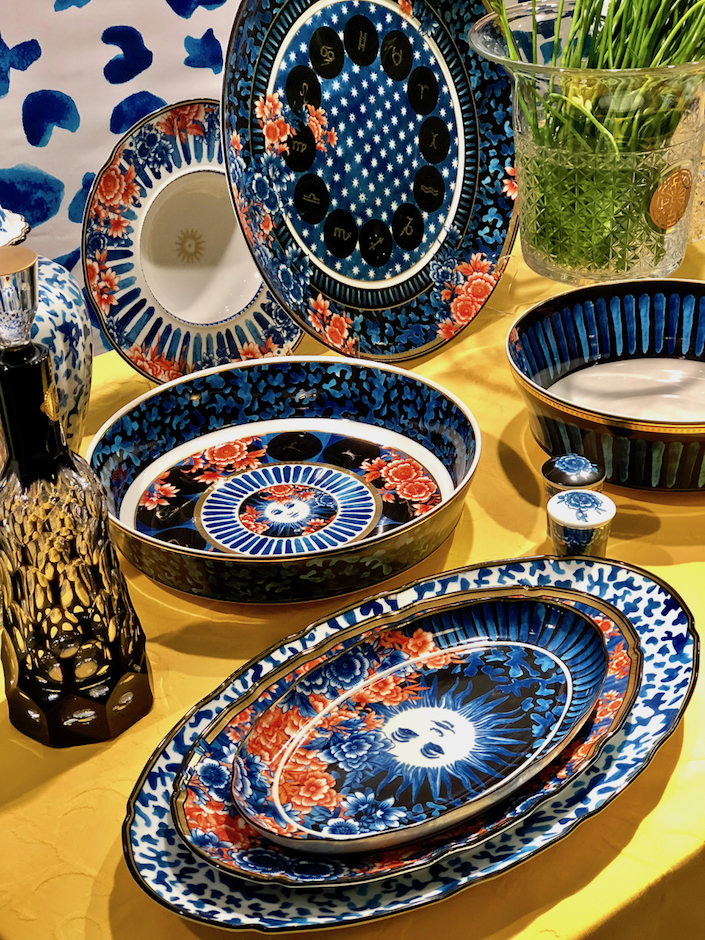 With a wide variety of pieces and patterns, it is easy to create a multitude of spirited table settings.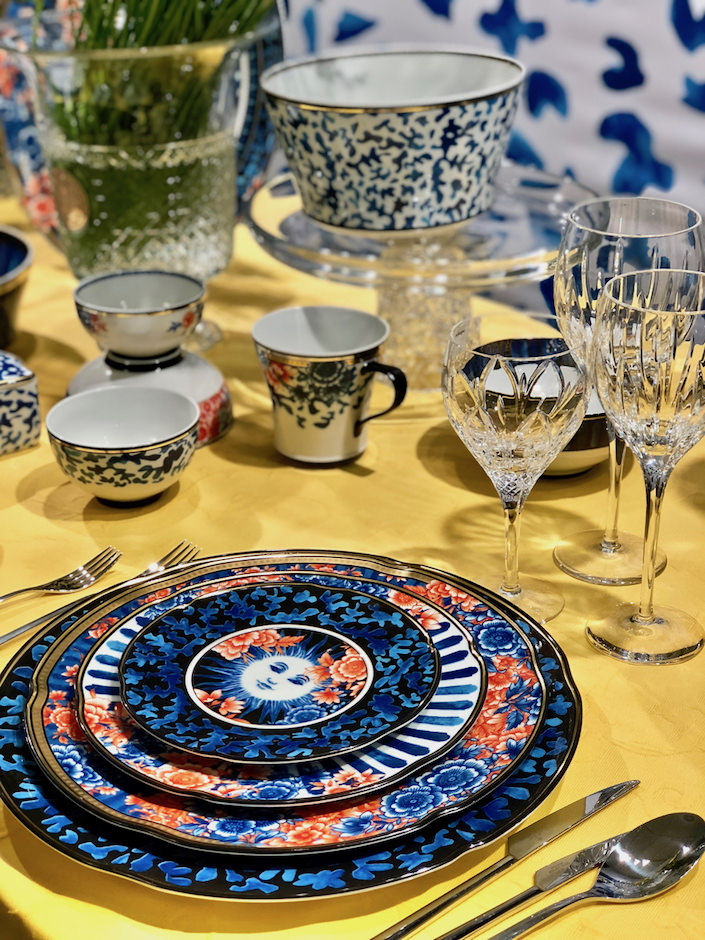 You may be familiar with Christian Lacroix's various collaborations with the Portuguese manufacturer. This season they joined forces to create Primavera, a collection of decorative and sculptural pieces inspired by a garden filled with flowing foliage and animated birdsong.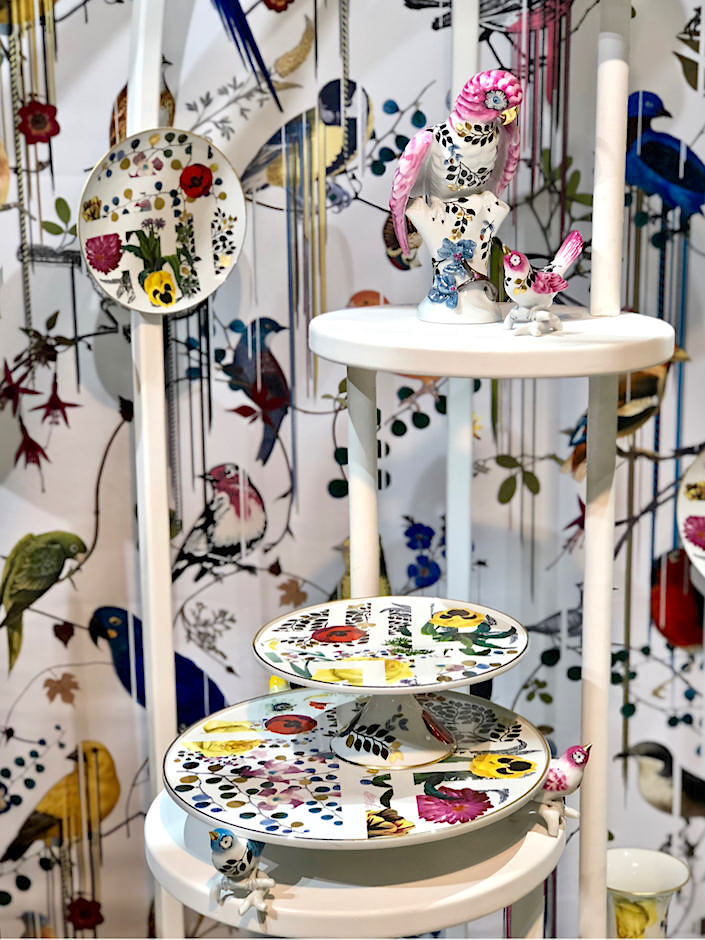 Sylvanae (Goddesses of the Forest), a new introduction from Mottahedeh, is an adaptation of a late 19th century Zsolnay design from the distinguished Hungarian manufacturer.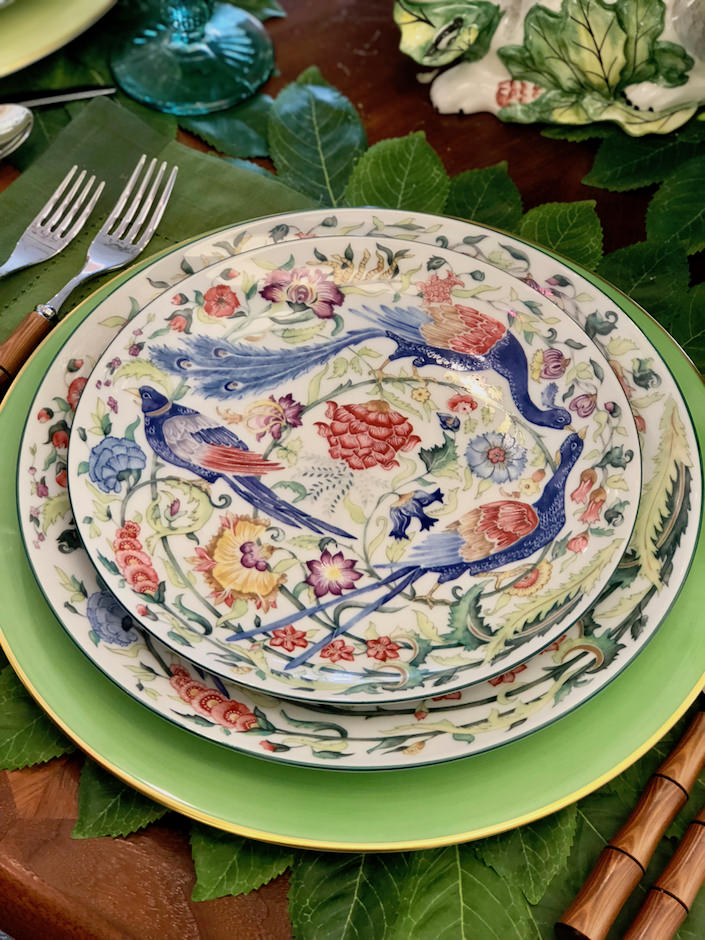 They have also very cleverly taken the rims from three of their iconic patterns for plates with just the edging. You can see the original Duke of Gloucester below, with the new Gold Feather Chelsea plate underneath.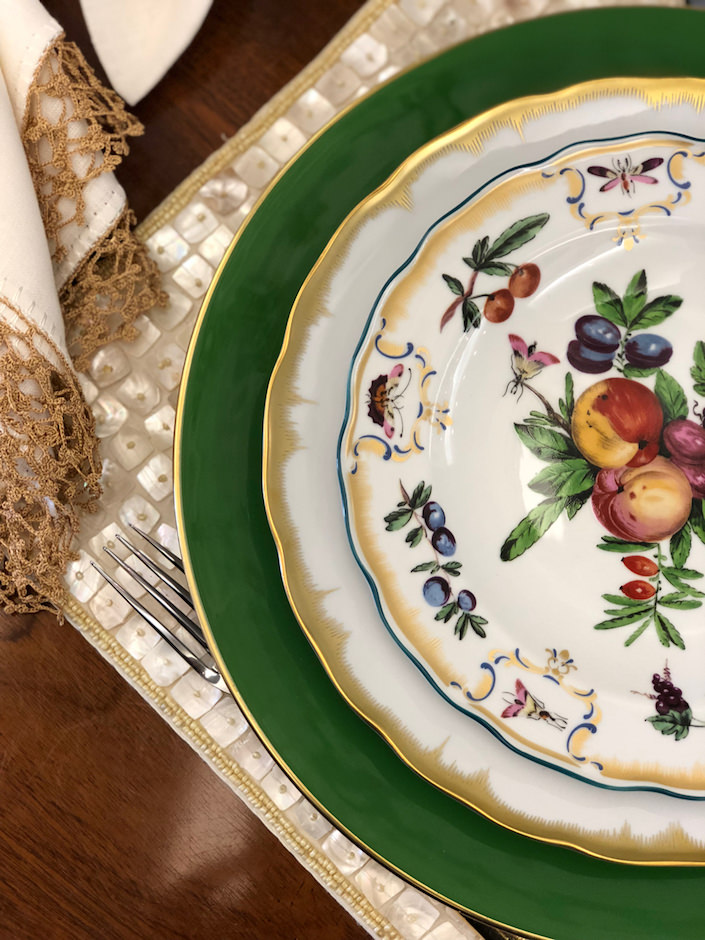 Christofle introduced MOOD Nomade, including dinnerware, linens and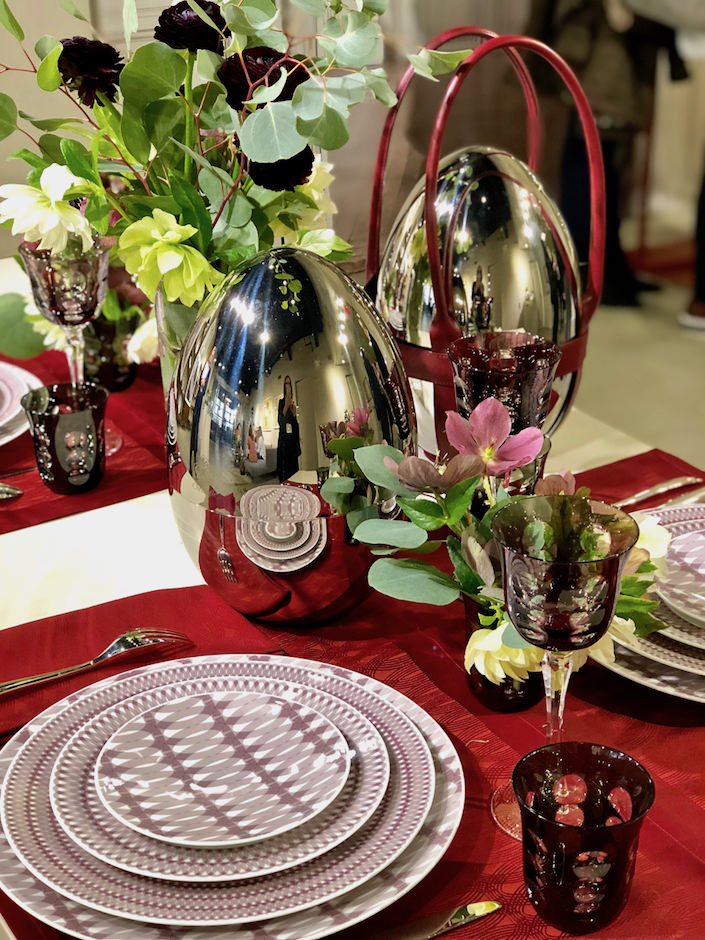 a new version of their brilliant MOOD silverware statement (closed above and open below) with a leather handle perfect for elegant picnicking!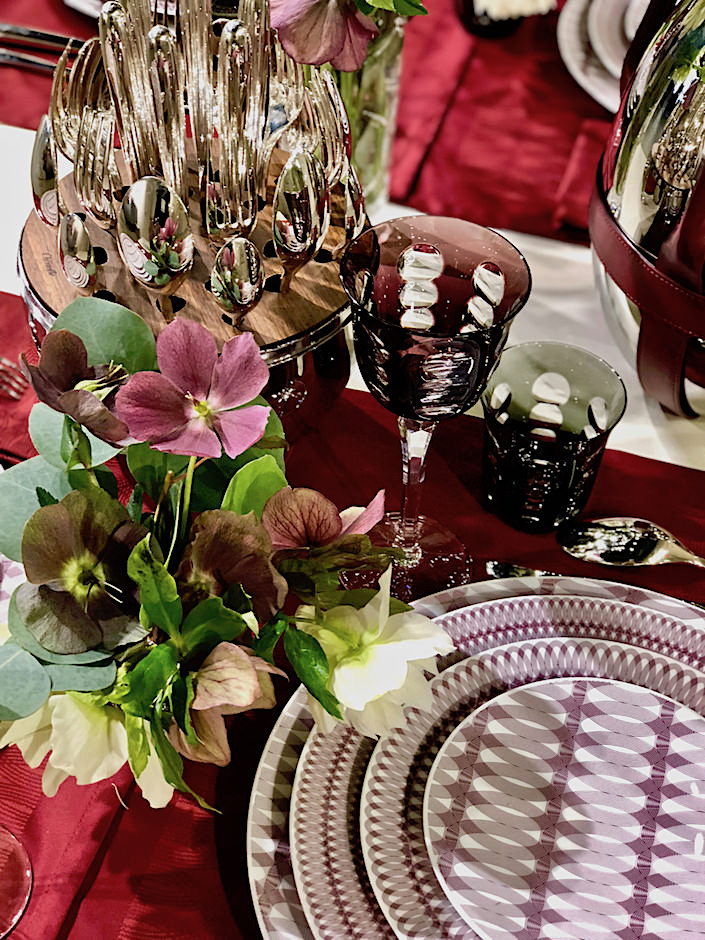 Historic French Faiencerie Gien introduced several new collections, my favorite of which was les Déparaeillées (mismatched).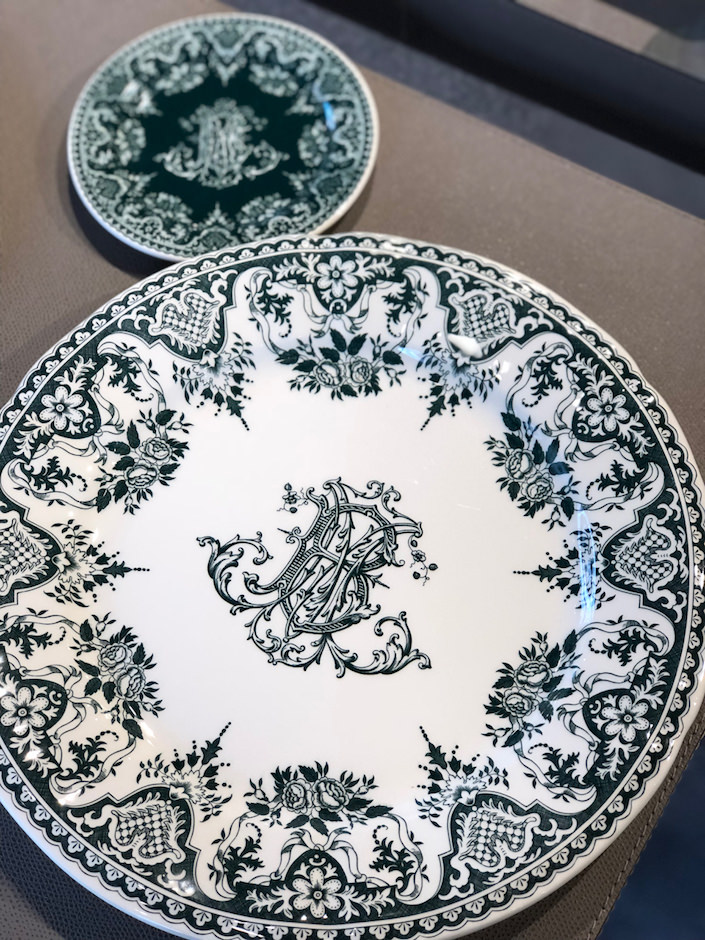 Hopping on the mix and match bandwagon, they are offering six different motifs drawn from 19th century archives for an eclectic tabletop collection referencing finds that one might discover at les Puces,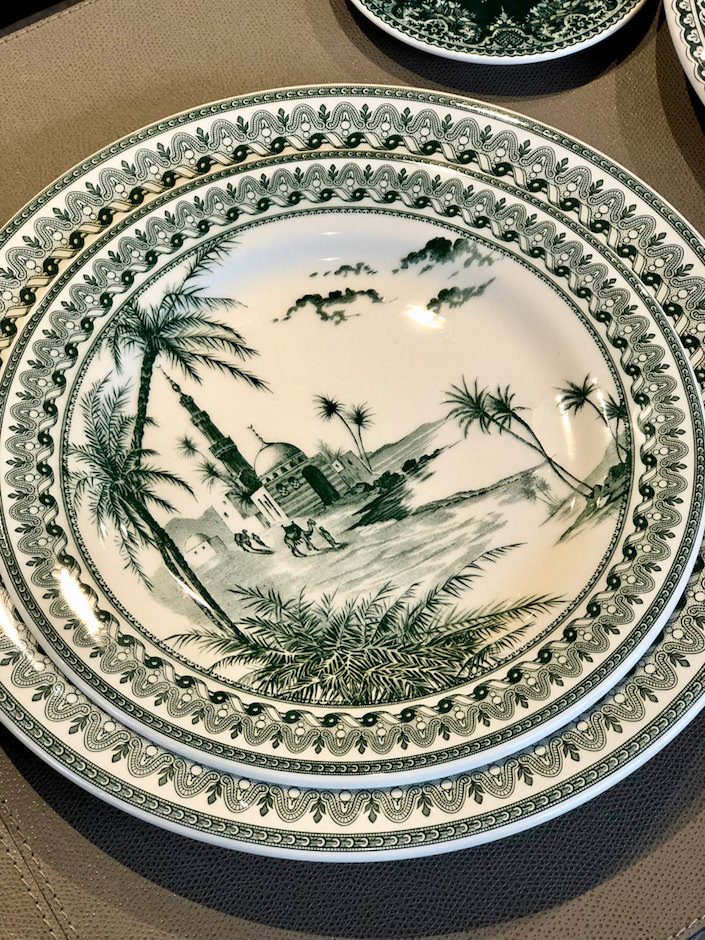 in shades of green and black.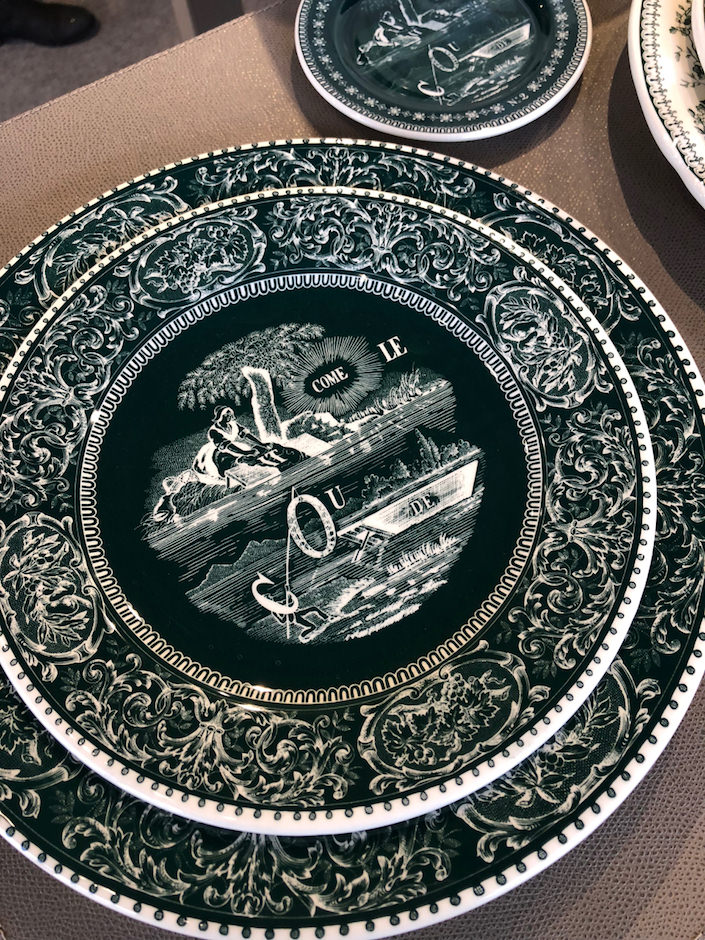 Ginori is now offering its popular Babele pattern in both black and green as well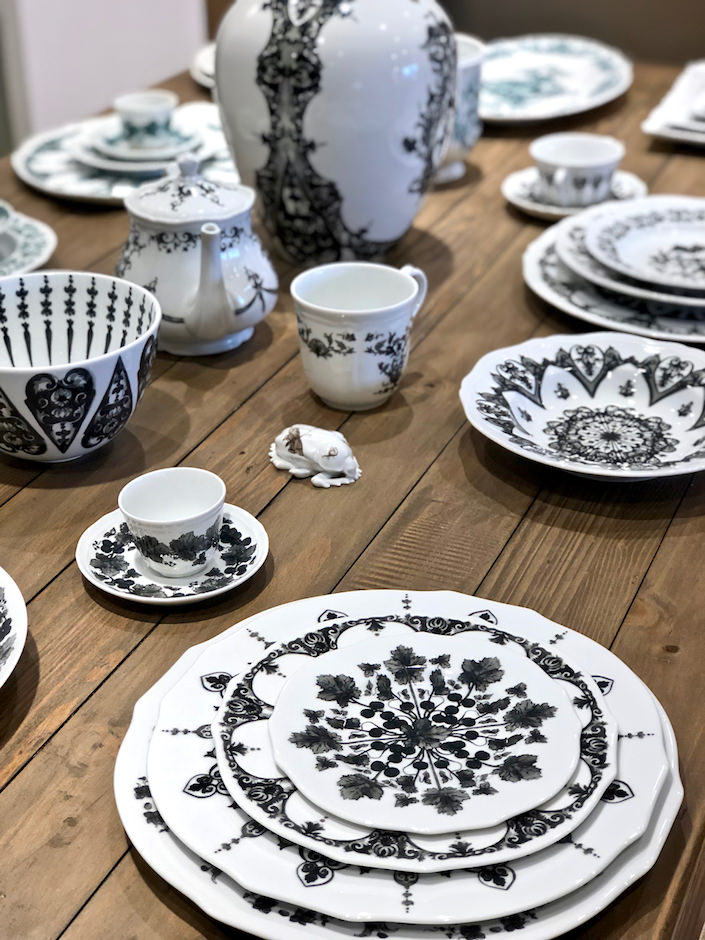 and two new decorative cachepots.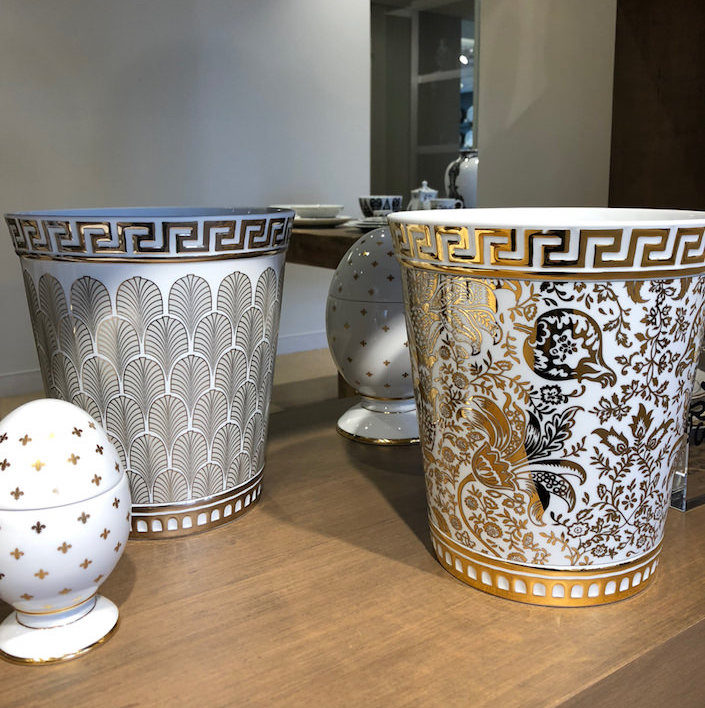 Lastly, it was exciting to see Meissen back with new representation at 41 Madison. This means that orders through retailers will, for the most part, be faster and more efficient.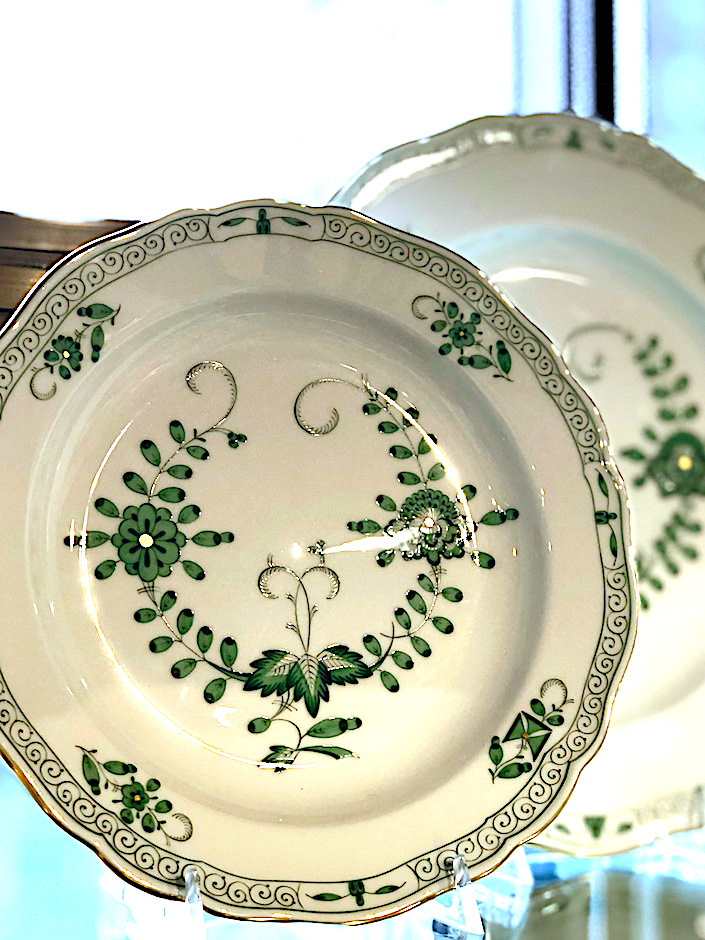 all photos by Stacey Bewkes for Quintessence