It is not surprising that the projects in Robert Couturier Designing Paradises are all beautiful, executed with an eye for exacting elegance. What is surprising, however, is how very personal the book is. But then again, that is a key component to Robert's work. That, his unerring passion for perfection and, as Caroline Weber quotes in her thoughtful postface, the Baudelairian qualities of "luxe, calme et volupté."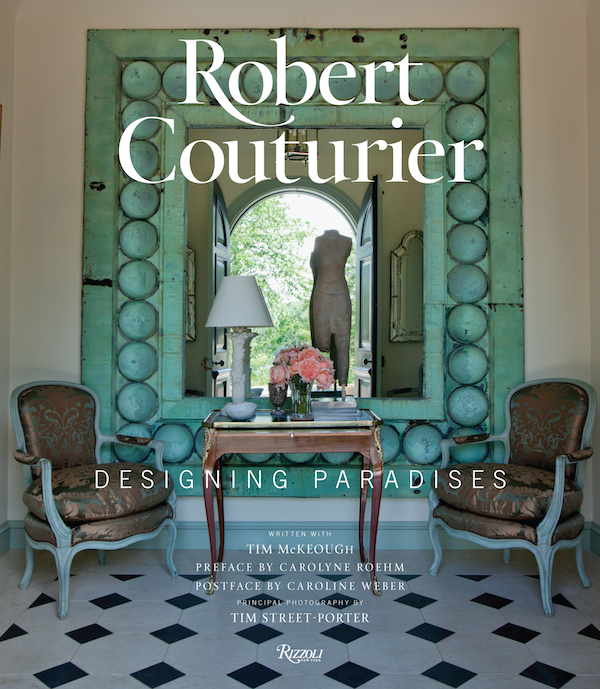 From a solitary childhood, Robert developed a particular love and attachment to warm and reassuring spaces, particularly those filled with antiques, fine furniture and art like his grandmother's home where he grew up. And although these spaces may have pedigrees, they also, like Robert, have a wonderful element of wit and vivacity. As he explains, "No matter how big the project, I always aim to bring a sense of levity to the design process. I value lasting friendships and crackling conversations far above any ostentatious displays of wealth."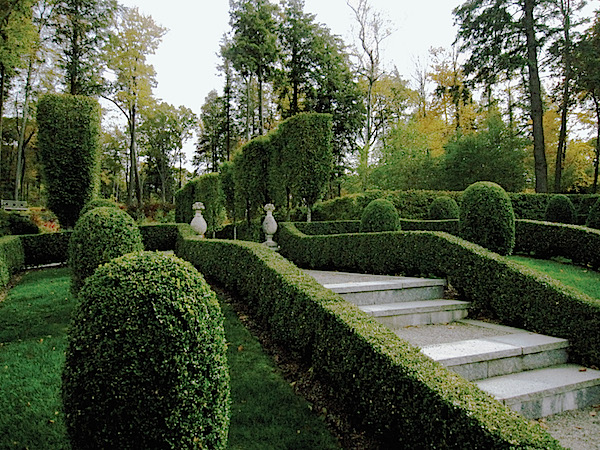 These are the types of paradises Couturier designs. The first half of the book is devoted to his own residences, primarily his stunning rural home in Kent, Connecticut that he shares with husband Jeffrey Morgan, an architectural historian. This is a house that encompasses both Robert's passion for collecting fine antiques, art and objets and his vision for an idyllic country life. As those of you who follow him on Instagram know, here he frolics with his four adorable shih tzus, to whom he is ardently devoted, in the formal parterre gardens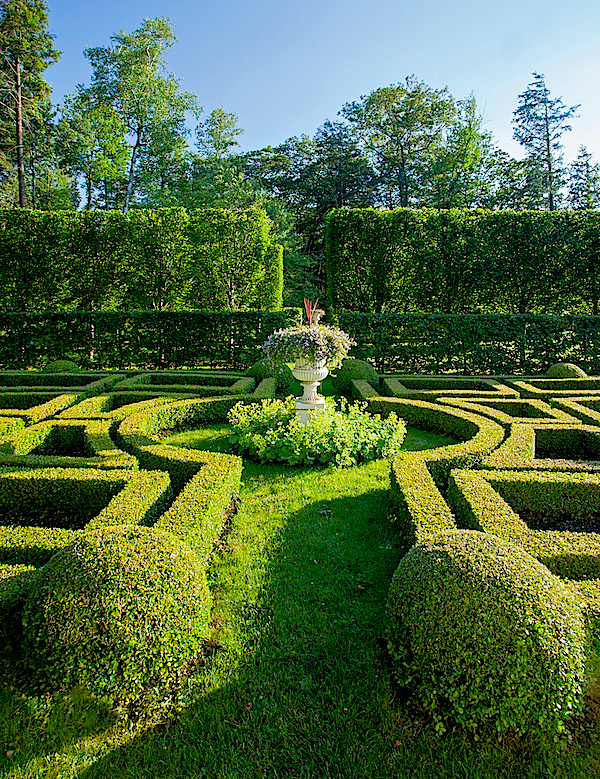 and cuddles with them in the living room, a seventeen foot high space furnished with an eclectic array of pieces from many eras, including this Maison Jansen sofa.  With windows on all four sides, it is a room that changes with the light during the course of the day.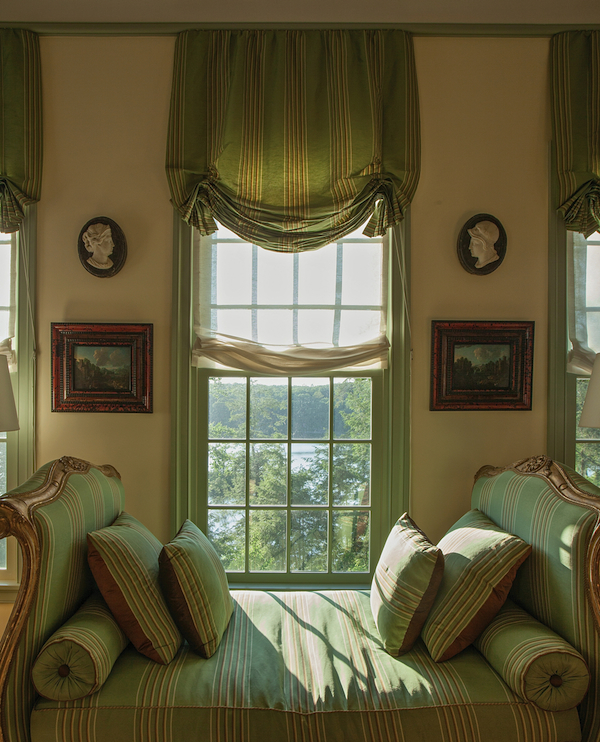 But that isn't all that changes on the property. Couturier has designed the house to be able to evolve with the couple's tastes and interests, continually adjusting rooms to enhance the way they live. It is, in this way, a paradise that is a true reflection of their lives. Sometimes changes are subtle as in the bedroom where painted white walls were upgraded to upholstered ones to add a subtle warmth expressed in visual, acoustic and tactile manners.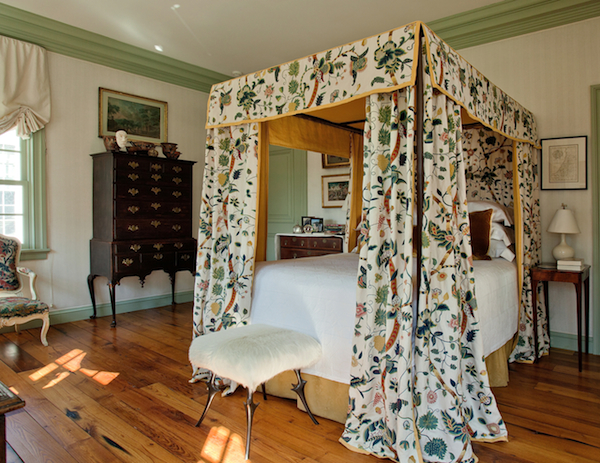 And sometimes changes are more dramatic. One of the more recent additions is the library, a detached octagonal building that houses Robert's extensive collection of art and architecture books with drapes and furniture upholstered in a nearly extinct le Manach fabric that he brought back to life. Join Susanna and me for a peek inside from when we visited Robert in his special retreat last year.
And tag along for a tour of the rest of the house, all of which, and more, is documented in the book.
It is in Robert's NYC Soho loft where his fascination with both ancient and new merges. Old school meets modern world in a chic amalgam of eclectic collections and interests. "This is in direct contrast to what I have in the country in many ways. Here in the city I have varied, wonderful things from all sorts of different eras."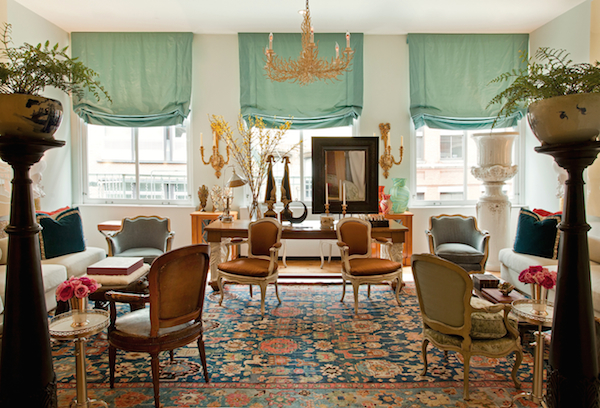 In the office, ebony and tortoiseshell mirrors flank an 18th century portrait by Richard Cosway. A scene stealing Jacques Adnet sofa upholstered in faux zebra and 1930s French armchairs sit on a French 18th century rug. So chic!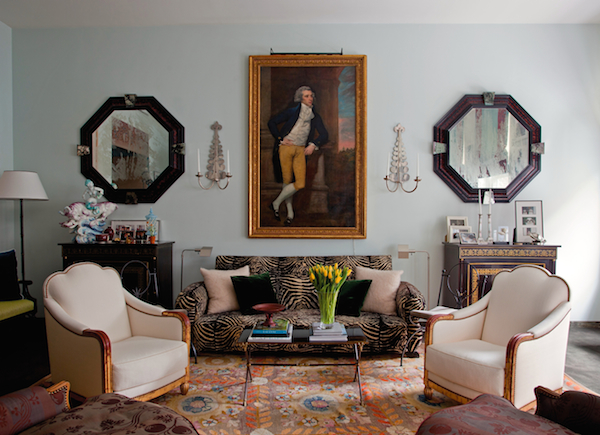 Part II of the book shares select projects throughout the world. And just as Robert's homes are a personal manifestation of him, his goal is the same for his clients. "My projects are direct reflections of the people … My job is to help people dream, to make those dreams a reality, and to transform abstract ideas into concrete creations." And he is so successful in achieving these goals that many are repeat customers. "I remain incredibly close with almost all of my clients. They become very close friends." In this project, the client wanted a typically French look for her 8,000 square foot Manhattan home, tempered with contemporary pieces for a more eclectic and extravagant mix. The directive was right up Couturier's alley. In the entry a bronze and crystal Hervé Van der Straeten chandelier , Vosges sconces and a Croco Claude Lalanne console enliven the traditional architectural features.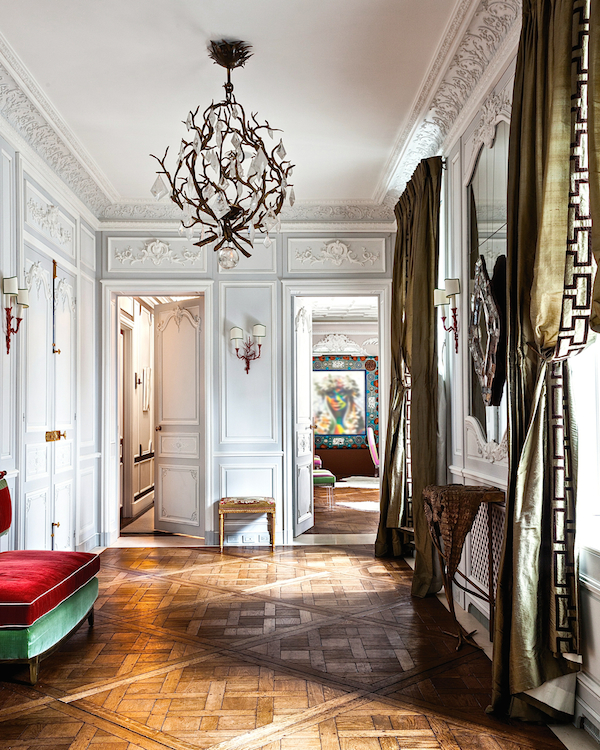 One request from the client was for an Hèrmes orange room. Couturier obliged with this intense jewel box of a family room where Vladimir Kagan's Serpentine sofa and Mattia Bonetti's glamorous coffee table inform the statement-making mix.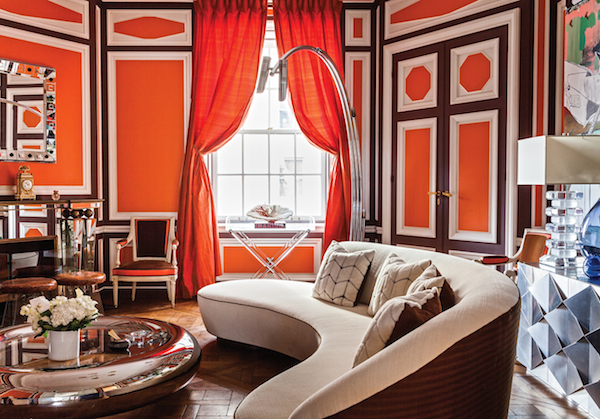 Robert has designed prestigious projects around the world, including Sir James Goldsmith's now famous 20,000 acre estate in Cuixmala Mexico which he worked on exclusively for five years. And while most of his commissions are grand in scale, they always include his signature style of continental elegance mixed with wit and whimsy. You only have to spend a few hours with Robert to understand he is a man with one foot in the past and one solidly in the present, whose incredible love and knowledge of French history and decorative arts is equally matched by a warm hospitality and wicked sense of humor. It is this love of life well lived and an ability to express it in his work you will find in Robert Couturier Designing Paradises.
photos of Connecticut and Soho loft: Tim Street Porter; photos of the NYC project: Bill Abranowicz