Recently the editor's pick at Jayson Home & Garden, the wonderful Chicago based source for unique modern and vintage furniture and accessories, was its vintage flashlight lamp, crafted from Indian made Everready flashlights from the early 20th century.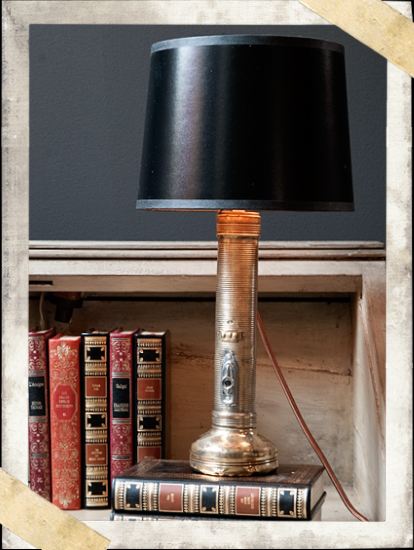 It has a great distinctive look that could add character to any number of places. If you think you have a place for one, don't wait too long – there are limited quantities.
There is a long history of lamps made from repurposed objects and they are to be found in many designers' repertoires. I love everything Michael Smith does. In a Santa Barbara home, he used a lamp made out of a gorgeous giant Imari vase.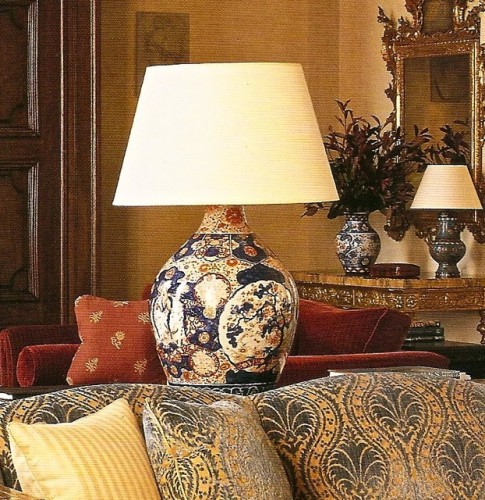 In the traditional library of Joan Kennedy's Back Bay apartment in Boston, Keith Irvine used a lamp made from a tole Chinese tea caddy.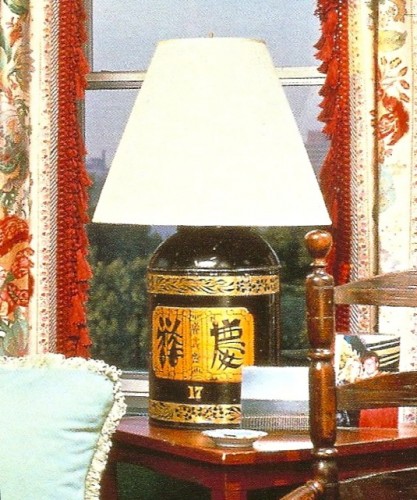 And Carleton Varney fashioned his lamp from a charming Staffordshire dog.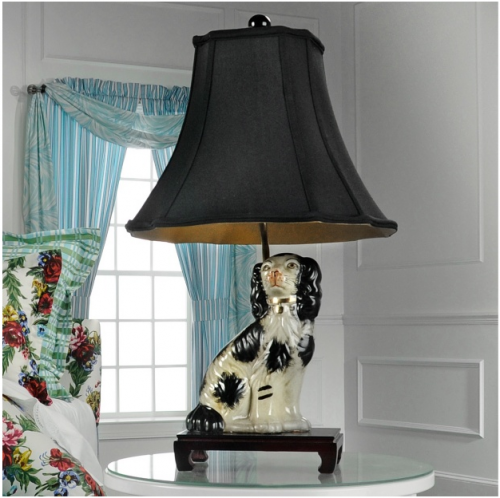 These fabulous architectural stone repurposed lamps come from Sienna Antiques via katiedid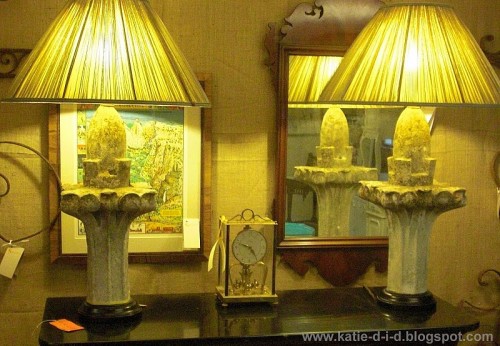 Nowadays, with the ecochic movement firmly afoot, many designers have found inventive uses for found objects in lighting.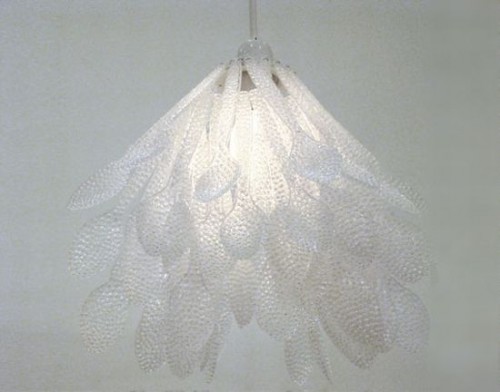 This lamp by Japanese design Daisuke Hiraiwa is made from plastic spoons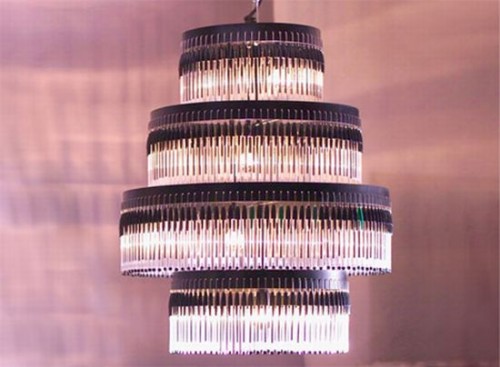 Spanish designer En Pieza made his chandelier from recycled ballpoint pens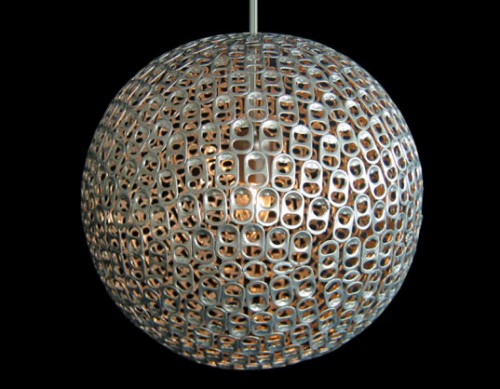 And Mauricio Affonso made his from recycled poptops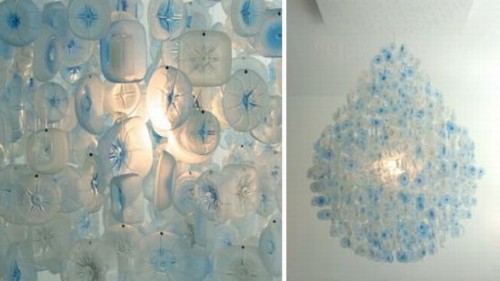 Whereas Berlin based Stuart Haygarths' lovely chandelier is made from recycled bottles.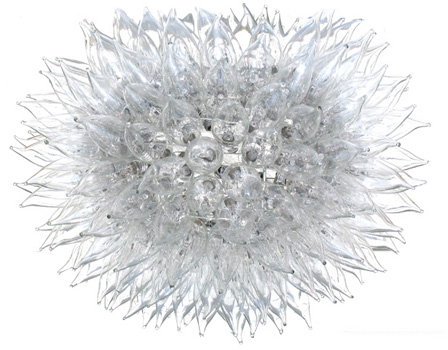 But my favorite is this incredibly chic Urchin light from the HelenBilt collection, made from clear bent-tipped lightbulbs. It's sophisticated, industrial and ethereal all at the same time. You can see how amazingly versatile the collection is in these projects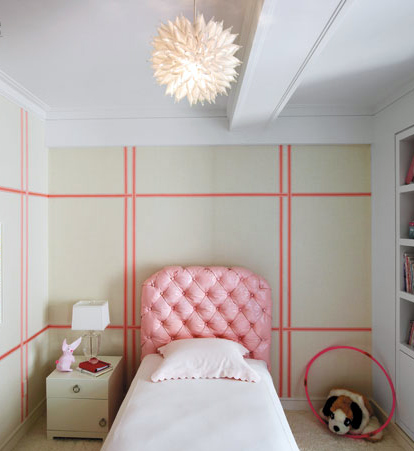 It's the perfect finishing touch in this lucky girl's bedroom in a 5th Avenue apartment (in what was the Stanhope hotel) designed by David Mann of MR Architecture + Decor.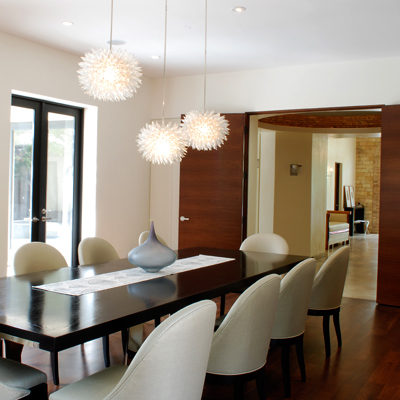 They add texture and movement to this sleek Holmby Hills, California dining room designed by Kristine Paige Kamenstein of Jackson Paige Interiors.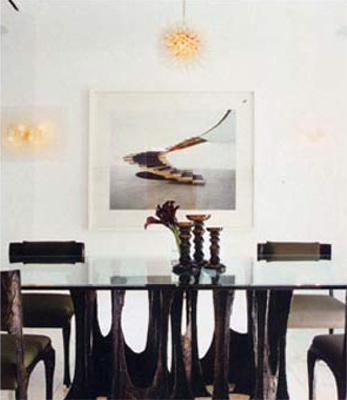 Architect Mark Rios used a single Urchin in the Hollywood Hills dining room of Darren Star, the producer and creator of Sex and the City, Melrose Place and Beverly Hills 90210. I think it complements perfectly the organic furniture and Luisa Lambri photograph.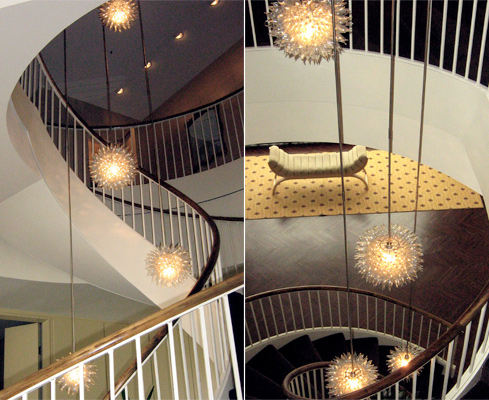 And in Alexandra Champalimaud's design for the duplex penthouse suite of the Hilton in New York they look glamorous and a bit retro.
Lighting designer Helen Gifford, who is working on her first book to be released late next year, describes her aesthetic as a place where "raw and natural elements reign". The Urchin series was conceived specifically "in keeping with the ever-growing needs of environmentally conscious architects, designers, and consumers." Really the quintessence of great green design!