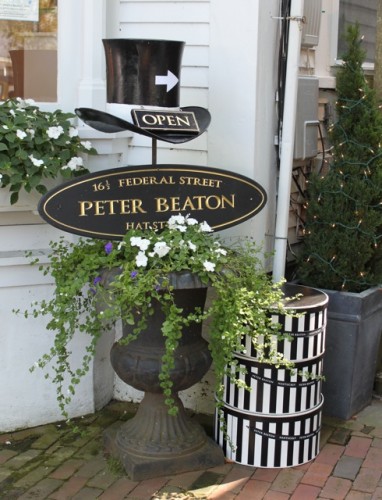 Darcy Creech and her store, Peter Beaton, are institutions here on Nantucket. It all started in 1989 when Darcy made herself a chic, flower-adorned panama hat to wear to a party here on island. It was an instant hit and in no time, Darcy built for herself a successful hat company selling to the likes of Henri Bendel, Neiman Marcus, Barney's, Nordstrom, and two First Ladies. Four years later she sold the company and decided to move to Nantucket full time. She named her new company Peter Beaton after her first son and bought a house in the middle of town that is now her store. Since then, Peter Beaton has become a full lifestyle brand representing the chic, easy-going style of island life, encompassing everything from her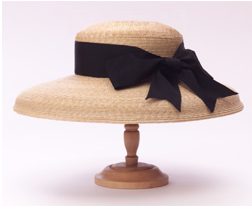 signature straw hats (I own the Polpis pictured here) to sailor shirts, rain boots and sailbags (a portion of the sales supporting Nantucket Community Sailing). Darcy is a bundle of enthusiastic energy who always has some new project looming on the horizon. Check out her clever Habit Patch collection – it's the perfect stocking stuffer. Darcy was kind enough to chat with me the other day:
Q: What made you decide to live on Nantucket full time?
DC: I had just sold my first company, Darcy Creech Hats, to Hat Brands, and as part of the negotiations, I received a 2 year consulting contract.  I saw that new-found job security as a window of opportunity during which I could purchase a home. A few weeks later, my son, Peter Beaton Creech, came to Nantucket with me for Daffodil weekend. After only 10 minutes on the island, he suggested we move here! I thought, what a brilliant idea! Nantucket is where I yearn to spend every free moment; and it embodies all the qualities I want to incorporate into my lifestyle brand.  I looked at real estate that afternoon, and made an offer on a commercial/residential property in the heart of the historic district before leaving the next day.
Q: What are your favorite and least favorite things about Nantucket?
DC: I can only pick one favorite thing? The setting. Nantucket is one of the most aesthetically pleasing places on the earth–visually, architecturally, and culinary-wise. My least favorite thing about Nantucket is swimming against the tide of materialism and hedonism without a victorious, Holy Spirit-filled man by my side! However, revival on Nantucket is on its way and my day will come. In the meantime, I remain thankful that God chose to pluck me out of the miry clay, change my heart, and open my eyes. I am truly blessed!
Q: What type of merchandise do you try and find for the store – is there a particular style you are looking for? Do you buy for a particular type of customer in mind?
DC: Well, with one of our mottos being, "All the Best for Your Family, from Hat to Toe", I strive to have a few things fabulous items for each age group and gender. I conceptualize, design, and manufacture most of the products in the store–my goal being to meet the customers needs, whether they be practical, emotional, or a combination of both, with products that are aesthetically pleasing.  For instance, we sell rain boots, but our rain boots are imprinted with a rubber tag that says, Leave a Trail Worth Following. We strive to motivate, to inspire.
Q: What's been popular this year?
DC: Being a Peter Beaton model! We've had more models, this year than ever before! And the boys, after feeling left out all these years, have finally gotten into the act, too.. wearing sailor shirts and bucket hats. The kids earn $10/hour store credit by modeling around town. The postive buzz and business they generate for has been spectacular!  As a result, we are continually replenishing our supplies of fedoras, 'sconset strollers, sailor shirts, rope bracelets, and hatboxes! Our Nantucket Girl charms and charm bracelets continue to be strong sellers as well as sailbags, 'N' polos, sunglasses, and panama hats for men. One of my favorite new items is a beautiful, hand bound Nantucket journal made especially for our store. It's the perfect place to jot down thoughts, let guests inscribe warm wishes, or re-write your script. Lastly, our gumball machine is working overtime! For only a penny, you get up to 4 gumballs! Whether its quality or quantity, I believe we have some of the nicest deals on Nantucket.
Q: So true! Thanks Darcy!