While in Ojai to film Brooke and Steve Giannetti at Patina Farm, Susanna and I were fortunate enough to stay at the beautiful Ojai Valley Inn & Spa. It was such a stunning spot that I had to share a little glimpse of our overnight visit.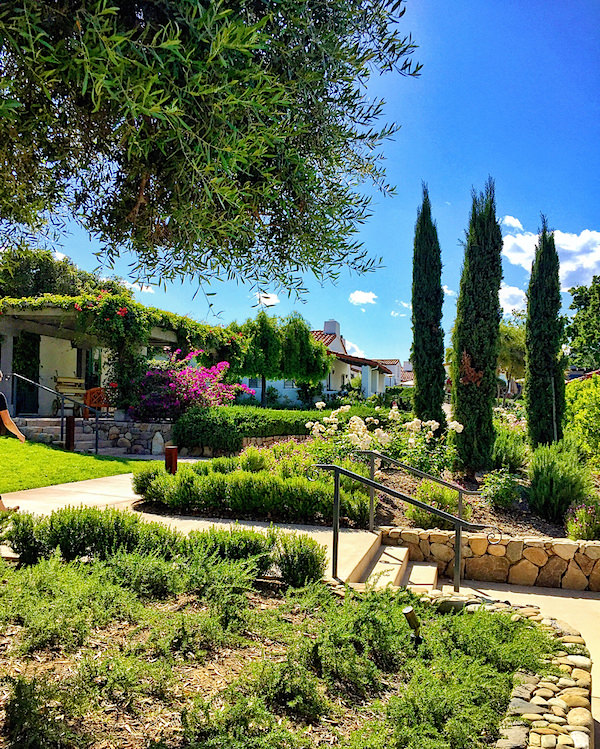 The well acknowledged father of the glass industry, Edward Libbey, moved to Ojai, from Toledo (where in addition to Libbey Glass, he also founded the Toledo Museum of Art) in the 1920's. He fell in love with the beauty of the valley and not only helped to develop downtown Ojai but hired legendary architect Wallace Neff to design a private country club and golf course, which became the core of the original Ojai Valley Inn Resort. Over the years, it has been repurchased and renovated with many luxurious updates and additions, yet always in the spirit of the original design.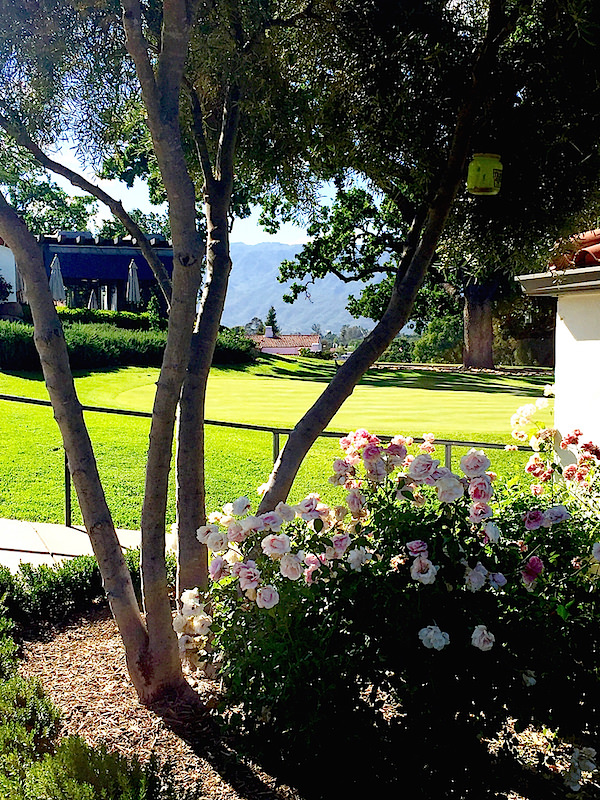 Nestled in a valley, about 90 miles northwest of Los Angeles, surrounded by the Topatopa mountains, the natural beauty and spectacular sunsets of Ojai are intoxicating. The Ojai Valley Inn, set on 220 glorious acres, is well aware of their responsibility to this exquisite environment.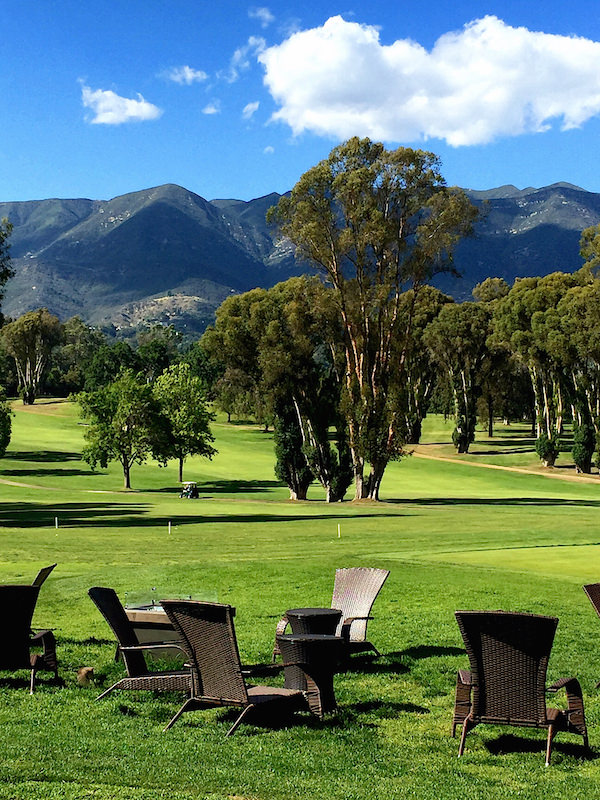 Even the golf course was created with ecological concerns in mind. Sculpted from the natural terrain of the valley, no large scale equipment was employed. Indigenous plants were used whenever possible and a sophisticated watering system carefully measures a variety of conditions to conserve water use in maintaining the lush landscape.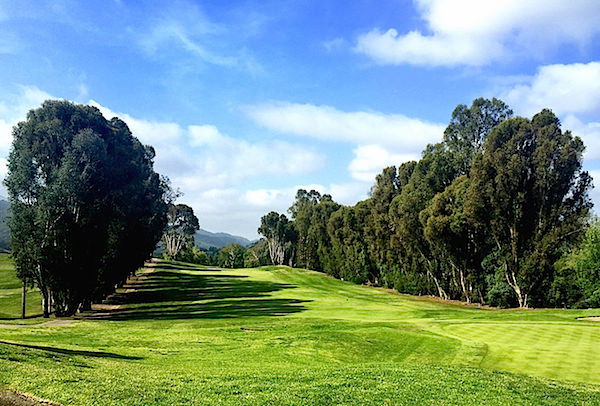 Herbs and edible flowers are grown in the Inn's gardens and featured on their menus, as well as produce and ingredients from the local farms and ranches. We had an afternoon snack by the pool that was as healthy and tasty as it was beautifully presented. And while I didn't take a picture, dinner on the terrace of Olivella was scenic and delicious.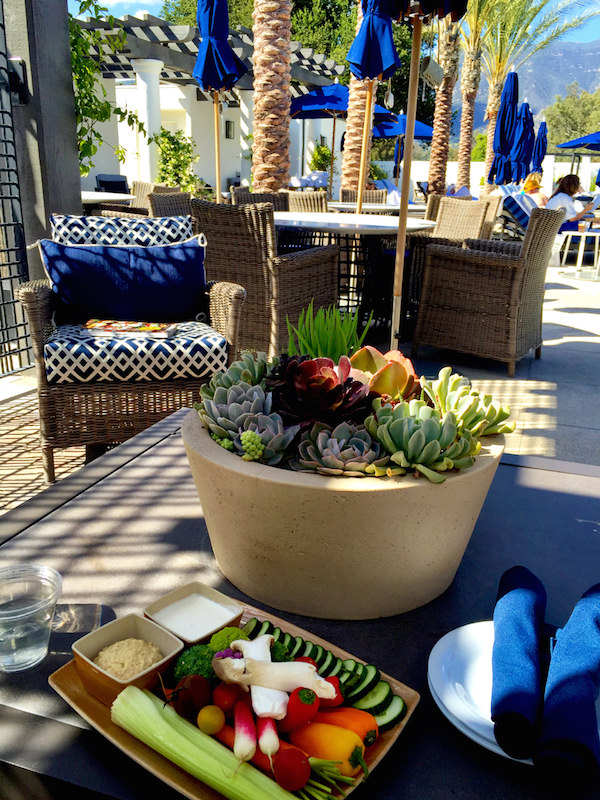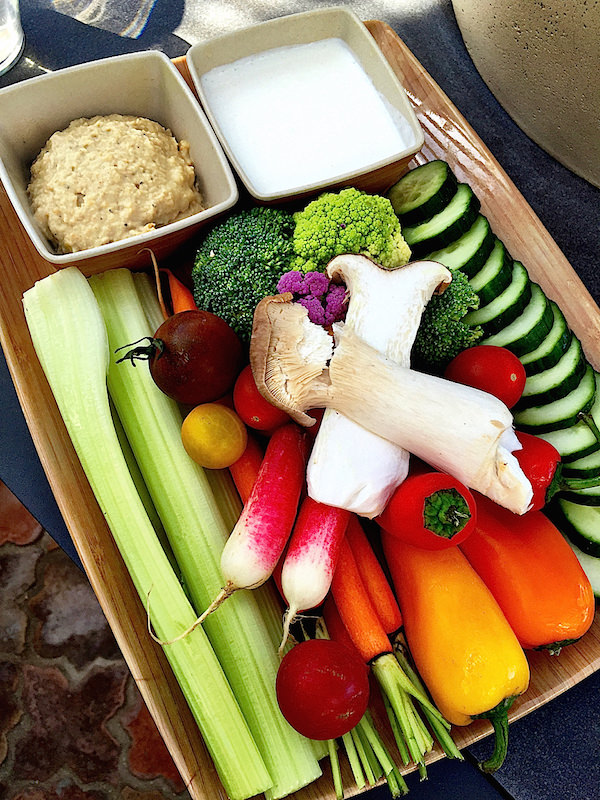 Not only was the pool area lovely, but I was delighted to see so many available umbrellas and shady areas,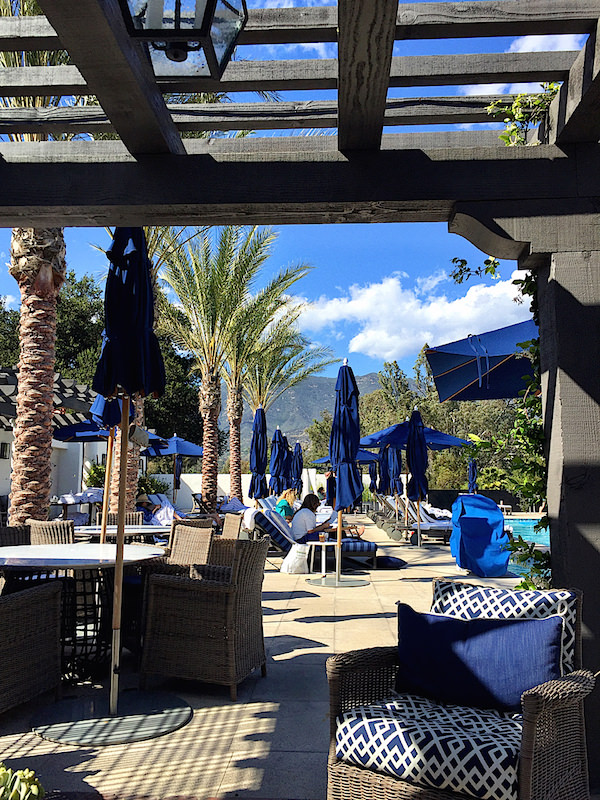 attractively decked out with Janus and Cie furniture.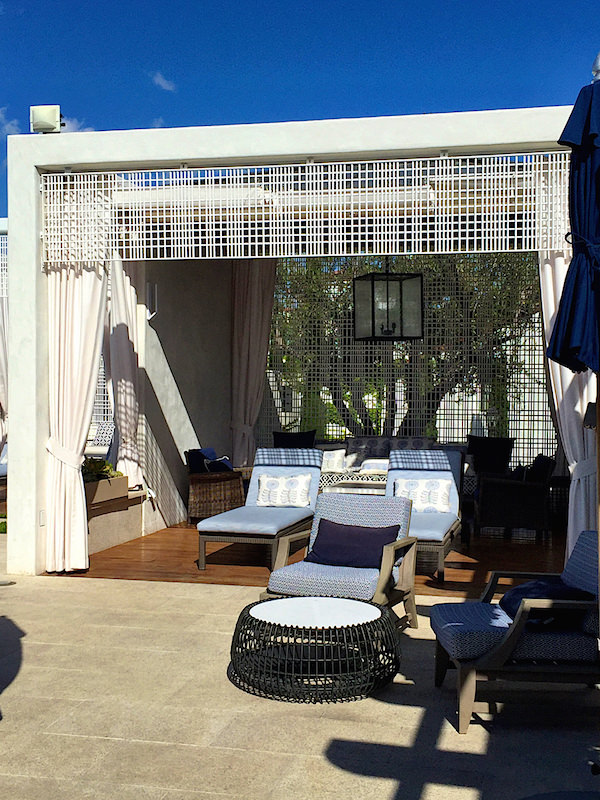 The view from our building looked out over the tile roofs of the signature Neff style architecture toward the mountains.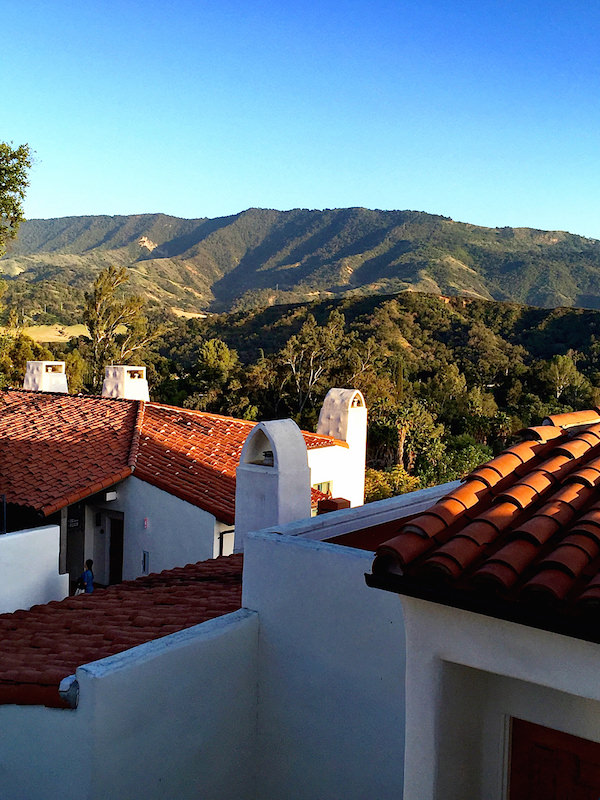 And while I missed snapping the famous "pink moment" sunset reflection on the hills, I did capture this quintessential scene from our window.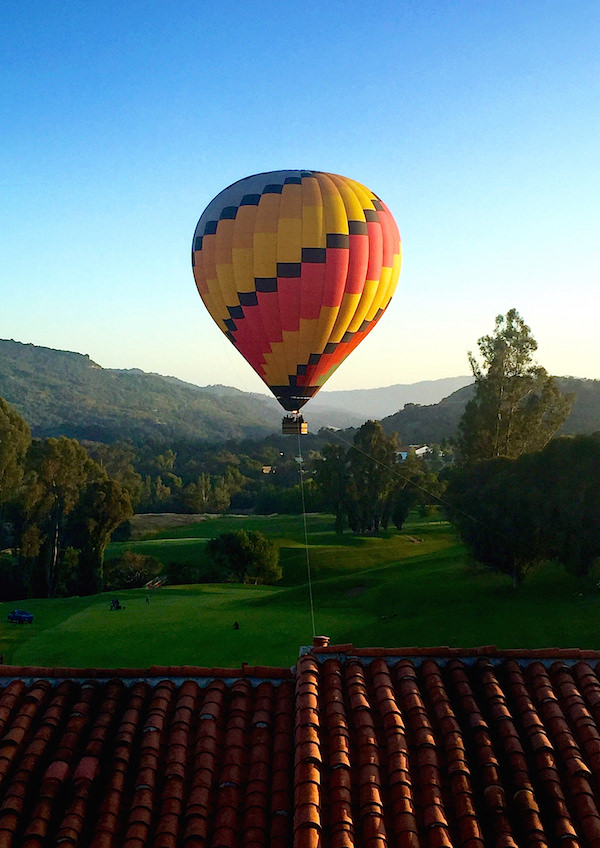 There are a wide variety of activities available at the resort, including a taste of ballooning. Appropriate for either romantic weekend or family vacation, the resort offers a hospitable and impressive level of service that caters to any need.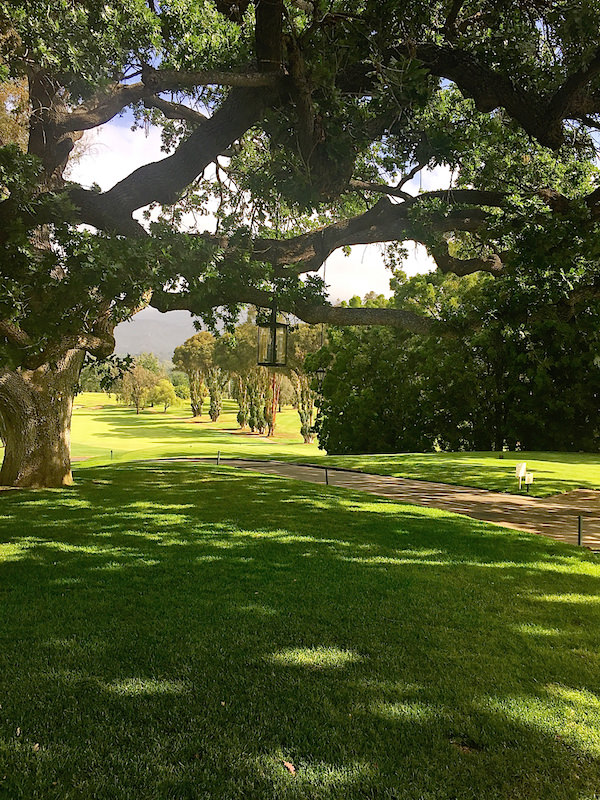 And for those not sport oriented, a walk or bike through the property is a delight. We ambled down to the spa for a peek. Every moment throughout the resort is an opportunity for interesting plants and arrangements.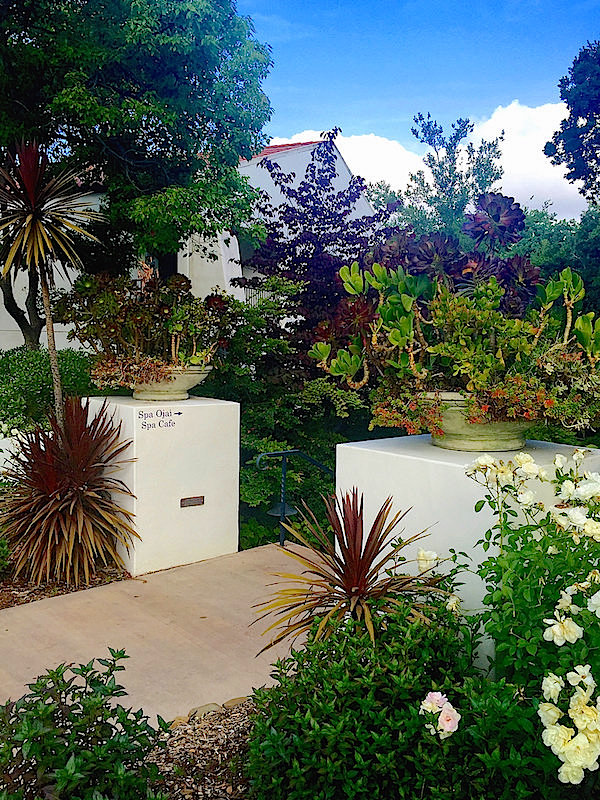 The spa is its own entity with charming courtyard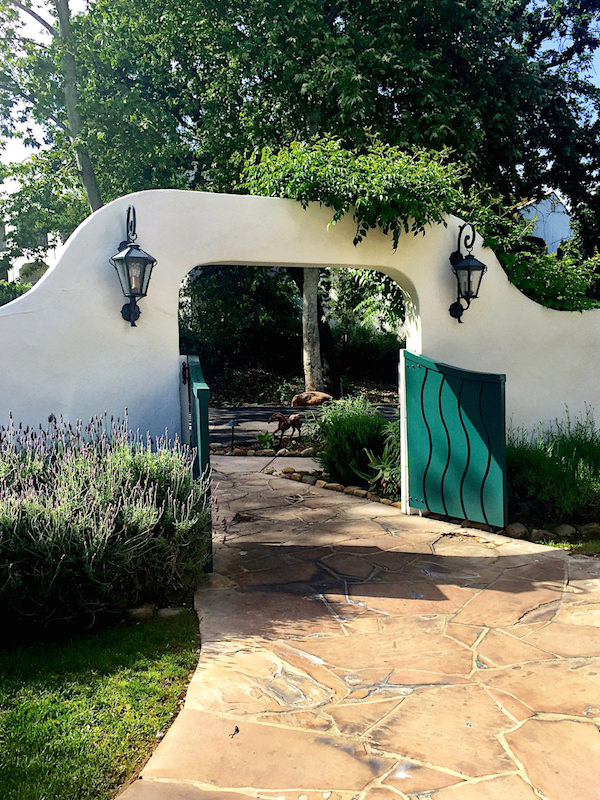 interiors,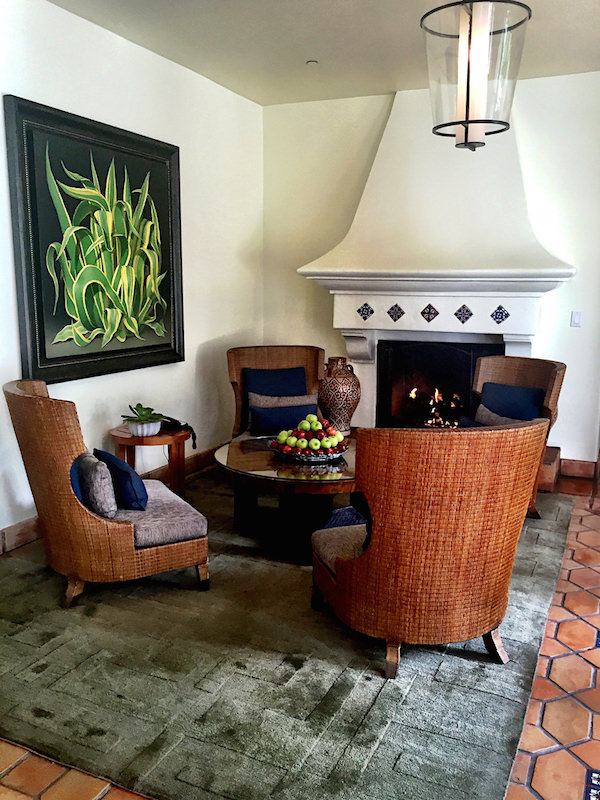 and café featuring healthy offerings such as their signature Pixie Dream, a sensational smoothie made from local pixie tangerines, whose season luckily coincided with our visit.
all photos by Stacey Bewkes for Quintessence
And if you are visiting from Los Angeles, I highly recommend the drive by the ranches and orchards along routes 126 and 5. While perhaps not as direct, it is certainly more scenic and less stressful in preparation for a more zen like arrival at the resort.