Enter Alex Papachristidis' Kips Bay Show House dining room and you are transported to a tour de force of enchanting elegance. Shades of such early 20th century design titans as Elsie de Wolfe and David Adler and the high style of Mona von Bismarck are evident but you never completely lose sight that you are enveloped in a luxurious lair of modern living.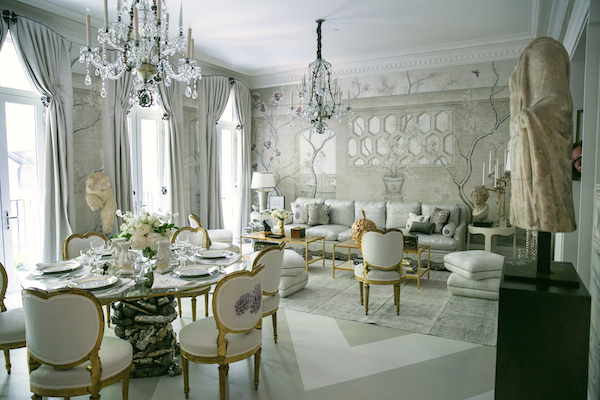 The room began with the bold graphics of the painted chevron patterned floor, partially covered by a Beauvais rug made of Turkish tent panels sewn together to form a stripe. Some may see the world through rose colored glasses but I'll take the divine tonal beauty of this room enveloped in custom Gracie wallpaper. Based on the original Elsie de Wolfe design for the Condé Nast ballroom, Alex had Gracie execute it in grisaille and blow up the scale and proportion for maximum drama.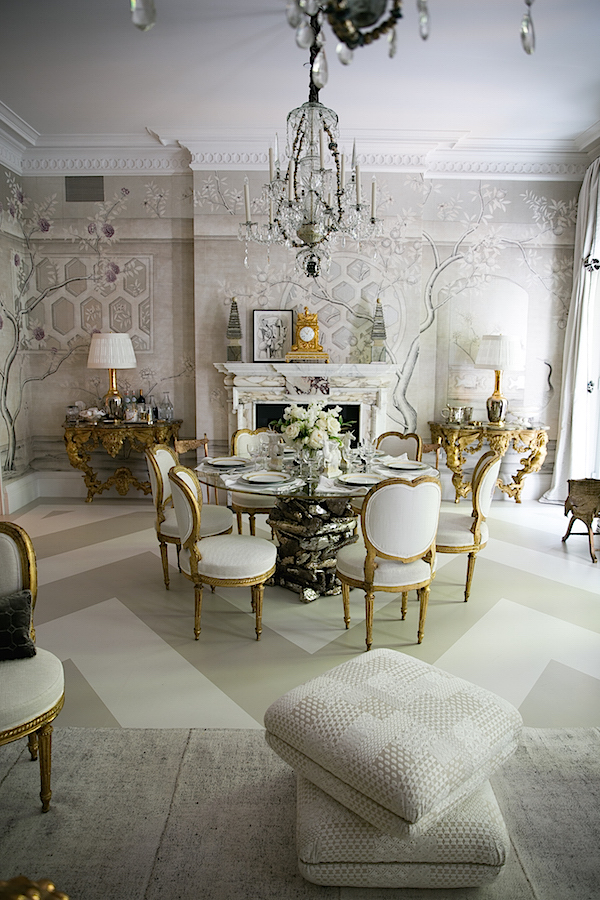 In the final approval stage for the wallpaper, Alex's partner Scott Nelson suggested that a bit of color might be in order, so the designer added subtle plums and purple peonies and butterflies – a slightly exotic, magical addition. And for a whimsical surprise, Alex had Gracie hand paint the backs of several dining chairs with the exquisite flowers.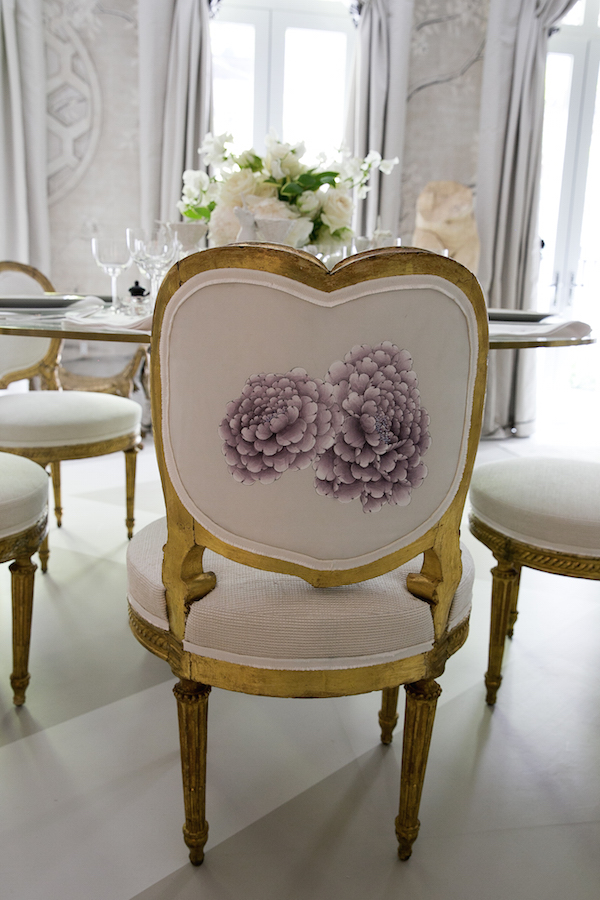 The bones of the room are augmented with architectural additions by Fairfax and Sammons. Crown molding matches the windows in the wallpaper and gutsy yet elegant door casings and high baseboards anchor the space.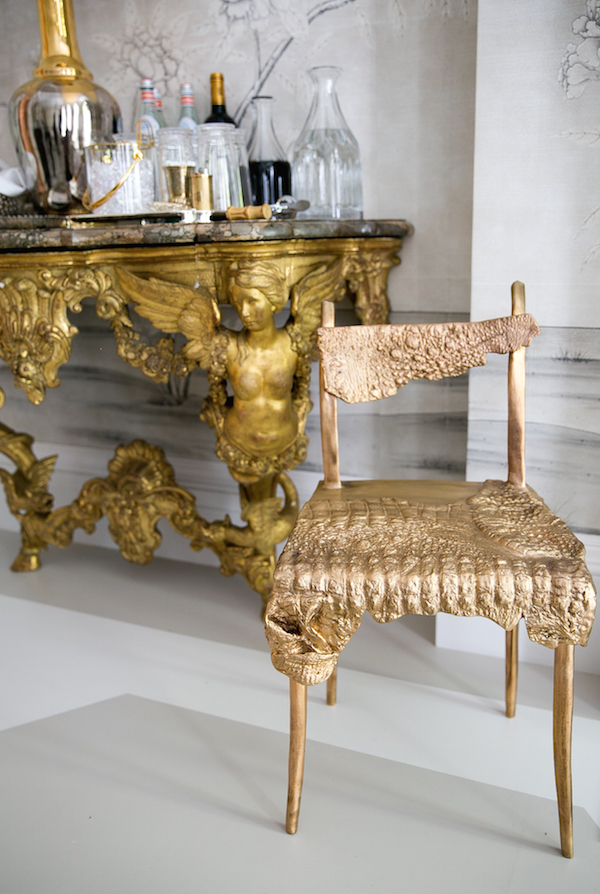 Alex is a master of melding timeless classics with the best of contemporary craftsmanship and this room is an ode to his love of the decorative arts, antiques and fine artisanship, all incorporated in a modern manner. Lalanne pieces stylishly pepper the space. Chair, above, alligator bench and candelabra, below, add sculptural gravitas, enhancing the glamorous gold and silver color scheme.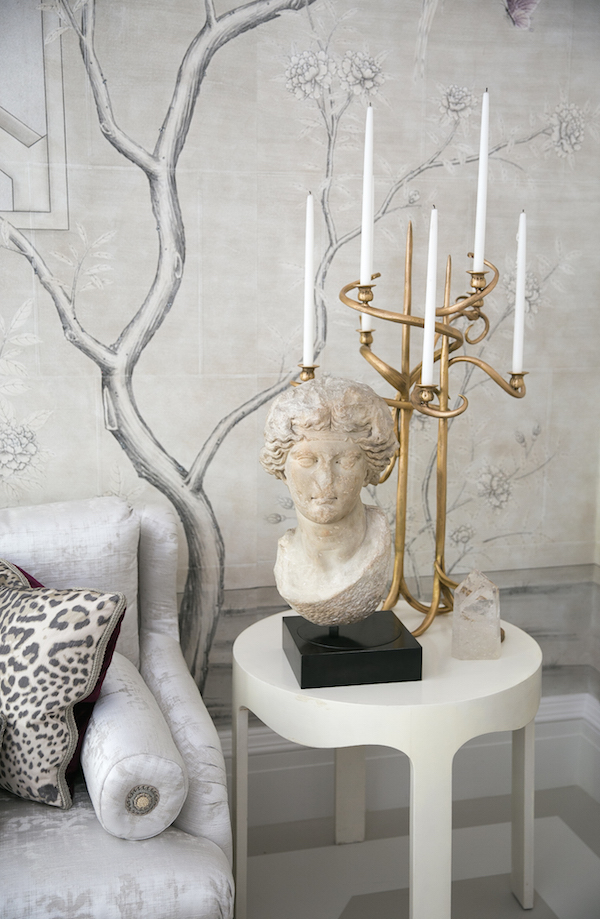 Covering the glorious walls would have been a sin so Alex added art and a sense of history with Roman antiquities from Olivier Chenel in Paris.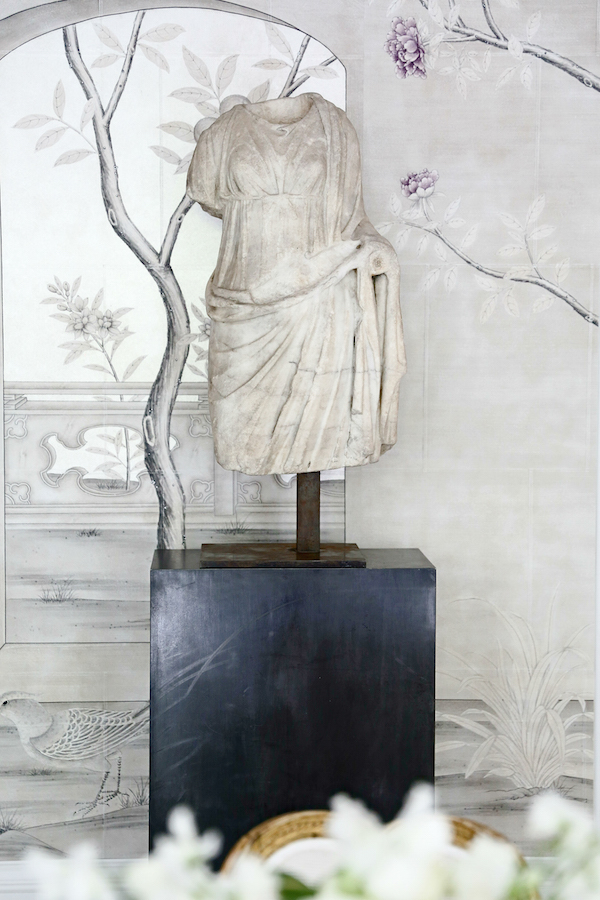 Contemporary ceramic artist Eve Kaplan made the monolithic table base with brass rimmed glass top.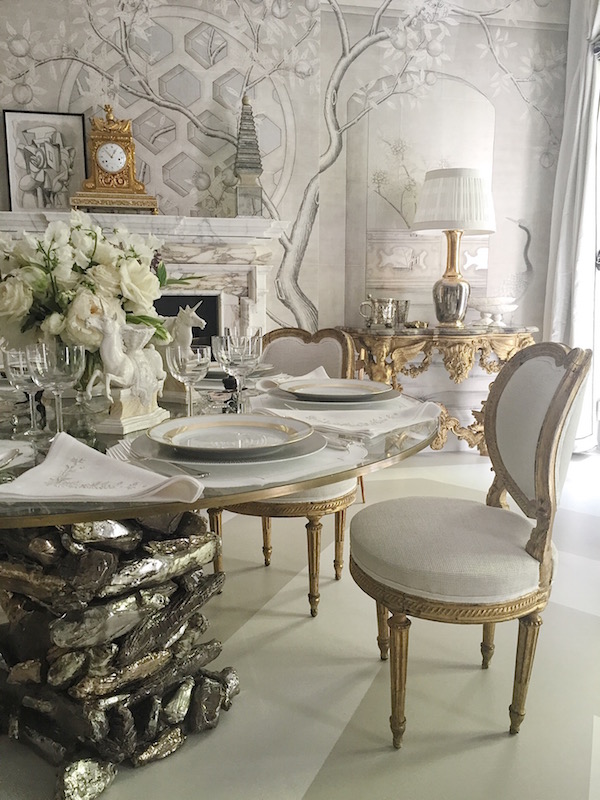 And to two Georgian crystal chandeliers from Gerald Bland, she made modern beads that Alex draped on the arms – like modern jewelry on a grand dame. It's all about using antiques in a modern way, presenting them anew to give them fresh life and vitality.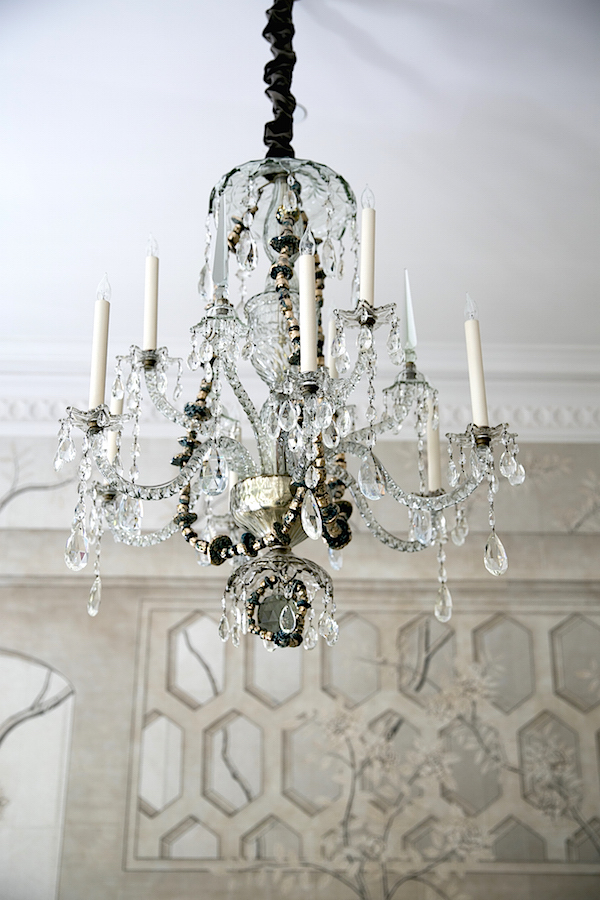 The amazing 18th century consoles from Dalva Brothers, after a design by le Brun, were originally in Mona and Edward von Bismarck's Chinese room in their Paris apartment, below. You can see one to the right of the elegant countess sporting one of her many signature Balenciagas.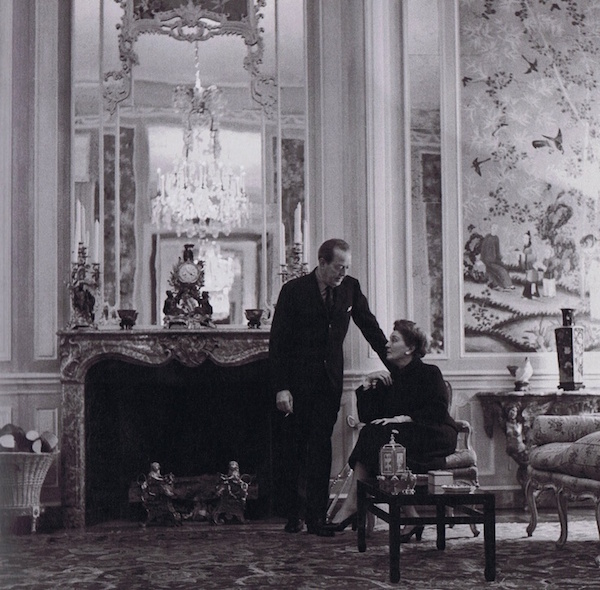 Alex outfitted the tables with alluring accoutrements, each topped with his AP Alex lamp for Christopher Spitzmiller in a chic new gold to silver ombre coloration and Chris Spitzmiller organic shaped tazzas.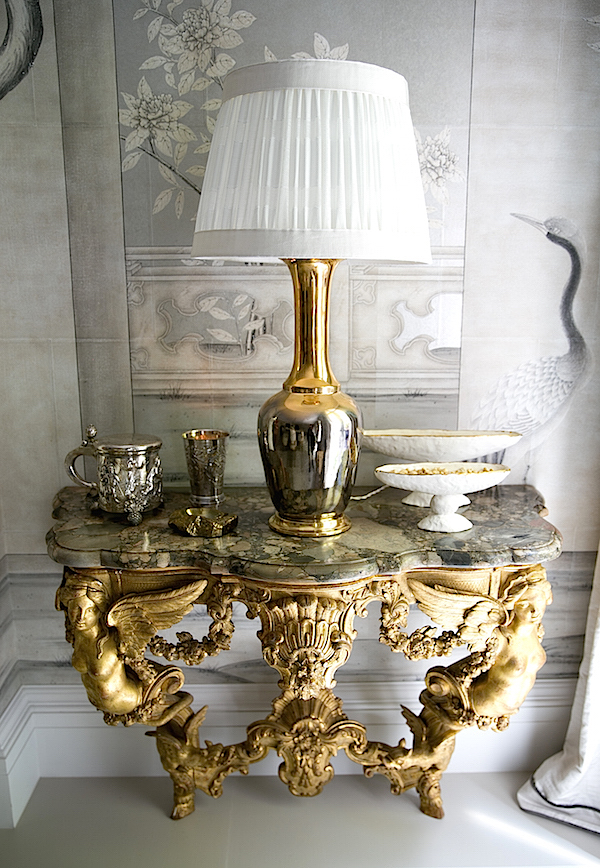 Alex designed the room as a multi purpose space that could be used not just for dining but as an inviting spot to meet and mingle with family and guests. One of the consoles serves as a glamorous bar.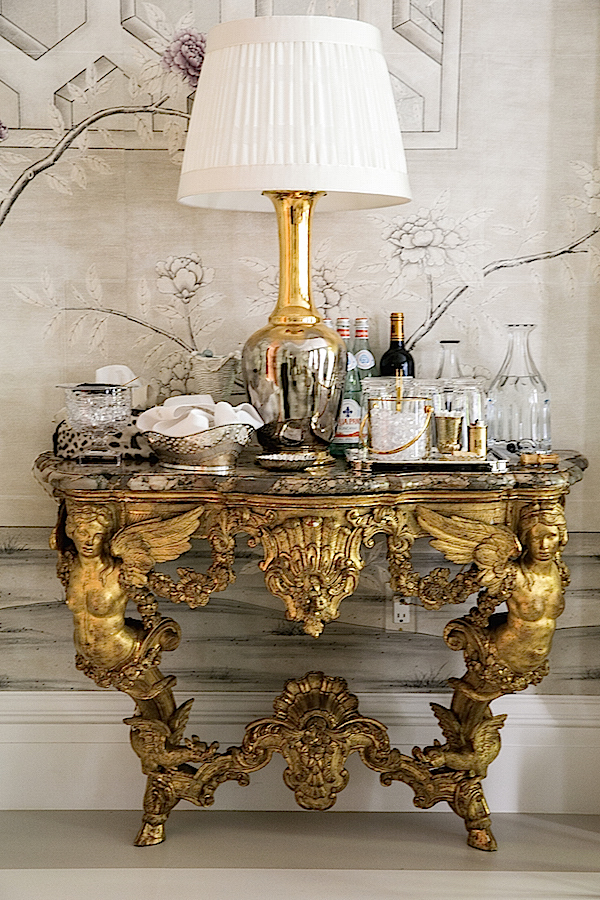 William Yeoward crystal, Buccellati and vintage Baccarat meet for a chic mise-en-scène,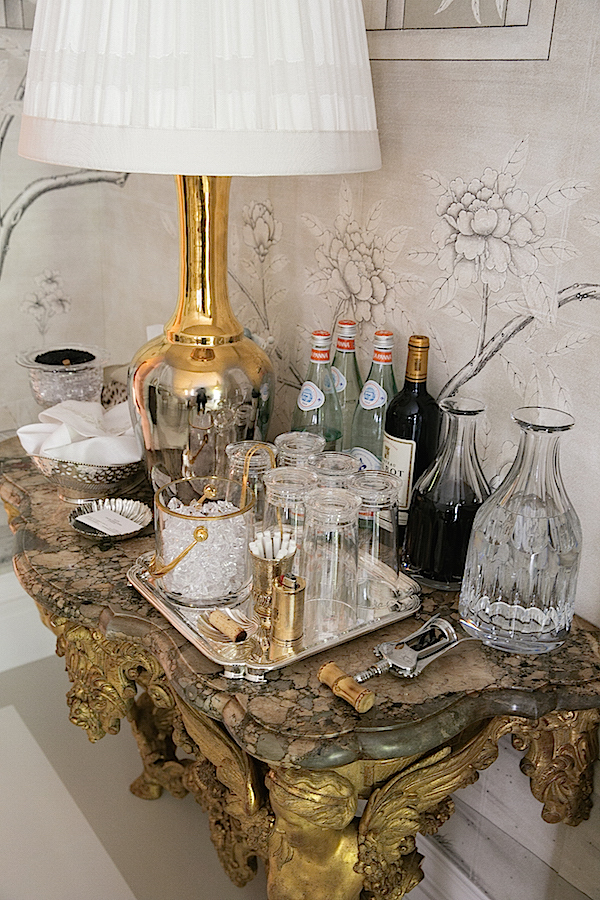 Samuel Marx 1940's mirrored obelisks from Liz O'Brien, George Condo drawing (a loan from client Stafford Broumand) and an 18th century gilt bronze and marble French clock from the Chinese Porcelain Company grace the mantel with a stylish period mix.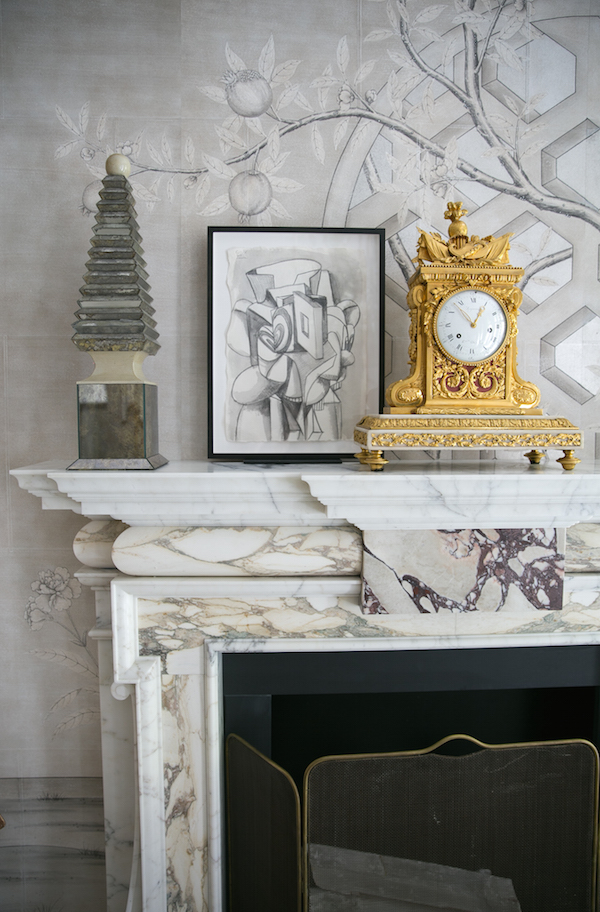 A pair of Victoria & Son brass coffee tables, topped with amazing accessories such as Christopher Spitzmiller's giant gold luster gourd (filled with candy by the way),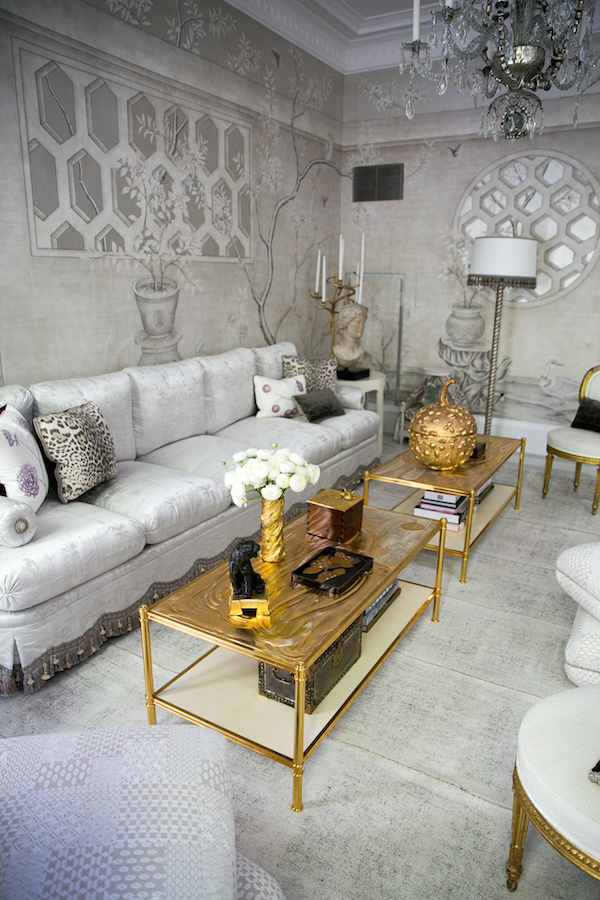 are enhanced by artist Nancy Lorenz, who created custom tops of mother-of-pearl, lacquer and gold leaf. The box is from a personal favorite, the multi-talented architect/artist/designer Achille Salvagni represented at Maison Gerard.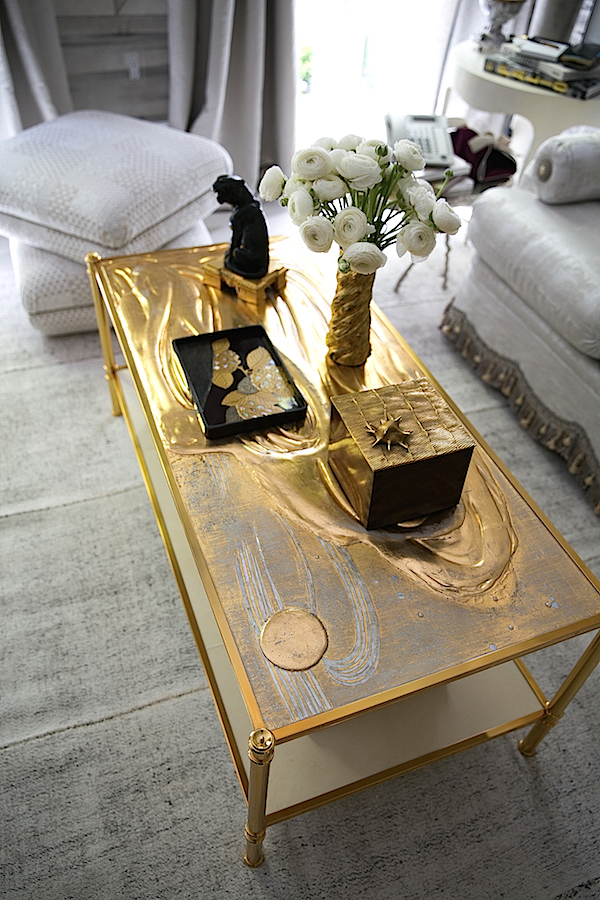 The table continues the gold and silver color scheme with Mottahedeh china, Buccellati silver, William Yeoward crystal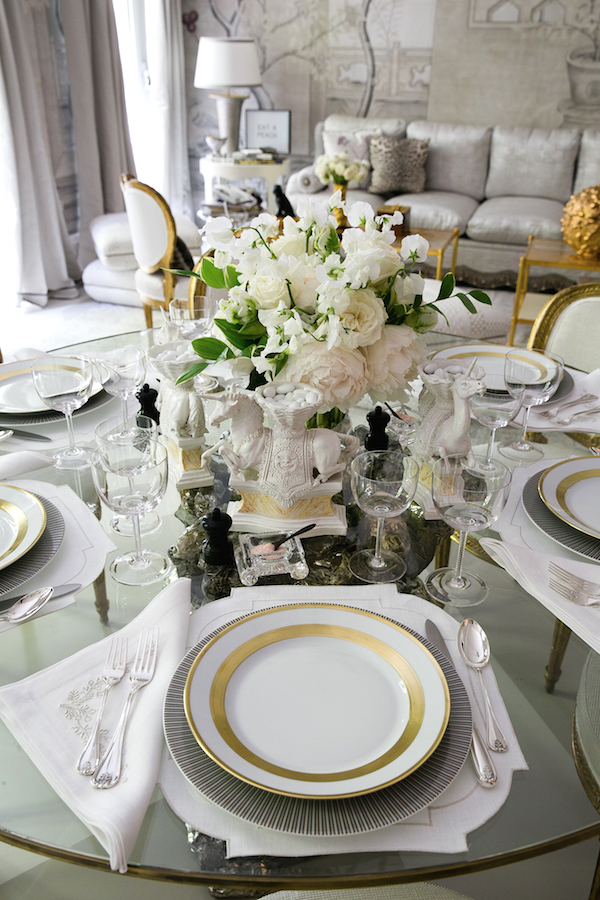 and beautifully detailed custom napkins and placemats from Leontine Linens.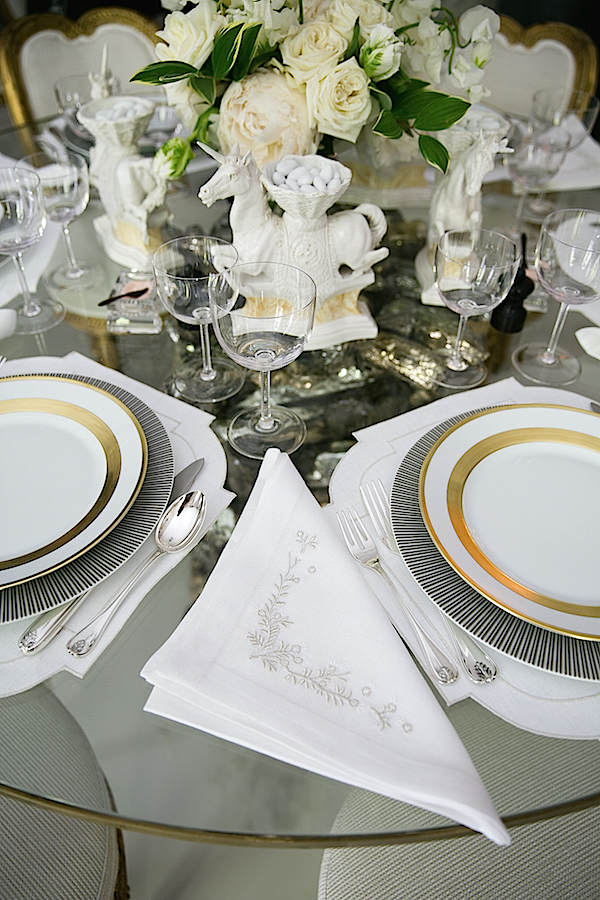 The comfortable sitting area features fabrics from Cowtan & Tout including a gorgeous new "water stained" silk damask and hand painted coordinated pillow custom painted by Gracie.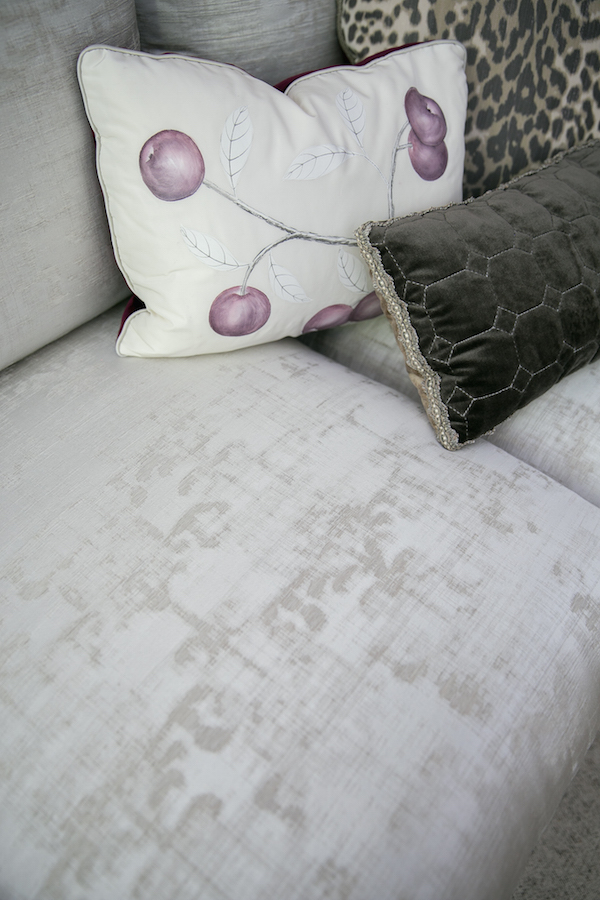 Of course there are many details that make the space, from the Samuel and Sons trim on the scallop edged sofa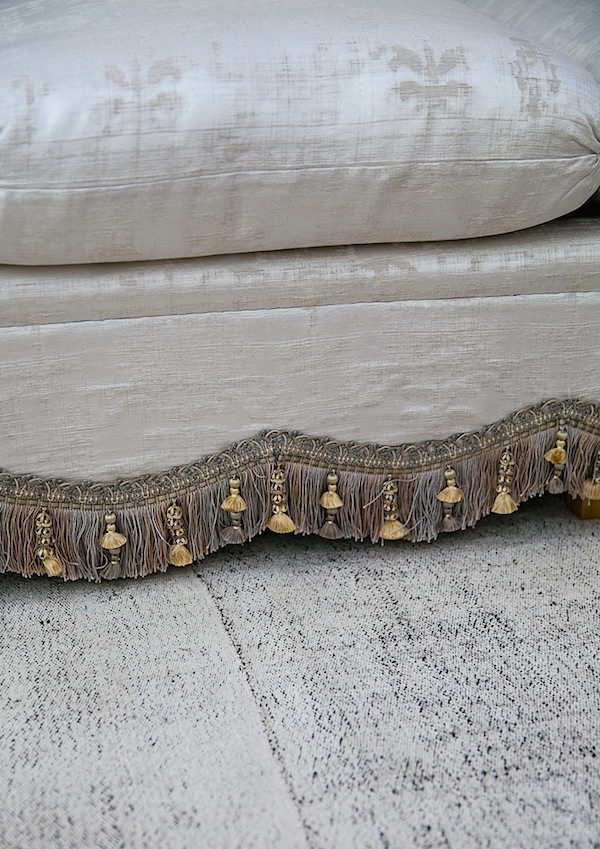 and lampshade topping the Frances Elkins standing lamp from Liz O'Brien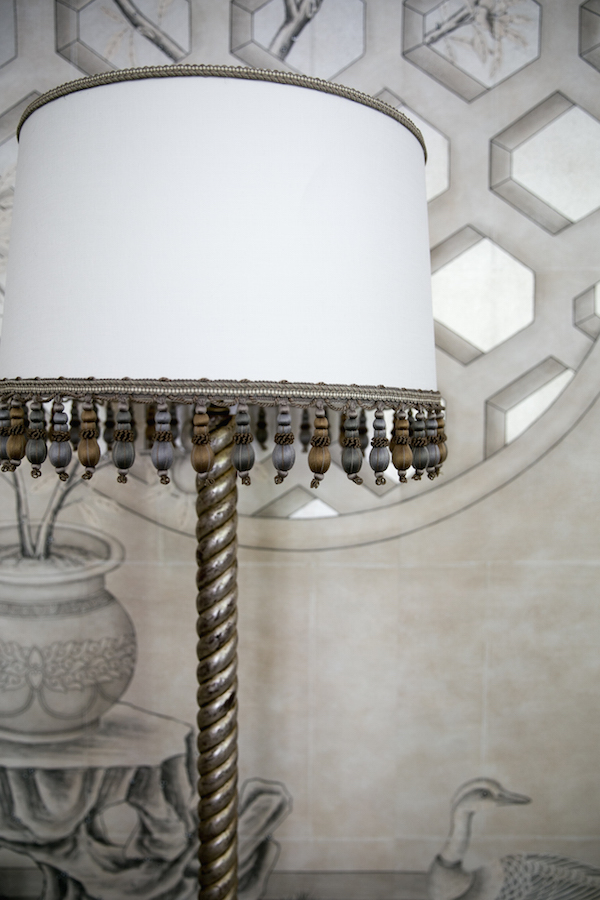 to the silk velvet Maltese crosses on the curtains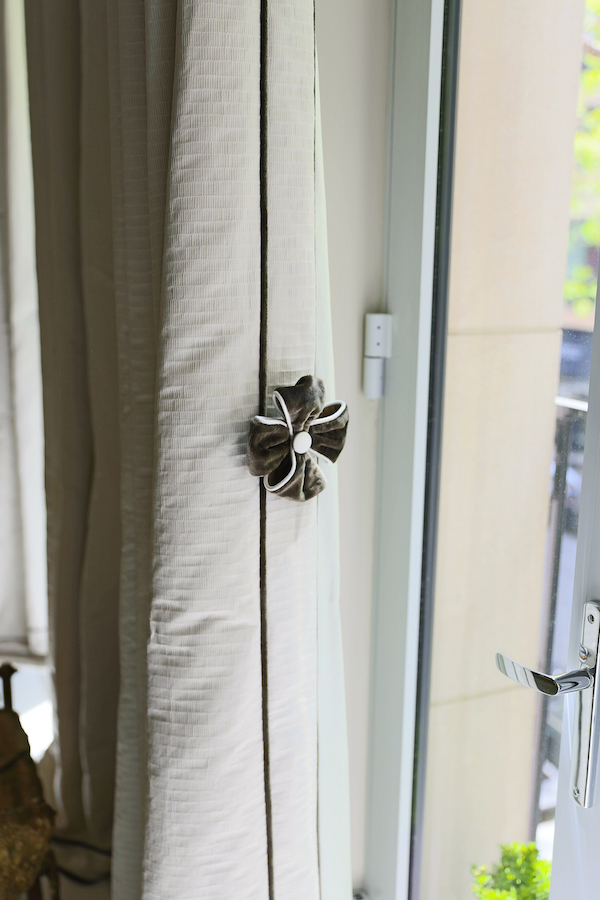 to the canopied dog bed from Louis Bofferding fitted with an image of the famous Teddy, Alex's and Scott's beloved yorkie.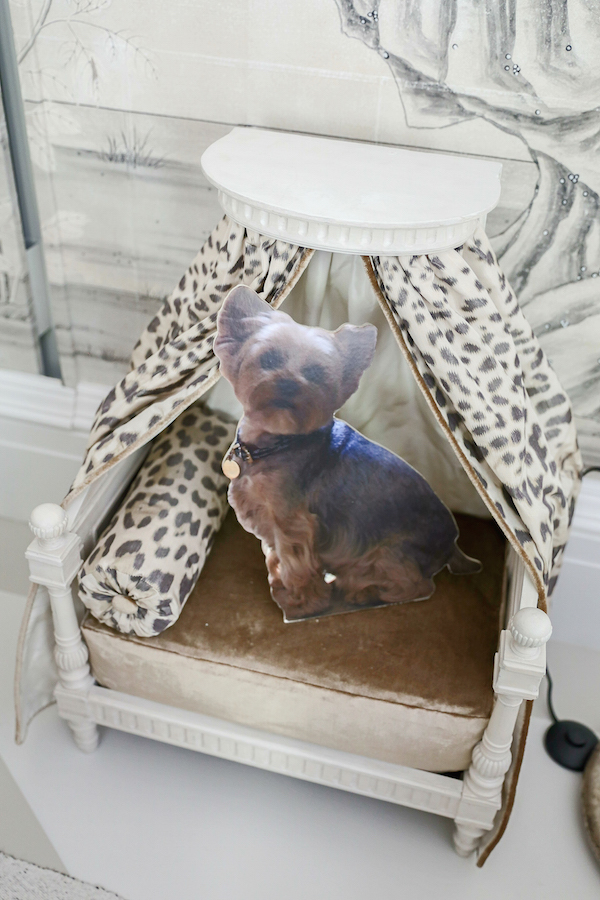 Thank you Alex for an elegant and luxurious take on modern living.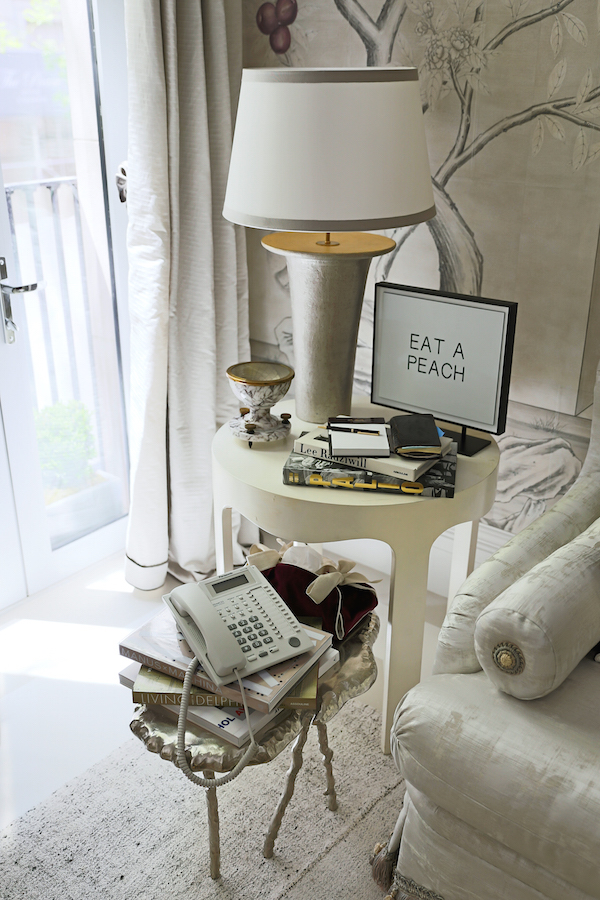 It's with a sophisticated creativity that you show us how to incorporate an important acknowledgement of the past with style, whimsy and fun!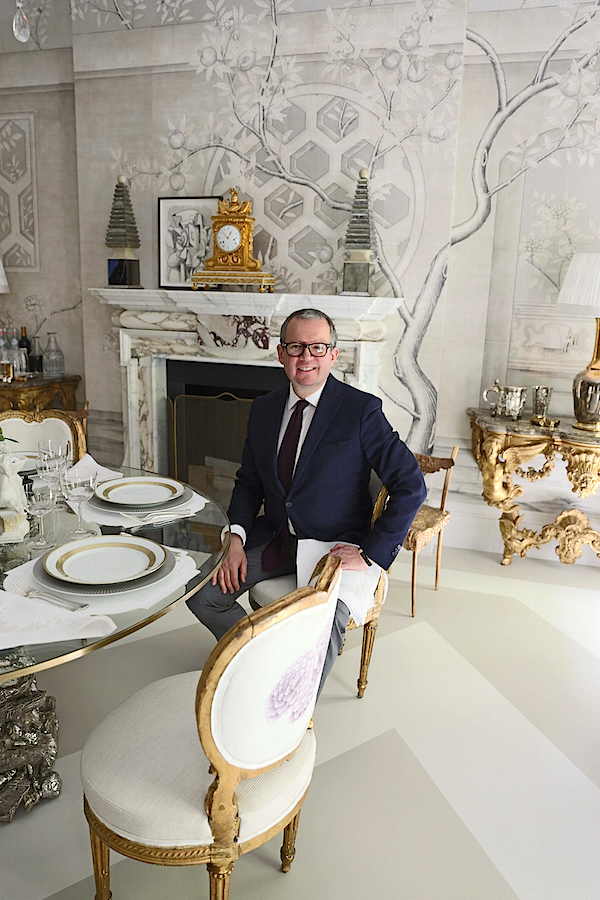 all photos by Stacey Bewkes for Quintessence