As soon as I read Lela Rose's inspiration in the show package, I had a feeling I was going to love the collection. Inspired by the work of Spanish architect Santiago Calatrava, Rose's show centered around "the fusion of structure and movement".  As an architect, sculptor and engineer, Calatrava's merging of form and function spoke to Rose. It was this balance of geometry and fluidity that she translated into the collection. As a result, this was one of my favorite Lela collections I've seen at fashion week. Anchored by stronger day and outerwear pieces, I found the sporty tailored approach totally appealing . And the evening pieces had a simple linear elegance I loved.
This very first double face graveled wool coat is right up my alley. It's streamlined shape and ease of wear is what I look for.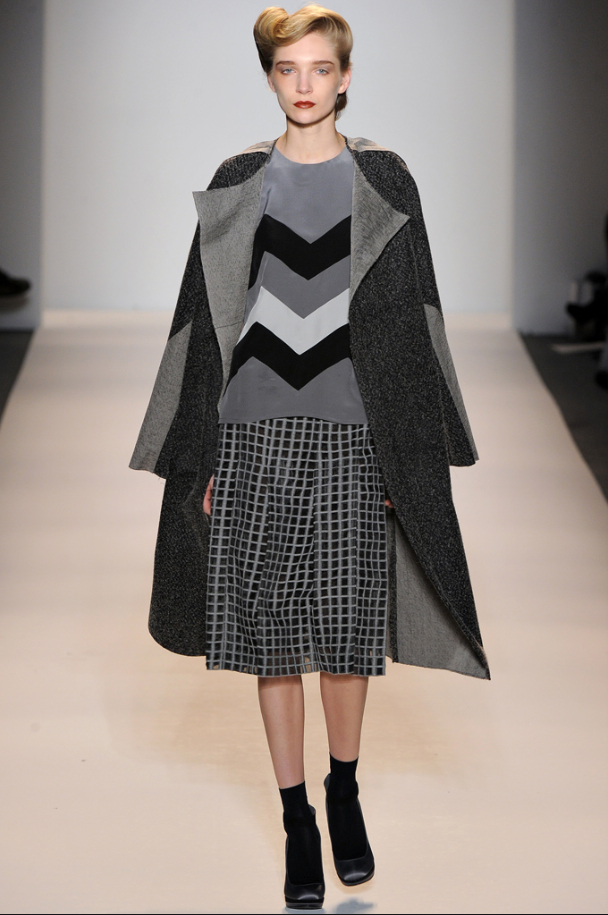 This blurred plaid shell, trouser and coordinating embroidered jacket had an elegant structure.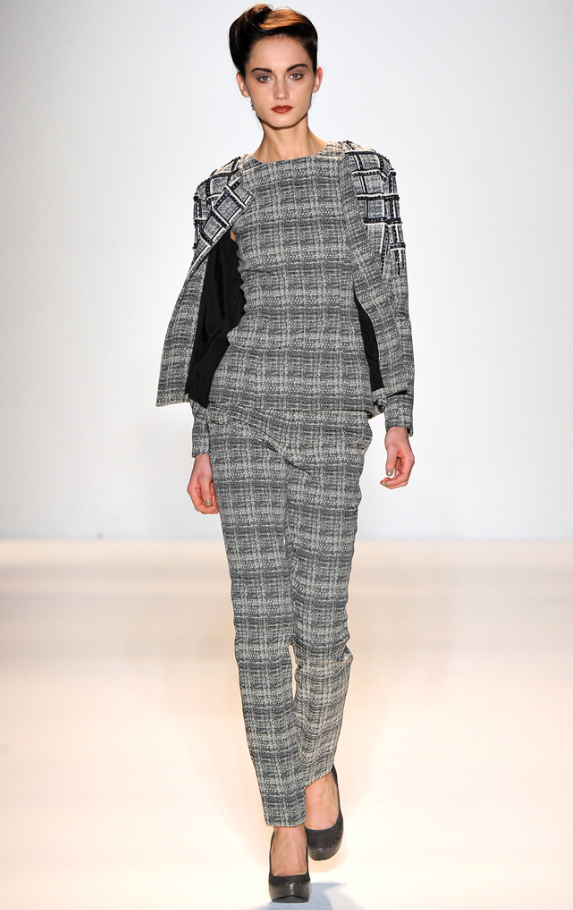 One of the themes so far for the fall seems to be black and white with bright color. This zig zag wool double collar jacket and sulfur knitted sheath work together in color, pattern and texture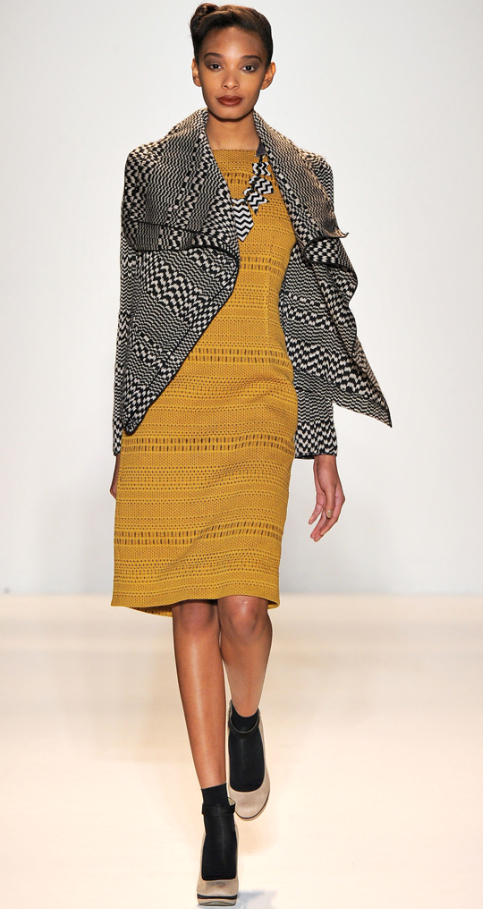 Another theme for fall is blue and black. I adore this navy mélange brushed wool knit sleeve coat and of course pairing it with the orange skirt is right up my alley.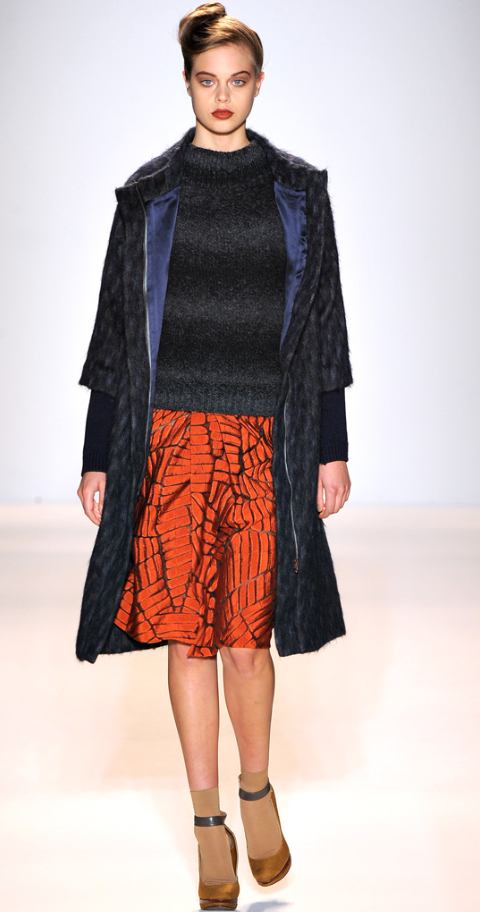 Here again is the first coat, worn with an embroidered sweater and bright amber silk seamed skirt. Rather than the mix of all brights we saw for spring, we are seeing it as a singular pop, toned down with neutrals for fall. Love the play of textures here.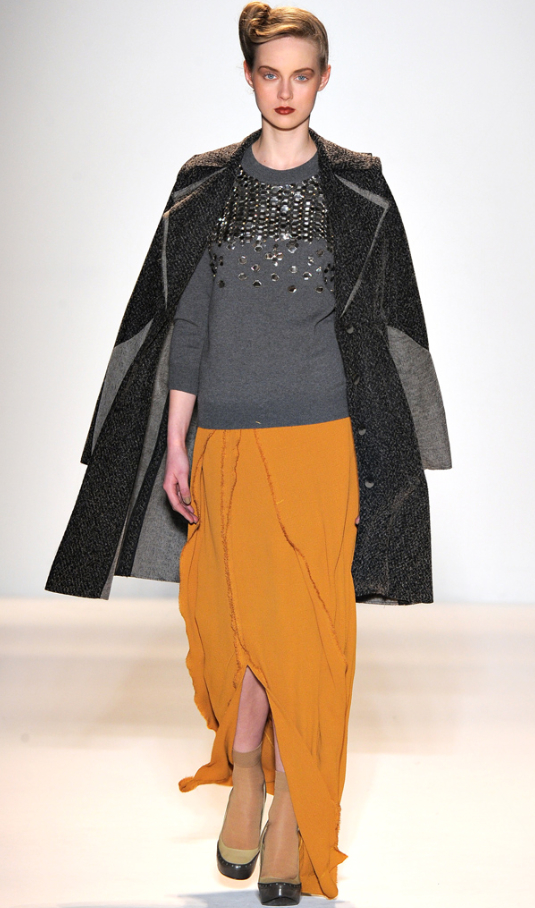 The linear lines are present here in this elegant navy wool seamed dress, paired with the more fluid pattern and shape of the hazed floral silk arched sleeve coat. So pretty together.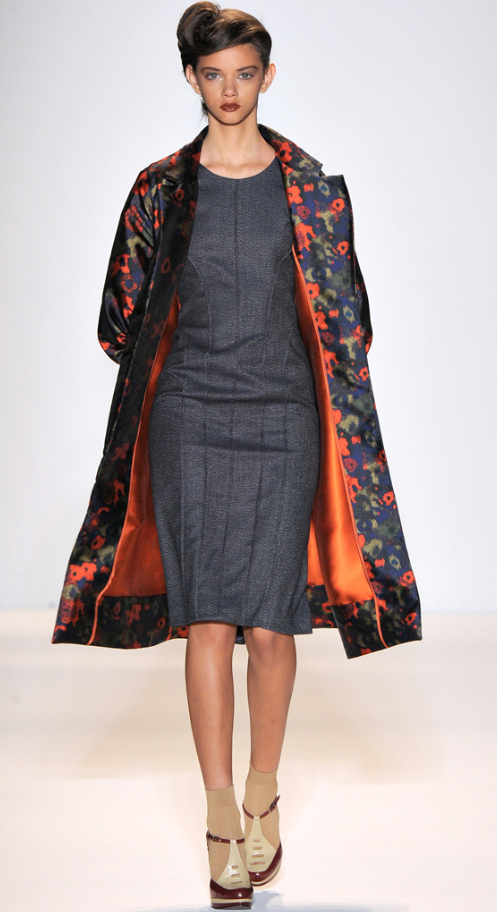 I really related to Lela's evening collection this time round. The strong elegant lines with beautiful embroidery were a perfect combination as seen here in the dark navy body with tulle top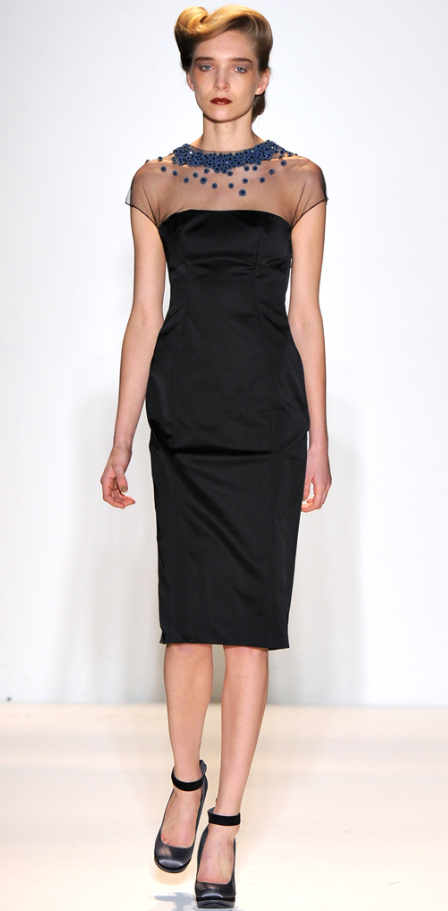 or in this black silk faille with embroidered tulle sleeves.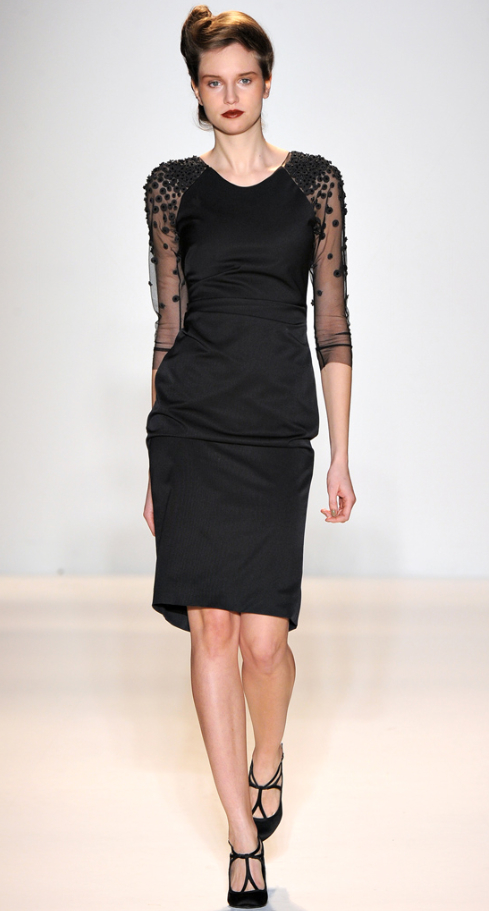 Here the flow of the ivory silk cloque dress is anchored by the twisted metal embroidered  details on the shoulder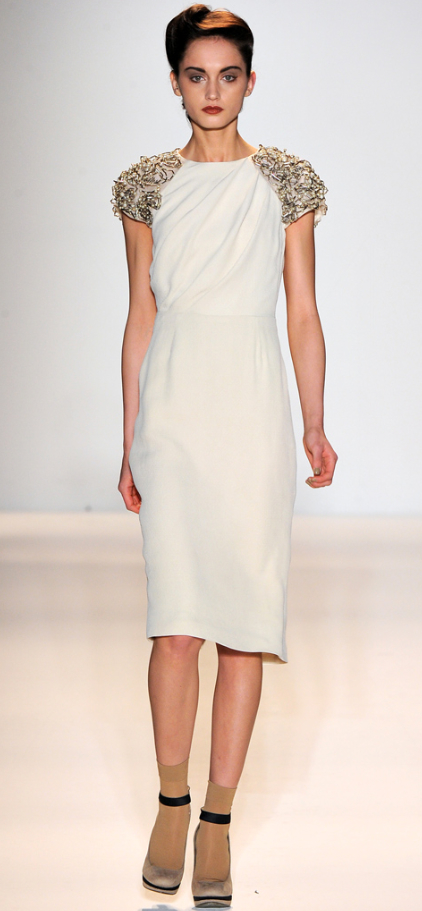 The column structure of this carbonized silk draped dress is again softened with the tulle.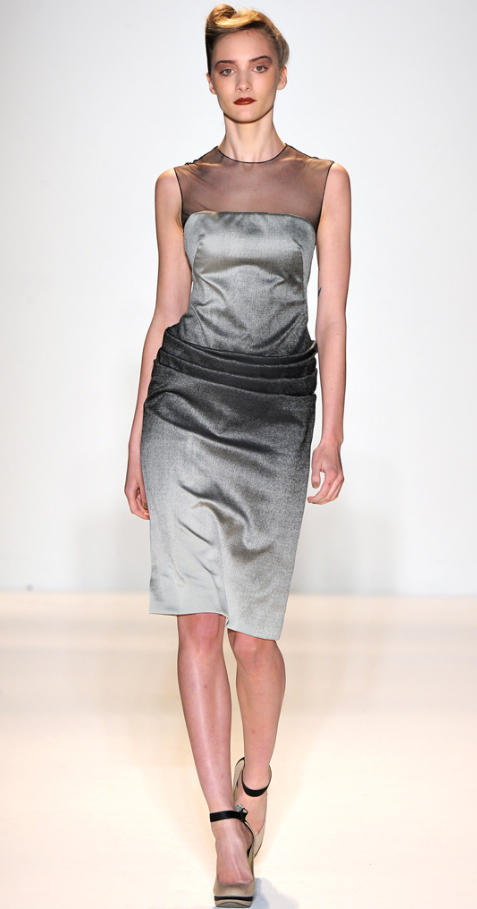 Of course she had to include a piece with a peplum – we are seeing them everywhere.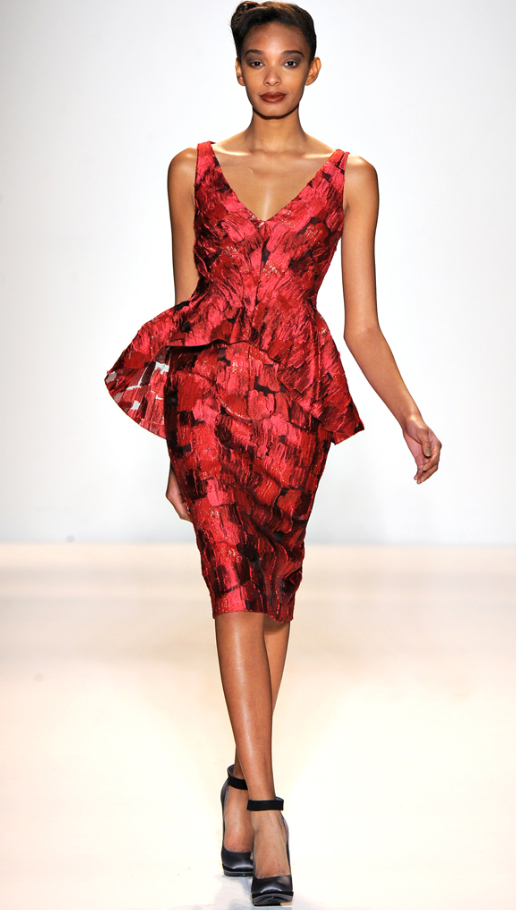 The sculptural lines of this dress are beautifully expressed in the flowing ivory floral chiffon and soft sleeve – so simple and elegant, just like  the long linear lines of Calatrava's cable stay bridges.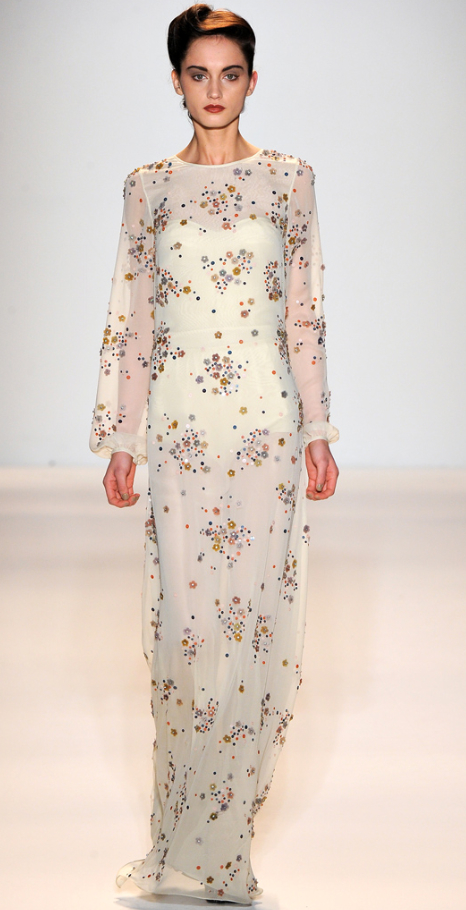 One of the final gowns was this gorgeous deep magenta threaded silk dress,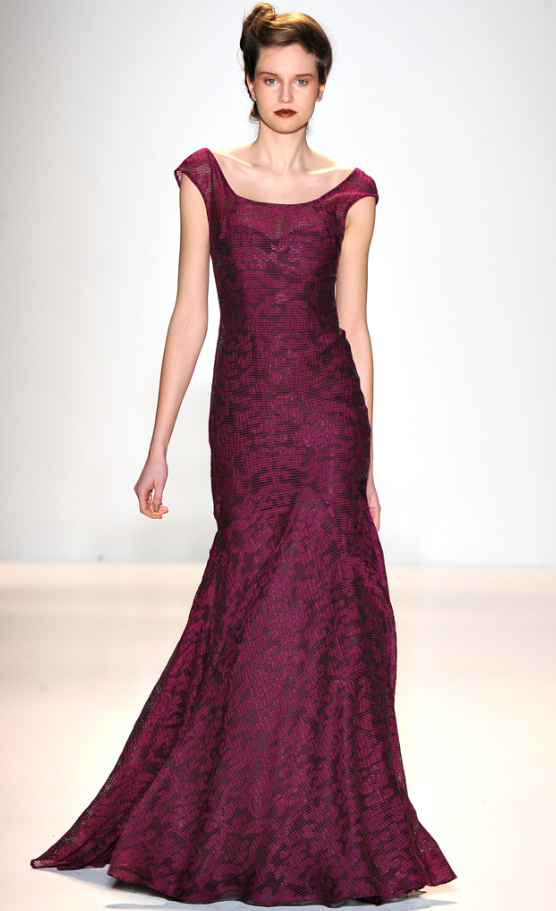 capping off a collection that perhaps even Howard Roark would love. I know I did.
All photos: Yannis Vlamos / GoRunway.com