As we continue with coverage of the New York Botanical Garden Orchid Dinner hosted by Veranda, I am always amazed by the wide range of flowering plants that belong to the orchid family. And equally awe-inspiring is how, each year, the participating designers find such creative and impressive ways of incorporating these beautiful flowers into their tabletop compositions.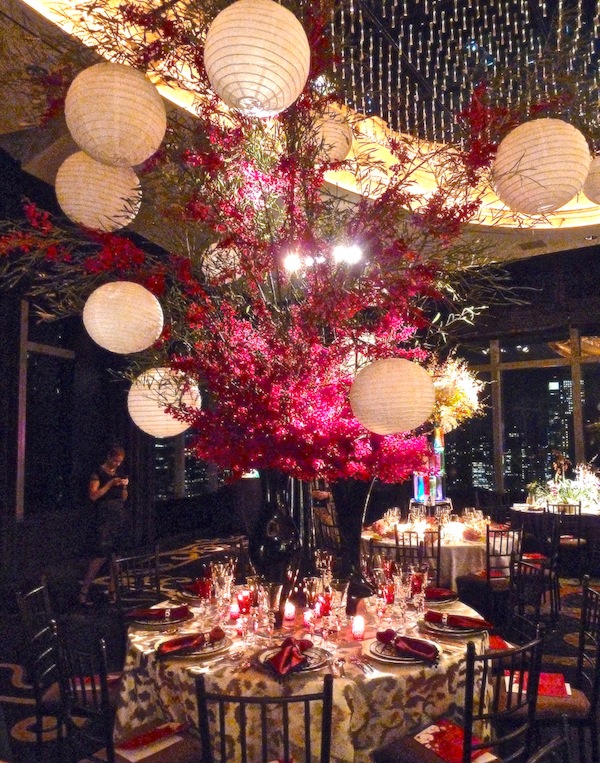 James Rixner's dramatic table for Saint-Louis and Puiforcat was stunning in its height as well as tabletop. I loved seeing one of my favorite Hermes patterns, the Balcon du Guadalquivir in the black version for a change. It looked so smart against the Chevron presentation plates. And the black and white with the red of the napkins and Excess glasses Hervé van der Straeten designed for Saint-Louis echoed what I had recently seen at fashion week.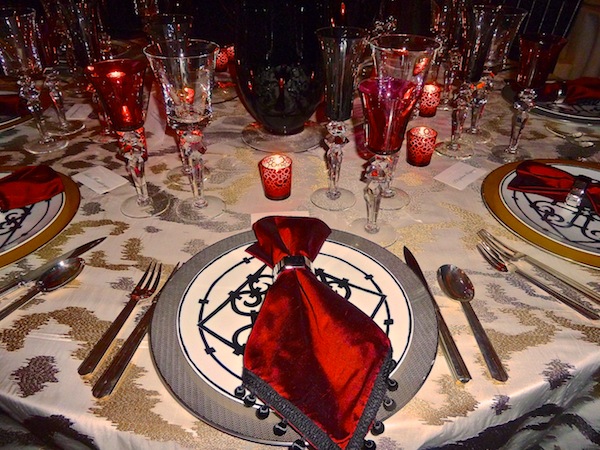 The mixed metallics of the Dedar fabric with the classic Puiforcat Chantaco and handsome Samuel & Sons napkin trim completed a classic but of the moment vignette.
photo courtesy of Samuel & Sons
Connecticut designer Charlotte Barnes matched her graphic Quadrille fabric with beautiful violet orchids. My photo doesn't do justice to her creative presentation – the flowers floating in the towering vase topped with a turban was a truly dazzling centerpiece.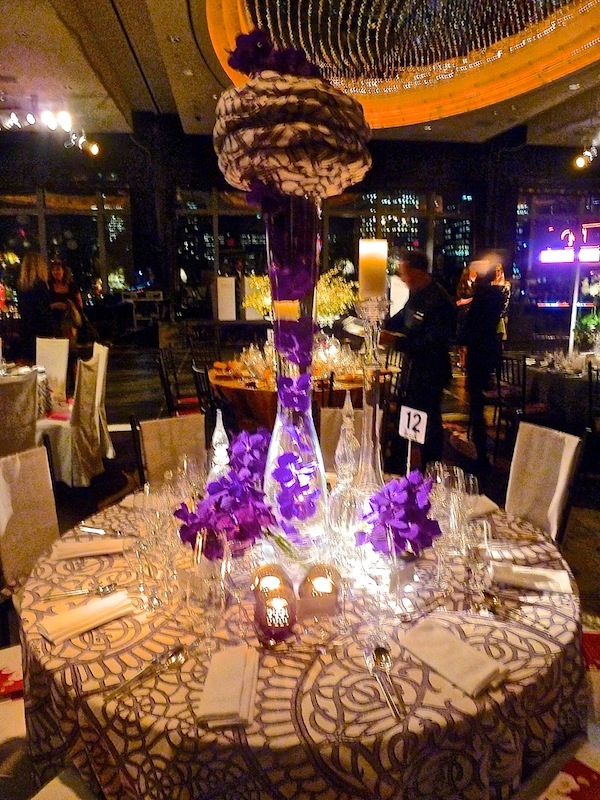 I liked how the fabric was both graphic but flowing with a subtle exotic appeal.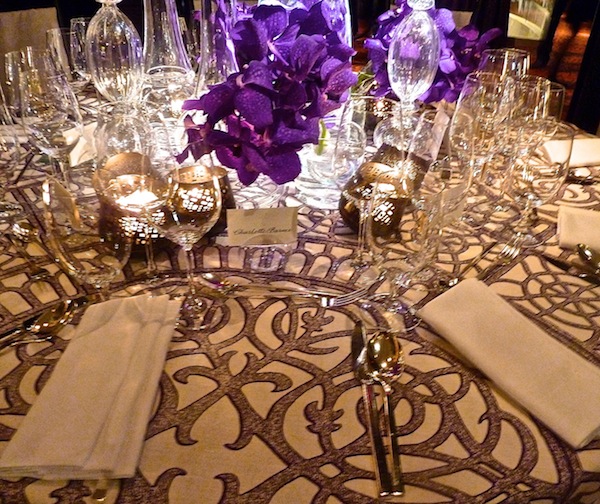 Shawn Henderson created a playful construction for Baccarat.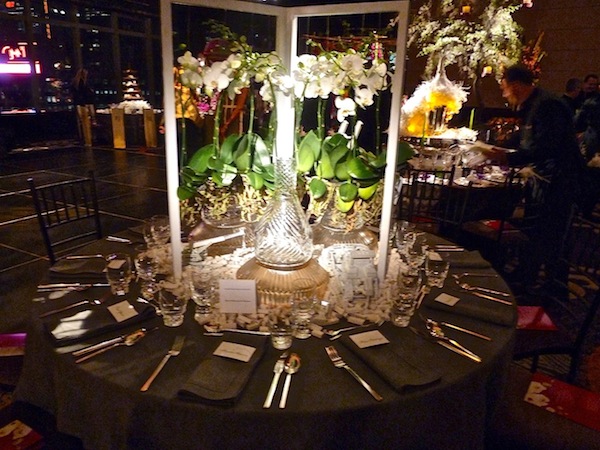 Featuring the new Patricia Urquoia Variations collection, Henderson stacked Lego pieces around the table echoing the chiseled quality and stackable construction of the versatile center vase.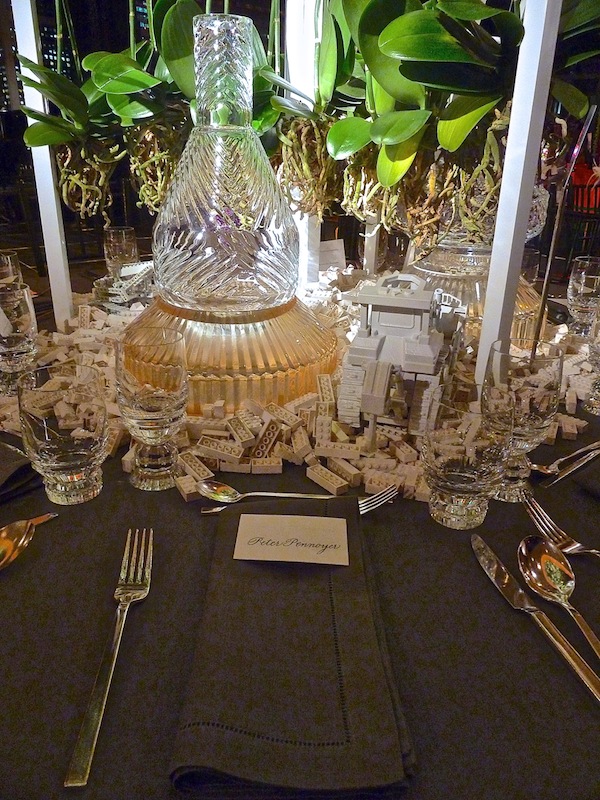 I of course loved the soft orange tonalities of Mauro Gomes for MagnaFlora's table.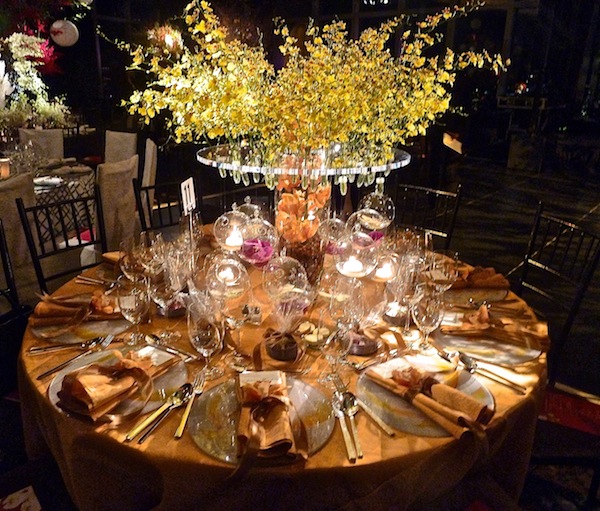 The beautiful glass orbs and floating centerpiece lent a magical effect.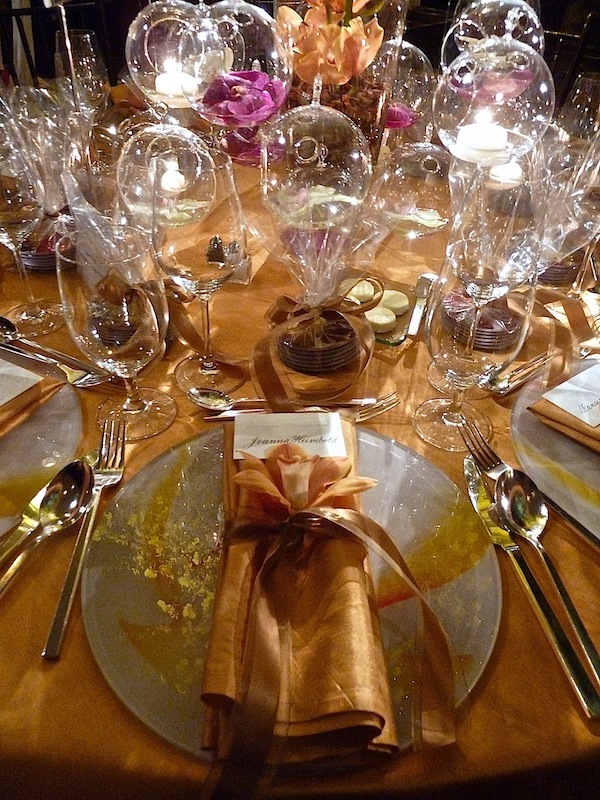 Richard Mishaan celebrated the reopening of his chic shop Homer (in a new University Place location) and his new Modern Luxury furniture collection with his lively tabletop.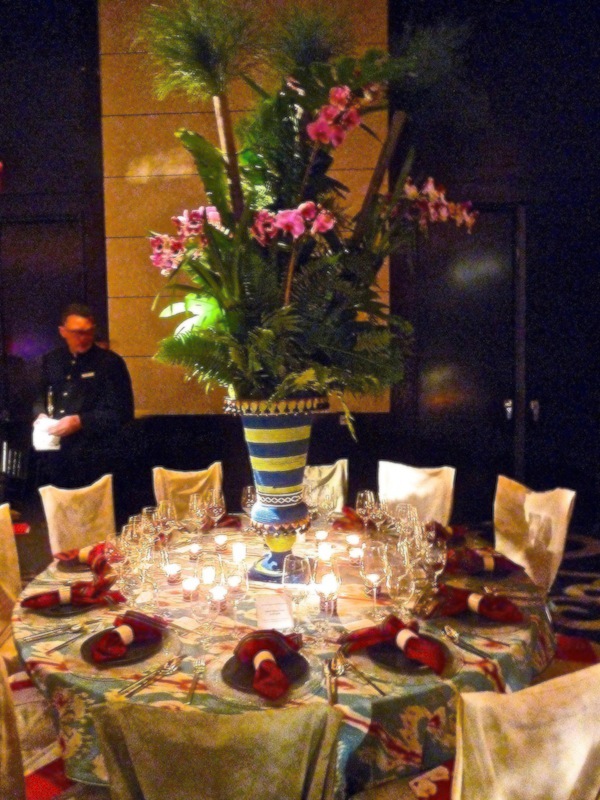 Samuel & Sons provided the materials for his festive centerpiece and charming votive covers. And may I add that I was duly impressed with the designer's abilities on the dance floor as well as in the studio!
photo courtesy of Samuel & Sons
Winter white made an elegant understated appearance crafted by Alex Gaston for Sunbrella. I loved how the unity of color let the shapes and textures become the stars of the design.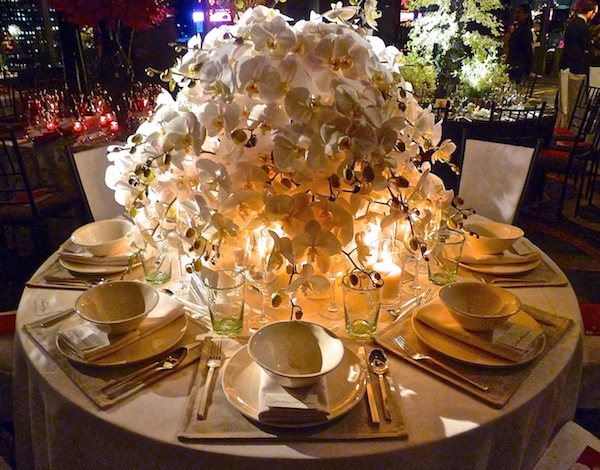 I thought this would be a wonderful look for a significant personal occasion à la maison – clearly special but at the same time cozy and "intime."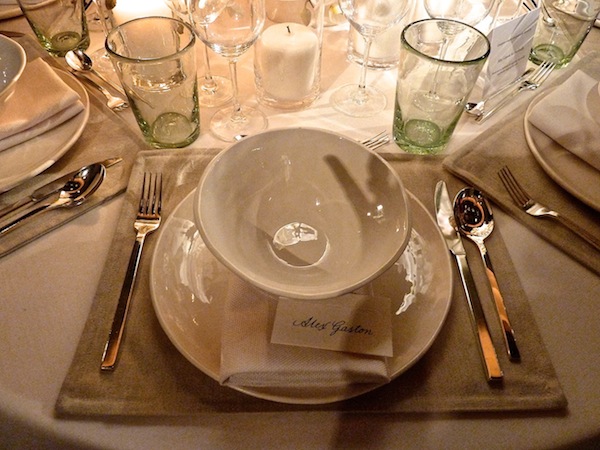 On a much grander scale, l'Olivier Floral Atelier created this spectacular centerpiece for Eric Cohler's table.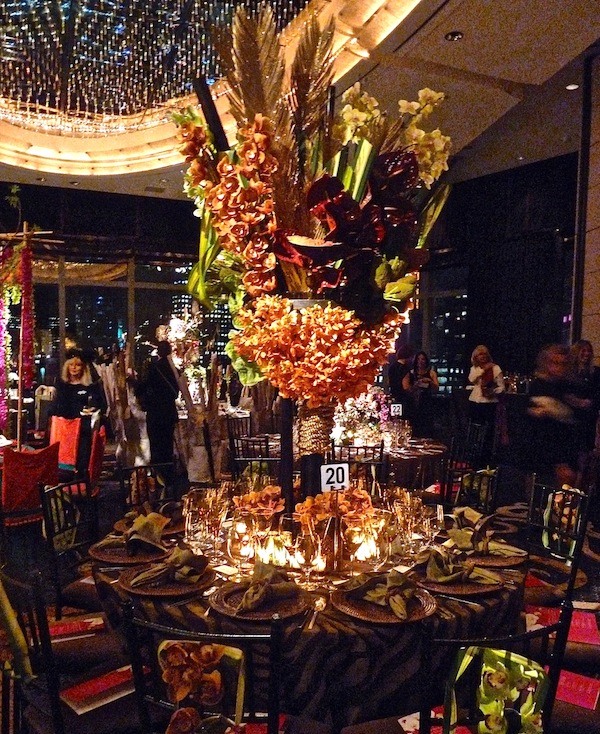 A great mix of tonalities and textures in this exotic yet elegant design.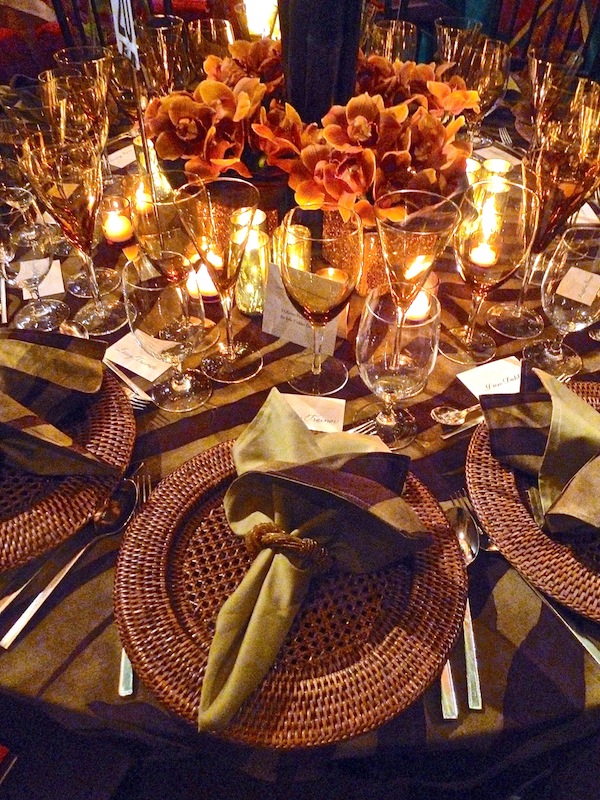 Sherrill Canet collaborated with tabletop titan Kim Seybert and Dorothy Pfeiffer of Cornucopia Flowers for her Chinoiserie chic table.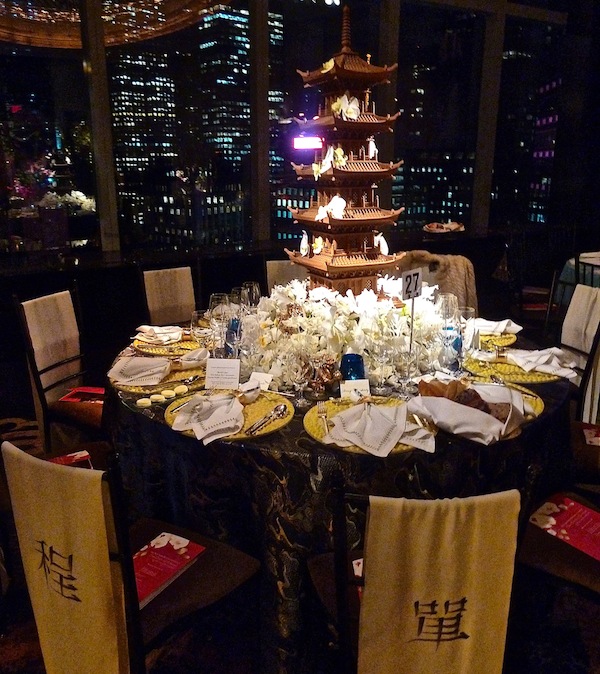 I loved these Cabochon placemats when I saw them at the NY Gift Show last year. And the citron color looks fabulous with the sapphire blue votives.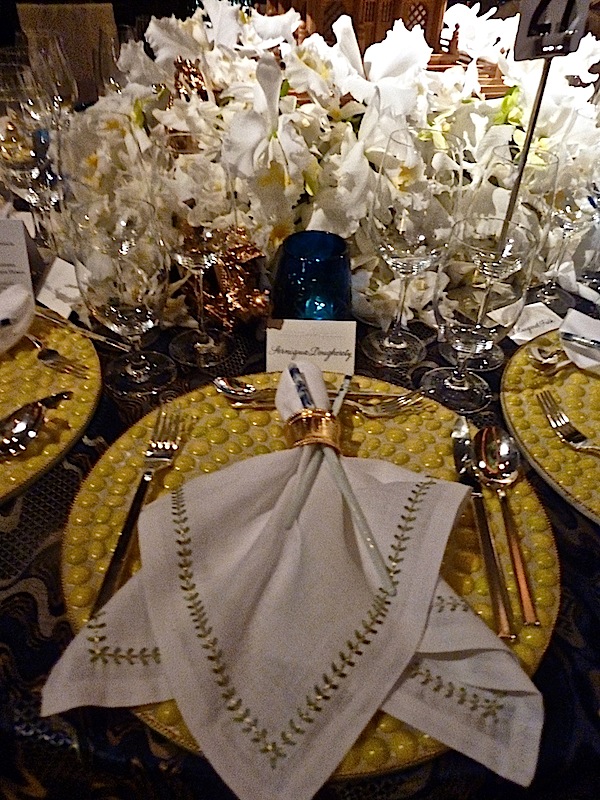 Angelica Gomes loves color and always produces fun and spirited tables for her company Angelica Flowers and Events. And this year was no exception. A tall exuberant centerpiece set the tone.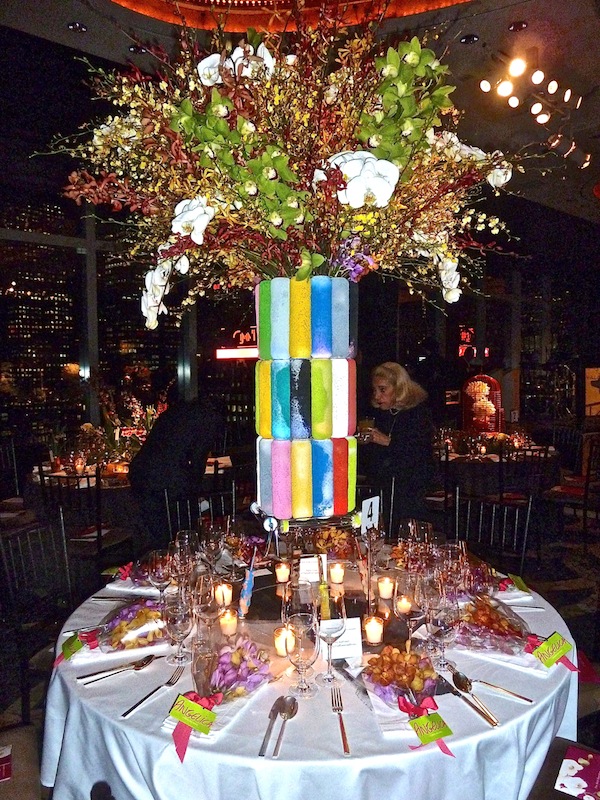 Her distinctive bold signature made for a great touch – lucky guests who got to take home those beautiful bouquets.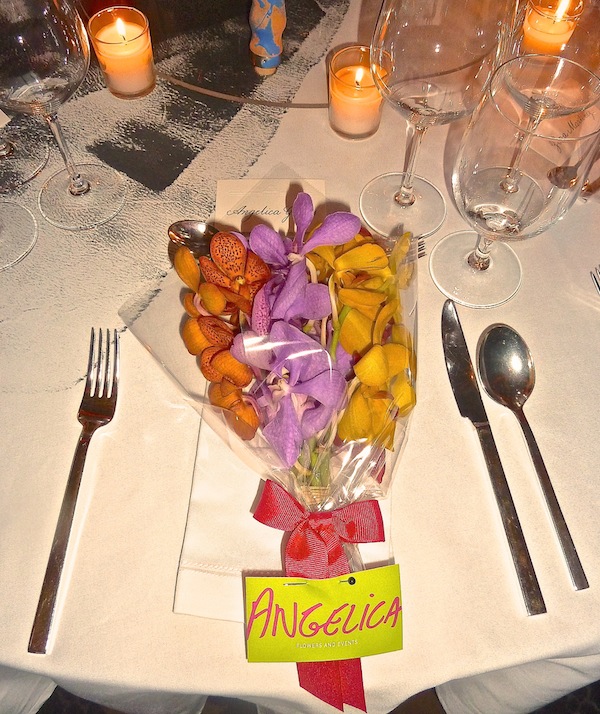 It was a delight to finally meet jewelry designer Donna Vock who was standing by her table for Yes Dear Inc. when I came by to shoot it. I have admired her work for years and it was a treat to be able to express my covetous appreciation.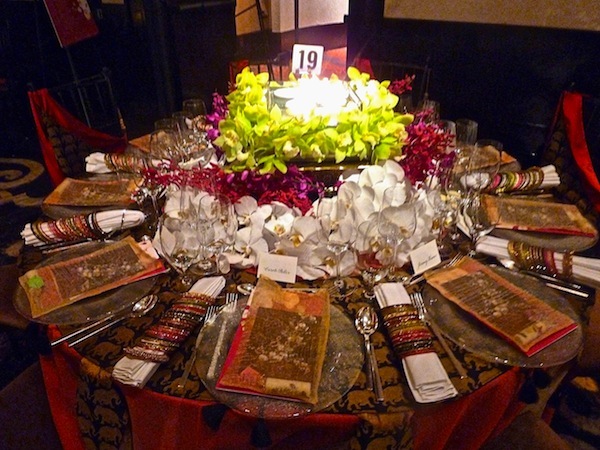 Donna explained she had been to India last year and attended a wedding where all the young attendees wore multiple bangles – hence the exotic theme and blingy napkin rings.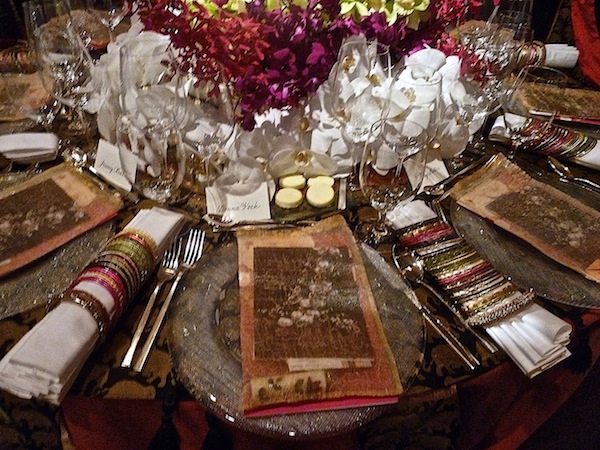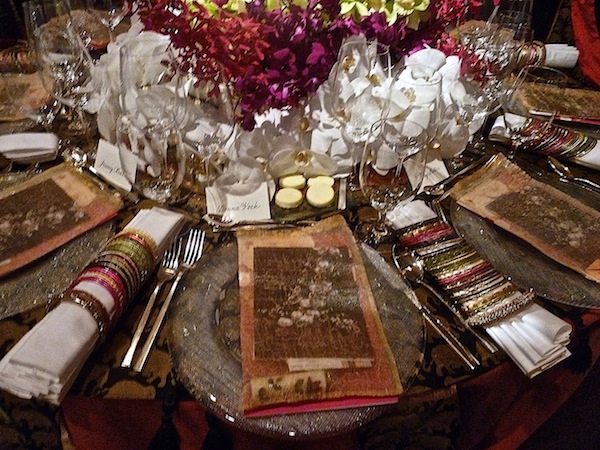 Stop back next time for the final look at the Botanical Garden's inspiring event!!