Several weeks ago I had the pleasure of being introduced by friend Patrick Hamilton to NIBA rugs who were visiting New York from Miami where they are based. Founded in 2005 by owner Beth Arrowood, they are a wonderful to-the-trade resource offering an enormous selection of beautiful designs and high level of customization possibilities. With thousands of choices, NIBA rugs prides themselves on their personalized customer service to walk clients through the entire process from sorting through the vast options of composition, design and price points to same day quotes and on-time delivery. Looking through the samples was like being in a candy store of visual temptation. I put together a few of my favorites.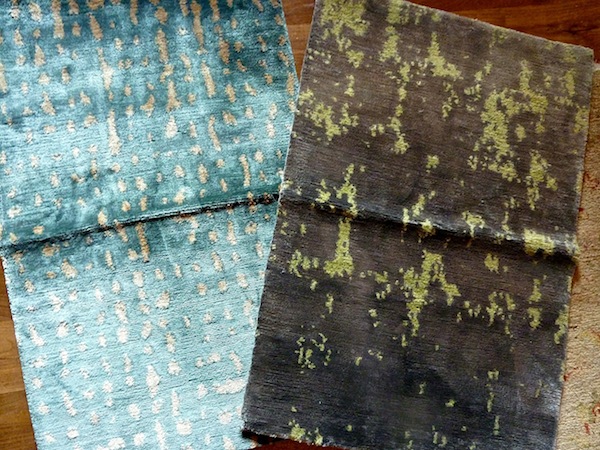 The 100% silk Windswept on left and silk and allo Cork on right are both hand knotted, a centuries old meticulous and time-consuming process that requires skilled artisans. The choice of fiber is an important factor. Allo, for example, used in making fishing nets, is very durable, cleanable and appropriate for use in areas where a rug might get wet.  Beth and her colleagues visit their factories in India and Nepal every year, working closely with the staff to ensure quality and work on development of new fibers and techniques. All their factories comply with Goodweave to guarantee no child labor is involved.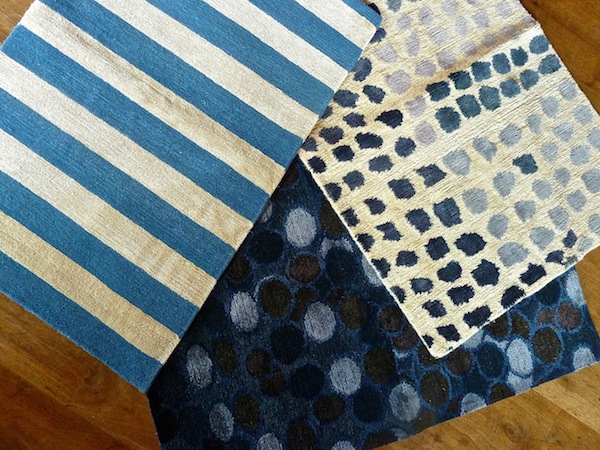 You can see how these blue hand-knotted rugs could work together throughout a house. The silk and wool Eiffel stripe, silk and allo Asilah Mosaic on the right and silk and allo Sparkle on the bottom are available as is or in any custom color and size variation. Not to mention you can change the quality by varying the knots (the higher the knots, the more expensive and thinner) and the fiber, for either looks or practicality. Wool would be more matte, more practical and cleanable, while the shinier fibers like silk are more expensive and luxurious.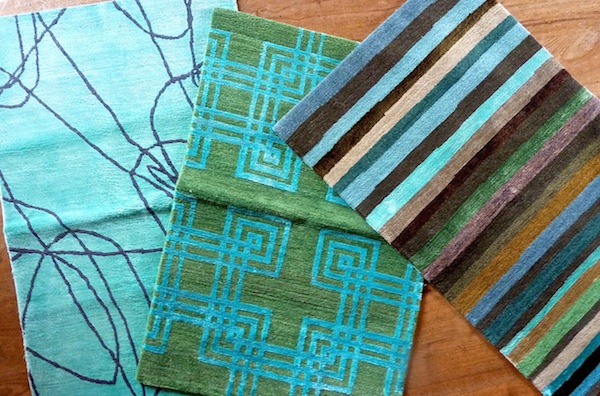 Featured above, left to right, are the hand knotted wool and silk Child's Play, Mykonos and the wool, silk and hemp Sandalwood Stripe. These are merely examples of what NIBA rugs can produce. Their objective is to always cater to how the client lives. They want their rugs to last and be passed on to future generations as livable art. And to that end, all their sales people are all trained in interior design to make the process efficient and successful.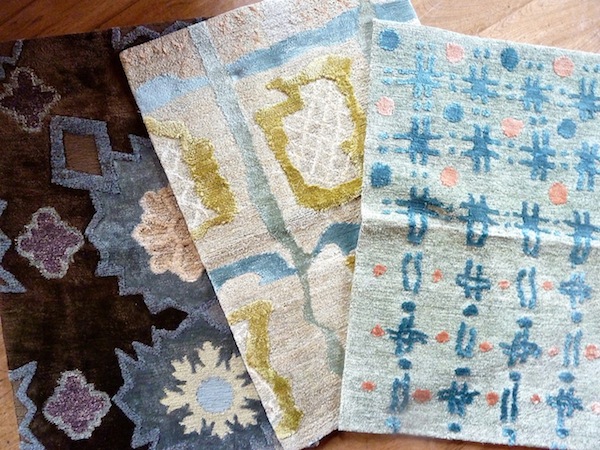 From NIBA rug's Luxe Collection, the wool, hemp and silk Portuguese design on the left is one of their most popular but most difficult to construct. In the Lagos (center) and Braganza (right) designs, you can see how the contrasting texture and shine of the silk and hemp fibers is used to great effect.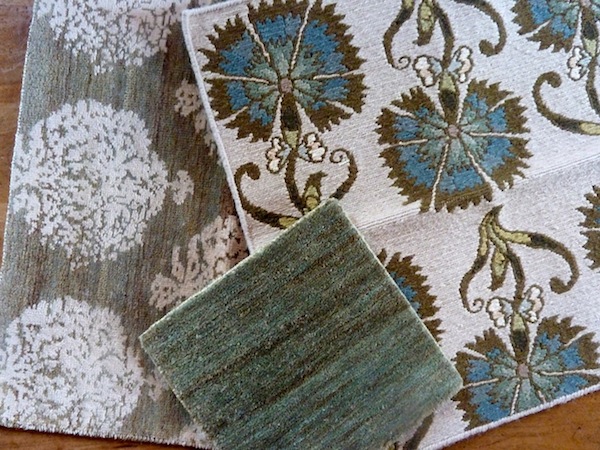 Indore on the left is a Persian knot carpet. Even tighter and more expensive, these can be very thin, resembling the look of old antique rugs. NIBA rugs has one of the largest selections of flat weaves on the market like the 100% wool Wild Flower on the right. And the small square is a solid hemp Persian knot. Very durable, this striation is from the natural fiber and how it took the color dye – a very nice rustic chic effect.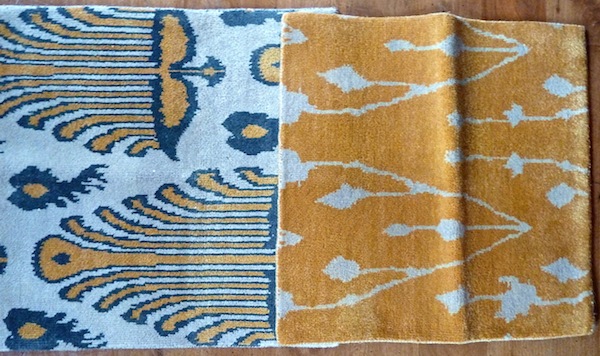 I am excited to be able to bring you a sneak peek at NIBA's new Uzbek Collection. Here the Mulberry and Delphinium, both hand knotted in 100% wool, are fresh graphic interpretations shown here in a cheerful crisp palette I love.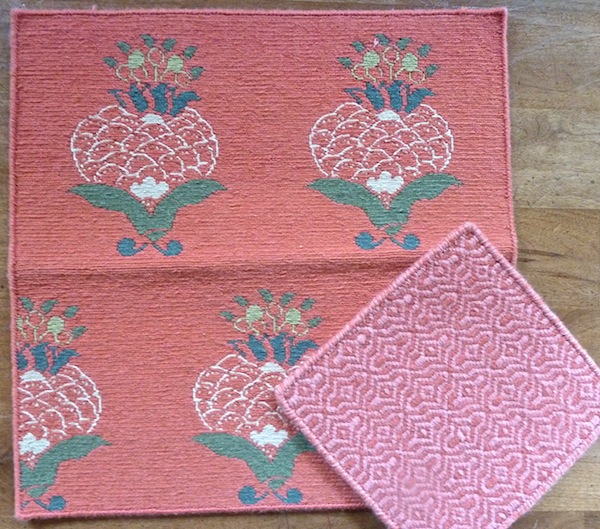 As soon as I saw this Pineapple Flower pattern, I was reminded of Katie Ridder's fun wallpapers. In a soumac flat weave, which is a like a braid, I can imagine it in an endless variety of chic colorways. And the paddle weave next to it, with more options below, is an incredibly versatile neutral pattern with unlimited applications.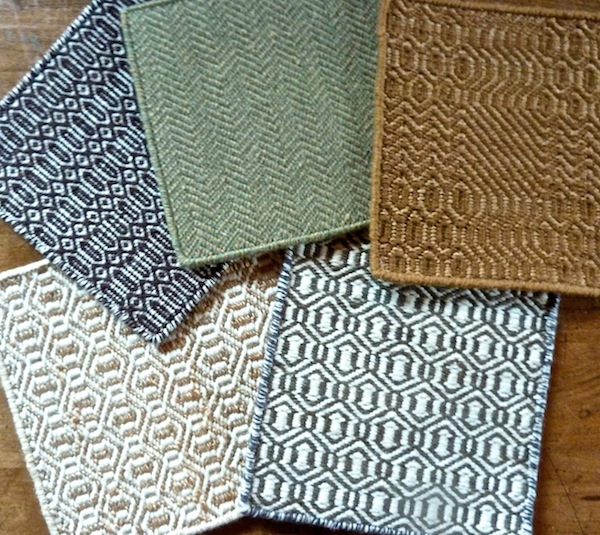 In fact NIBA has the most paddle weaves of any rug company out there. A super durable choice that wears like iron, it is a great pick for many areas including stairs as it is also very pliable. And since the rugs have such a small repeat, the creative possibilities are endless – the pattern can be blown up or down, can be an area rug for a room with many nooks and crannies or installed wall to wall.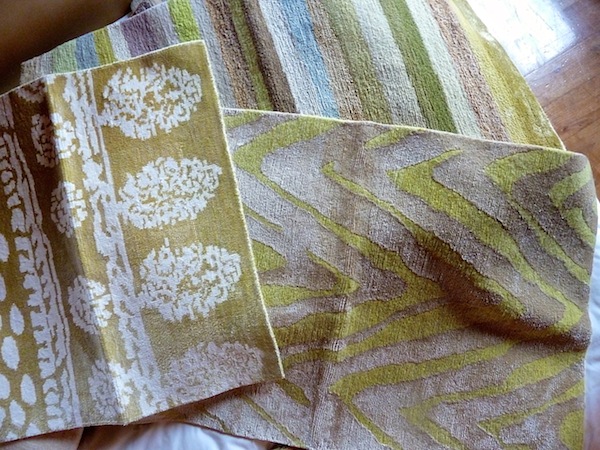 A final grouping includes the beautiful 100% linen Udaipur Persian knot on the left. Linen is like a crossbreed between silk and wool. With a matte finish, it has a subtle luster that imparts an understated sheen. You can see in the zebra-like Belair the shine of the silk within the wool field.  And the Tangerino stripe in back has hemp added to the wool and silk for both durability and a brush like texture. With these endless choices, NIBA likes to work directly with their clients to "value engineer" their products – pick a design, set a budget, explain where it's going and NIBA will then work out the most cost effective combination for the look and usage desired.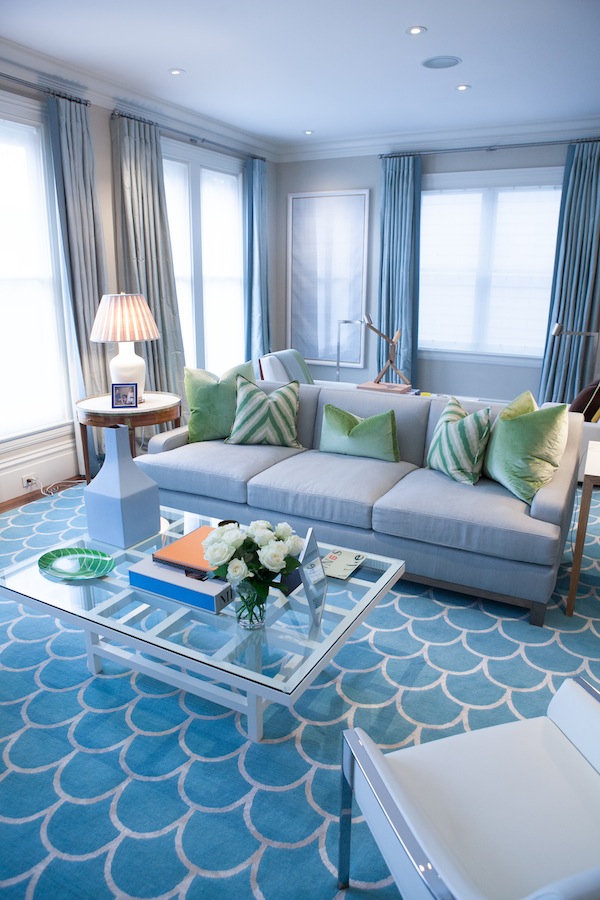 Designers across the country count on NIBA for unique rugs to complete their visions. In fact San Francisco designer Martha Angus took her cues for this home her firm designed for a young urban couple from the rugs. Here the striking Dragonscale makes the room with its large scale graphic statement.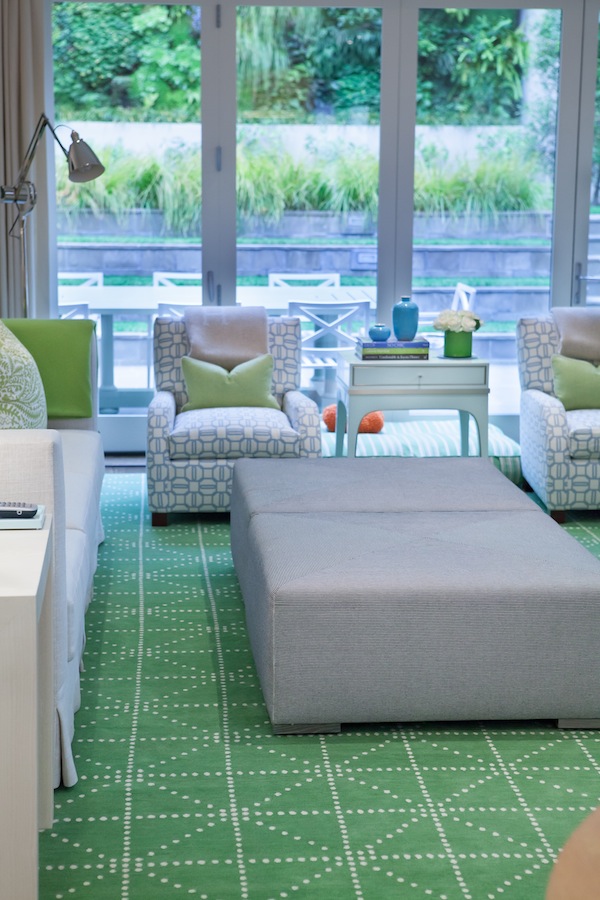 Marrakech Express continues the bright graphic theme in a more understated way with this happy color scheme.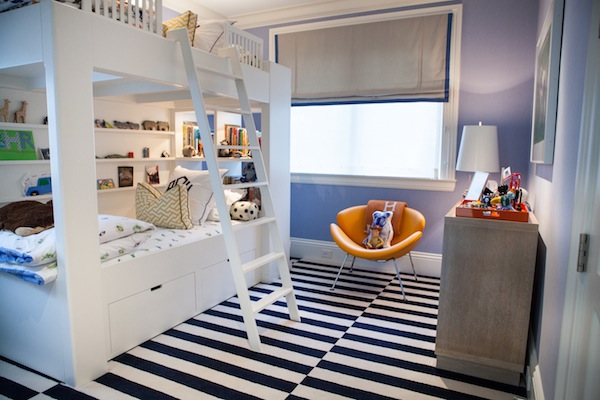 And the fun Vinny Stripe adds just the right shot of bold contrast in this colorful children's room. More interiors featuring their rugs can be found on the NIBA website along with downloadable images of their collections and more information about the company and rug making process. Whether you know exactly what rug you want and can't find it or are willing to be inspired by their many beautiful designs, NIBA rugs is a treasure trove that will not disappoint.