Naeem Khan has always designed with a nod toward his native India. But this season, inspired by a trip home last fall, Kahn translated the extremes of Indian culture, from Tilaka dots to elaborate paisleys into a breathtaking collection worthy of Maharajah splendor. The title "The Body as a Canvas: From the Mughal Paisley to the Hindu Tilakas" tells the story.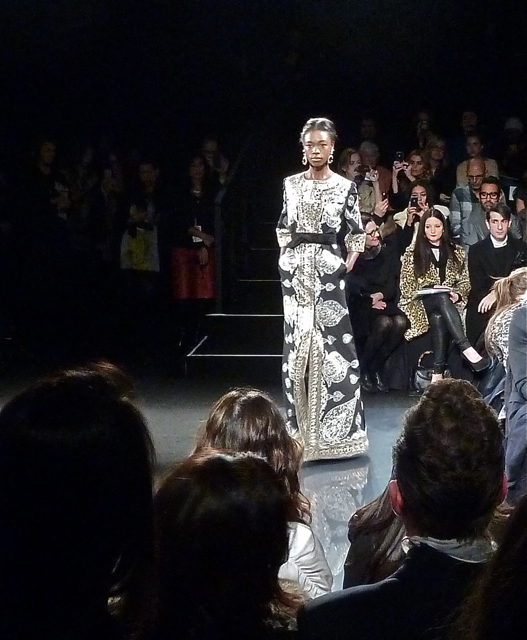 From this first beautiful metallic embroidered silk faille evening coat, it was clear this collection was going to be exquisite. You can tell in these two shots, that even from where I was sitting, you could discern the intricate threadwork in the designs, which evidently took hundreds of artisans three months to make.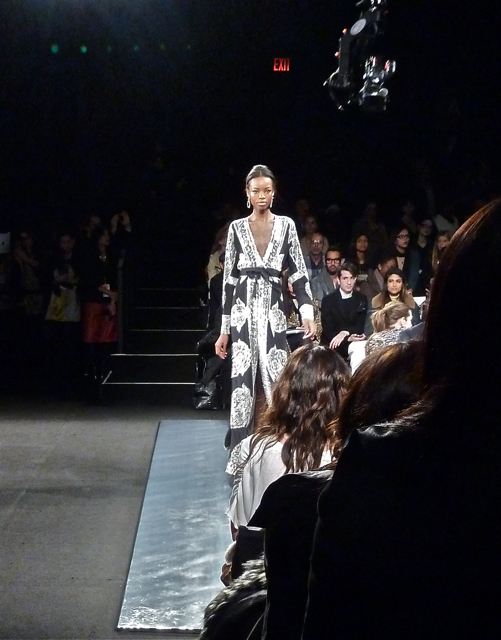 The collection featured mostly neutral colors, letting the fantastic workmanship shine. From simple shapes like this taupe silk/wool beaded sheath dress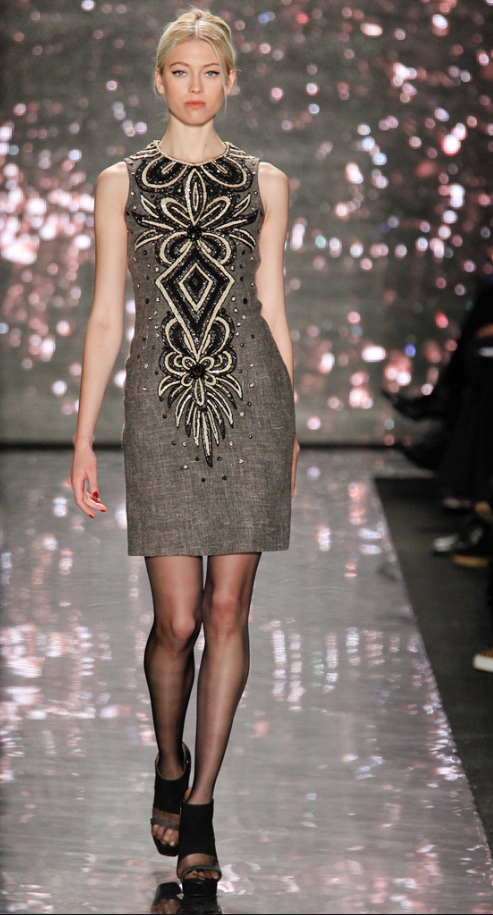 to more elaborate confections such as this beaded jacket over an ostrich feather skirt, all the designs celebrate the female form.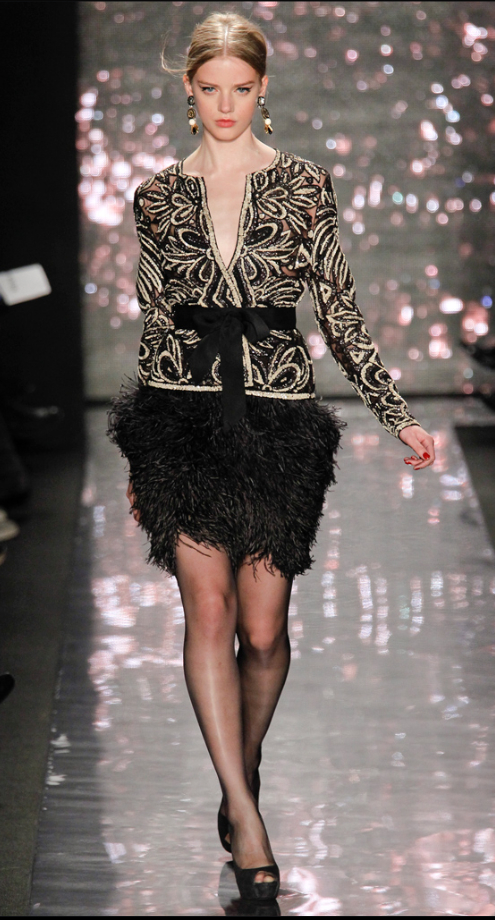 With plunging necklines and cinched waists, this collection is oozing with luxe femininity. I love how Khan played with the concept of the traditional designs, creating bold abstracted patterns like this geometric felt-appliquéd silk faille coat. He paired it with a metallic beaded chiffon halter, but I could also see it over an all cream or gray outfit for a fabulous tonal day look.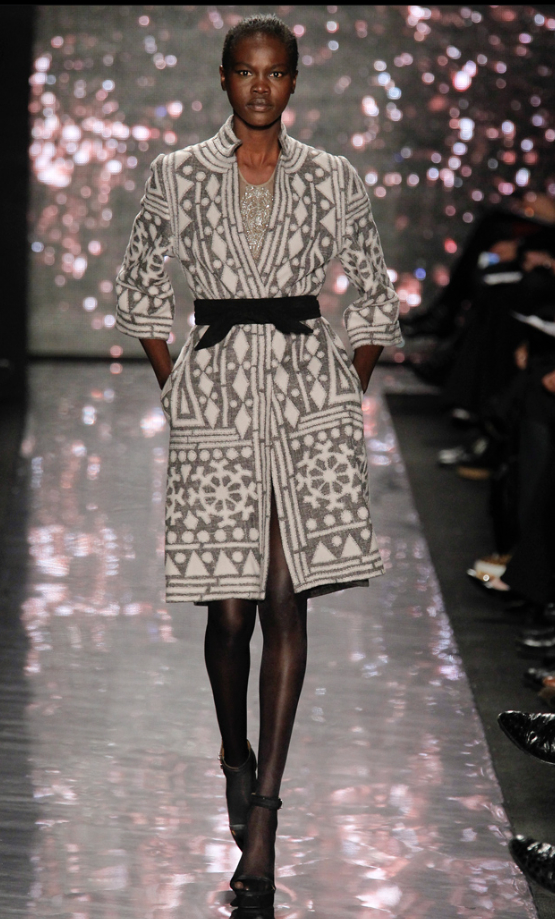 More contemporary translation can be seen in the fan dot print silk gazar gown on the right and the abstract swirl print basket weave silk gown on the left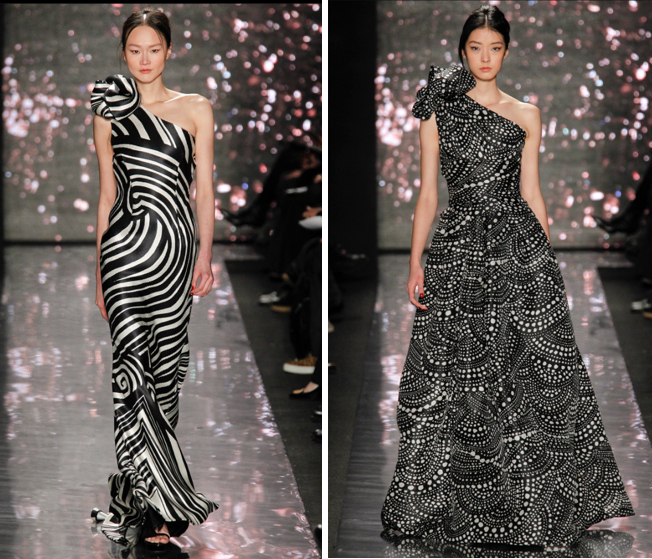 or this gorgeous black and white rose-swirl embroidered jacket and skirt in chantilly lace.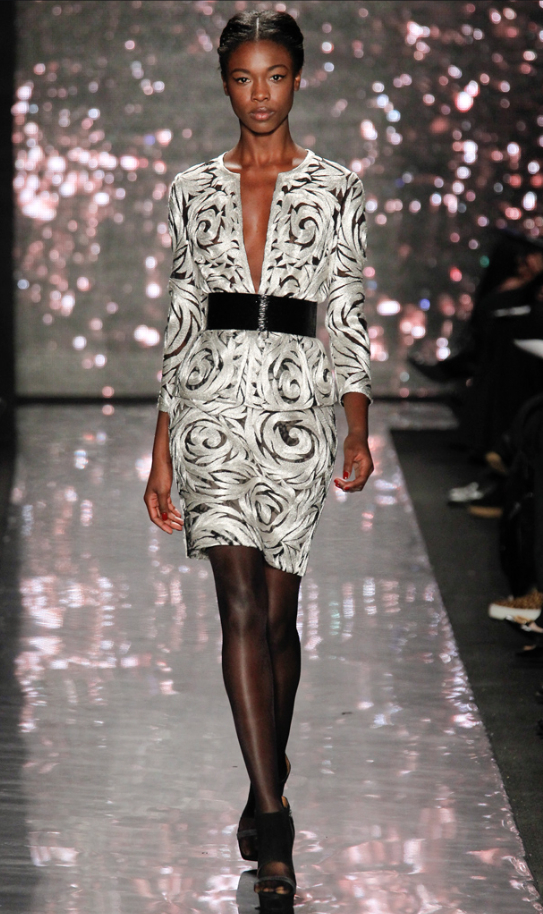 Khan's collection  is the perfect foil (yes, I know…) for the gold theme running through the fall collections, from this supremely elegant gold rose swirl metallic embroidered trumpet gown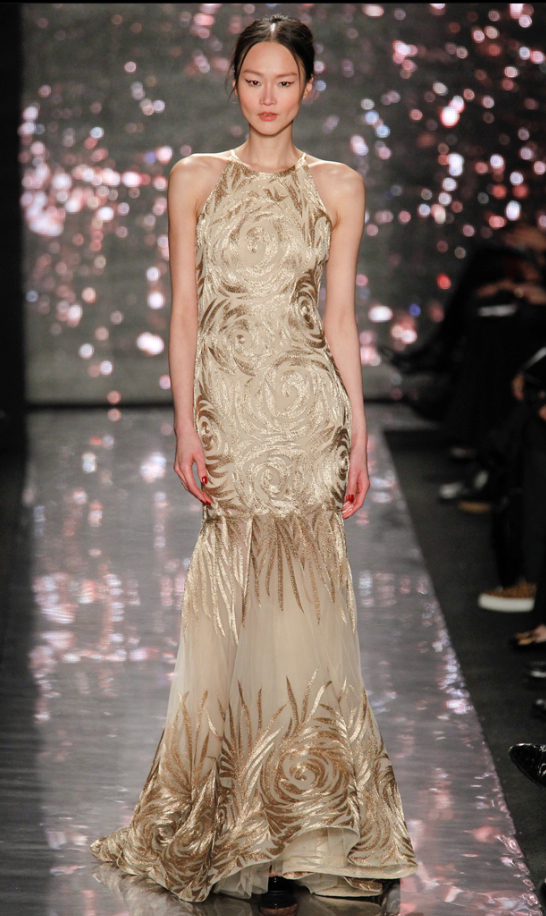 to the more dazzling 14k version – this gold pailette gown.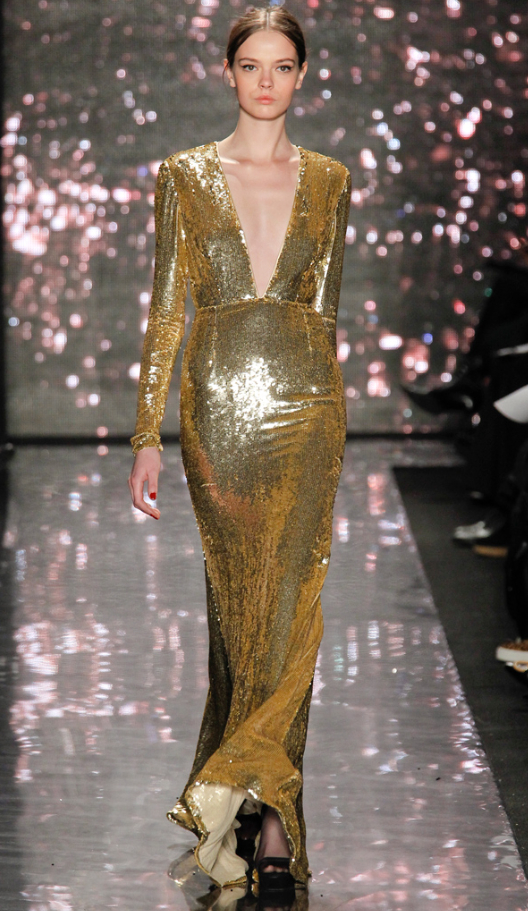 Even though the collection is very neutral in coloration, there is a wide variety of not only pattern but texture. From wools, to a range of silks, to the lace in this jet beaded striped lace gown, Khan has expressed the "decadence and dust of India" in a multiplicity of manners.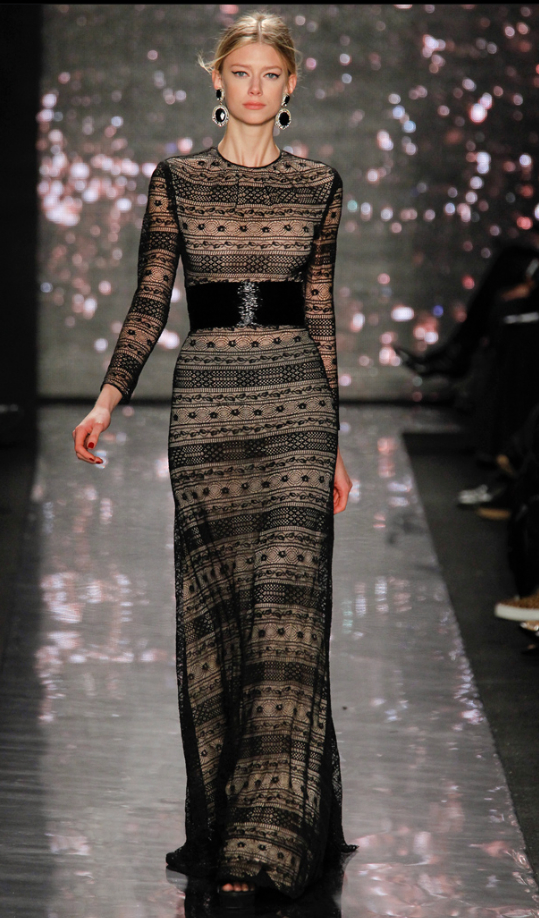 With the major red carpet event coming up next weekend, I would be surprised if we didn't see at least one actress in Khan's exquisite creations. So many in the collection are contenders but here are a few more beauties I think deserve Oscar consideration.
A favorite is this gown featuring my adored combination of black and navy with abstract beading on silk faille. Don't you just love the fringed bodice?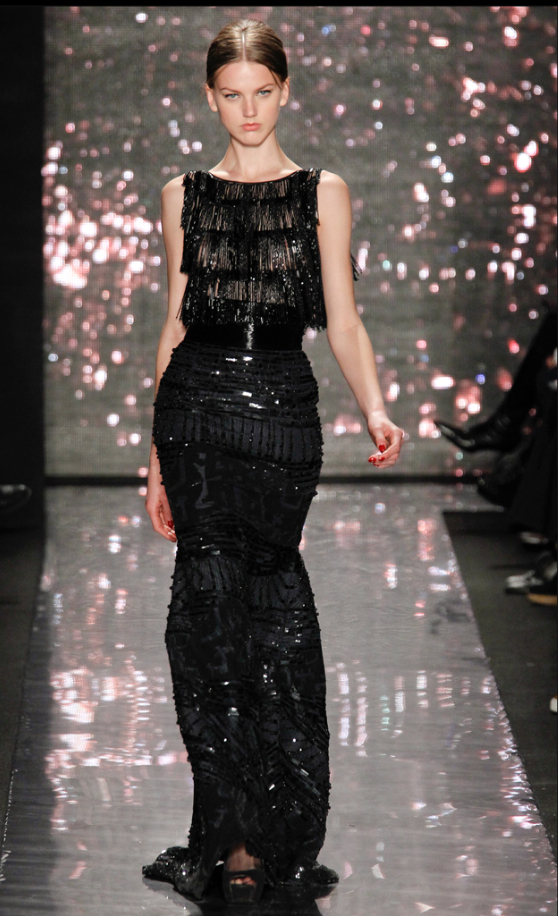 This black mirrored racer-cut gown is both modern and elegant – a more embellished extravagant version of the Stella McCartney dress Gwyneth Paltrow wore to the Grammy's.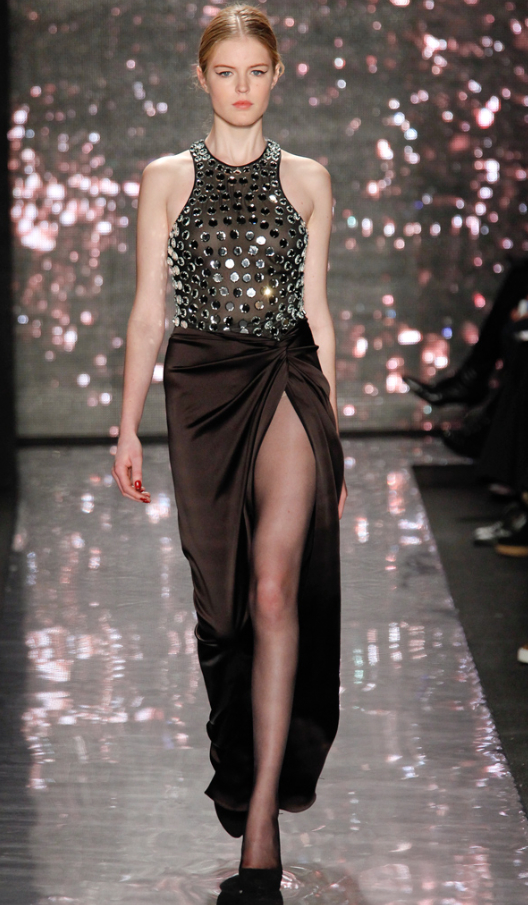 Perfect presentation material, this black heart swirl jet-beaded strapless number is especially fabulous with wife Ranjana Khan's dramtic earrings!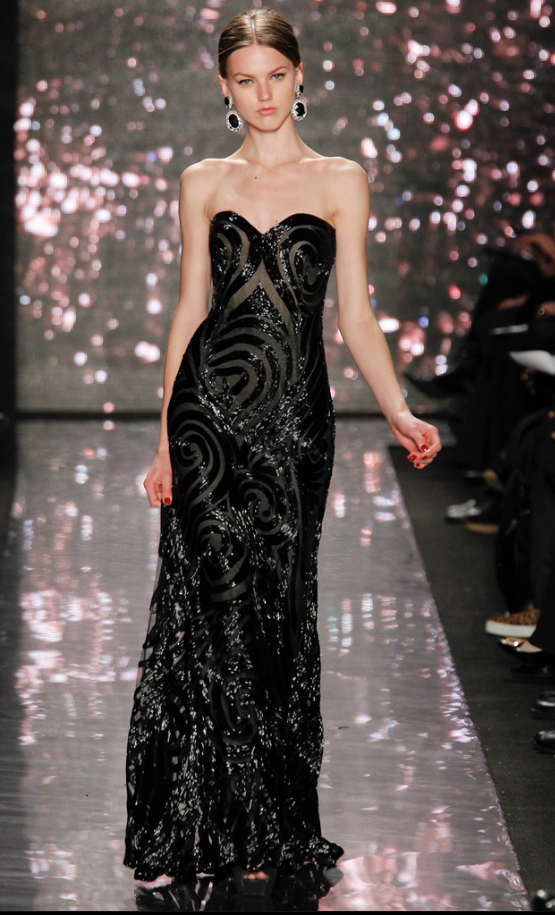 Another winning red carpet look is this dramatic black ostrich feather gown with beaded bodice – perhaps for a lithe young thing yearning to make a memorable impression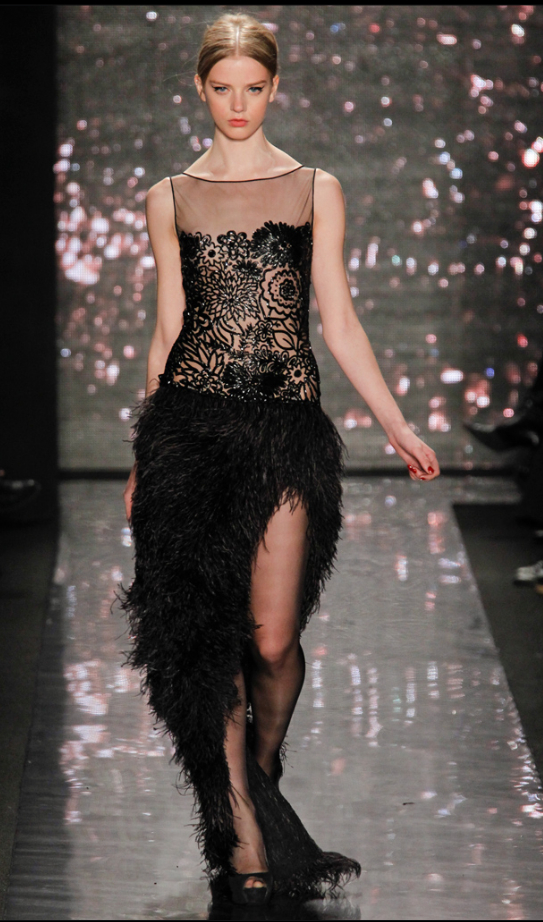 The final piece in the collection was worth its weight in gold, or in this case, silver. The entire dress is made of sterling silver pailettes – wow!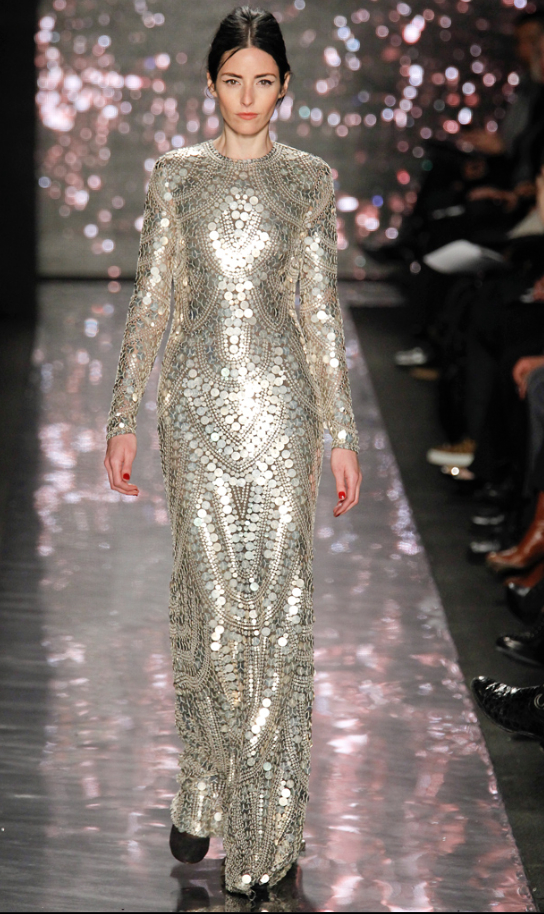 All the attending details were perfect as well. I just loved Laurent Phillippon for Bumble and Bumble's elegant chignons for the show, NARS' James Boehmer subtlely sexy cat eyes and Brendan Fallis' classic Stones and Zeppelin filled soundtrack. All in all it was the epitome of elevated ethnic chic!
First 2 photos by Q. All others by Alessandro Garofalo/GoRunway.com